I'm a fan of choosing your own plants and putting your own planters together. It allow you to have a more unique look and it can save you money too! DIY your own containers this year.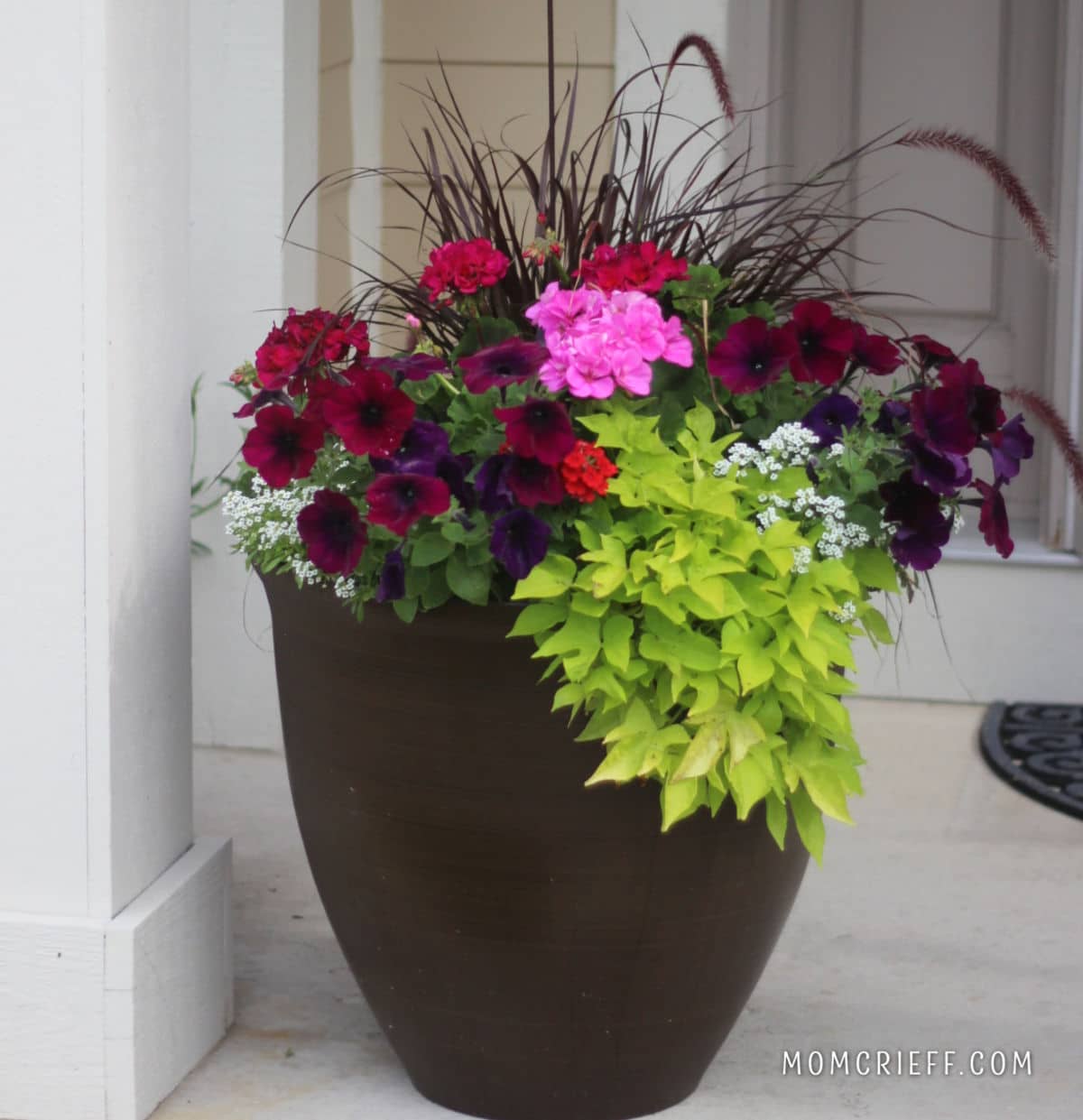 I've looked through many of the questions, especially on popular posts like this one - 25 Outdoor Planter Ideas and this one 20 Pretty Planters and I will answer the most common planting questions.
I use a standard traditional formula. However there is always room for creativity! This post is to give you some step-by-step guidance. But please feel free to look at the above two posts for more ideas and inspiration for what you would like to do!

Please note that these are large planters located in full sun!
Tips about the container
Start with the basics. A good container, with drainage is a must. If there is no drainage, drill a few holes in the bottom. Or, just hammer some nail holes in a few spots. You can make very simple pots look beautiful by just painting plastic pots or you can buy beautiful ones like these containers.
Many of my planters are 20 inches across and some occasionally are larger. I've had quite a few people asking. It's a good size for areas in my yard and my front steps.
Good Soil for Front Door Planting
Get good soil. Don't skimp. The folks who had amazing planters all swore by Miracle Grow soil. The Miracle Grow soil with Moisture Control was a popular choice. Most replaced at least some of the soil each year. Usually at least the top ⅓rd for large containers and more than ½ for smaller containers. I don't feel you need to replace all the soil, but do replace some.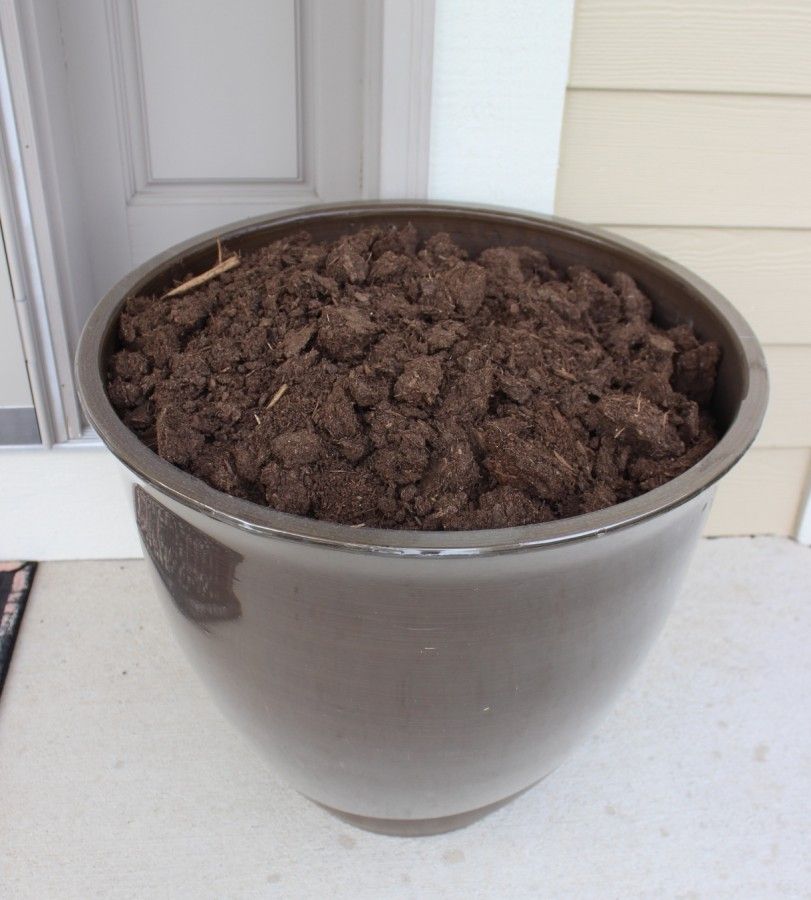 Filling the bottom of the pot
I fill the bottoms of my larger pots with light weight items so that I don't spend a ton of money on soil. This also keeps your planter lighter if you need to turn or move it. I will use big chunks of styrofoam that comes as a packaging material. I don't use styrofoam peanuts because they turn into a mess when trying to clean your pots.
Milk jugs with lids on them are an awesome way to fill the bottom of larger pots. Make sure the milk containers have been well cleaned on the inside and the lids are screwed on tightly. If you don't put the lids on, the weight of the soil makes them collapse.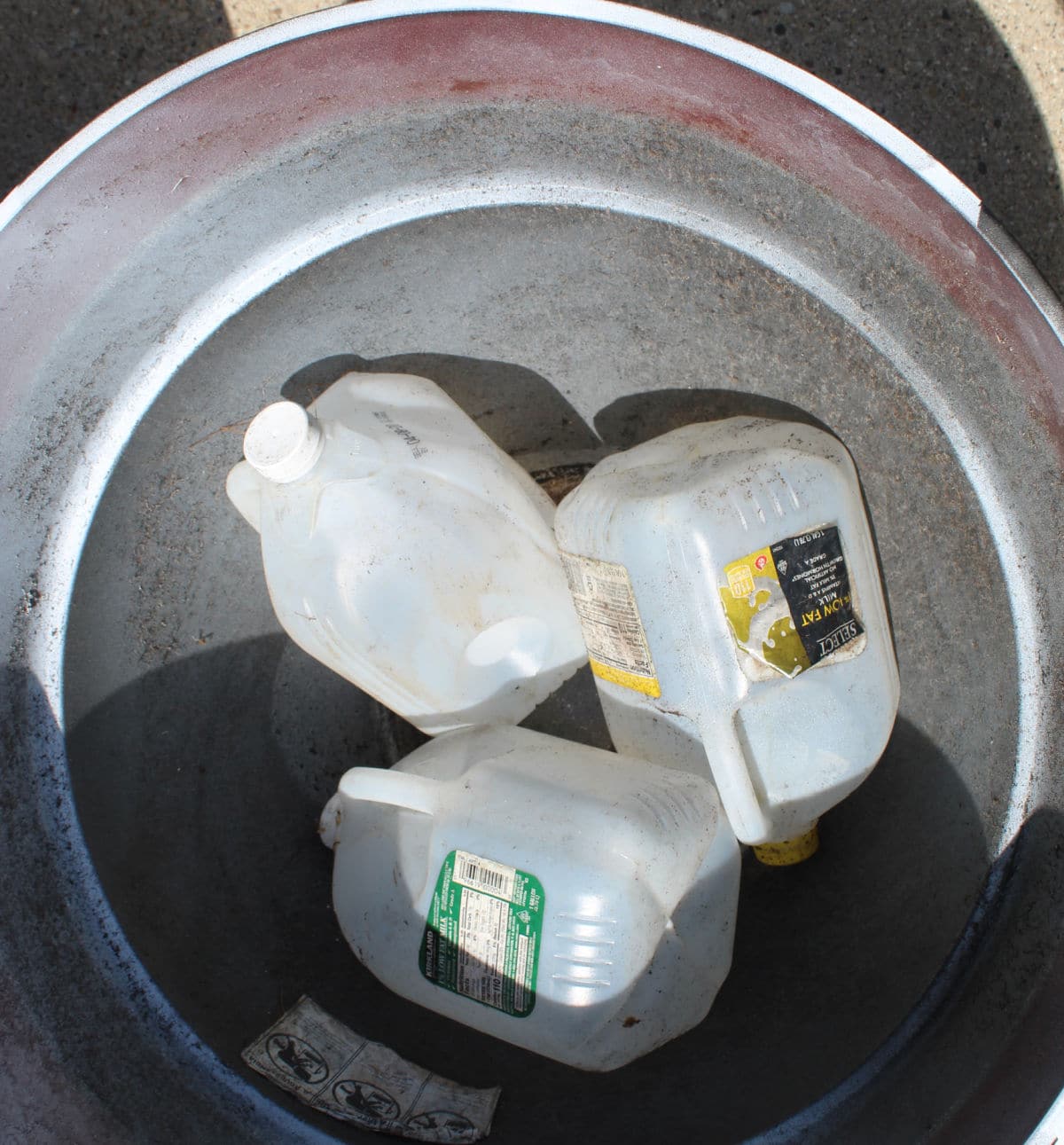 Determining what type of plants to use
Have you heard that common saying that talks about planting Thrill, Spill, and Fill plants. Or, sometimes it's stated as Thriller, Spiller, and Filler. In one form or another, that's what most people use as the formula for their planters. That's it. You're welcome!
The 'thrill' is the main, eye-catching plant. It often has height. It's often a spike plant or grasses that are much taller than the flowering plants. Sometimes, it's a taller, colorful plant. Just make sure to choose something that catches your eye.
Purple fountain grass as the thriller plant
I love using purple fountain grass for my thriller plant. Trust me and use it!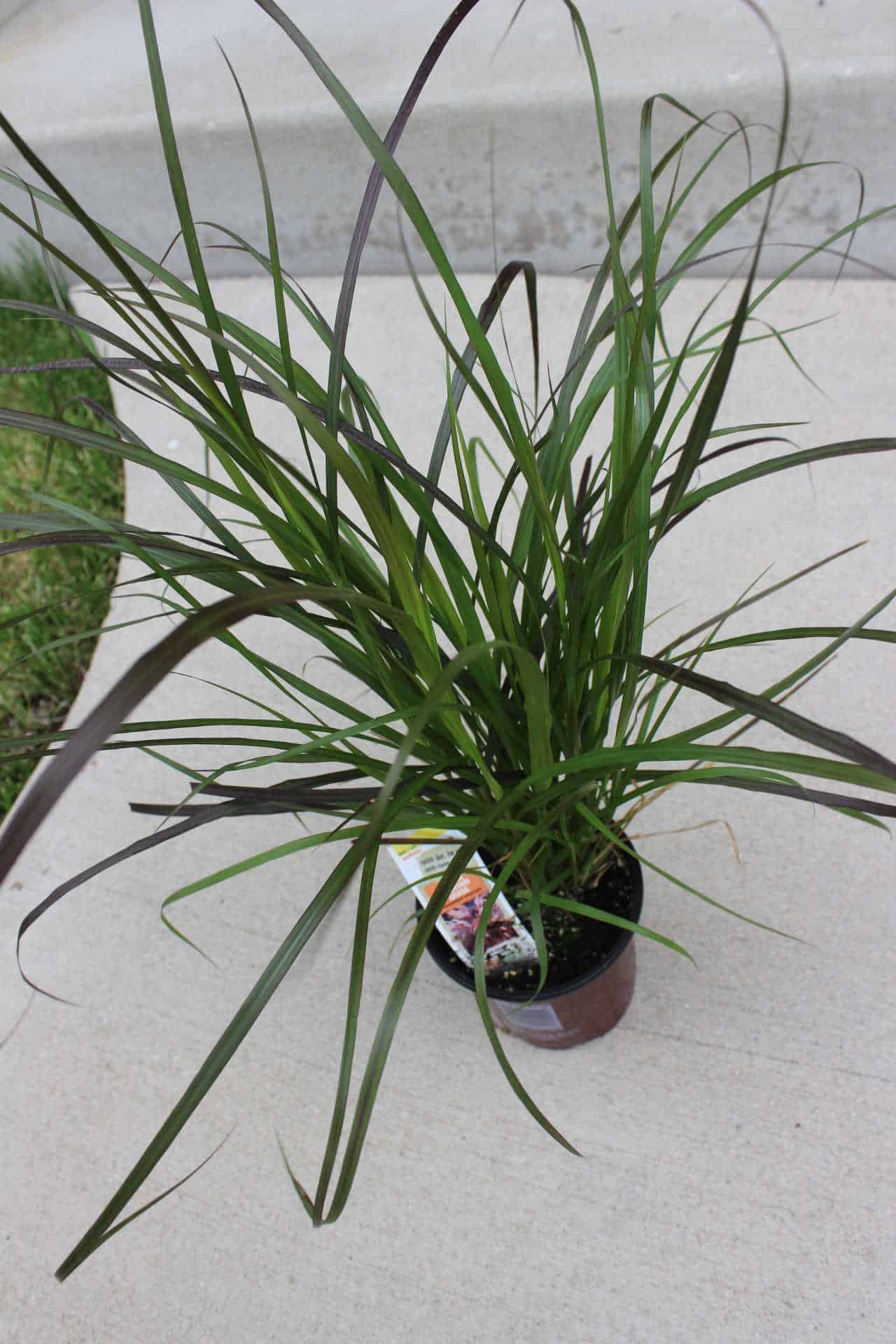 By the time fall comes around, this fountain grass is tall, full and beautiful. I always reuse it for my fall planters. Take a look at my favorite fall planter and you'll see why use this grass for the summer and just repurpose it in the fall.
If you can't find the purple fountain grass use a different tall, spikey grass. Sometimes the tags just call the plant "spikey plant". If your budget allows, you can try some newer more exotic plants like the King Tut plant that I tried in a couple of planters last year. The King Tut plant is the tall plant in the planter below. I loved it but it's a little more expensive than the typical spikey grass that I plant.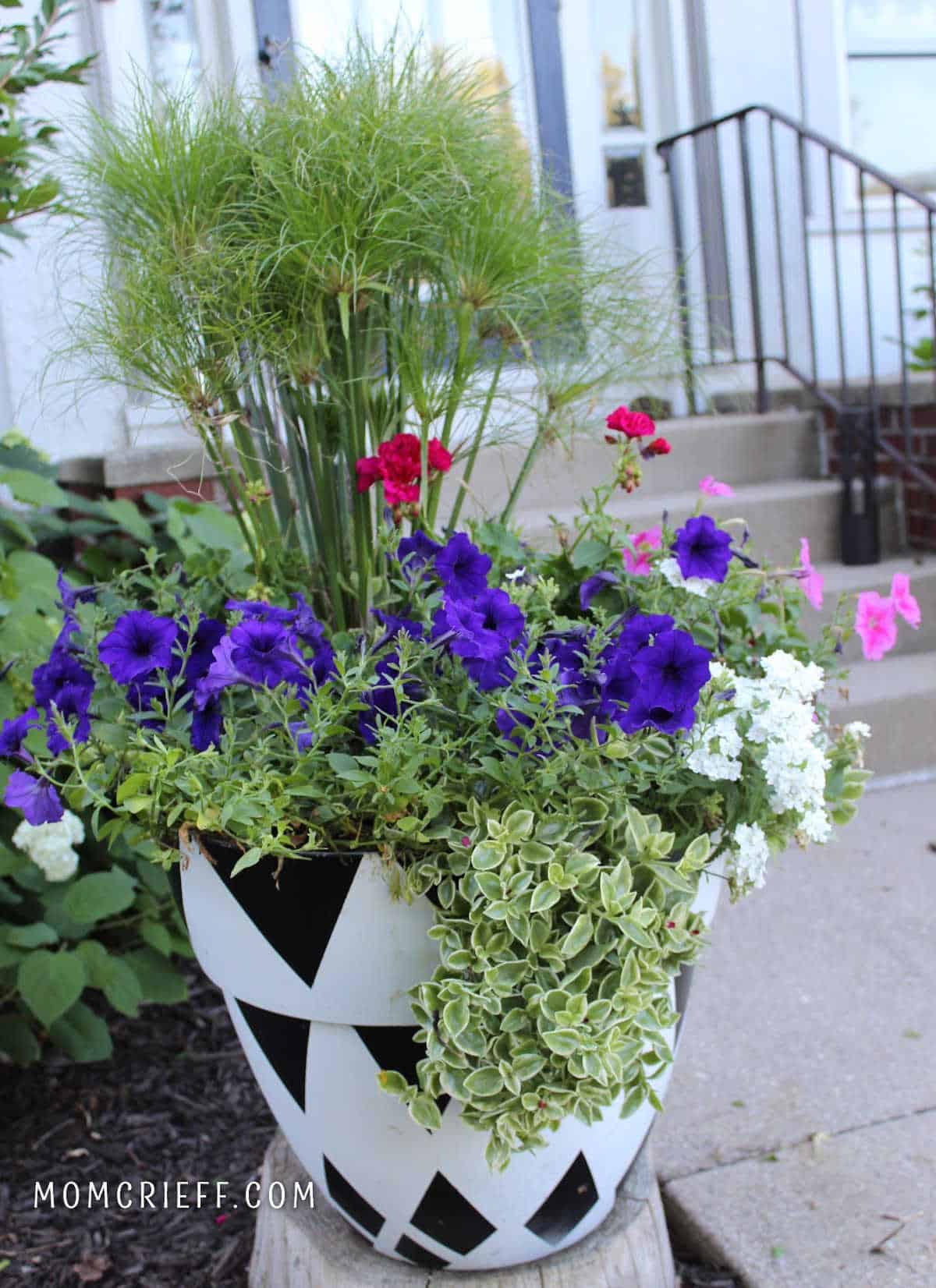 In Wisconsin (USDA zone 5), many of my plants in planters are annuals. The purple fountain grass is one one of the plants that is the first to go when the stores get them. Don't confuse it with some of the other wonderful fountain grasses out there, check the tag.
Filler and Spiller Plants
Geraniums are my plant of choice as a combination of thrill and fill for my planters. I live in zone 5 and geraniums do well here. And, a late or early frost doesn't harm them as long as it isn't a hard frost.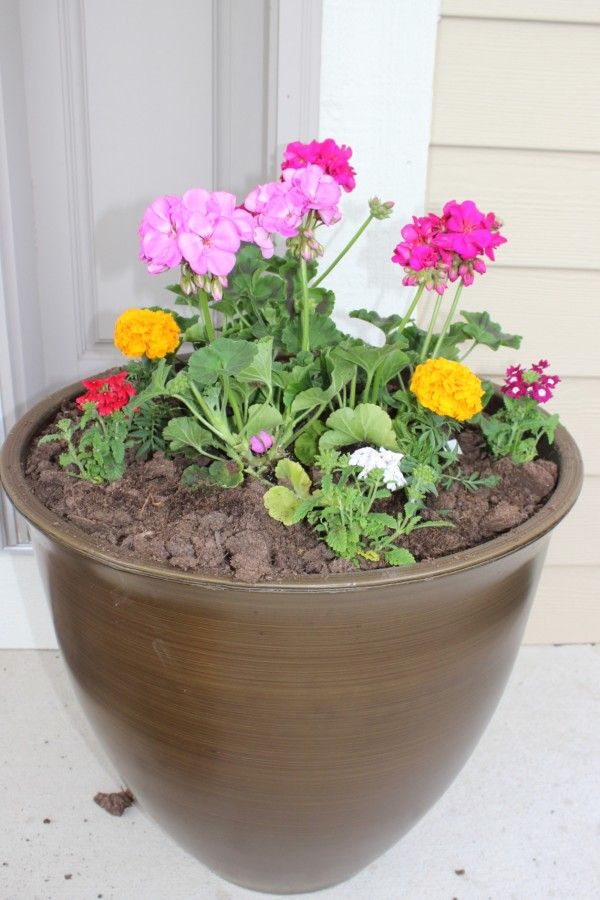 I also added some marigolds. Some of the prettiest planters I've seen often have them. They create some very pretty color contrast. If you happen to buy a shorter marigold, sometimes it gets hidden in your planter.
The planter above has geraniums, verbenas and marigolds at this point.
Many of the plants I use often multi-task. For example, I like using Verbenas and wave petunias because they really add color, fill the pot, and 'spill'. White alyssum is also a favorite of mine. It mounds nicely (fills), adds some color contrast, and often spills over the side of the container. Some other traditional spill plants are ivy and sweet potato vines.
Loosen the rootball
Makes sure you loosen and rough up the roots. I took a picture of what the roots of my purple fountain grass looked like after I roughened it, just before I planted it. Prior to planting the roots were tightly wound.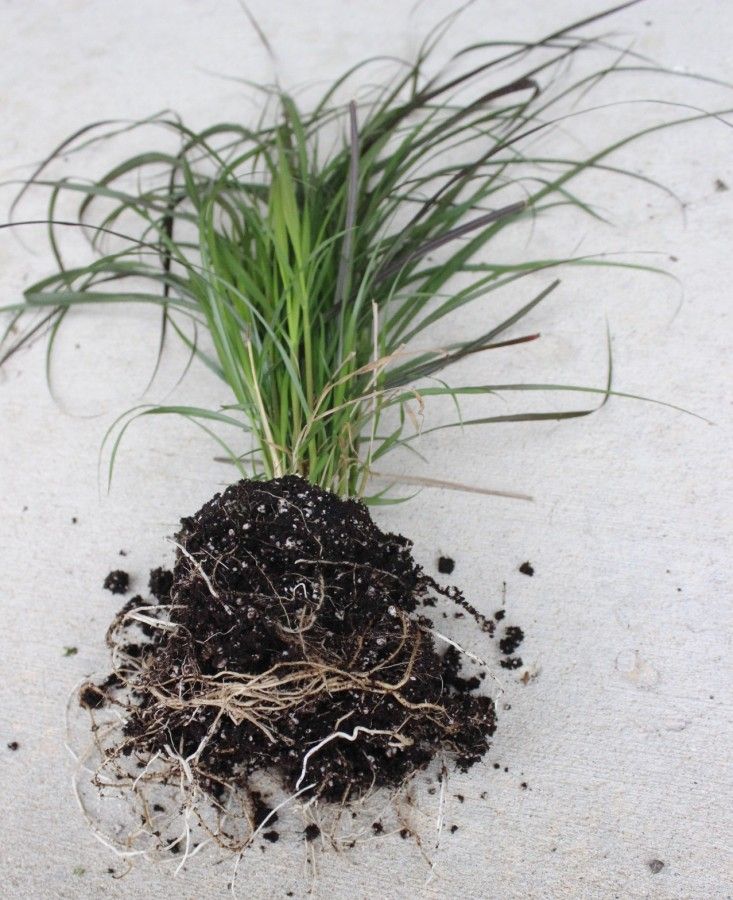 My finished planter, below. As you can tell, I love lots of color contrast. This is a personal taste thing. I have seen beautiful monochromatic planters too!
But, I personally just love the jumble of brightly colored flowers.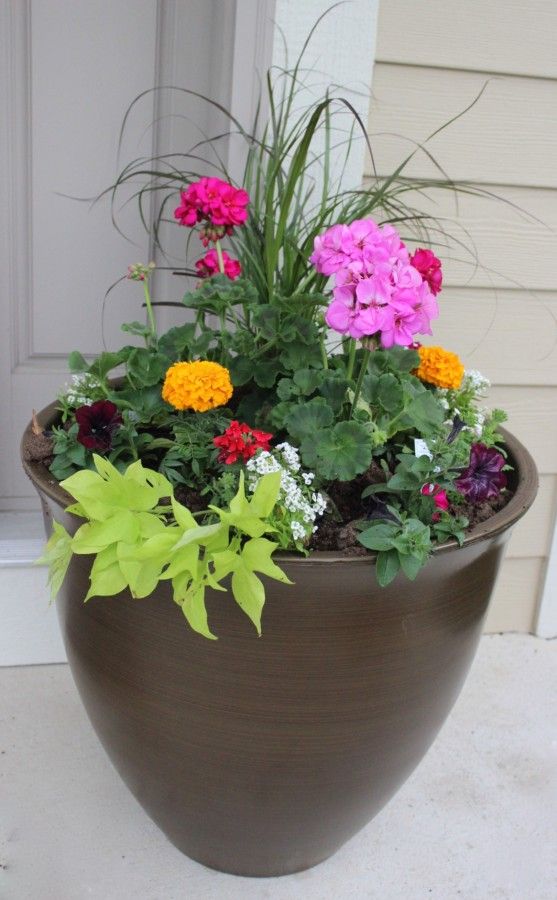 What are your favorite container plants or flowers? Seriously, I'd love to know!
Plants used in these containers
1 purple fountain grass (thriller)
2 pink geraniums as fillers (different shades of pink)
3 wave petunias (wave petunias cascade for the spill)
3 white alyssum (to fill and also spill)
1 sweet potato vine
2 marigolds as colorful filler
How many plants per container
I overplant mine meaning I put in more plants than I should. Part of that is that I live in zone 5 and my summers are short. I don't want to wait for my planters to look beautiful, filled and lush. I just visually make sure the plants have room to grow and fill in but still look good when done planting. It usually only takes 2-3 weeks for my planters to start filling in and I use the small starter plants sold in groups of 4 or 6 if I can find them.
More Inspirations Planter Posts
FAQ's
Where do I buy my plants?
I buy my plants where I know they are taken care of and watered properly. It often isn't a nursery. In my area, my local hardware store puts up a greenhouse and sells wonderfully healthy plants which arrive daily. My basic plants are purchased there.
Big box stores are getting better at caring for their plants. Just buy early in the season.
Where do I get the interesting newer plants?
For those, I would go to a local nursery. They may have them. If any of your neighbors have unique plantings, ask them whee they buy those.
How often should you water your plants.
There are so many factors! Fortunately, I wrote a post that will help you. It's called how to water your plants. There are lots of useful tips here for you!
How to save money buying plants for my planter?
If you can find them, buy the annuals in the 4 to 6 cells. They are much smaller than the individual plants. BUT, in just 2-3 weeks, they fill in nicely and you save a lot of money!
How do you prevent people from stealing your planters?
Sadly, this is a common question. I've never had that be an issue. Some suggestions would be have your planters in the backyard so they aren't as tempting. Use rocks to make the planter heavy vs. empty containers to make them light. I have also seen planters chained to fences or step railings. Sadly, there are people in the world that suck!
How to take care of your planters
More Front Door Planting Ideas.
Oh, if you want to get some tips on window planters, here is my post, Window Box Planter - Some How To Tips.
Didn't look at my fall planter where I reused the purple fountain grass? Take a look at this fall planter.
Looking for a big and inexpensive planter? Repurpose items like I did with this Easy and Inexpensive planter idea. If you are lucky, you can find a used one, or, buy new like I did. This is very close to the container I purchased.
Please pin this if you are on Pinterest!