Pretty planters - 20 flower container gardens
My neighbors and friends have a green thumb! Many green thumbs! Their hard work deserves to be shared. Take a look at what they have done to brighten up their outdoor spaces. It makes my efforts look feeble but I'll keep on trying :). Let me show you their pretty planters - they are just delightful to look at!
Don't you just love the gorgeous green of Amy's sweet potato vine in her planter? Every year her vine look gorgeous!
Some people are not only good at putting a planter together but at staging it as well! I'm on the lookout for a cut log now. I'm in love with the way this planter has been featured in Diane's backyard!
And oh, the pretty window boxes I've seen!
And another one:
About two minutes from my house is a local restaurant. I have stopped to admire the flowers (red geraniums) numerous times! I've actually thought about asking how they keep their geraniums blooming so profusely all summer long.
Here's a closer look at them:
I get so envious when I see these. Mine don't do nearly as well.
On the other wall, another type of geraniums are growing in the window boxes.
A closer look!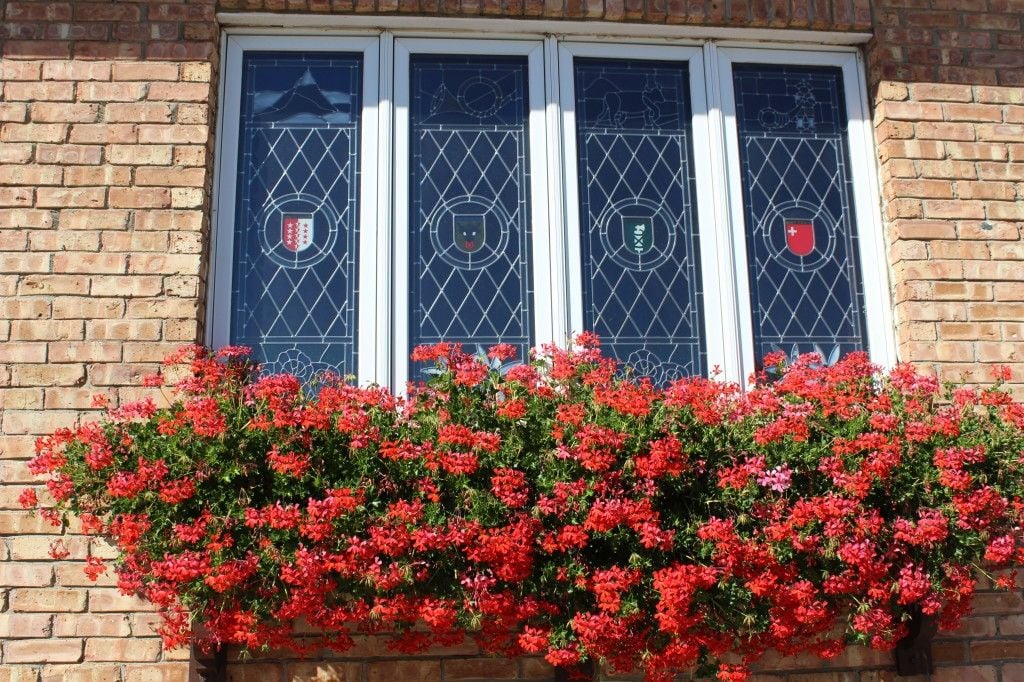 I love the cascading flowers, so bright and cheery! They greeting you at the front door at Mary's house.
And then some planters hung high to add some height to the flower display.
Happy Fourth of July! A festive planter on Erica's front step! More of the cascading I love.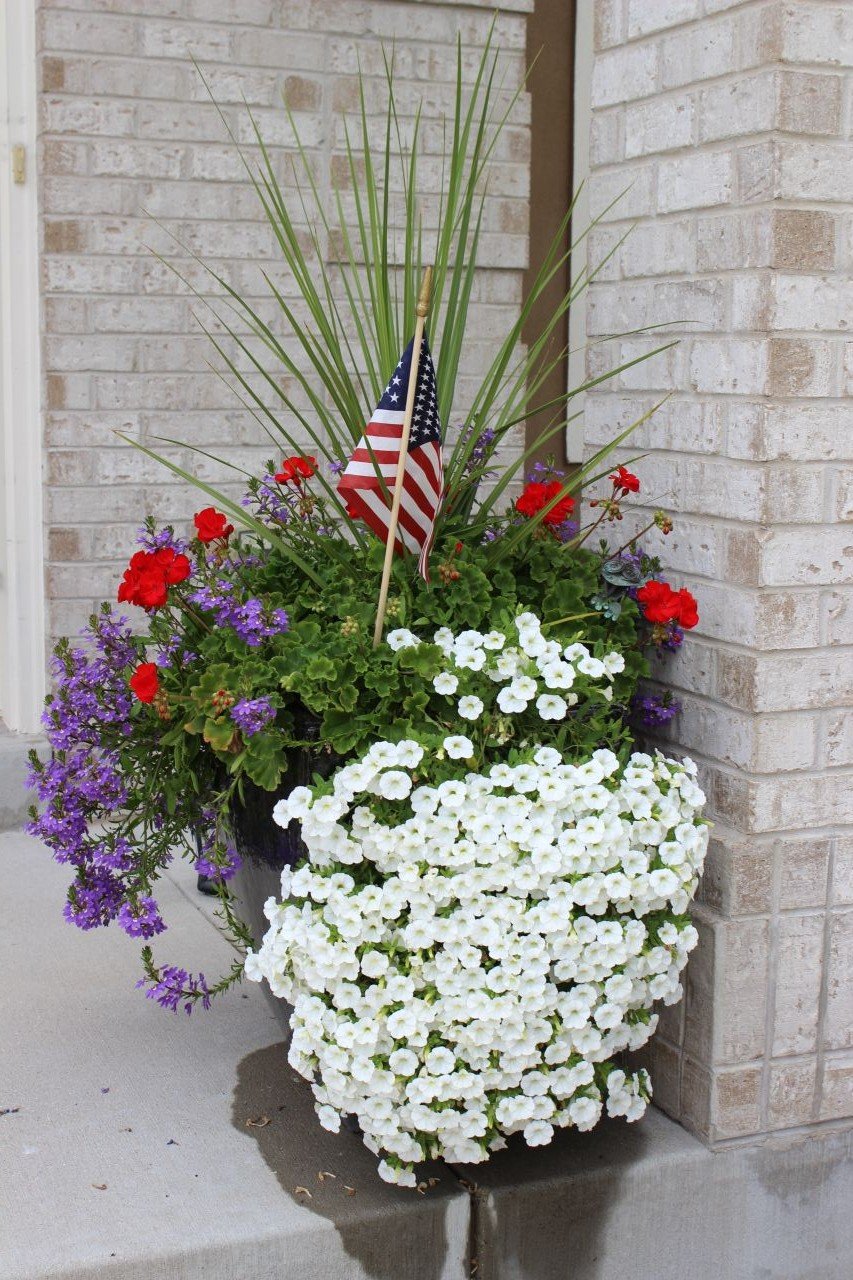 And then there are some non-traditional planters. So beautiful for their uniqueness!
I got caught snooping in this planter, trying to figure out how those marigolds were propped up to be so high. Ummmmmmm, they aren't propped up, they just grow happily that way. Sorry for snooping Jo!!
And of course a tomato planter! Nothing better than fresh tomatoes!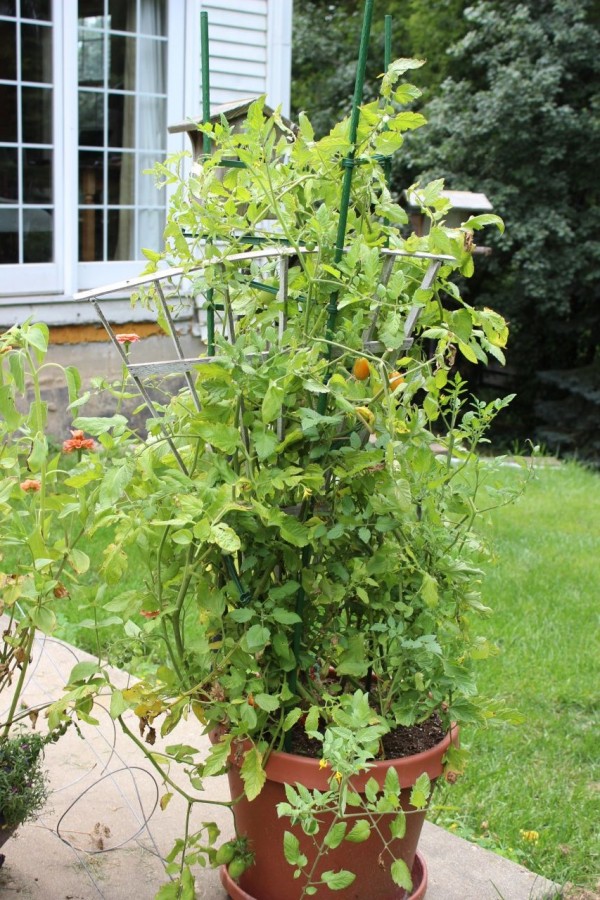 Oh, and if your summer flowers run out of oomph, just squeeze in a fall flower for some new color and height. I confess, I cheat sometimes 🙂 .
My simple planter to add a splash of color on my driveway:
I'm going to be in trouble because I was asked not to put these planters in this blog. But, it was so cutely photobombed by one of my favorite four legged friends! Hi Annie!!
As I was taking pictures at Lori's, I looked across the street and had to share Magaly's planter with you! It was such a fun pop of color beside the driveway closer to the street. It wasn't tucked right by the house and that's why I think I noticed and loved it. I'll have to try to do that. With a log that I need to find. Oh, these planters are inspiring me for next year already!
I have had planters on my mind for a while now. Even when I drop off my kids at their friend's homes, I check out what kind of planters there are. I LOVE, LOVE what Karyn did with her planters on the red bench. It's a very shady area but she managed to make it so bright and inviting. I was told that Liz may have helped :).
Thank you for letting me share the beautiful flower planters I've seen in the last couple of weeks. I hope our summer lasts just a little longer so we can enjoy them just a little more!
Want to see some more?  I went around my neighborhood again!  More flower planters for you if you click through on the button below!
When I first wrote this post, the main comment I received were comments looking for advice on how to plant containers!
Other planter and container garden posts with lots of ideas and inspiration!
How I plant my front door flower container.
Make your own unique large planter (inexpensive).