Geraniums are my favorite plant when creating a pretty planter. Especially one that will be a focal point in my yard. These plants are easy to grow, maintain and come in a variety of beautiful colors.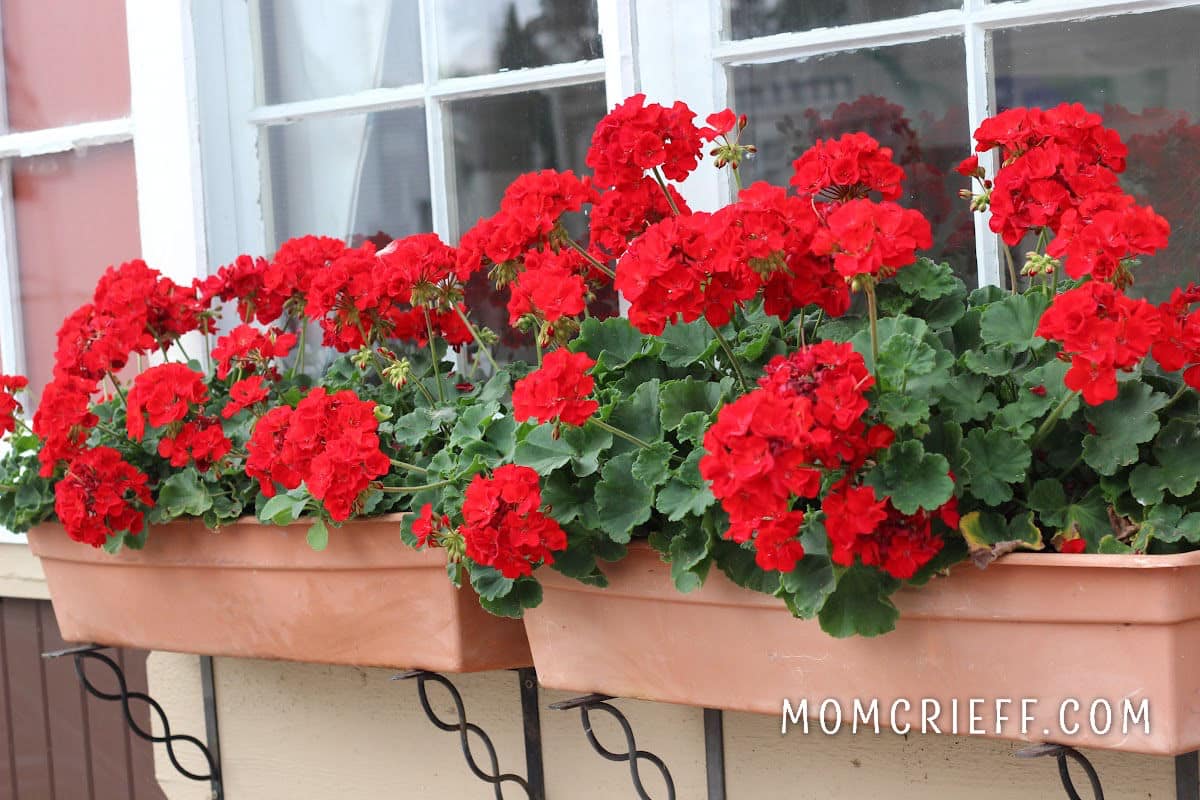 An added bonus is they grow and spread nicely and are not an expensive plant. Unless I'm planting a large planter, or a windowbox like above, I only need to buy one. If you are looking for another post showing a variety of planters, take a look at this 25 Outdoor Planters post. If you are visiting later in the gardening season, this Fall Planter Ideas post is always popular for fall planter inspiration.
I love those window boxes I showed you (above). Here is what they look from a few steps back. So makes me want to have window boxes!! If you are like me and LOVE red geraniums, take a look at the red geraniums post I wrote.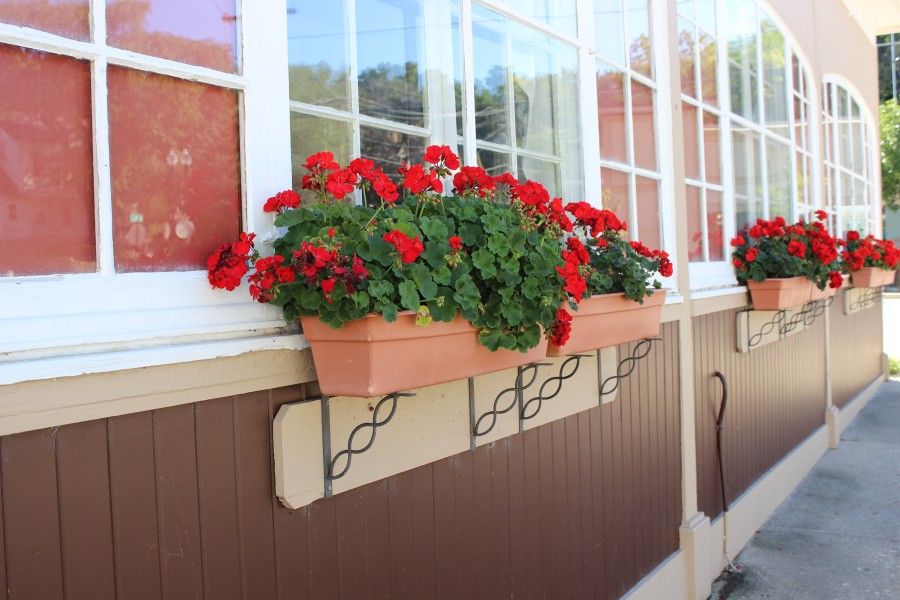 Geraniums in Pots - pictures
I'm sharing pictures of my favorite geranium planter images in this post. My hope is that they give you ideas and inspiration. All of these planters were planted by real people and were a short walk from my home!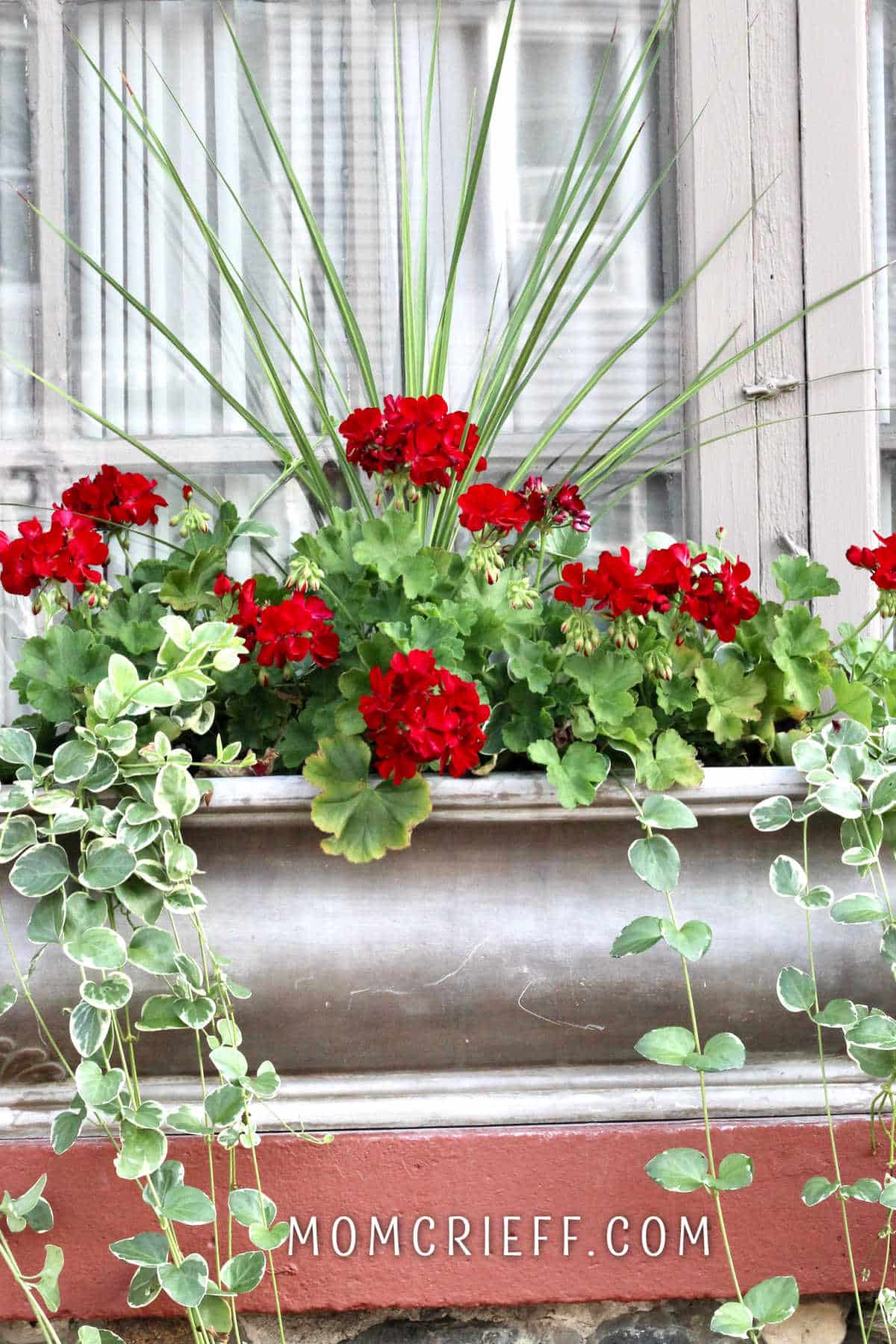 Potting Ideas
This pink geranium pot (below) full of bright pink flowers has been inspiring me for a few years. I love the simplicity of it. It has a healthy plant in the center and just a few trailing vincas cascading down. I love the height it has by elevating the pot on the log. And, the weathered terra cotta container.
Tip
This type of vinca in the pot below is the cheap annual kind. Don't buy the more expensive vinca perennials for this look.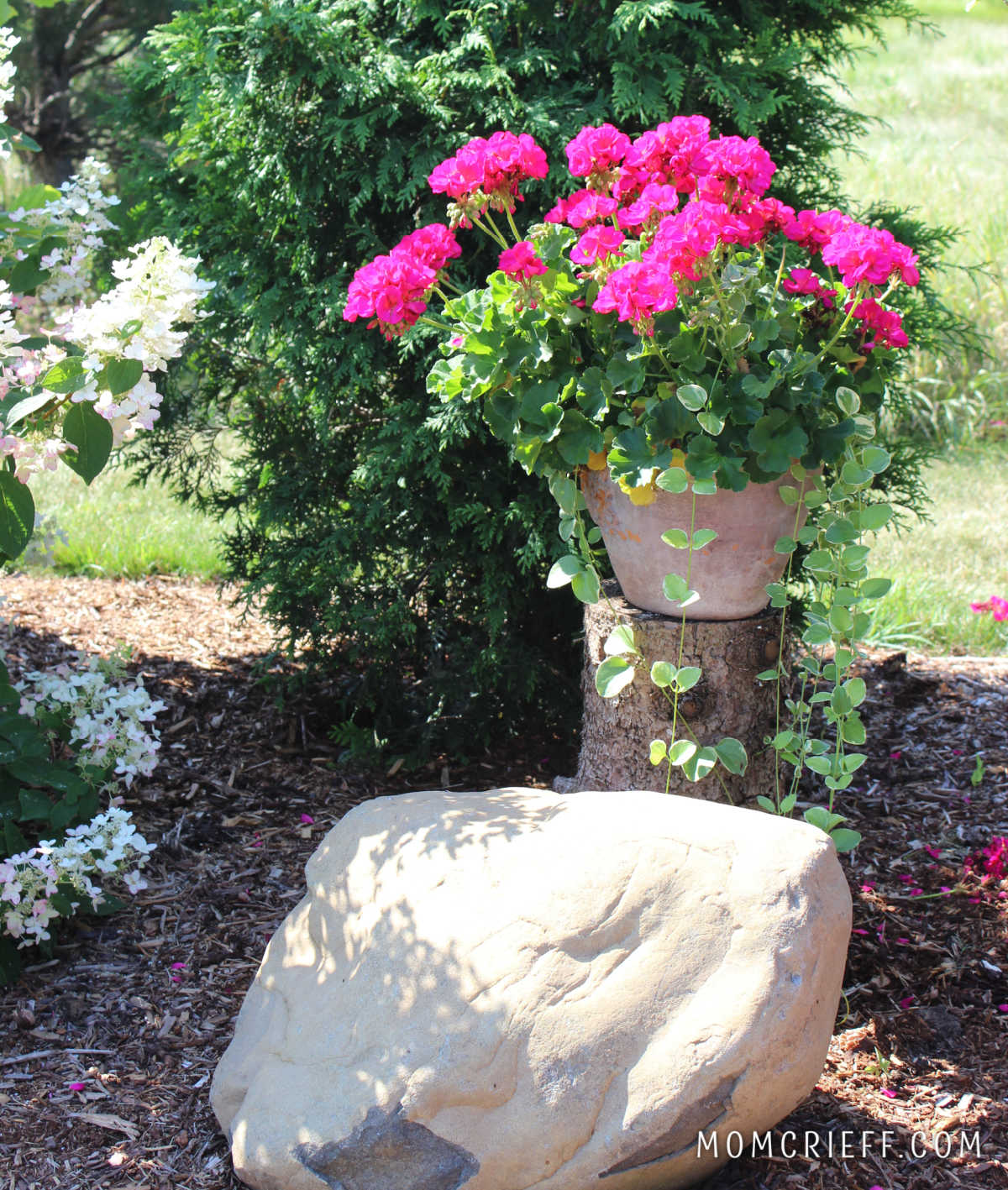 The planter below is a favorite and the geraniums used in this one are ivy geraniums. Where these are located, these plants receive morning sun only. For these red geraniums, that's perfect since they don't do well in the hot sun all day long. They do need at least 6 hours of daily sun so if you notice yours aren't doing well, pull them out to ensure they get enough sun (and make sure you are watering them appropriately). The purple cascading flowers are petunias, the little yellow ones are million bells and the fun bright leafy plants are sweet potato vines.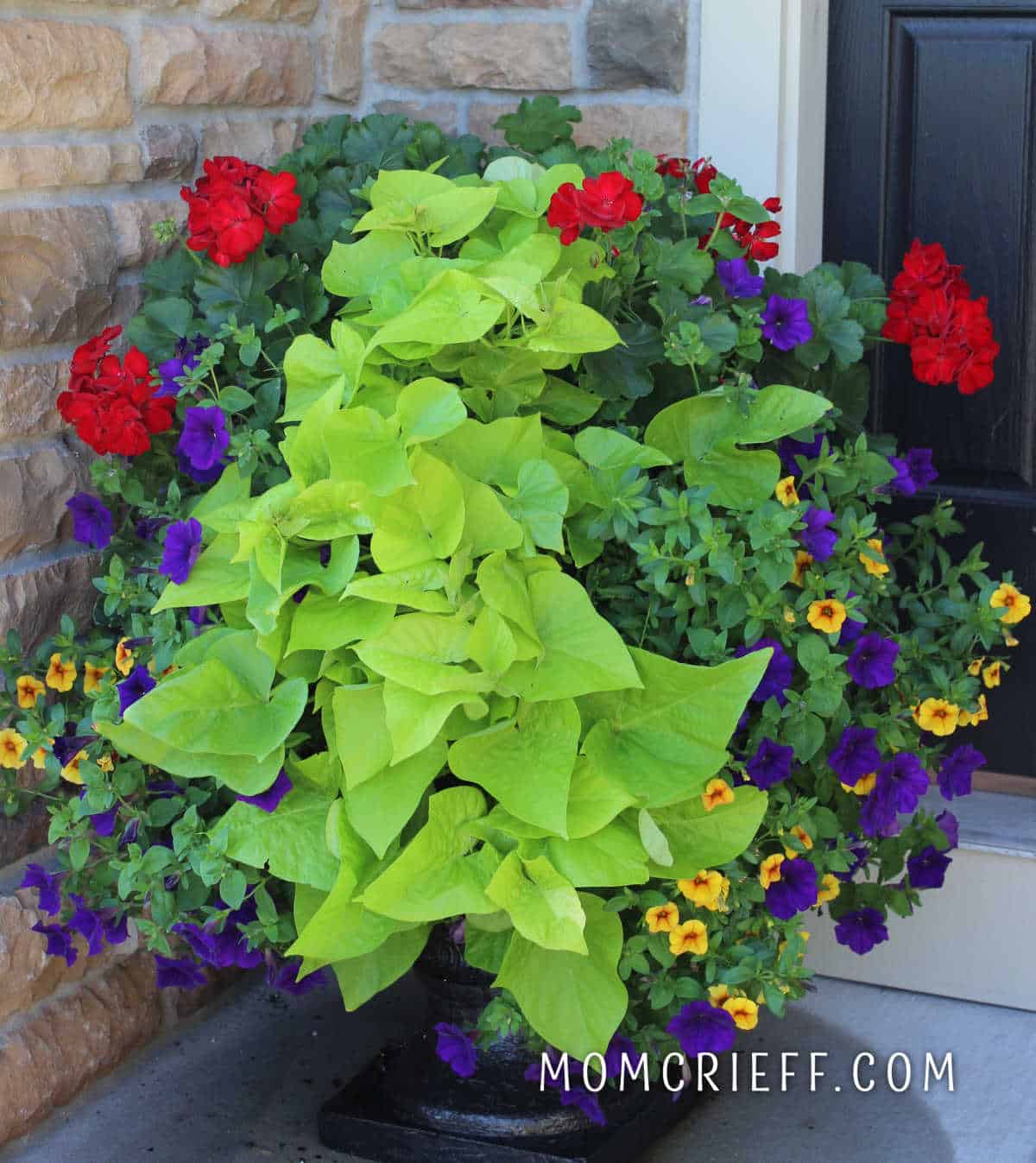 Below is a fun experiment I tried one year. Those are perenial hostas contrasting with the red geraniums. They are planted in a galvanized steel tub that I made a little more interesting by gluing some sisel rope around it. I loved this one and it looked so pretty as it filled in. I will be making this metal tub planter this spring! There are lots of tips and details on how I made the planter below if you follow the blue link.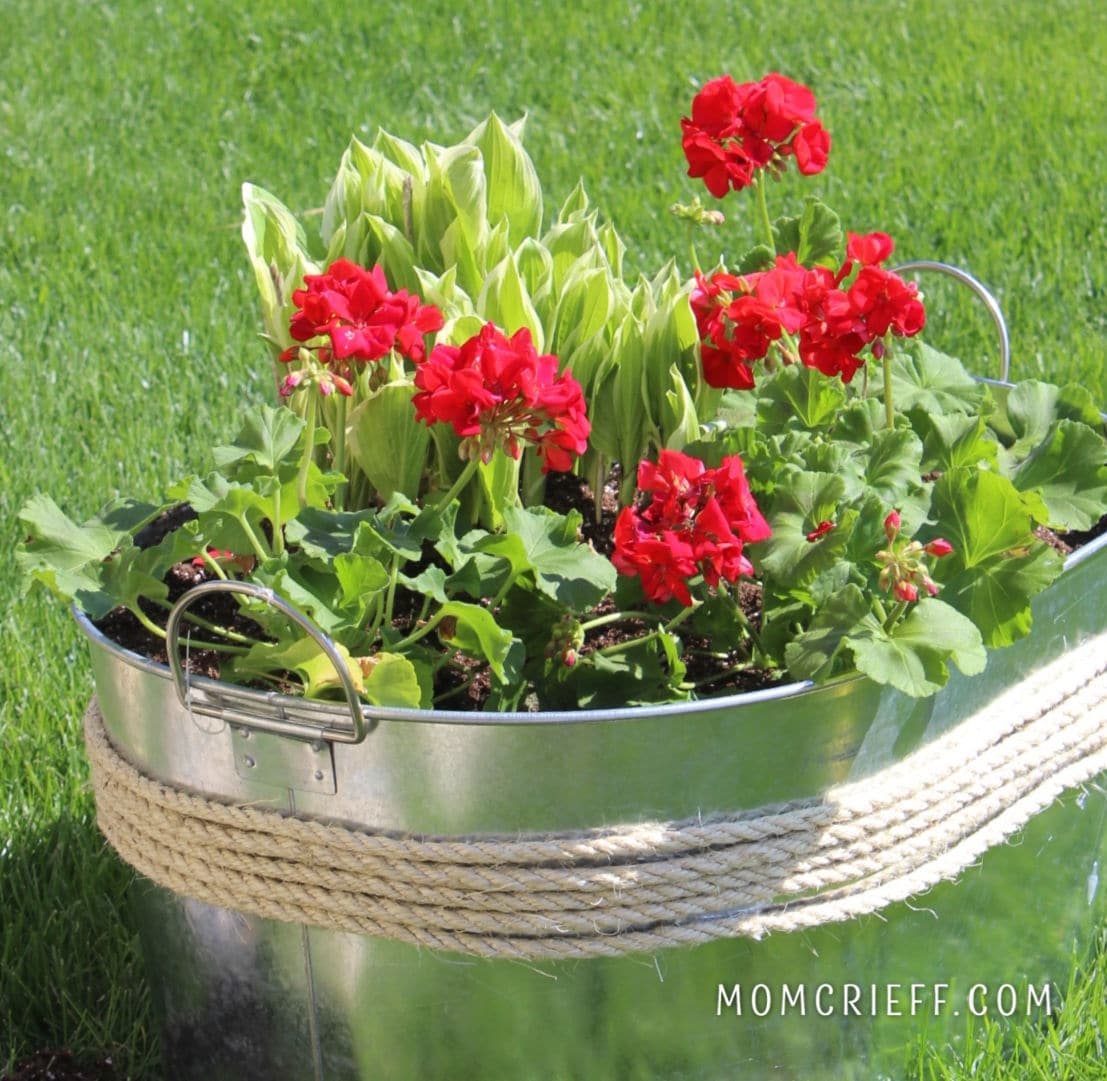 Geraniums in Window Boxes
Remember those beautiful red window boxes at the beginning of this post? These are different geraniums on the other side of this building. On the side with less sun.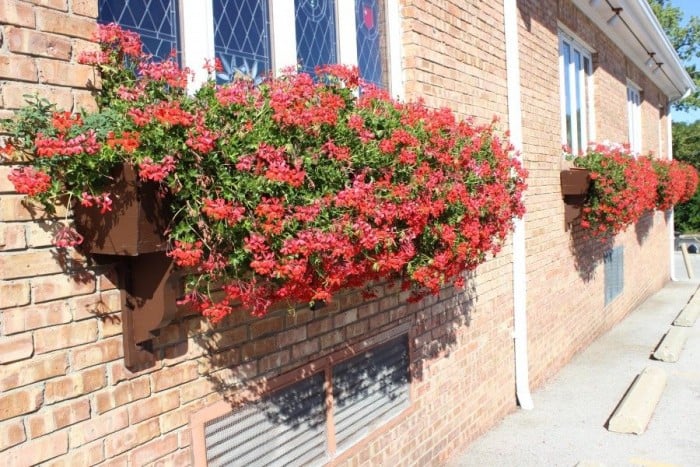 A closer look!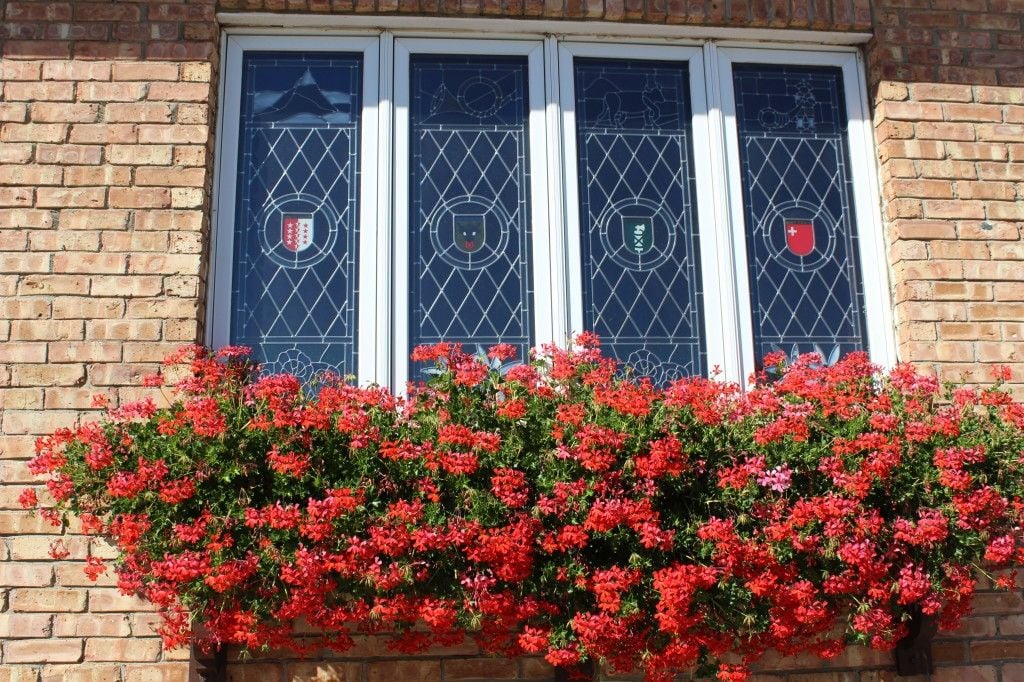 These make me want to have window boxes at my home!
Back to planters!
Helpful Tip
Red geraniums are often used as the "red" when planting a red, white and blue theme! Having planters with this color theme helps if you decorate for Memorial Day, July 4th and Labor day.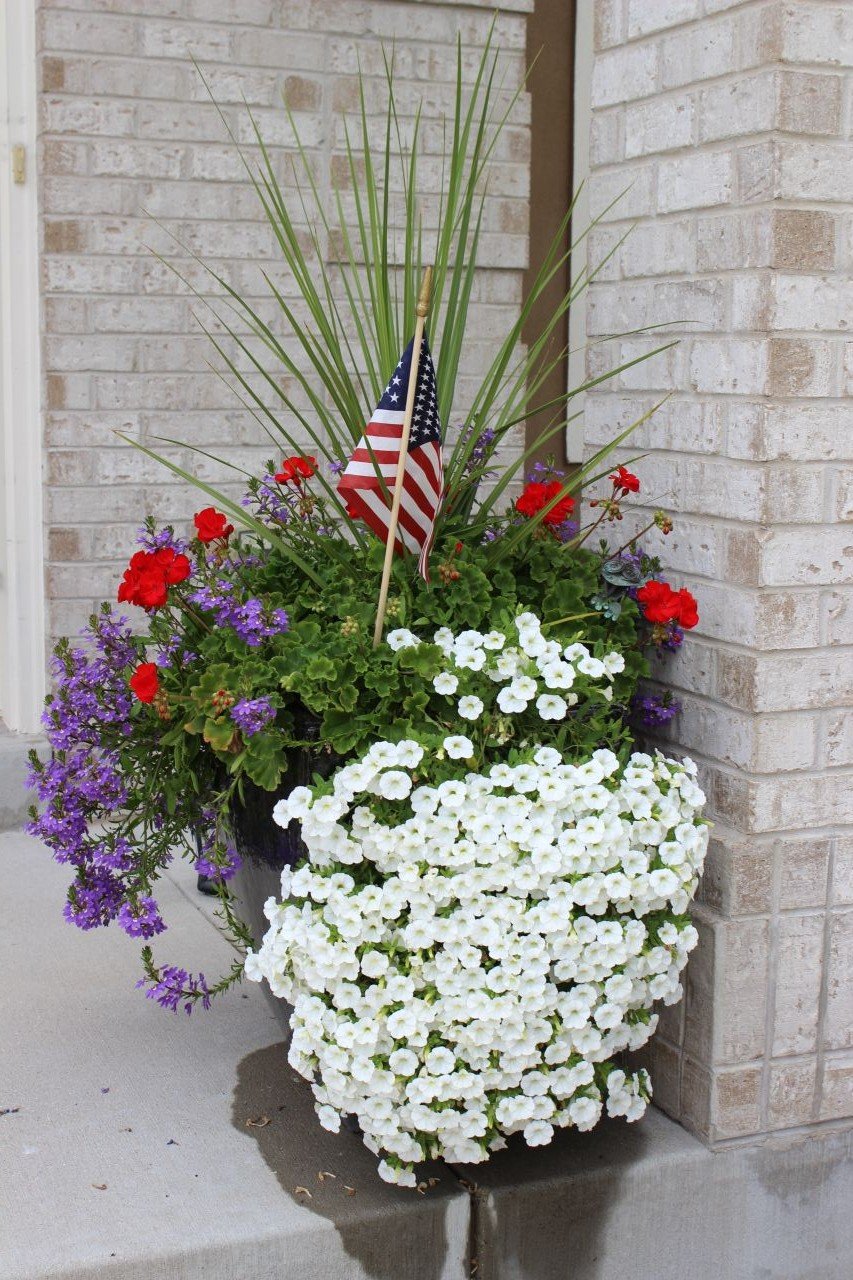 Here is my simple planter to add a splash of color on my driveway. It literally is three plants. They are a red geranium, a multi colored lanterna and an alysum.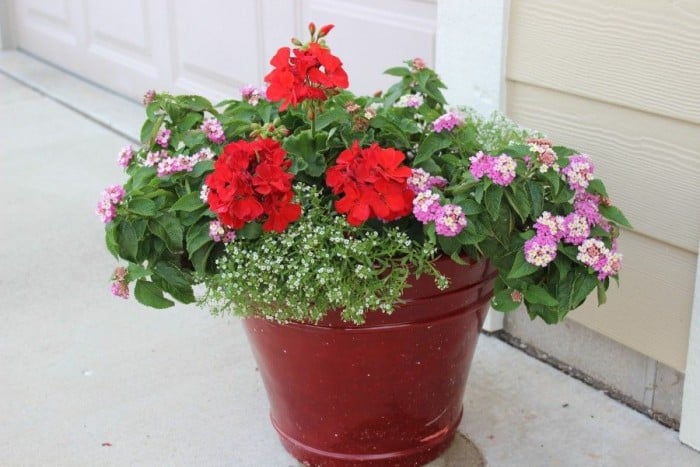 If you do have a boring spot in your yard, put a bright colored planter there!! If you don't have time to fix that spot with landscaping, distract people with color!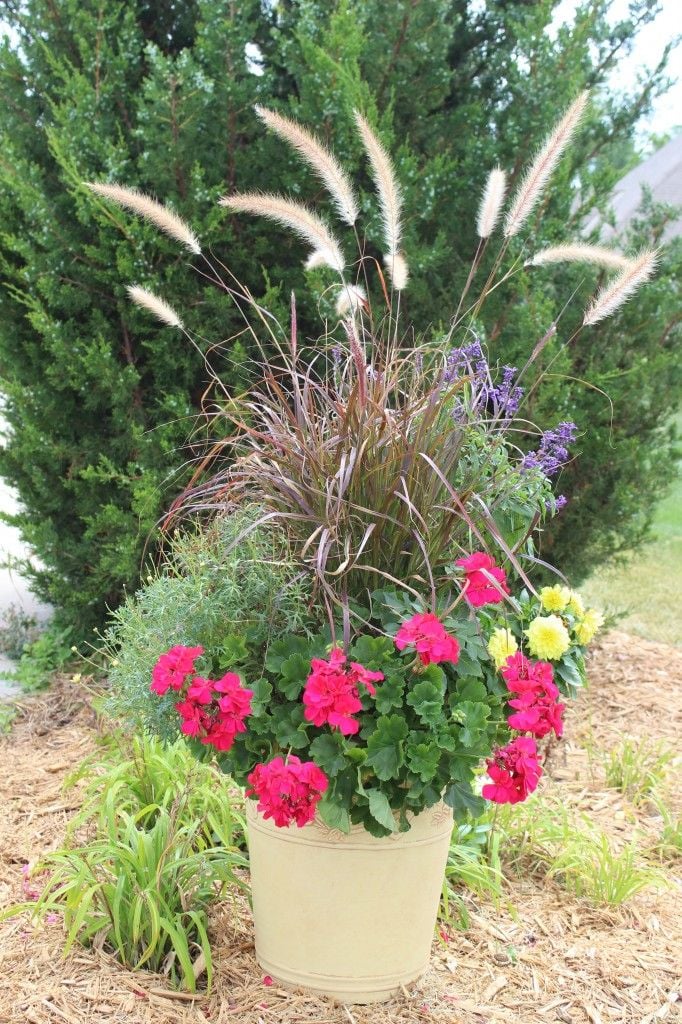 Garden Art Decor
Although this planter doesn't have geraniums in it, I have saved my falling down red "Don't sit on this bench!!" to place planters on. I love the color and the elevation. Mine have had geraniums in them!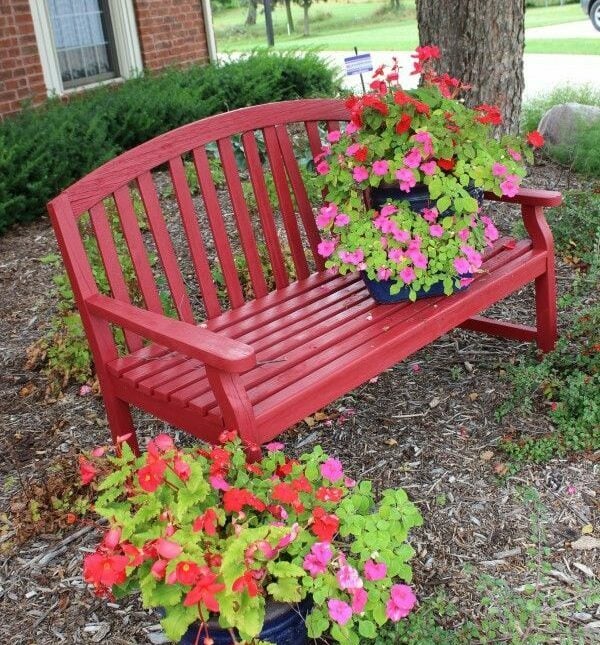 If you have an antique sink of any kind, it's a great way to add some height to your pots. Also, I just love the plain white contrasting with the bright flowers!! Don't you?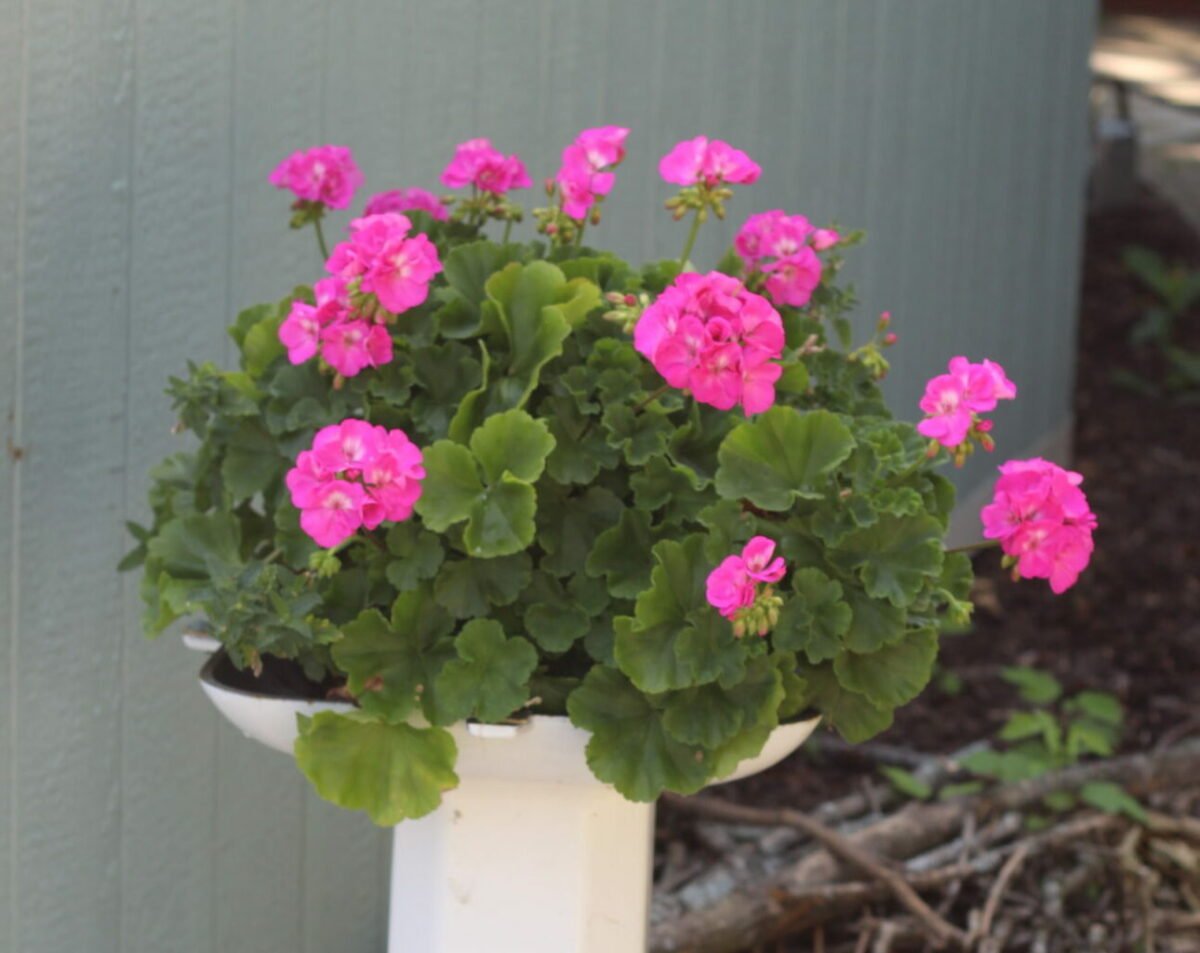 Thanks for dropping by and letting me show you some planters. Here are a few other planter and container garden posts with lots of ideas and inspiration!
FAQ's
How to water your plants to keep them thriving?
This is a big question. The answers can be found in this How to water your plants article.
What fertilizer do you recommend?
For my flowering planters, I always use Miracle Grow Bloom Booster. It has to say Bloom Booster on the package. It's not just regular Miracle Grow.
I've never planted my own planter before! Any tips?
Yes! Here is all the information you need on How to plant flower pots.
These geraniums are copies of watercolor paintings made by my friend Rosana, an architect in Spain. She made them for me (and you!) and is so talented!
These are printable files that will be emailed to you. Then you print them on your own computer! These are sized for 8 x 10 paper (normal printer paper size). The size is perfect to be framed and displayed in your home.
I've set up a 30% off discount just for you. It applies to my geranium products. Click on the link under the watercolor geraniums to get to the specific item. My store is called OnWoodlandLane if you would like to browse.
Make your own unique large planter (inexpensive).
*first published May 7, 2016