These three-ingredient peanut butter cookies are made from scratch using ingredients you most likely already have at home. They are naturally gluten-free, quick, and really easy to make. From start to finish, they take less than 30 minutes! I also like that this makes a small batch.
Three Ingredient Peanut Butter Cookies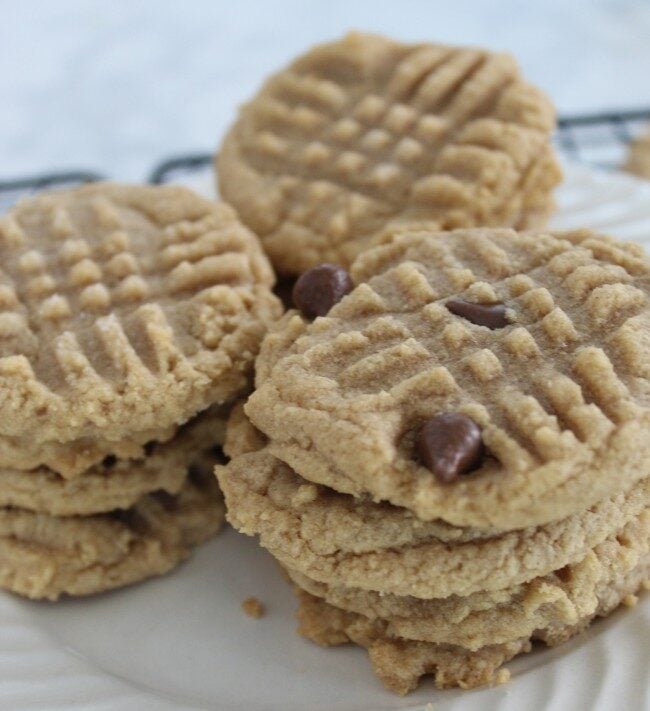 This recipe will make about 15 - 18 cookies, depending on how large you make the cookies. Honestly, I think these are the best peanut butter cookies - they have the best peanut butter flavor!
If you like easy cookie recipes, make sure to try these shortbread cookies. They only have 4 ingredients.
Measuring tip for Peanut Butter
Here's a simple tip I learned years ago. When measuring sticky ingredients, spray cooking baking spray in your measuring cup. Then all your ingredient comes out easily!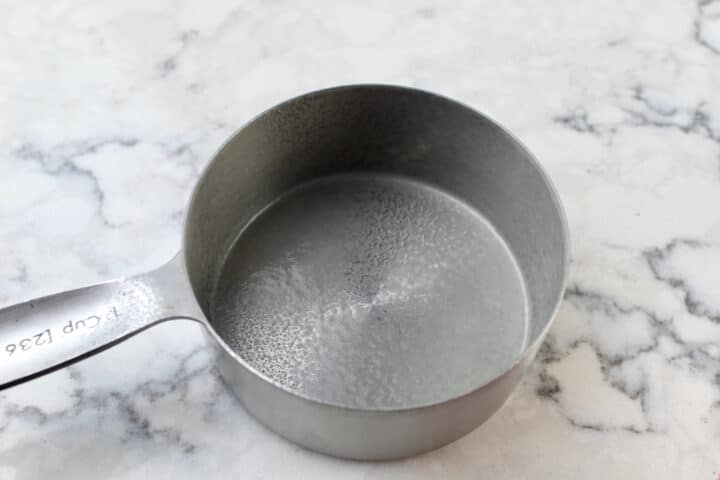 Ingredients
Nothing complicated here!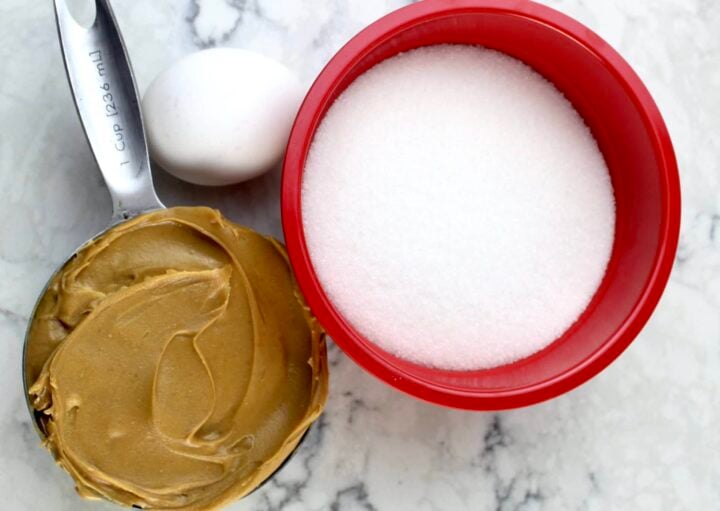 1 cup peanut butter - at room temperature (either crunchy peanut butter or creamy peanut butter works)
I find the all-natural peanut butter does not work as well.
1 cup granulated white sugar
1 large egg
**There is NO flour in this recipe, making this a gluten-free recipe with a wonderful pb taste.
Instructions
I've had many readers write me that they teach their kids how to make this as their first baking recipe. Of course, the kids love flattening the dough ball!
Preheat the oven to 350 Fahrenheit.
Step 1
In a medium bowl, add peanut butter, sugar, and egg.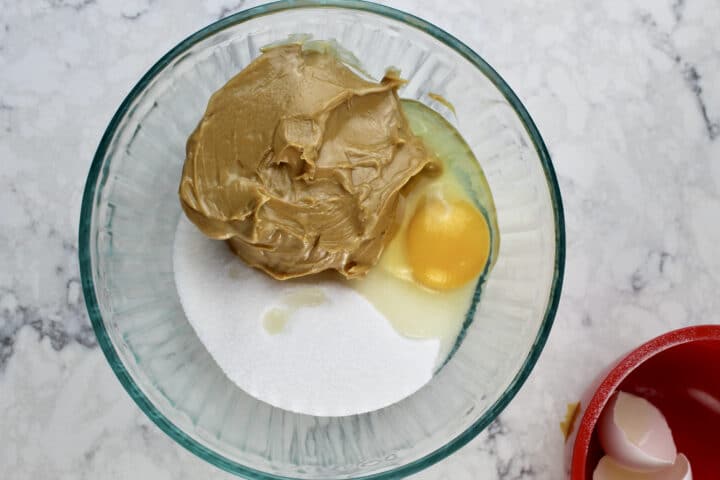 Stir until well combined in a mixing bowl! It is easy to do by hand. No need to use an electric mixer.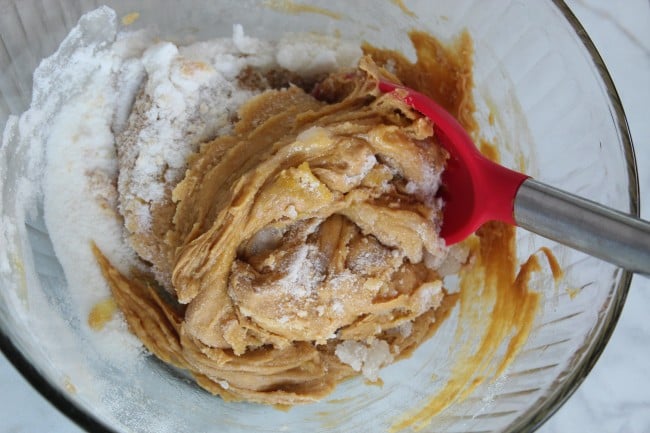 Step 2
I use a cookie dough scoop to quickly put rounded heaps of batter onto a cookie sheet. If you don't have a cookie scoop, use a tablespoon to get a consistent size and then roll the dough into one-inch balls. I do love using my Silpat baking liners with any cookies I make! These silicone baking mats/liners are awesome and make cleaning your baking sheet easier. If you don't have baking mats, use parchment paper.
Tip
If you want to make just a few chocolate chip peanut butter cookies. Just put 3-4 semi-sweet chocolate chips on each dough ball before you flatten them. That way you can have plain and some with chocolate chips It's much easier than stirring the chocolate chips into the dough!
Step 3
Once you have all the cookie dough balls on your baking pan, you'll want to flatten the dough with a fork to get the traditional criss-cross pattern. I sprinkle a little sugar on the dough and I also dip the fork tines into sugar. It helps prevent the fork from sticking to the dough.
Bake the cookies for 10 to 12 minutes at 350 F. I prefer my cookies softer so I usually bake closer to 10 minutes. These should not appear brown around the edges when done. They are a light golden brown and soft when you take them out of the oven. Leave them on the cookie sheet for a couple of minutes then carefully place them on a wire rack to finish cooling. As they cool, they do firm up.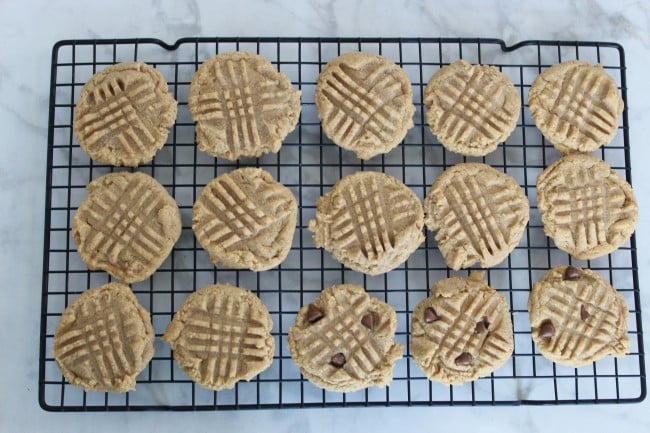 See some of the chocolate chips that I added?
It's always great having simple options!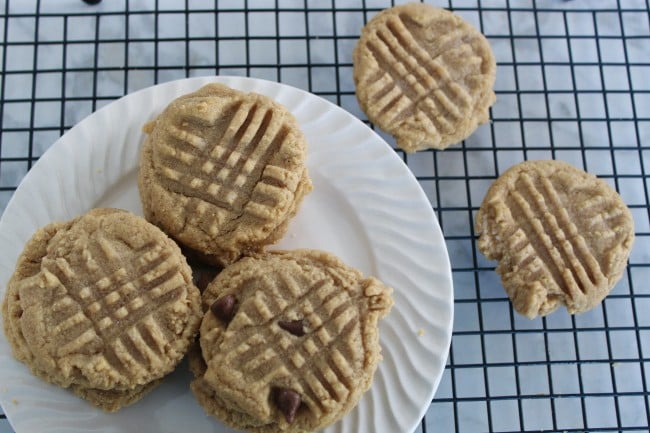 How to store these pb cookies
Store in an airtight container for 3-4 days at room temperature. If storing for a week, refrigerate.
Cookies can be frozen if well wrapped.
FAQ's
Can I use all-natural peanut butter?
I would suggest not using an all-natural peanut butter. The reason has to do with the way natural peanut butter has oil that separates. You may not have a consistent amount of oil. With so few ingredients in this recipe, it matters.
Can this recipe be doubled?
Yes! But I like the small batch size.
Can I use crunchy peanut butter?
I have and it works great!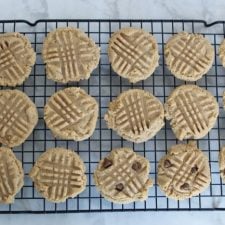 Easy Three Ingredient Peanut Butter Cookies
A simple and delicious three-ingredient recipe to make peanut butter cookies. Using pantry items that include sugar, peanut butter and an egg. Quick, easy and about 30 minutes to make.
Print
Pin
Rate
Ingredients
1

cup

peanut butter

All-natural peanut butter is not recommended.

1

cup

white granulated sugar

1

egg
Instructions
Preheat oven to 350 degrees.

Add the above ingredients into a bowl and stir well to combine.

This recipe makes 15 to 18 cookies. Good-sized cookies too!

If you would like to add chocolate chips to some of your cookies, just add them on top of the dough balls before you flatten them. It's the easiest way to make just a few chocolate chip peanut butter cookies!

Dip your fork into sugar then press the cookie dough ball to create the traditional crisscross pattern. The sugar gives you that little crunch on top.

Bake 10 to 12 minutes, until just starting to brown on the bottom. Watch closely!

Place on a wire rack to cool and then enjoy!
Notes
This is a small enough batch that I sometimes make it in my toaster oven! If you want to try that, decrease the heat to 325 and watch carefully to see when they are done - they often are done a couple of minutes earlier.
Optional - add chocolate chips if desired.
Nutrition
Serving:
1
cookie
|
Calories:
132
cal
|
Carbohydrates:
14
g
|
Protein:
4
g
|
Fat:
8
g
|
Saturated Fat:
2
g
|
Polyunsaturated Fat:
2
g
|
Monounsaturated Fat:
4
g
|
Trans Fat:
0.001
g
|
Cholesterol:
10
mg
|
Sodium:
66
mg
|
Potassium:
85
mg
|
Fiber:
1
g
|
Sugar:
13
g
|
Vitamin A:
15
IU
|
Calcium:
9
mg
|
Iron:
0.3
mg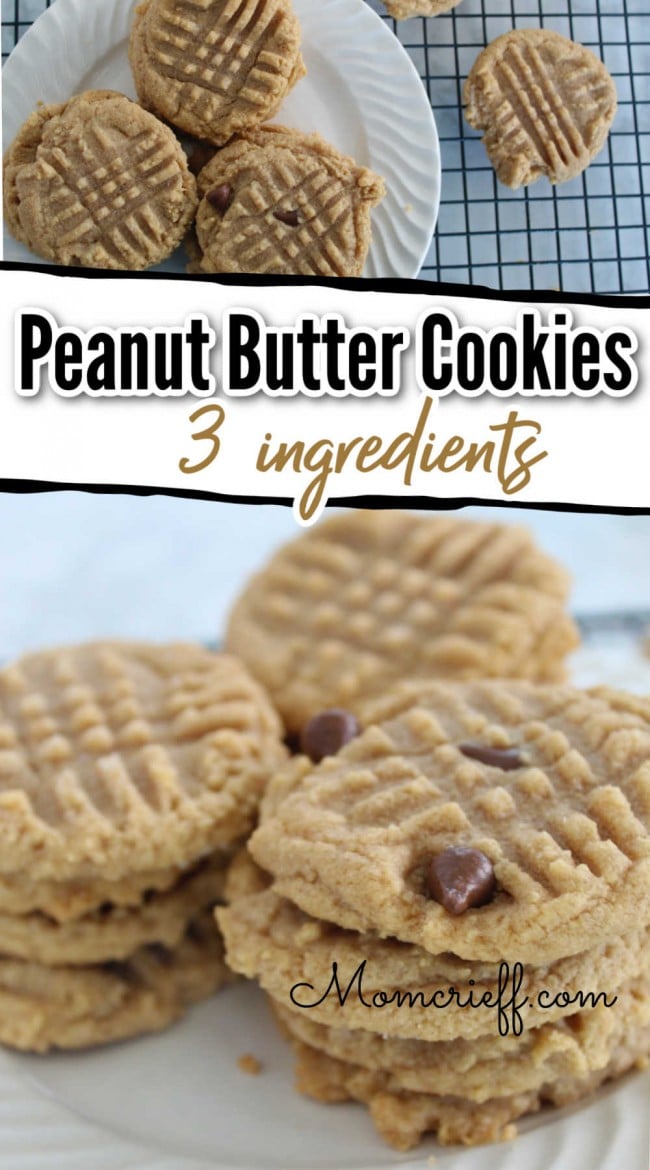 Below was my Pinterest pin back in 2013 when I first started blogging! I've learned a little about better lighting and how to use photo design software to make prettier pins. It's still out there and people are still pinning it!!
Are there other easy recipes here?
YES!!
Looking for another easy cookie recipe? Make these 4 ingredient shortbread cookies. This is another easy scratch recipe.
The first two-ingredient recipe I published was this 2 ingredient pumpkin muffin recipe. I remembered it from years ago. Every fall it goes crazy! It has a nice pumpkin spice flavor and you can make it in less than 30 minutes.

One more for you! How about an easy peach crumble? Using canned peaches, cake mix and butter. Yup, that's it! It's one of my family's favorites. Easy, quick and delicious! Click here for the peach crumble / cobbler recipe.
Thanks for visiting my site!