Scotcheroos Bars are a delicious peanut butter and cereal bar treat. Kids love them and adults always comment on how long it's been since they've had these. They are a delicious no-bake dessert bar with a nice chewy texture. The bonus is these take less than 30 minutes to put together!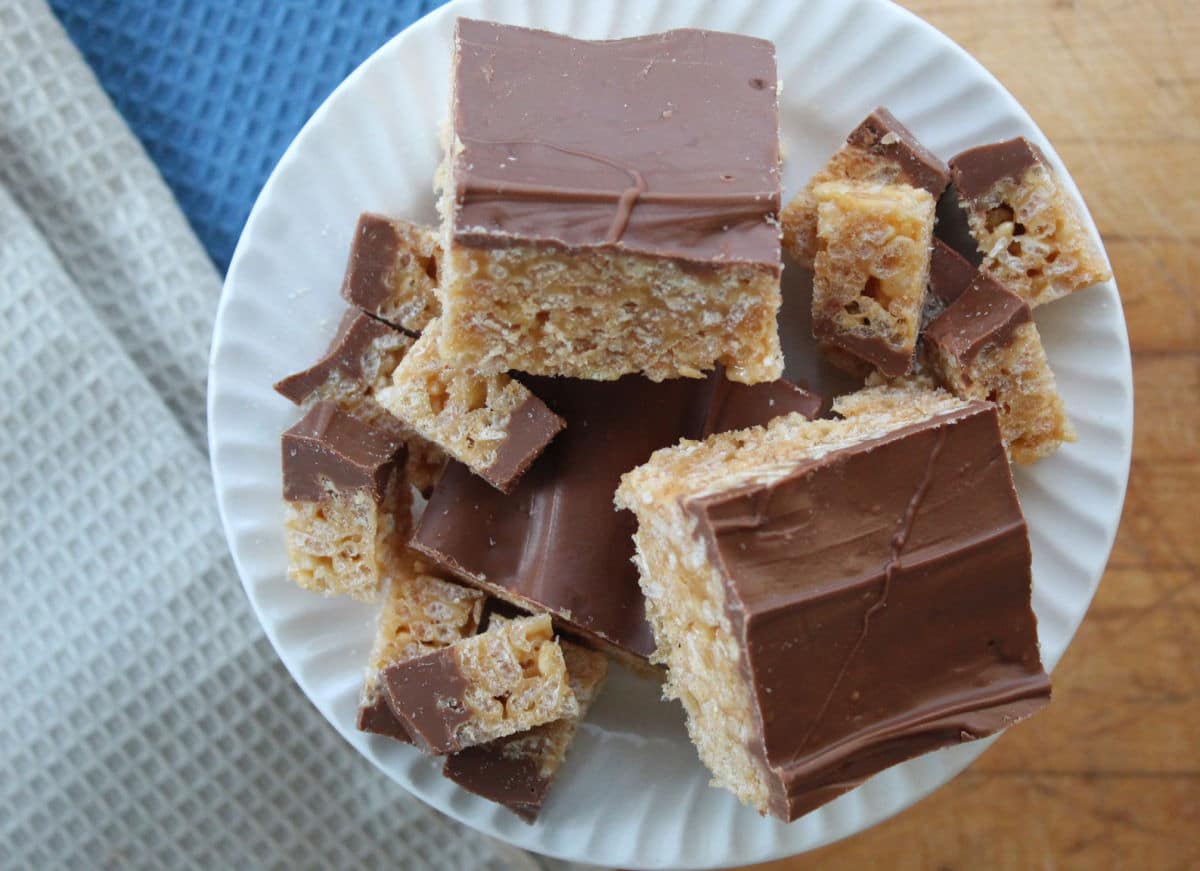 Rice Krispies Scotcheroos have been a family favorite for years! It only takes 6 ingredients to make both the bars and the chocolate and butterscotch frosting. Don't forget. They take less than 30 minutes to put together! If you enjoy these, you will love these Special K Bars!
If it's a peanut butter craving you are having, make these three ingredient peanut butter cookies. Or, you can also make this super easy three ingredient peanut butter fruit dip.
Why I love these bars
Both bars are quick and easy to make and have a delicious peanut butter chocolatey flavor! I feel like I'm sharing a major secret here, but the difference is really just the type of cereal used. Honest!
Did I mention they are quick to make? These cereal bars can be assembled in less than 20 minutes!
Ingredients
Just 6 ingredients! I just counted to make sure I got it right.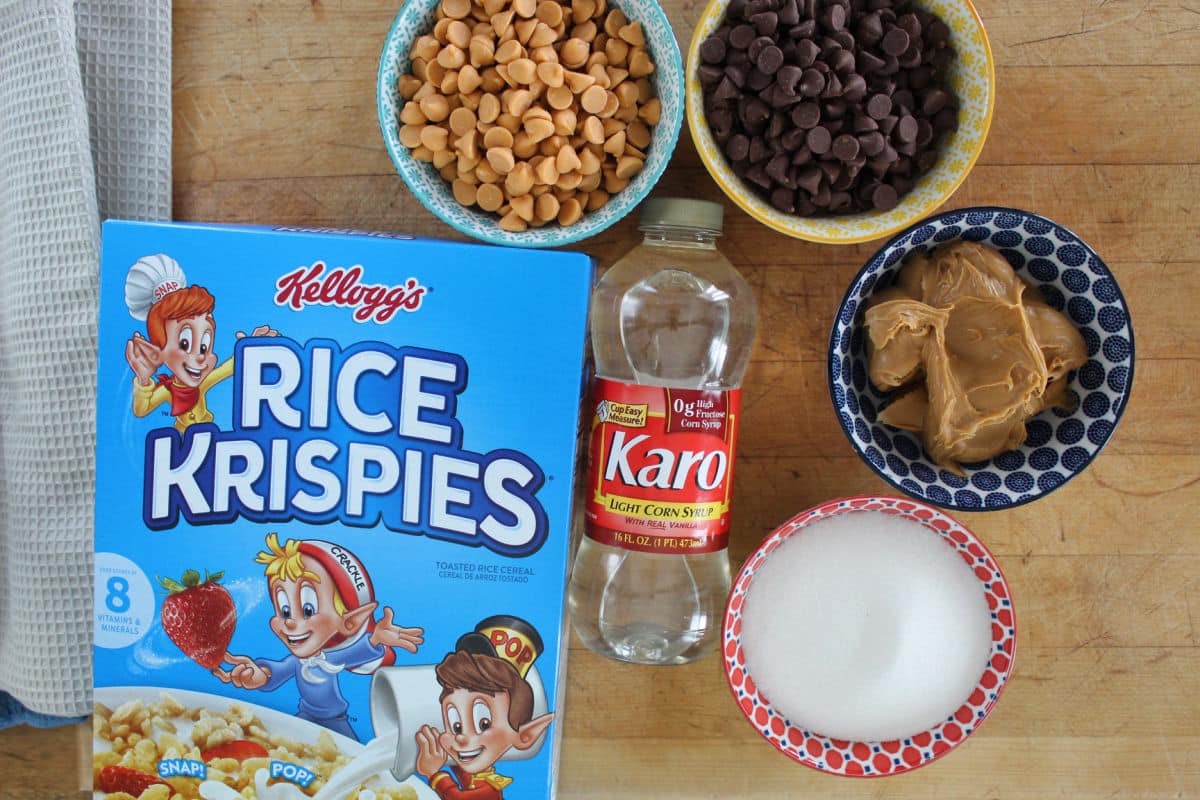 Rice Krispies Cereal
Light Corn Syrup
Smooth Peanut Butter
Butterscotch Chips
Chocolate Chips
Sugar
Shopping Tip
Below is what light corn syrup looks like. This is a popular brand you will find in most stores. It's a clear liquid and you can find it in the baking aisle.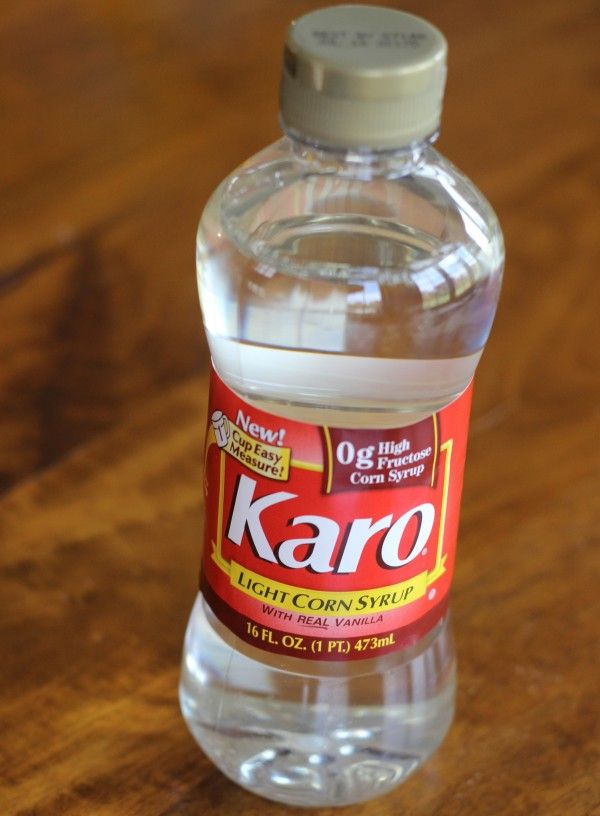 Peanut Butter Selection
Use a commercial-type smooth peanut butter (Use a brand like Jiff or Skippy or a store brand). Don't use all-natural organic peanut butter because the recipe may not turn out as well. It has something to do with the way the oil separates in the organic and all-natural brands.
IMPORTANT Pro Tip
Read through the whole recipe and pre-measure ALL your ingredients. That needs to be done before you heat anything. You will need to work fast and the best way to do that is have everything measured and ready to go. If you let the ingredients boil too long or too hard, the final bars can be hard. Have everything organized and ready to use!!
Instructions
Step 1
Did you pre-measure everything?
In a large saucepan, add light corn syrup and sugar. Heat on medium until just melted and starting to boil. I usually watch for the bubbles on the side of the pot like the picture below. The mixture does NOT need to come to a rolling boil.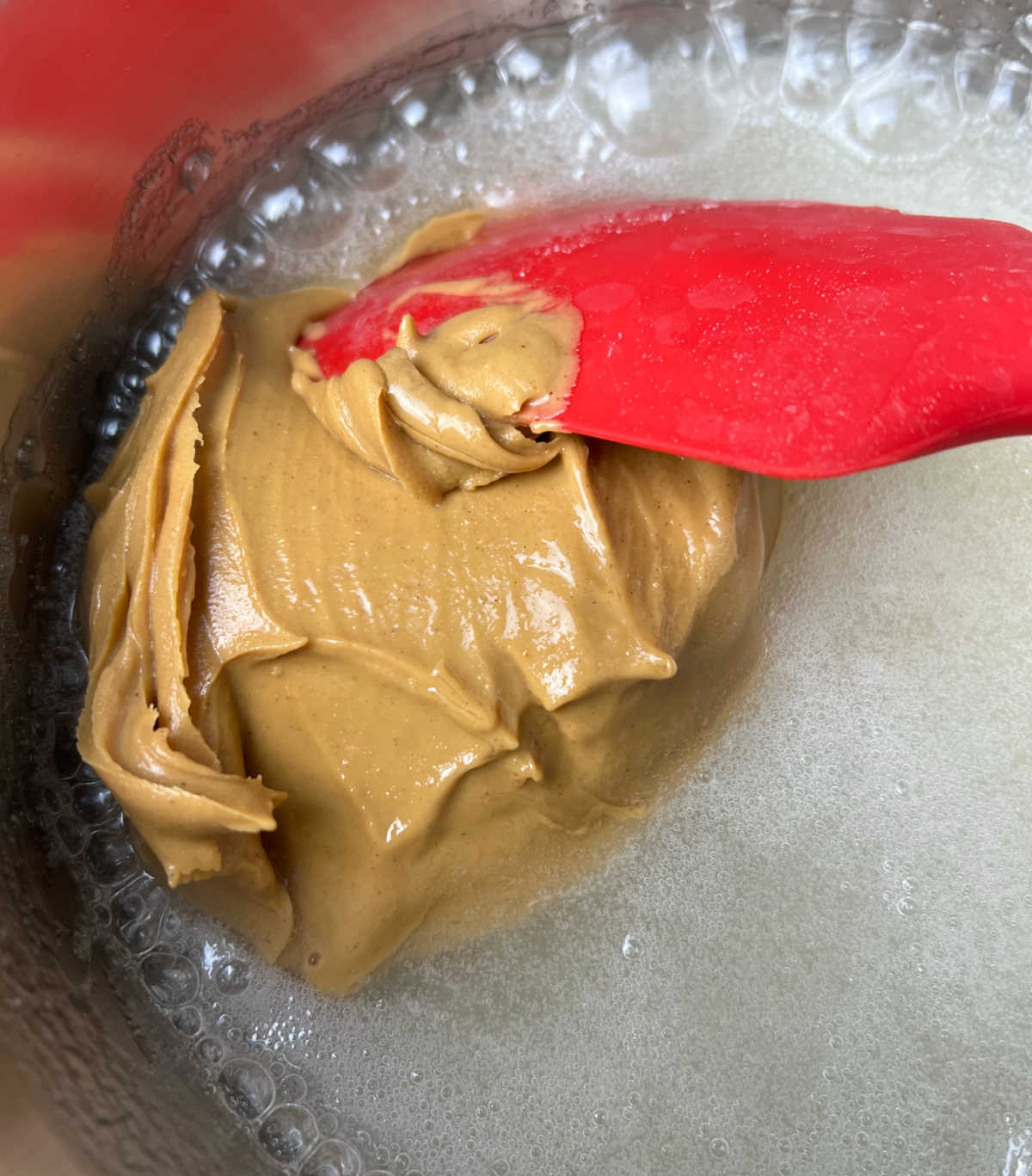 Step 2
As soon as you have added the peanut butter, turn the heat off and remove pot from heat. Stir until sugar mixture and peanut butter is smooth. Do not overheat this mixture. It can make these bars hard.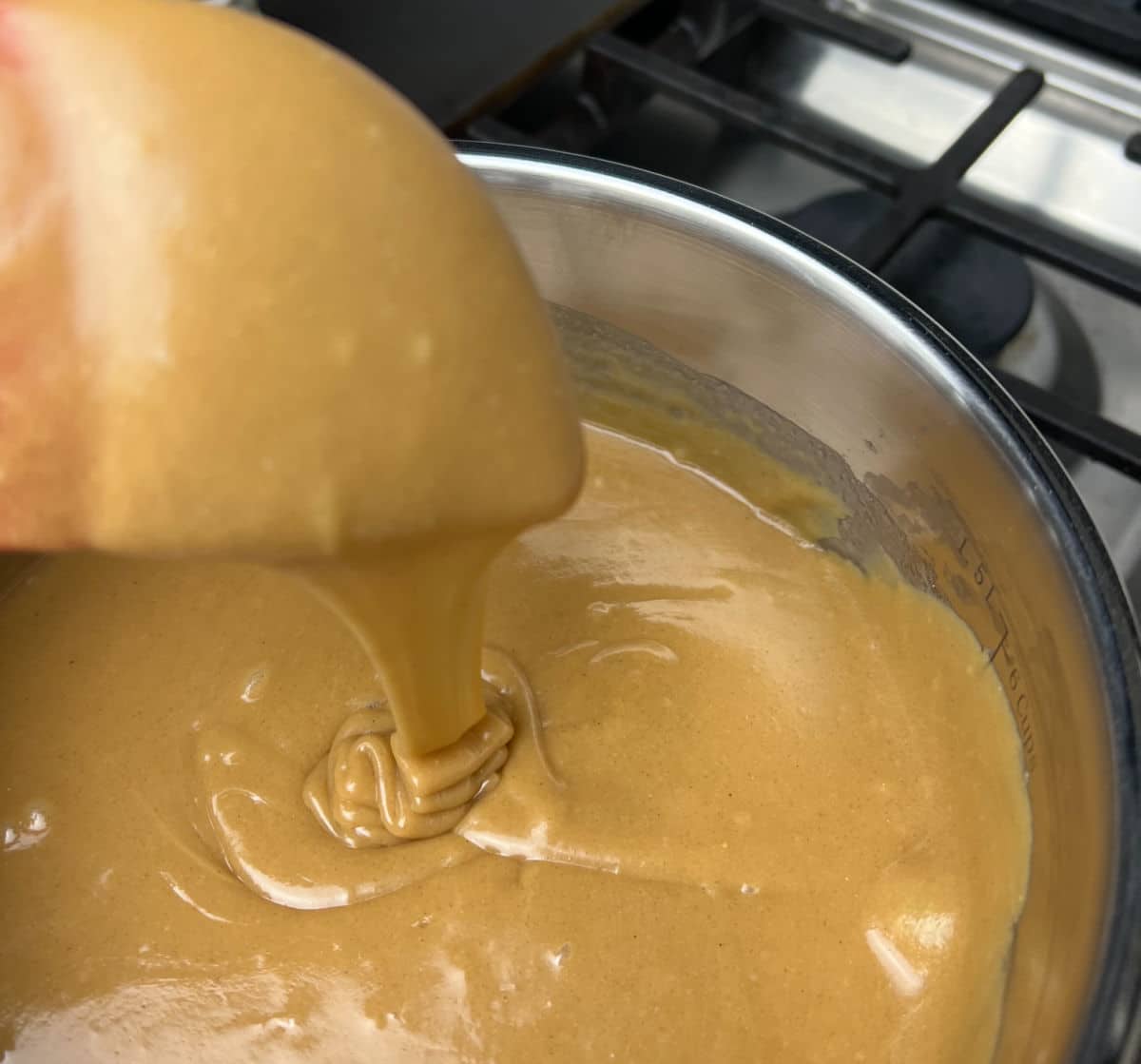 Step 3
In a large bowl, add the sugar and peanut butter mixture into six cups of Rice Krispie squares.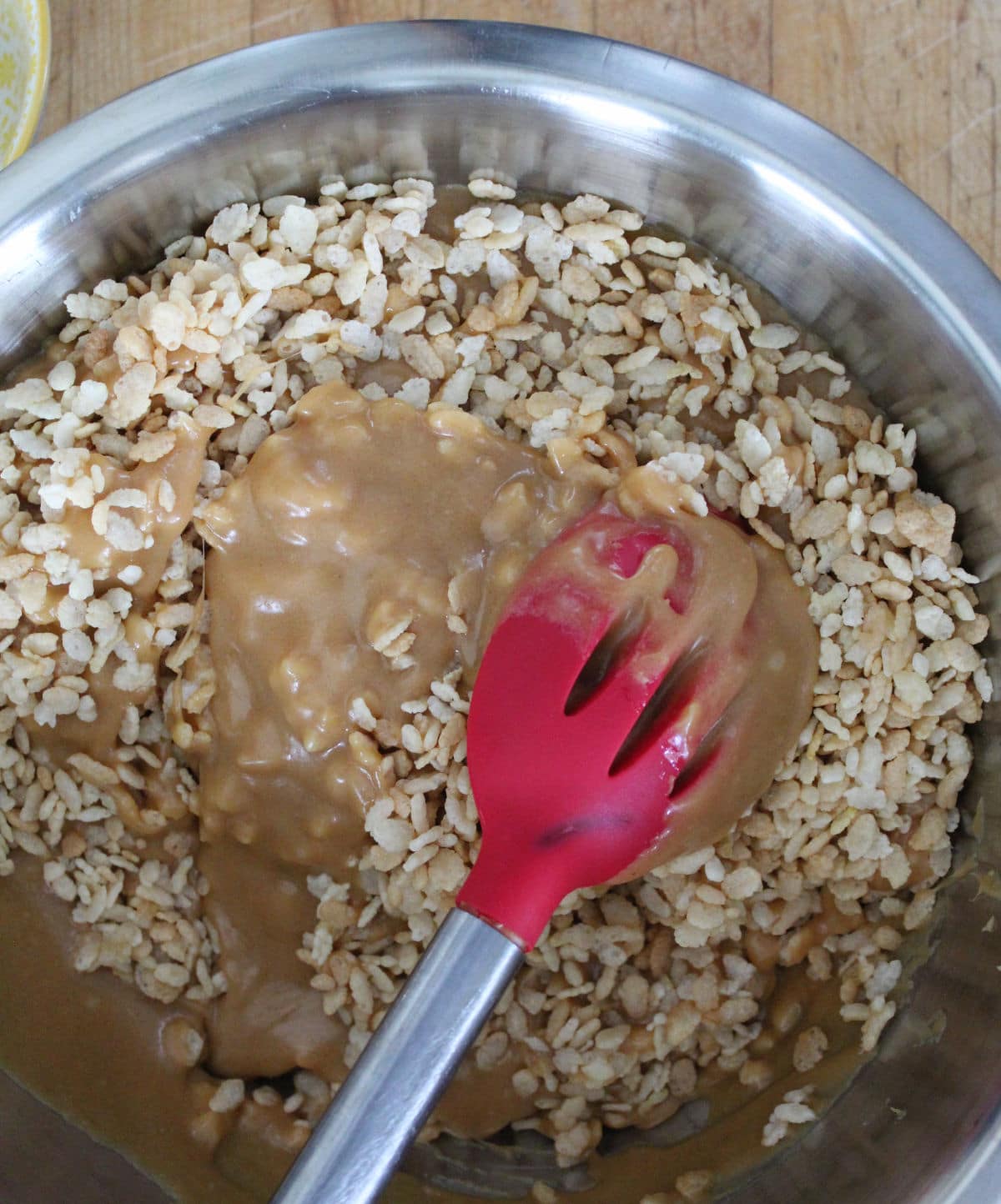 Step 4
Dump the Rice Krispies, peanut butterand sugar mixture into a well-sprayed lined 9 x 13 casserole dish. I line the casserole dish with parchment paper.
Helpful Hint
Over your kitchen sink, spray nonstick spray on the back of a large spoon or spatula. The cereal mixture will be easier to spread and flatten this way.
You do need to use a little pressure to compact and flatten the cereal mixture.
Step 5
Melt the chocolate chips and butterscotch chips together. You can melt it on a stovetop with a double boiler or microwave. Use just enough heat to melt, or the chocolate will seize.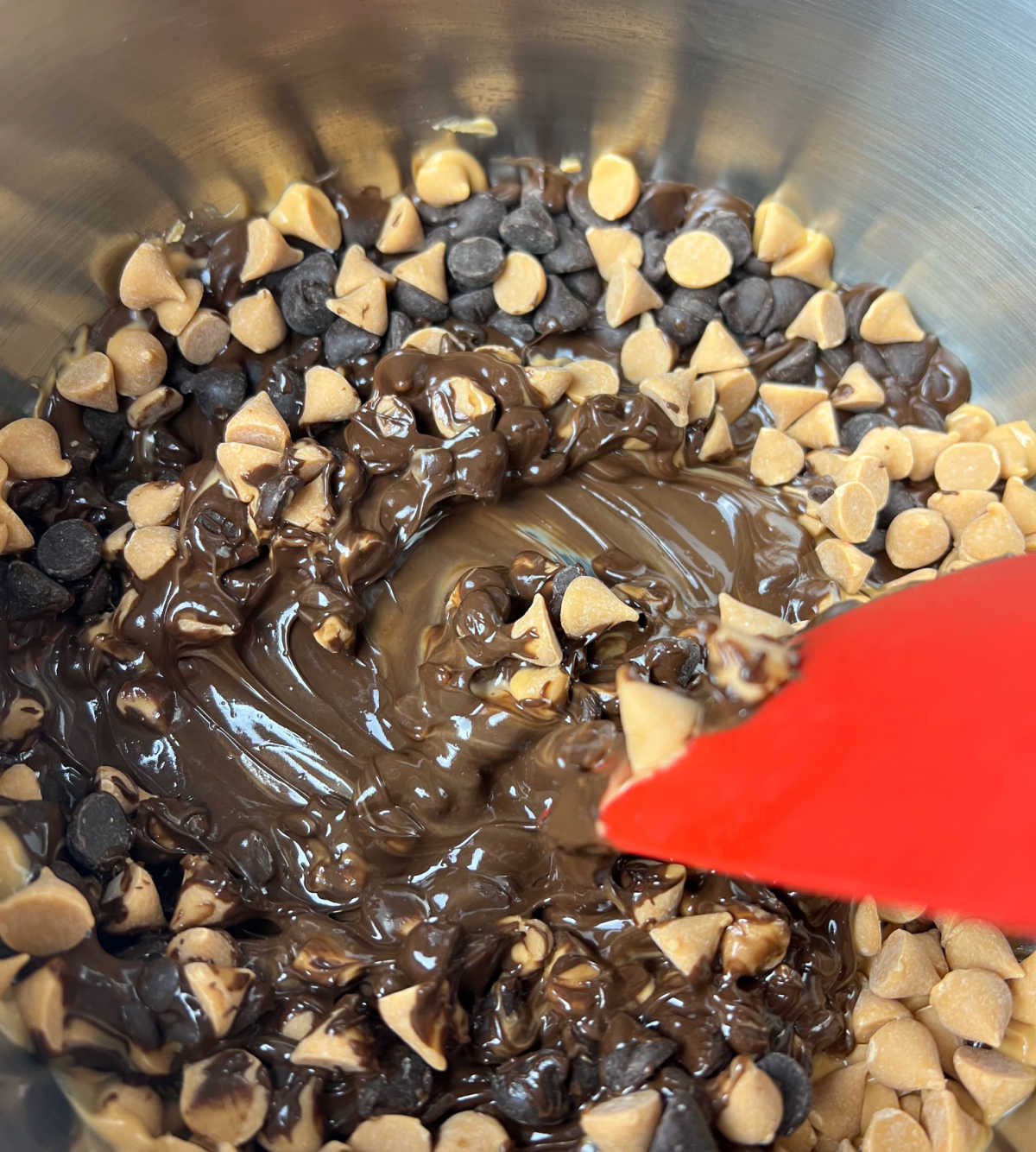 Step 6
Pour melted chocolate and butterscotch chips on the cereal mixture, spreading quickly so you have a nice thin, even layer. Work quickly so the chocolate doesn't harden before it's all spread. If using a 11 x 13 sized dish, this will be a thin layer. If making thicker bars, you will be able to have thicker frosting.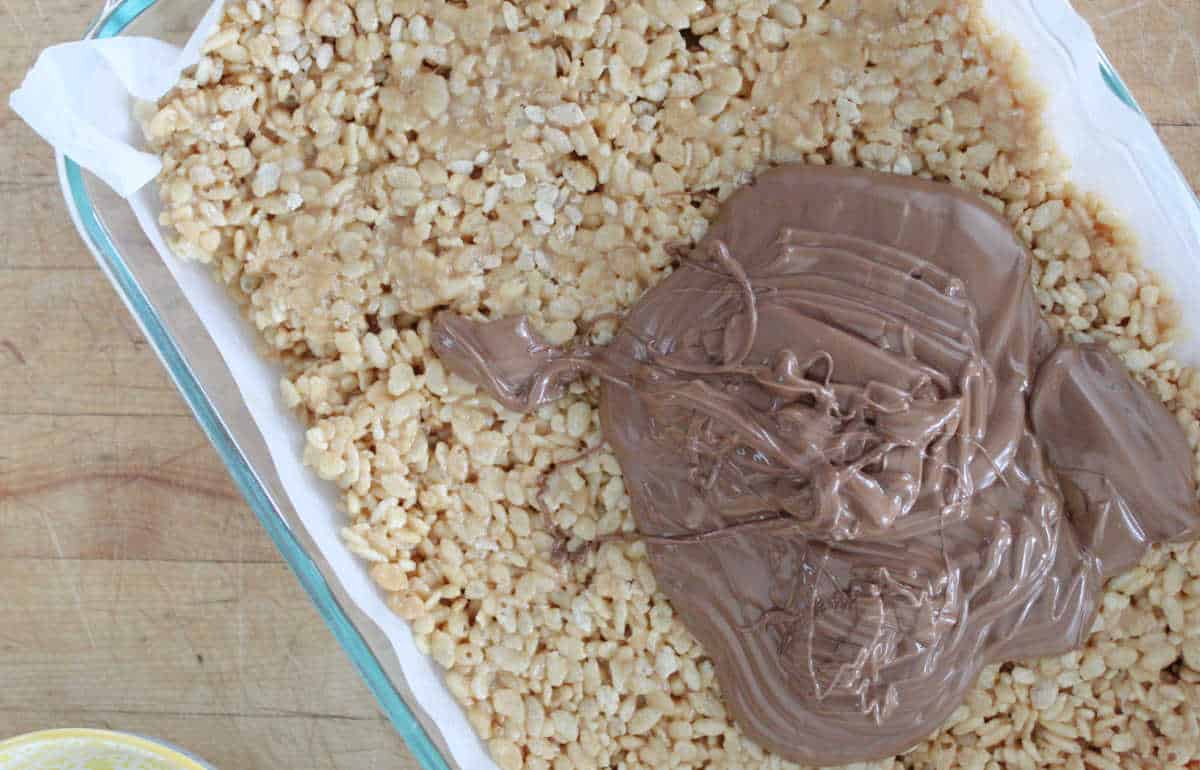 Step 7
Cool slightly and then cut into squares. I let it sit on the counter (or the fridge) for about minutes then cut it when the chocolate layer has hardened (but not the cereal layer)
The reason I like having parchment is you can take out everything in one piece. Then it's easier to cut into squares.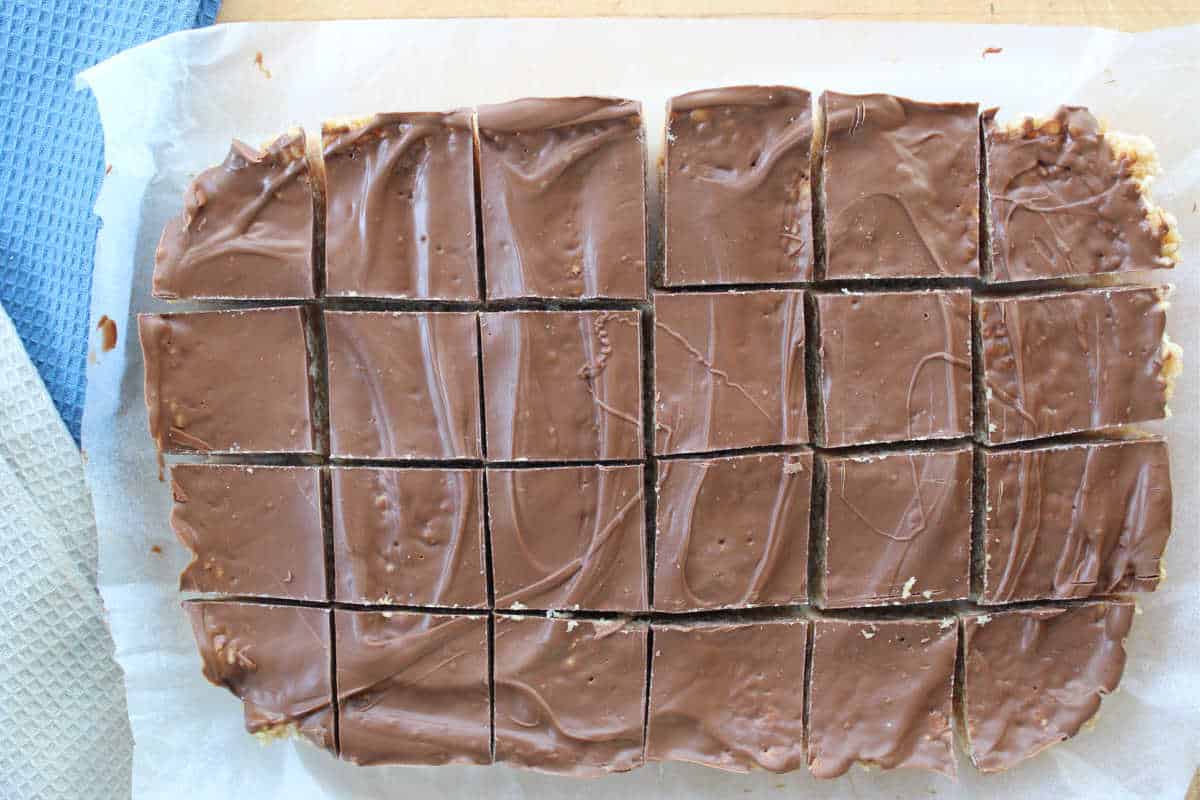 It's so easy to cut if you take it out of the pan!
Portioning - How I cut 24 pieces
These are the perfect-sized dessert squares. If using a 11 x 13 pan or casserole dish, cut the short side in half and cut each half in half again (so you have 4). The long side, cut in half, then cut each half in 3rds (total of 6). This gives you 24 nice pieces. They aren't huge, but people don't like big pieces! They'll take two small pieces over one large!
I served some tiny pieces and they were very popular! The little pieces are a regular piece cut 3 x 3 so that there are 9 bite sized pieces.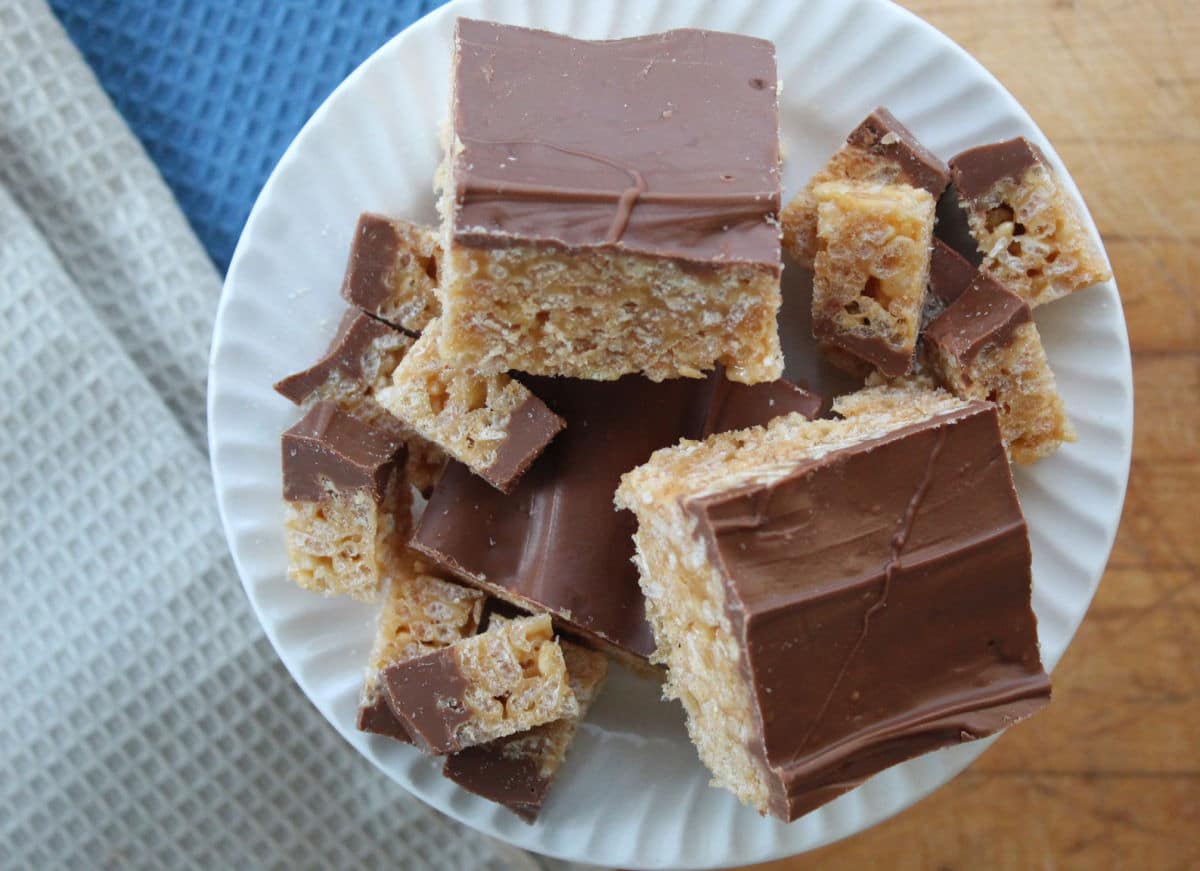 More No-Bake Desserts
Storage for best results
Store in an airtight container at room temperature for up to 4 days. They can be refrigerated but should be allowed to come to room temperature prior to eating or they will be hard. Personally, I don't refrigerate these.
Wrap well if freezing. Place parchment paper between layers. Make sure to give enough time to warm to room temperature before eating. Can be frozen for up to two months.
The difference between Scotcheroos and Special K bars
Scotcheroos use Rice Krispies cereal. Technically Scotcheroos are a deluxe Rice Krispie treat with peanut butter and frosting made from melted chocolate chips and butterscotch chips. To many people, the Scotcheroos and Rice Krispie bars are interchangeable terms. One of my readers actually explained the difference in a comment on one of my posts. She took the difference between scotcheroos and Special K bars very seriously : )!
FAQ's
Why do these turn out hard sometimes?
Make sure you don't boil the sugar, corn syrup and peanut butter mixture. It needs to be heated enough to be a smooth consistency. It will be liquid enough to pour but you willl need to scrape the pot to get out all the delicious cereal coating.
Can I use corn flakes?
Yes! Some folks insist the cereal needs to be Special K cereal. I believe in using what you have! Corn flakes will create a bit of a different texture in the cereal layer but they still taste great. Also, Chex cereal works too! Especially the rice version.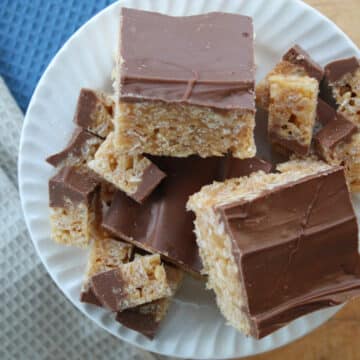 Scotcheroo Bars
A delicious peanut butter & chocolate dessert with a Special K cereal base. Easy to make and a no-bake recipe. If you like peanut butter with chocolate, you'll love these!
Print
Pin
Rate
Ingredients
1

cup

light corn syrup

1

cup

sugar

1

cup

Peanut butter

6

cups

Rice Krispies cereal

1¼

cup

butterscotch chips

1¼

cup

chocolate chips

I like milk chocolate.
Instructions
In a large saucepan, add corn syrup and sugar. Heat until you see bubbles around the outside edge of the pan.

Add the peanut butter. Stir until well combined and take off heat

Add peanut butter mixture onto 6 cups Special K cereal in a large bowl.

Stir until cereal is evenly coated.

Press into a greased 9 x 13 baking dish.

Gently heat both the butterscotch and chocolate chips until melted. Either use a double boiler or a microwave. Don't overheat or the chocolate changes texture and isn't smooth.

Once the chips are melted, pour over the cereal mixture and spread evenly. It's a fairly thin layer and that's all you need!

Place in refrigerator to cool - about an ½ hour.

Cut into small squares (or large ones if you are feeding teens :).
Nutrition
Serving:
1
g
|
Calories:
245
cal
|
Carbohydrates:
42
g
|
Protein:
3
g
|
Fat:
9
g
|
Saturated Fat:
3
g
|
Polyunsaturated Fat:
1
g
|
Monounsaturated Fat:
3
g
|
Trans Fat:
0
g
|
Cholesterol:
1
mg
|
Sodium:
127
mg
|
Potassium:
97
mg
|
Fiber:
1
g
|
Sugar:
34
g
|
Vitamin A:
474
IU
|
Vitamin C:
4
mg
|
Calcium:
15
mg
|
Iron:
2
mg
More delicious but easy treats
Please pin to your Pinterest account!