Pretzels and Hershey Kisses with a candy M&M on top. Another sweet oldie, but goodie! These are an easy, inexpensive teacher gift, neighbor gift, hostess gift or just great all around snack!
Why I love Hershey Kiss Pretzels
I LOVE these Hershey Kisses and pretzel treats! Everyone makes them for Christmas but I make them for all holidays. It is so easy to make this seasonal just with the colors of the M&Ms! Scroll down to see so many examples!
I challenge you to eat only one pretzel Hershey Kiss M&M!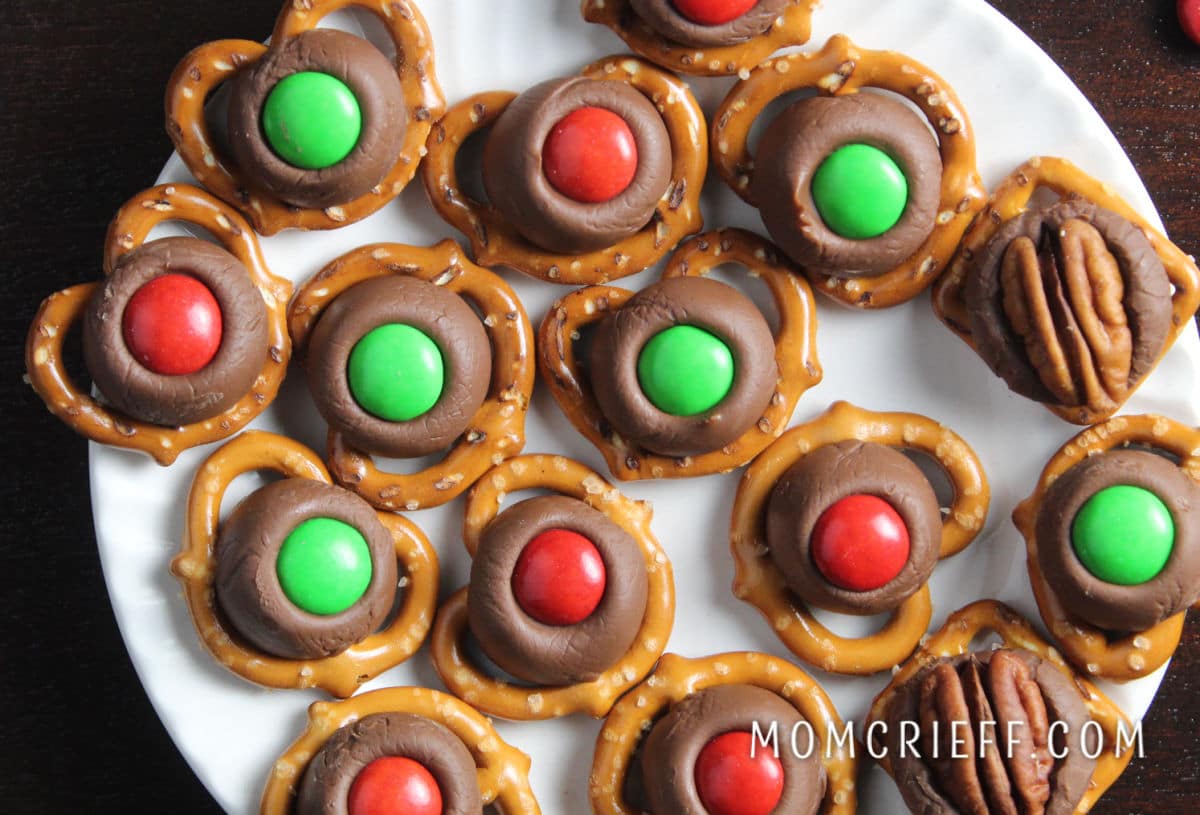 These Hershey Kiss pretzel treats are easy to make, inexpensive and quick. I like to keep these ingredients on hand because this can be a super quick hostess gift. A mason jar full of these, with the appropriately themed M&M colors and you are good to go.
Easy similar type treats include Chocolate bird's nests with chow mein noodles or you can always use or modify these Easiest St. Patricks Day Treats!
Change your theme by just choosing the color or kind of candy! Ohhhh, do your favorite sport's team colors!!
I've heard these Chocolate pretzel bites called other names too. You may have heard of them as an Elf's nose, a Hershey's hug, pretzel kisses, pretzels with kisses, Pretzel M&M hugs, or as my kids call them, those chocolate pretzel M & M things.
Ingredients

Small pretzels (traditional mini pretzel twists or the small waffle-shaped pretzels)
If you are having a hard time deciding grab the waffle-shaped pretzels. They give you more of a base for the chocolate to melt on.
Hershey Kisses, milk chocolate - unwrapped. This takes longer than you think! I always had my kids help!
M&M candies or small candy treat. Scroll through the images for seasonal themed ideas.
Optional - almonds, pecan halves or walnuts These make you feel these treats are healthier! Get dark chocolate kisses for an even healthier nod.
Instructions
1. Unwrap the Hershey Kisses. If you are making lots, this takes longer than you think : ).
2. Preheat the oven to 200 degrees Fahrenheit.
3. Place pretzels on a baking sheet. Parchment paper or a silicone mat will make the cleanup a little easier. I prefer using the regular small twist pretzels but other people prefer the waffle pretzel shapes.
4. Place an unwrapped Hershey Kiss on the center of the pretzels.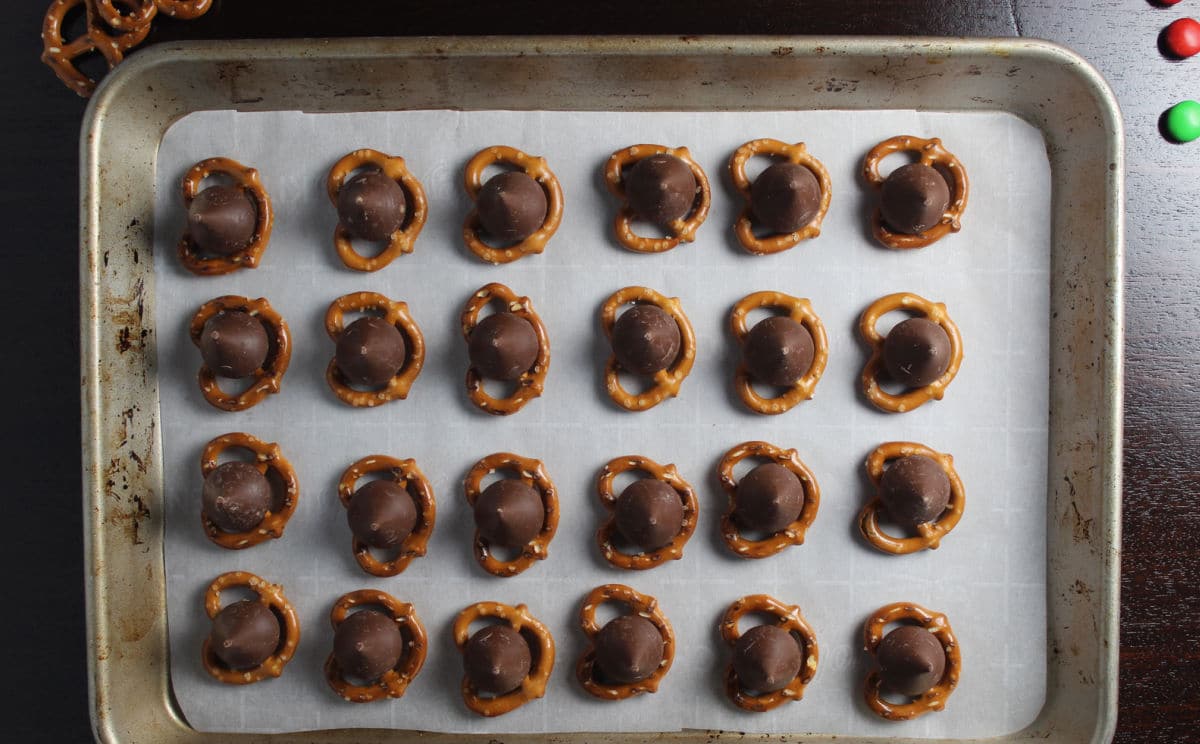 5. Bake for about 4 minutes at 200 degrees Fahrenheit. Others I know do higher and faster but I tend to scorch my chocolate that way. Watch for the chocolate to get shiny and test to see if the tip flattens easily. The kiss does not lose it's shape when it's melted.
6. Gently place your topping treat on the Kiss and press it down into the Kiss. Or if using almonds (or walnuts) place on the kiss and press it down.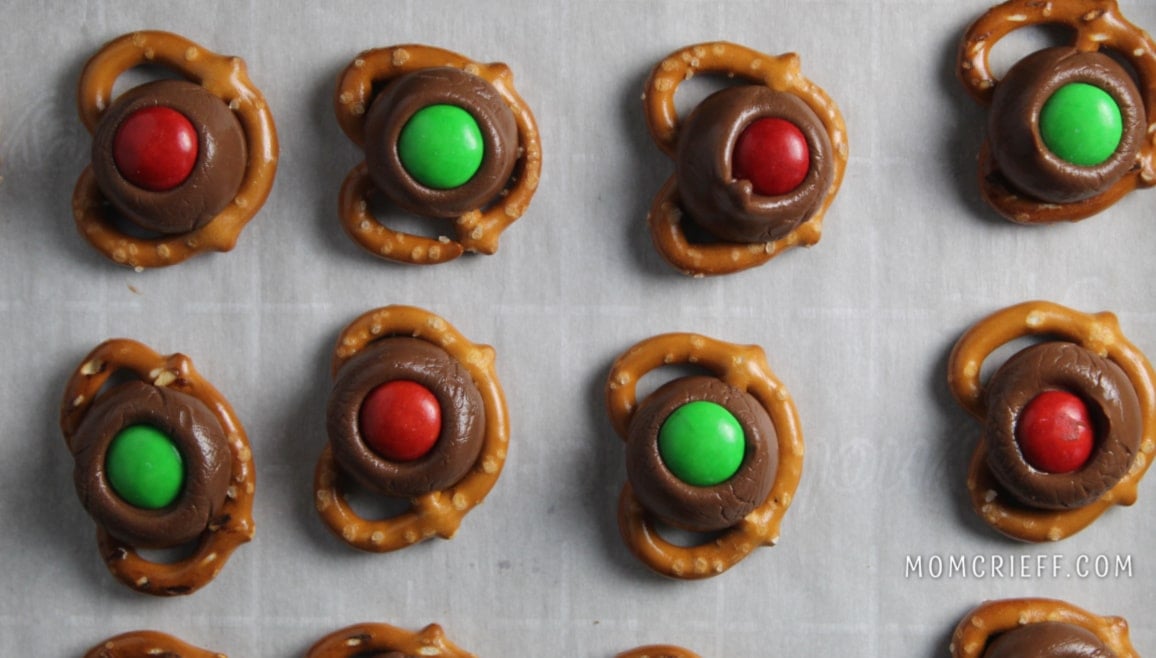 7. Cool slightly and let the chocolate set before you devour them. Don't forget, you can put nuts on them if you want these Hershey kiss pretzels to look healthier! Sometimes I enjoy these with either pecans or almonds so it is a less sweet treat!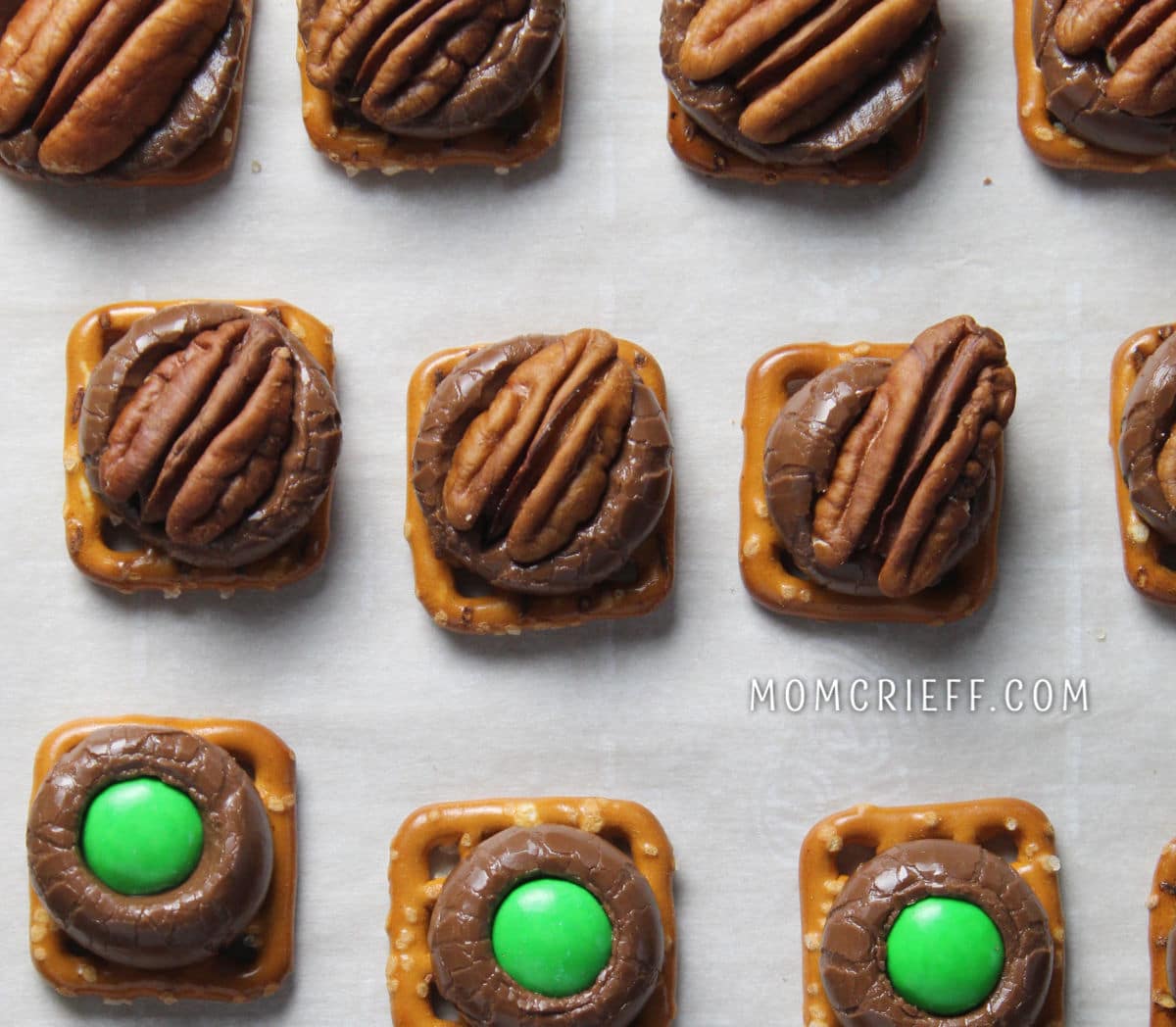 I obviously LOVE making these. I decided to share all the different themed ones I make. I think I have most of the holidays and major themes here. Take a look and see if any of these easy-colored themes inspire you!
Valentines Day treats
YUMMMM! Even the M & M company makes it so easy by always selling themed colored bags of candy.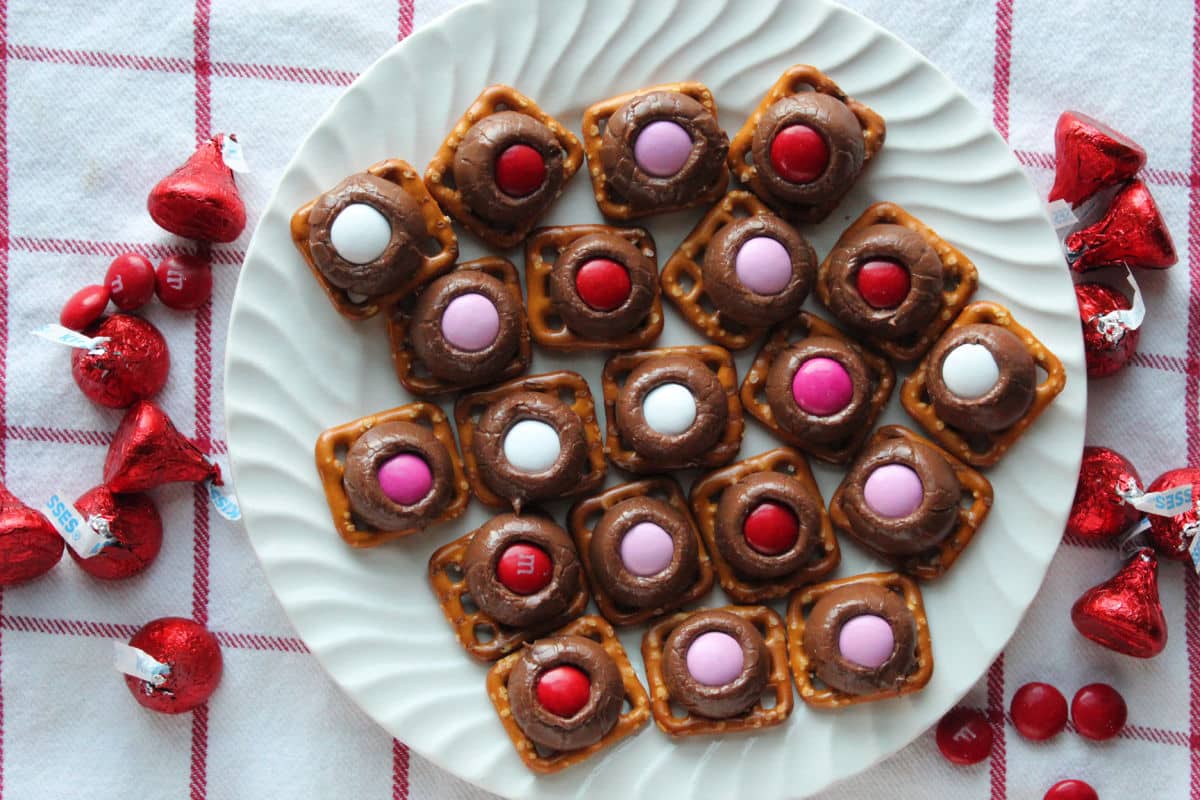 Football Treat
This is for the 2023 Superbowl. Just a super quick treat if you have people coming over or want to bring something. It doesn't take much time, you can customize for team colors and enjoy!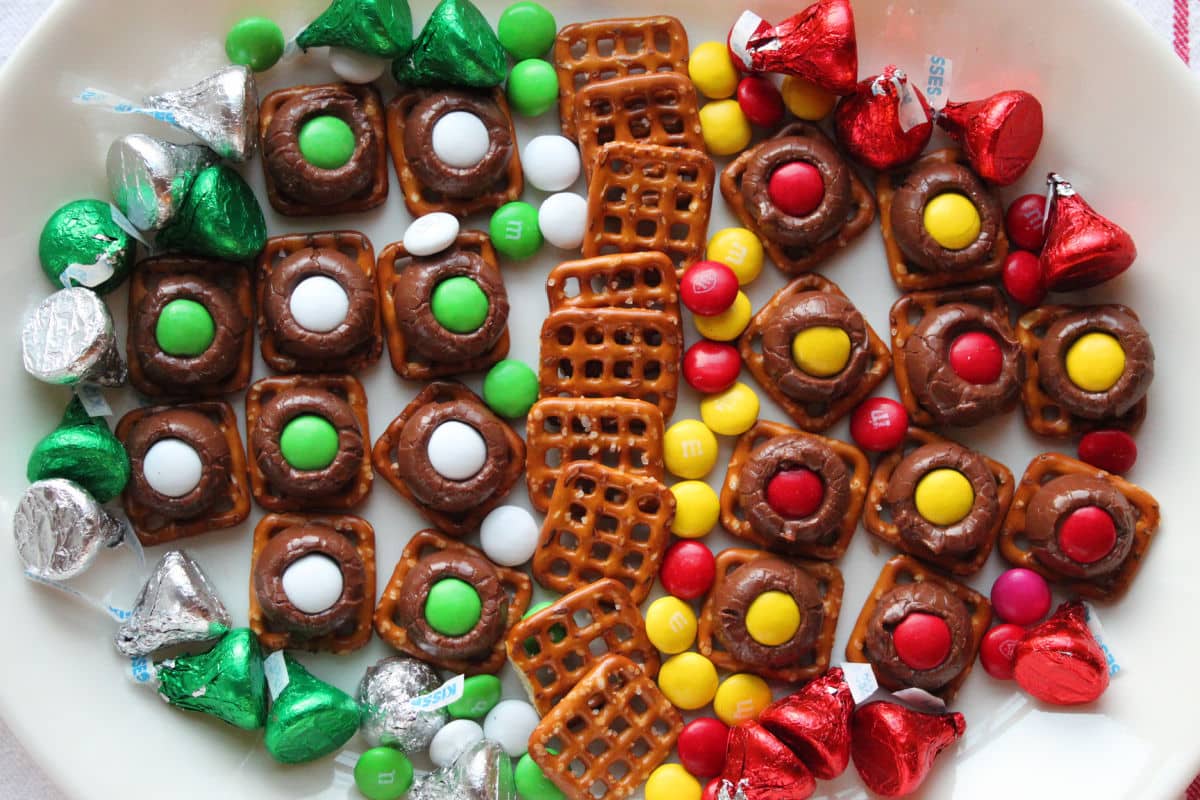 Christmas pretzel treats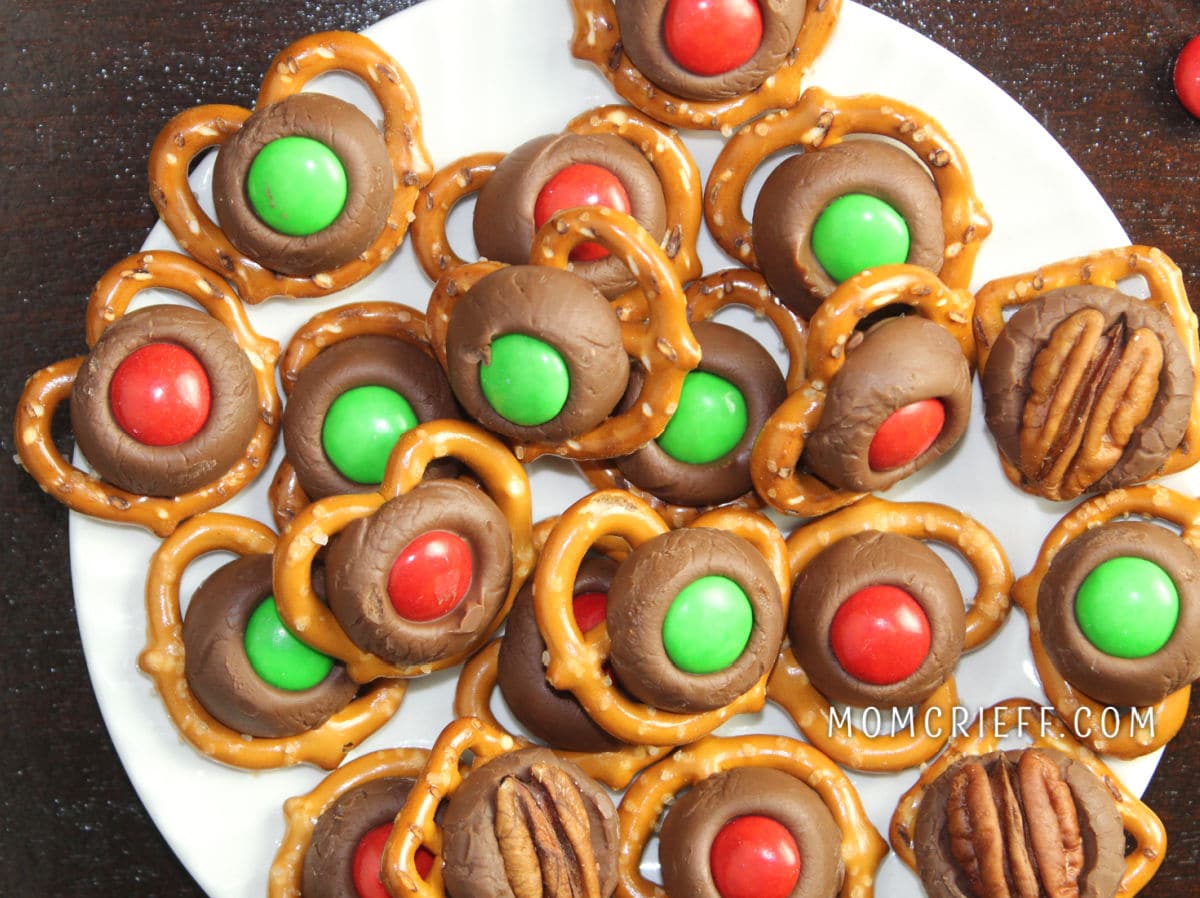 Make these a more adult treat by using dark chocolate and almond. Or use a pecan. It feels healthier too!
There is a printable recipe card for these m&m pretzel kisses at the bottom of this page that lists ingredients and steps!
Perfect snack for Easter!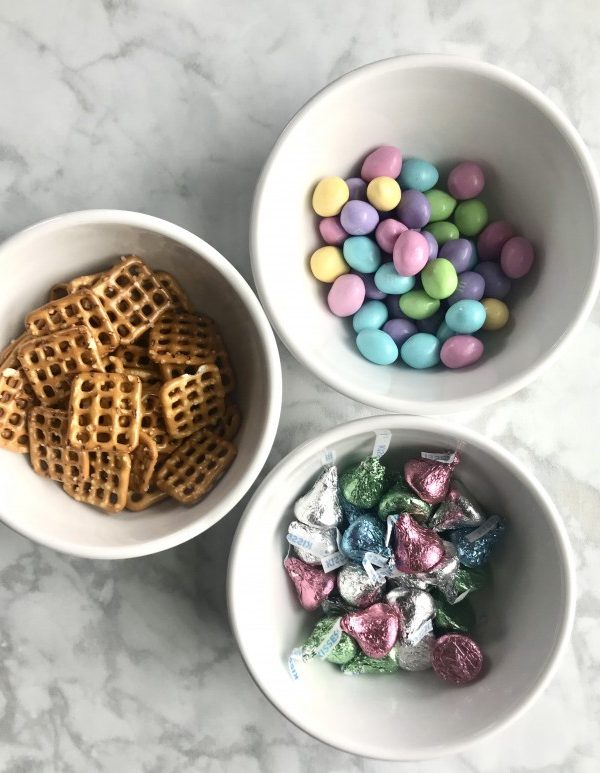 These fun Kisses in pastel colors with these delicious M&Ms. These M&Ms have peanuts in them so they added another layer of flavor to these treats!
I even remember the first time I tried these. We were having dinner at a friend's house and her husband looked forward to these as a gift from his students. The PERFECT teacher gift! Not expensive. Not difficult. But, ohhhh soooo good!
And, so appreciated by others! What a nice and simple teacher gift? Or a little thoughtful girlfriend treat! Or, treat your kids or a group of their friends.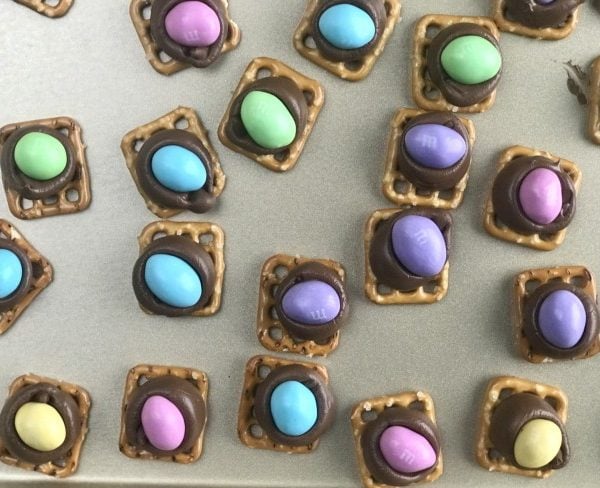 These are great treats to share. I like putting these into mason jars and sharing them. They are always appreciated.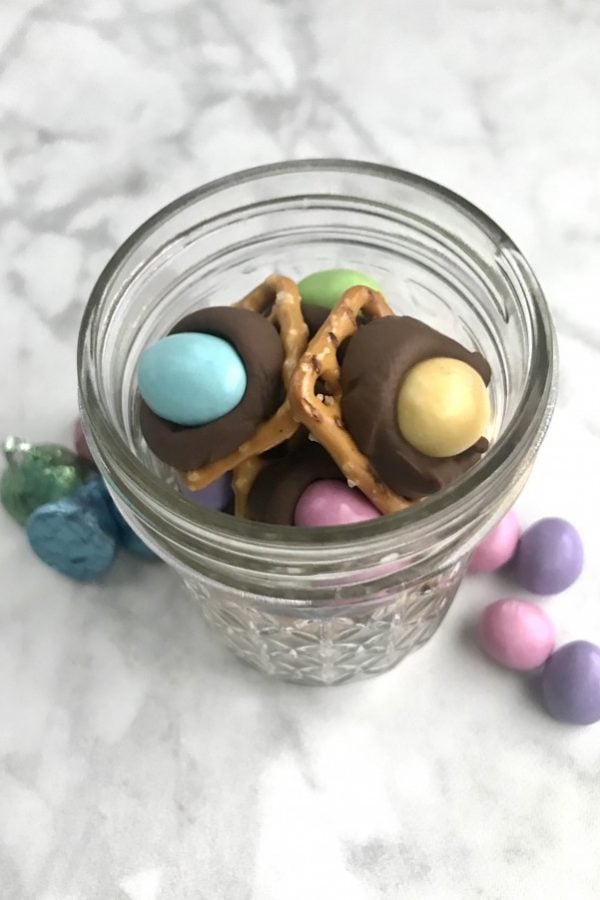 Let me share another really easy treat that is perfect for Easter. These chocolate Easter bird nests are made with just two ingredients - chocolate and chow mein noodles. Easy, quick and delicious!!
I've seen and heard many ways to melt the chocolate. I prefer the low and slow method so I don't burn the chocolate kisses. The chocolate gets shiny and that's when you know it's melted. Don't wait for them to start getting runny or become a puddle. When chocolate gets scorched/burns, it becomes dry and hard but it still has the same shape. Watch the kisses carefully to see when they are melted (and it's not long!).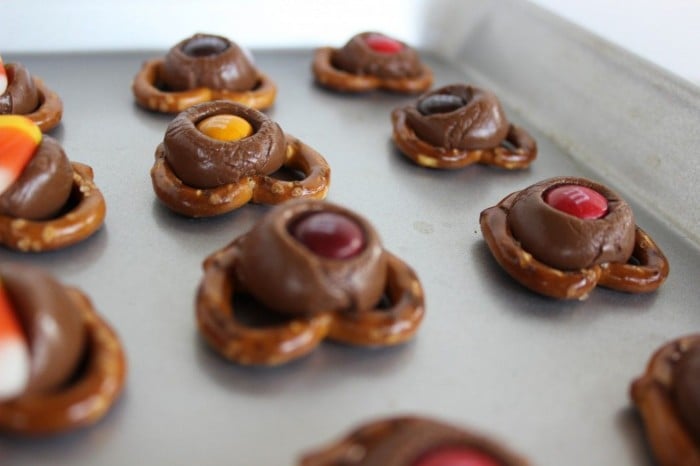 Halloween/Fall Chocolate-pretzel-bites
Pick out and use the seasonal or appropriate festive colors for your pretzel and Hershey kisses snack.
Or, wander the grocery store like I did and find seasonal candies. My kids loved the candy corn ones and the little pumpkin ones. The size of the treat is the key. You obviously want the treat to be smaller than the pretzel!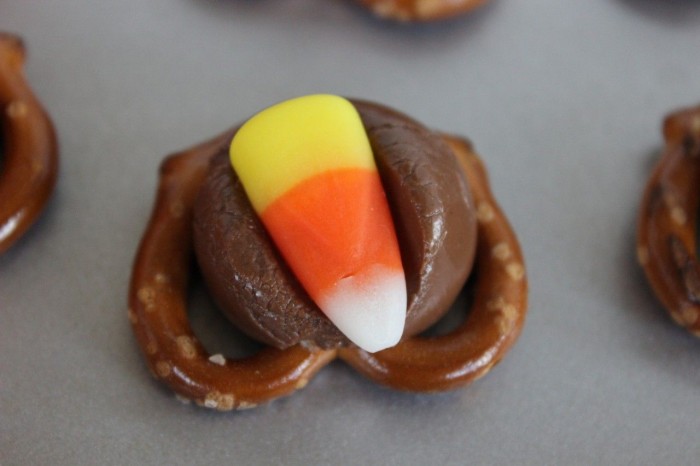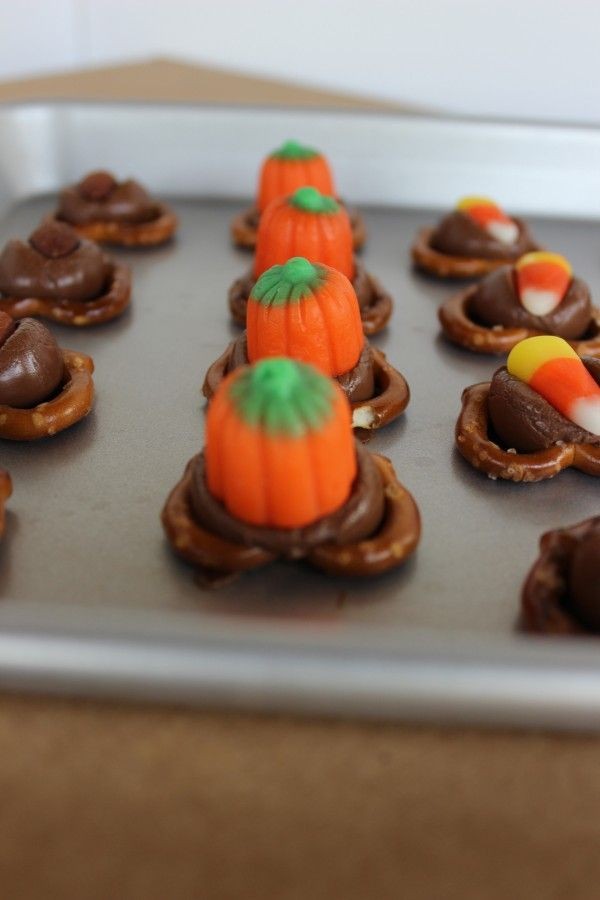 I LOVE the almond ones. I recently made ones with pecans too and they were delicious. Chocolate, pretzels and a little salt from the pretzels are oh so delicious!!
A slightly healthier alternative. I hope!
Keep these in mind for other special times - They are perfect for Valentines Day too! Just use red M&Ms or any red chocolate candy on top.
Storage tips and how package to give away
I recommend you store these in an airtight container in a cool location. I don't keep them in the fridge but I know some people do.
My favorite ways to give these away are in a mason jar (you choose the size). People can always reuse a mason jar with a lid! You can also put them in a cellophane bag, letting kids decorate with fun seasonal stickers or a seasonal colored bow.
Hope you enjoy these yummy treats! These pretzel and Hershey kisses treats are simple, yummy, and quick. Plus, you can get your kids involved unwrapping those kisses.
If you would like to be notified of any other posts I write (including some more super simple recipes) make sure to sign up to follow me. Enjoy your weekend!
FAQ's
Can I use other types of chocolates?
Absolutely! I do in some of my examples. My biggest piece of advice is watch how long it takes for the chocolate to melt. Perhaps do a test run with 4 or 5 pieces before you do a big sheet of them.
What about substituting different candy for the M & M's?
I do this all the time! Take a look at my Halloween themed treats.
Can I make these healthier?
Well, it is a candy, choclolate and pretzel treat! Scroll up and you can see how I substituted an almond for the candy. Oh, and substituting dark chocolate for milk chocolate wo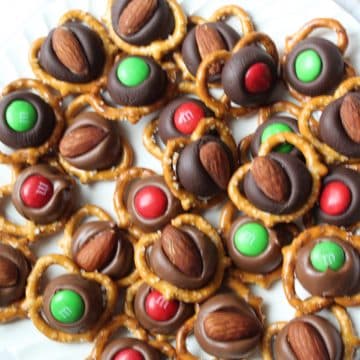 Pretzels and Hershey Kisses - Super Simple Snack!
A fun seasonal treat! Pastels for Easter, Fall colors for Halloween, and red & green for Christmas. Easy, quick and very appreciated as a teacher's gift, neighbor gift or just as a tasty treat!
Print
Pin
Rate
Ingredients
20

pretzels

small twisted pretzels

20

Hershey Kisses

20

M & M candy
Instructions
Preheat oven to 200 degrees Fahrenheit

Unwrap the Hershey Kisses.

Place pretzels on a cookie sheet. I prefer the regular small pretzels or the waffle ones.

Place an unwrapped Hershey Kiss on the center of the pretzels.

Bake for about 4 minutes at 200 degrees Fahrenheit.

Remove from oven and test a chocolate kiss to see if a candy easily presses into it.

Gently place your topping treat (candy) on the Kiss and press it gently down into the Kiss.
Notes
**Have the family help unwrap the Hershey Kisses - That's what takes the longest time in this recipe.
Substitutions
I usually use milk chocolate kisses. But, you can also find dark chocolate or a variety of other kisses.
Instead of using M&M's - a healthier twist would be using a nut - almonds, pecan halves and walnuts work.
I know some people love using Rolo chocolates! The additional caramel gives it a delightful extra texture and flavor.
Nutrition
Serving:
2
g
|
Calories:
63
cal
|
Carbohydrates:
9
g
|
Protein:
1
g
|
Fat:
3
g
|
Saturated Fat:
2
g
|
Polyunsaturated Fat:
0.03
g
|
Monounsaturated Fat:
0.01
g
|
Trans Fat:
0.004
g
|
Cholesterol:
3
mg
|
Sodium:
34
mg
|
Potassium:
4
mg
|
Fiber:
0.4
g
|
Sugar:
6
g
|
Vitamin A:
4
IU
|
Vitamin C:
0.1
mg
|
Calcium:
21
mg
|
Iron:
0.2
mg