Below are over 25 beautiful planter ideas! I love looking at what other people have done to inspire me. Different colors, textures, and even containers give me ideas for my own flower pots!
Most of these planters are for the front door or on a porch and are in the full sun.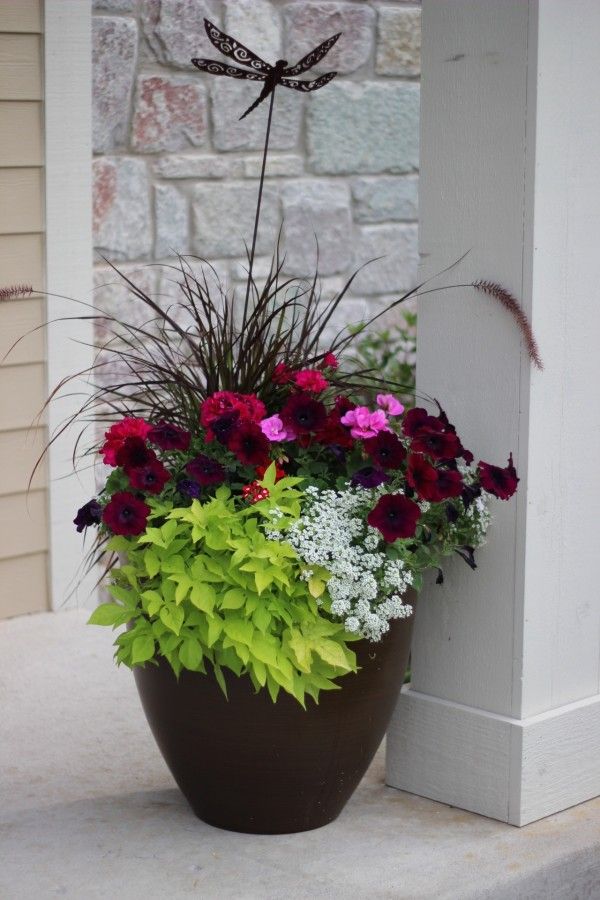 I hope these inspire your own flower planters for this summer. I'm always looking for ideas no matter what time of year it is.
I'm sharing these with you and maybe you will find an idea or two that works for you and your home. Are you also looking for ideas for specific locations? I've written about planters in front of the garage and window box ideas too!
My favorite fall outdoor planters
Looking for fall outdoor planter ideas?
Fall planter ideas - reusing your grasses.
Fall Planter Ideas on a Budget.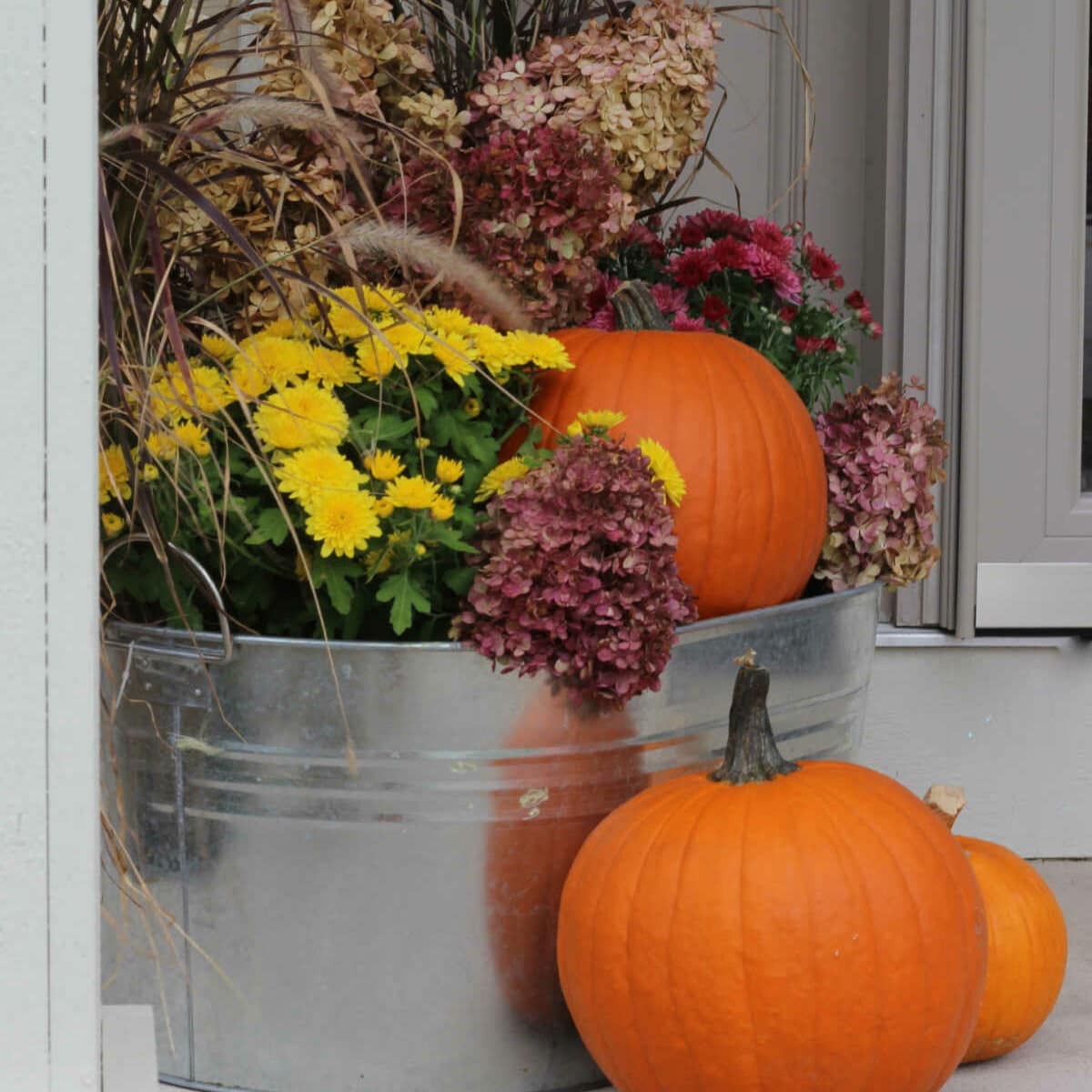 Planter Ideas
Here is my planter, on my front porch all grown up! I say that because this is the planter I showed you when I did the How I Planted my Planter tutorial. I just love having flowering planters with constant blooming flowers at my front door!
If you are a gardener, can I suggest you take a look at my recommendations for essential gardening tools and accessories. You will find some helpful suggestions there!
Enjoy these beautiful planters! I did talk to the owners of these planters and they shared their main tips. I will share those tips at the bottom of the post. Many planters follow the thrillers, fillers, and spillers recipe. I'll really quickly review what each term means.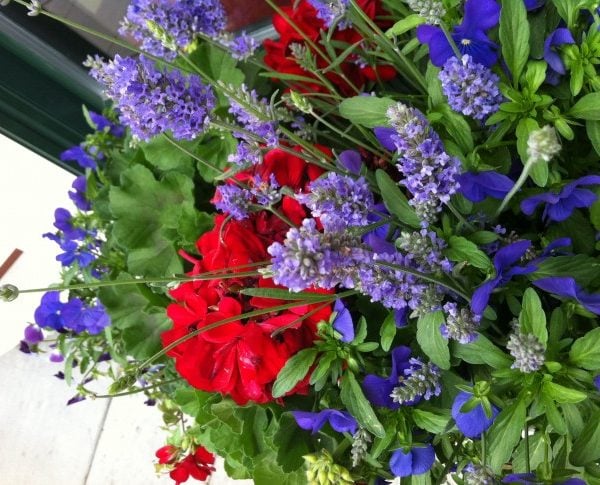 Thrillers
Thrillers are the first part of the traditional planter plant formula. Those are usually the taller plants. Think of the tall spikey plant you often see in the middle or towards the back of the planter. Sometimes a plant is a thriller because it is the center of attention due to its color, or something unusual. In the center of the coleus plants (with its colorful leaves)is the taller thriller plant. This planter, based on what is in it, is placed in a shaded area.
(If you are looking for shade garden ideas for your yard, check out this post - 31 shade garden plants/ideas.)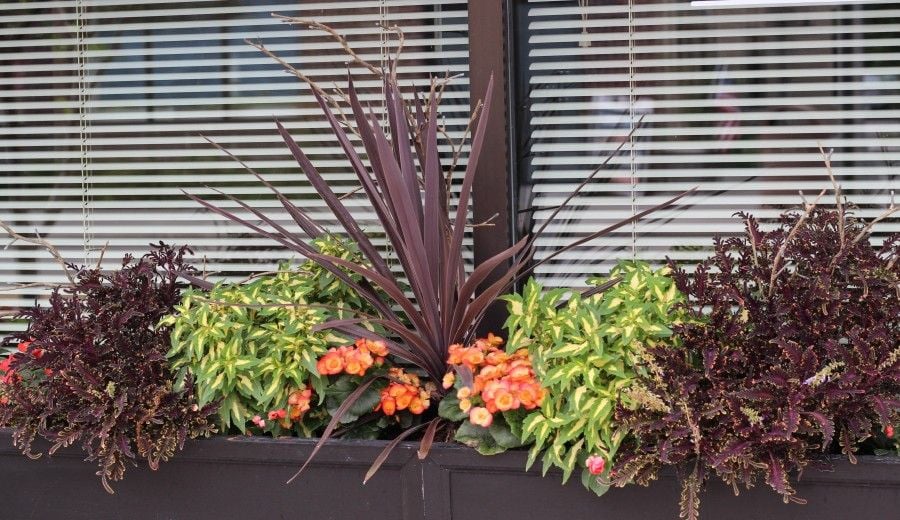 Fillers
The filler normally does its job of filling the planter with flowers. I often use geraniums, marigolds, or mounding varieties of petunias and alyssum. The picture below is a good example of the red geraniums being used as fillers.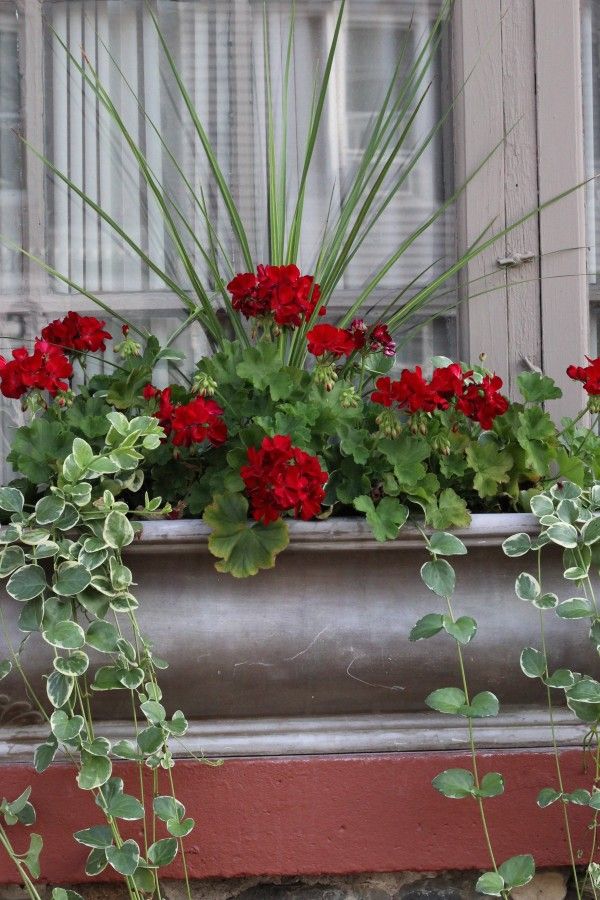 Spillers
It's the spillers I love. The plants drape over and down the planter. I have often used sweet potato plants (love the colorful foliage), and Wave petunias (specifically wave), and I also like and look for alyssum that spills over the planter. Read the tags in the plants to see if the plants grow in a more mounded compact form (fillers) or if they drape and spill over the side of the container. Below, the sweet potato vine is on the center-right of this planter. The pretty lime green color makes the flower colors pop!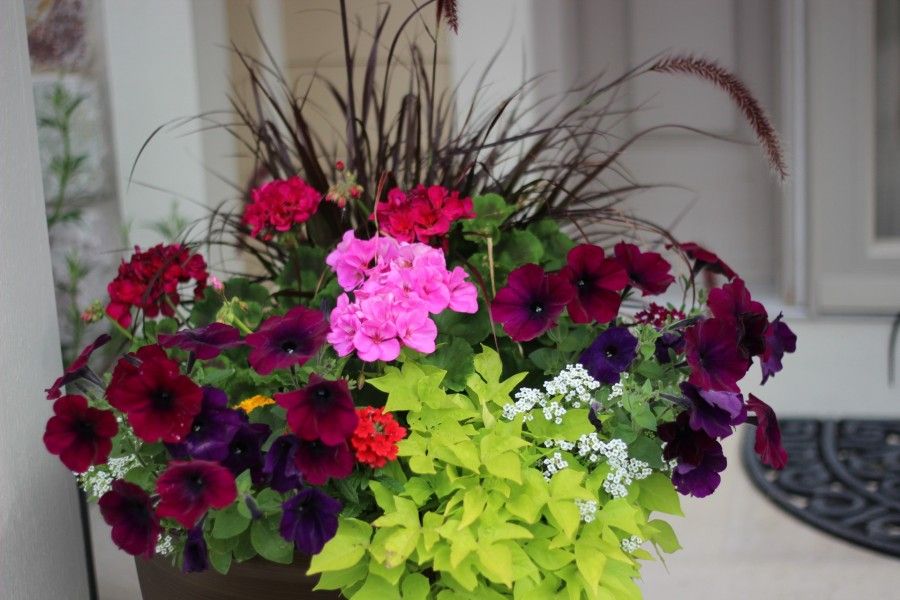 A Succulent Garden in a Birdbath
The container itself can sometimes be the fun part! This is one of my container gardens. It's actually a succulent garden in a vintage-looking birdbath. Take a look at my DIY for my Succulent Bird Bath. I do share exactly how I put this together.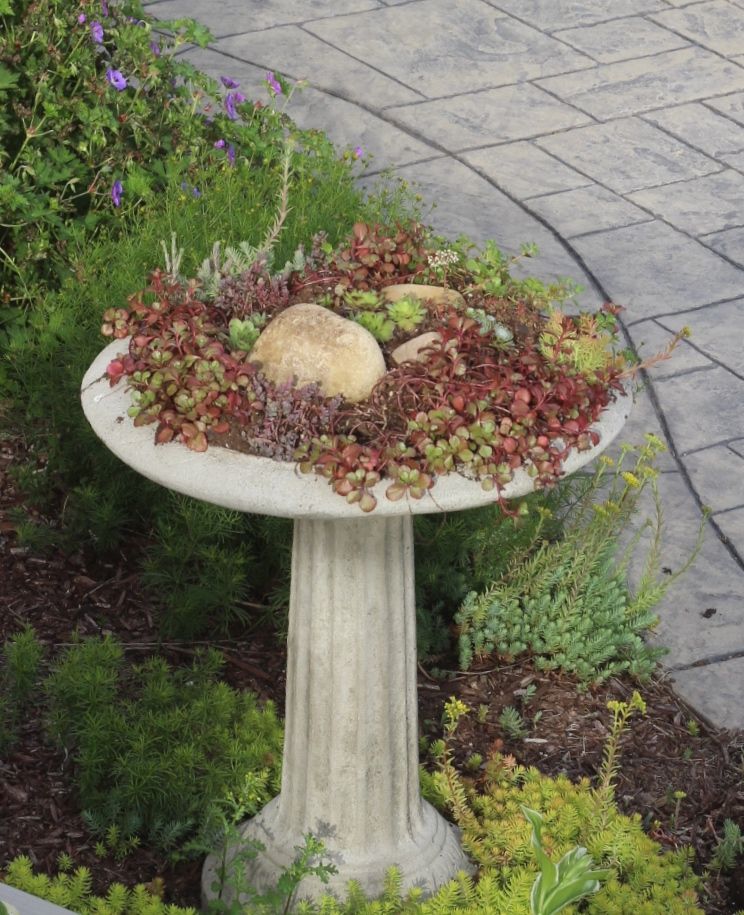 Here is a pretty close-up of this succulent garden in the morning sun.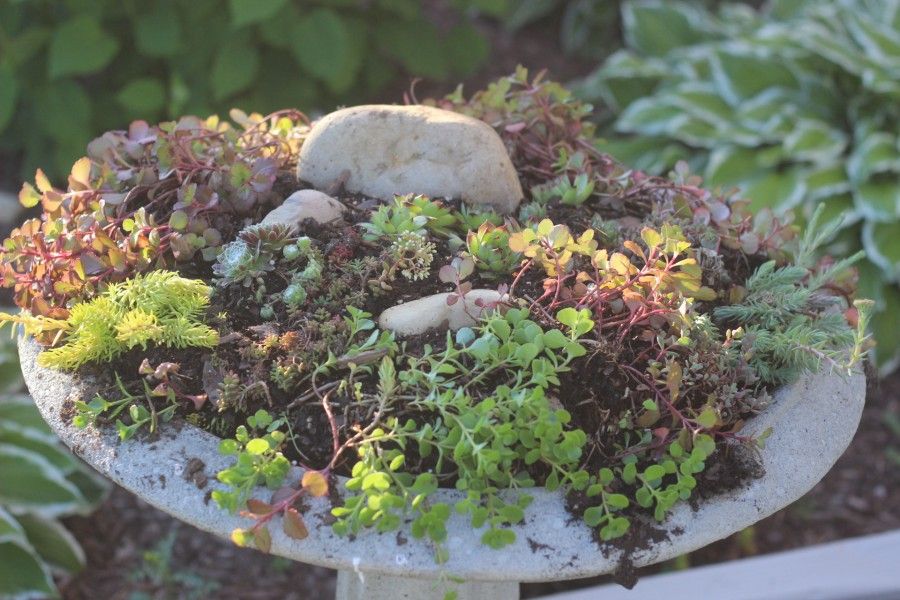 How to take care of your plants
Outdoor Flower Pot Ideas
If I could hand out awards, I would give the Best Planter Patio award to my neighbor Diane.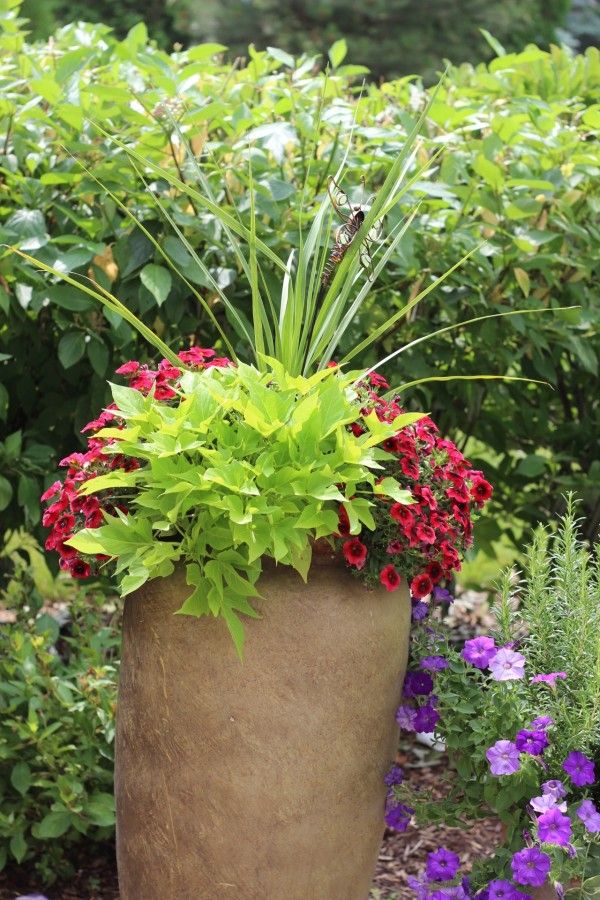 Diane just does such a good job of choosing interesting plant pots and interesting flowering plants. Plus, there are many combinations of traditional patio plants that always do well.
You need to look closer to see how pretty the petunias and sweet potato vine look. The green leafy plant on the left is a type of sweet potato plant.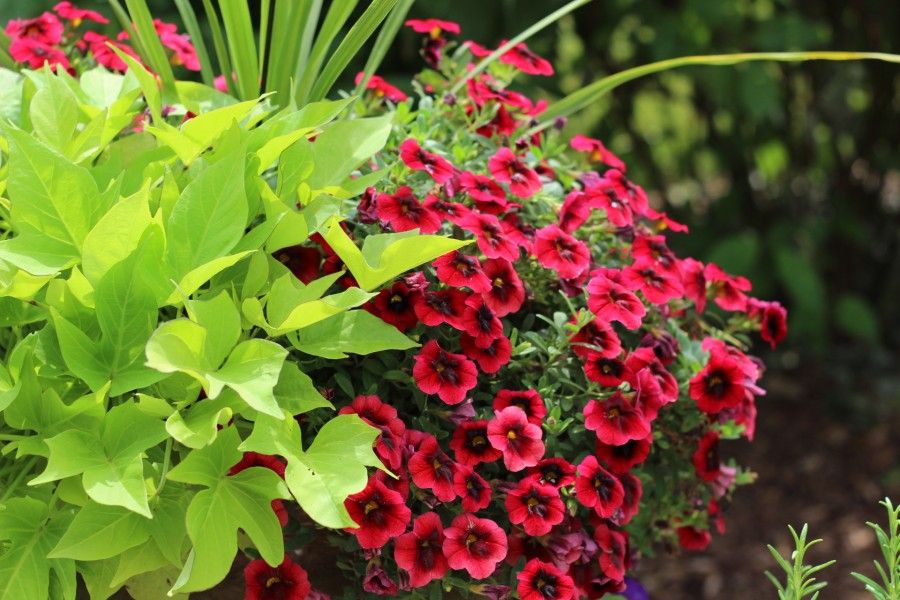 The taller plant in the front container looks like the herb rosemary. Don't be afraid to mix herbs into your container gardens!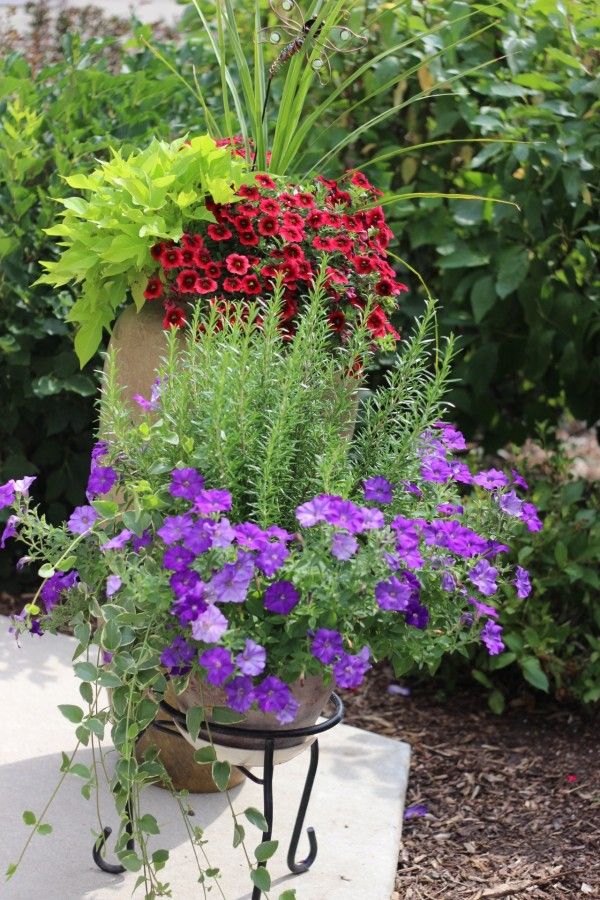 Technically not a planter, but I love how this clematis (a perennial) was planted in the little spot where the patio post is set. I need to add flowering perennials to my outdoor patio/deck areas. It's a much wiser financial investment than annuals.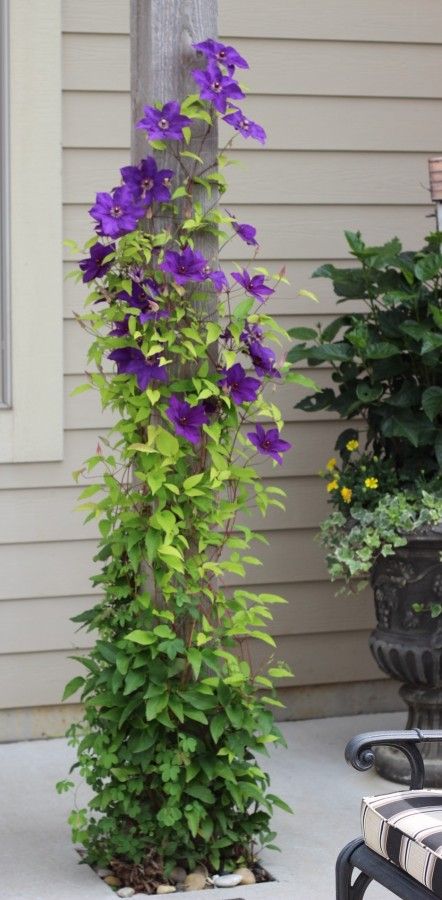 Have a birdhouse and need a place to put it? I love putting something into my pots to give additional height to my planters. My frustration has been the poles tend to lean. I've found this pole stabilizer and may order a few to solve that problem.
There are obviously planters used in the backyard to add some pretty color to that outdoor space.
Adding height and color
Often, planters hug the ground around homes. Move them out into your yard with tall accent pieces like this birdhouse. It adds some visual interest, height, and some color to areas with low-growing plants.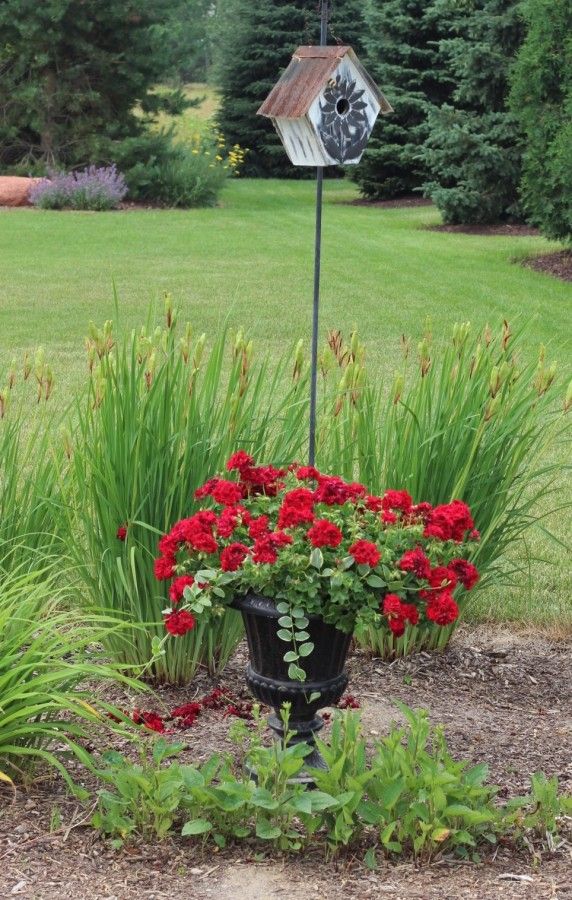 Here is another area where perennial plantings are used to showcase a planter. The grasses really make the colors of the flowering plants and the plant pot pop.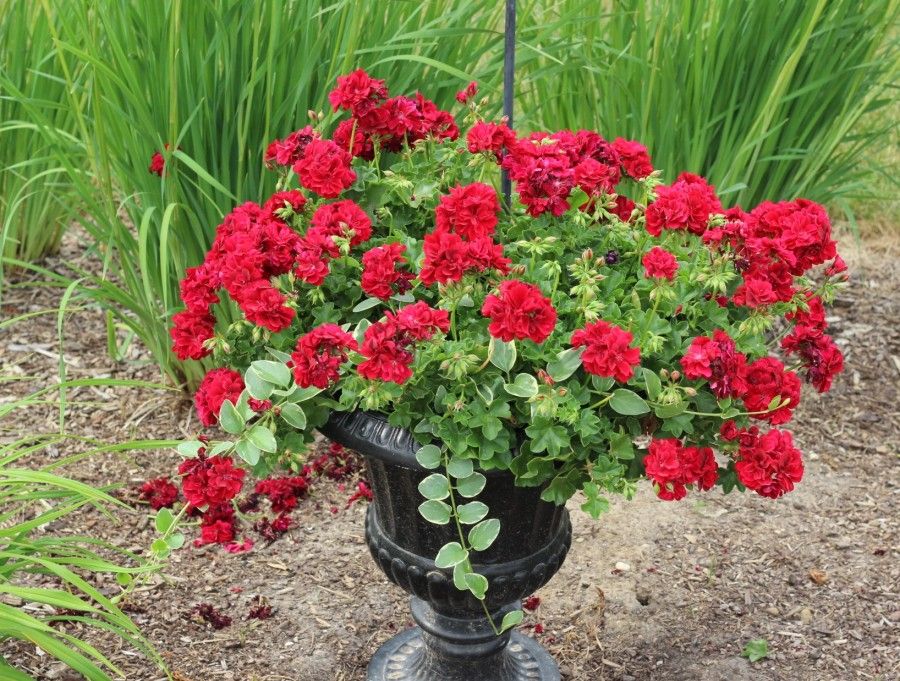 I LOVE using red geraniums in my container gardens. Obviously, many of my neighbors do too! And, I love adding height by putting in a pretty container garden stake in my flower pots.
Pretend the hibiscus below is blooming. Cause my timing was never good when I went over to check! I do love the hibiscus and ivy combination.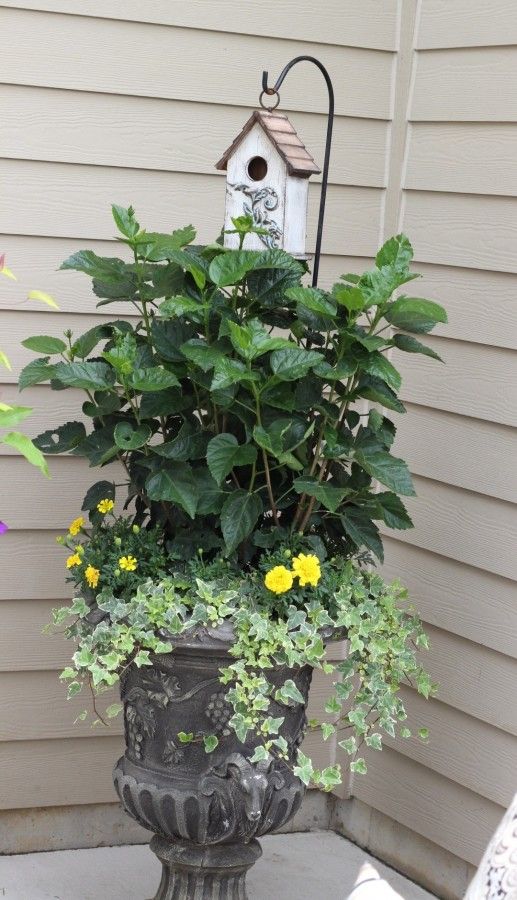 Tabletop flower planters are also wonderful for a splash of color. Look at the one below!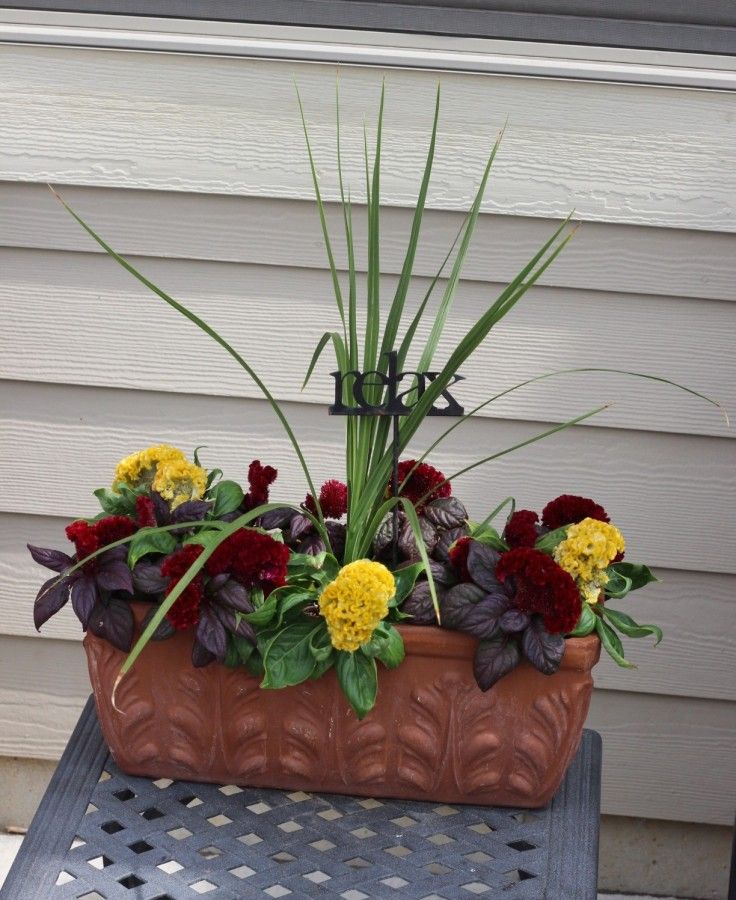 And, the front door. Diane's geraniums always look great!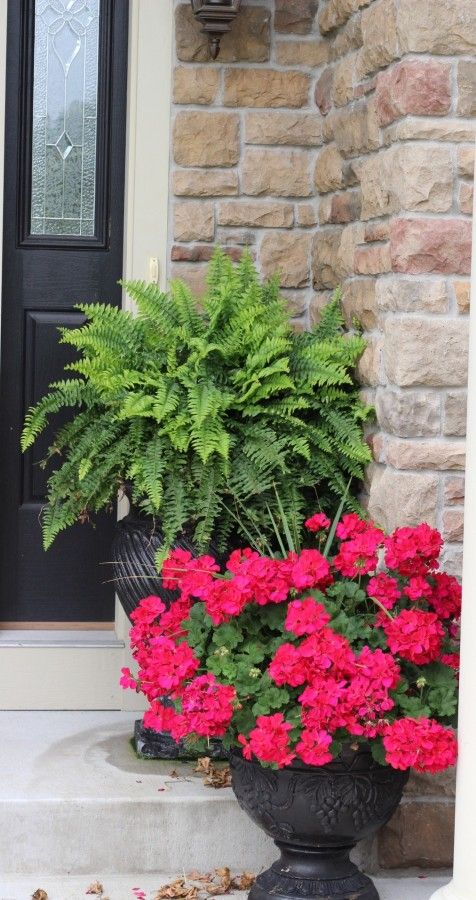 Patio Planter Ideas
My neighbor and I often discussed our planter plans for the summer. Our flower planters placed on our back patios were fun to plan!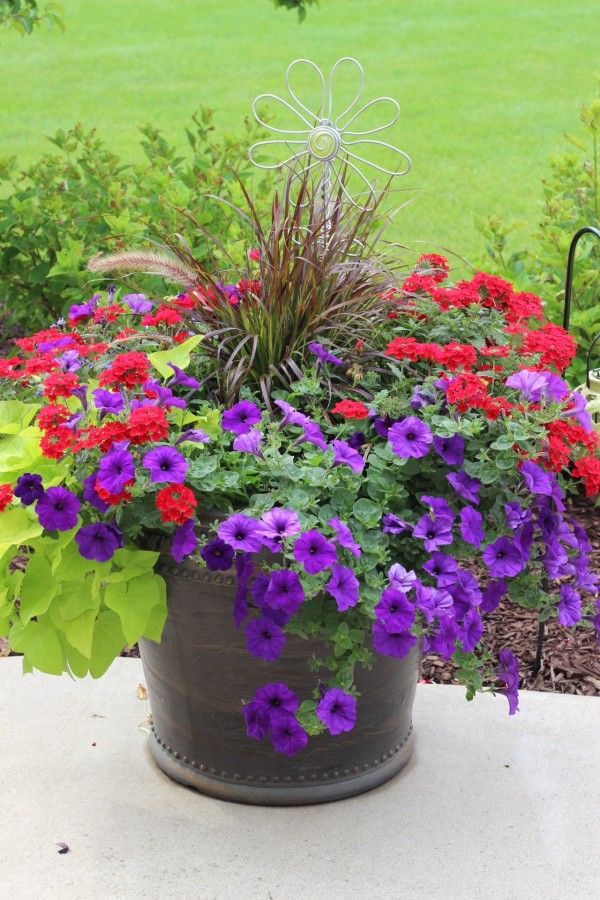 The planter below is made up of red geraniums, purple petunias, yellow million bells, and purple fountain grass.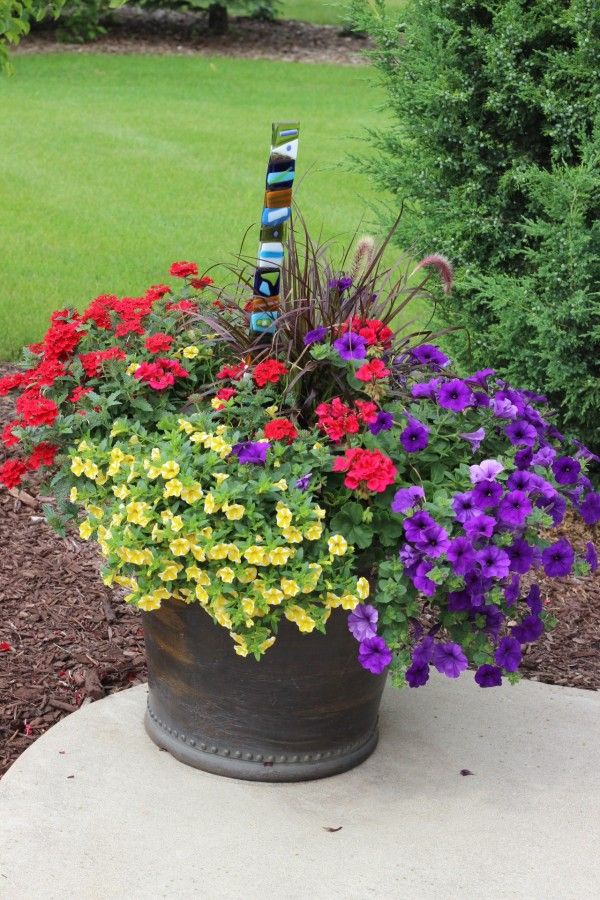 Patio Planter Ideas
These patio planter ideas are beautiful! I know my neighbor makes all of her own planters because I've often shopped for flowering plants and other appropriate patio plants with her.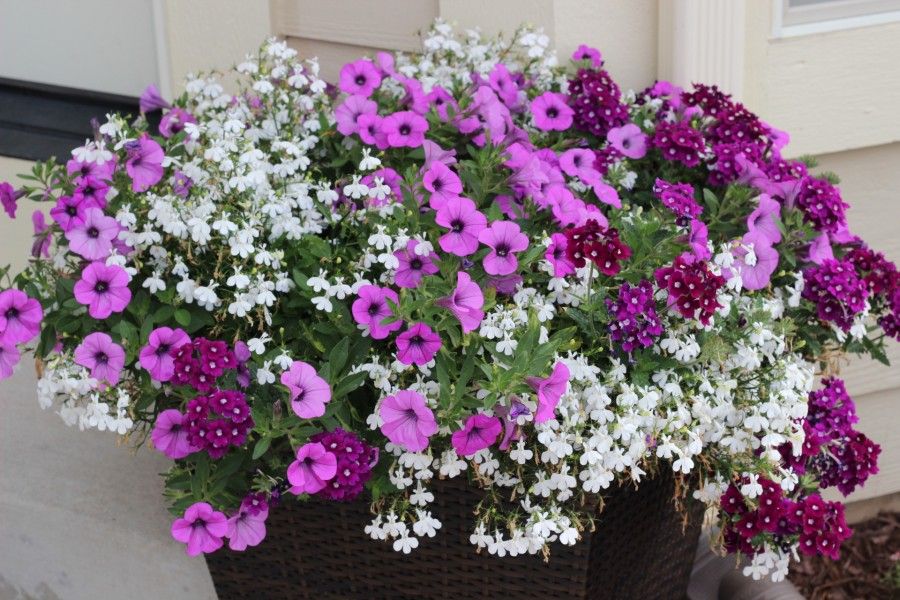 Below is her super cute front door planter.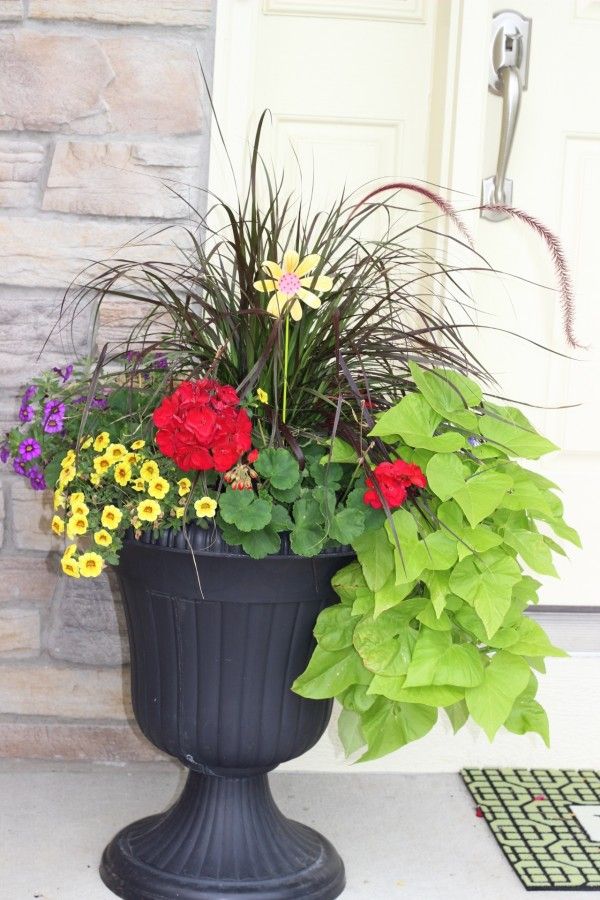 If you haven't noticed, all of these outdoor flower pot arrangements have a little piece of 'decor' in them. Pretty glass poles, metal flowers, and other cute items just finish off the look of the planter. A little container garden tip: These extra decor items are especially pretty when the planter is newly planted and the plants haven't been filled in yet. And, one of her favorite planters is the classical urn-type planters.
Potted plant arrangement ideas
One of my favorite "Welcome" planters. I love seeing pretty planters by a walkway. They add a little splash of elegance! I love the little ½ barrel planter container.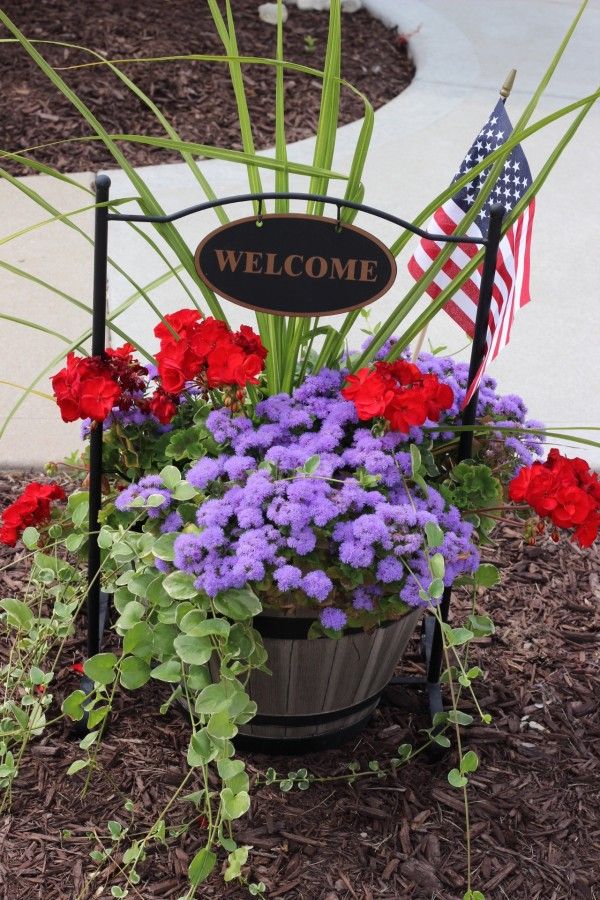 I know it was purchased like this, but the planter works in its location. Plus it's pretty. And, right in the scorching sun. So, I'm impressed it keeps looking this good!
Window Boxes - another outdoor planter option.
Here is the window box I showed being planted in a previous post. Isn't it pretty and full now? Ingrid shared her secrets for successful window boxes in this Window Box Planter Tips post. She is the only person I know who grows her petunias from seed!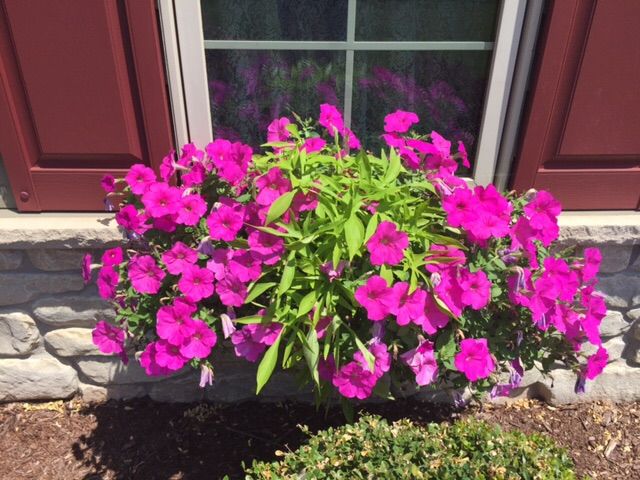 Look at the pretty color it adds to the house!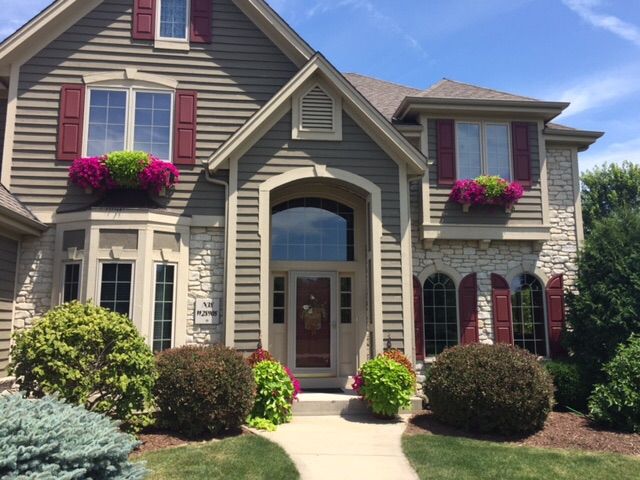 How smart to have the builder add window boxes when the house was being built!
A few more to show you! I just love looking through my flower pictures in the winter. It helps cheer me up then. This is a simple petunia arrangement but the trellis adds some height and visual interest. I'm planning on doing something similar but am thinking about having a climbing plant in the middle. This type of trellis is not expensive, especially for how much visual interest they give!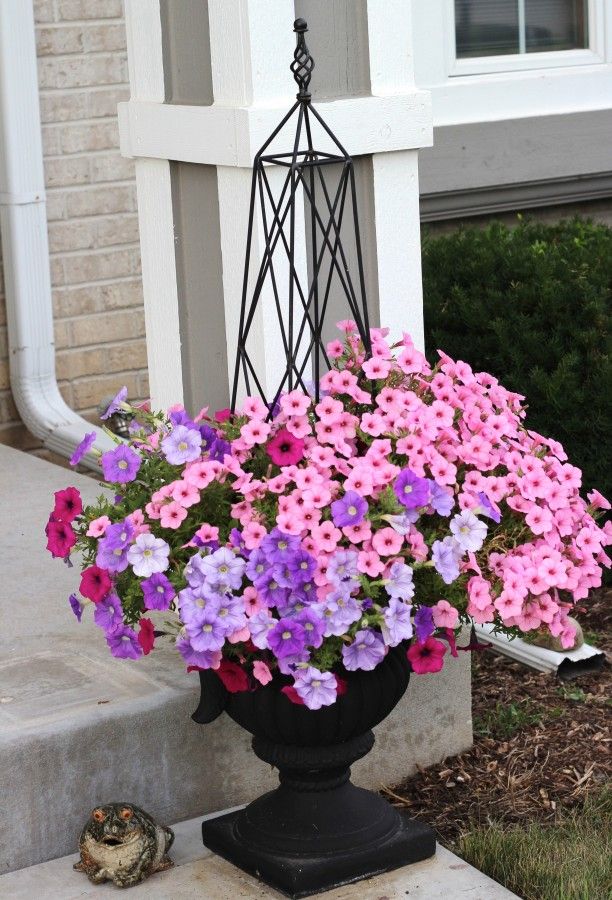 This is so pretty because of its simplicity. Plus, I like the little ceramic frog :)!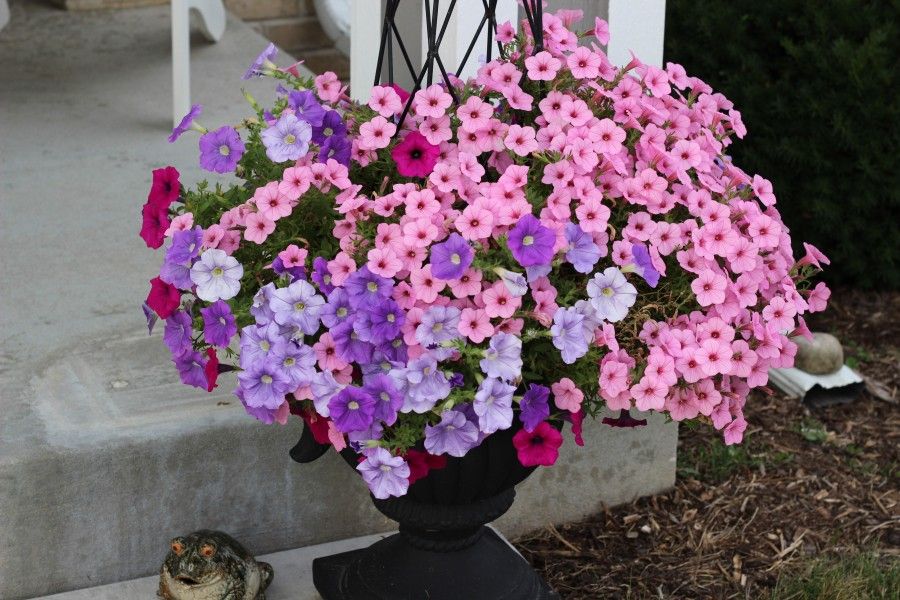 Are you looking for some tips and hints on putting together beautiful flower planters? As I was taking pictures, I was chatting with these green-thumbed people. Are you surprised I was chatting? Well, you shouldn't be : ).
Seasonal front door planters.
Planting containers can be at your front door to increase curb appeal and welcome guests every season. Below are summer, fall, and winter (Christmas planters). They add a little interest and color to your front porch area.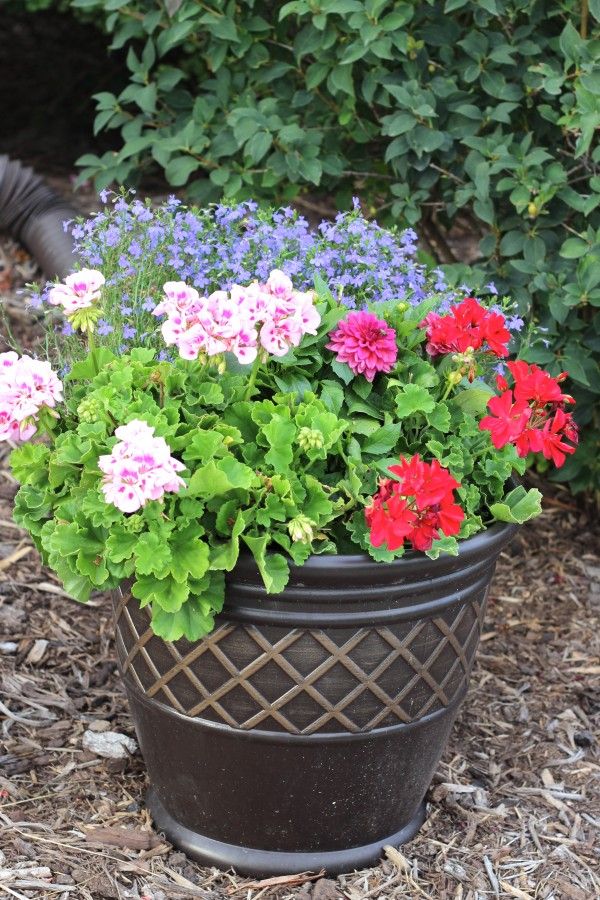 Let me show you my fall container garden from last year. I painted this container, and if you want to see how to make your own black and white planters, click on the colored link. It was fun to do, and it has held up great! I love it when the grasses start drying in the fall (the thriller grass is purple fountain grass). And who doesn't love adding pumpkins, gourds, and mums to fall containers?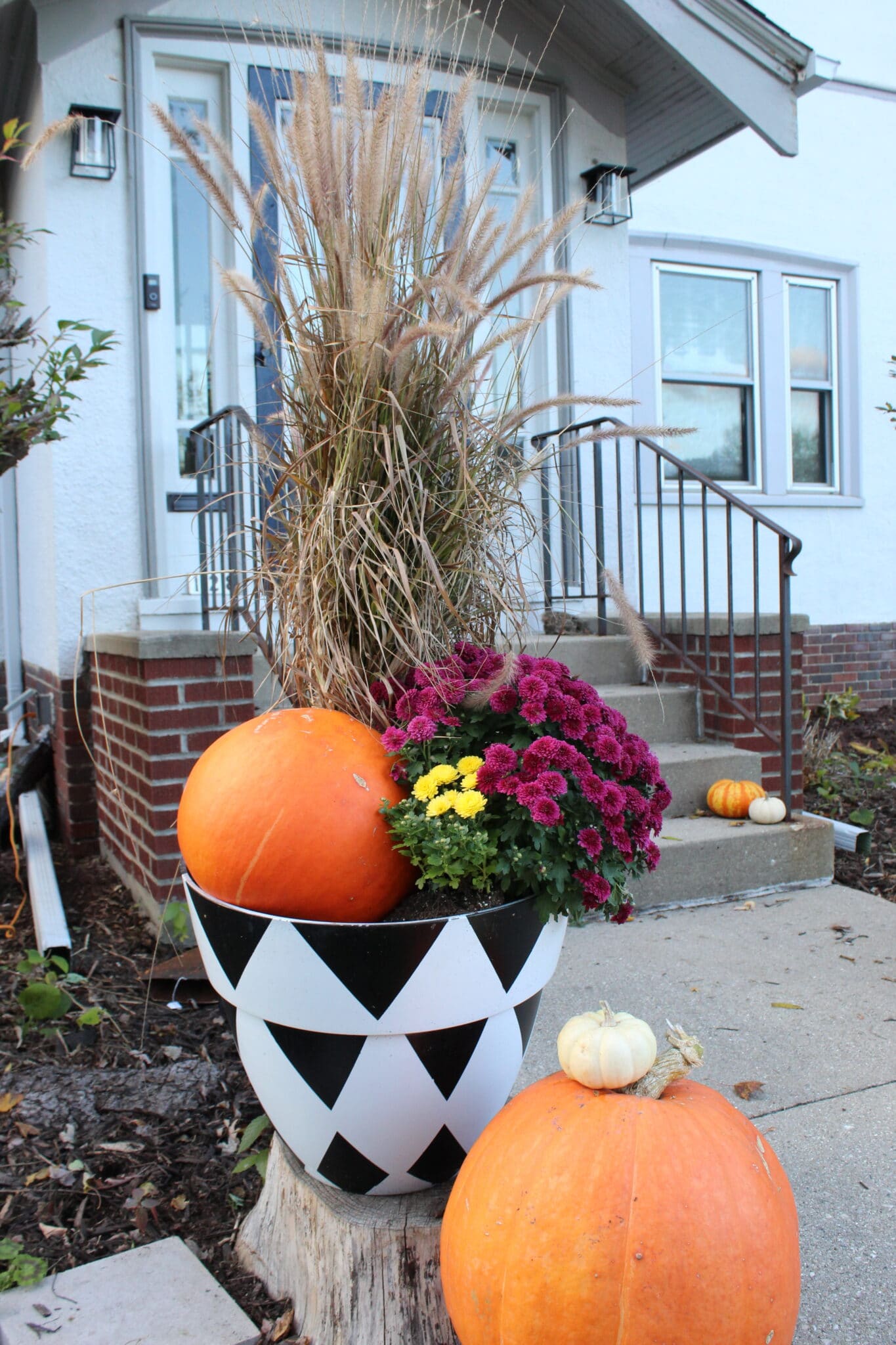 I'm going to show you one more! We have to get a winter/Christmas planter into this post, right?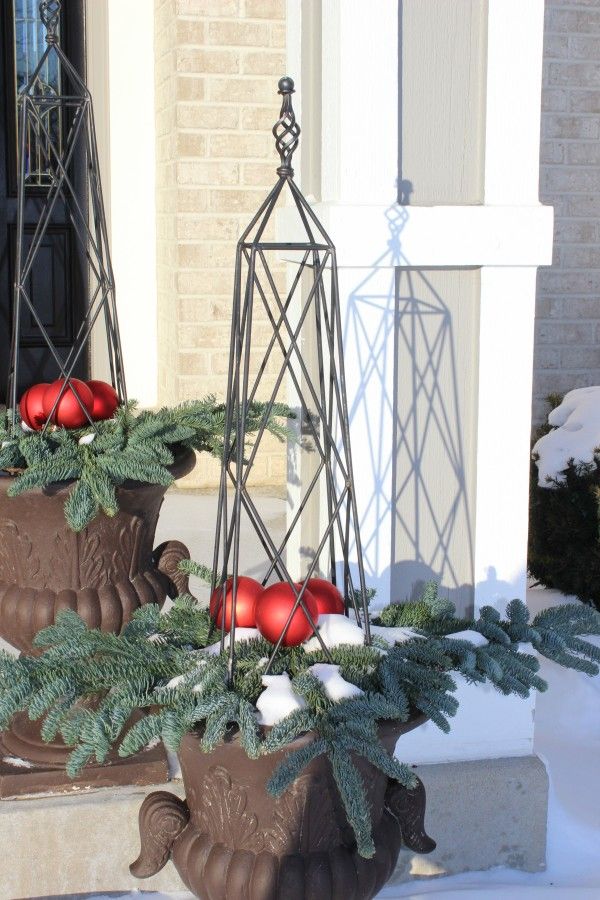 FAQ's
What is a good type of fertilizer to use?
The gardeners I asked all used Miracle Grow. These planters are all in Wisconsin and the summers are short. So watering weekly with diluted fertilizer is a great idea.
How often should a planter be watered?
That is a long in depth question. Here is a post dedicated to answering this question with lots of detail. How to water your plants.
More outdoor planter | container garden ideas
Looking for some more ideas? These are some of my most popular container gardening posts! Many are repeats of the links in this post by request I've added them here.
Looking for more planter ideas? Sign up on the form below!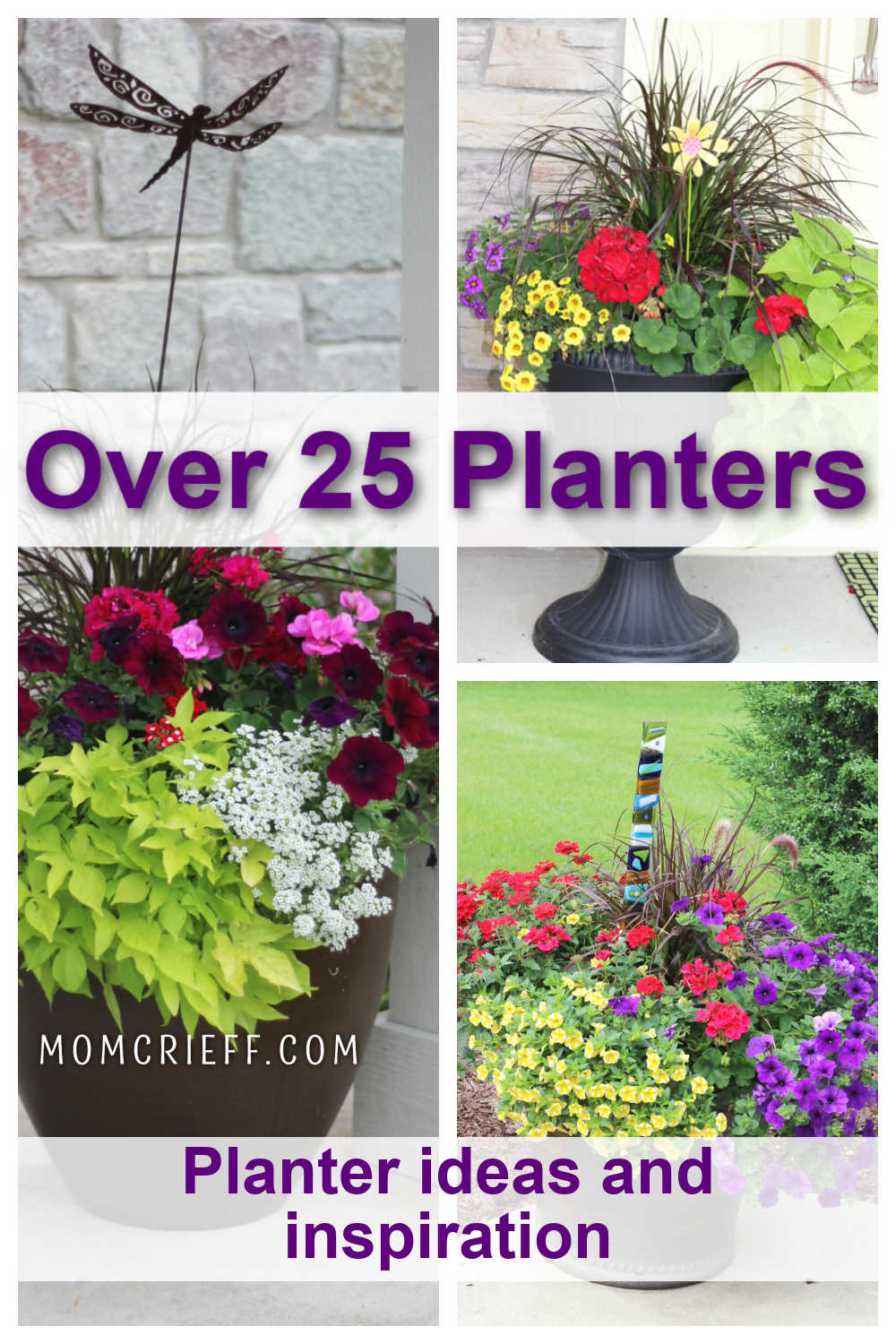 Originally published March 13, 2016.