These window box planters are on my friend's home.  They have these fun bright petunia that seem to have a bunch of blooms all the time.  The foliage of the plants and the bright colored leaves of the sweet potato vines add such a pretty color contrast to the petunias!  Follow along for detailed instructions on how to DIY planting beautiful window box planters.
How to plant your window flower boxes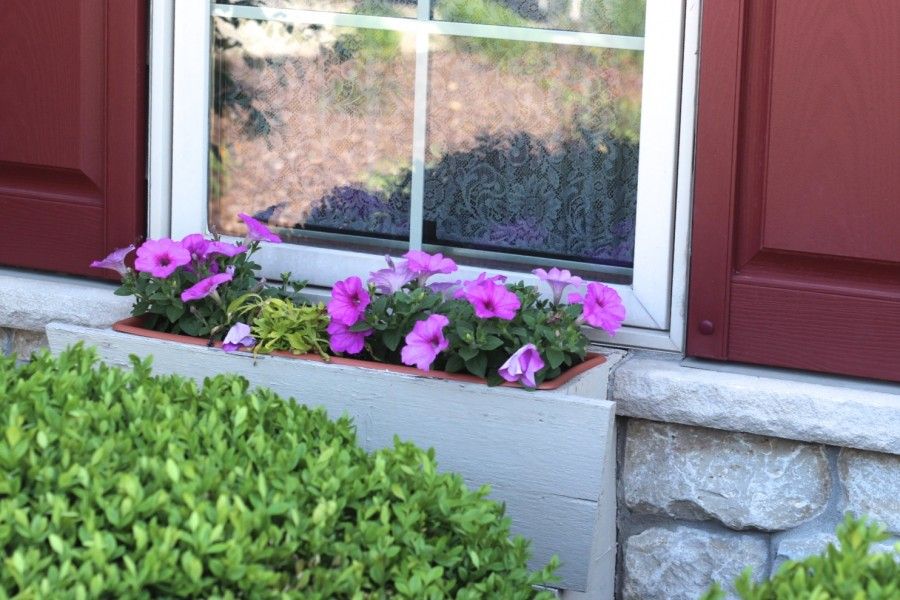 I'll have to take a picture in a month and show you how awesome and full they are.  But if I wait that long, you won't have any use for the planting tips for this year : ).
Preparing the window box
Make sure there are drainage holes at the bottom of the planter.   Plants don't do well if their roots stay soggy.  If the roots are wet all the time and don't dry between watering, they can suffer from root rot. If you have a window box attached to the house, use a liner to protect the wooden boxes from damage.  In this example today, there are plastic window box pots that get inserted and then there is also a plastic liner to protect the wood from damage from all the water.
The bottom of the plastic planter container is lined with plastic so that the water doesn't run out and damage the wooden planter boxes.  The planters need to be watered about once a day (twice during those hot days).  Don't do these if you can't commit to the watering!!
Removing old soil and adding new
About ⅓ of the soil from the previous year is taken out and replaced.  There were some seriously strong recommendations for Miracle Grow potting soil with moisture control (I love the stuff too!!). When you have window boxes, make sure it is potting soil that you use (not top soil, or ground soil etc.). It does make a difference.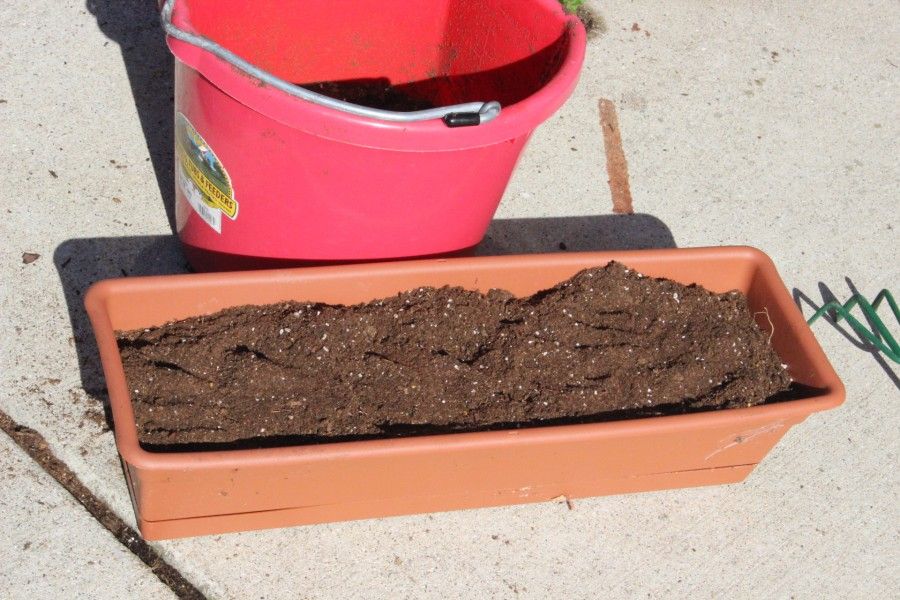 Fertilizing
And the magic to make these window boxes grow so beautifully?  These window box plants get watered in with a weak mixture of Miracle Grow after they are planted.  After that, they get fertilized almost every second week (diluted to ½ of the manufacturer's recommendation).  There isn't a lot of soil in the containers and the plants need all the help they can get!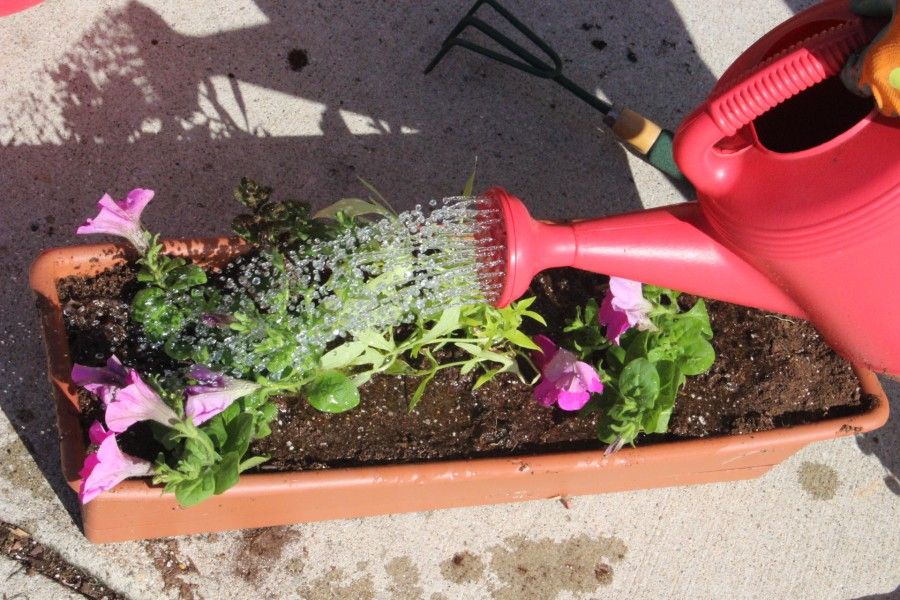 Do I plant traditional thriller, filler, and spiller plants?
The thriller, filler and spiller plant formula is a traditional combination of plants that looks great in a planter. If these terms are a mystery to you, I've described them in detail in my post called
25 Outdoor Planters for Ideas and Inspiration
If the window box is under a window, I often don't put in a tall thriller type plant. In some cases the window box looks better when the plants and flowers are the same height across the planter and the flowers trail down.  In this example the petunias and potato vine will grow to roughly the same height and will trail down the window frame.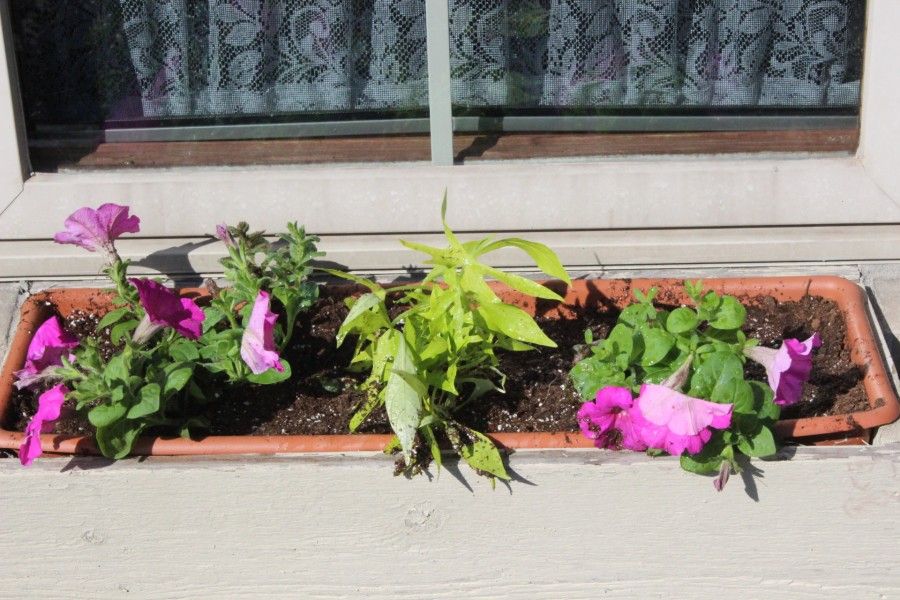 Watering
Plan to water daily! When it's hot and sunny, you may have to water twice daily. Often the plants start to droop. Stick your finger a couple of inches into the soil and if it's dry, you need to water.
It often takes a couple of weeks for the plants to establish themselves.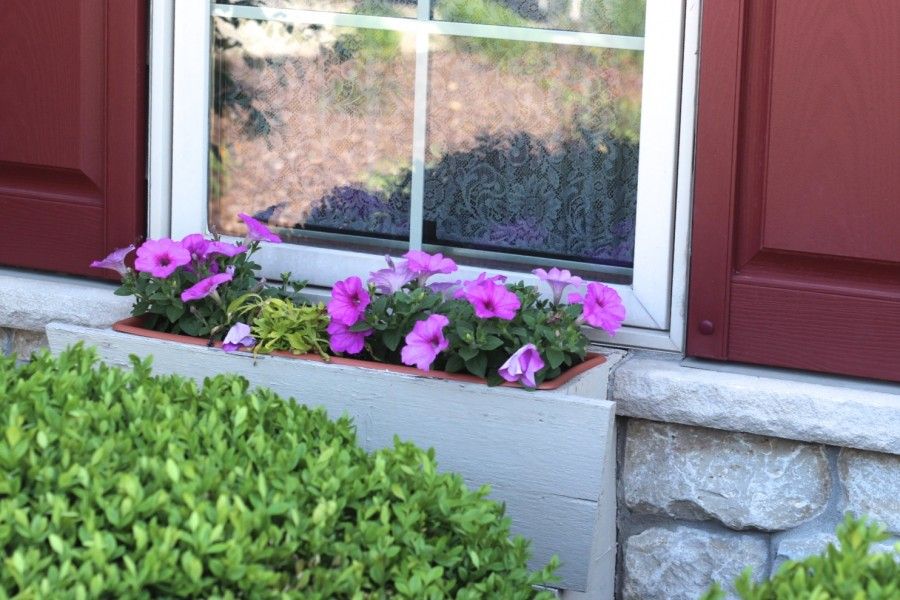 Then they thrive! You will definitely know when they are happy!!
Yes, I think I love the idea of a built-in window box under my front windows.  Hmmmm, I'll have a long winter to give it some thought!
As promised, here is the window box planter a little later in the summer!  Didn't it fill in nicely?  I love the bright pink petunia and the spikey green sweet potato vine.  Such a bright and fun contrast in colors!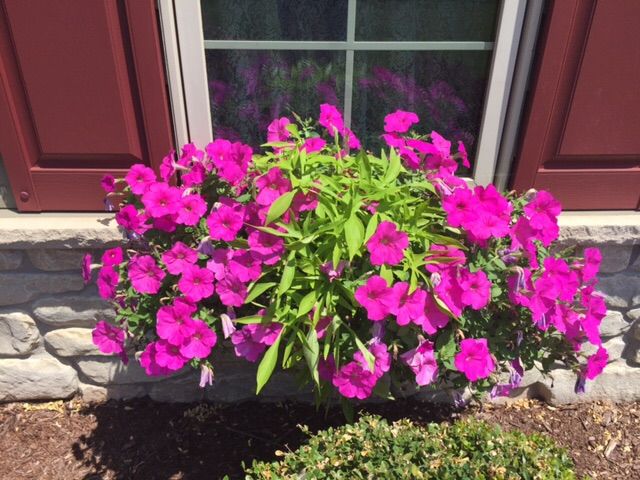 And later is the summer, here is a whole house view of the house with a beautiful window planter box under most windows.  I love this look and think it has a European flair.  Petunias have such long seasonal blooms that they last the whole summer and even into the fall.  Unfortunately a hard frost marks the end of the season for these guys!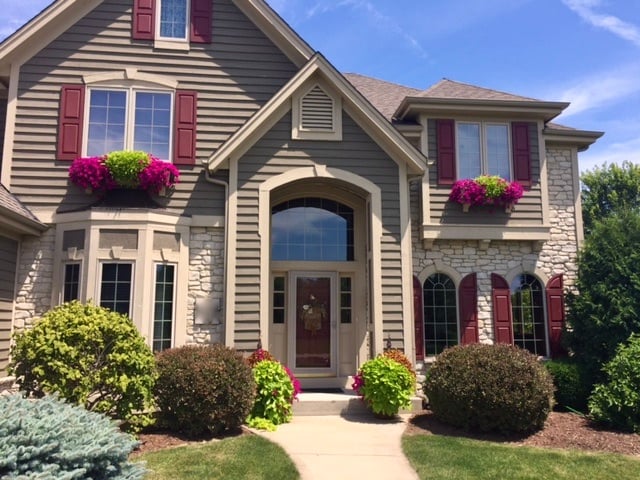 Love planters?  Here are some of my most popular planter posts!
25 Planters from my neighborhood
How I plant my front door planter.
Paint your planters!  I made mine a fun black & white geometric pattern.