I love hanging planters full of pretty summer flowers. Actually, I'll also do spring and fall hanging planters too!
My biggest frustration is when it's hot and the planters need to be watered often. When the soil is really dry, the water runs right through and doesn't moisten it.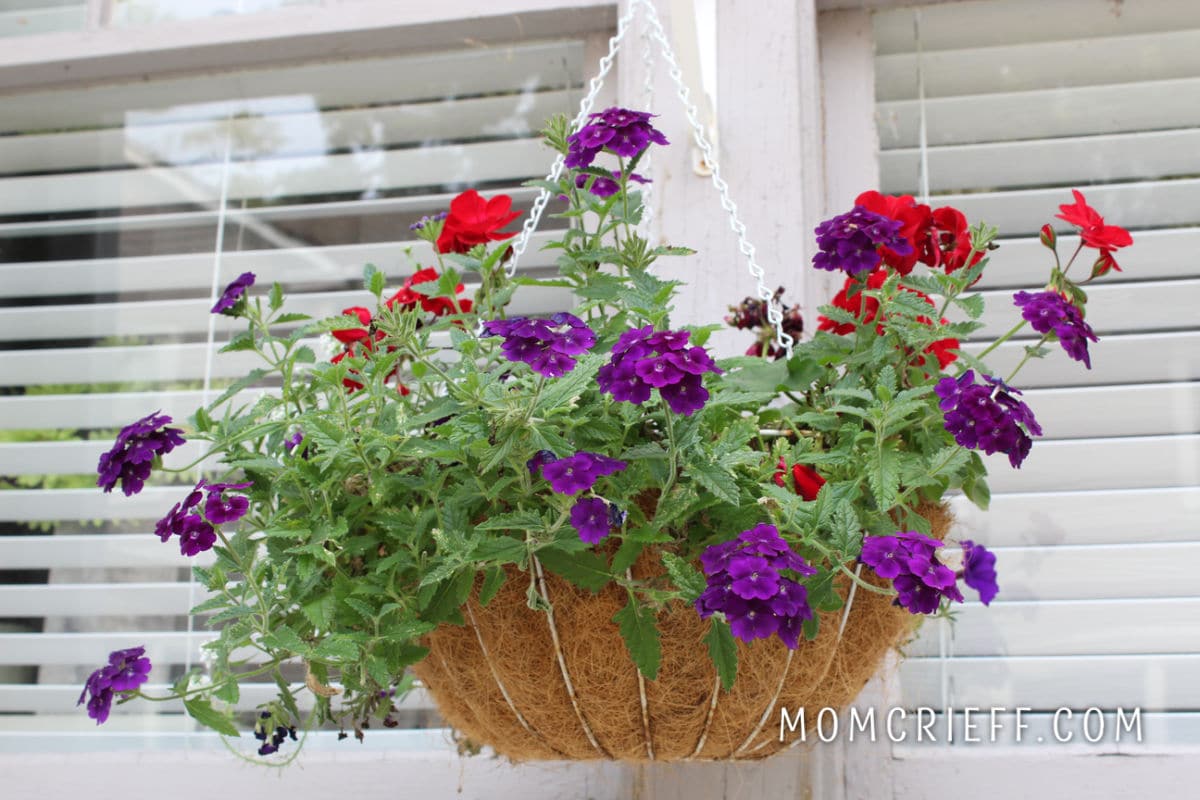 Being too dry for too long of a period is very stressful to plants. Continue reading to see how to specifically keep your hanging planters well watered. For other planters, look at this how to water your plants post.
Stop water running through your hanging planters
A $1.00 plastic bowl did the job! When I watered the plant, the water stayed in the planter to moisten the soil and to let the plants absorb the water. There are a few important steps.
Creating drainage
It is important to drill some holes in the bottom of the bowl so the water does drain, but drain slowly. I just used a big drill bit to make three holes. If you don't have a drill bit, use a nail and hammer it in to create the holes. If the plastic is thin, you could even 'stab' the plastic bowl with a screwdriver to create the holes.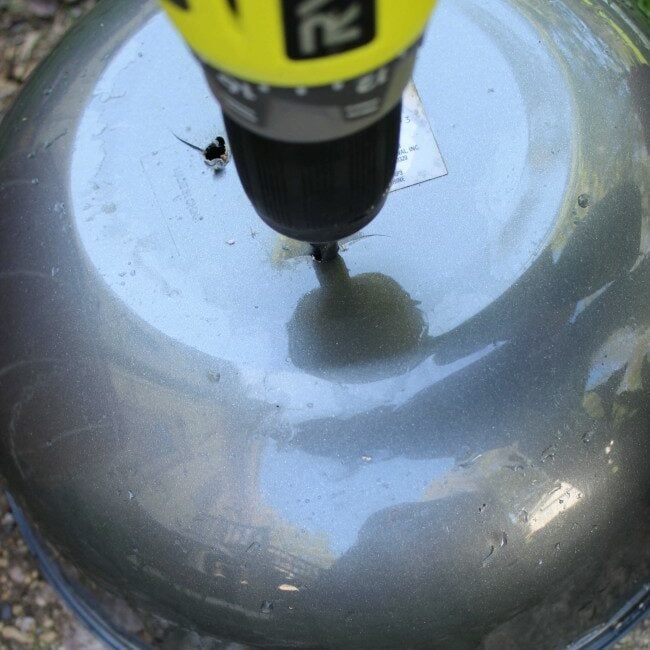 You do want the holes so that you (or Mother Nature) don't overwater. It allows the water to S L O W L Y leave the planter!
Fixing Root-Bound plants
When you purchase plants (and even if you grow your own), plants are often root-bound. Basically, it just means that the roots start growing in a circle. You want the roots to spread so they can absorb nutrients and moisture.
My geranium was root-bound.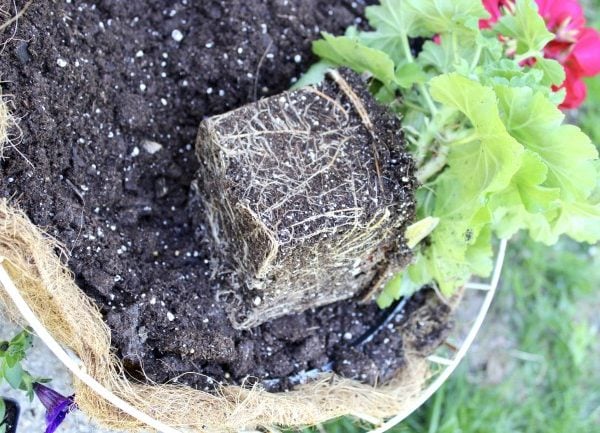 I just roughed up the bottom and the sides. No need to be gentle when doing this!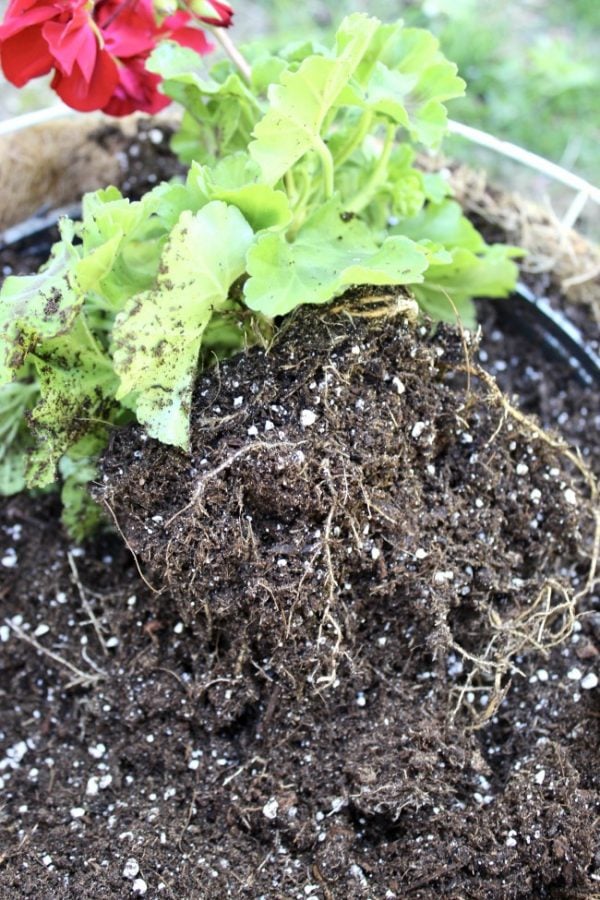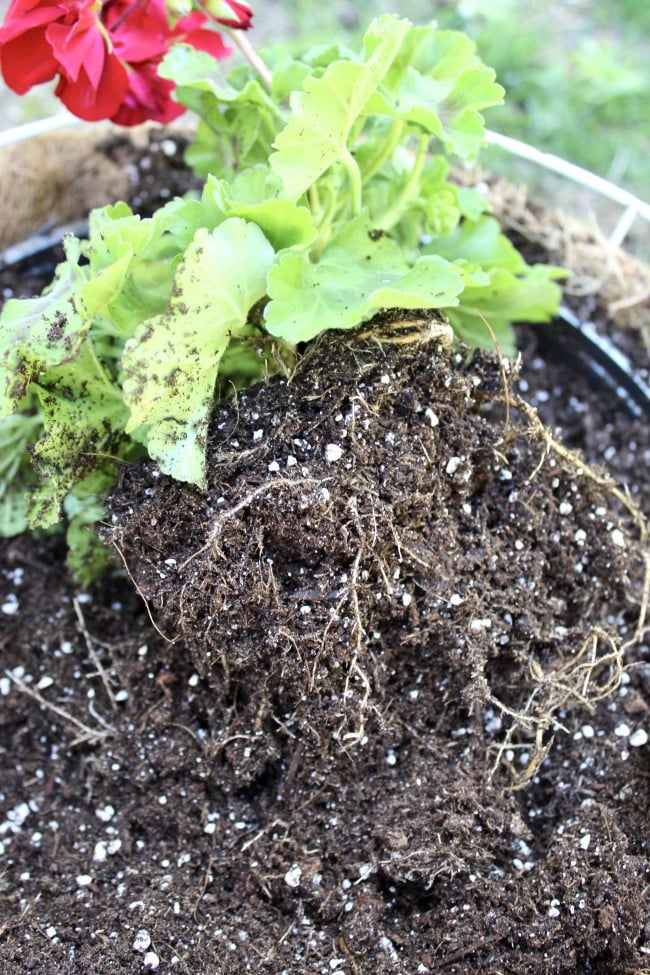 I also wanted to show you a plant that was more seriously root-bound. Often plants come like this if they have been in their little plant cells a little longer than they should be. That can happen for a variety of reasons including a delay in gardening because of cold weather, or the plants just grew a little quicker than planned.
This is my petunia and it is seriously root-bound.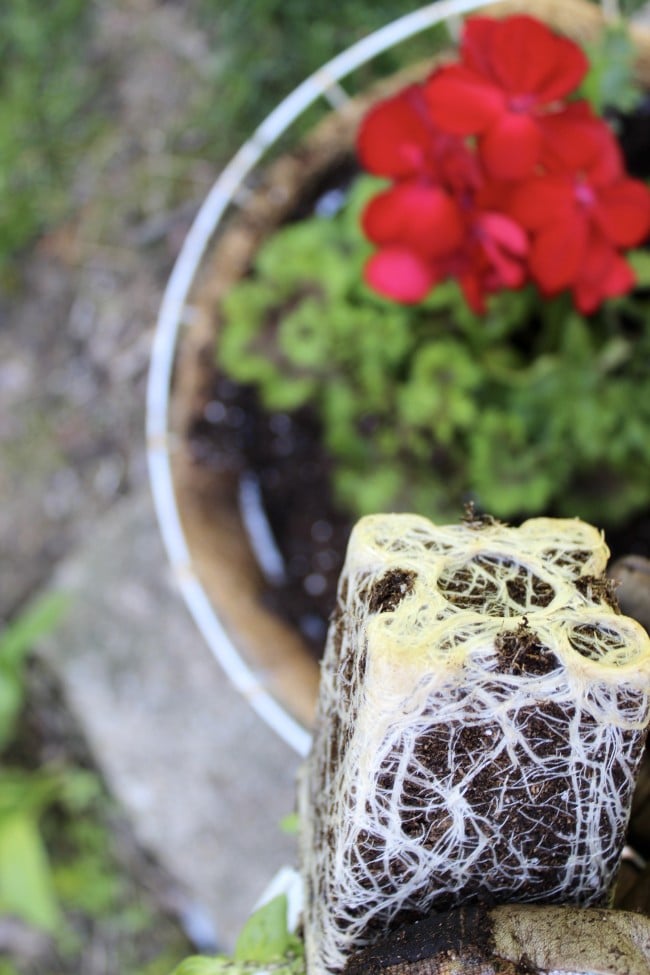 I literally rip (or cut) that bottom part of root-bound roots off. Then rough up the sides. The picture below is the bottom of the plant with the root-bound part ripped off.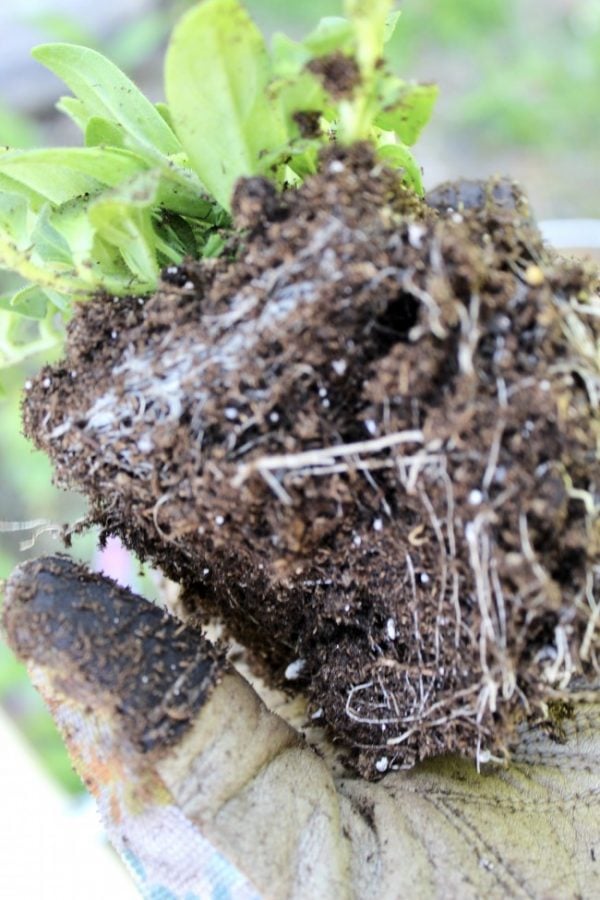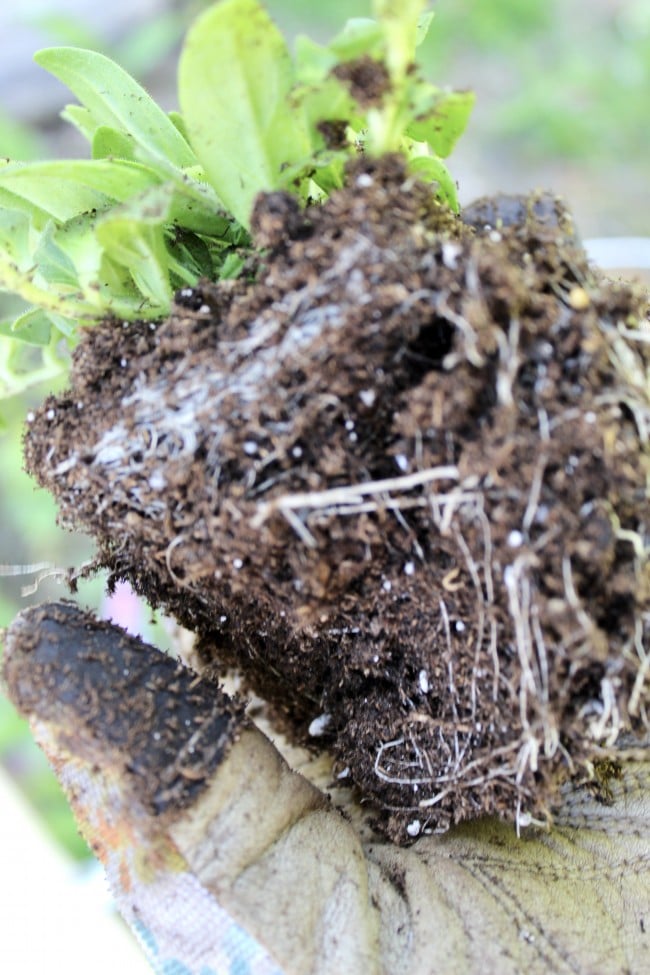 When you are first learning to garden, this is often a step that feels hard. You worry that you are harming the roots and the plant. But, you do much more harm if you don't rough up the roots so they can extend outward as they grow. If you don't, the roots just keep growing in a circle and then the plant suffers.
Put good-quality potting soil into your bowl/planter. I like using Miracle Grow Potting Soil. You can buy this anywhere that sells plants and soil. It's actually fairly light so you can also buy Miracle Grow Potting Soil online!
Fertilizing your Hanging Planter
After I plant my hanging planters, I also give it a diluted dose of Miracle Grow fertilizer. Actually, I give everything I replant (if it's in a planter or in the ground) some Miracle Grow Bloom Booster. I water it down to about ⅓ of the strength recommended. The soil already has fertilizer in it so that's why I don't use full strength. I also water my planters, especially my hanging planters with this diluted fertilizer about every two weeks. It's more than the directions say, but in a flower basket the nutrients get used up by the plant and there isn't much soil to hold nutrients. Just my way of fertilizing.
In this hanging planter, I put in a red geranium, a purple petunia (Wave petunia), alyssum and a purple lantana. *9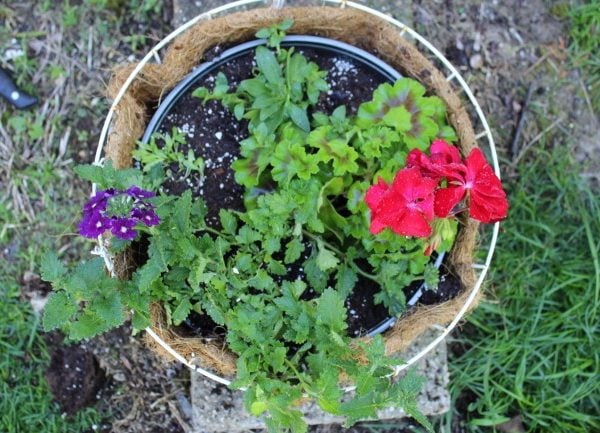 See how the bowl is tucked in with the coconut liner. You don't even see it when it's hanging. And you certainly won't see it when the plants fill in.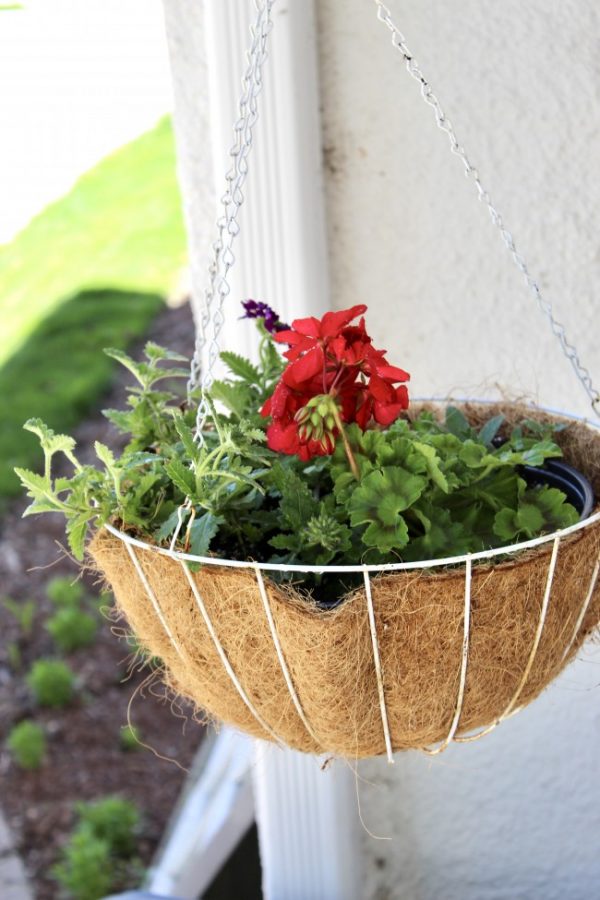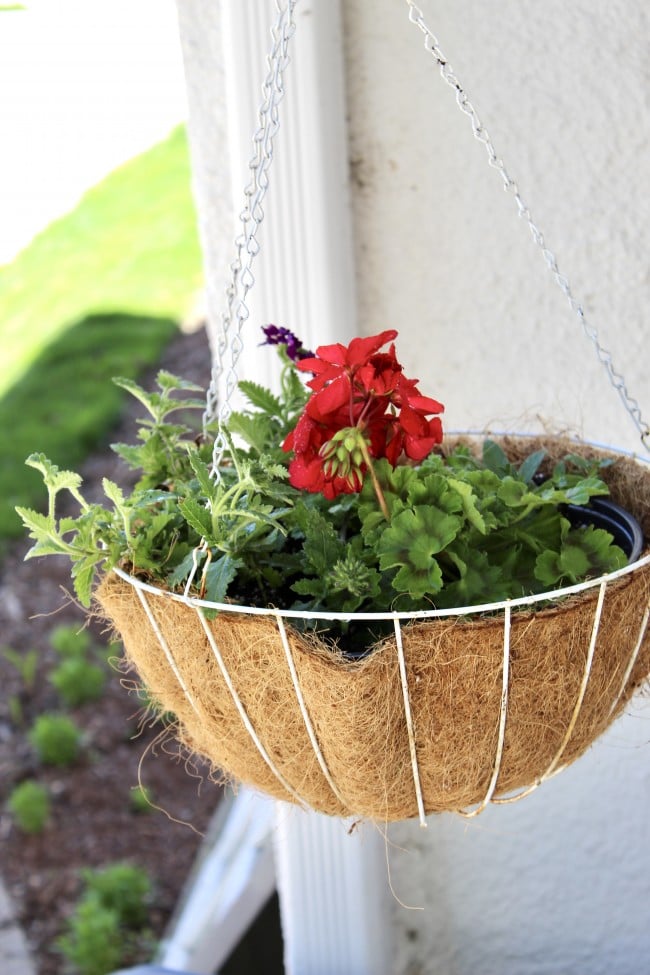 Here is the hanging planter later in the summer!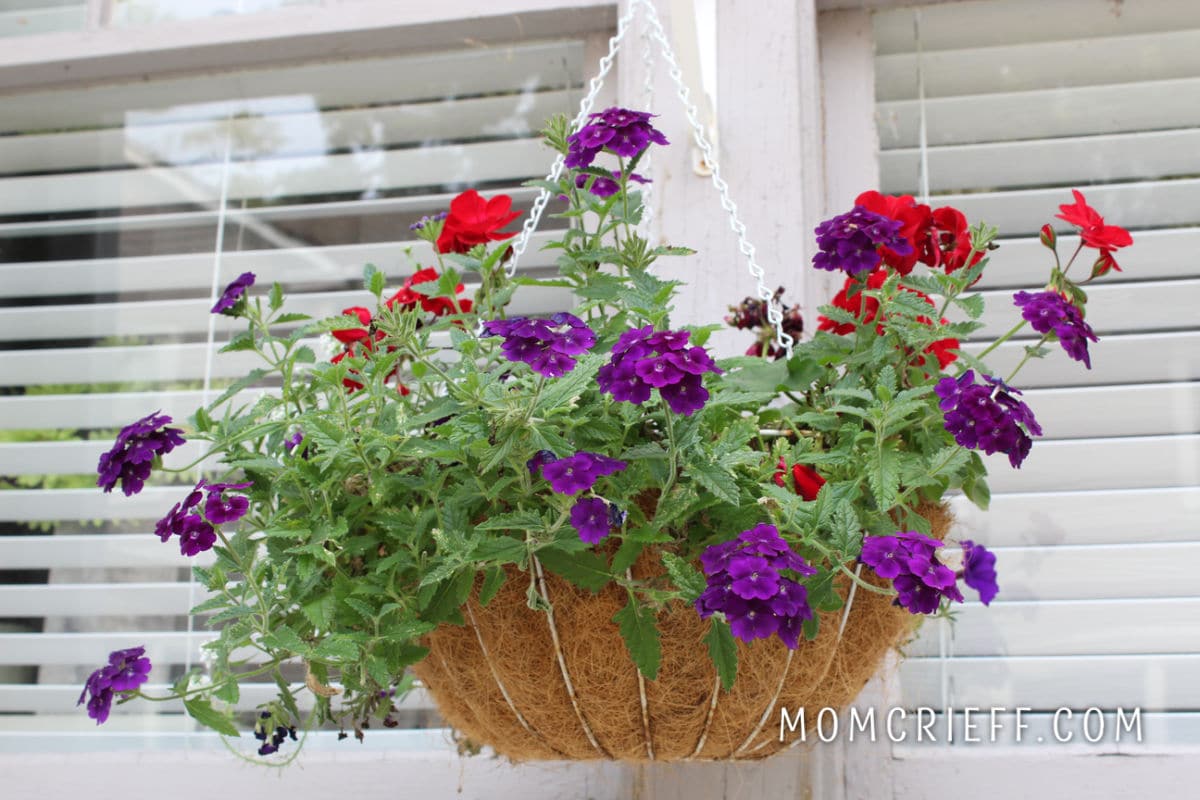 FAQs
How to water hanging plants?
It depends on so many things like how hot it is and how humid the air is. Here is a post sharing How to Water your Plants.
Can hanging planters be overwatered?
Yes! Plants like geraniums don't like to be in soggy soil. They thrive when the soil dries between watering. That is why you do need to add some holes to the plastic bowls for drainage.
More planter care tips.
Planter ideas and inspiration
Over 20 Planter Ideas from My Neighborhood.
DIY - paint a black and white planter
I love my black and white planters! They were ugly and now are so eye-catching. Here's a little picture -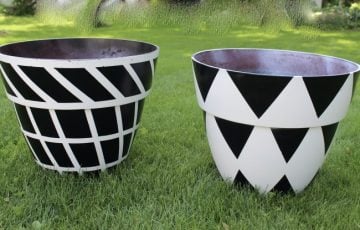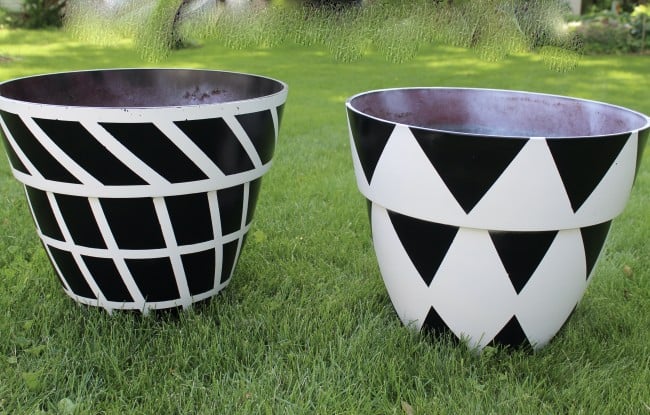 Have fun planting!