A flower frog is an odd name for a very simple thing. Basically, it's a contraption that allows you to organize and keep your fresh-cut flowers in place in a vase.
For some flower arrangements, we need the flowers to be neat, upright, and look like there is a plan. These are a flower holder that holds stems in place so that blooms are kept in place.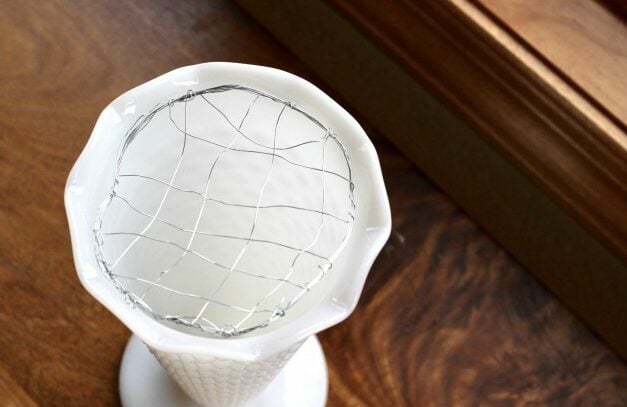 This is an easy DIY frog for flowers using florist wire. It's a perfect way to fit odd-sized vases and containers with frogs for flower vases. Flower flogs allow you to make creative floral designs by holding the stems of flowers in place.
If you like fun vases, peek at this mason jar wall vase tutorial I wrote.
Table of contents
Pin Frog
Old antique frog pins for flowers are floating around at vintage stores and even the occasional yard sale. They look like some dangerous contraption. You can buy this style of floral pin frog through Amazon.

The picks are sharp! They are supposed to be so that you can anchor your flower stems on them. This flower frog gets placed in the bottom of the vase, and then you press the flower stems down on them.
Mason Jar Flower Frogs
If you are looking for something to support your plants that doesn't look so dangerous, these mason jar flower frog are popular.
Sometimes you don't want to buy something like this. Floral frogs are easy and cheap to make. They are fully functional and can be made to any size.
Materials
You don't need much, and you probably have this at home. All I use is florist wire. Use what you have, or use colors that coordinate with your vase if you don't want it showing.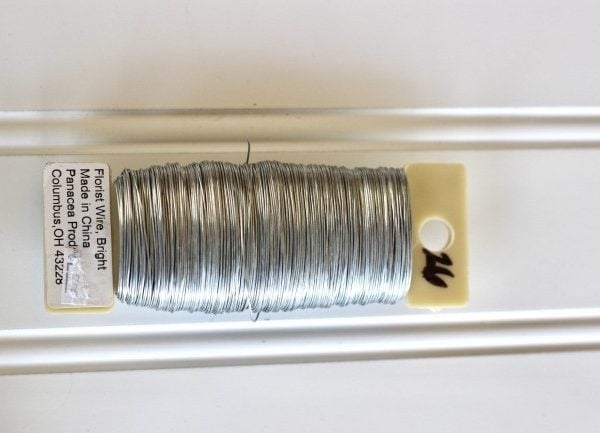 Instructions
Find something to use as a guide for the size. Don't laugh, but a big can of peaches was precisely the size that would fit snuggly into the vase.
Then I wrap the floral wire around the can 5 or 6 times. So that it has a little strength. The floral wire is woven back and forth. I aim to have spaces between the wires that are about ½-inch squares. This is a quick, easy, and disposable (potentially) vase frog, and perfection doesn't matter. No one will see this after you have filled it with your plants.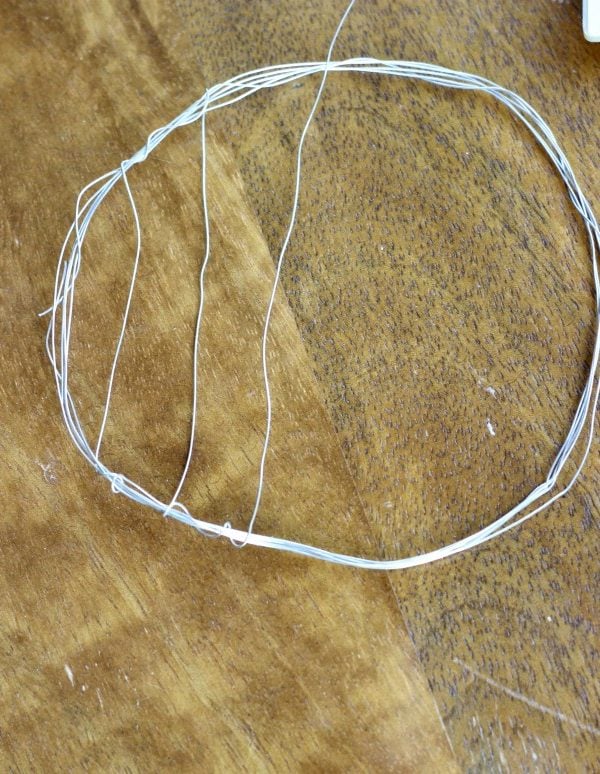 After you go back and forth with the wire, turn a ¼ turn and weave the wire so you have squares like the ones below.
Check to make sure the flower frog fits into your vase. Fill your vase with water.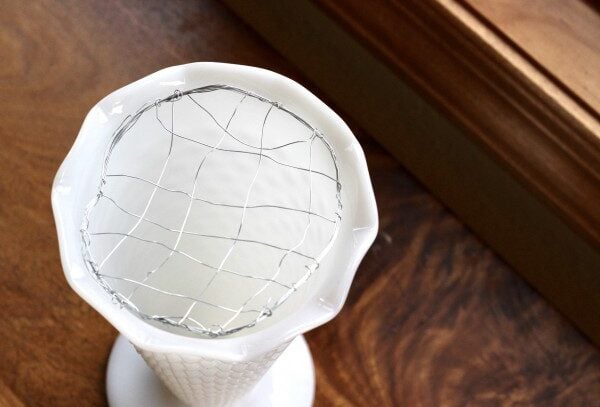 Arrange the flowers, so they are the way you like.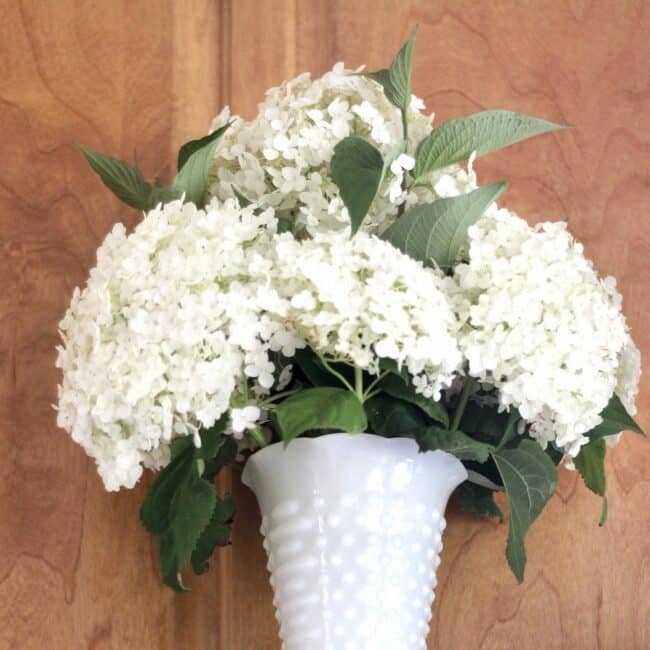 As you can see above, perfection is not required! But this easy homemade floral frog does help arrange and support the flowers in your vase.
FAQ's
I don't see flower frogs in stores. Why aren't they sold in stores?
Floral foam in the bottom of a vase and floral tape used across the top of a vase has replaced vintage flower frogs. Some stores that sell floral items may still carry them. You do have to watch for them.
Where can I find antique | vintage floral frogs?
Look at thrift shops, flea markets, antique shops, or even eBay. As I wander through my favorite antique shops, I'm keeping my eyes open for some glass flower frogs this summer.
Printable Instructions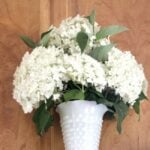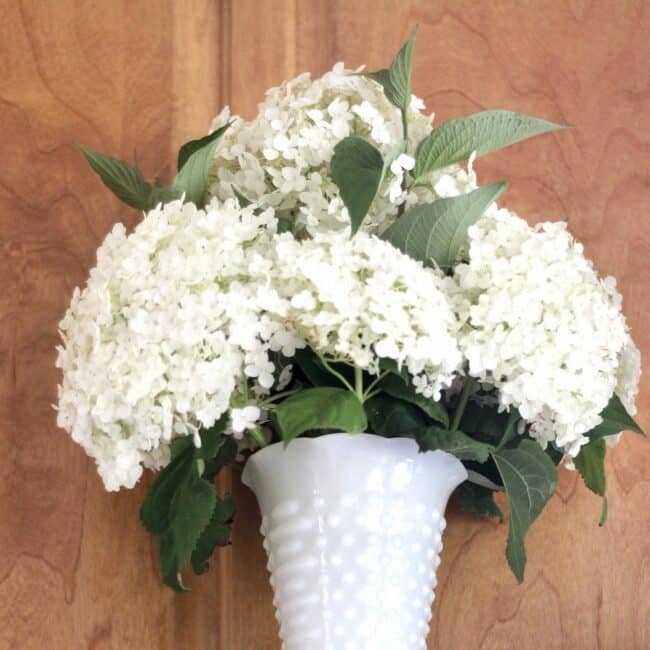 Print
Easy Flower Frog
Easy DIY flower frogs you can make out of simple floral wire. Make your own cheaply and with a custom fit to your vase or container.
Materials
1

florist wire

Use what color you have
Instructions
Find an object the right size and shape. It happened to be a peach can for this vase.

Wrap the floral wire around your can 5 to 6 times.

Weave the floral wire creating ½ inch squares as shown in image.

It doesn't need to be perfect because no one will see it when it's tucked in the vase.

Double-check the fit. If you want, you can even out your wires. I don't worry about it.

Place your flowers in the vase, carefully poking stems into wire squares.
See how my little quick and inexpensive gadget keeps the flowers upright in this milk glass vase full of hydrangeas!
This is my old mantle at a former home, but I loved how pretty and simple the white milk glass vases looked with white hydrangeas.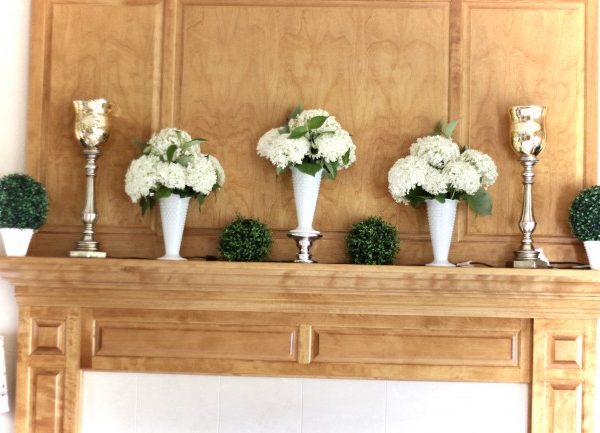 Another vase idea is this mason jar wall vase. I loved this one because my naughty cat can't get to my flowers : )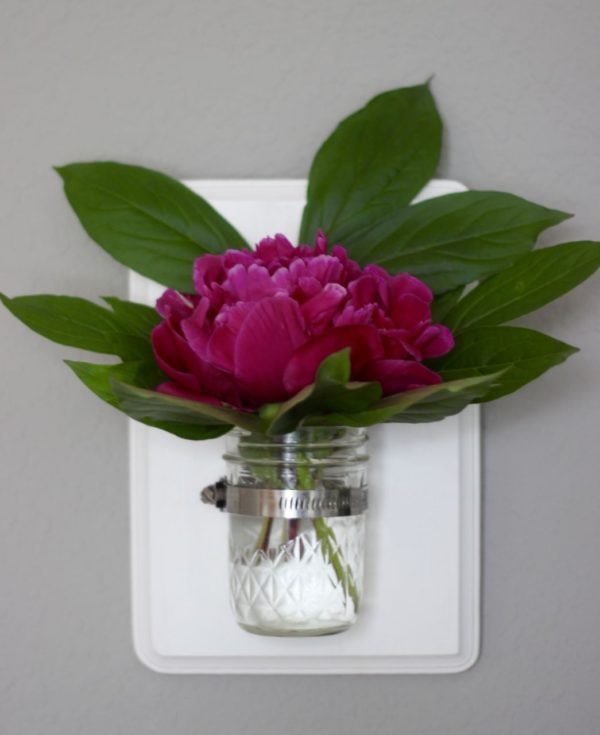 I can't help myself; here is a picture of the mason jar wall vase from a few years ago. I still love it!

If you want to keep this idea on a Pinterest board, please pin the image below onto your account.