There is nothing more beautiful than a display of red geraniums. It doesn't matter if these red geraniums are in pots or if they are planted in the ground. It's a beautiful bright display of color, and to me, it is part of the joy of summer!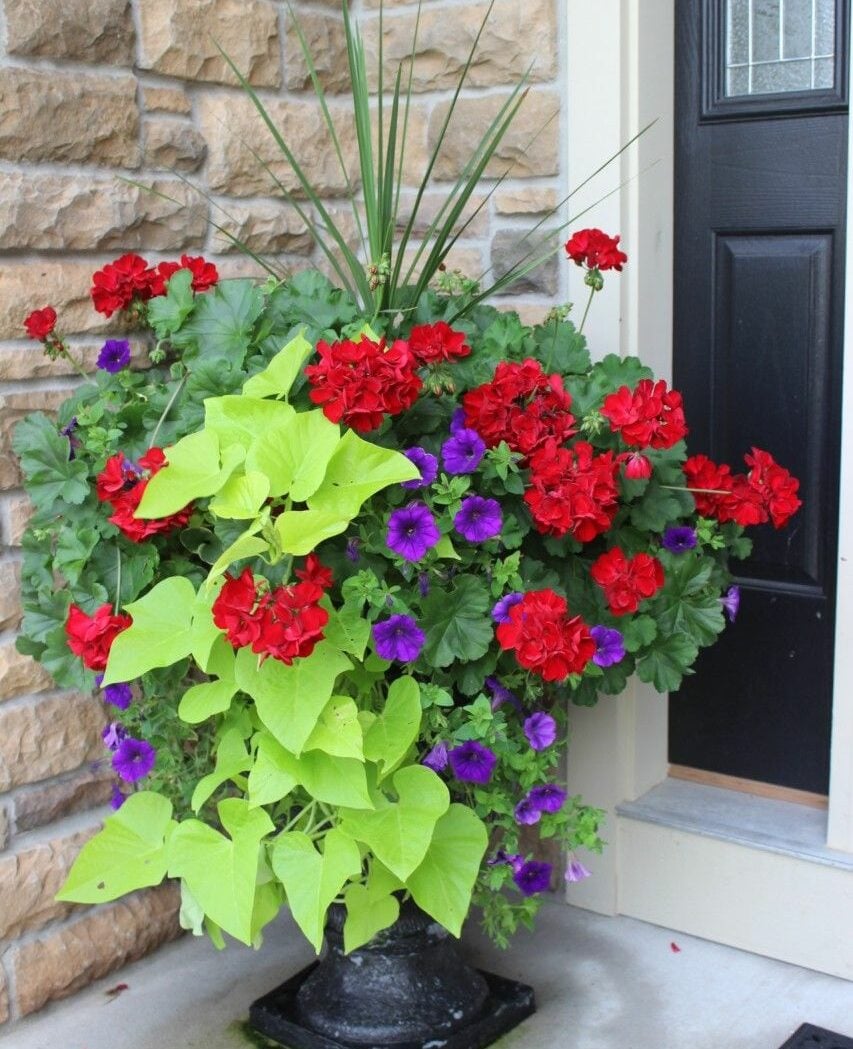 Red geraniums will always have a special place in my heart because they were my Mom's favorite.
They are easy to grow, can handle a little abuse and look good into the fall when other plants start getting worn and tired looking.
I do have a post sharing different planter geraniums if you'd like to see some different colored geranium arrangements. This post you are now reading is specifically about my favorite red geranium container ideas that I have seen over the last few years. The biggest trick to keeping your geranium plants healthy is deadheading geraniums.
Red Geraniums In Window Boxes
Window boxes under my windows are my dream! For now I have a porch rail with a window box attached :-). There are many in the retail areas I frequent!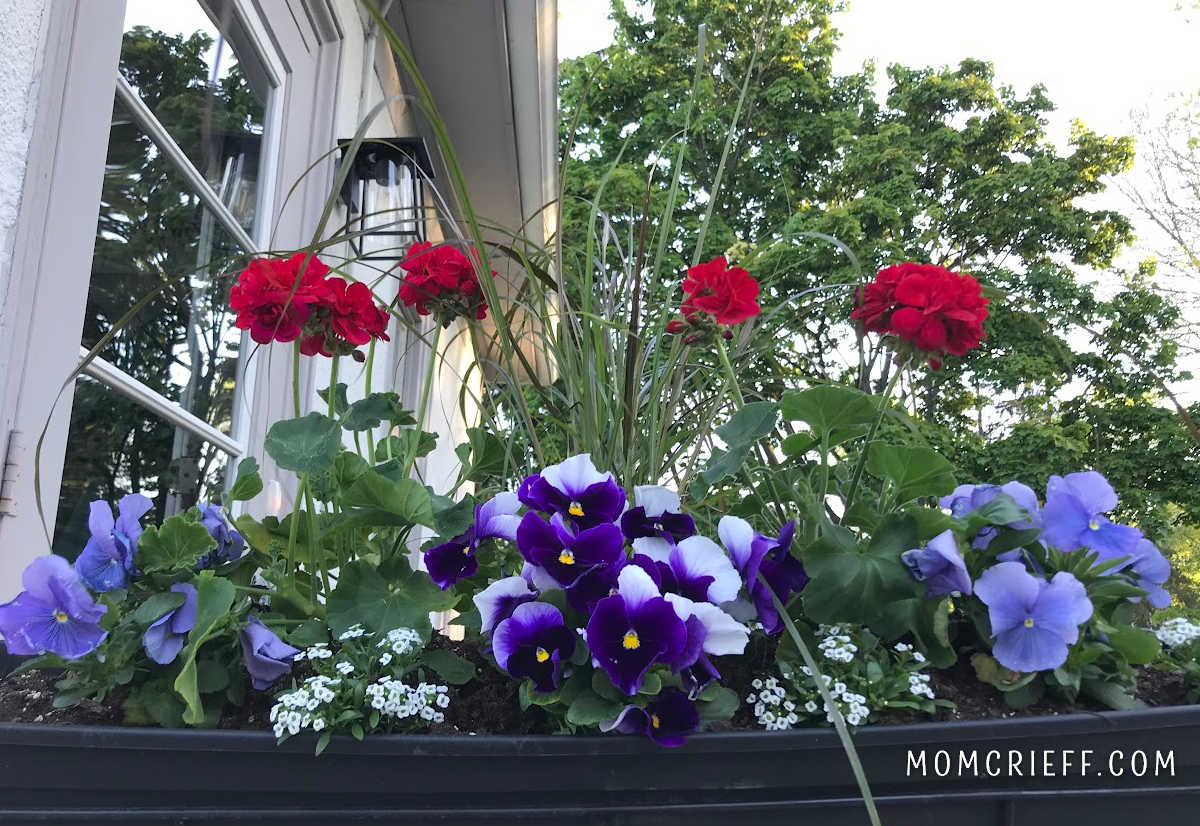 Although technically this is a window box, I have it on my small deck rail. This is such a pretty spring window box, I can't wait to recreate something similar.
Cold Weather Planter Tip (frost concern)
Pansies (aka violas) and the white alyssum can tolerate light or even medium-ish frost. Once it is spring, I have had no issue planting this combination even if there is a risk of the temperature dropping below freezing. When in doubt, a towel draped over these plants will keep them cozy and safe during an unexpected freeze snap.
Below is such a simple planter with beautiful dark red geraniums, a healthy green spike plant and some trailing vinca vine. This is a classic planting following the thriller (the spikey grass), filler (red geranium) and spiller (vinca vine). It's simple, clean looking, easy to do and not very expensive to DIY!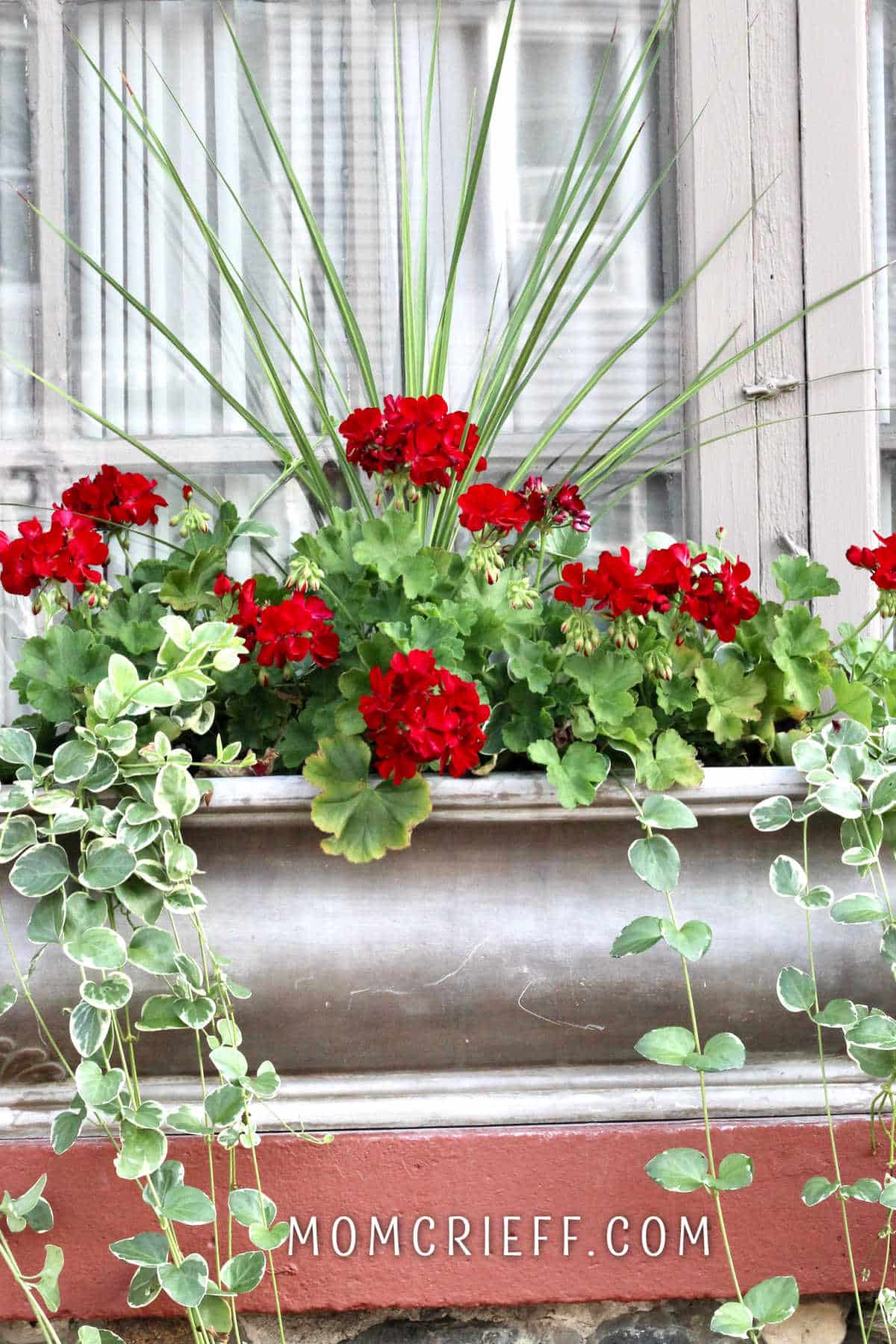 This is a larger planted window box in front of the same restaurant. It has filled in as this is later in the summer.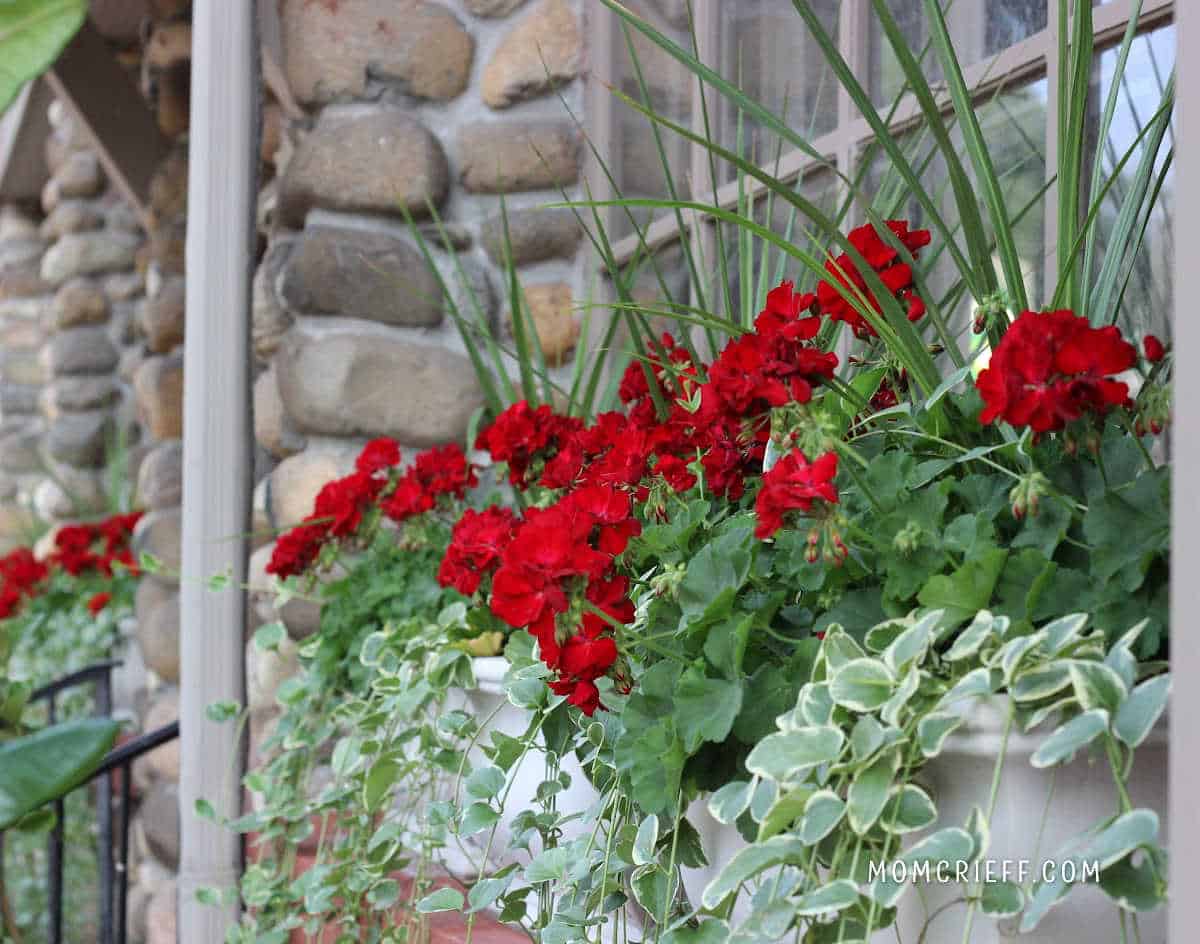 These red geraniums just steal my heart! Perhaps it's the simplicity of the arrangement? Or the fact that I'm of European decent and I see these types of window boxes in pictures of Europe? I'm in love! Who needs red roses!! Give me red geraniums.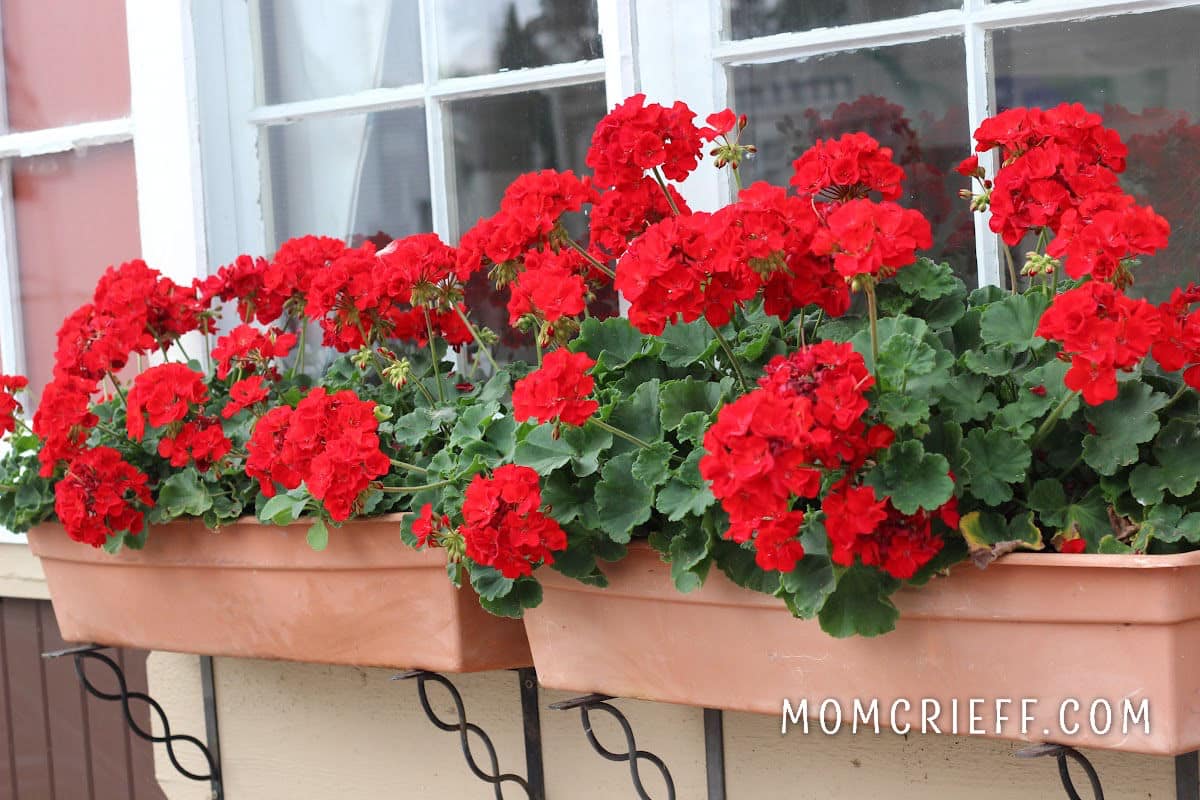 These are another type of geranium that do better with less direct sunlight and more shade.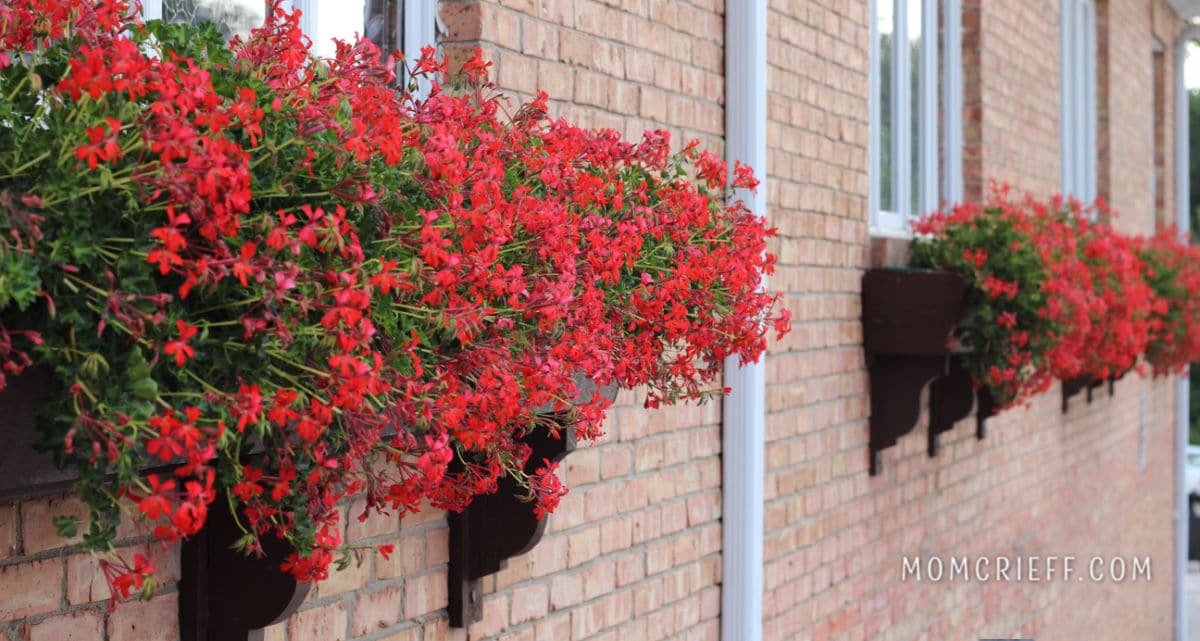 The dark black trim on the window boxes and the background of red brick are just so inspiring to me.
Geraniums in Pots
Below is another favorite spring planter with some lovely red geranium flowers.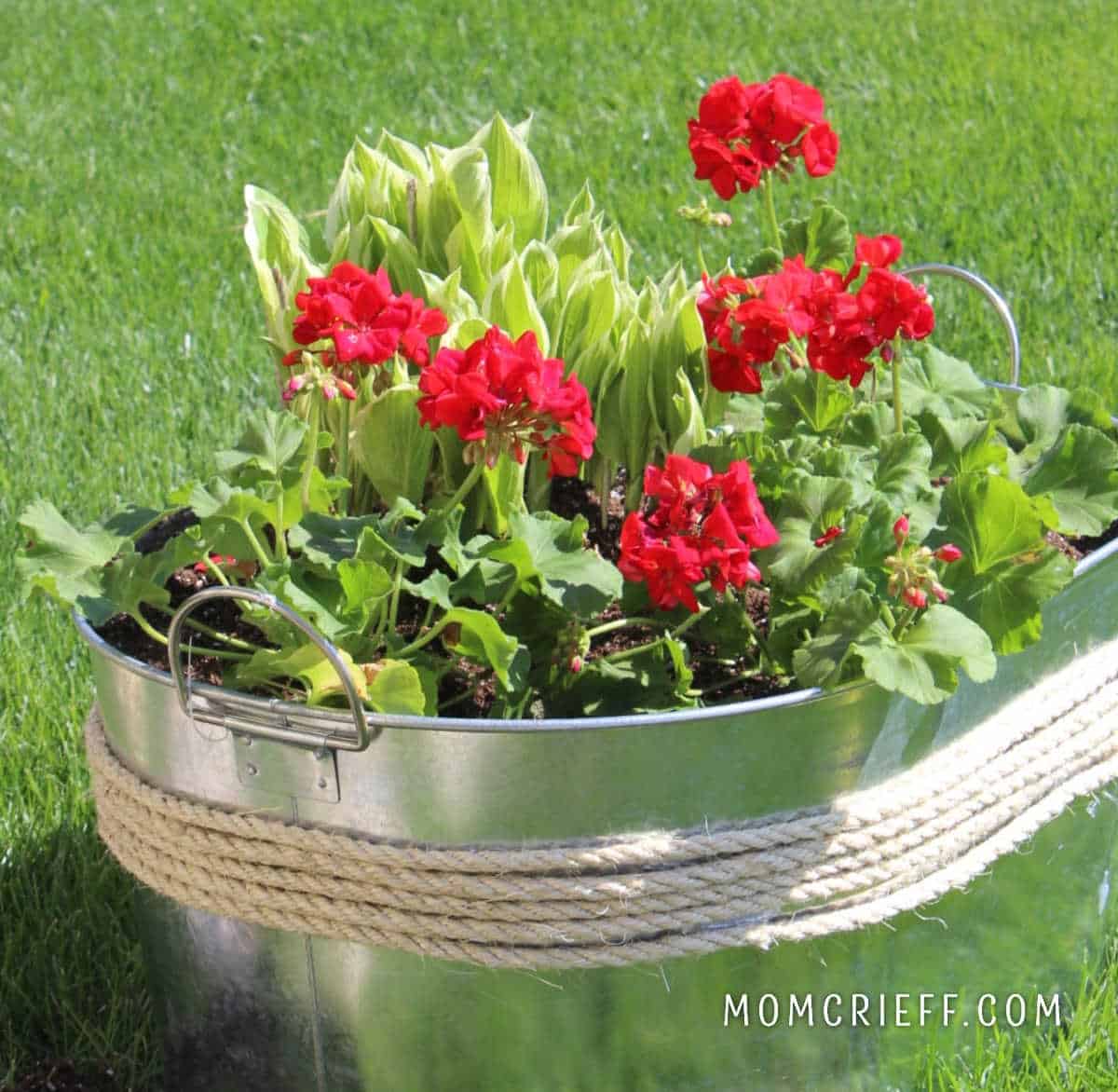 There is a tutorial on how to create this metal tub planter on this site. This pretty tub-turned-planter replaced a whole mess of ugly! If you want a good laugh at a 'before' picture, click through on that blue link to see what this replaced.
An Italian restaurant used the fun container below. I looked it up, the saying on the planter means "in wine there is truth". Hmmmm, the more wine, the more truth (am I right?).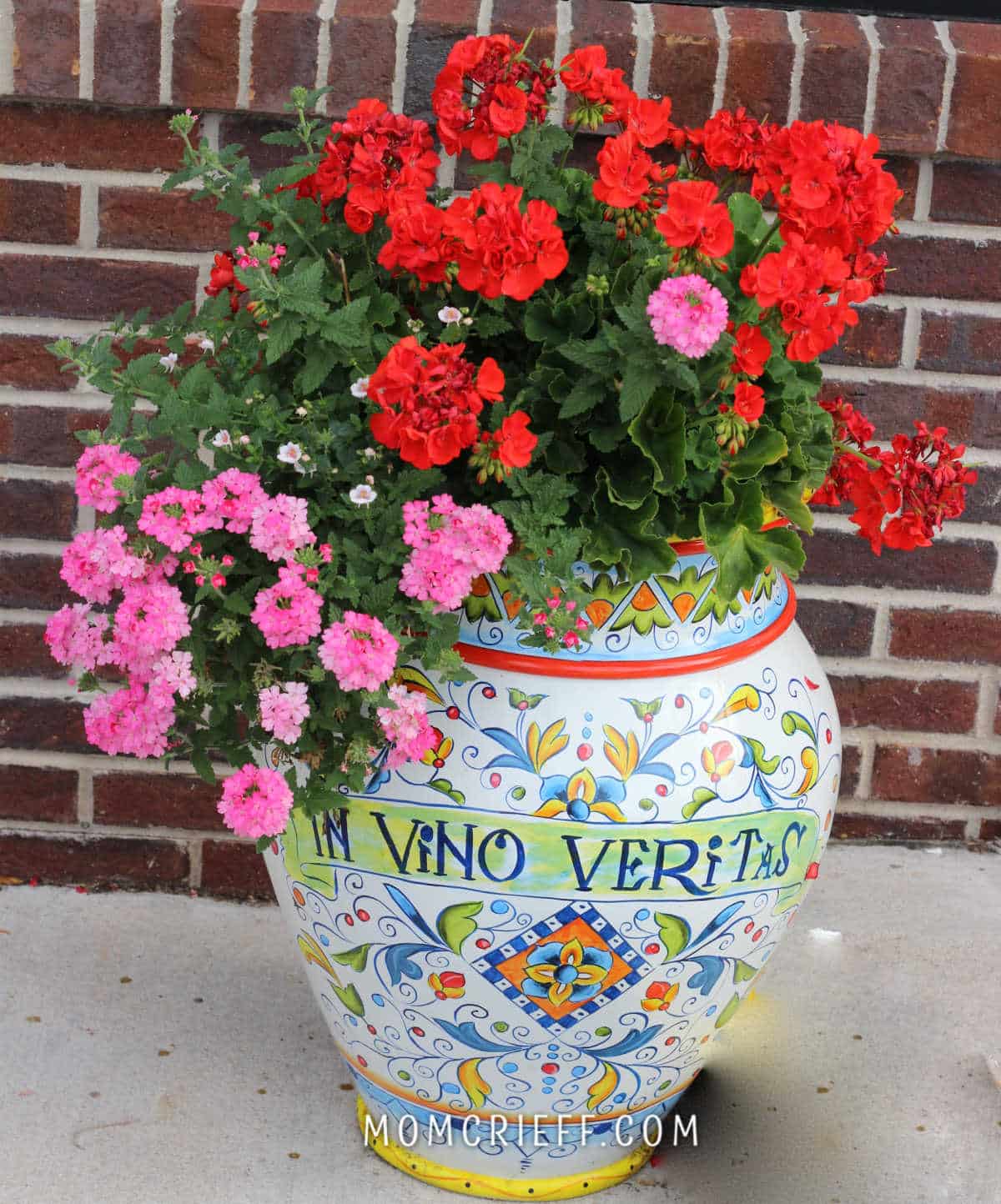 The planter below is obviously a red, white and blue themed planter. Aren't those red geraniums just the perfect red to help anchor that color theme!!
Tip about "blue" plants
Just an fyi, many planters use a purple instead of a blue since true blue plants are hard to find. It works and looks lovely!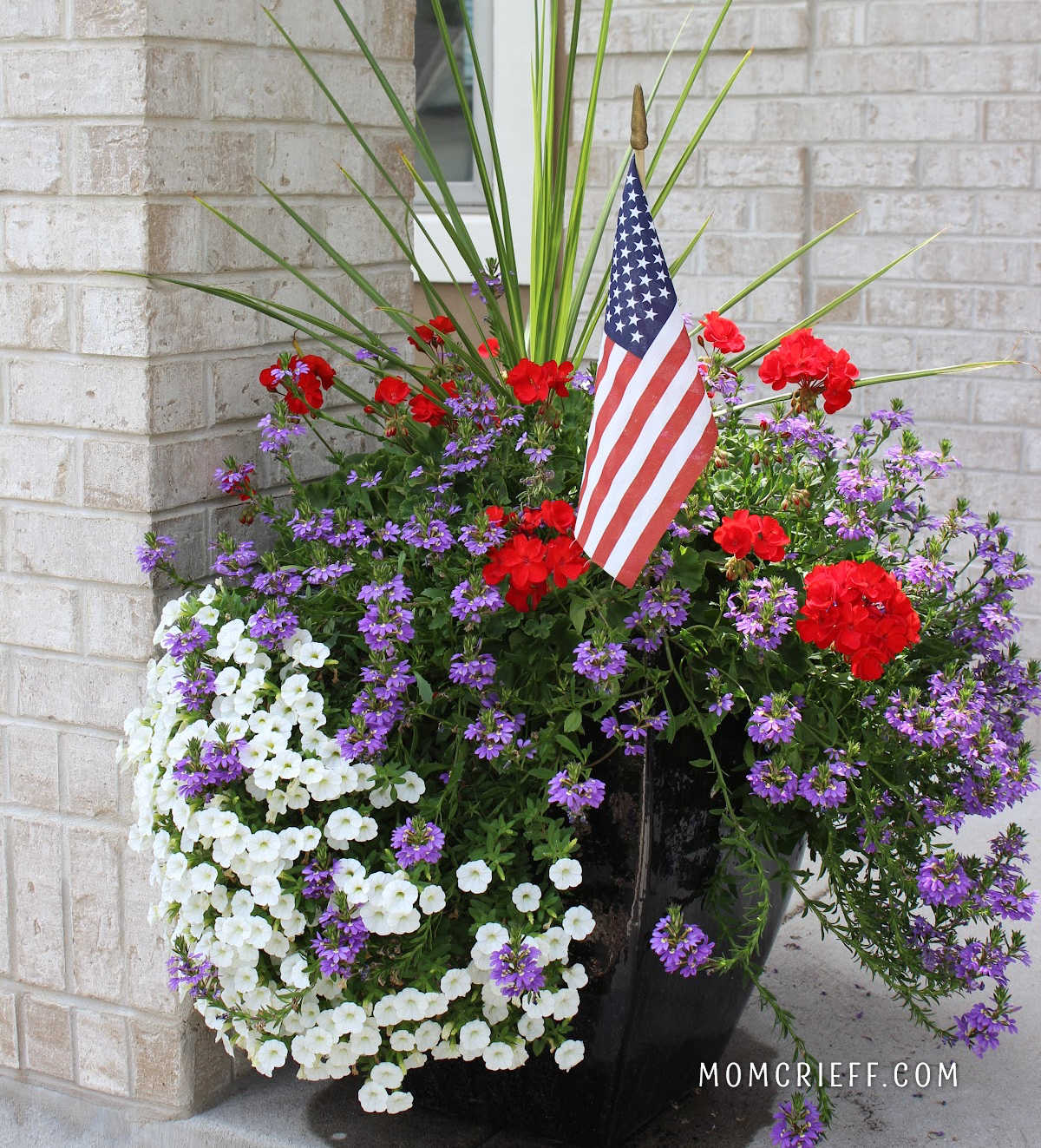 Of course I like the solid colored planter like below.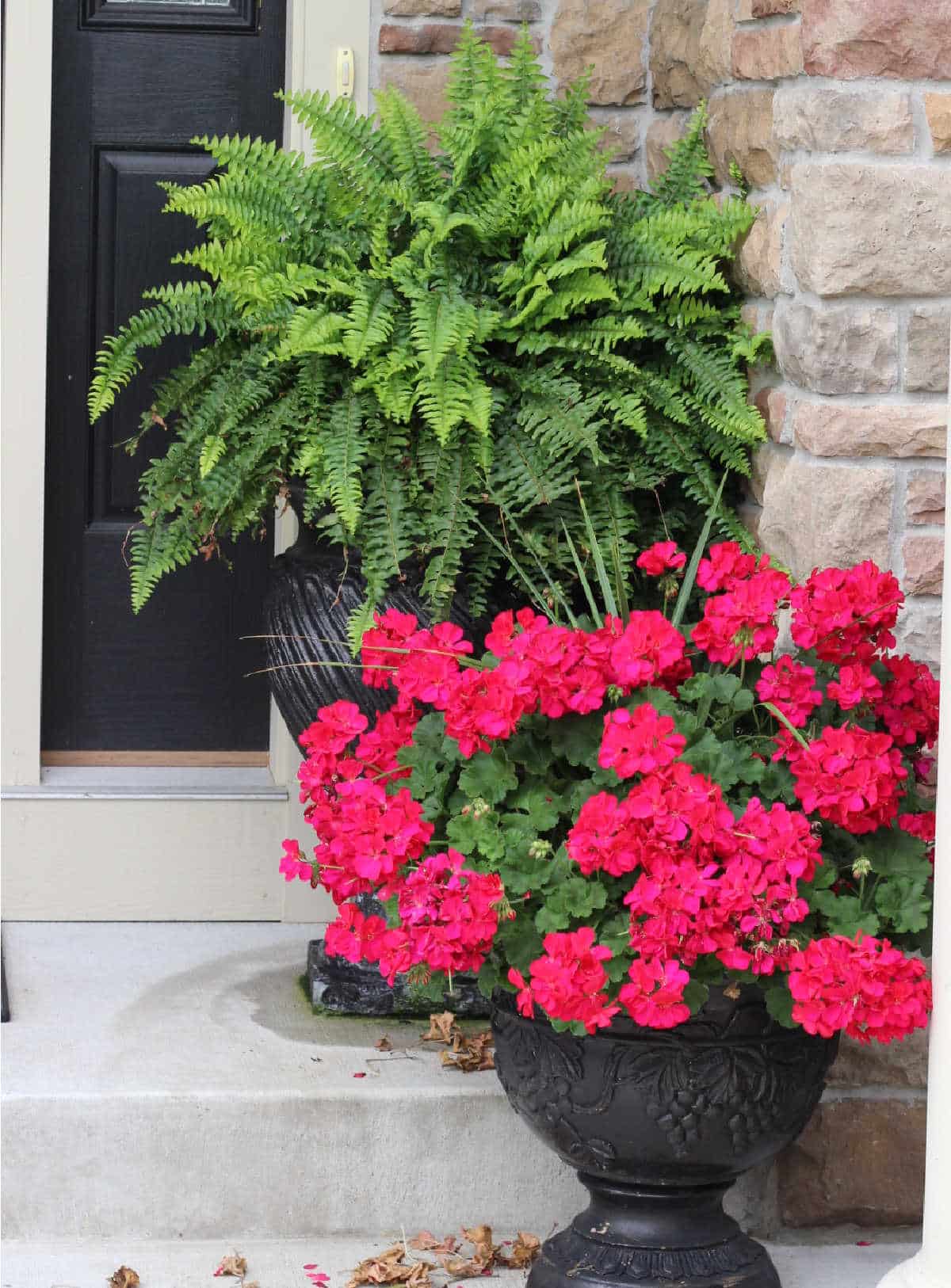 The black and white planter below is what is in my front yard now. If you want to create something similar, it's easy! Just look at my flower pot painting tutorial.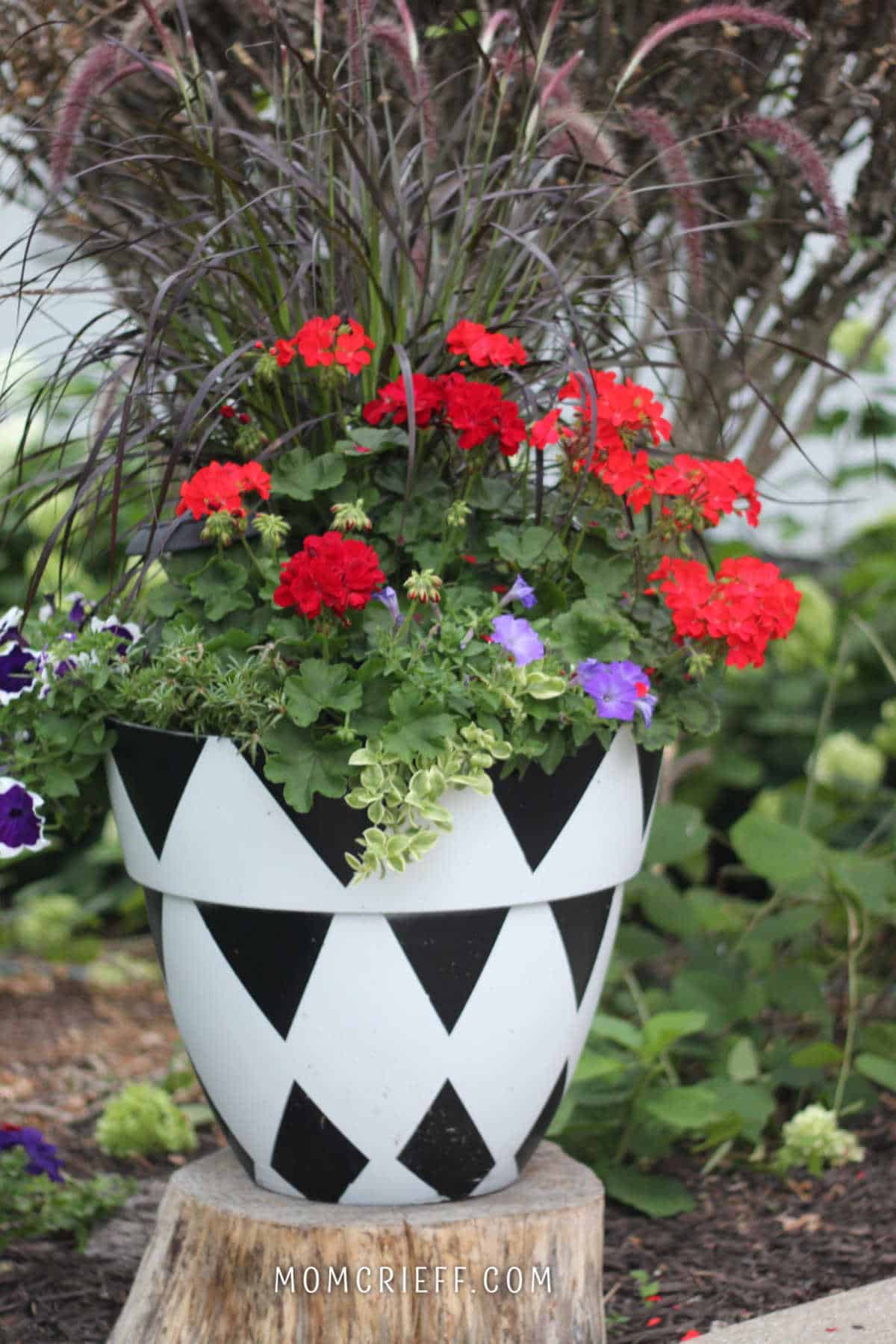 Red Geraniums Planted in the Ground
Last year I experimented. And I loved how good my geraniums looked planted in the ground. They were also much easier to take care of!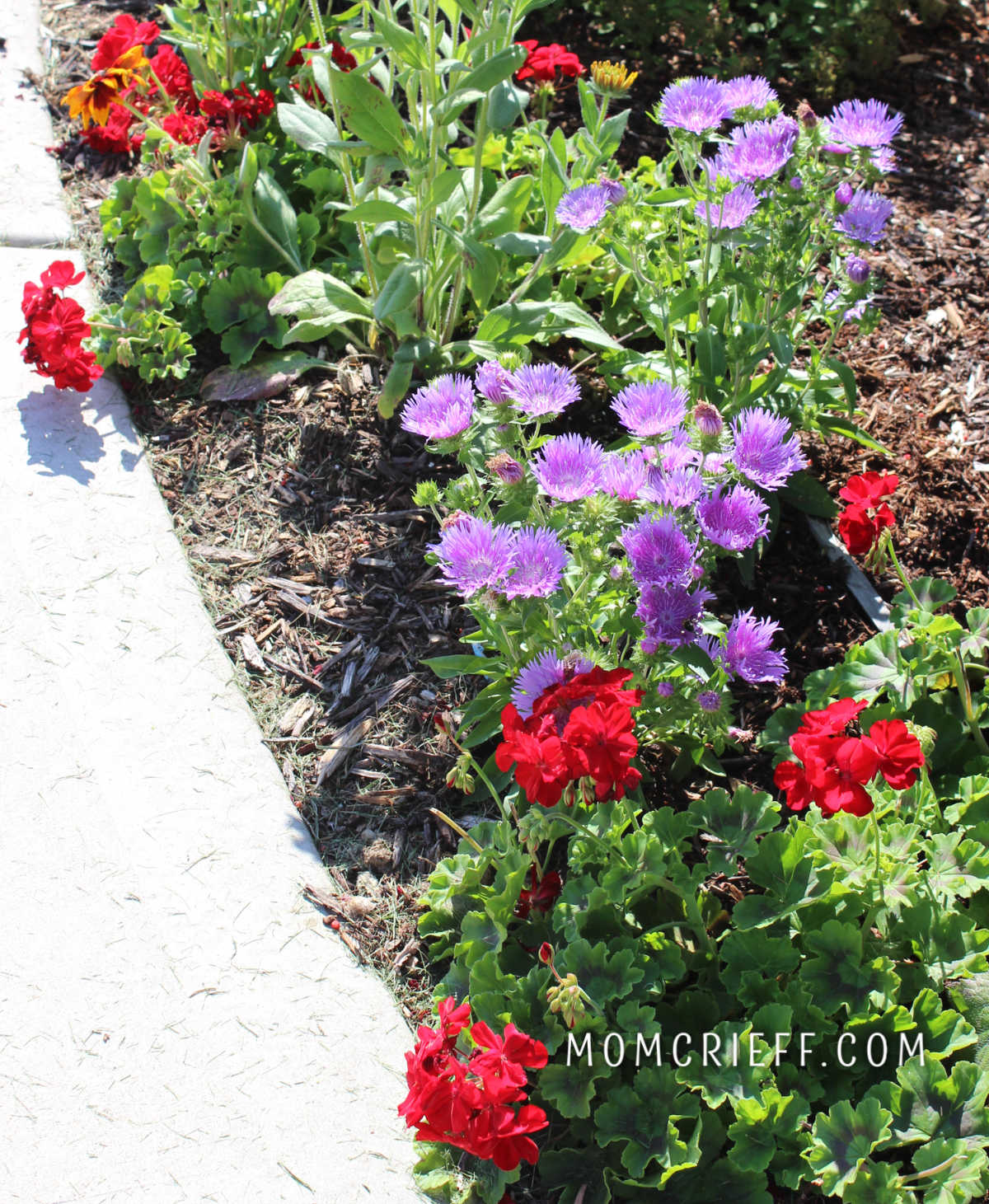 Plants in the ground do NOT need to be watered as often. The roots also don't get as hot so the plant itself doesn't get as stressed. For those of you that are challenged finding enough time to water your planters frequently, this might be the perfect alternative!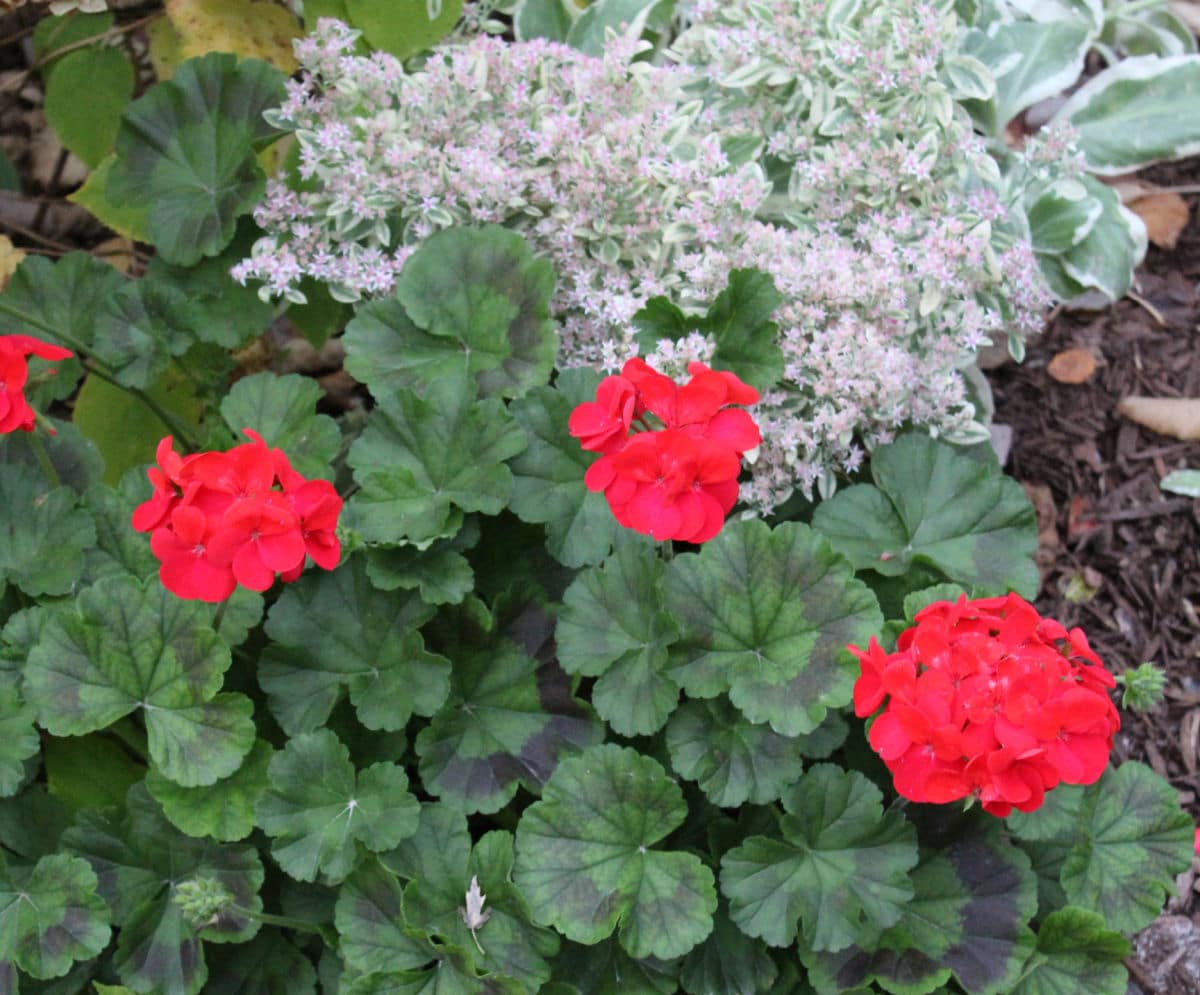 I really enjoy seeing my annuals and perennials together. It can be a pretty combination of textures and colors you don't normally see together.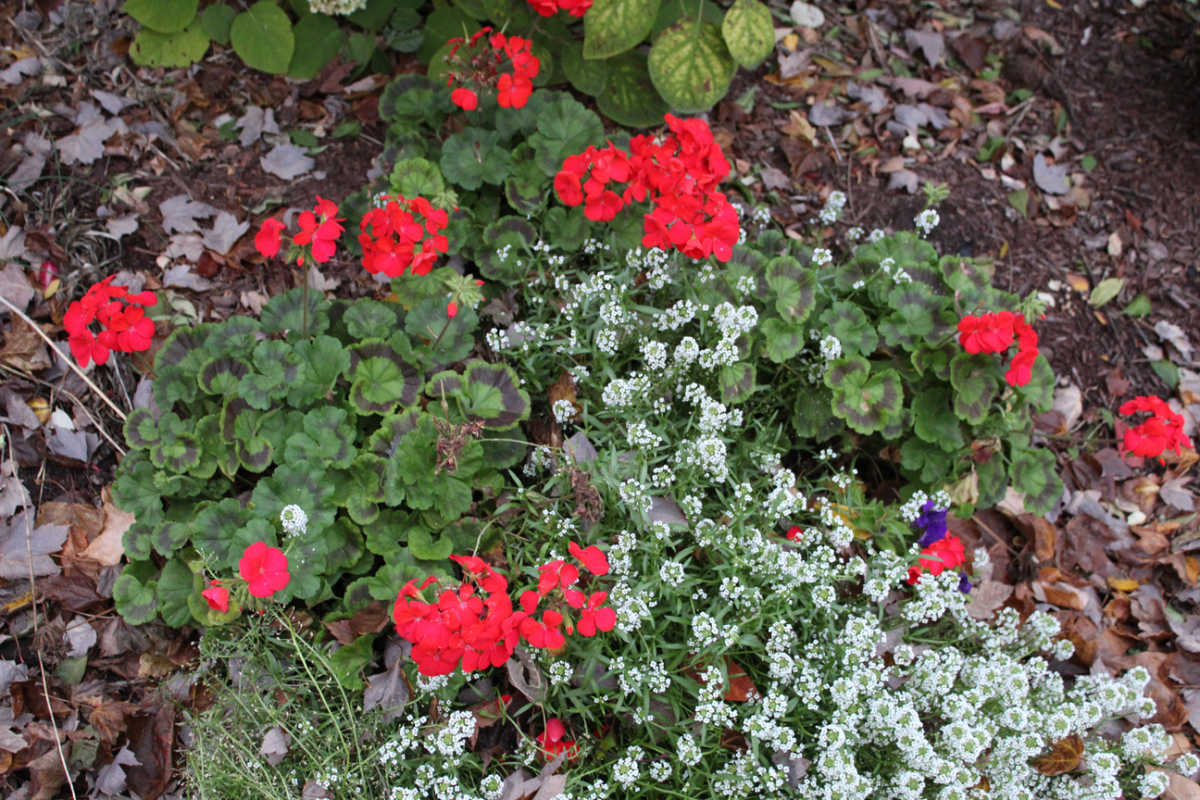 Remember at the beginning of this post I mentioned how geraniums and alyssum can tolerate frost? These stayed in the ground until after Thanksgiving this year.
FAQ's
What zone are you in?
I live in the USDA zone 5a, in Southwestern Wisconsin. The zone you live in is very important to help determine your first and last frost dates. When buying plants, the plant tags always reference the USDA Plant Hardiness Zone Map. The link will take you to where you can look up your zone by zip code.

How much should I water my geraniums?
This is a frequent question that I receive. I wrote this post about how to water my plants to help you.
What should I use to fertilize my geraniums?
For all of my flowering plants, I use Miracle Gro Bloom Booster. Make sure you buy the bloom booster formulation (not just regular Miracle Gro)! That's what helps your flowers continually bloom.
Geranium Planter Printables!
These geraniums are copies of watercolor paintings made by my friend Rosana, an architect in Spain. She made them for me (and you!) and is so talented!
These are printable files that will be emailed to you. Then you print them on your own computer! These are sized for 8 x 10 paper (normal printer paper size). The size is perfect to be framed and displayed in your home.
I've set up a 30% off discount just for you. It applies to my geranium products. Click on the link under the watercolor geraniums to get to the specific item. My store is called OnWoodlandLane if you would like to browse.
More planter posts