Favorite Planters & Container Gardens for the Front Porch.
Yes, once again, I'm showing you my favorite flower planters! I love these! But, here are my favorite planters! These container gardens were photographed towards the end of a past summer and still look amazing, don't you think? Most of these planters were sitting on the front porches of my neighbor's homes. These flower planters are so welcoming by your front door!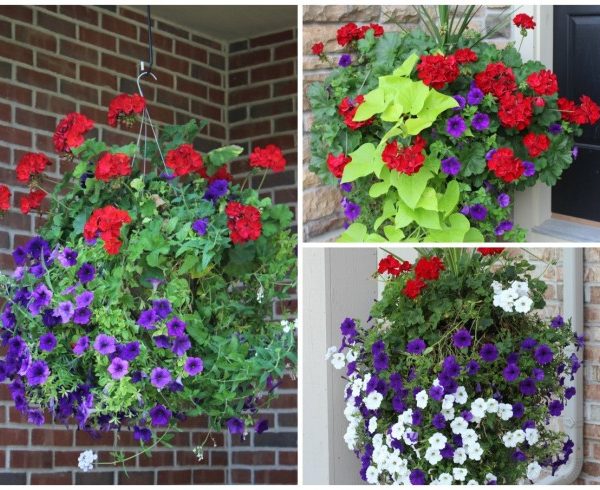 Aren't these next two beautiful? I know every time I drive by these, I slow down to get a better look. These planters are HUGE! I love the monochromatic look. Shades of pink petunias.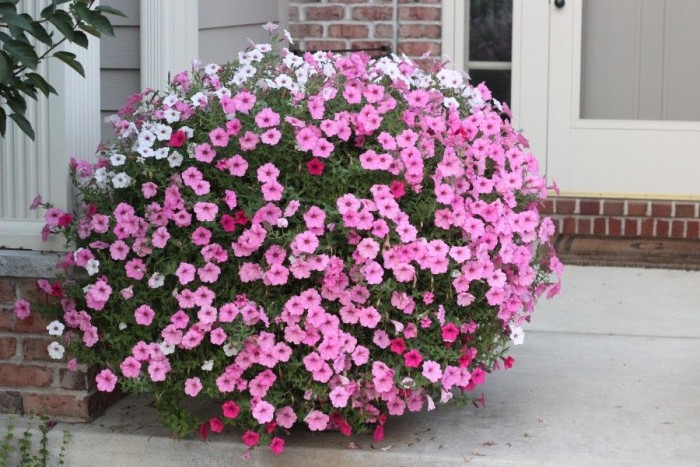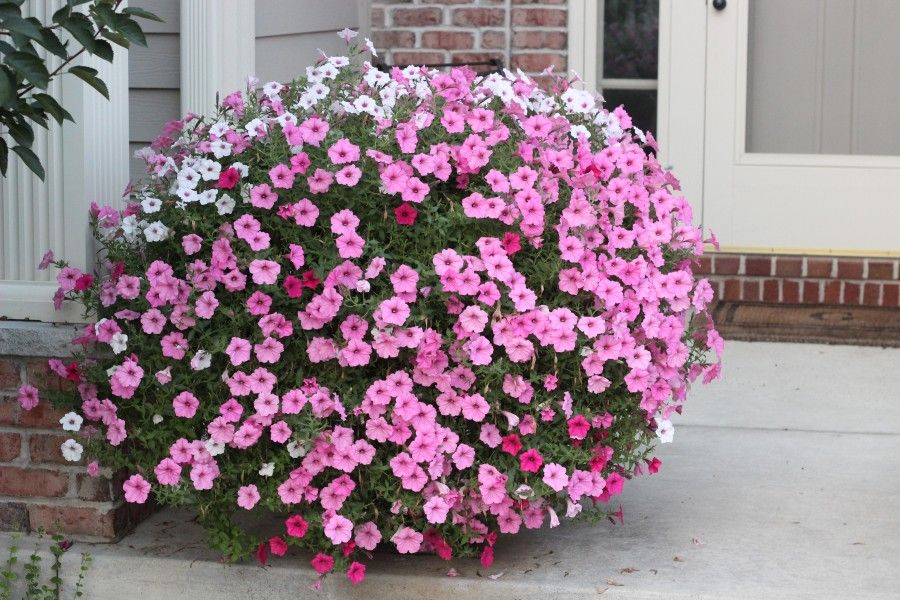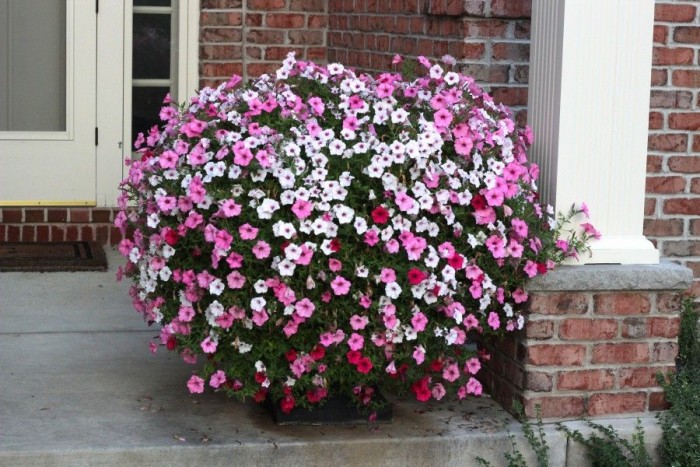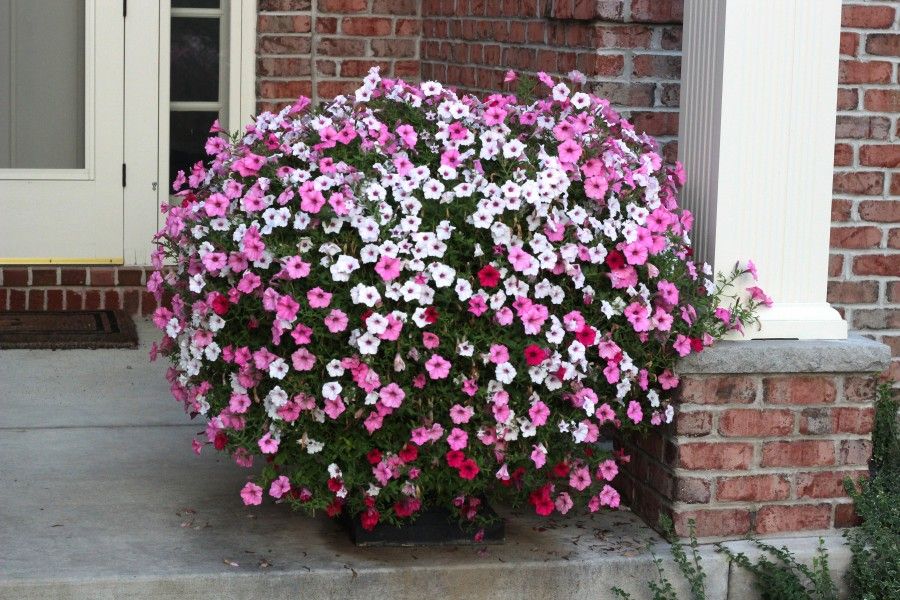 This post may contain affiliate links. Please see my full disclosure policy for details.
Just so you get an idea of how huge they are, look at the picture below. Note the size of the overflowing planters to the size of the door!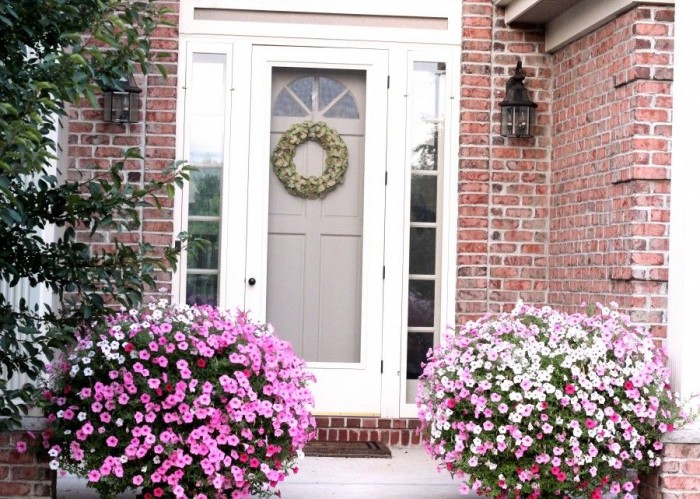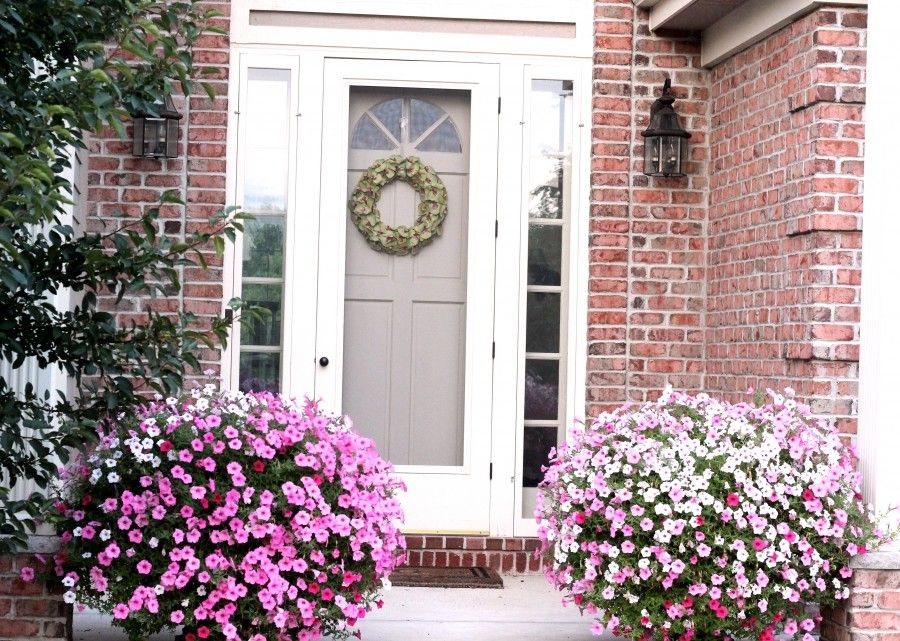 I asked the owner of these front porch planters if she had any tips. There were two main things. One, make sure that you add some gravel or something at the bottom of the pot for drainage (of course, make sure you have drainage holes). Also, would you believe these plants are just purchased at a stand on the side of a highway? They are from a nursery but are really inexpensive. Hmmm, go figure! I'll have to remember that! Aren't these planters so welcoming at the front door?
Get color & plant combination ideas from nurseries and garden centers.
One of my girlfriends always has the most beautiful hanging planters on her front porch. And she told me where she buys them! They are gorgeous but not inexpensive. However, this is what they looked like near the end of August. They certainly are worth every penny! Lots of watering and deadheading to keep this planter looking so vibrant! A little tip to get some color and plant combination ideas. Go to your favorite nursery or greenhouse that sells hanging planters and pre-planted container gardens to see what plants and colors they put together. I usually buy my plants from the same place and put them in my own container!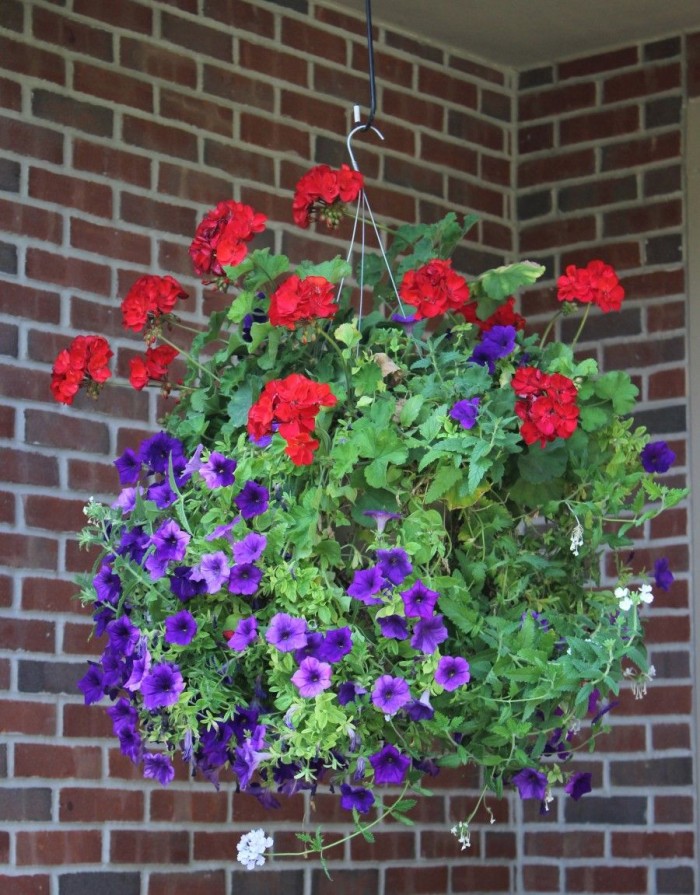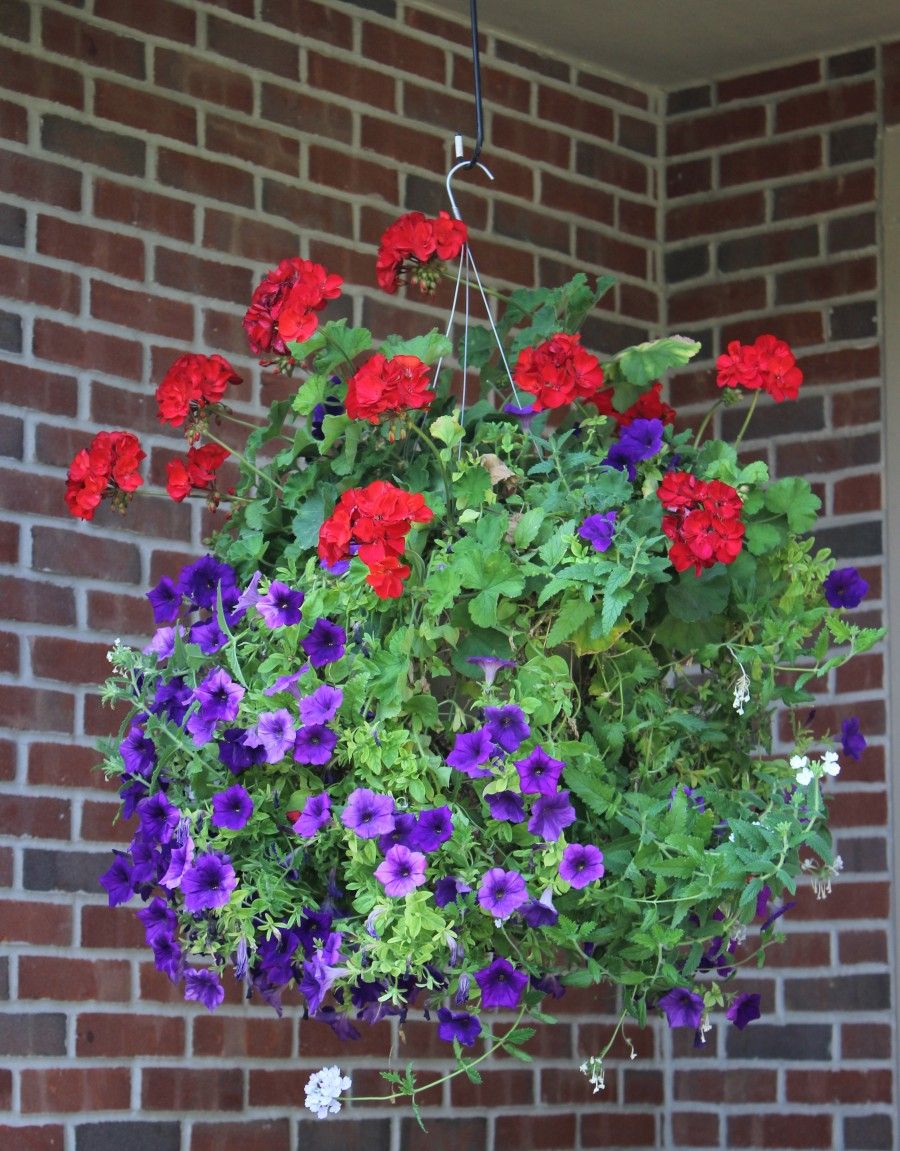 OK, I actually was laughing when I saw something on her cute little front porch. I had always wondered why stores sell those tacky looking plastic candles. Ummmm, here is why!
Ha, ha!! Oh, I'm mean for laughing at this. We all know how expensive those big candles are. And here is another!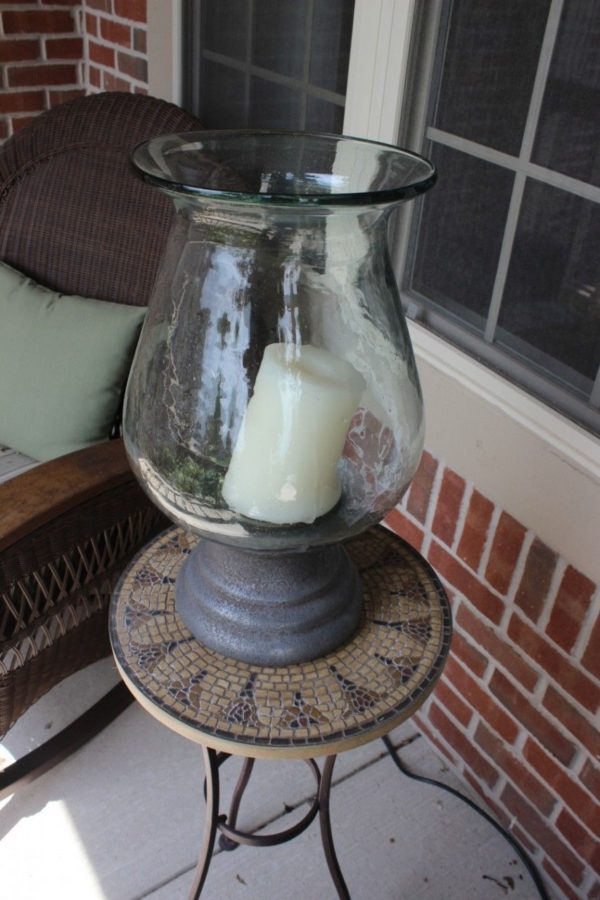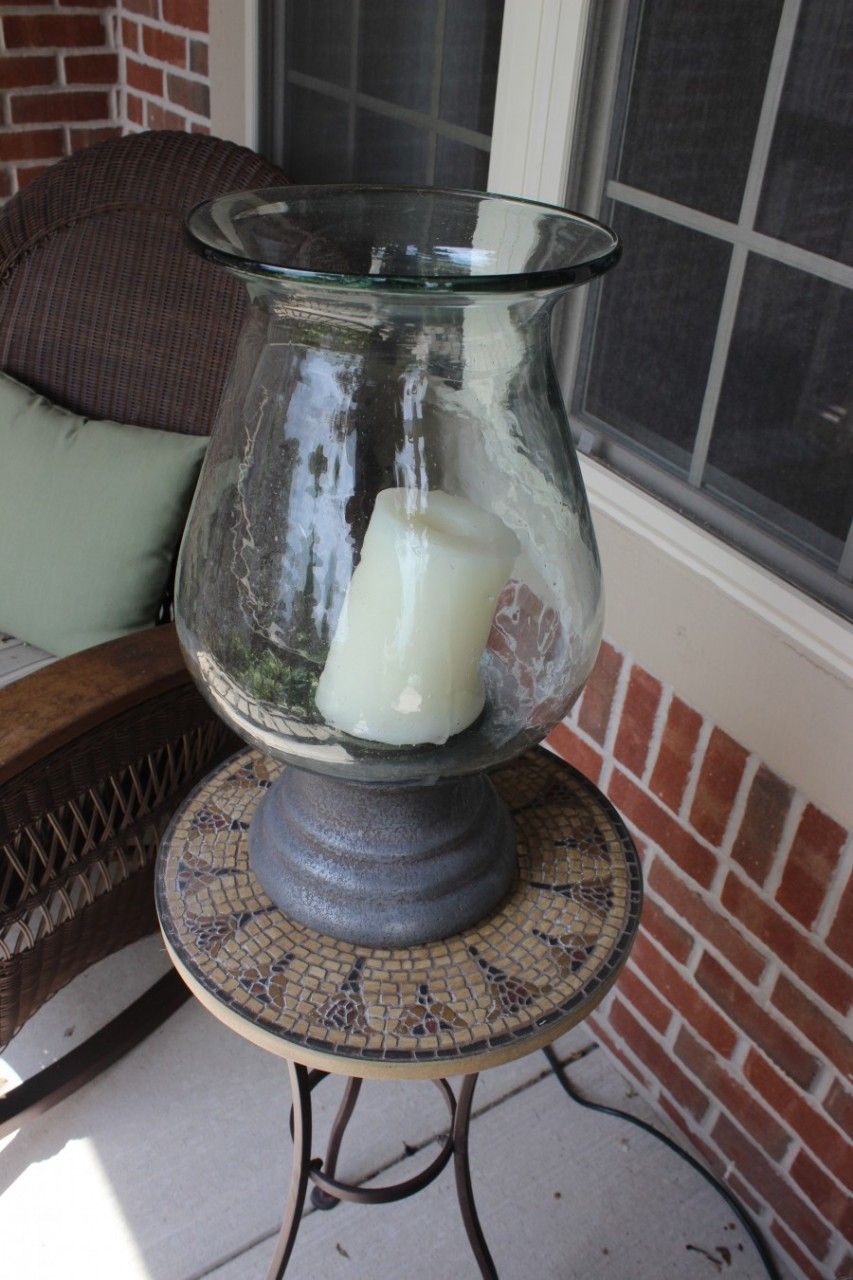 The irony is that we live in Wisconsin and it was a cool summer, even by our standards! Wow, if it would have been hot, those poor candles would have been a puddle.
Sorry, I digressed! Let me show you more planters.
Tip to get additional height to your front porch planter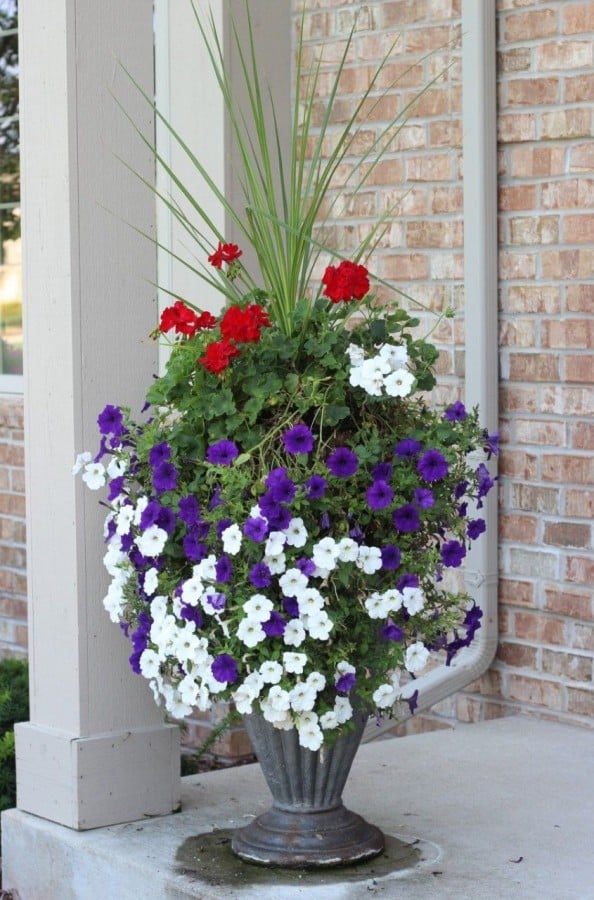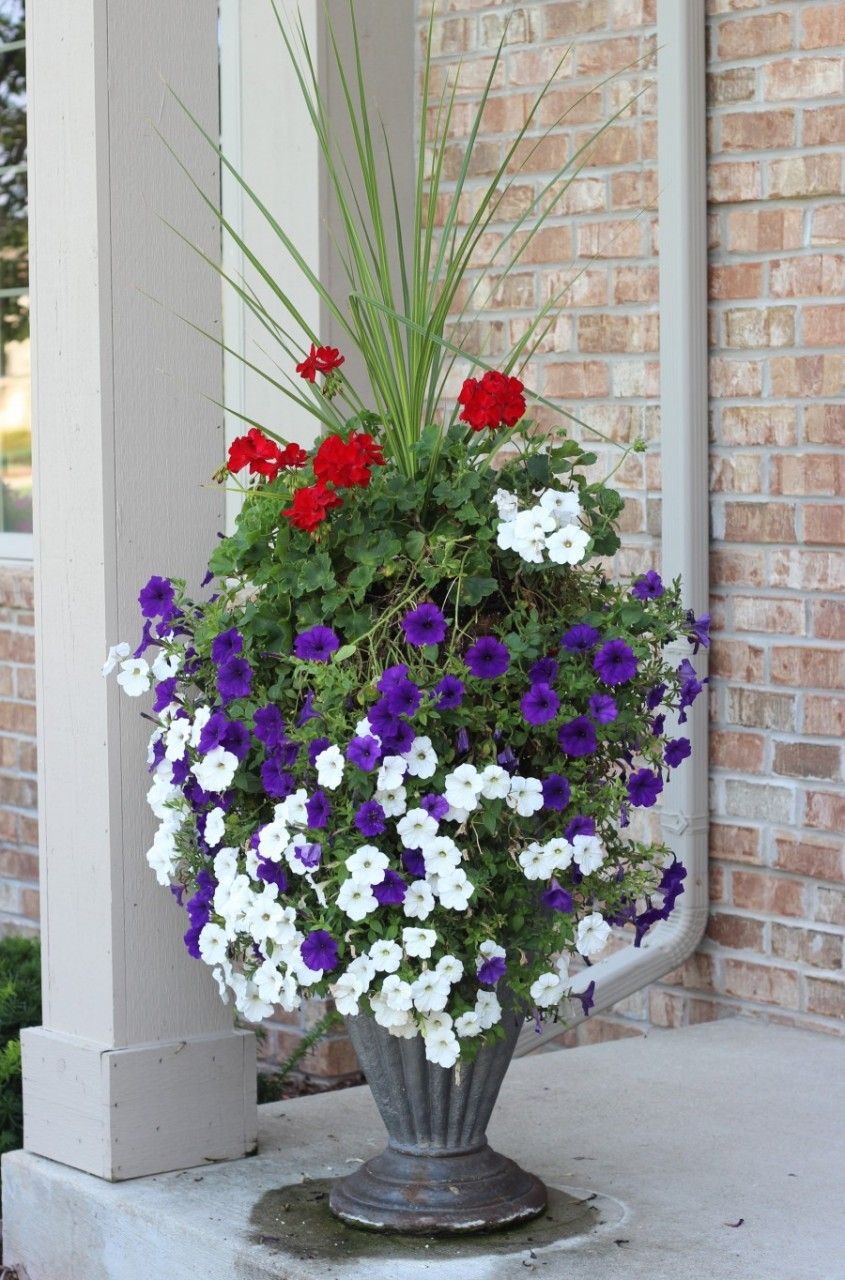 Tips to make your flower planter taller and keep them healthy!
I couldn't figure out why this planter had a beautiful tall look. So, of course, I snooped. And I'll share what I discovered!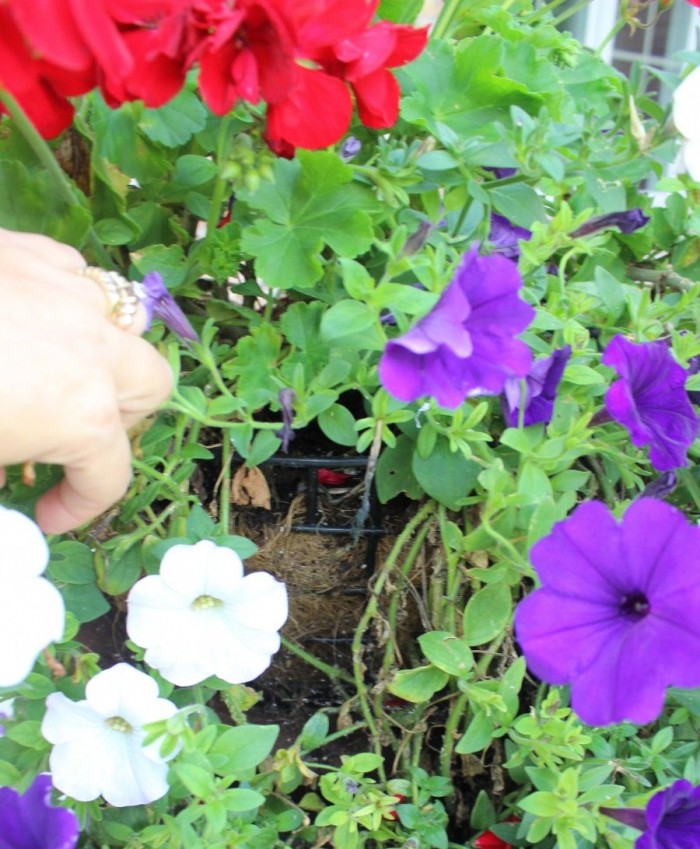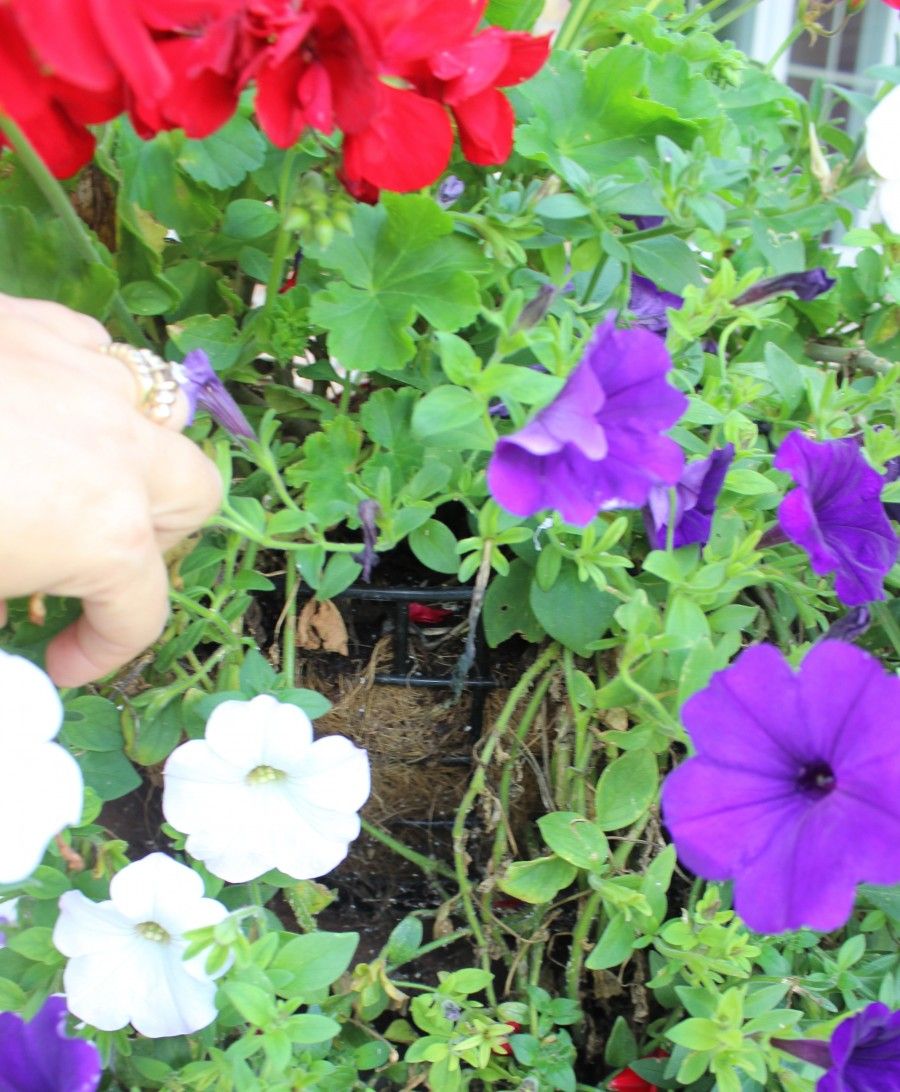 Looks like a hanging planter pot on top of the regular planter. Hmmmm, this may be an idea that I borrow. Hey Mary, hope you don't mind that I just shared this : ).
Here are some more beautiful front door planters for you!
Another big full planter. Love the potato vine in the middle for a pretty contrast. I've only ever put it on the outside to spill over. But, this sure works!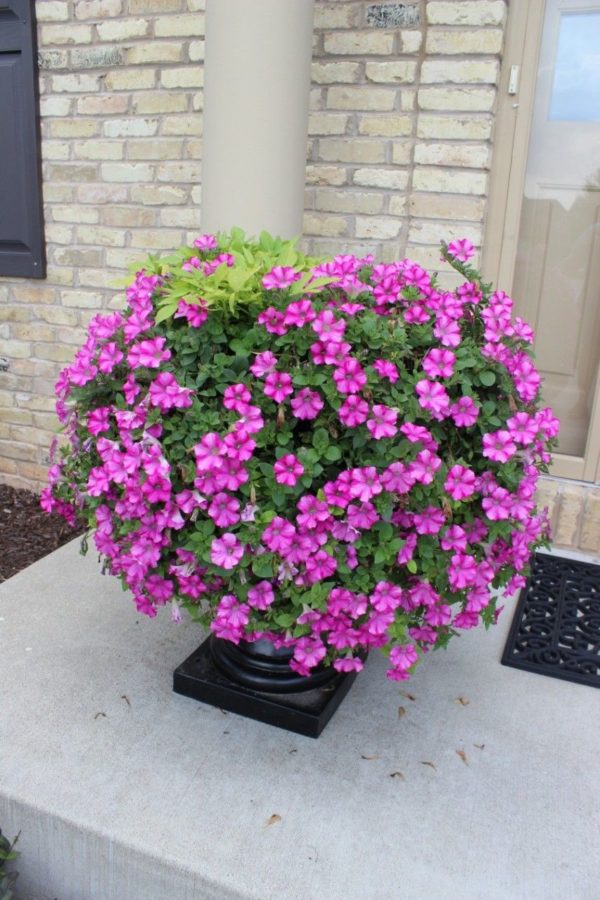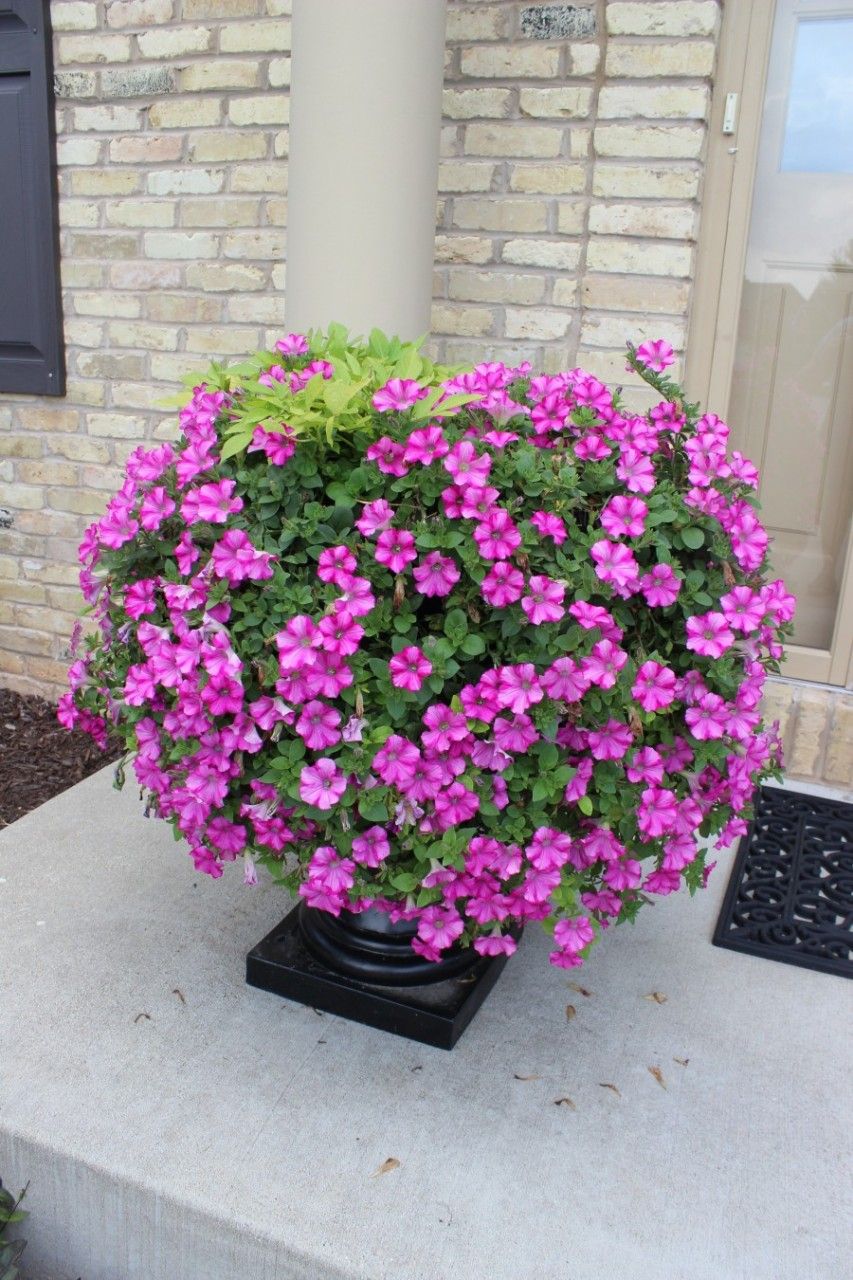 Love it!
Isn't this one pretty! So simple but I certainly wouldn't have thought of it!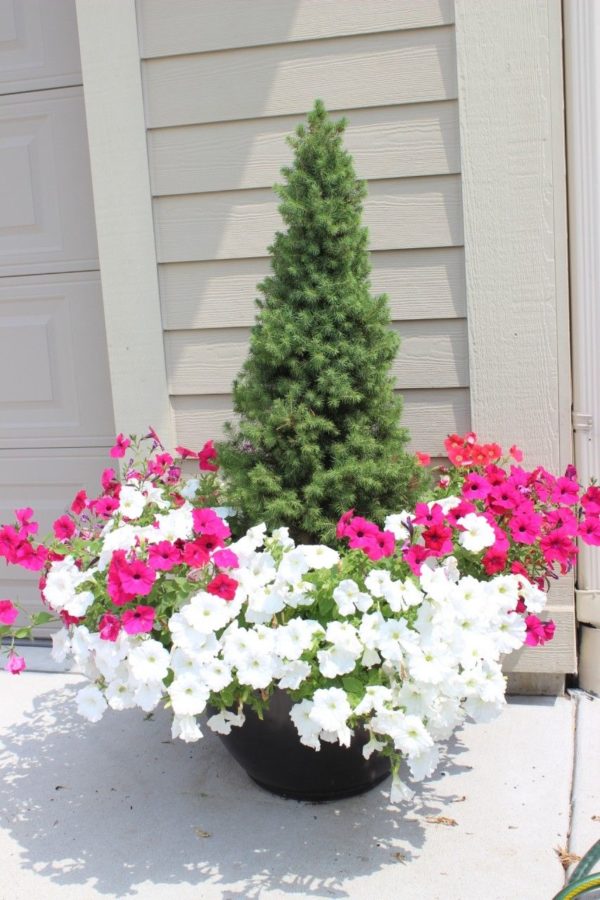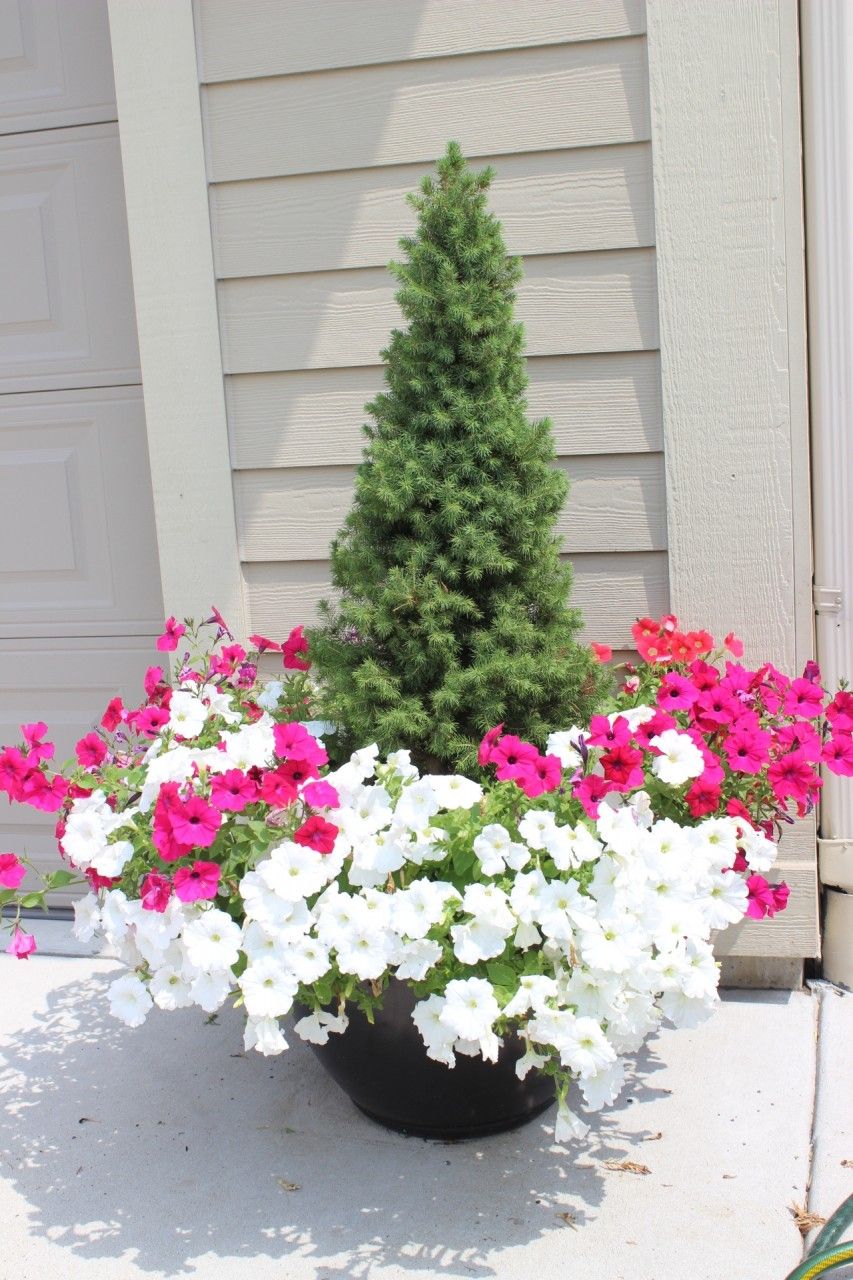 I think what really makes this work is that there are multiple pots with the same look. Doesn't this just brighten the whole front of the garage doors? Flower planters can add such a pop of color in bland areas of your yard!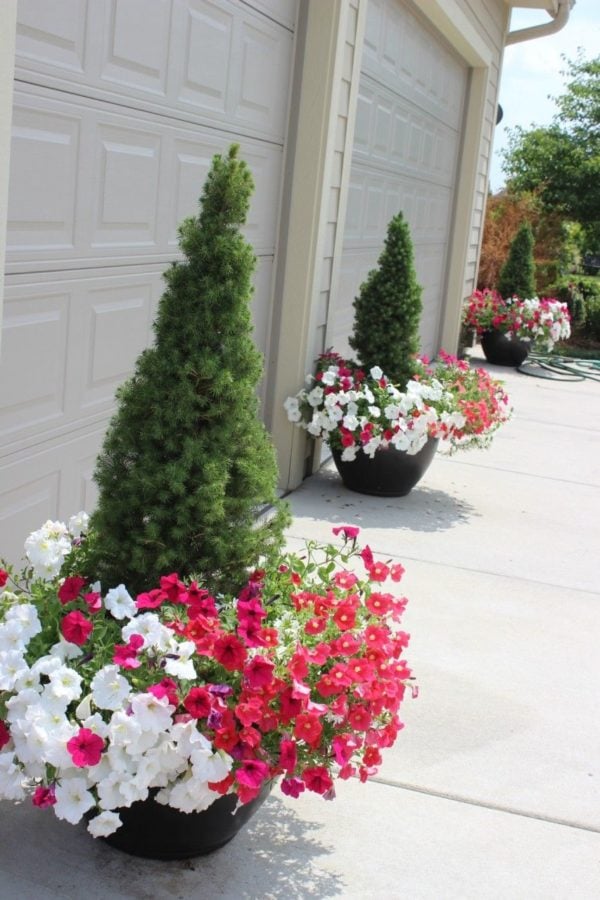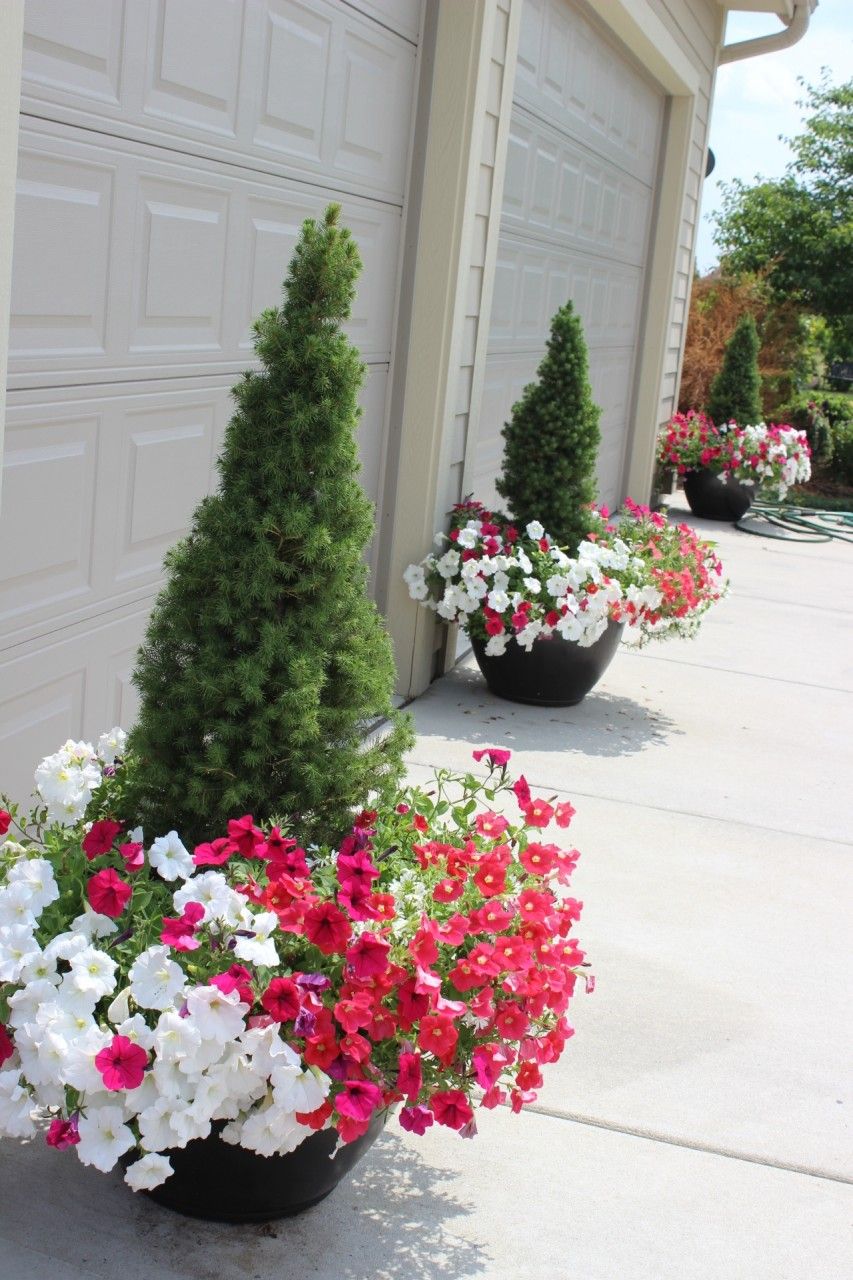 Aren't these three just gorgeous!!
And of course, Diane once again has a beautiful front door planter!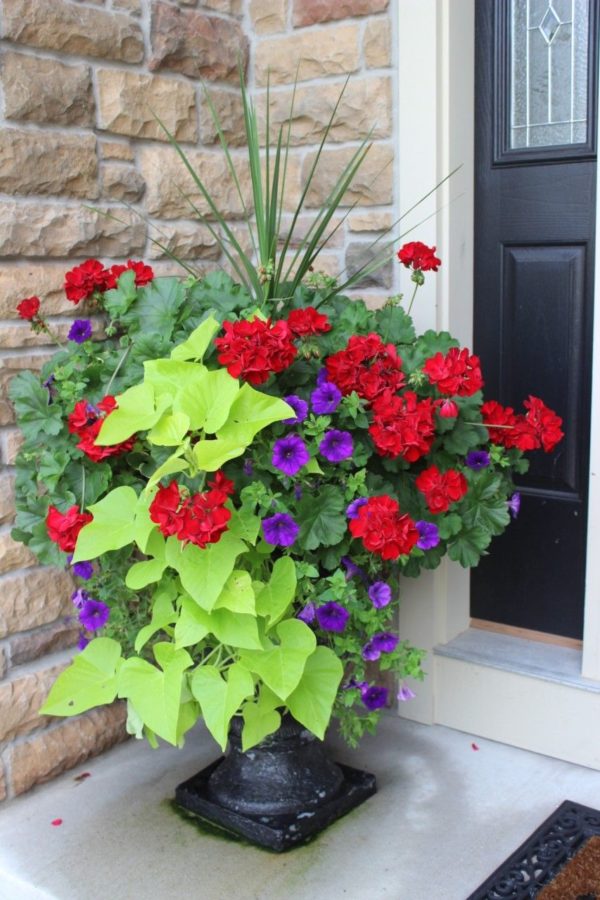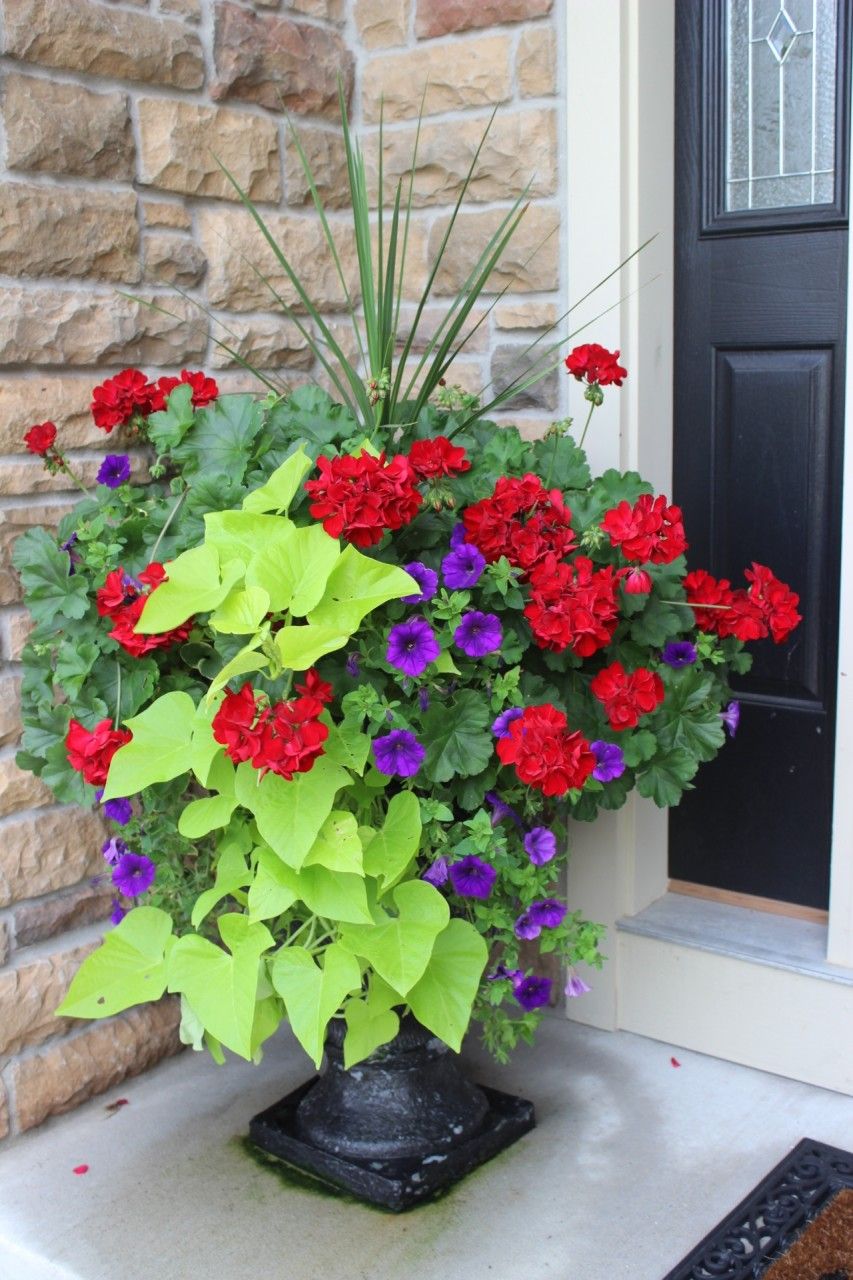 Let me show you my favorite planter. It actually is on my back deck and lives in a very shady spot. It seems to like it though! As an FYI, it's a HUGE hosta in the middle. Yikes, I'm going to have to split it before the winter. I'm going to leave it in the planter to see how well it comes back next year. This is such a full and healthy shade container garden. Yes, I'm going to be repeating this formula over and over again. Don't be afraid to use perennials in your container gardens - the hosta did very well in this one and came back the next year.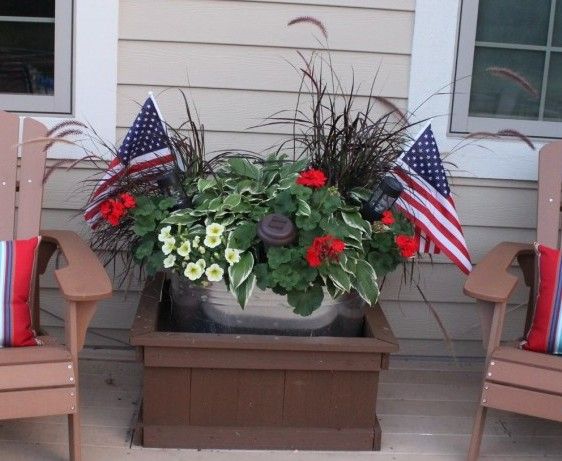 It's a nice big planter and I have really enjoyed it. I put a few solar lights in it and love the pretty glow in the evening.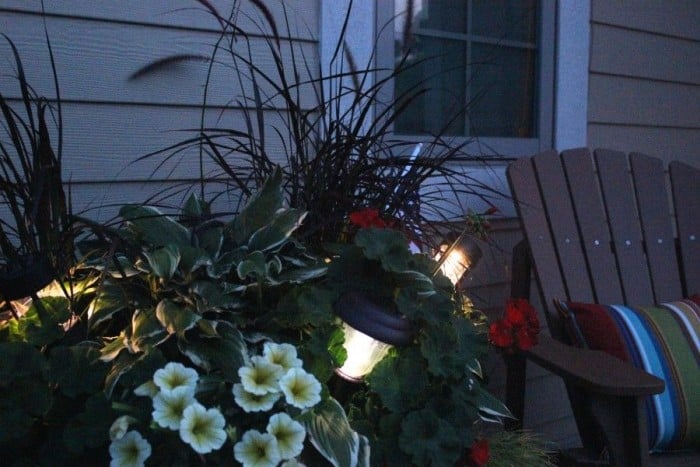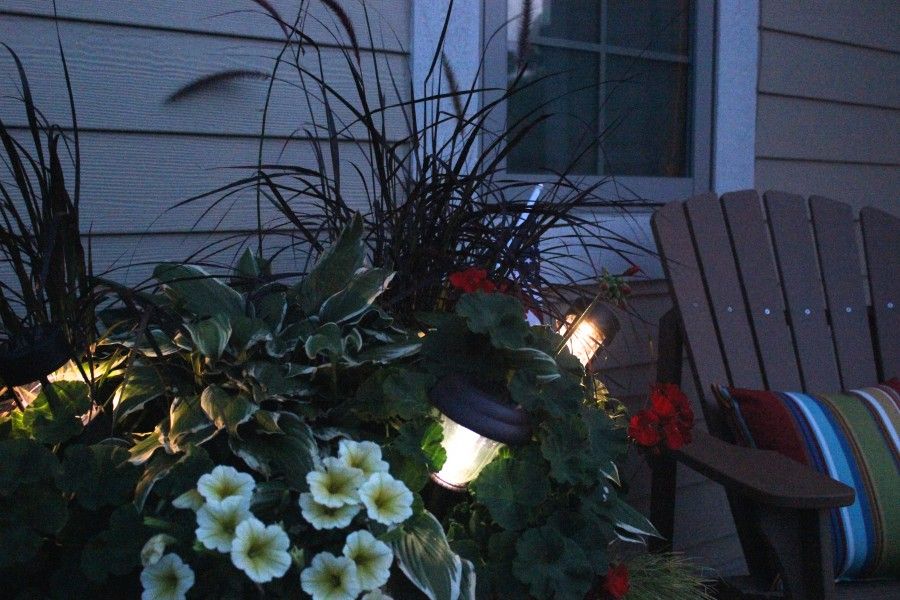 My friend Amy, always has such vigorously growing plants! Here is her planter (prior to a haircut). Personally, I like them a little overgrown!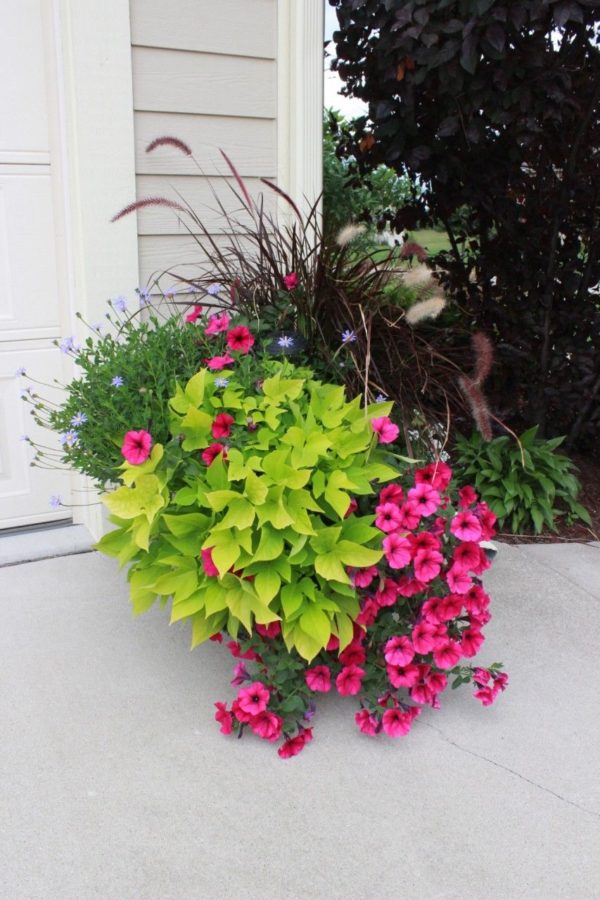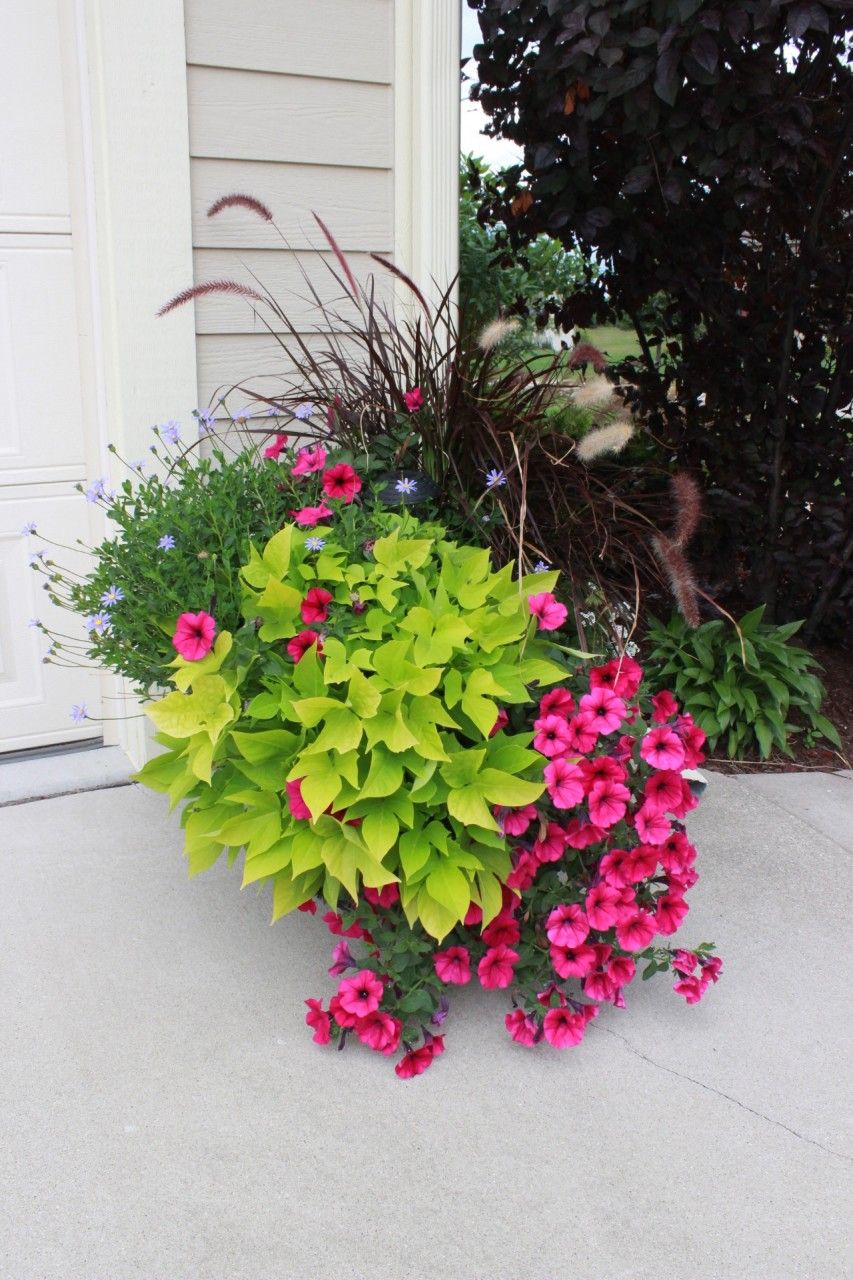 Oh, back to my deck. I almost forgot to show you how well my strawberry pot filled in. I was tired of planting and just pulled a few succulents and added some leftover plants. Here is the step by step of my strawberry planter, if you 'd like to look at it.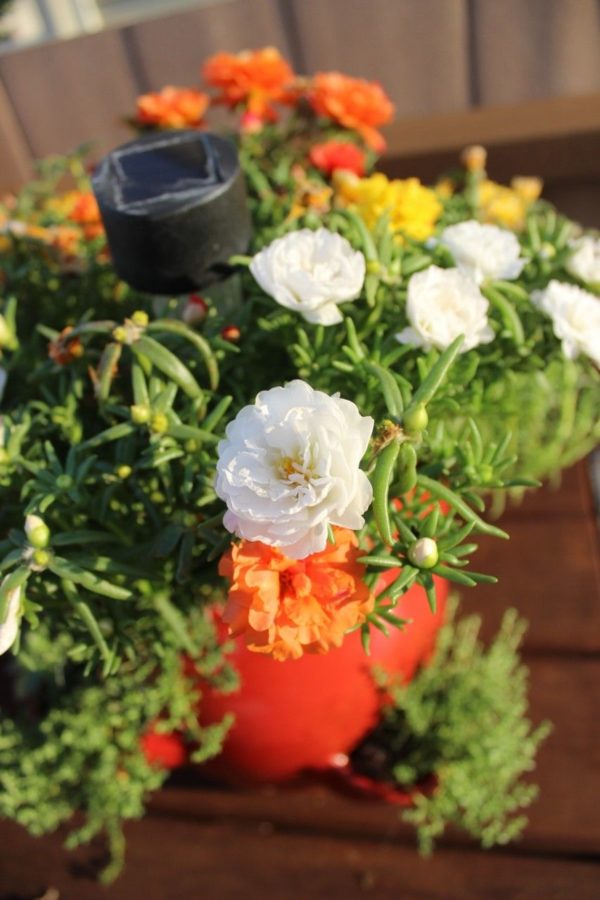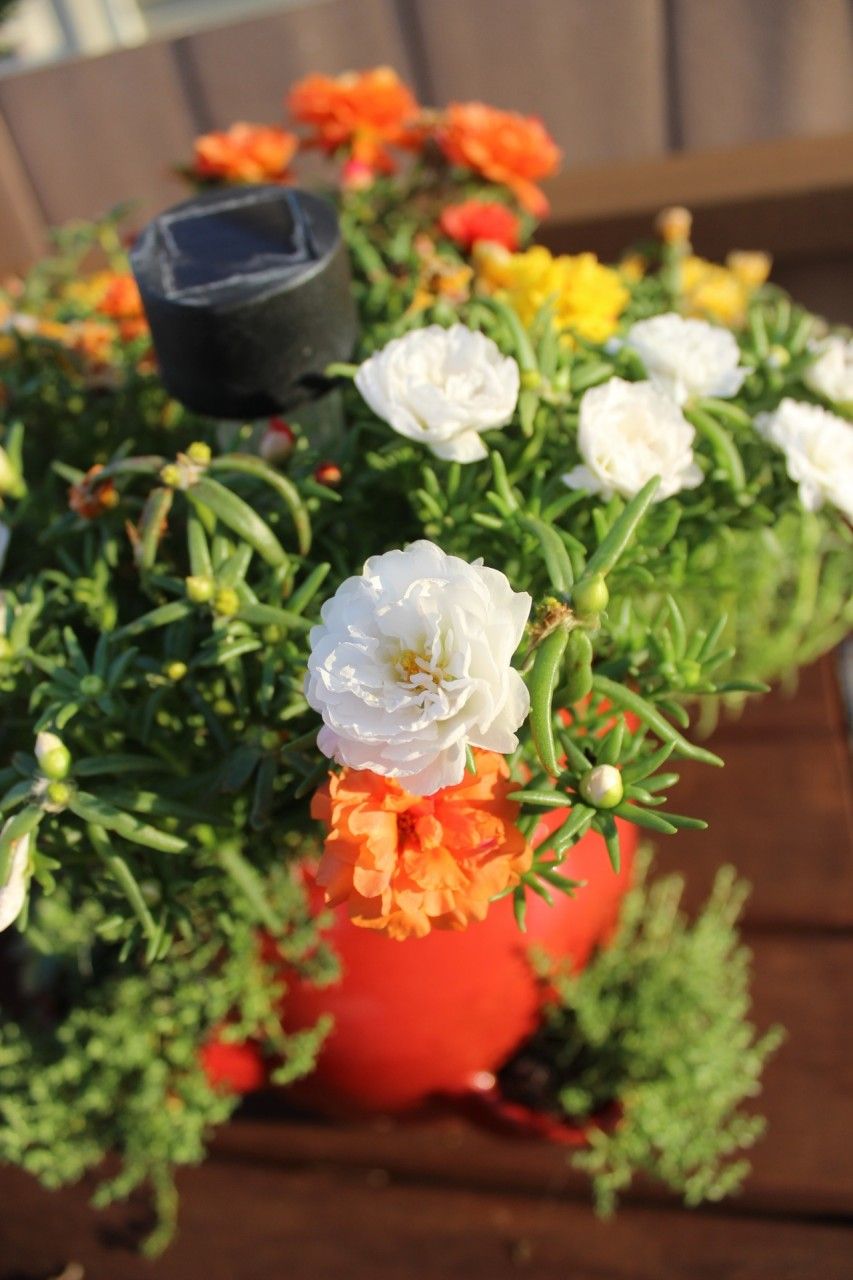 One more quick planter. My one neighbor has a very shady front porch. Her shade planter at her front door is gorgeous! And bright and colorful!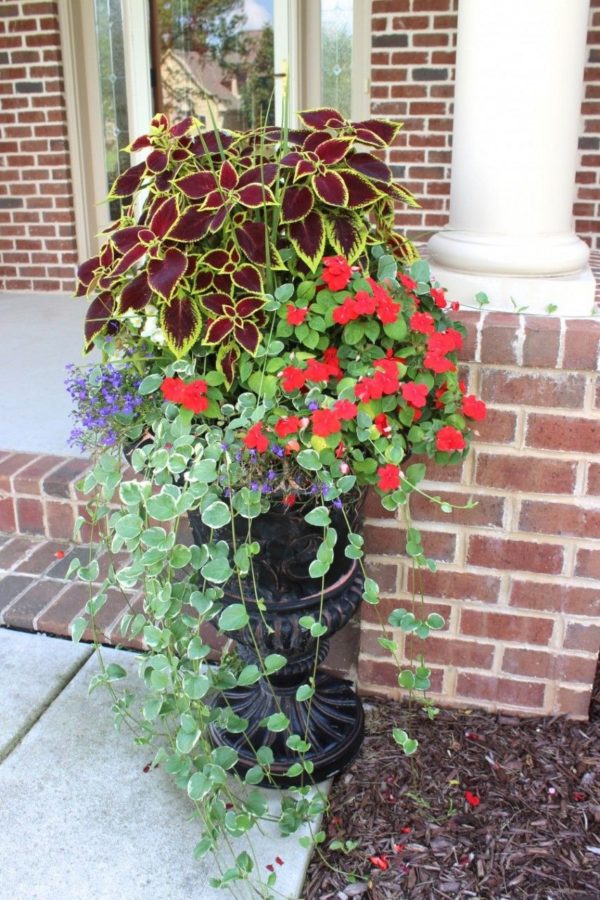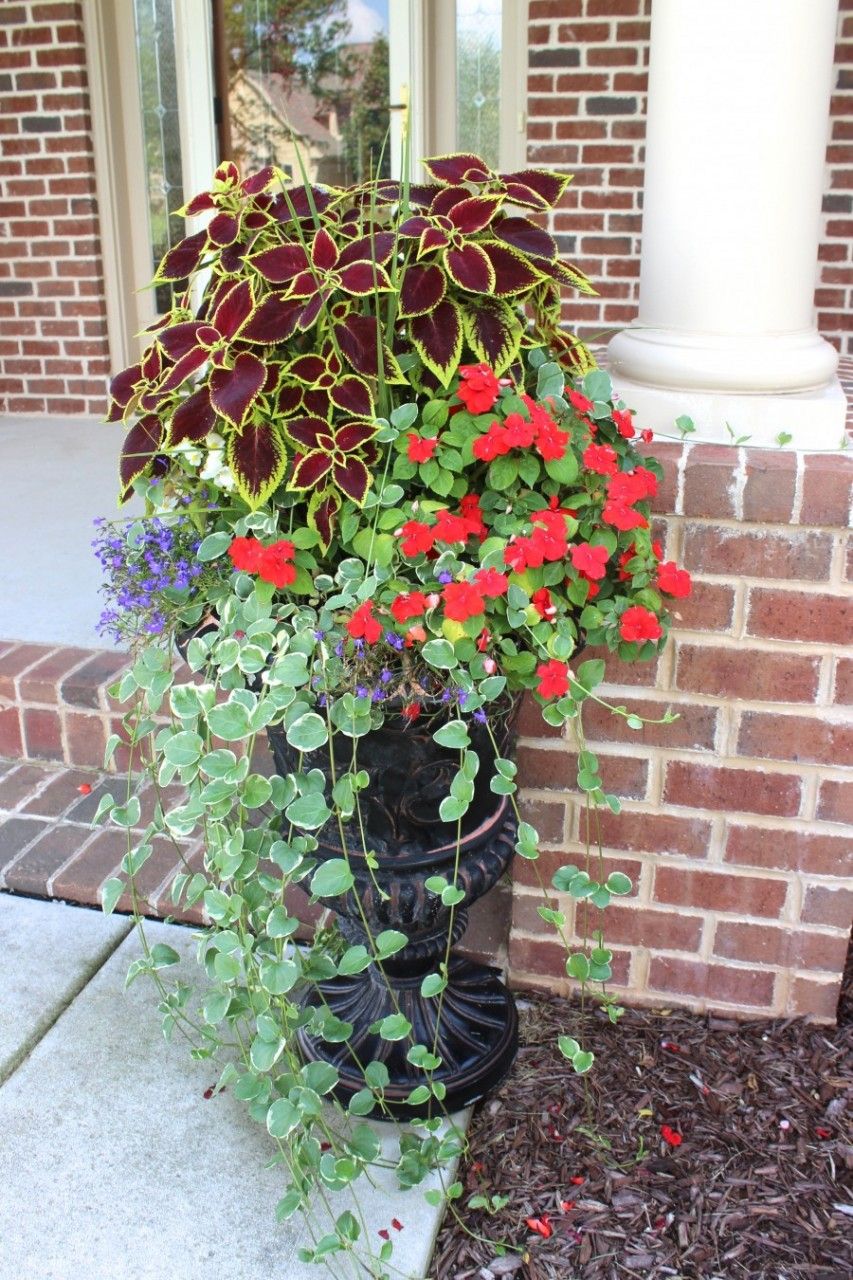 So pretty! In my opinion, this is your prettiest planter since I've lived across the street from you Mary!
Yes! Am loving all the above planters. Just for you, I have more posts on container gardens with beautiful flowers to show you!
Top three tips to keep your planters thriving!
Of course, I talked to my neighbors to see how they kept their planters looking so awesome! These three tips came up over and over.
1. Make sure you water appropriately. That means if it's hot, and your planter is in the sun, you may water 2 times per day! Feel the soil to see if the planter is dry and use that as a guide to see if you need to water.
2. Deadhead the old spent flowers. This way your plants can spend their energy growing new flowers rather than seeds. Do this often, at least every few days.
3. Fertilize often! It seems like the successful container garden growers in my area don't follow the package recommendations for the fertilizer strength or frequency. They dilute the strength to roughly ½ and water lightly with the extra diluted fertilizer every week or two. Miracle Grow is the fertilizer everyone recommends! As an FYI, Amazon delivers larger sizes like the one below!
Pin to Pinterest now!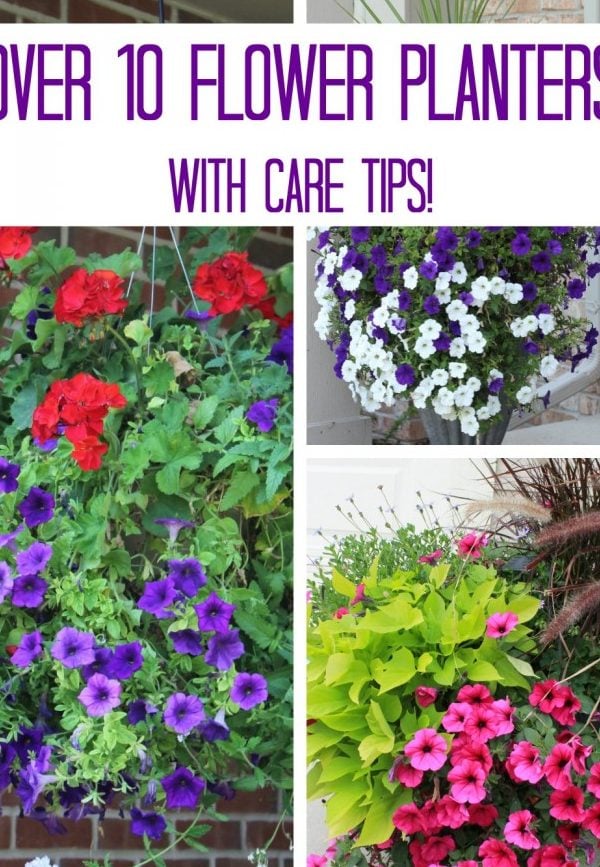 More container garden | flower planter posts
How I planted my Container Garden.
Unique & Inexpensive Spring Container as a Planter.