Flower pots in front of the garage
I have a large concrete pad in front of my two-car garage. I was online looking for inspiration on how to brighten up that area and give it some curb appeal. I ended up finding inspiration in my own pictures that had beautiful planters in front of garages.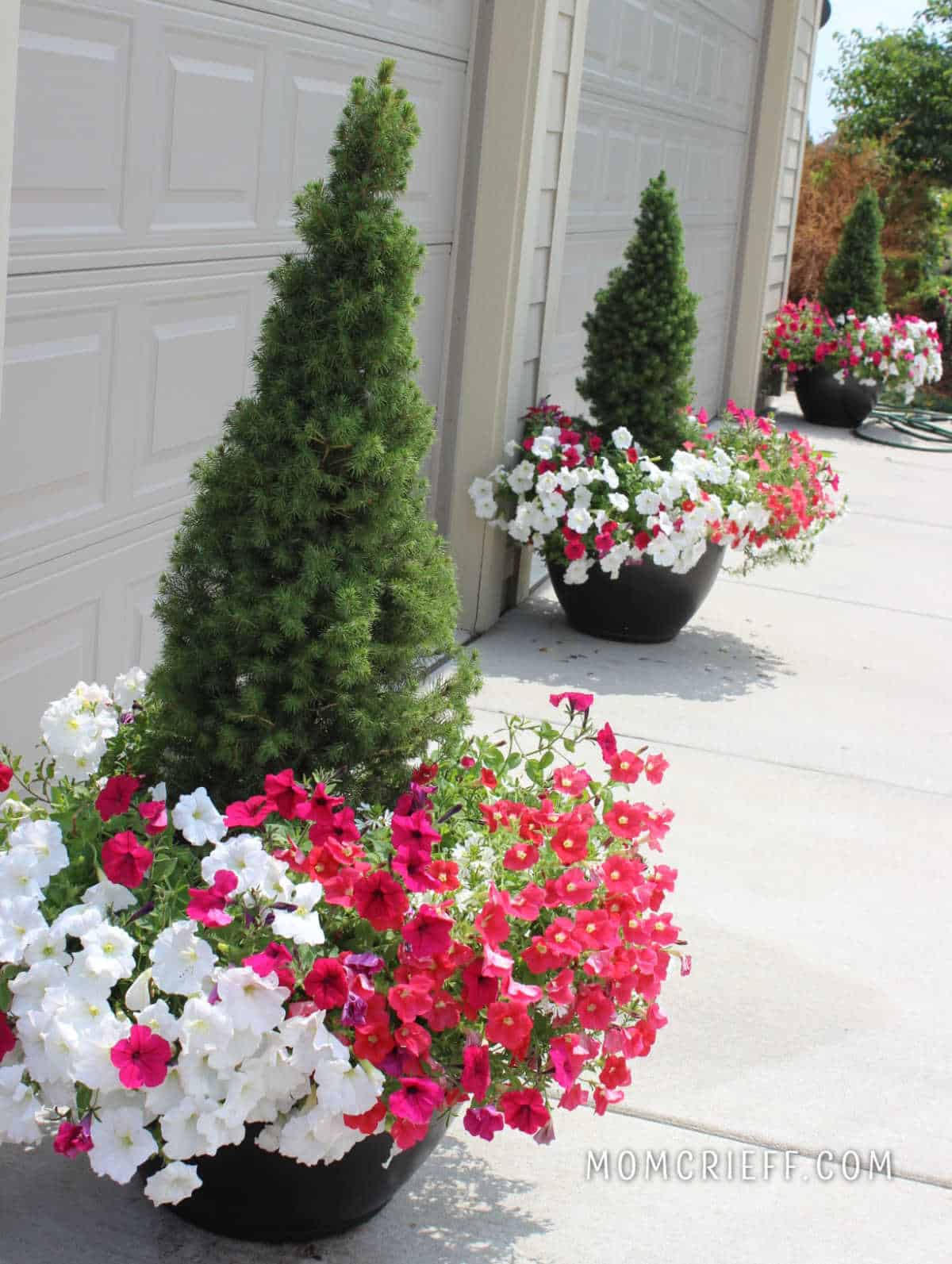 Aren't these planters in the image above just beautiful? Every time I drove by those, I slowed down to get a better look. Those were small young trees, with bright petunias and million bells surrounding them.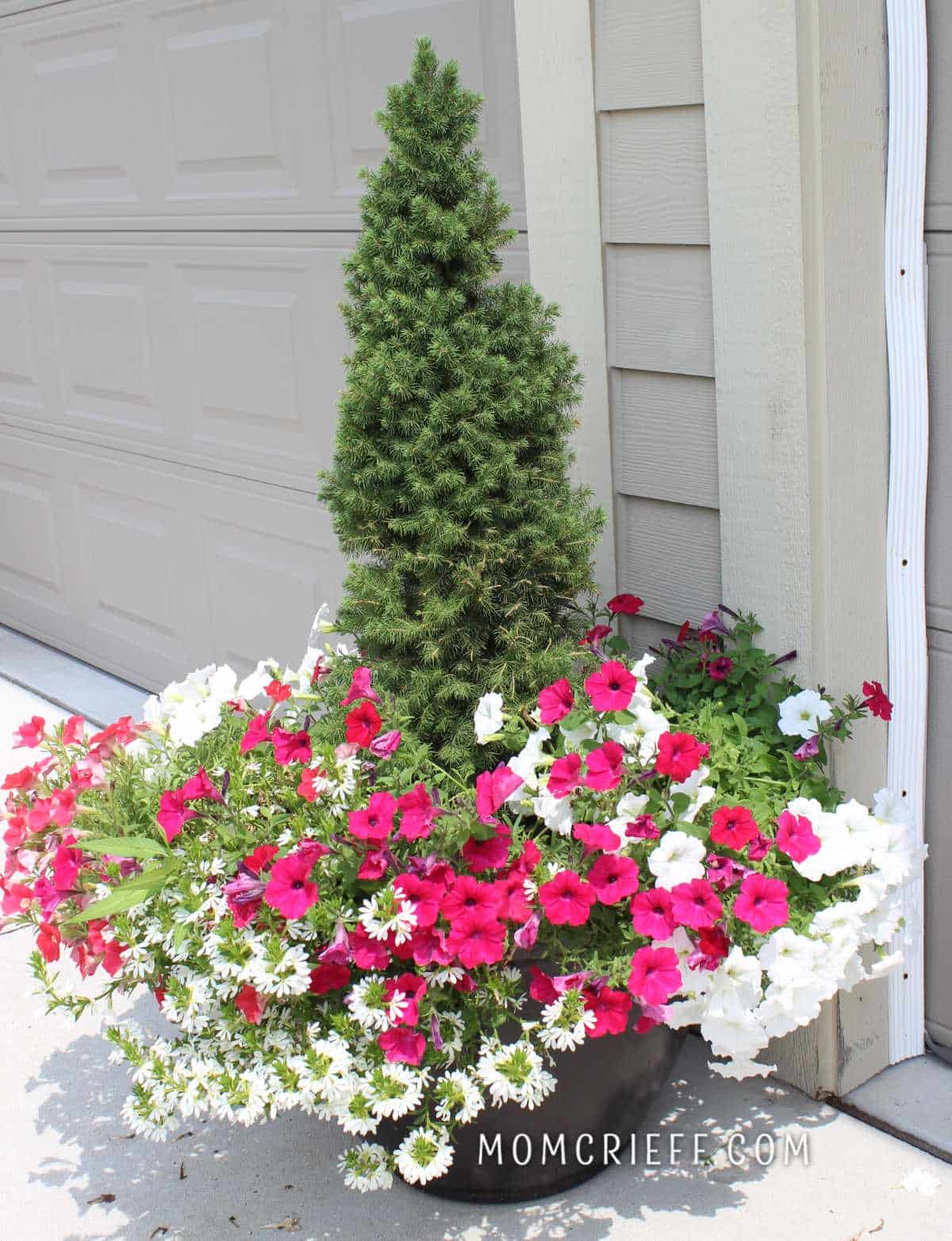 I plan on doing this by my garage door planters this year!
Expert Tip
Just be aware if you live in an area with cold winters, you cannot leave the trees in the planters over the winter. They need to be planted in the ground a couple of months before the ground freezes or they will die. I'm in the USDA zone 5 and that certainly applies to me.
Here is another similar planter idea. This is a boxwood, surrounded by draping vinca vine and some New Guinea impatiens. This adds so much color to an otherwise very boring area in front of the garage doors.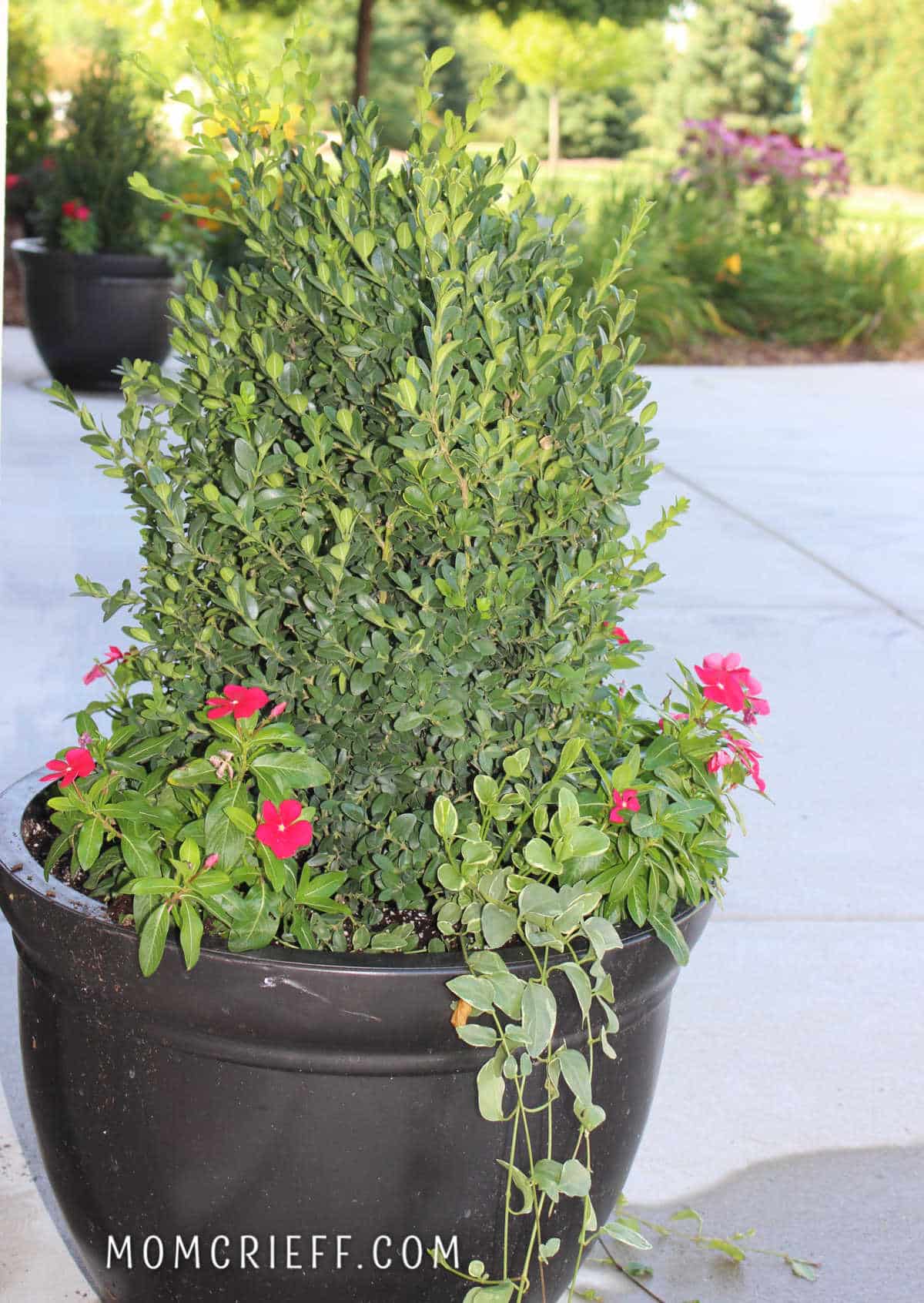 Tip for planters with trees or shrubs
You need large planters for these trees and shrubs to remain healthy through the summer. There needs to be enough soil to hold enough moisture so that the roots don't constantly struggle with being dry.
Watering advice and guidelines are found in this article called How to Water Your Plants.
More Garage Door Planters
The bright vivid colors are the key to pretty planters in front of the garage. And, of course, healthy greenery also adds color and texture to an otherwise uninteresting concrete area.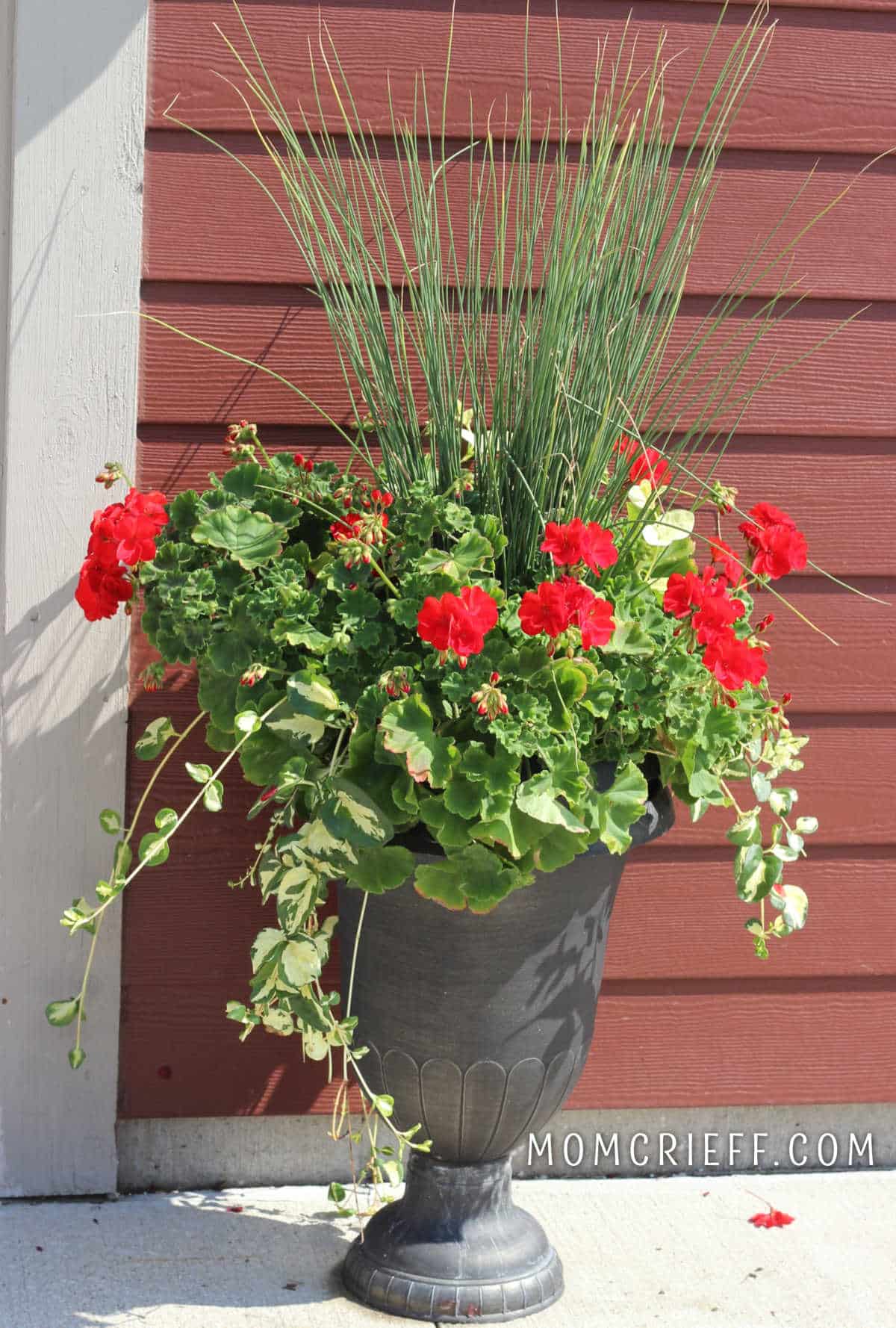 Make sure your hose reaches this far and water regularly!
There are many planter ideas that can easily be used in front of your garage in this post which shows over 25 Outdoor Planters.

Below are a couple of planters you'll see in that post that would work well in front of the garage.
Elevate a planter full of colorful geraniums and place it between garage doors. It's a beautiful splash of color! I have done this in various areas of my yard. The log portions I use were purchased (or free) on my local Facebook Marketplace.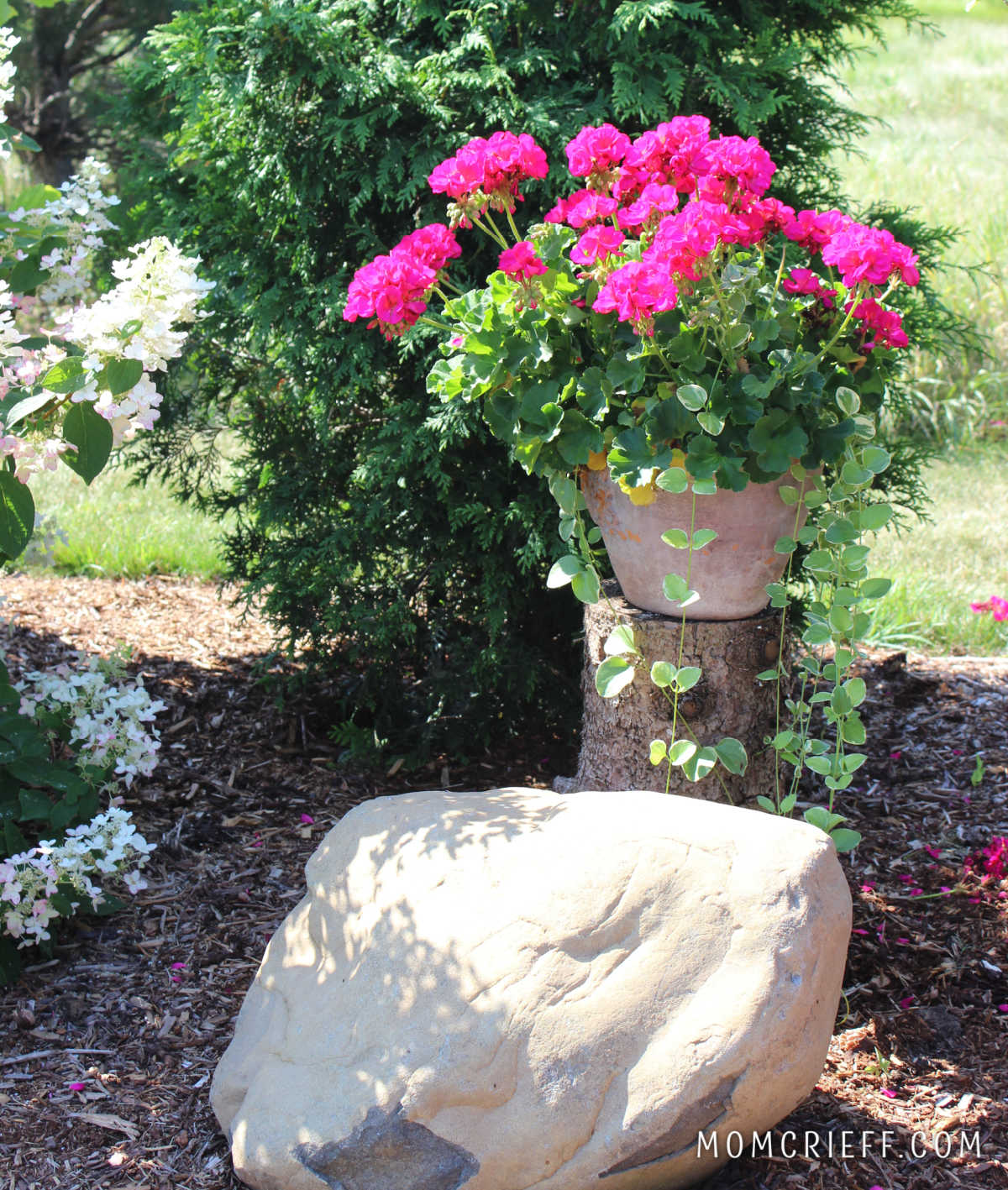 Below is a planter that I create with the same formula each year. I just vary the color. This would be perfect in front of a garage door area too! Here is a simple resource on How to Plant Flower Pots. It's the planter below that I planted in that post. This is about a month after it was originally planted.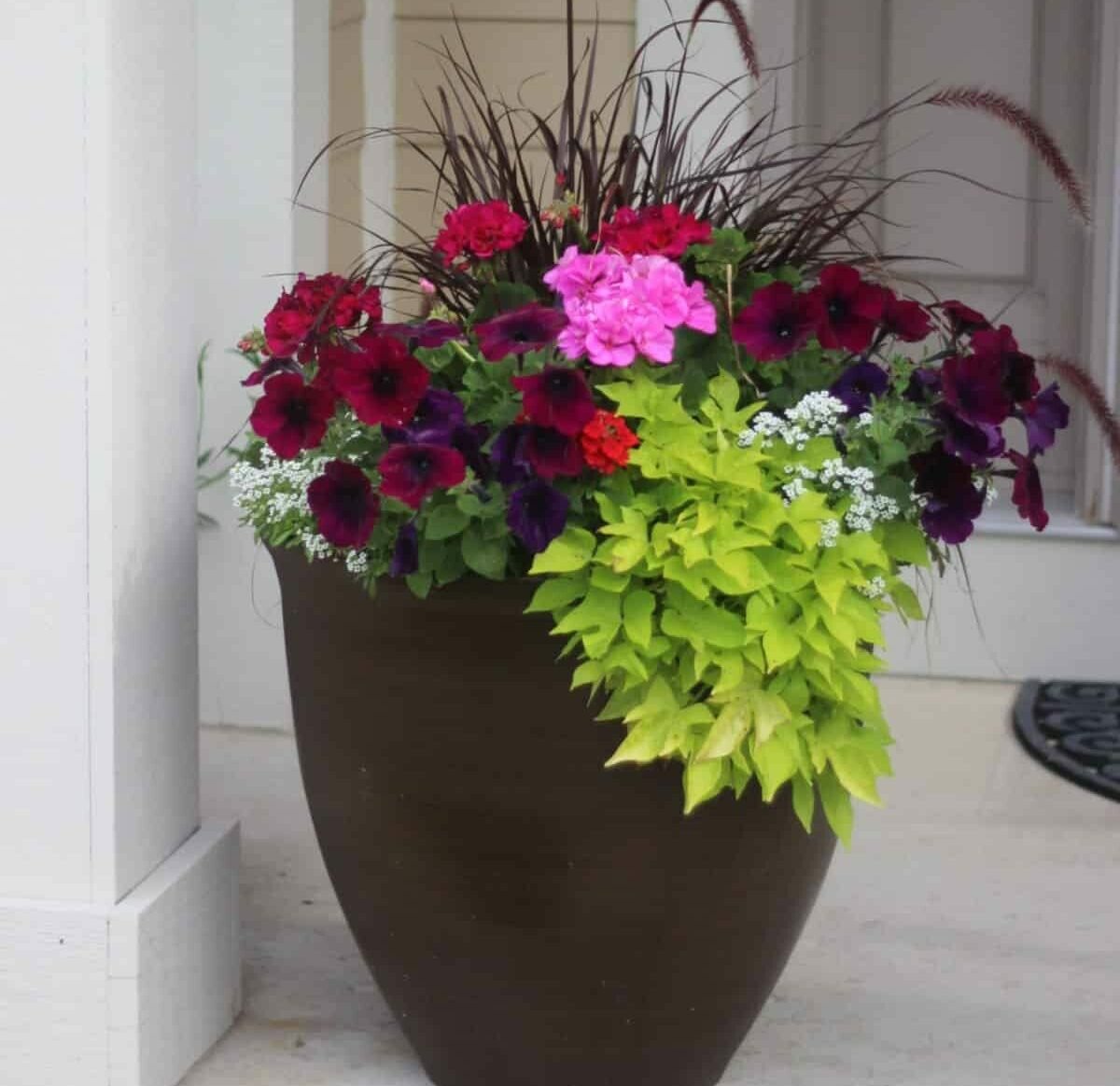 One more planter placed beside the garage entrance. It's a planter that is beautifully filled in and looks great at the corner of the garage!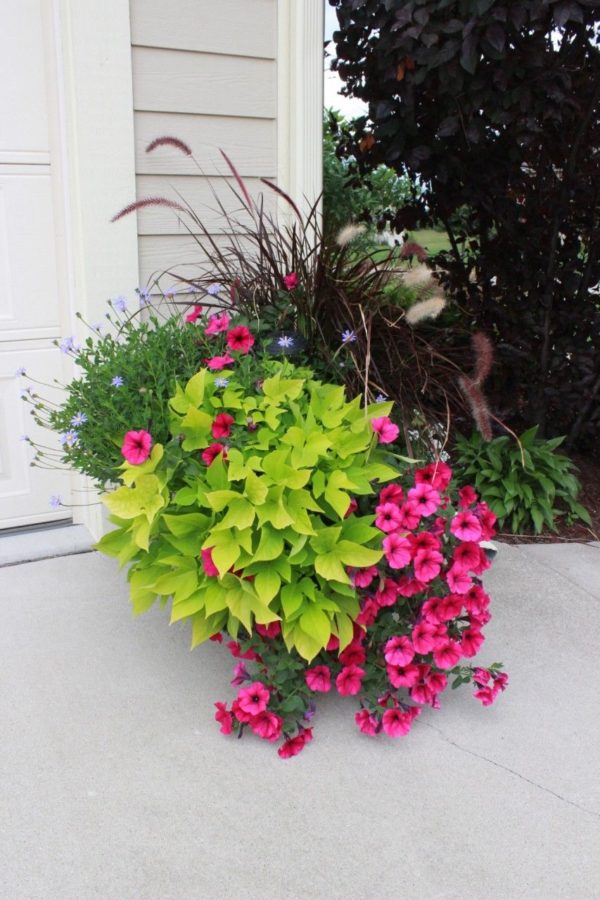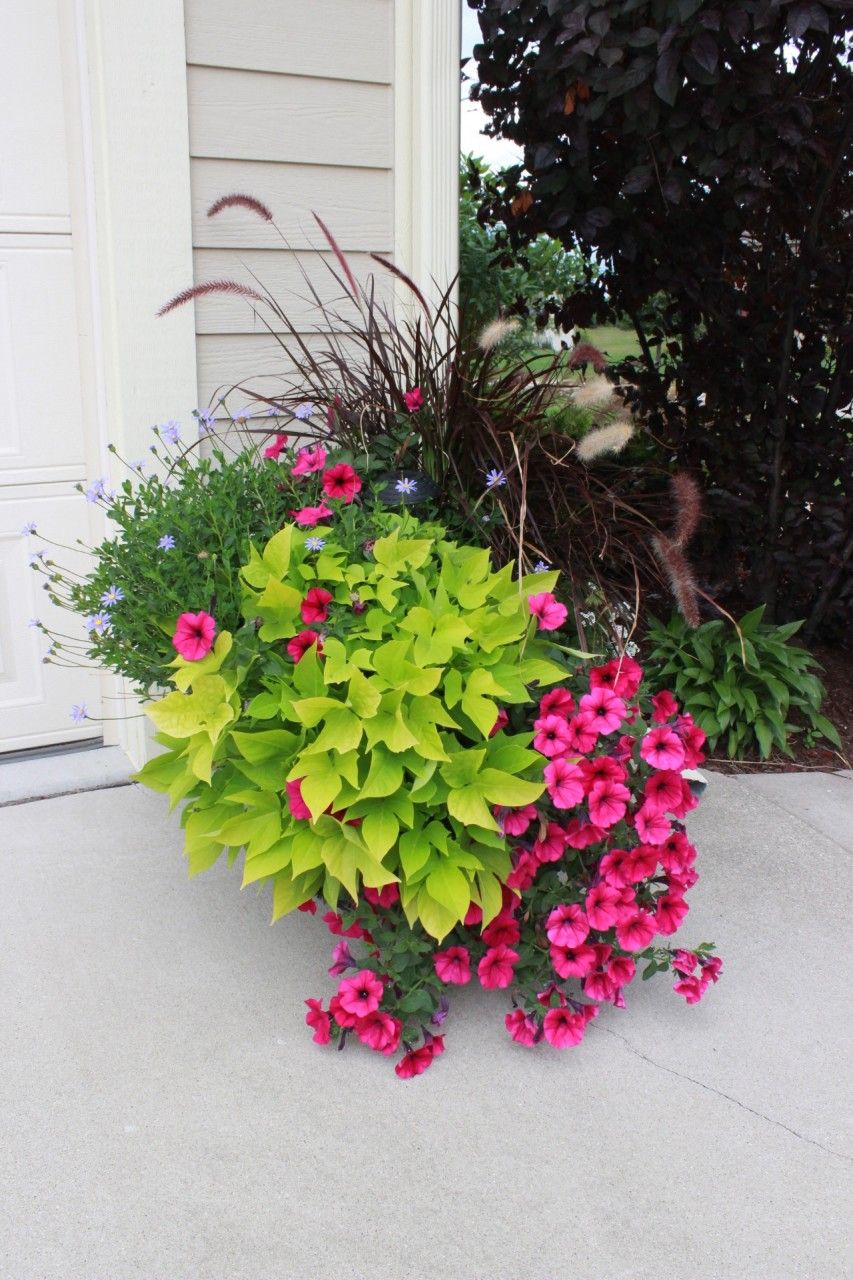 FAQ's
Will these planters help with curb appeal?
Absolutely! A splash of color on a boring driveway sure helps!
How do I water correctly in this potentially sunny area?
Be very aware of what you are planting in front of your garage. If it's a shady area, plant shade plants. In a sunny area, look for plants that love the lun. This guide has some good information watering. How to water your plants.
More container garden | flower planter posts
Looking for more ideas and inspiration? Take a look at these posts, below.
How I planted my Container Garden.
Unique & Inexpensive Spring Container as a Planter.