Galvanized metal water troughs as planters
Many years ago, I made a flower planter out of a small galvanized metal water trough. I bought and used that because it was cheaper than buying a large planter! Now, it seems that these stock tanks have changed from just a farming staple to a gardening planter as well. They are a popular way to create a quick and easy raised garden bed. I had this planter for years and sadly left it behind when we moved.
Why I started using a galvanized metal planter.
Because this disaster was a featured area on my deck. I know, it was terrible! But, we had a spot on the deck that we needed to cover. My first attempt was a group of matching pots. Even when there were lots of flowering plants, it never looked great.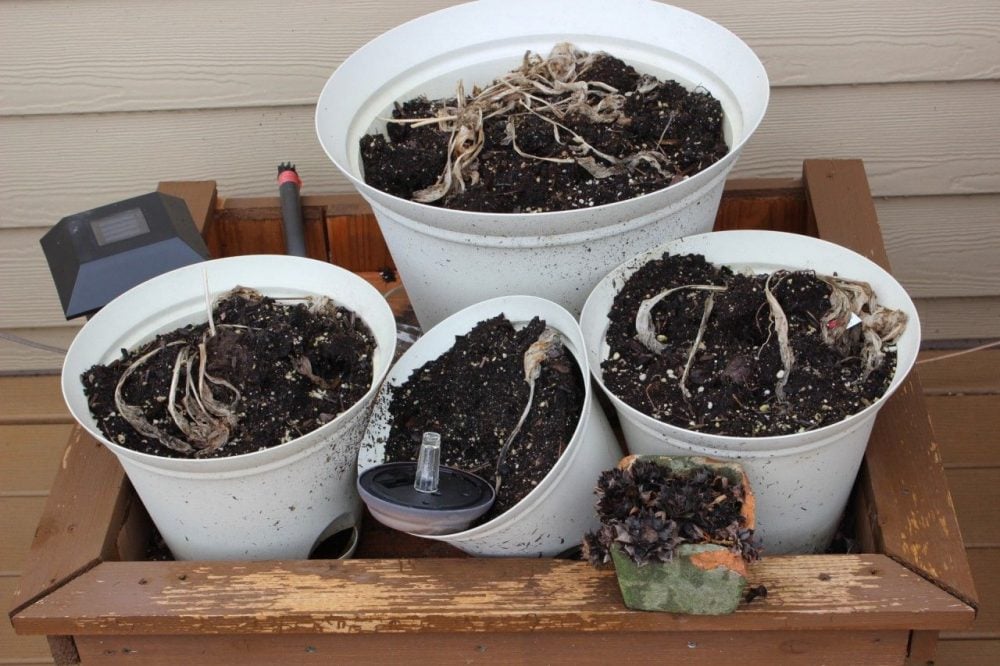 This post may contain affiliate links. Please see my full disclosure policy for details.
I was too cheap to buy a huge planter, basically container whose only job is to hold dirt. I was wandering around my local big box hardware store and saw an galvanized washtub. It was priced around $29. Compared to planters this size, this was a really cheap price!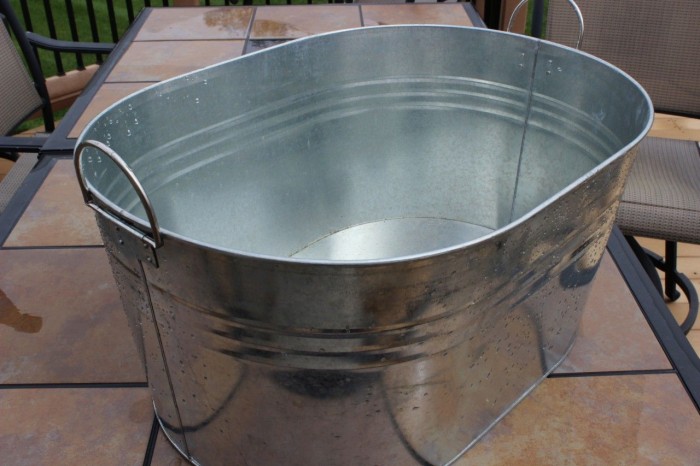 Now huge metal stock tanks are at your local hardware store, gardener's supply stores and farming supply stores but sold for the purpose of gardening. They are usually called water troughs but I've also heard some called food troughs.
Why are metal trough planters so popular now?
Lots of reasons! These water trough planters are an easy way to have a raised garden bed. No building is required. And, unlike wooden raised beds, these galvanized metal troughs were made to hold water! They don't fall apart after a few years.
Raised beds are easier physically to garden in since they are off the ground. Much less bending. Also, you can control the soil. As an owner of an old house, we have concerns over lead paint being in the ground soil (my yard is OK).
There are other reasons you want to bring in and control soil. I have a huge black walnut tree. For those of you not familiar with what this tree does, it secrets a chemical called juglone. This chemical prevents certain plants from growing. For example, tomatoes don't grow well in soil that contains juglone. I can't grow tomatoes in a normal garden in my yard! More information on this topic is available on this University of Wisconsin horticultural extension publication resource called Landscaping In Spite of Black Walnut.

Preparing your galvanized trough planters
The first important thing is the location. You need to make sure the type of plant matches the amount of sun in your chosen outdoor space. Shade plants won't do well in full sun locations etc.. Researching the type of plant and it's requirements will save you frustration and money. It's obviously a huge waste of money to place plants in areas they won't thrive in.
Adding drainage holes
Good drainage is one of the most important aspects of having successful metal planter pots. Some larger galvanized water troughs come with a drainage plug (water plug) at the end of the trough. Make sure to remove those so water can drain. You need to also add drainage holes spaced along the bottom of your stainless steel planter. I put holes every couple of inches along the edge and then a few towards the center. Plants won't grow well if their roots are always soggy!
My first galvanized trough planters were thin metal and I could just hammer a nail every few inches to create drain holes at the bottom of the planter. You may need to use a drill with a metal drill bit and your drill to create those holes if the metal is thicker. Make sure to wear good safety glasses and even gloves (there can be sharp edges).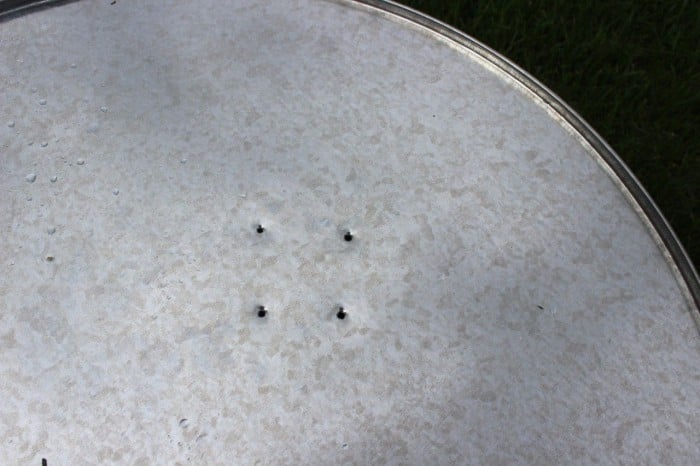 I put some plastic containers in so that they would help me save on soil (and make the planter lighter). Big stable chunks of styrofoam is also good - especially for a larger planter. Don't use annoying peanuts (styrofoam ones).
For a larger raised planter, I now make a point to place small logs, then cut up branches in the bottom. A layer of a couple of inches of fall leaves are great too! As those decompose, they add nutrients to the soil. And, it's a great way to get rid of some yard waste.
Some people put gravel in the bottom but I don't recommend it. It just adds to the weight and doesn't help the plants like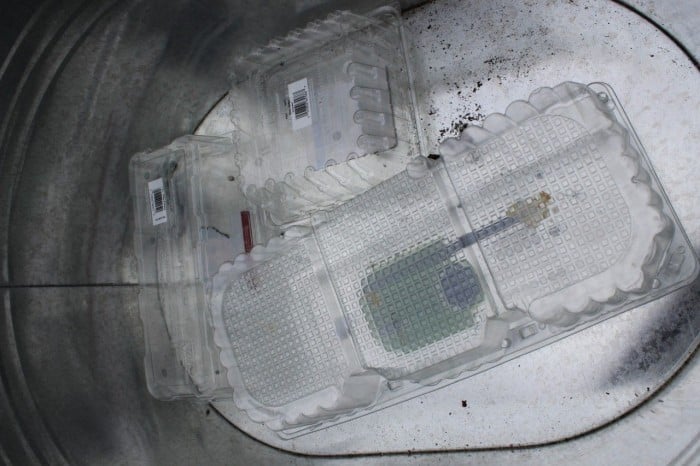 I'm so excited to watch this planter grow and fill in!
I did think it looked a little plain so I dug around my garage and found some sisal rope. Perfect! I hot glued some on and I think it really adds to the look. It was a little nautical looking!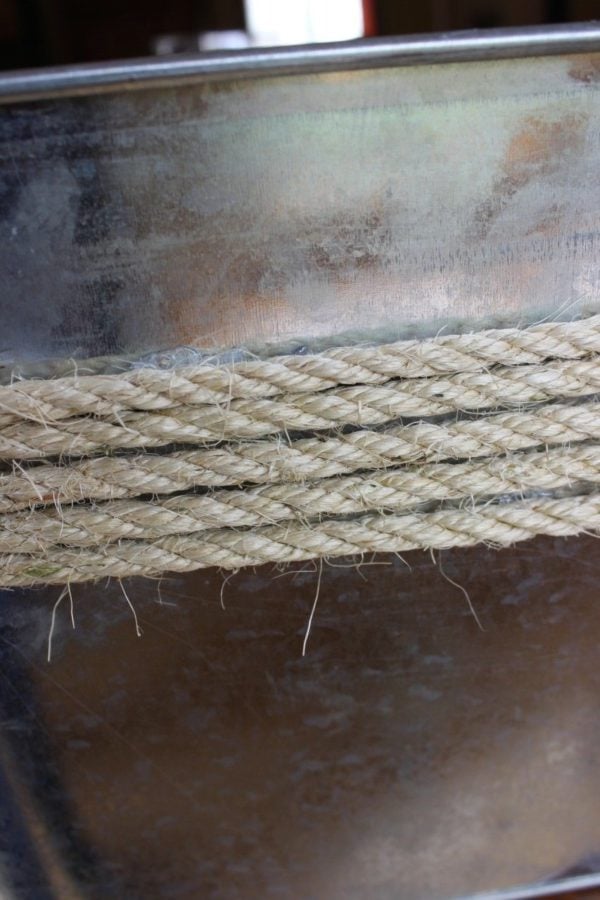 My planter will be in a shady area of my deck and last year I liked the look of a hosta and red geraniums. It really brightens up a shady area. The hostas will grow big and will look so beautiful. And the geraniums, they will be such a pretty splash of red.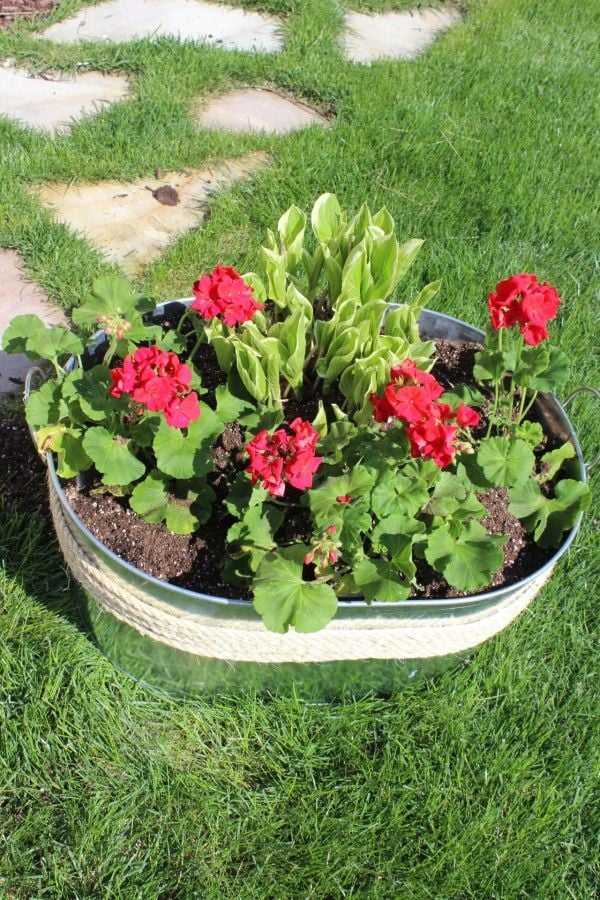 If you are looking for a gavlanized tub like this, Amazon has them!
It's so much nicer than what I had before! And it didn't cost me a fortune. I love finding cheap ideas that look expensive and on trend! Just adding the sisal rope made this galvanized planter look so much prettier, don't you think? Have you come up with any great looking planters?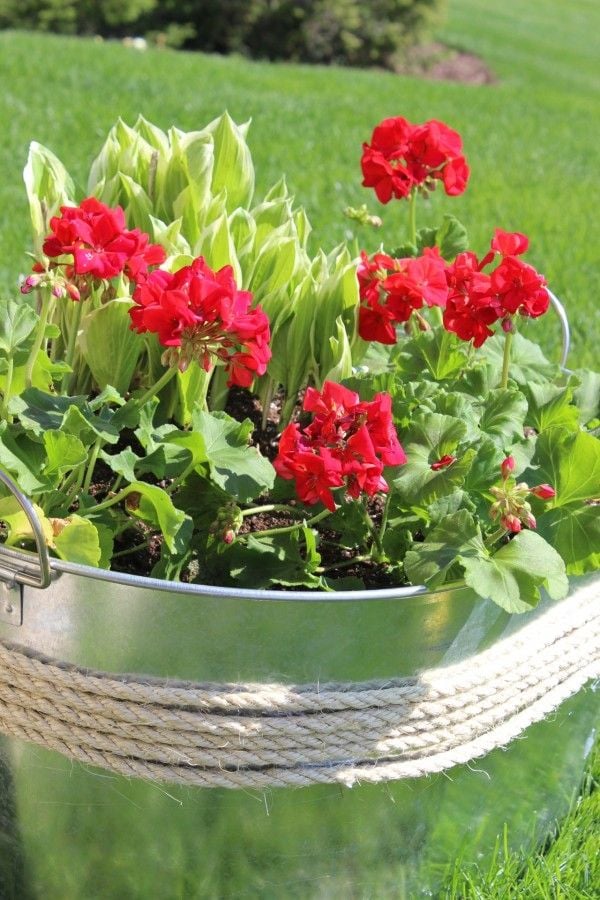 Location advice
The larger metal troughs are heavy. Then you add the soil (a bag can be 40 pounds) and you need many bags. The trough will be super heavy. Keep that in mind if you are planning on putting the trough on your deck, the deck may not be built to hold that load. Again, once you have put your trough in the location you chose for your raised beds, it's going to stay there (unless you are willing to do a lot of work and heavy lifting.
Make sure you know the amount of sun at that location and what plants are suited for the area you are putting this raised bed. Once you fill it with soil, you probably won't be able to move it!
I'm planning on putting together an herb garden in a large metal water trough. I think herbs like rosemary, basil, and parsley will do fantastic in a well drained trough and the sunny location I've chosen. Since the herbs start out as fairly small early in the season, I can plant some cold weather veggies like carrots and radishes around the edges. Maybe even just a couple vegetables like peas and bush beans.
I'll certainly update you as to how this goes. Can you tell I'm excited?
Looking for more planter and container garden ideas?
How I plant my front container garden.
Fall Planter - Reuse your grasses!
Ideas from 20 Planters in My Neighborhood.