In the spring, I needed a large planter. It had to be large but not tall. It had been a while since I had purchased a large planter and I was unpleasantly surprised on the prices! The reality is, a planter's purpose is to hold soil! Wandering through a home improvement store, I saw a container that was perfect!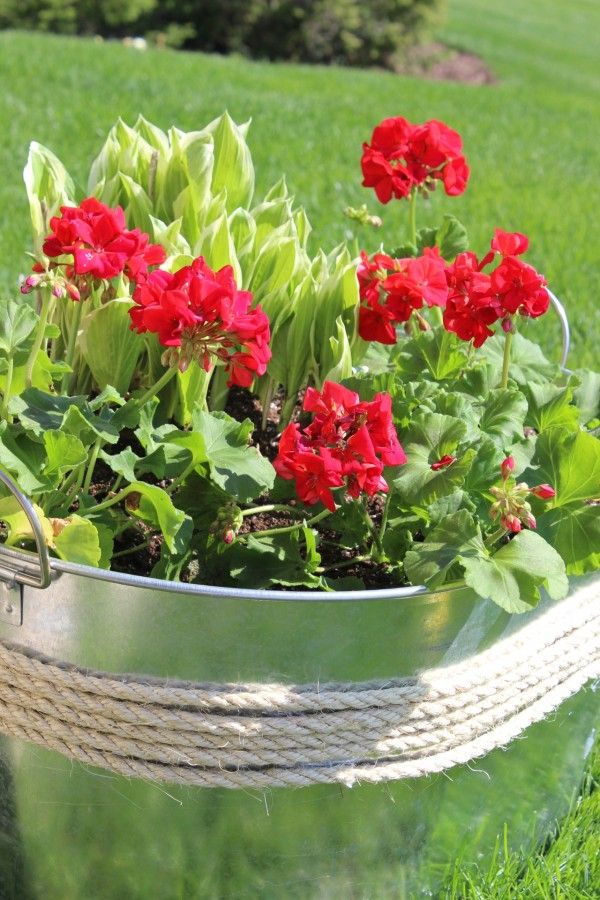 I bought and used a galvanized tub for planting instead! When I initially used this galvanized tub as a planter they were more of a rare concept. Now they are a popular way to create a quick, easy, and cheap extra-large raised planter.
Container Gardening Tips and Posts
Why I love planting in galvanized tubs.
The tubs are bigger (wider) than many planters you can buy.
Prices are cheaper! Even when purchasing new from a home improvement retailer. Bargains can be found thrifting or looking on FB Marketplace.
I like the metal look of the containers. Especially aged ones!
For the size, some can be light weight so easier to reposition.
The Before
Here is the real reason. This disaster was a featured area on my deck. I know, it was terrible! But we had a spot on the deck that we needed to cover. My first attempt was a group of matching pots. Even when there were lots of flowering plants, it never looked great. Yup, this is real life!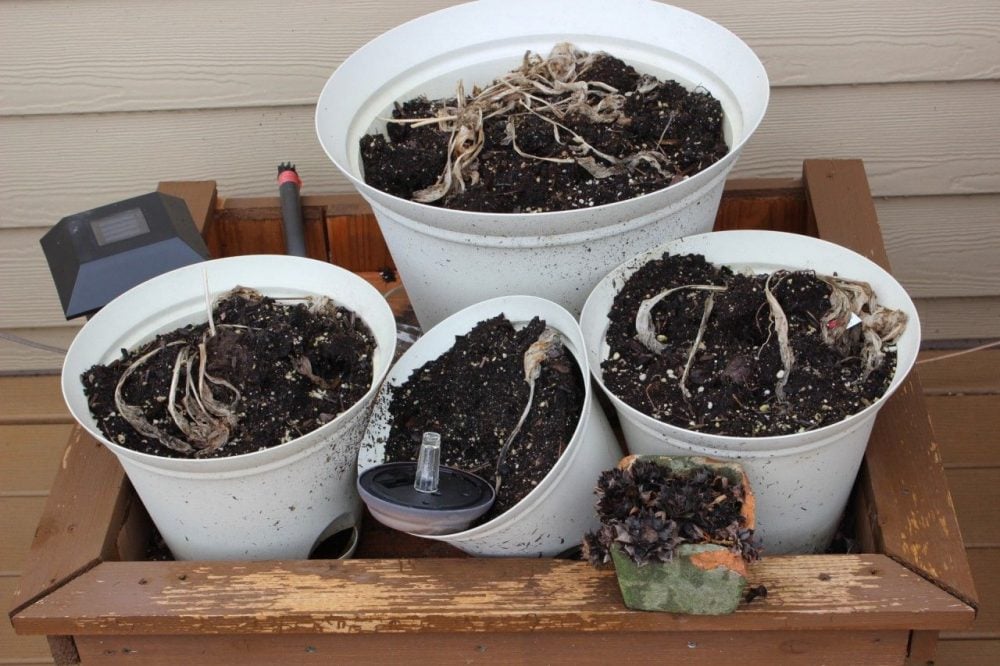 I was too cheap to buy a huge planter. I wasn't going to spend a fortune on a container whose only job was holding dirt. I was wandering around my local big box hardware store and saw a galvanized washtub. Compared to planters this size, this was a cheap price!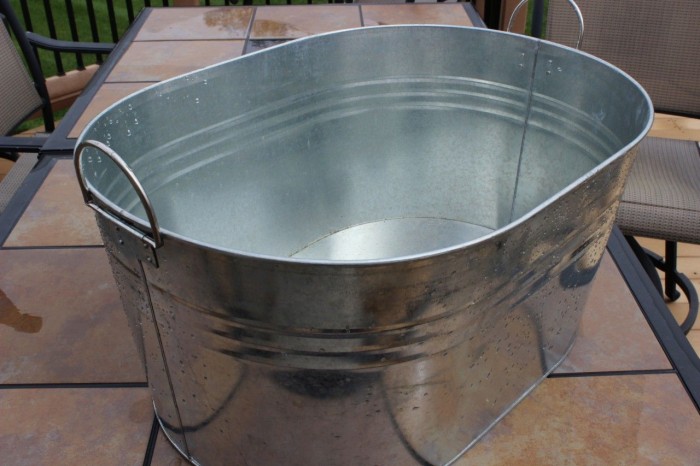 Pro tip for buying stock tanks
You can buy huge metal stock tanks at your local hardware store, gardener's supply stores, and farming supply stores. Many are sold for gardening now. If it's a legit farm container, it is usually called a water trough, but I've also heard some called food troughs. They used to be on farms, but now they are used to create raised garden beds.
Preparing galvanized containers for gardening
Researching the type of plant and its requirements will save you frustration and money. It's a huge waste of money to place plants in areas they won't thrive.
Determine the ideal location
Make sure the type of plants you choose match the amount of sun in your chosen outdoor space. Shade plants won't do well in full-sun locations. Full sun plants will not thrive in the shade.
How to add drainage
Good drainage is one of the most important aspects of having a successful metal tub planter. Some larger galvanized water troughs (the farm kind) come with a drainage plug (water plug) at the end of the trough. Make sure to remove those so water can drain. You must also add drainage holes spaced along the bottom of your stainless steel planter. And some find it necessary to add drainage holes around the sides near the bottom.
My metal garden tub was thin metal, and I could hammer a nail every few inches to create drain holes. If the metal is thicker, you may need to use a drill with a metal drill bit to create those holes. Make sure to wear good safety glasses and even gloves (there can be sharp edges).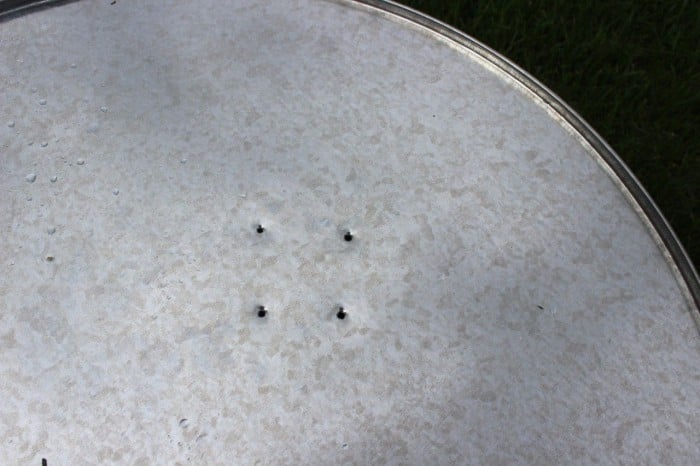 I put some plastic containers in to help me save on soil (and make the planter lighter). Big stable chunks of styrofoam are also good - especially for a larger planter. Don't use annoying packing peanuts (styrofoam ones).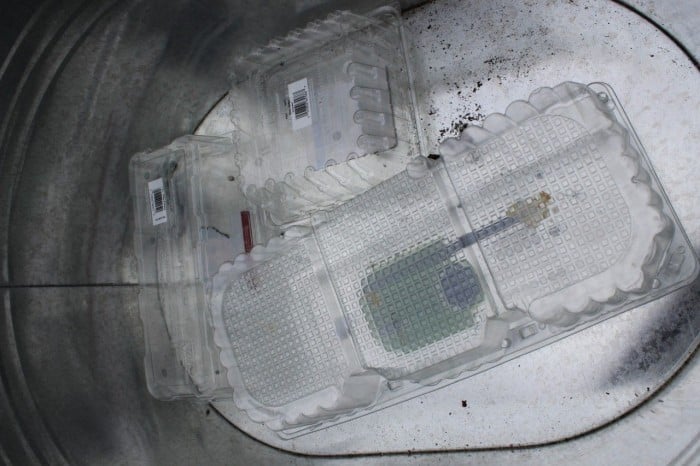 I'm so excited to watch this planter grow and fill in!
Add an easy nautical theme
I did think it looked a little plain, so I dug around my garage and found some sisal rope. Perfect! I hot-glued some on, and it added to the look. It was pretty and nautical looking! It did get weathered after a year outside but I enjoyed the more weathered rustic look.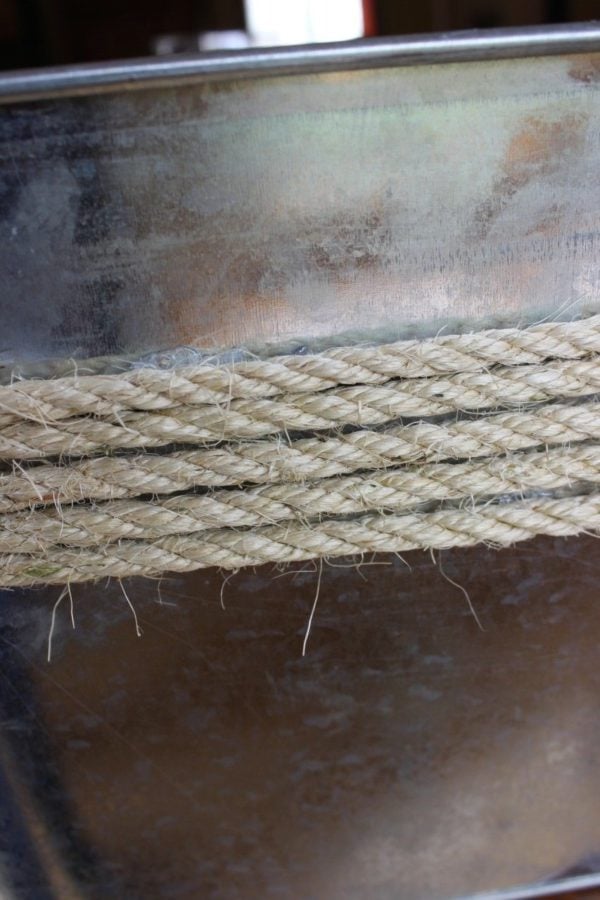 My planter will be in a shadier area of my deck, and that year I liked the look of a hosta and red geraniums. The vivid greens and red really brightens up a shady area. The hostas will grow big and will look so beautiful. And the geraniums will be such a pretty splash of red.
Using hostas in a metal tub garden
I have many hostas growing in my yard. I dug some up early spring to get a headstart in my metal planter tub.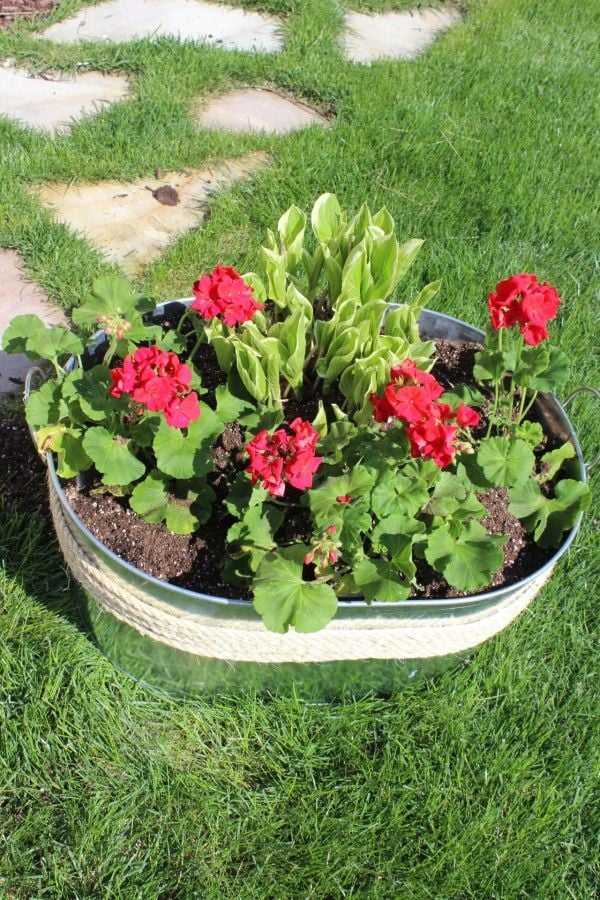 If you are looking for a gavlanized tub similar to this, Amazon has them!
I love finding cheap ideas that look expensive and on-trend! Adding the sisal rope made this galvanized planter look prettier. This is also a perfect spring planter because the hostas and the geraniums can handle some of spring's colder temperatures.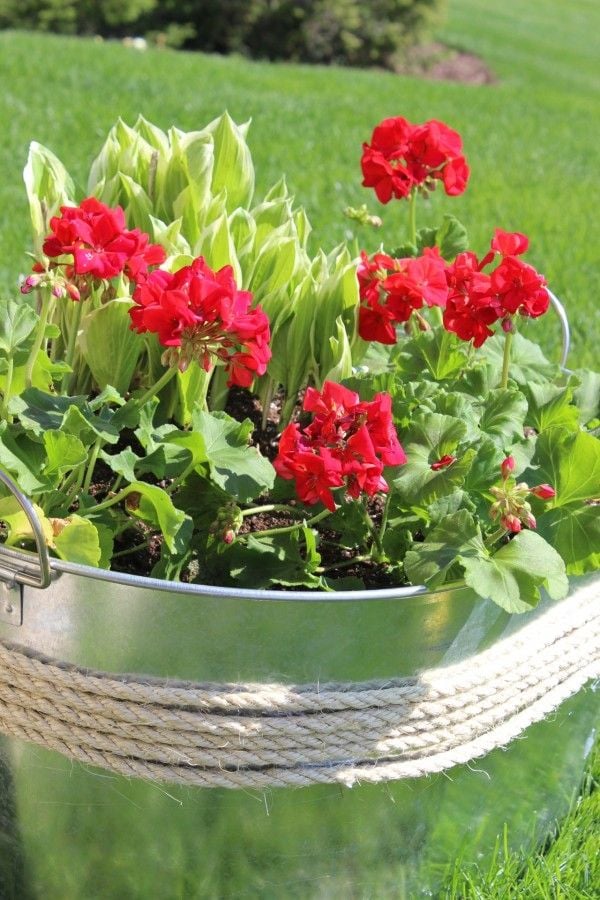 FAQ's
Don't hostas get tired looking at the end of the summer?
Yes, sometimes they do. When that happens I plant the hostas in the ground and replace with a more seasonal fall plant.
Will perennials survive in a planter over the winter.
In some parts of the country, they do. However, I'm in zone 5 in Wisconsin. The winter would most likely kill perennials left in planters. By not being in the ground, the roots get too cold. It's fine to use perennials in planters but I plant them into the ground prior to the winter.
These geraniums are copies of watercolor paintings made by my friend Rosana, an architect in Spain. She made them for me (and you!) and is so talented!
These are printable files that will be emailed to you. Then you print them on your own computer! These are sized for 8 x 10 paper (normal printer paper size). The size is perfect to be framed and displayed in your home.
I've set up a 30% off discount just for you. It applies to my geranium products. Click on the link under the watercolor geraniums to get to the specific item. My store is called OnWoodlandLane if you would like to browse.
Looking for more planter and container garden ideas?
Pin this to your Pinterest account!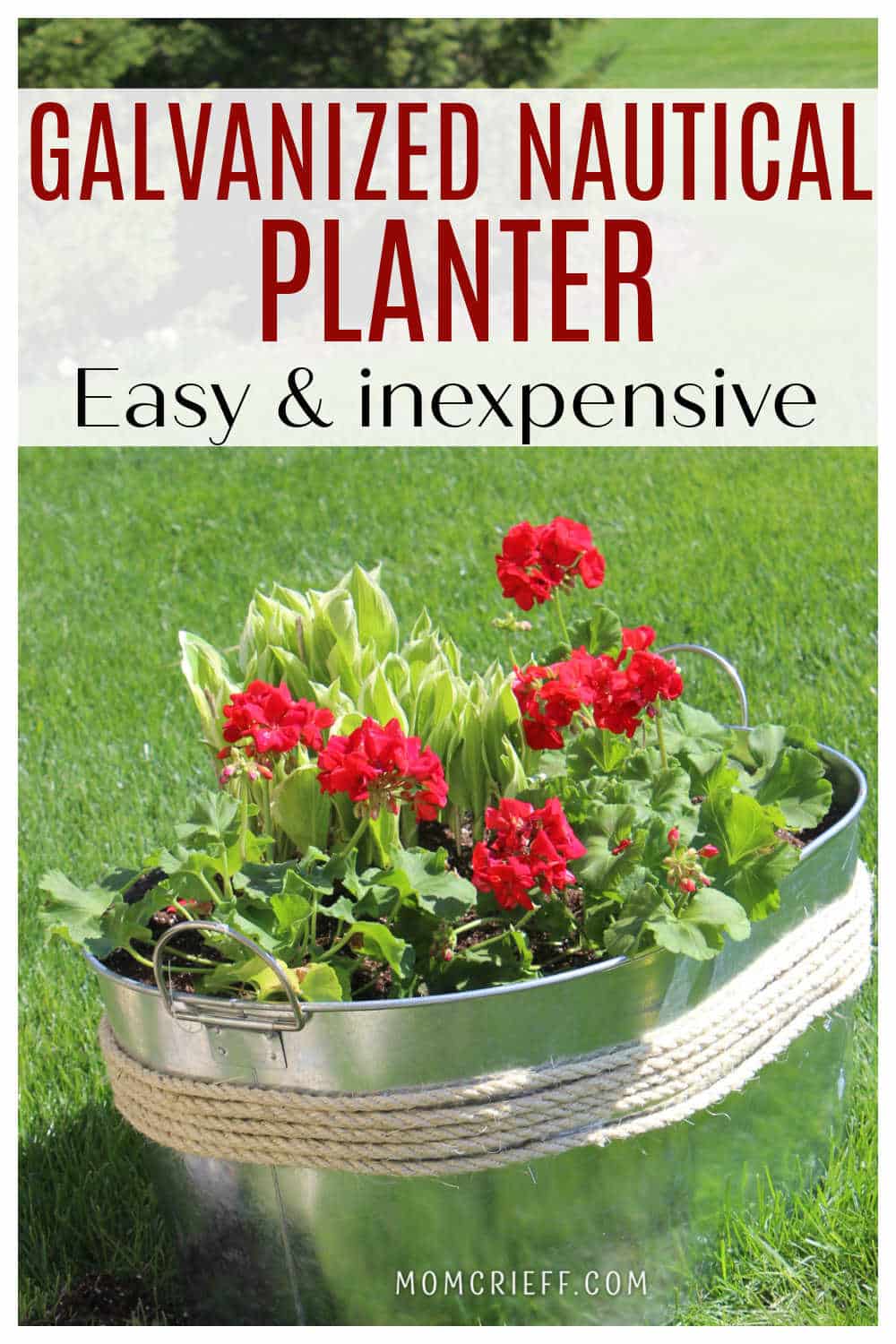 **Initially published May 6, 2018.