One of my favorite garden planters is a vintage sink from my upstairs bathroom. It was the one and only sink in my house for 93 years. I loved this sink and wanted to keep it but not for the bathroom I was updating. Wasn't sure what I would do with it so I asked my contractor to put the sink outside and there it sat for a year.
Why use a vintage sink as a garden planter | container
A bathroom sink is a perfect plant container because it has a great space for plants in the sink bowl AND it has a drain! Do not block that drain because it's so important for your excess water to drain. Most plants don't like their roots soaking in water long-term and can even suffer from root rot when sitting in all that water.
Here are my geraniums in my vintage bathroom sink!   I think they turned out quite nice!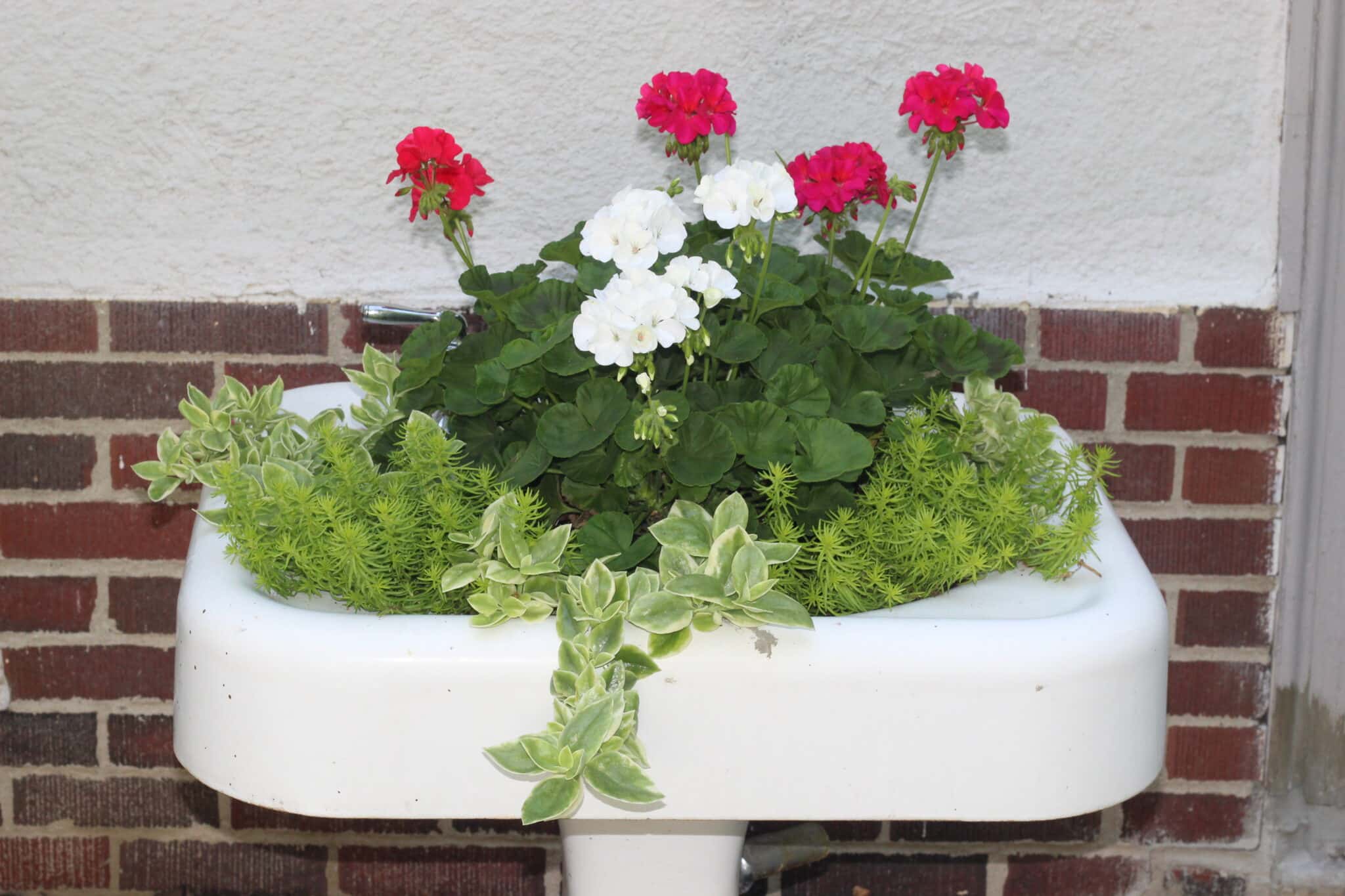 Vintage sinks often have a great shape to add some visual interest in your garden. If the sink you are using is old or new, it may have an interesting shape. Or, a fun color that flowers look awesome against. Maybe, your sink is white and your flowers just look beautiful against it!
I also love that the sink will raise the level of your flowers. Keep that stand that your sink bowl sits on. It's obviously where your water may drain down. And, it raises your flowers above the height of flowers that are growing in your garden. Absolutely plant things that drape! I love that look.
Honestly, this sink was original to my bathroom! Here it is, with a little note to my contractor to please keep and put in my backyard for me.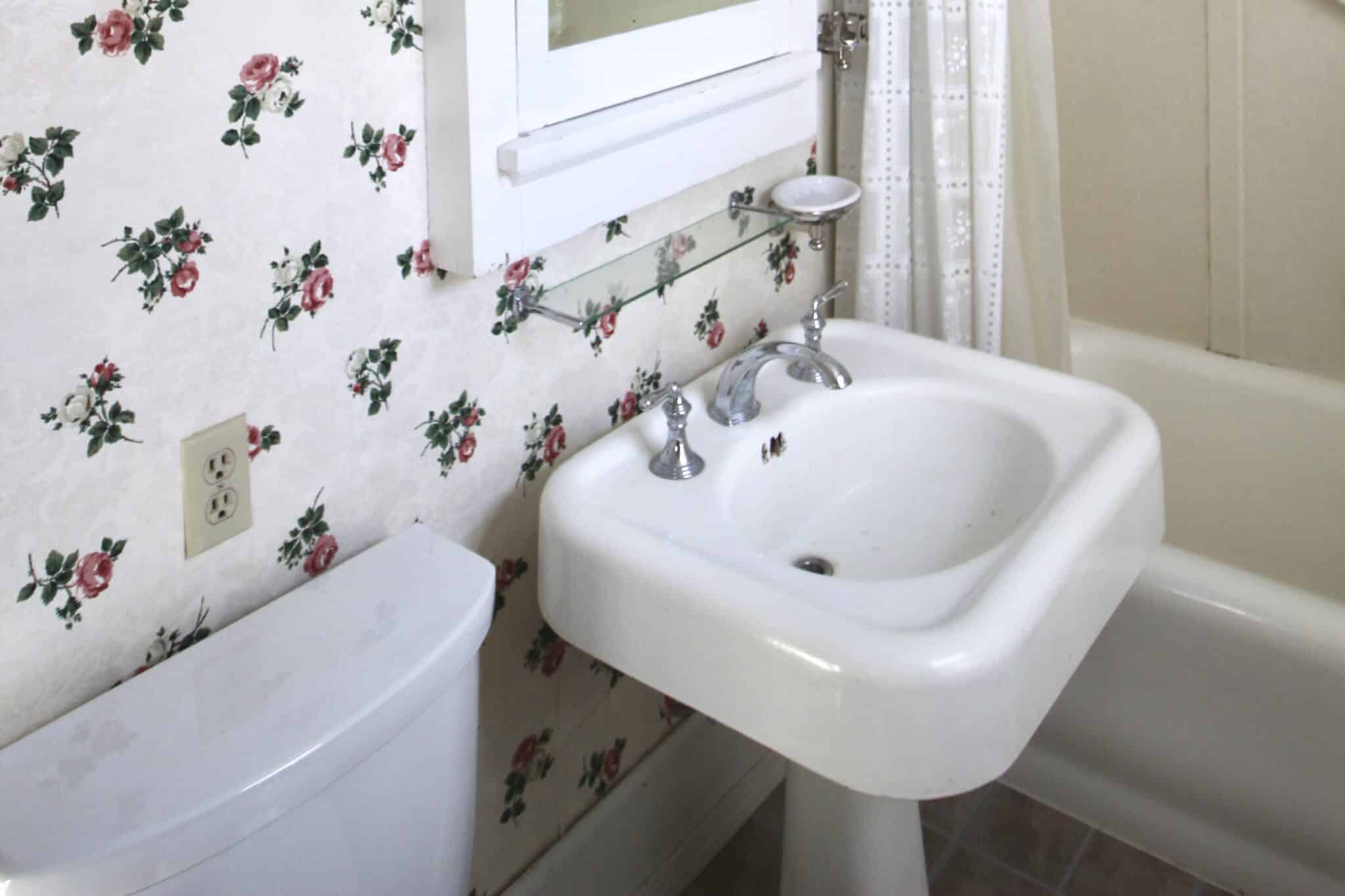 Planting an herb garden in an upcycled garden sink
For a couple of years, I planted herbs in my garden sink. It was perfect since my vintage bathroom sink was right near my back door. Fresh herbs in a handy and easy location makes you motivated to use them! Plus, they were out of reach of the bunnies who hang out in my backyard and think my gardens are their personal all-you-can-eat salad.
When you do repurpose something to be a garden planter, always ensure there is a way for the water to drain.  With a sink, there is a drain but you need to ensure it doesn't get clogged.  What I do, is put some paper coffee filters over the drain hole and then some stones which will allow the water to get to the drain.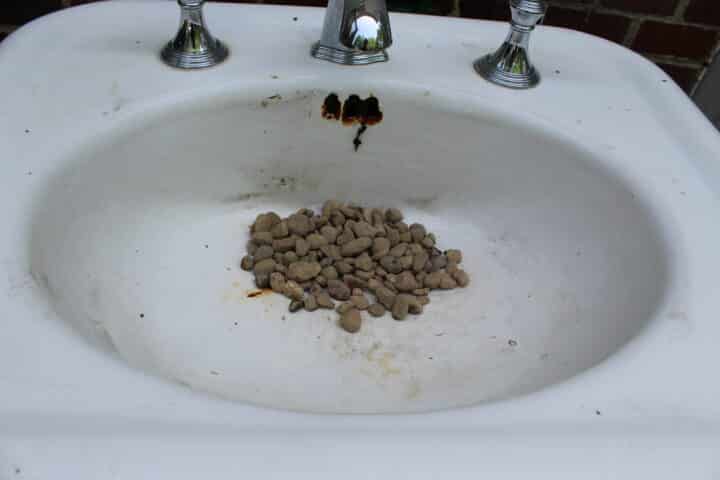 I still have the drain, and I also make a point of ensuring the flow of water goes away from the house.  I usually attach some tubing so the water flows away from my foundation.
And, you may be asking, why is there an upside coffee can attached to your house?   I have a working cistern!  I'll share more about that in another post.  But, the coffee can covers where the water used to go into the basement cistern from the downspout.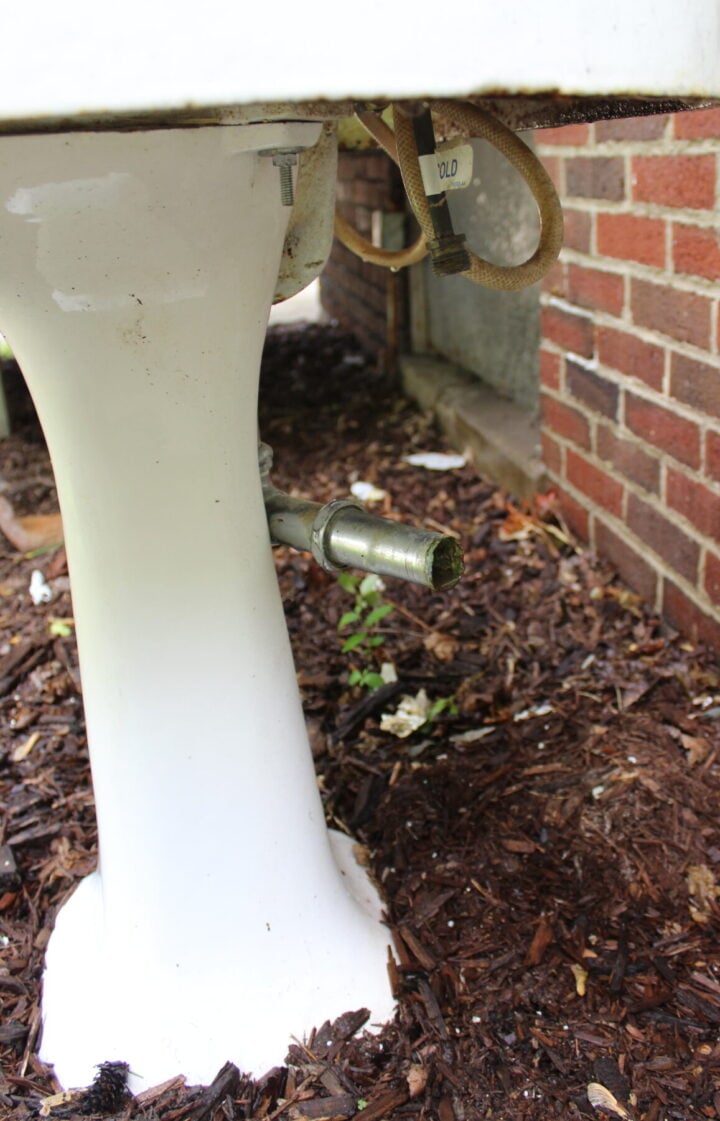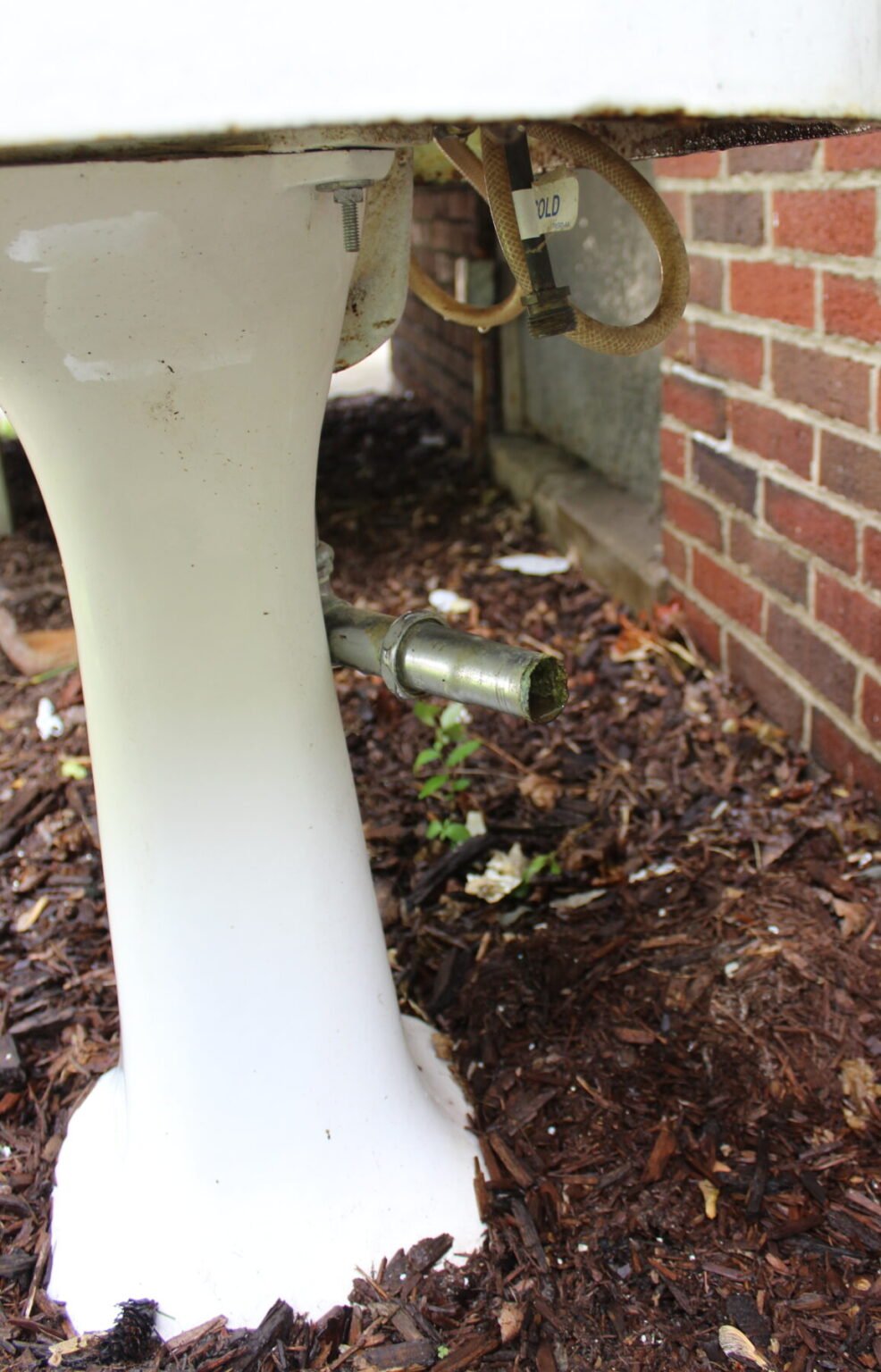 Let me share with you what herbs I'm planting and if they are annuals or perennials.   I tried to keep this one as mainly perennials.   The spiky hers that look like grass are my chives.  The herb behind the chives that looks kind of like pine needles are rosemary (annual in my area), to the right of the sink is mint (perennial and aggressive), in the center front is thyme, and then to the left of the sink is oregano.  Oregano is also an aggressive perennial plant.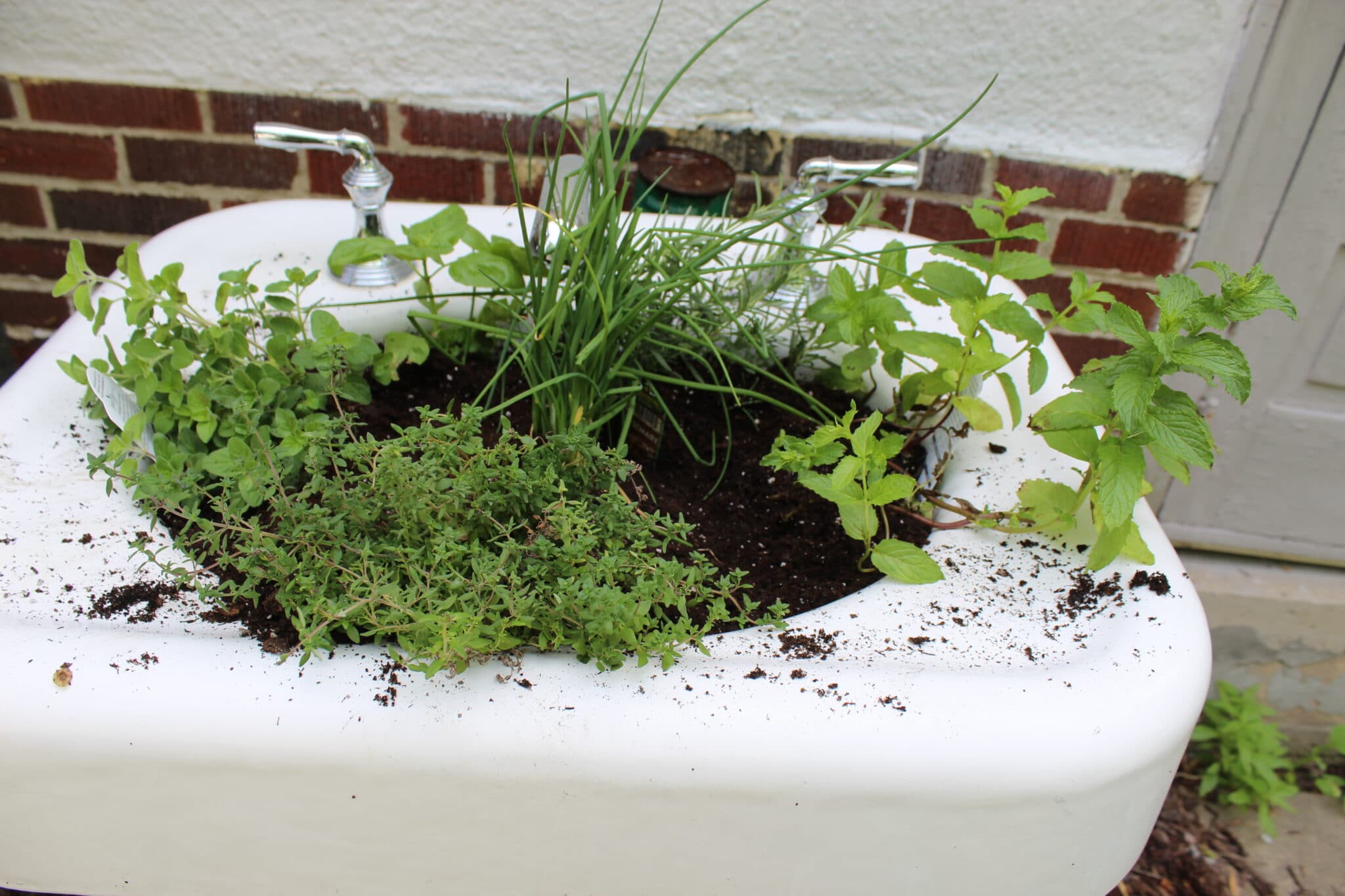 Eventually, I did add some basil afterward.  I kept pinching the basil down so it stayed as a nice filled bush and didn't get leggy and tall (it isn't a sunny enough area for the basil to do really well here).
I absolutely love basil and have a complete blog post about growing, harvesting and preserving basil by drying.    I had so much basil, I froze basil in ice cube trays last year too!   If you want more info about basil, make sure to click through the blue links to get to the specific posts.
Below, you will see I also added some alyssum.  Those are the little white flowering plants in the very front. That is not an herb, just a plant that I like and it drapes.  I had some extras so I added them!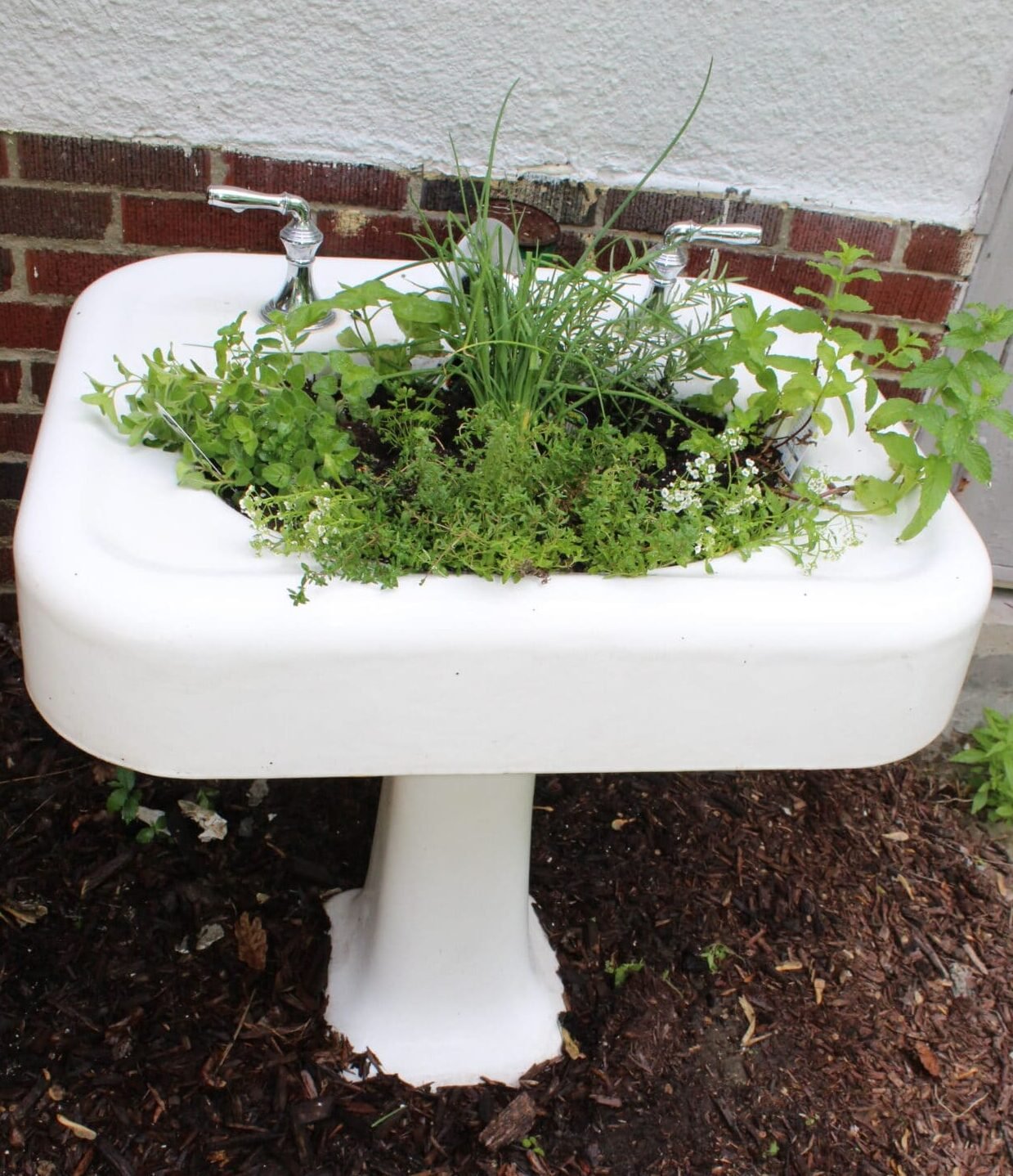 Tips for herbs and perennials growing in a container garden for the fall | winter
Here is a very important tip if you are using your recycled sink as a garden container for your herbs. Plant those herbs in the ground in the early fall. That way they have time to establish and the perennial herbs that you have will come back up the next year. Sorry, your annual herbs probably won't survive a cold winter.
Here are the herbs (from the sink) in the spring, growing in one of my small raised beds.  All I did in the fall was grab the whole group of herbs out of the sink and then put them into my garden and water them well for a couple of weeks.  Everything survived as expected.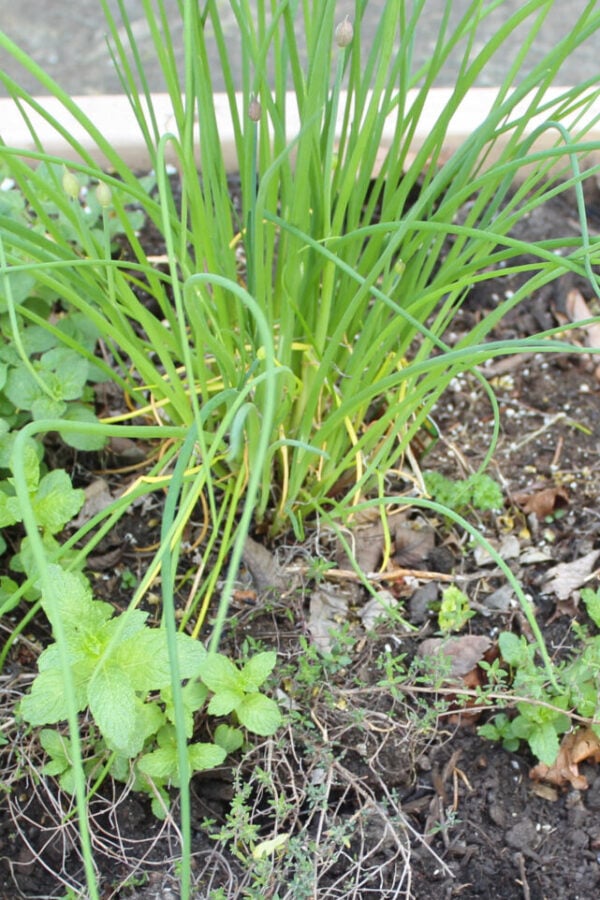 Summer Flowers in a vintage sink
Planting flowers in a vintage sink is a perfect way to showcase both the flowers and the vintage item that you are repurposing.
The flowers add a splash of brightness and height to your garden or the area you are using your former sink in.  I got bored with the herbs in my vintage sink so I planted flowers this year.
Make sure you have drainage and I used coffee filters over the holes then placed small stones on top to keep the filters in place and help with allowing water to drain out. Take a peek at the images above if you need a reminder.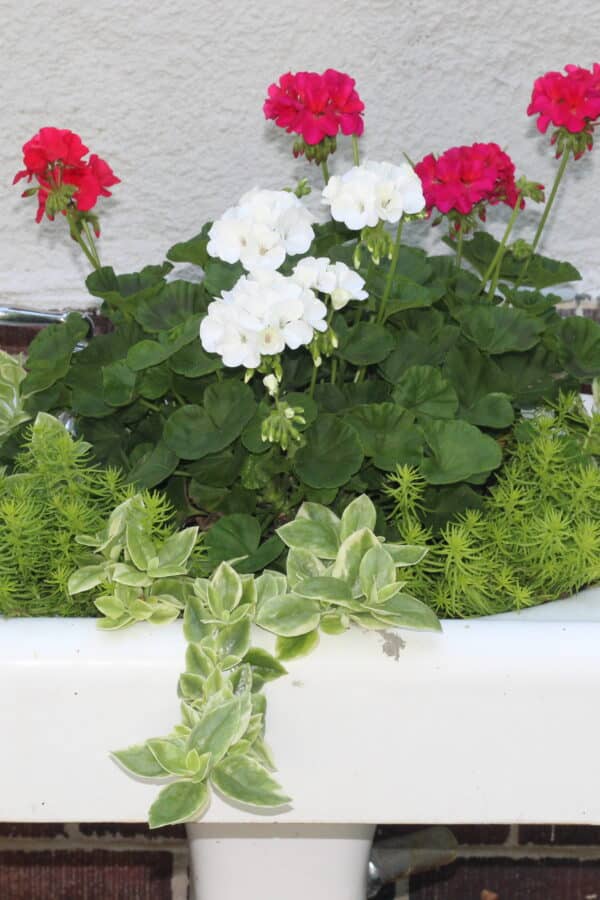 I was helping out a neighbor by watering her summer containers and I realized she had done something similar!  She didn't keep the whole sink but enough to put a plant on and elevate it.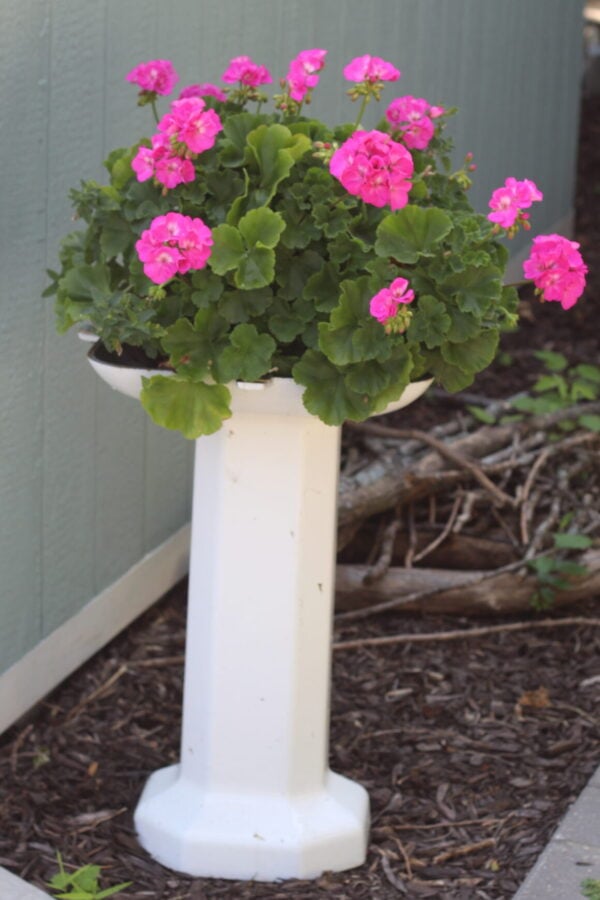 My neighbor did it in an even simpler way than I did.  She just plopped the container of geraniums right on the sink stand!  Here is the back view.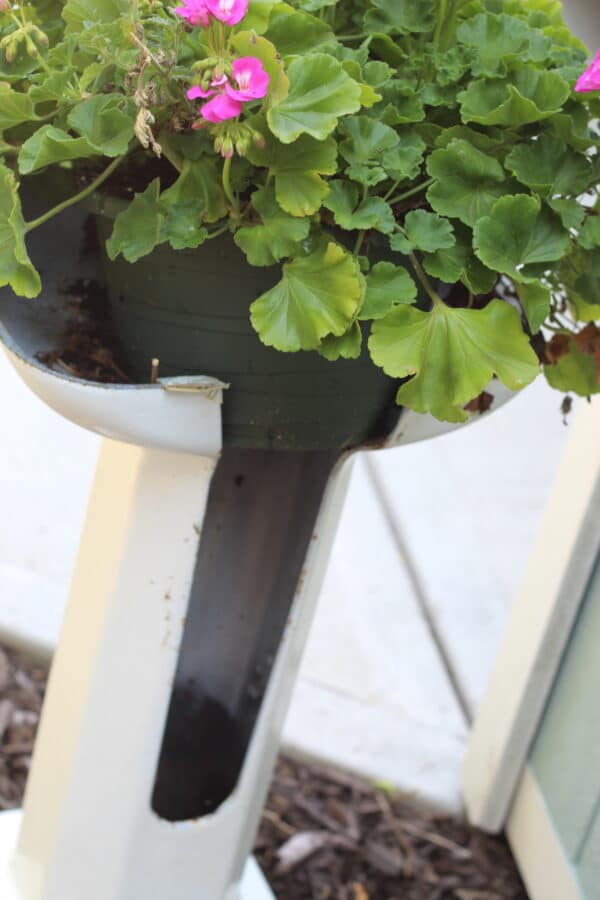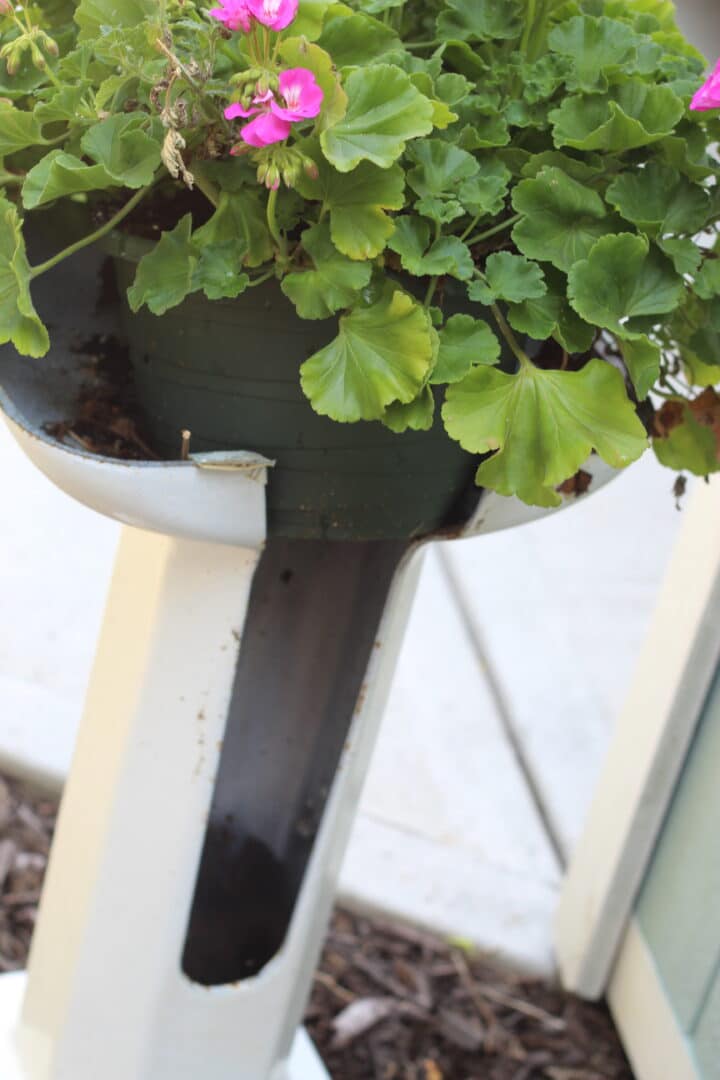 Shhhhh.   Don't tell I shared her secret!
I hope you enjoyed seeing how I use my vintage sink as part of my garden!  If you want to see my
5 x 8 bathroom remodel, click through the colored link.
Or, if you want to see more flowers, here is my favorite fall planter!
Fall Planter - Reusing summer grasses