Why I love basil
Basil is such a delicious herb when it is used in recipes requiring fresh basil! It has such a wonderful smell too. It's a very aromatic herb. There are so many uses for basil. Some recipes require fresh basil, some are totally fine with dried. Can I tell you one of the things I love the most about basil is that it is such an easy herb to grow!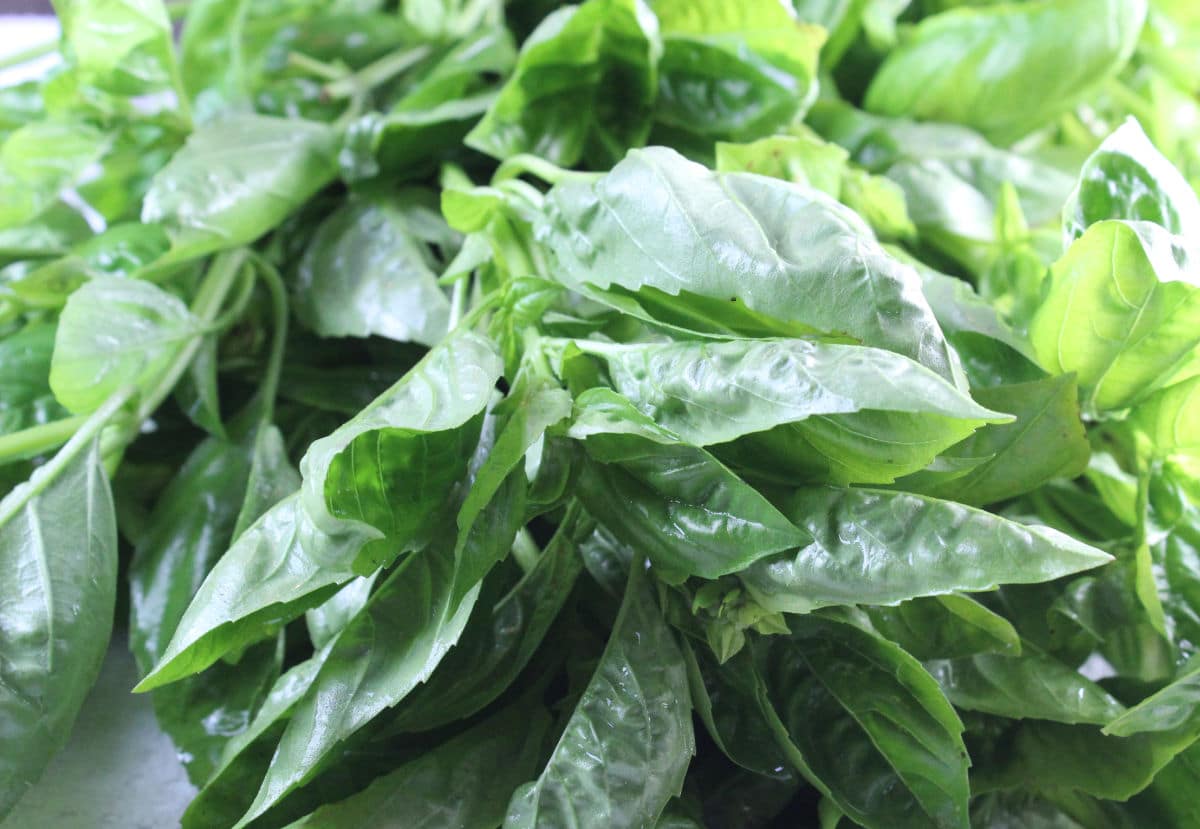 How to grow basil
Basil is a great herb to start indoors from seed. It's easy to grow and transplants well! Basil also produces a lot of leaves to harvest. You can also freeze basil in ice cube trays. Read how to make frozen basil cubes.
What to do with basil? Especially fresh basil? Here are a few recipes where I use basil. Nothing is better than bruschetta with fresh basil. In the winter, I love throwing a few frozen basil cubes in my best spaghetti sauce and Italian meatball recipe.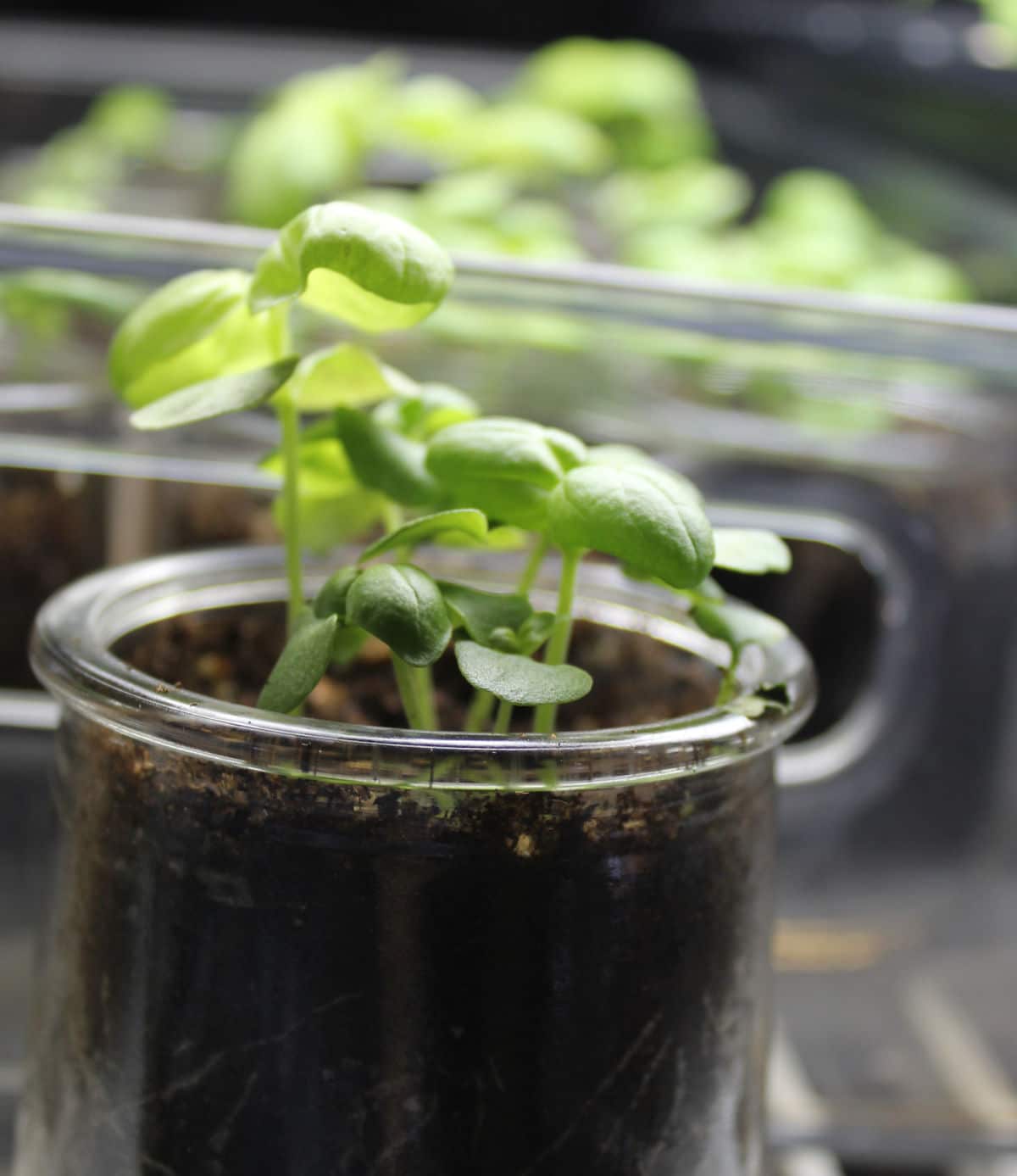 Basil easily grows outside, once the ground is warm and there is no more chance of frost. As a reference, I am located in Zone 5a, I watch the weather closely in May. Once it's the middle of May, and I don't see any further indications of frost in the weather forecast, I'm outside planting! If you don't know what zone you are in, take a look at the USDA Plant Zone Hardiness Map.
A lot of information you need to grow any type of plant from seed is just right on the back of the package. I buy sweet basil called Genovese. I do usually buy Burpee seeds but I watch for them to be on sale.
I do start my basil early, in my basement with fluorescent lights. I normally start basil about 4 - 6 weeks before I anticipate planting them outside. So for me, I plant my seeds around the end of March. One day, I may splurge and buy grow lights! But for now, I'm using what I have.
I used little glass yogurt containers last year because I planned on giving some plants away. The containers were so cute and they would be perfect to give away. If you do this, be very careful not to overwater since the water cannot drain. Part of why I enjoyed planting in a glass container, I enjoyed watching the roots grow.
The seed package says to plant about 3 seeds per 12-inch container. I did about 4-5 seeds in my little 2 ½ inch containers. That's kind of how many those fresh basil plants you buy at the grocery store have.
If you do grow basil from seed, you need to keep the seeds covered with a dome (to keep the heat and moisture in). You can buys seed trays with domes anywhere that you buy gardening supplies. Click through to see the type of trays and domes I like. If you buy them from a local store, they are just a few dollars and you can buy the number you need. But be warned, they often sell out!
Also, if you are starting seeds in your basement, most seeds need some heat to germinate. These are the heat mats I have to warm up the soil for germination. These seedling heat mats are made specifically for that purpose.
Once the seedlings germinate, I kept my fluorescent lights (or grow lights) just a few inches (2 -3) inches from the top of the plants. I put my lights and my heat mats on a timer and had both on for 12 hours per day. Once my plants were about an inch high, I added an oscillating fan on low, to gently blow on the young plants. The fan helps the plant become stronger (think an artificial breeze).
Here is a picture of some of my seedlings (the big leafy seedlings are beans) on a heat mat under my fluorescent lights.
How and where to plant your basil plants
Basil plants, whether you grew the plants or you purchased them, need to be planted when there is no chance of frost. Make sure the soil is at least 50 degrees or the plants won't grow. If you don't want to buy a thermometer to test the soil temperature, wait until the days are about 70 degrees and the nights don't go below 50 degrees.
You are supposed to plant the plants 6 inches apart (according to the seed package). I end up planting them much closer. If they get too crowded, I take my gardening scissors and cut a plant, and use the basil leaves in my planned recipe. As you can see, my basil plants were quite happy even though they were close together. These are about 4 feet high here.
Growing tips for basil.
Make sure you plant your basil in a sunny location. These plants need at least 6 hours of sun. The soil should be moist and well-drained. I have them in a 6 inch raised bed. Since you are going to eat the basil leaves, I recommend not using chemicals on these plants. A little compost in the soil is a great natural fertilizer.
To make sure your plants are nice and bushy, make sure to pinch off the center stem once there are 6 to 8 pairs of leaves. Pinch back to the first set of healthy leaves. Whenever you need basil, pinch back a stem. If it looks like flowers are starting to appear, pinch/cut them back by at least a few leaves. Flowering plants often causes the basil leaves to taste a bit bitter.
Is Basil an Annual or a Perennial?
Basil will not survive frost. They quickly turn black and no longer look or taste good. If you find you need to preserve a bunch of basil, drying it is the easiest way!
I tend to cut my basil stems, then wash and dry the basil while they are still on the stems. I blot gently with a clean dish towel. Then I often spread the stems out and move them around until they are dry. You want the basil leaves to be dry before placing the leaves in the oven to dry.
How to store basil on your counter.
Easy, just cut off a stem from your plant and keep it in water. A mason jar is perfect! Make sure to take off any leaves that would be under/touching the water. Change the water daily.
How to preserve basil by drying it in the oven.
Basil is an annual herb. That means you have to plant it every year. It is very sensitive to frost and will die when the frost is hard enough. Unfortunately, this favorite herb is NOT a perennial. But, it is one of the easiest to grow annual herbs. That helps make up for it not lasting through the winter.
Turn on oven to the lowest setting (around 150 - 200 degrees Fahrenheit)
I normally pick the leaves off the stems, but you could also snip them off.
Spread basil in a single layer.
Leave the basil in the oven for about 1 ½ to 2 hours until the leaves are noticably crunchy. I turn the oven off and leave the basil in the oven until the oven and basil leaves are cool.
Be warned, the basil leaves really shrink when you have dried them.
Place the dried basil leaves into a plastic bag.
Squeeze out the air from the bag and close the bag. Use your fingers to crush the leaves, or, you can use a rolling pin or a glass.
If the leaves are thoroughly dried, they will crush easily. I like mine a little larger once crushed but that is a personal preference.
Place crushed basil leaves in a glass storage container like a small mason jar. A few of the leaves were not crushed small enough so I just took a few seconds to use my fingers to make the sizes more uniform.
Store in a cool dark location.

FAQ's
I keep my dried basil until the next year when I have made my next batch from my homegrown basil.
Looking to freeze basil? Look at this How to freeze basil in cubes post.
My herbs grew so well in my raised garden beds! Here is how I put together my raised bed garden.