Simmer pots are an easy way to make your home smell fresh and inviting. I specifically love having a simmer pot blend because it doesn't contain chemicals like store bought air fresheners and the flavors and ingredients can be customized. In many cases, everything you need is already in your home or yard.
What is a simmer pot?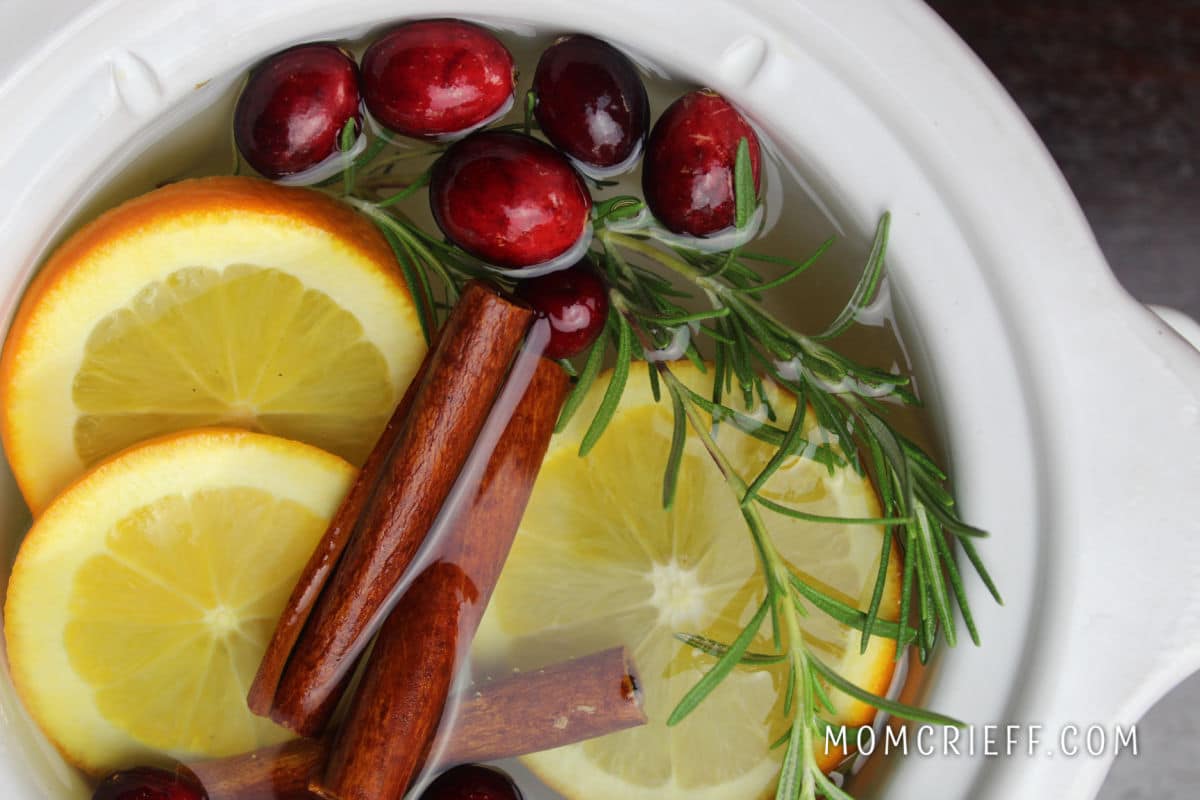 Essentially, it is a pot of water containing fragrant ingredients that are brought to a boil and then simmered on low heat. This accomplishes two things. It releases fresh flavors into the air and it also helps humidify the air. Personally, I love having a simmer pot when I'm home on a cold day!
How to do a simmer pot
A small saucepan can be used, however, I prefer using a small slow cooker (crock pot). You don't have to watch the slow cooker as closely to make sure there is sufficient water in it. This is a smaller slow cooker I have. I love the size and the color (and the price!). It's great when you want to have a small simmer pot on the counter. This smaller size, more along the size you would keep appetizer dips in or cook for a couple of people. A crockpot/slowcooker is perfect because it can keep your ingredients at a low heat.
Simmer Pot Ingredients
Items that have a fresh smell are the best. I combine certain groups, but let me give you some ideas as to what can be used. A simmer pot is usually made up of lots of water and 3 to 5 of the ingredients below. Ingredients can be from your fridge, pantry, garden or yard. Below are a few pictures and combinations showing you some of the ingredients you can use.
Simmer pot ideas
I love using different fruits in my simmer pots. The citrus scent especially, is very fresh.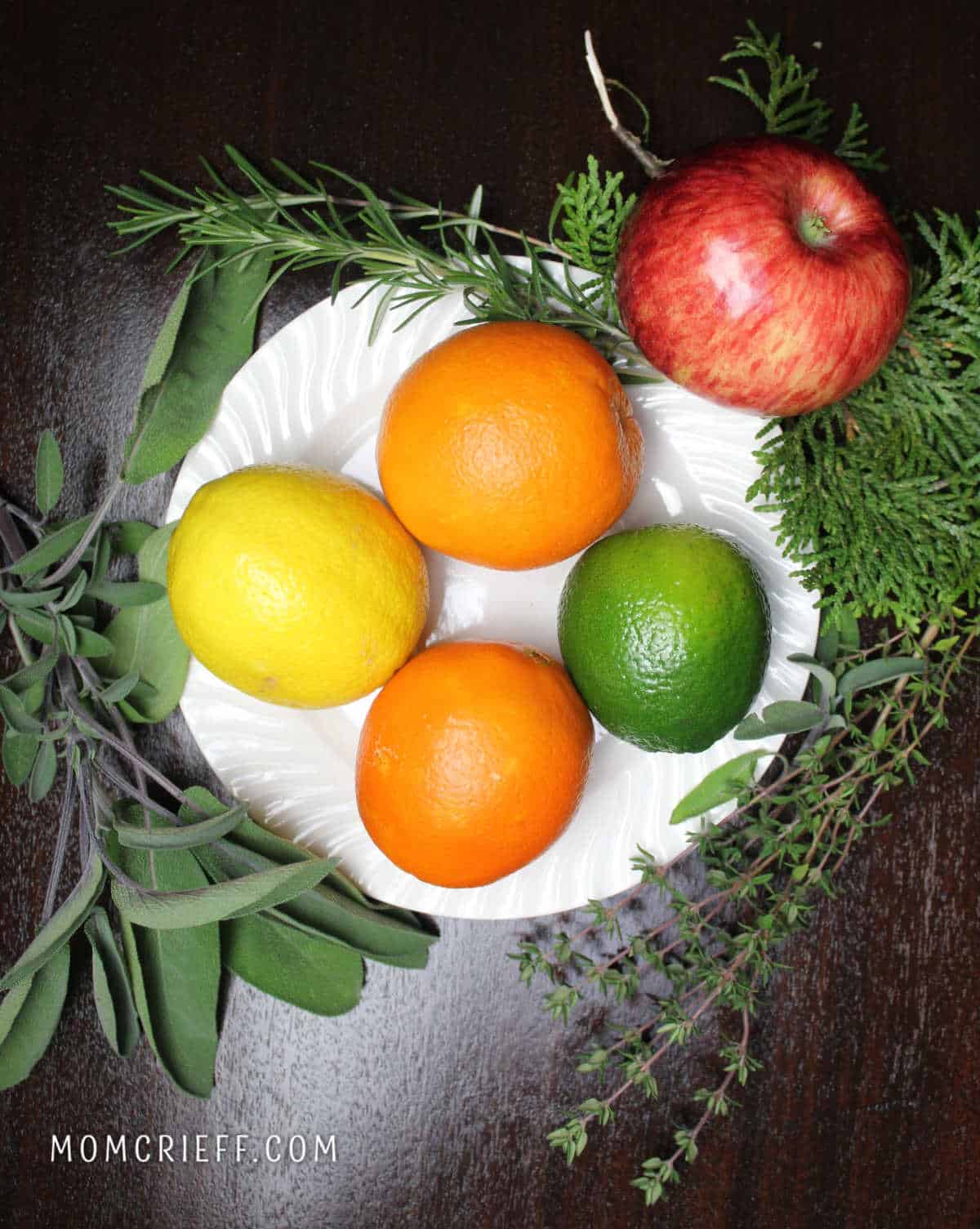 Orange slices
Orange peels
Lemon slices/lemon peels
limes/lime peels
grapefruit
Apples/apple slices/apple peels
Apple cider or apple juice
Cranberries (awesome for a splash of color!)
Herbs and spices (fresh if you can but dried also work)
Herbs and spices give depth and often a stronger scent. Think about cloves, cinnamon or lavender. They smell wonderful but are certainly stronger than simmering fruit.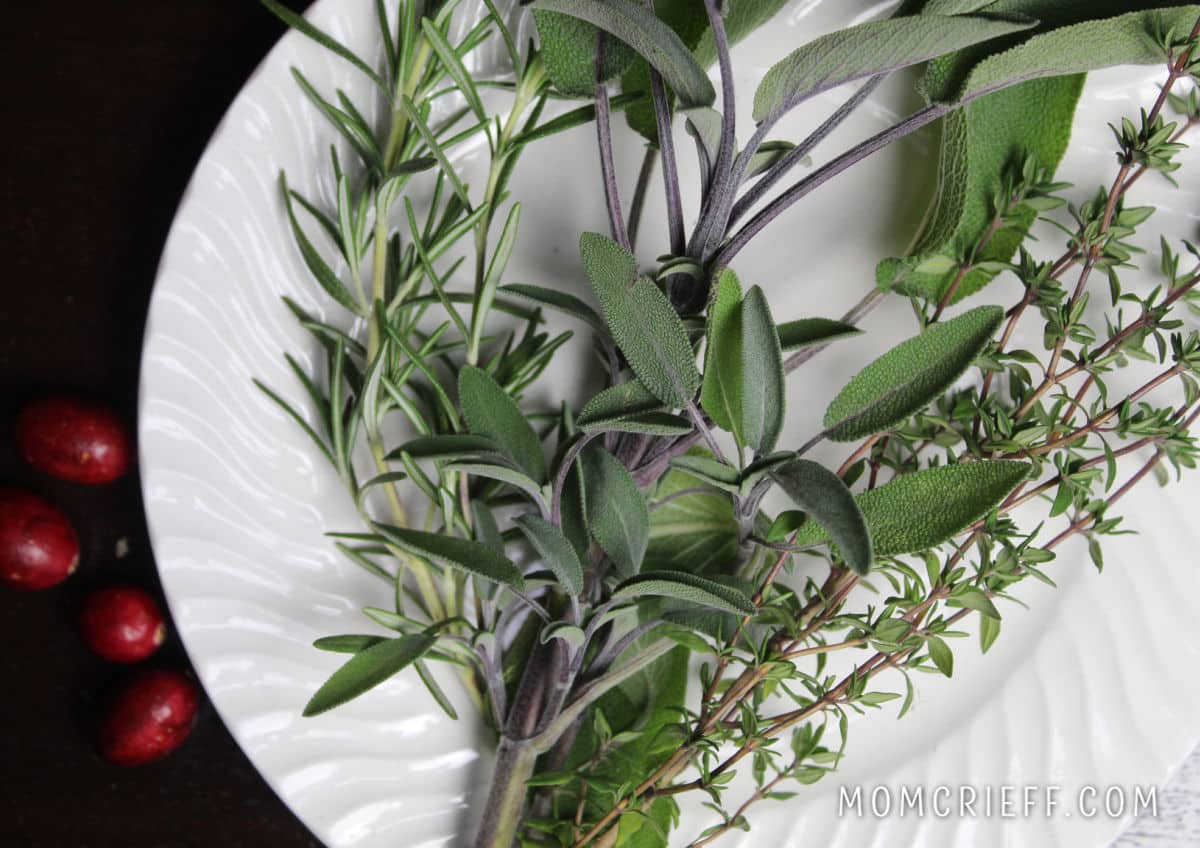 Sprigs of rosemary
whole cloves
vanilla extract
sprigs of thyme
star anise (so pretty!)
nutmeg
bay leaves
lavender
fresh rosemary
cinnamon sticks
fresh ginger slices
mint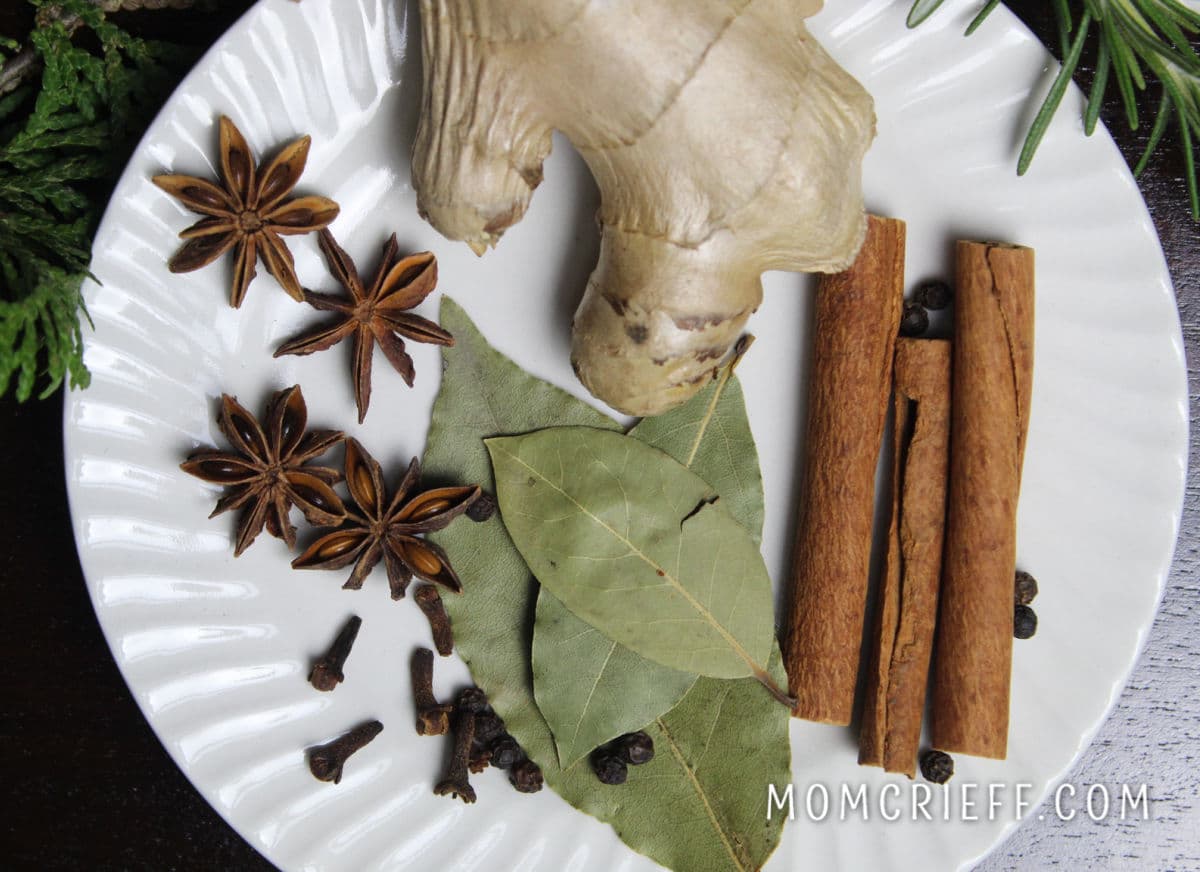 From the yard - non-edibles
If you enjoy the smell of the outdoors, make sure to choose a combination that has items from nature, like strongly scented trees. A little goes a long way!
a small sprig of cedar (arborvitaes work)
Spruce or pine from a tree
Combinations I use & enjoy
Modern simmer pots are about both fresh and clean scents and also have a pretty appearance. These are not the old stovetop potpourri mixtures that were brown and on the unsightly side. I'm including quite a few ideas, all of which I have tried and used.
Cranberry & lemon
This is my favorite fall simmer pot. Probably because it's just so pretty! And the cranberries are only available for a certain period of the year. Treat yourself to a cranberry simmerpot in the fall when those cranberries are plentiful and inexpensive in stores.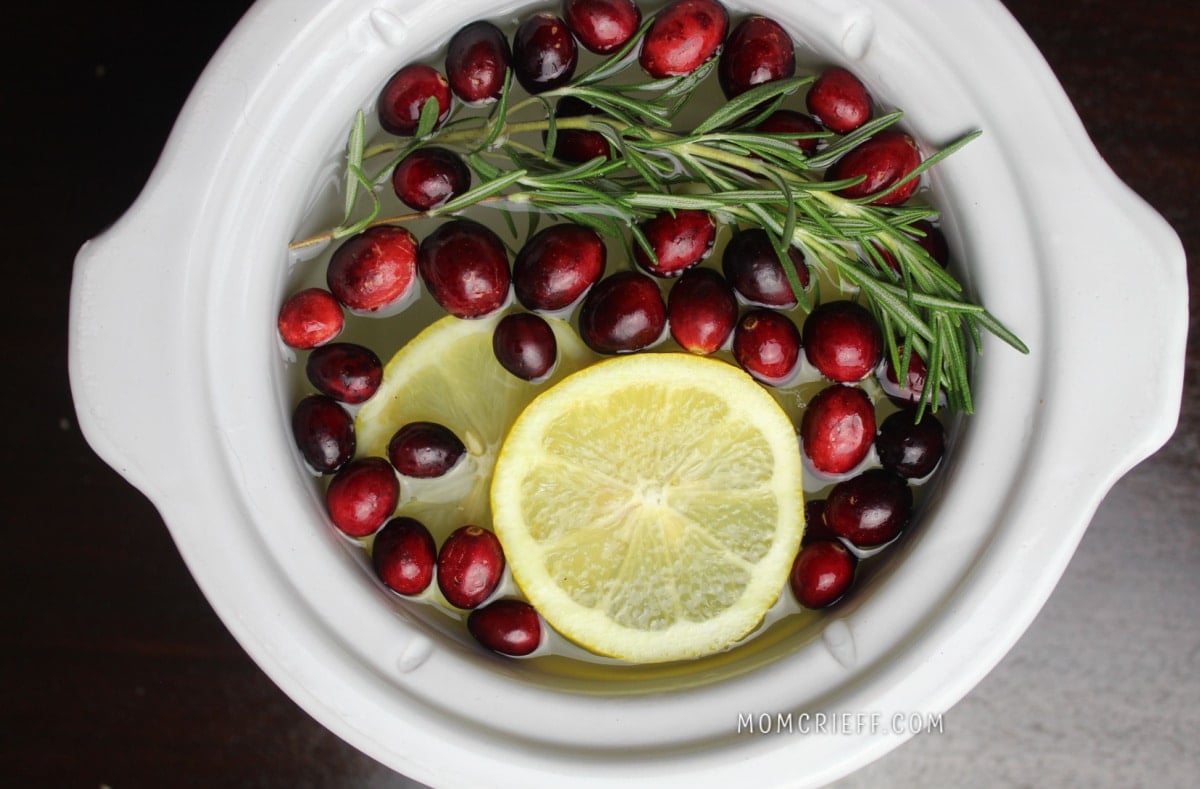 Sliced lemon
cranberries
rosemary sprigs
vanilla extract (a teaspoon or a tablespoon's worth, depending on how large your pot is)
The William Sonoma house smell
This was the first simmer pot recipe I ever used. It is widely shared that this is the Williams Sonoma simmering potpourri used in its stores . (I can't confirm, but their stores do smell divine!).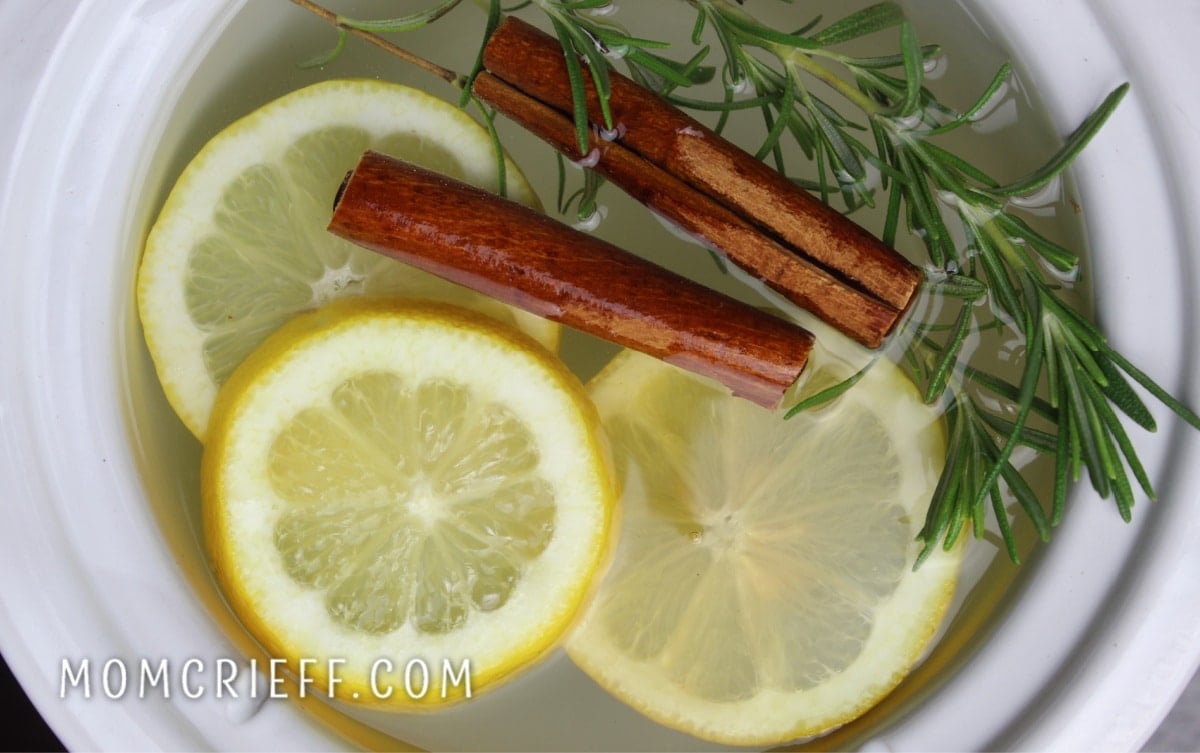 Sliced lemons
Rosemary sprigs
Cinnamon sticks
vanilla extract
Cranberries & oranges
Part of the apeal of simmerpots are how pretty the simmering combinations look. This combination is also one of my favorites.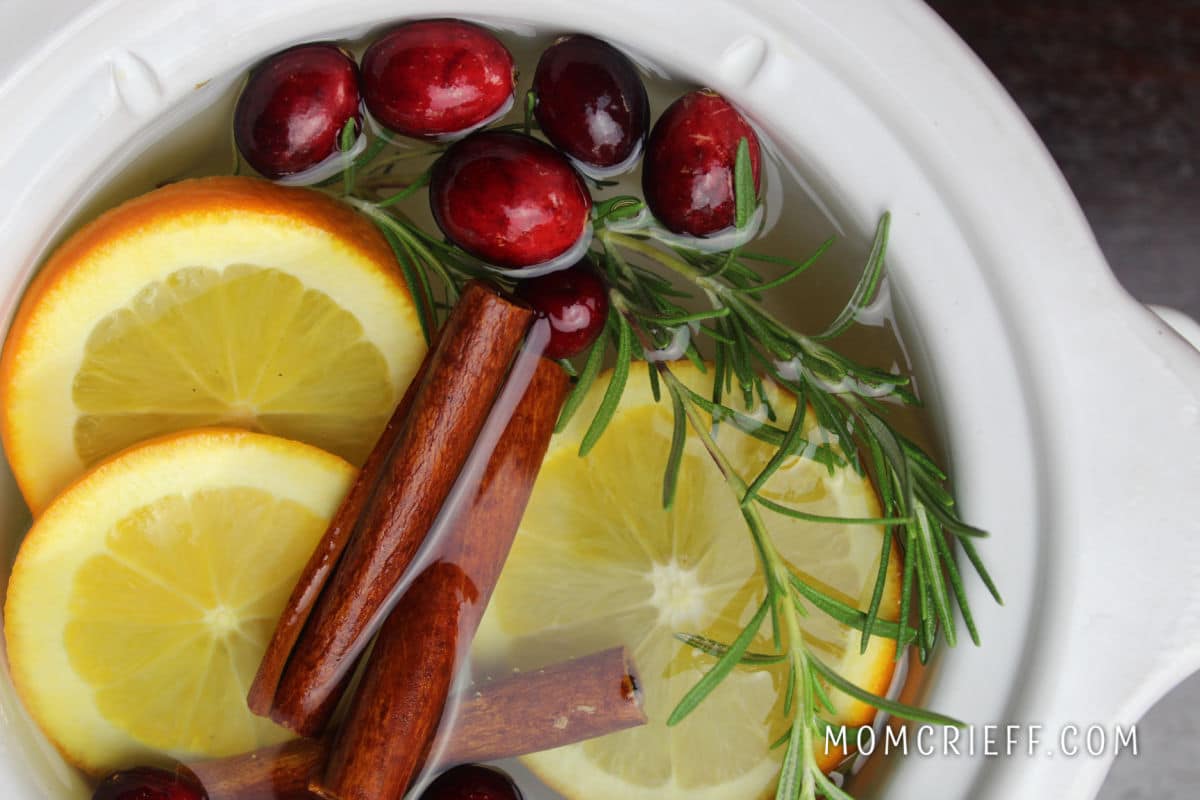 Cranberries
Orange slices
cinnamon sticks
sprigs of rosemary
Gingerbread
This is a winter favorite. When you simmer cinnamon sticks with cloves and anise, it's a wonderfully reach smell. Careful though, it might tempt you to start making cookies!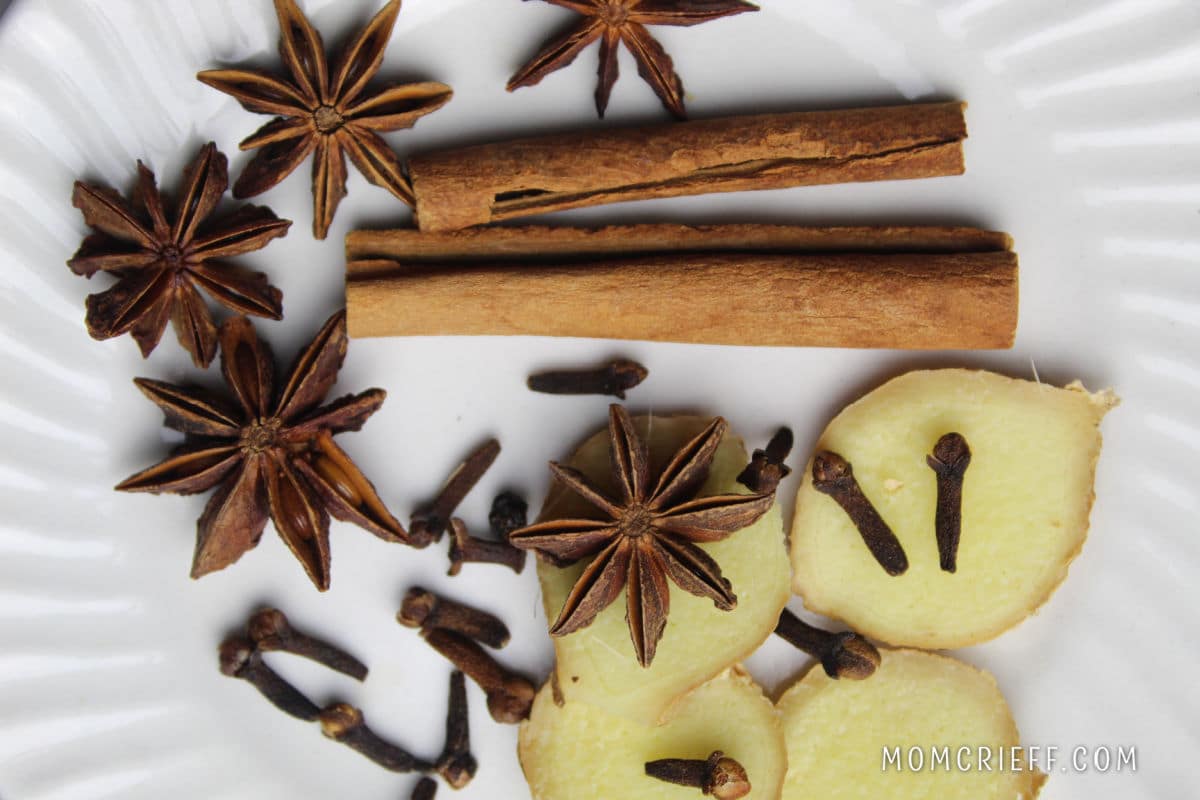 Thinly sliced fresh ginger
2-3 cinnamon sticks
whole cloves
whole star of anise
Orange & mulled Spices
Sliced orange
2-3 cinnamon sticks
mulling spices
A sprig or two of fresh rosemary
Citrus
This always smells fresh and clean in a house! I actully love using this when I'm in the house all day doing chores.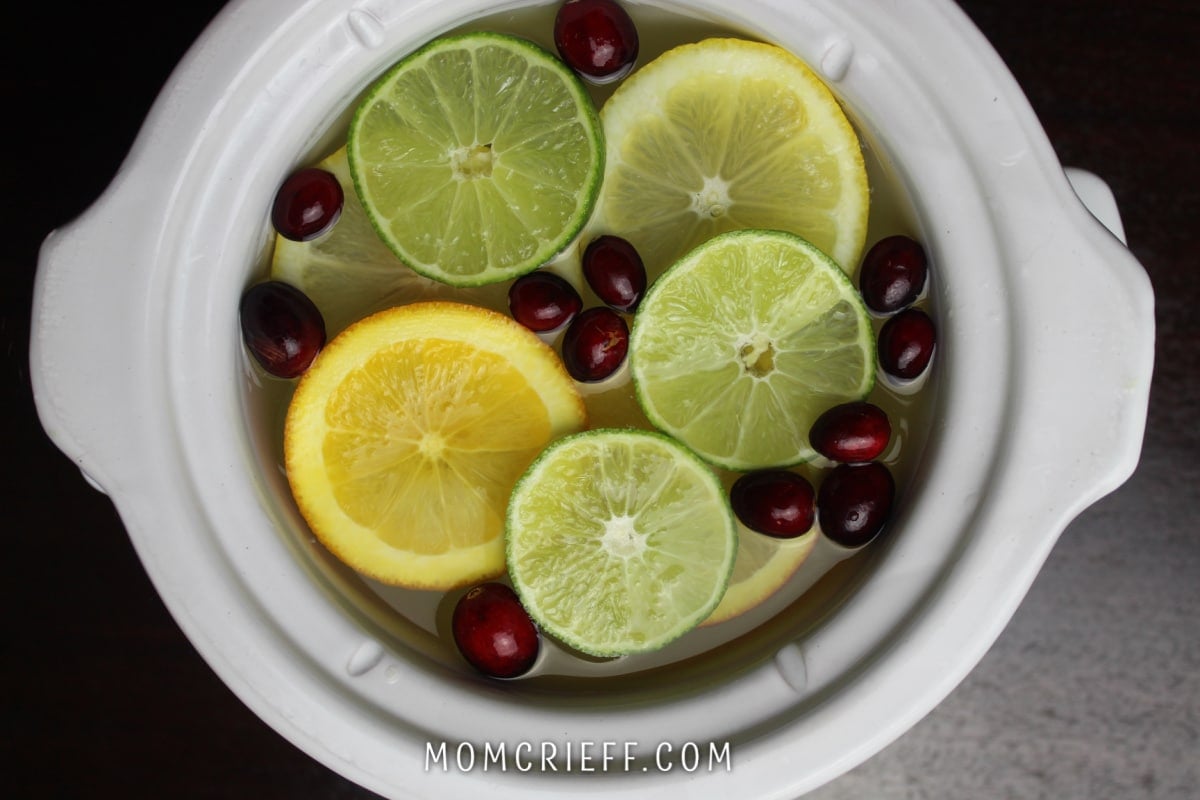 Slices of oranges, lemons and limes.
Cranberries (optional garnish)
In the Woods
I take small clippings of aromatic trees in my yard. To me, it smells like being in the woods! I consider these types of ingredients part of my fall simmer pot recipes.
None of these simmer pots are to be consumed. If you don't have a dedicated one, I would avoid using your food pot to heat items you would not consume.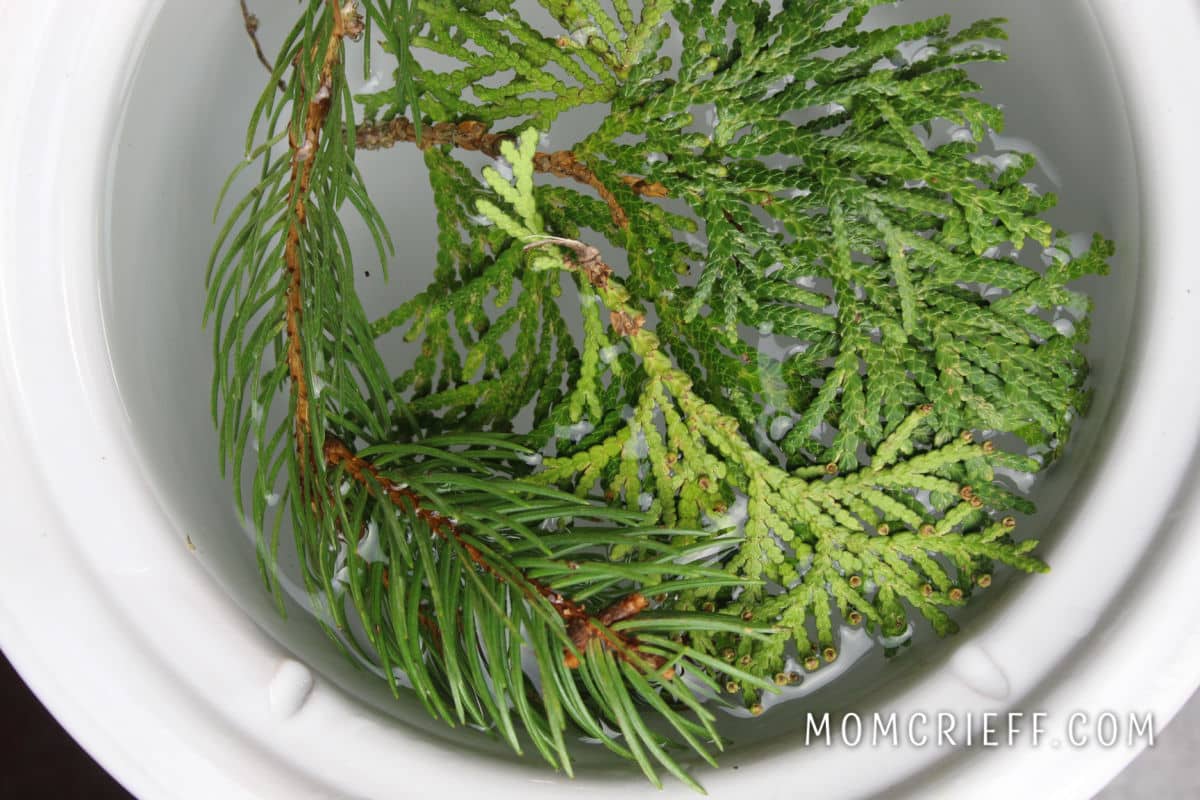 Clipping of cedar
clipping of spruce
Apple Pie
What goes better with apples than cinnamon? An apple simmer pot with cinnamon and cranberries will have your home smelling like fresh baked apple pie!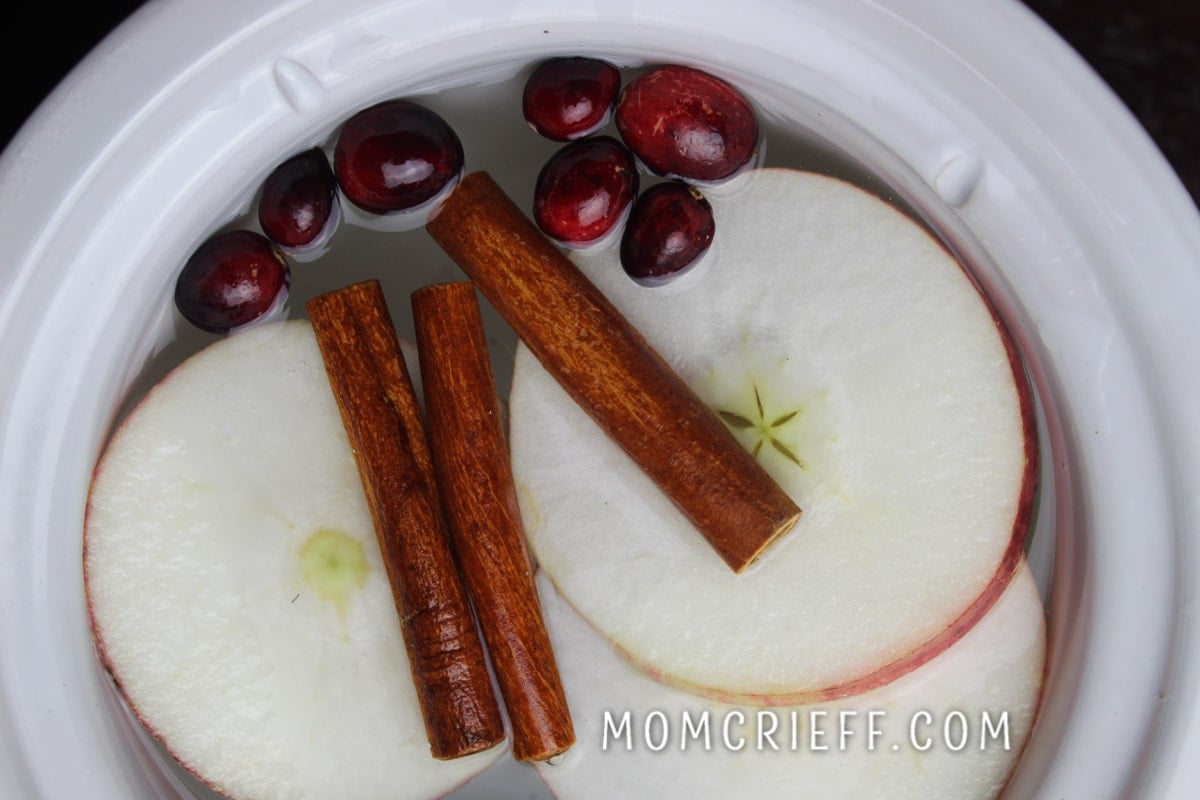 This is perfect when you have apples that are just past where you want to eat them.

Apple slices
Cinnamon
Cranberries (optional - for color,and flavor)
Ginger and Lemon
This simmer pot with lemon and ginger (with some cranberries for the pretty color) smells deliciously healthy.
Did you know these two ingredients make ginger tea? It's so good!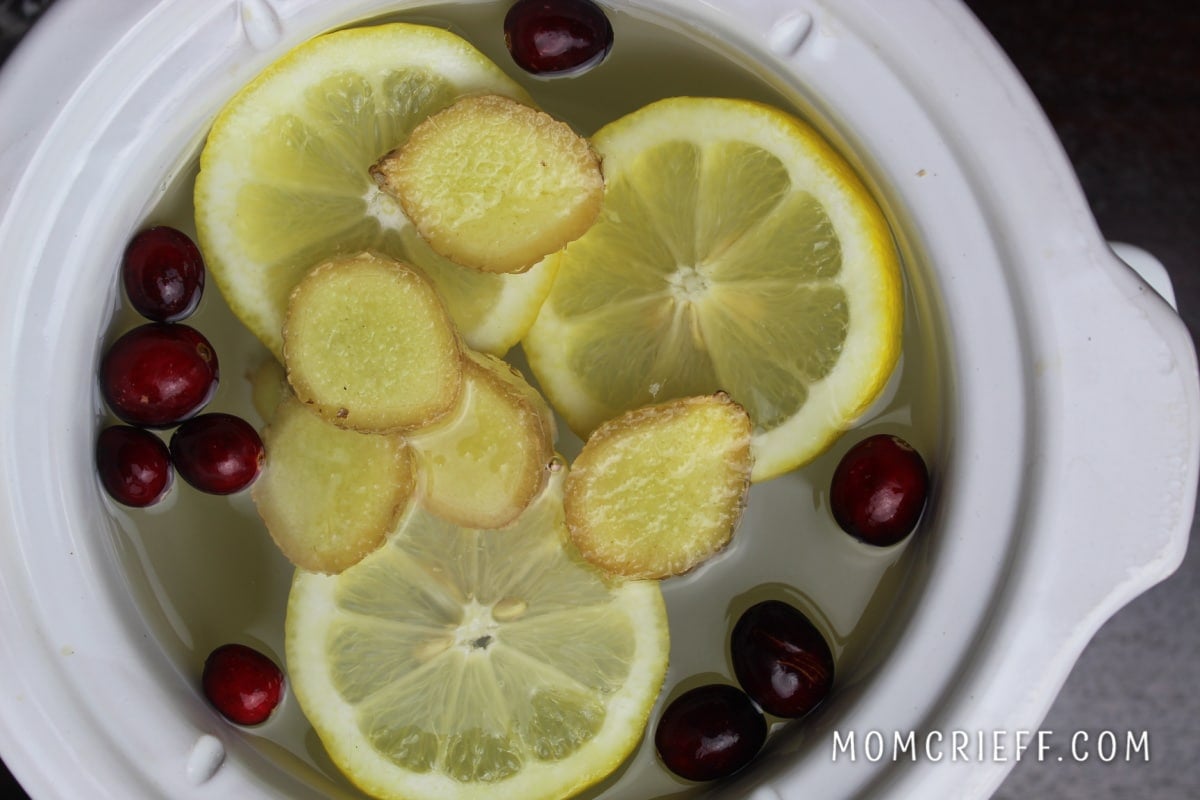 Thinly sliced fresh ginger
sliced lemon
(add something colorful for garnish - I had cranberries handy).
Smells like Chai!
This is a deliciously rich smell for that I enjoy in the fall and winter. It does smell like chai tea and looking at the ingredients, that shouldn't be a surprise.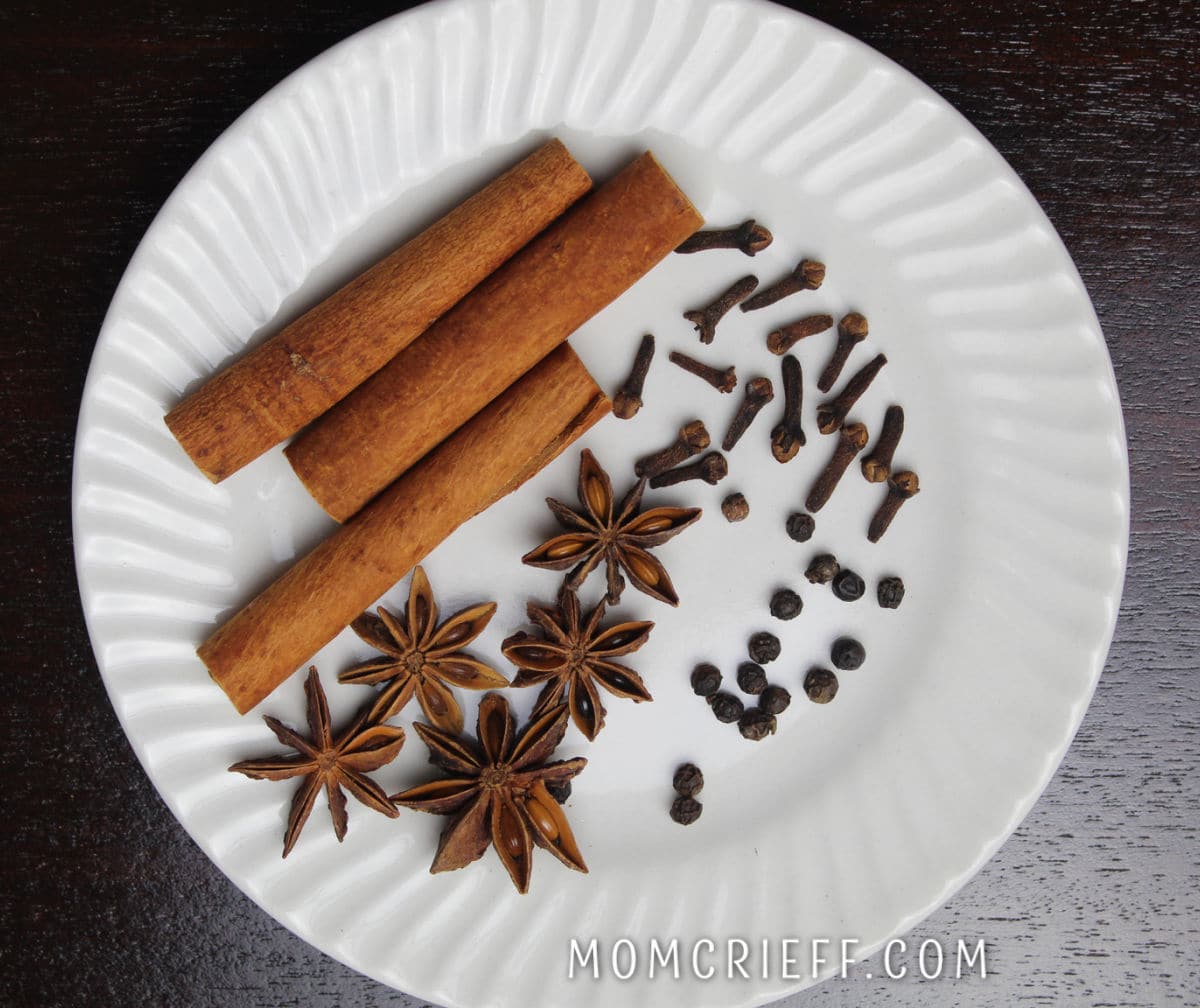 Speaking of tea, this mixture of anise (the star shaped spice), whole cloves, cinnamon sticks and whole peppercorns is such a wonderful scent on a cold day!

Cinnamon sticks
Whole anise
Whole cloves
peppercorns
Fresh outdoor scent!
Rosemary and cedar are a delightful fall scent!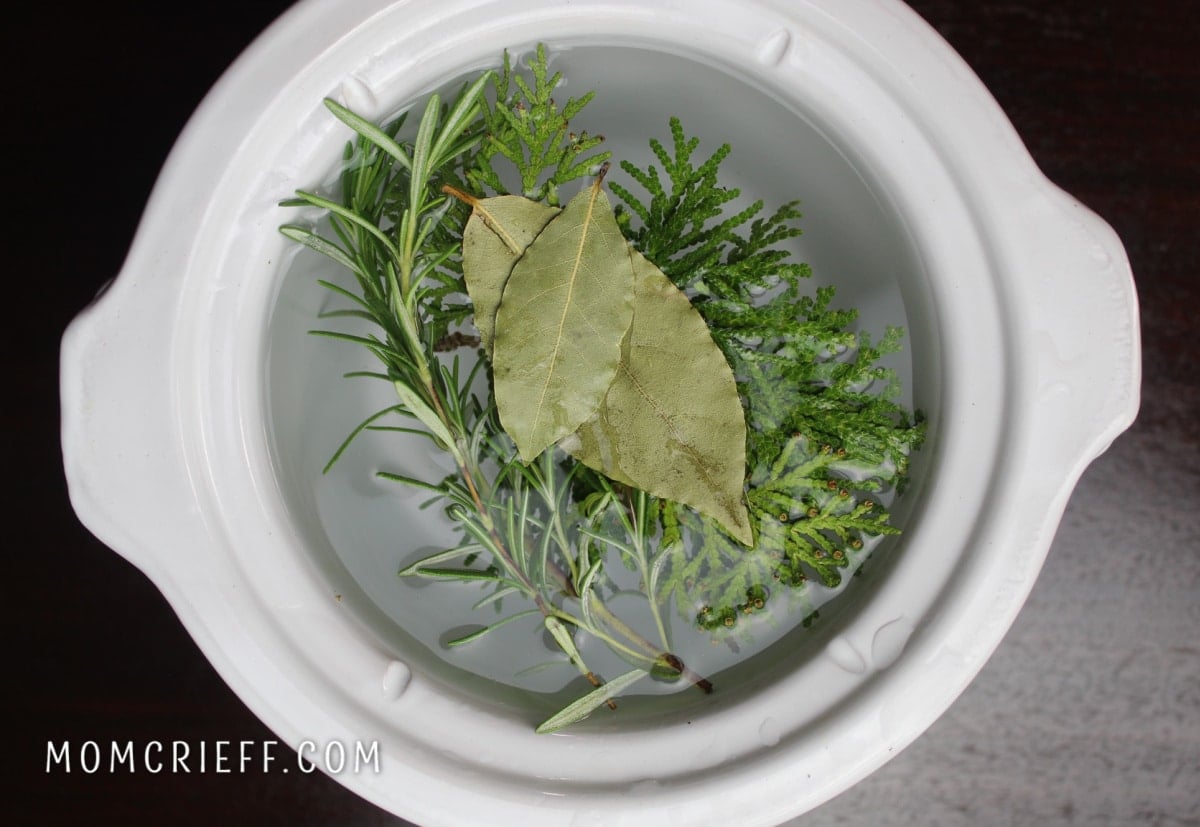 Clipping of cedar (not edible)
Sprigs of rosemary
Bay leaves
Cinnamon and Cranberries
Cinnamon with any type of fruit in it makes me think of pie. It just smells delicious!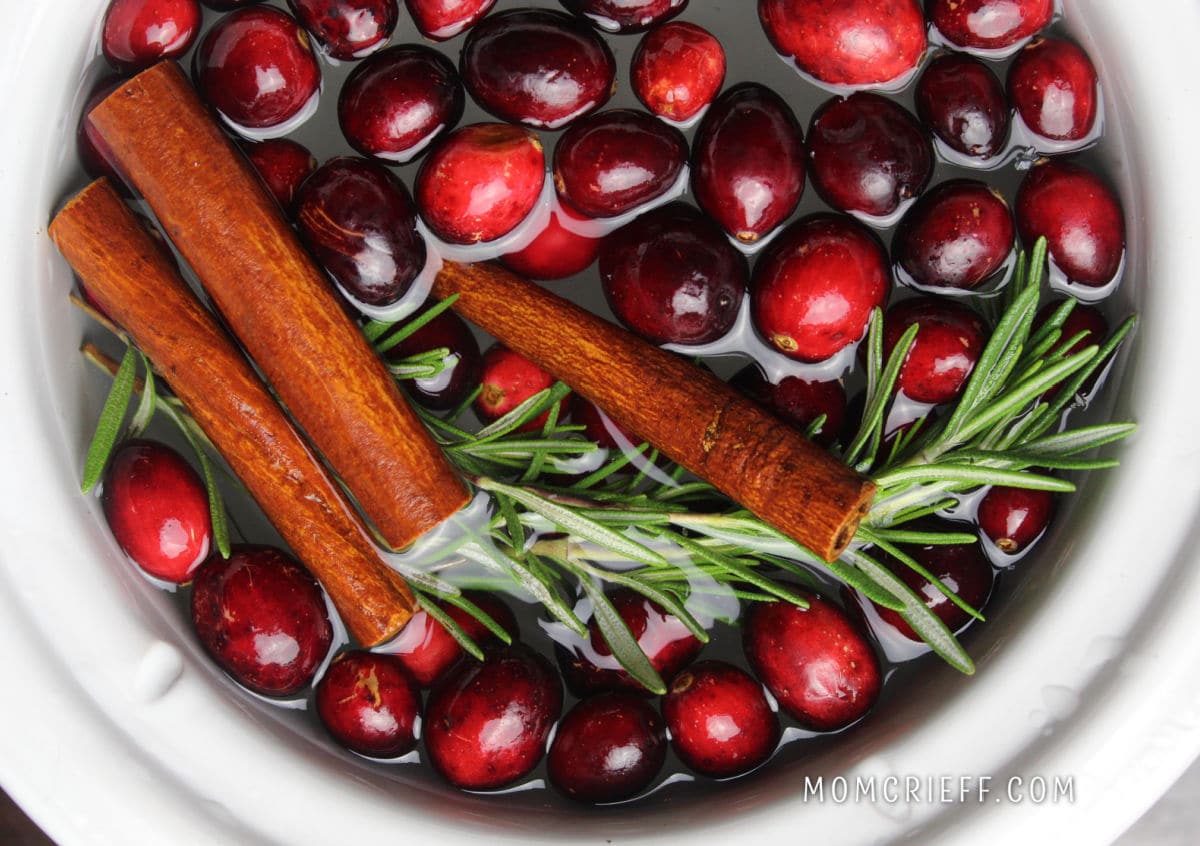 Cranberries (lots of cranberries)
Cinnamon sticks
Rosemary
Richly spiced orange
This orange cinnamon simmer pot is extra special with the addition of anise and cloves. It is such a wonderful scent, especially in cooler weather.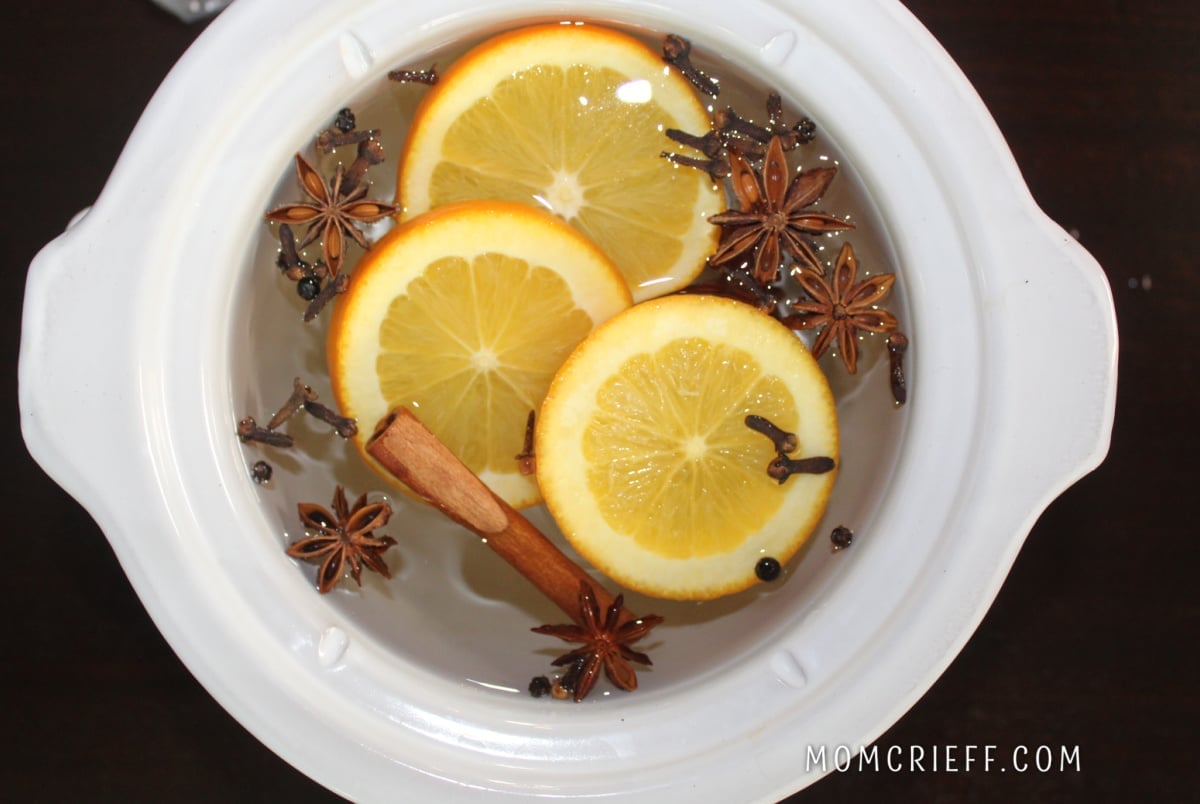 Did you know that anise is the flavor of black licorice? It's such a rich flavor!
Sliced oranges
Cinnamon Sticks
Whole Anise
Whole cloves

Lovely Lemon & Cranberry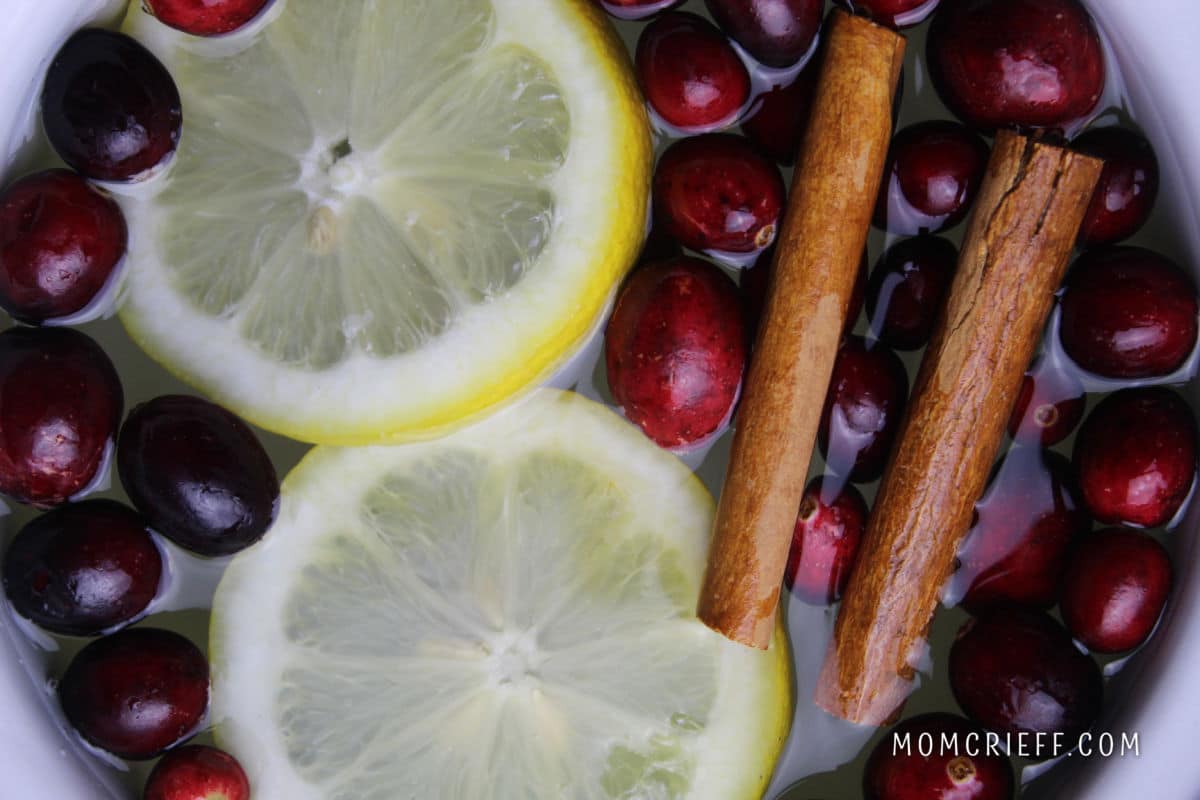 Lemon
Cranberries
Cinnamon
Orange Rosemary & Pine
A pine simmerpot always reminds me of cool outdoor weather. Enoy simmering this with some fresh additions like orange or lemon slices.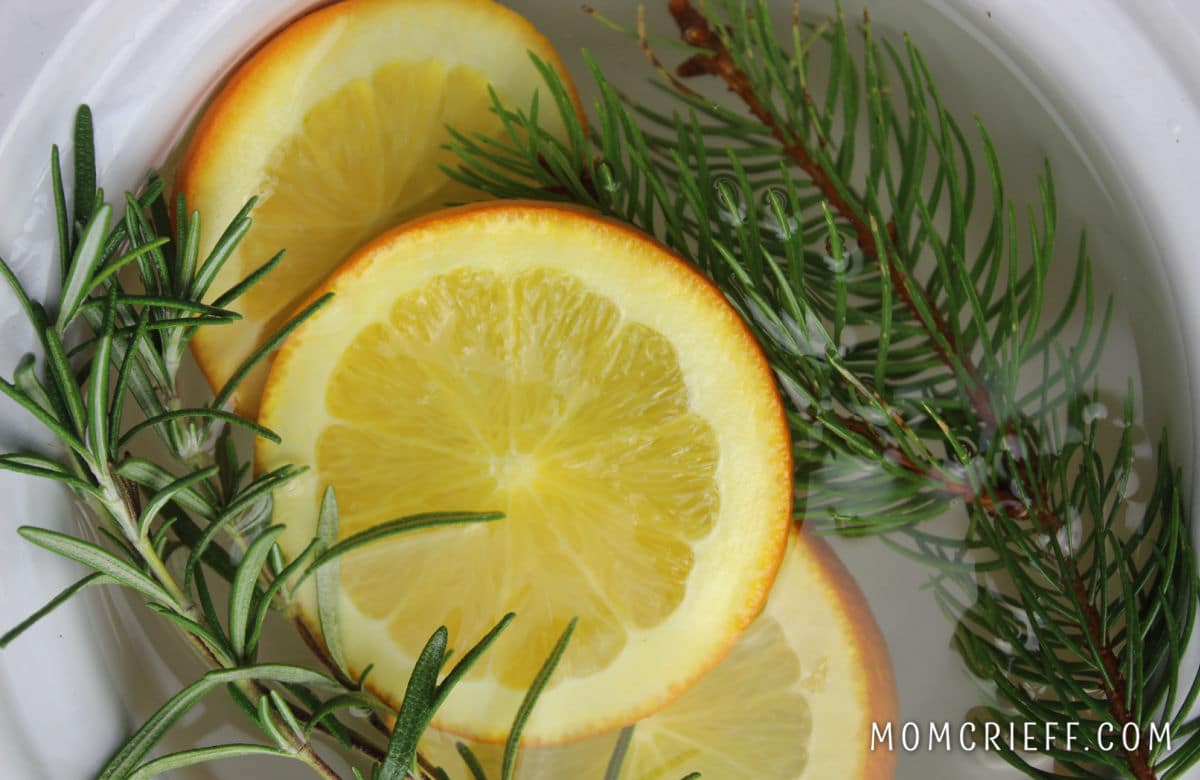 Another outdoor woods type scent!

Orange slices
Rosemary sprig
pine cutting
Fruit and Pine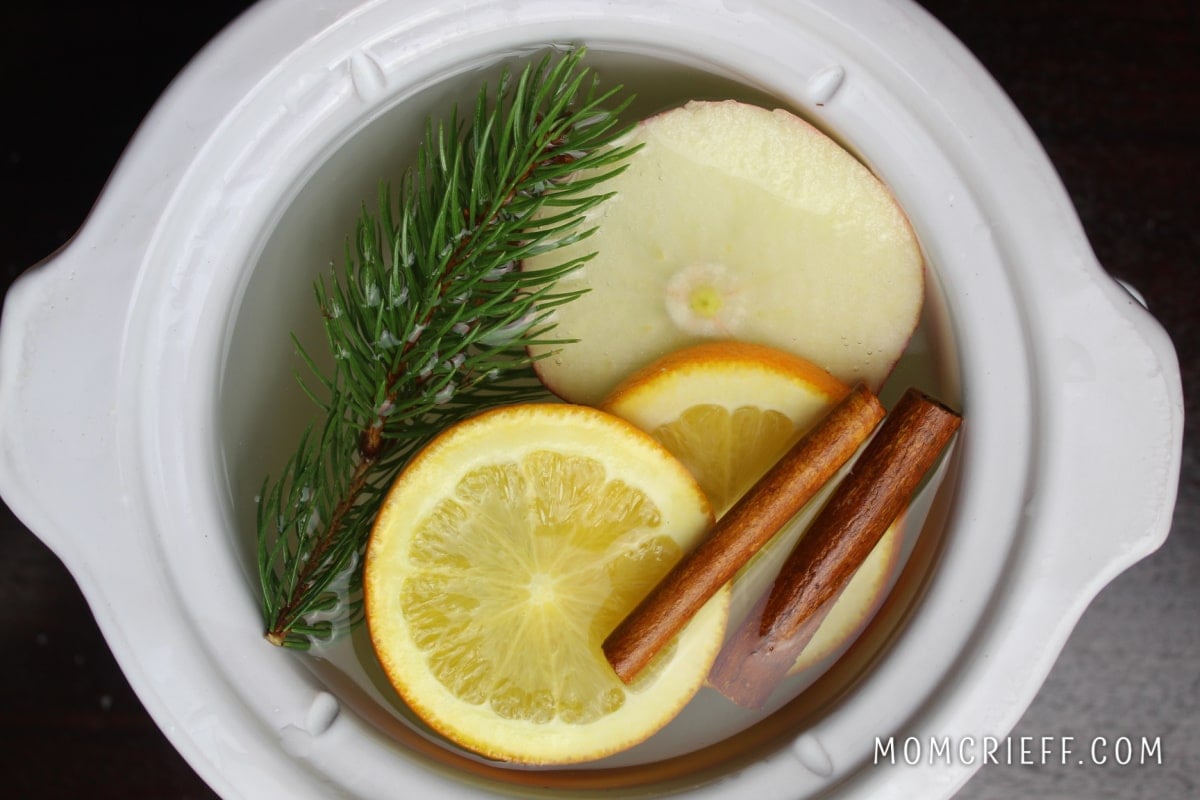 Orange slice
apple slice
lemon slice
cinnamon sticks pine sprig
vanilla extract
Lemon & Sage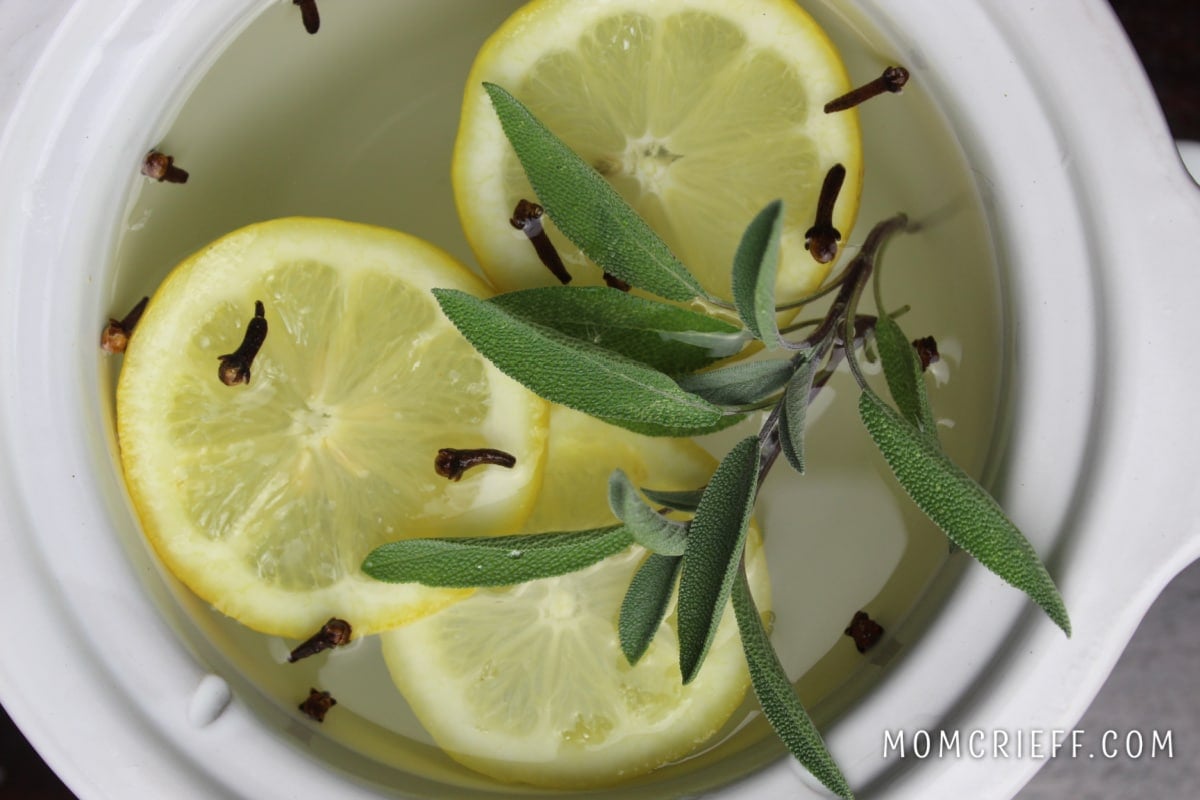 Makes me think of Thanksgiving!

Lemon slices
Sprig of sage
Whole cloves
Ways to save money with your simmer pot ingredients!
Some of these ingredients (looking at you cinnamon sticks) have become very expensive over the last few years. Here are some frugal ideas to obtain less expensive ingredients.
Use what is in season! Cranberries are beautiful and also add a nice scent in combination to other fruits, herbs and spices. Use these in the fall and freeze some!
Buy items on sale. Fruit for example. Buy the inexpensive apples or the citrus that is on sale that week.
Use up what you have. Apples not crisp? Slice them and use them this way.
Slice fruit peels and use those. Orange peels, apple peels can be sliced and used.
Buy things like cinnamon sticks at the dollar store or the bulk store. So much cheaper!
Use what is in your garden (or ask a neighbor who gardens if they can share).
Forage in your yard for fresh-smelling ingredients (cedar, spruce & fir trees).
Use up old herbs & spices in your spice drawer.
FAQs
Can I simmer these on the stove?
Yes, but the water evaporates quickly and you have to keep a closer eye on your stove top simmer pot.
How long can these be simmered?
Make sure there is water in the pot, or slow cooker at all times. I will simmer the same ingredients for a couple of days. After that, I find the scent is a little off and the ingredients don't look nice. It starts looking like that dried brown old poutporri that was around decades ago.
If you have any other ideas on how you make pretty but inexpensive simmer pots, let me know!
For those of you using these to add humidy into your home, take a look at this post called Increasing Humidity in a Dry House.

Sign up to read about easy recipes, gardening tips and my 100 year old home.
If you enjoyed these simmer pot combinations, please pin this to your Pinterest account!