Quick and easy cucumber sandwich apps.
In spite of having tried tons of appetizers, these cucumber sandwiches are still one of my favorite appetizers! The bonus, this recipe is easy to make. It is inexpensive and it's quick to put together.
Plus, with the cucumber slices, it's refreshing and it looks nice. What more could someone want from an appetizer?
When to serve Cucumber Sandwiches | Appetizers
These appetizers are perfect for so many different kinds of get-togethers!  They are perfect for a baby shower, bridal showers, brunches (especially Mother's day brunch) and other events that lean a little to more formal two-bite foods.
Whenever a finger food appetizer is appropriate, these work well.  I've brought them to book club and I've seen them at bunko get-togethers.  It doesn't need to be a fancy event.  Everyone loves the flavor and the ease to eat them.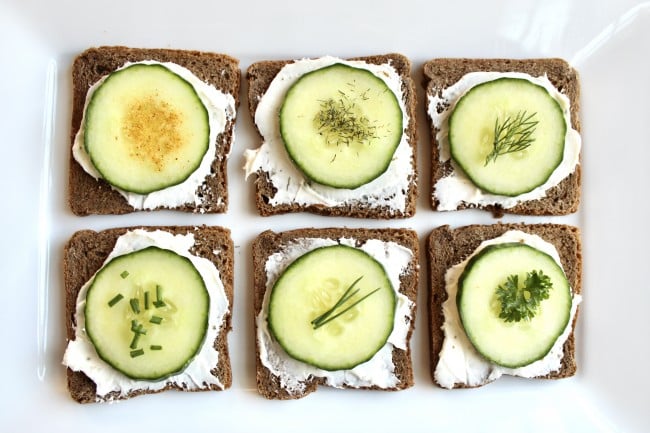 Ingredients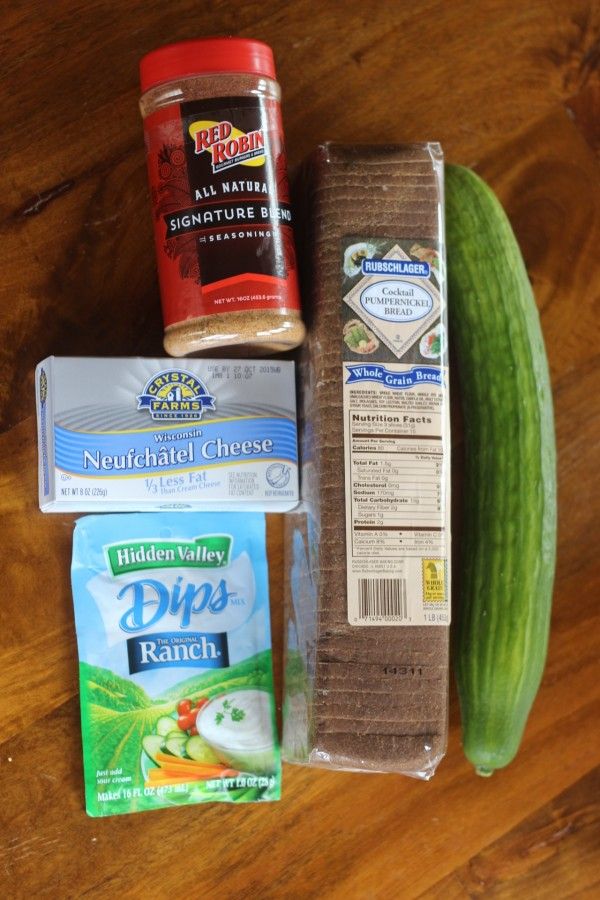 Thinly Sliced English Cucumbers
8 oz block Cream cheese (or Neuchâtel)
dry Ranch dressing (1 package or 2 Tablespoons)
2 - 3 Tablespoons mayo
Small square pumpernickel bread (are about 2 inches square - most grocery stores have it)
Dill fresh or dried, chives, or parsley (optional as garnish)
Seasoned Salt (about ½ teaspoon - optional as garnish)
Instructions
If trying to make these sandwiches fancier, slice some of the cucumber peel off down the length.
Slice the cucumbers thin. Two or three thin slices are better than one thick one!
Stir about ⅔ of the ranch dressing package into the cream cheese (or 2 tablespoons if you have the bulk powdered Ranch dressing) in a small bowl. Make sure it's well mixed. If you have time, let it sit in the refrigerator for a few hours to blend the flavor.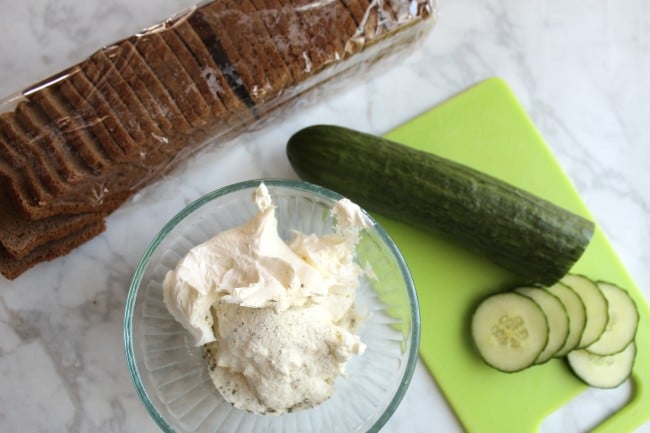 Spread some of the cream cheese/ranch mixture on each pumpernickel slice.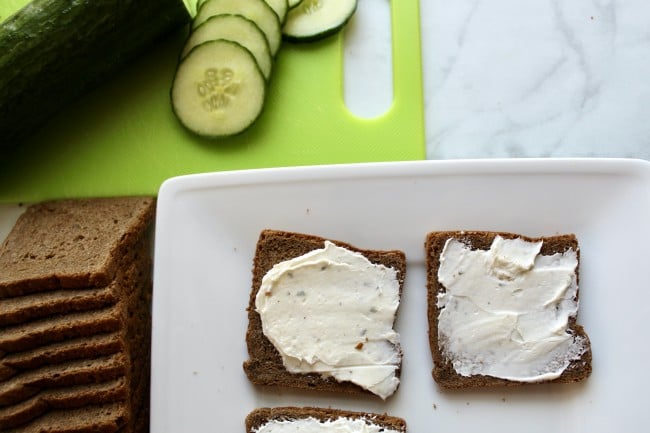 Different flavor toppings for these cream cheese and cucumber appetizers
There are optional toppings that can be put onto the pumpernickel bread squares.  I like to make them look pretty!  I did this little platter just to show you my favorite garnishes.  Aren't they pretty?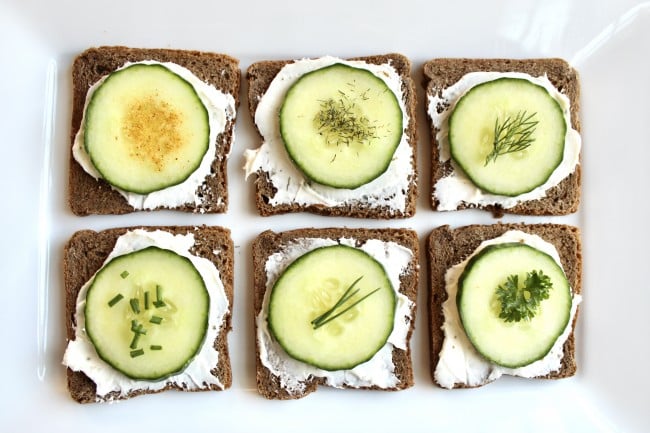 Below, on the left,  are just the tips of some chives.   You don't need many to make a pretty presentation.  Beside that is a small parsley leaf.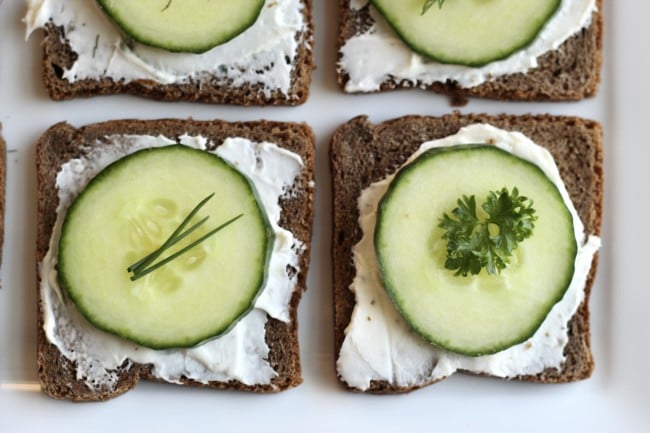 On the left, below, are some chopped chives.   If you aren't familiar with chives, they have a very mild onion taste.  They are used more for garnish, rather than the flavor.
To the right is just a quick sprinkle of some seasoned salt.  As you can see, it adds a little color and contrast.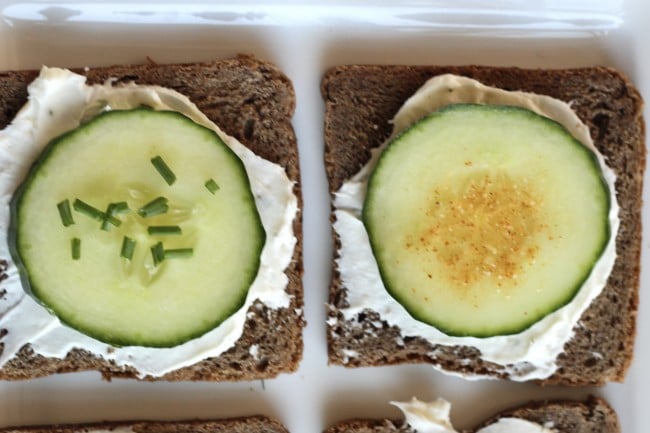 My favorite garnish is a little sprig of fresh dill!  That's the one below, on the right.  It looks so pretty and is so flavorful!  If you don't have fresh dill handy, I also use dried dill from my pantry.  It's certainly appropriate, especially in seasons when you can't grow dill!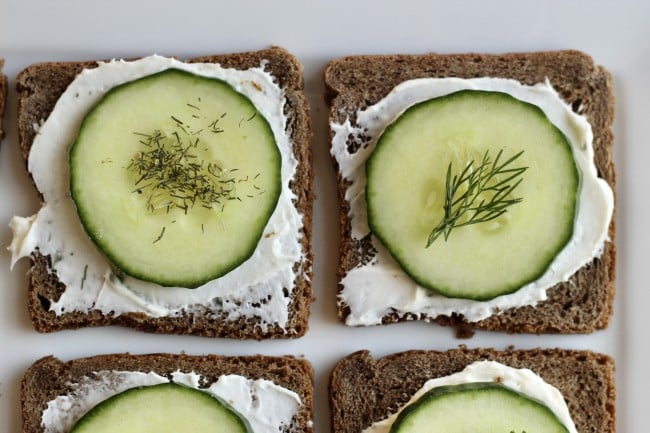 I think the crunch of the cucumber is very refreshing on a cold day.  This is one of those tiny appetizers that people like to try, then come back for more.   I usually load another plate to bring along so I can restock my tray.
A note about the cucumbers
If you are using English cucumbers, I leave the skin on.  English cucumbers are often called burpless cucumbers.   They are the long skinny cucumbers and are often covered in plastic wrap in the grocery store.   The seeds are very small and the skin is tender.
If you cannot find English/burpless cucumbers, use regular ones but make sure to peel them. It might be a good idea to let some of the moisture soak into a paper towel before using.  I sometimes also remove the seeds and then just place 2 or three cucumber sliced halves on the bread.
What are cucumber sandwiches?
The above is more of a pretty to display appetizer.   A cucumber sandwich is made with very similar ingredients.   They are often called cucumber finger sandwiches or cucumber tea sandwiches.   These are also English tea sandwiches.
How do you make cucumber tea sandwiches vs. cocktail appetizers?
Easy!   Instead of putting the seasoned cucumber spread on the small pumpernickel squares, put it onto white bread.  Make sure to put a layer on both sides of the bread to prevent the bread from getting soggy.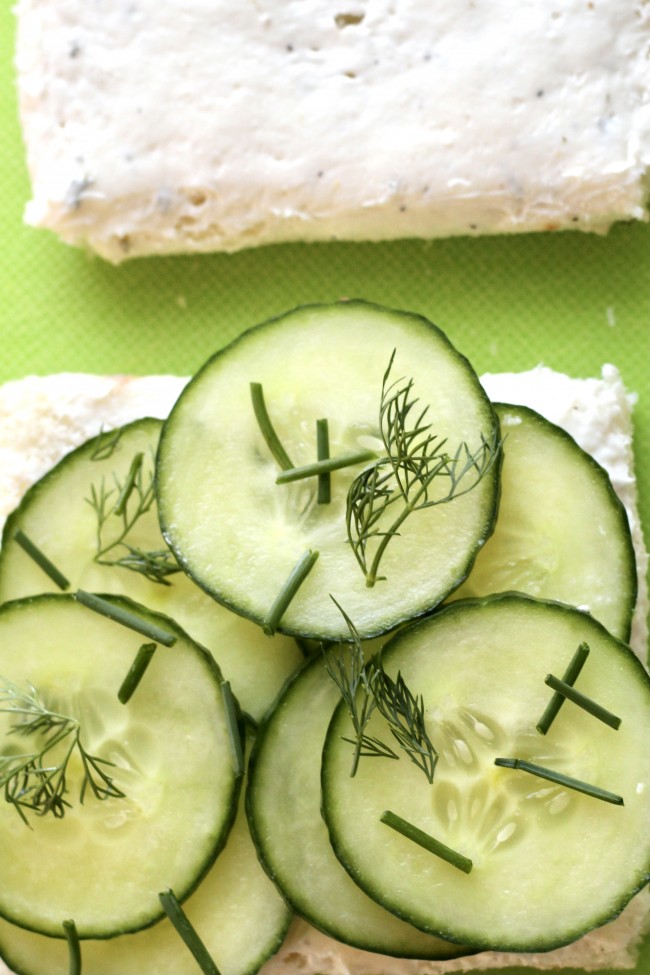 I still love putting herbs or garnishes on so that the cucumber cream cheese sandwiches have that extra , especially if you can use fresh herbs!
The most important thing! Cut the crusts off! I like cutting the crusts off before adding the cream cheese spread, but some people do it after the sandwich is assembled.  Make sure to use a sharp knife or even a serrated knife. You don't want ragged edges on the bread!
Cucumber tea sandwiches can be cut into triangles.  But, I often just cut the sandwich into 4 quarters.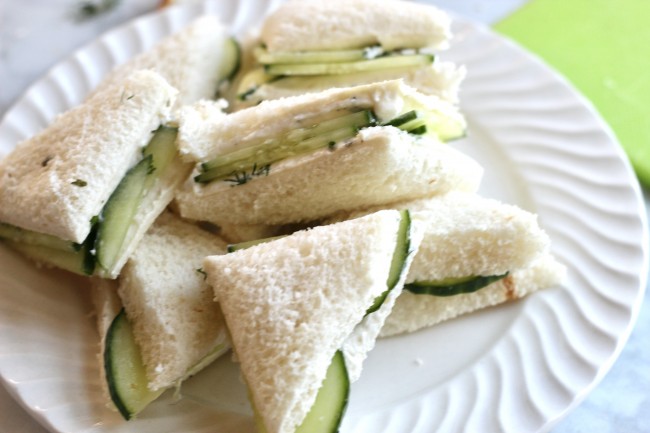 These sandwiches are always so fresh-tasting and delicious.
These sandwiches are perfect for a ladies' luncheon (or tea), picnic, lunch, or even just a snack.  They are vegetarian and a nice simple option for something different!
Just as an FYI, I also have a delicious recipe for Tomato Sandwiches on this site!
Print
Cucumber Sandwiches and Appetizers
A quick, easy and inexpensive appetizer.  The cream cheese spread and cucumbers on a square of pumpernickel bread is delicious and refreshing.  I have never brought any leftovers home (I usually bring extra bread, cream cheese mixture, and sliced cucumbers so I can assemble them if more are needed).
Author:
Prep Time:

30 minutes

Total Time:

30 minutes

Category:

appetizer

Cuisine:

American
If you are making a lot,
Sliced English Cucumbers - a mandoline slicer may be helpful if making a lot.
8oz Cream cheese (or Neuchâtel)
⅔ of a package of Ranch seasoning (or 2 TBSP if you have Ranch in a container)
2 TBSP mayonnaise (it helps make this spread more spreadable)
Small square pumpernickel bread (are about 2 inches square - most grocery stores have it)
Dill fresh or dried, fresh parsley, or chives or seasoned salt(optional as garnish)
If making cucumber sandwiches
Use white bread instead of the cocktail squares.
Instructions
Slice cucumbers.  I slice mine very thin.
Stir about ⅔ of the ranch dressing package into the cream cheese.  Make sure it's well mixed.  If you have time, let it sit in the refrigerator for a few hours to blend the flavors.
Spread some of the cream cheese/ranch mixture on each pumpernickel slice.
Sprinkle dill, chives, or seasoning salt on top of the cucumber as a garnish.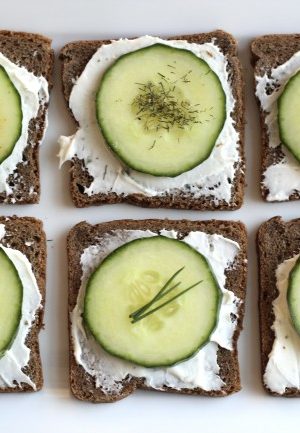 If making cucumber sandwiches
Spread cream cheese mixture onto each side of the white bread (with crusts cut off)
Place 2 to 3 layers of thinly sliced cucumbers.
Garnish the cucumbers
Cut sandwiches in squares or triangles.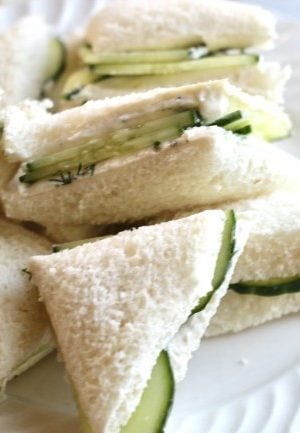 Notes
Whatever you call these, cucumber appetizers, cucumber cream cheese tea sandwiches, cucumber tea sandwiches or even cucumber finger sandwiches, these are refreshing and delicious.
If you have any leftover seasoned cream cheese, it's also wonderful as a dip!  A little on your favorite veggies (red peppers) is a pretty and handy snack.
Store in an airtight container, in the fridge. If they are going to be in the fridge for more than a few hours. I place a piece of waxed paper on the sandwiches and a slightly damp paper towel on top.  That way the sandwiches don't get dried out.
Note they are vegetarian (but not vegan).
Keywords: Cucumber appetizer, cucumber sandwiches, tea sandwiches
Making cucumber sandwich appetizers is a great way to use up some of those cucumbers that are starting to ripen in the garden!!
Take a peek at my favorite Creamy Dill Pickle Pasta Salad.  If you like pickles, you will LOVE this salad!
Need a super easy three-ingredient dessert?  When you need something quick, this Three Ingredient Peach Cobbler | Dump Cake is perfect!!
My favorite HOT appetizer with melted cheese
Raspberry Baked Brie (with baked pastry around it)