One of the side effects of cold winter air is dry air in your house. It causes discomfort such as dry skin, irritated sinuses and chapped lips. There are many ways to increase the humidity in your home, some high-tech and some low-tech. Obviously, the high-tech methods are the more expensive.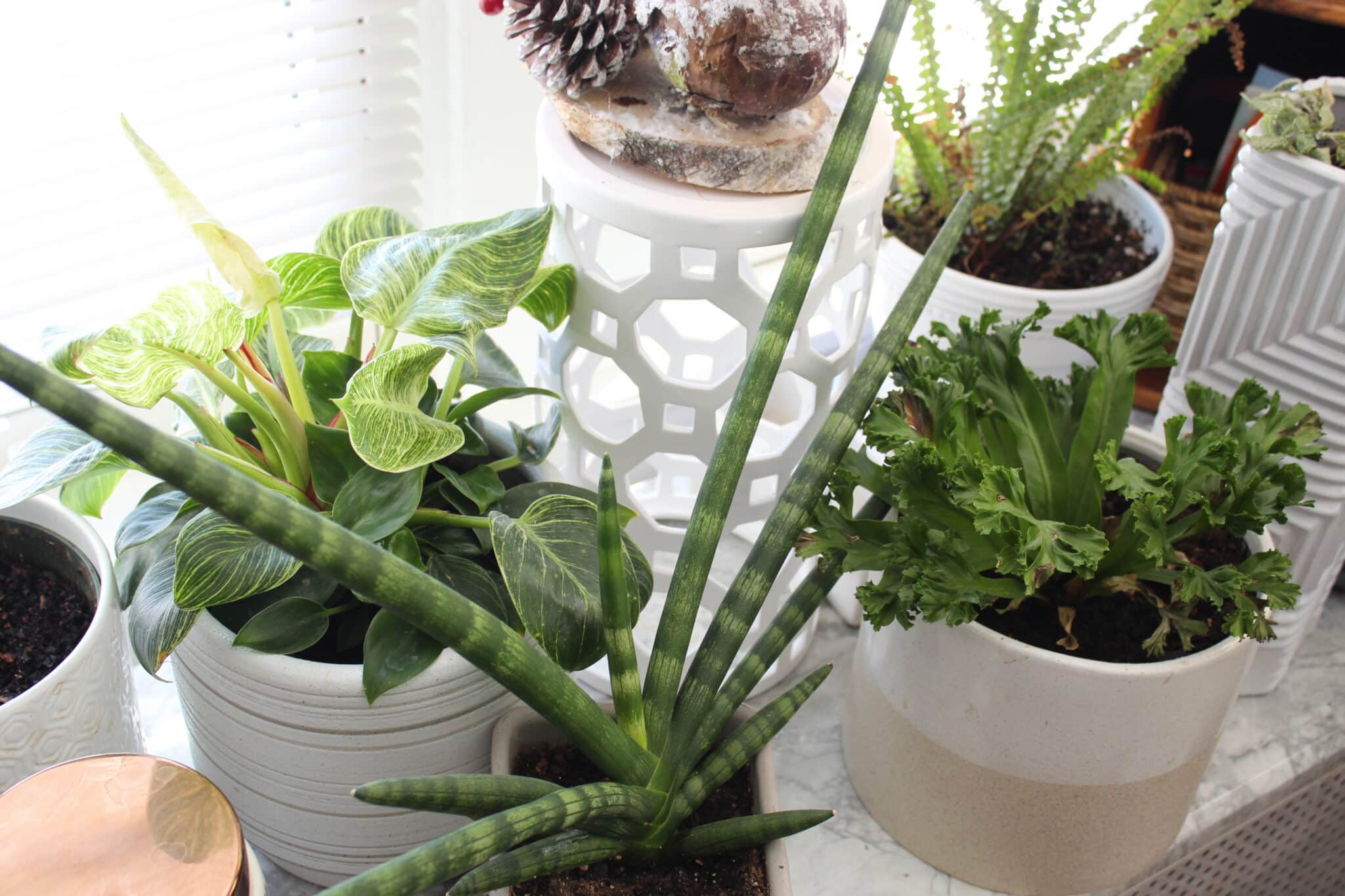 How to tell if air is dry in your house
Speaking from my and my family member's personal experience, I notice the low humidity levels when my hands start getting very dry and lips get dry and chapped. The dry air also affects my throat, making it feel scratchy and giving me a little cough. I've also experienced more frequent headaches and the dry air can also cause nose bleeds. When the air is too dry, it definitely affects the air quality and comfort of our home. I am in the northern part of the U.S. so we have quite cold winters.
My home is about 100 years old and has the most beautiful wooden floors and woodwork everywhere. For example, I have 4 built-ins like this one.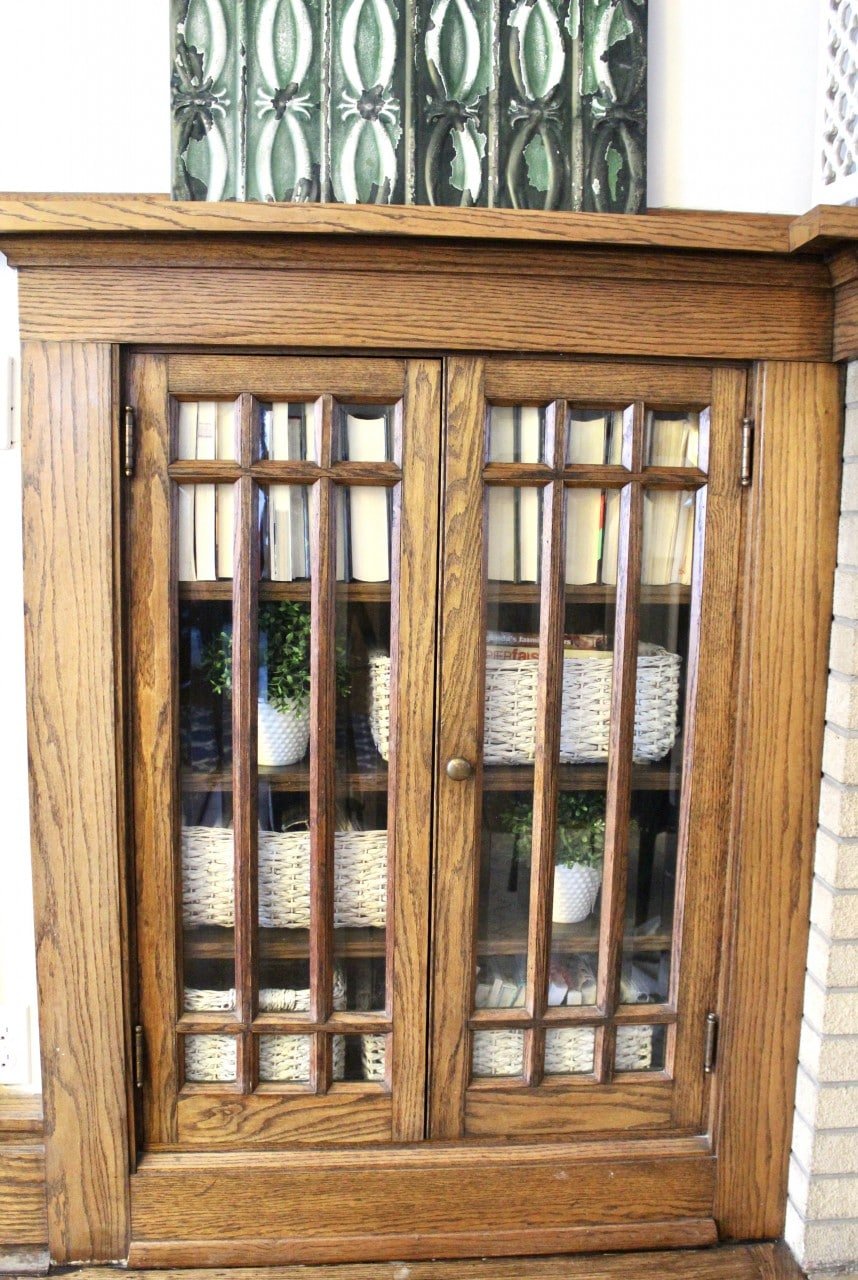 That wood sucks up moisture like crazy. When the air in my home gets too dry, I can hear it cracking. I worry about the wood being damaged so I do my best to regulate the humidity in the air. But, in the winter, when we have a cold snap, it becomes challenging.
How to Humidify a Room
Boil Water
This is one of the most effective ways to add moisture to dry air, specifically your kitchen. I prefer to cook food so I'm not wasting energy when boiling water. Make hardboiled eggs or boil potatoes. If not cooking, I usually get the pot of water to a slow boil on the stovetop, then turn it down to a simmer or even off. Be careful about boiling a pot dry!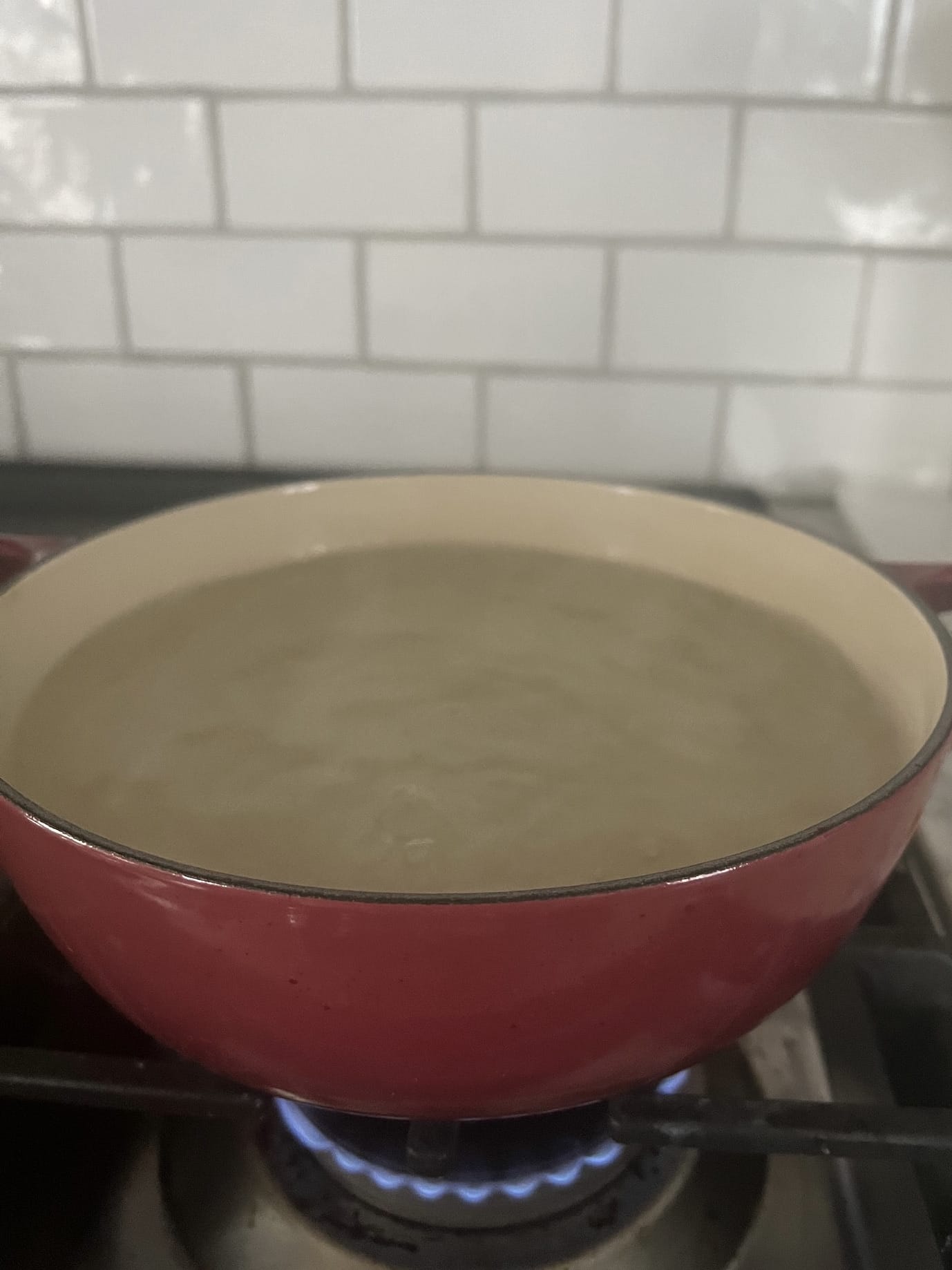 2. Make soup!
Expanding from the first point, above. The steam from cooking adds moisture to the air. Thinking of making soup? I've been making this easy, healthy and delicious cabbage soup lately! Another favorite big-batch soup is this Pasta Fagioli.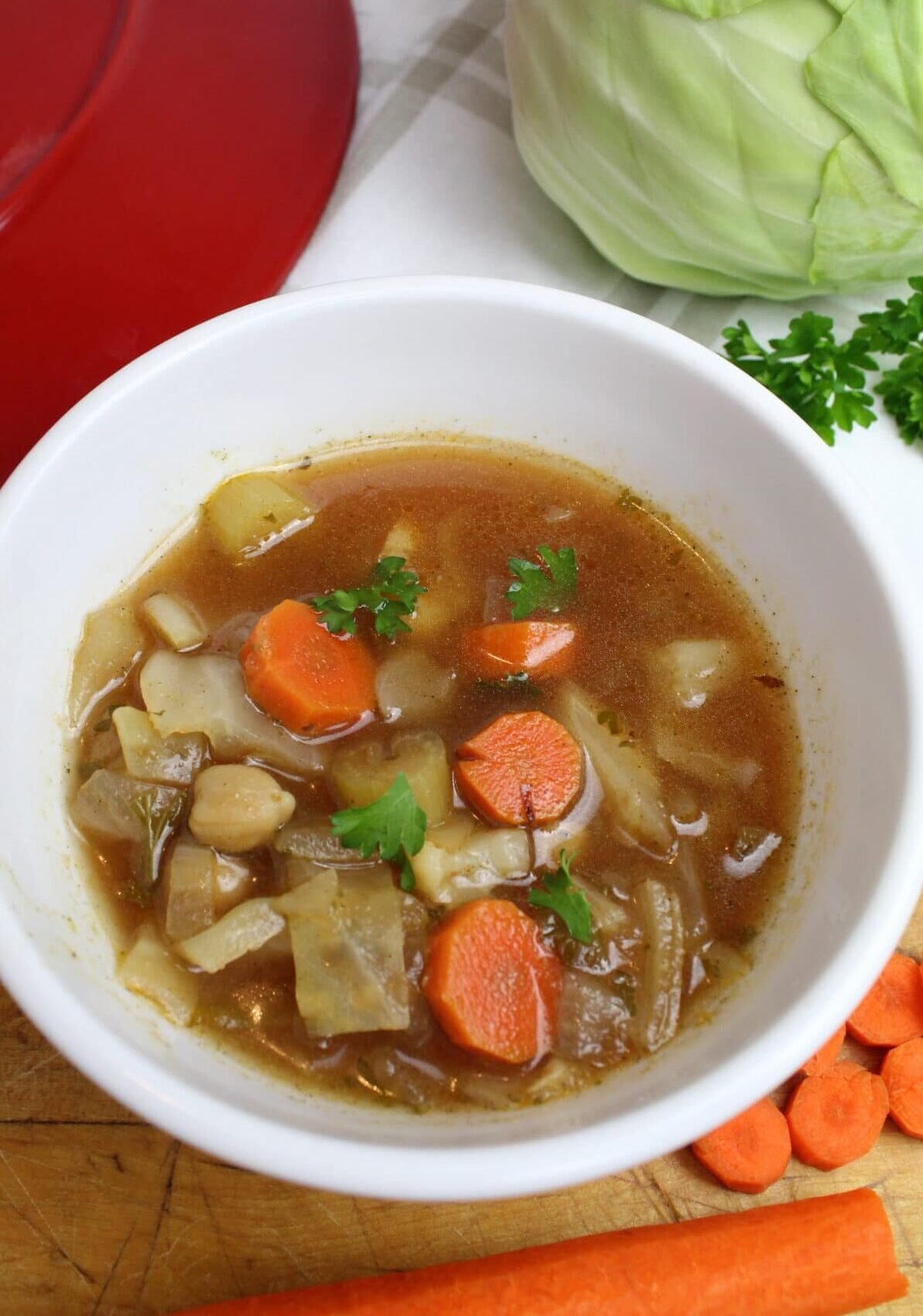 How to fix dry air in a bedroom
Remember those Room humidifiers that you use for yourself or your kids when you have a cold? They do a pretty good job of adding humidity into the air, especially in small rooms like bedrooms. When you are suffering from a house with dry winter air, they certainly help. Filters do need to be changed in these.
How to add humidity to a room.
If you are looking to buy a essential oil diffuser, buy one with a larger water tank. I use a humidifier and essential oil combo similar to this essential oil diffuser in my bedroom. The extra humidity is helpful and I feel that the lavender essential oil helps me sleep (this is not medical advice, just my personal experience).
How to moisturize dry air in the house.
Turn on your whole house humidifier.
I didn't know I had one when I bought my home. This is intended to bring the humidity level of the whole house up. This humidifier is attached to your furnace and humidifies the air of a forced-air furnace. If it's not working, make sure you have the water to the humidifier turned on.
Also, some filters need to be changed regularly. If they aren't, they don't absorb the water that runs over the filter.
I've not recently installed one but was told it's about $600 (unconfirmed amount). You would call the company that maintains your HVAC system for this.
Here is what mine looks like. I had my HVAC professional write which humidifier water pad I need to buy so it's easy for me to do so! A cost-saving tip - I order mine online and buying 2 is much more cost-effective than buying them one at a time.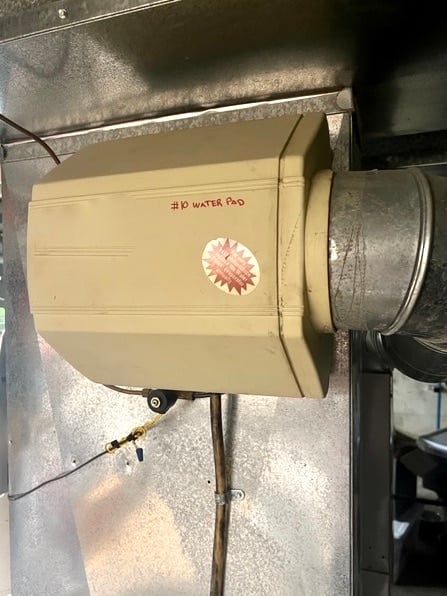 Purchase a larger portable humidifier.
You can purchase portable humidifiers if you don't have a whole-house humidifier. I use this larger portable humidifier. I love it because it holds 1 ½ gallons of water and the tank can easily be lifted off and taken to the tap. Make sure you change the filter regularly They get hard because of all the minerals in the water and stop wicking the water as well.
How to raise the humidity in your house without a humidfier.
I call this my crockpot room humidifier
Fill your crockpot with boiling water, turn it on hot and leave the lid off. I find it helps to occasionally put the lid back on to let the water heat. When there are cold snaps, and the air is really dry, I put my big crockpot in the room my family spends time in.
The above works especially well when you have a crockpot with a timer.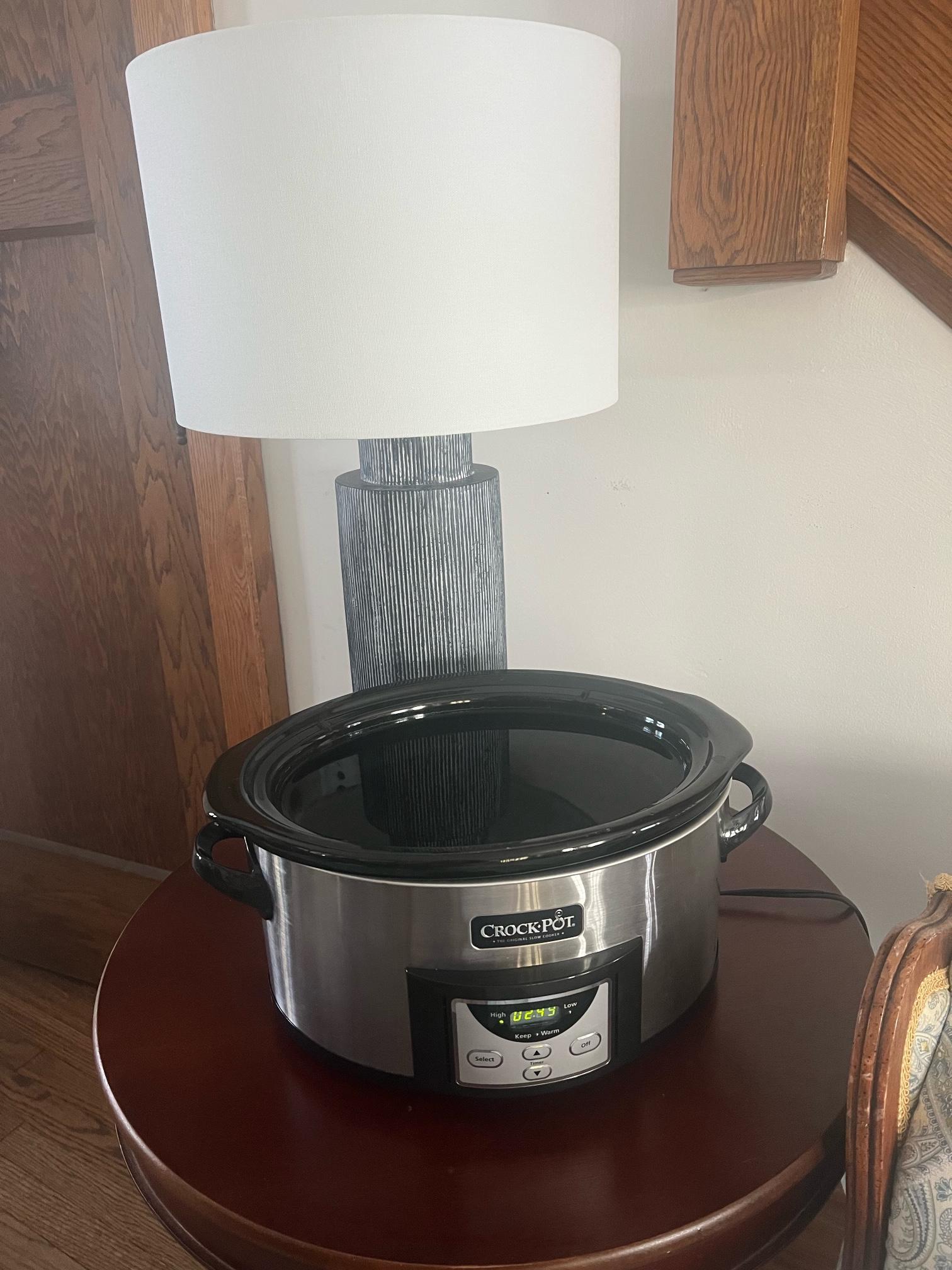 Use a simmer pot to remedy low humidity in the house
I have a small crockpot that I use to both humidfy air and to scent it. Simmer pots are not the old gross looking boiled potpourri. They are now freshly scented and use fresh ingredients.
Here is an example of what a simmer pot can have in it! Humidity, a beautiful fragrance and it looks pretty too!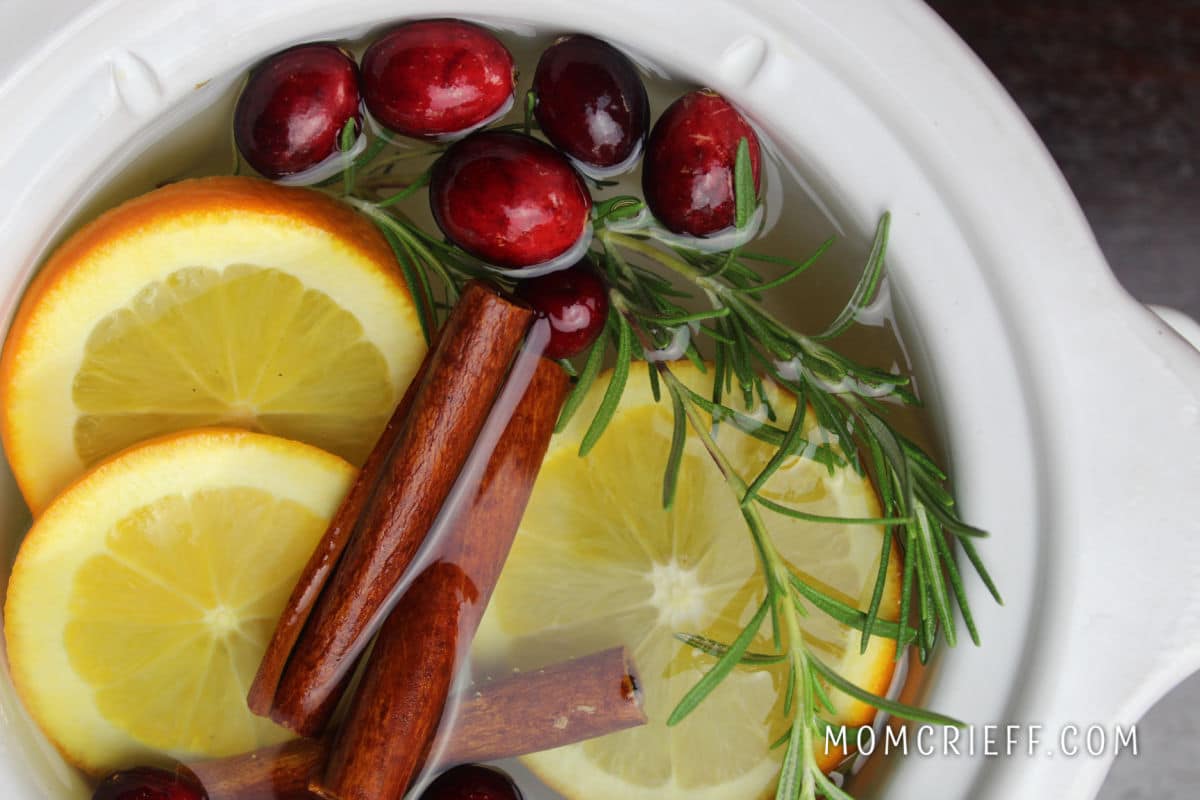 How to raise humidity in your whole house.
Turn the thermostat down a few degrees.
If you have a forced-air furnace, a slightly lower temperature (a couple of degrees) can really help with the humidity level. Put on a sweater and lower the temperature. You'll find the humidity level is better.
Air dry your washed clothing.
I like air-drying many of my clothes anyway. Air drying your laundry saves energy too while helping to moisturize air! You will be surprised at how fast your damp clothing dries in your home's dry air. I have a fold-up laundry drying rack beside my washing machine for this purpose. For some laundered items like towels, you let them air dry until they are just damp and then use the dryer to soften them.
Dry wet mittens and hats (and maybe even boots) on radiators or heat grates.
Don't throw them in the dryer unless you need them dry fast. You would be surprised how quickly wet mittens and hats can dry in a house with low humidity.
Wash and air dry your washable curtains to add moisture to air.
I have simple cotton curtains. My kitty likes to cuddle at the bottom of them so I do wash them regularly. Wash and hang them so they air dry. Make sure they are washable curtains!
Spray water with a spray bottle.
I have done this but very lightly over area rugs. Ensure you don't soak them because you could damage your floors (especially if they are wood).
I also lightly spray my washable curtains with a fine mist (I only wash when necessary, but this is a way to dampen them).
Some of your plants would also appreciate a light spray of water. This dry air can be hard on plants that come from a more tropical environment.
Start growing houseplants!
The water from the soil evaporates and moisturizes the air. Careful, not to overwater the plants, though! Plants lose moisture naturally from their leaves, in a process called transpiration. Plants also increase indoor air-quality.
For those of you asking how to increase humidity in a room naturally, this is a great option!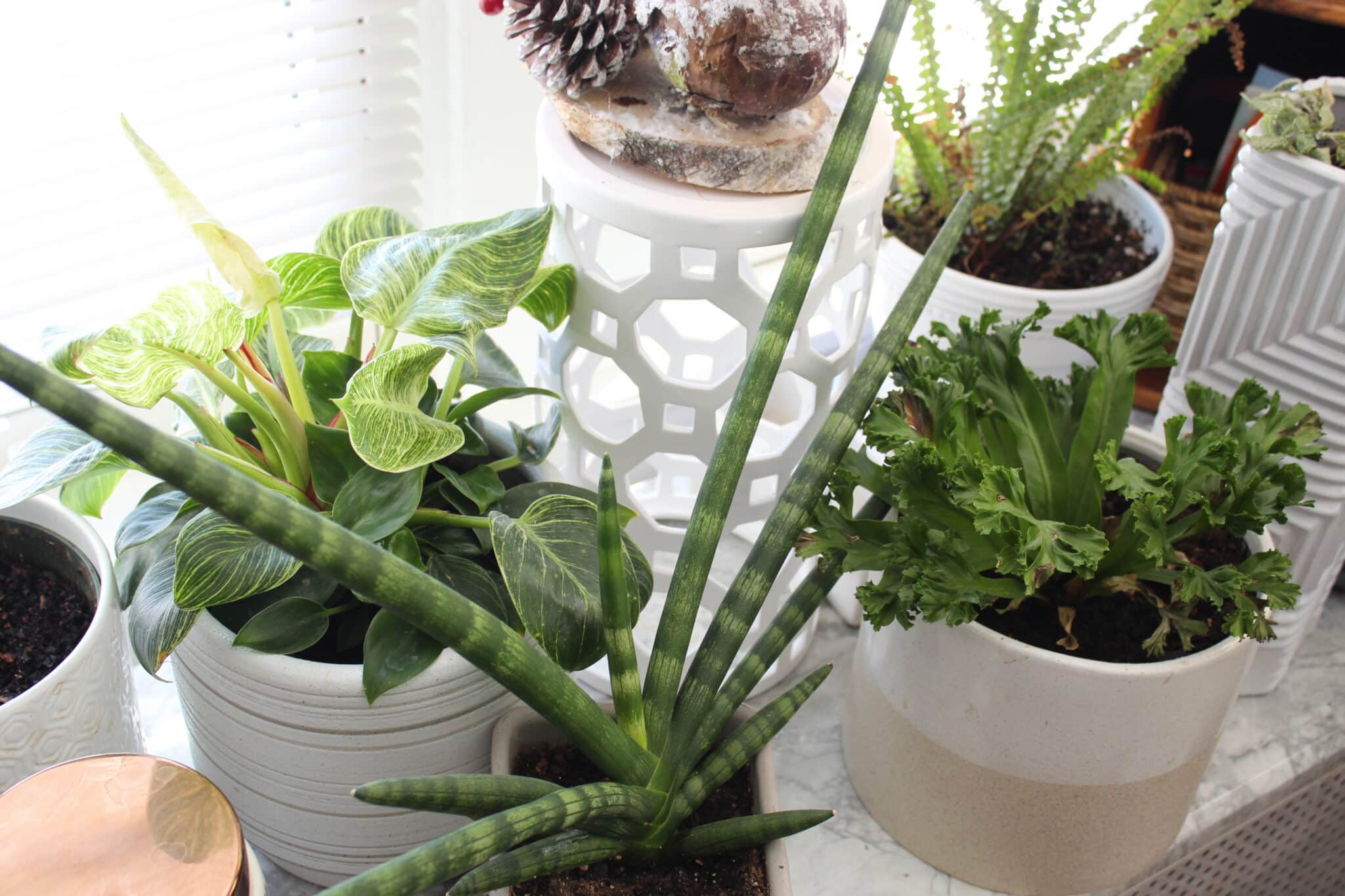 Fill vases with water.
If you can put them in direct sunlight locations like window sills, it will help warm up the water to evaporate it. I'm starting a few new plants by rooting them in water. Or, what better excuse to buy some fresh flowers for yourself! Keep that vase full of water.
Fill decor items with water - ceramic vases, bowls etc.
Do you have items displayed on your mantle or on side tables that can hold water? If your house is so dry you have static electricity and electrocute your pets (joking - exaggerating!) fill them up to increase your home's humidity.
Wash dishes by hand.
Leave the dishwater in the sink until it has cooled then drain it. This is NOT an excuse to leave gross water in the sink for long periods of time.
When showering, leave the bathroom door open and the exhaust fan off.
Let the steam escape from your hot shower into the hallway or other rooms. This can really add to a home's humidity! Just make sure there isn't too much moisture. Signs of that are condensation on the inside of the windows. If it's more serious, the wood can be damaged and mold can also grow.
Leave water in the tub.
It can evaporate from there. The most water vapor comes from the warmer water. Make sure this isn't causing too much moisture in the bathroom. You don't want to create an environment for mold.
Set your dishwasher to air dry dishes.
Don't use the dishwasher's drying cycle. Let the dishes air dry.
Or, if you do, open the door slightly right when the dishwasher is done. Newer dishwashers don't totally dry dishes and that moisture can escape when the door is opened.
Humidifying Ideas for older homes..
Put bowls of water on your radiators or registers.
If your radiators are covered or uncovered, they produce heat and can evaporate water. That's what folks with radiators all used to do in past years.
Put water on your old-fashioned floor vents.
Do you have old large floor vents? This heat source is available anyway so why not give it another purpose (evaporating water).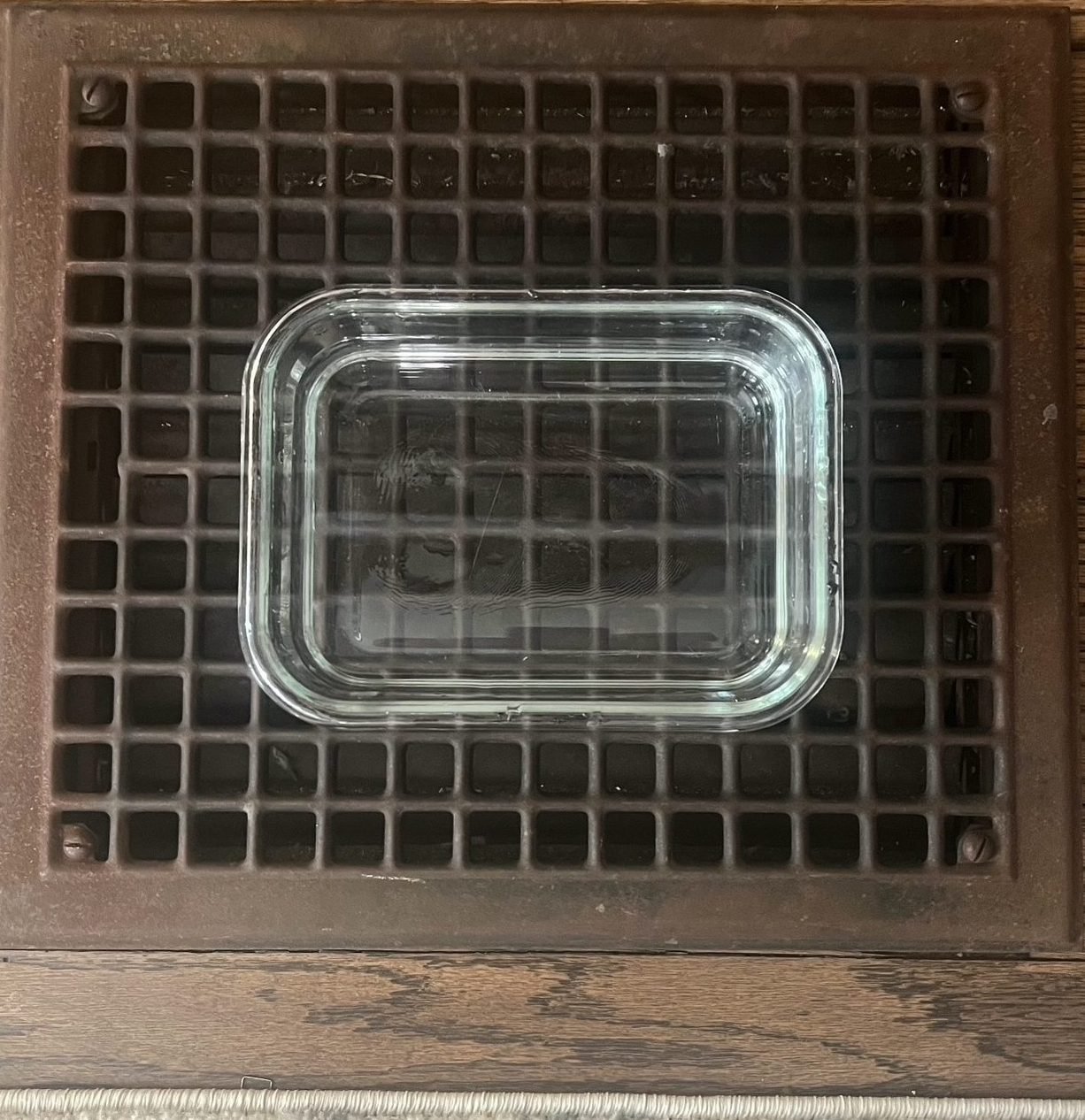 Put water under your floor grates.
Found out about this from a forum I just joined of owners of old homeowners. For now, I've put containers full of water under the grates. Be mindful of the total weight so you don't cause problems with your home's hvac systems.
Preventative maintenance, prevent and stop air leaks.
If you have a newer house, this may apply to you too! The cold dry air entering your home is contributing significantly to the overall dryness of your house. Especially when you have a forced air furnace. Seal any leaks that you can find, especially in those old basements. Areas to focus on are around where utilities come in from the outside. Think of areas around plumbing, electrical, furnace, and dryer vents. Also, the area where the top of the house meets the basement needs to be sealed and/or insulated.
Have a woodburning stove? Put a stove steamer on it.
This is literally made to be filled with water, and will boil on the woodburning stove so the water can evaporate. Stove steamers are usually cast iron and an example looks like this.

How to check the humidity in my home
Trying to track the humidity level in your house? You can buy a hygrometer. They are inexpensive (less than $10), portable, and normally show the room temperature and humidity level.
Hope I have helped you with some new ideas to introduce humidity in your home!
If you do something I haven't mentioned, just make sure to let me know!
Are you a Pinterest person? If yes, please pin the image below. It really does help me!