Basil is an herb with a fresh, flavorful taste. It's a staple in many of my summer recipes. The growing season ends when it gets too cold and frost kills the plant. Drying basil is a great way to preserve its flavor and enjoy it all year round.
I'll show you the easiest way to dry basil and include tips for storing and using dried basil.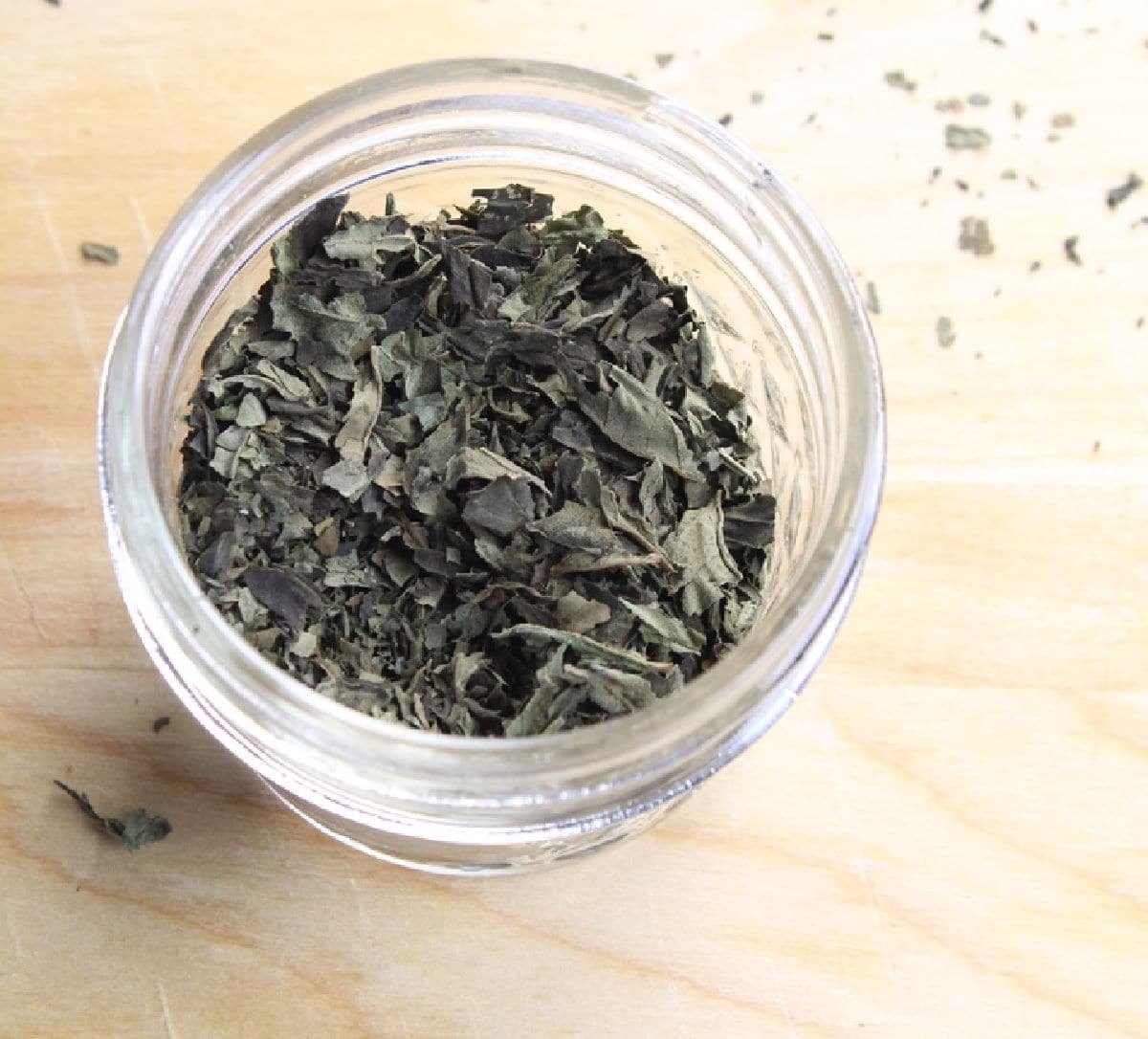 This herb is delicious, especially when eaten with tomatoes! Tomatoes and basil grow well together in the garden and are great companion plants. A couple of ways I use fresh basil are in this Bruschetta with Fresh Basil Recipe and also in this Tomato and Basil Naan Pizza. Both are delicious and pair fresh basil with tomatoes.

There are many recipes where dried basil works great. These are usually more in cooked dishes like Pasta e Fajioli or spaghetti sauce with meatballs.
Why I love preserving basil
I love the taste of basil! As much as I would love to use tons of fresh basil all year round, there are realities. Overall, I use a fair amount in my cooking. Running to the store to get a handful of fresh herbs is not always practical.
You can buy dried basil, but I prefer making my own. I have everything I need, especially the basil! I know where it's grown, how it's grown and I have memories of eating it during the peak of its flavor and freshness.
When drying herbs, you are dehydrating them, basically taking out the water. It takes up so much less space once dried. You can dry a lot and keep it in a closed container until your next garden starts producing.
Basil is an annual herb. That means it completes its life cycle each year. Fortunately, this is one of the easiest plants to grow and it thrives with just a little planning and care. It can easily be started by seed. If you are interested in growing your own, take a look at the post Growning and Using Basil.
How to dry basil in the oven
I find oven drying the easiest way to dry a larger amount of basil. No fancy equipment like a new dehydrator is needed. Just use your kitchen oven.
Harvest or purchase fresh basil
You are looking for bright green basil, and the leaves look healthy. They don't have a lot of dried areas or discoloration on them. You also want to scan that there are no pests on your plant quickly. I've been growing basil for over 20 years and it hasn't been an issue. But, you always want to make sure your garden produce is clean when using it.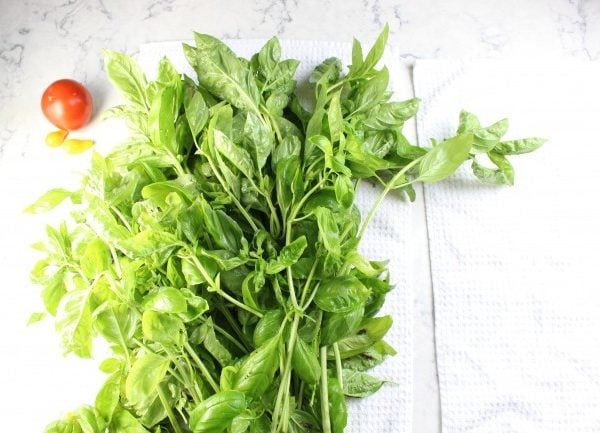 Clean it
I fill my kitchen sink with cool water and let it soak for 5 - 10 minutes. I swirl it around and examine leaves, and stems and look for anything I don't want to preserve. Some people add vinegar to the water. However, I don't think it's necessary.
Shake the water off when done washing. You want the basil to be dry (no water on it) when you are starting to oven-dry it. Use a salad spinner or wrap in a clean tea towel to remove the moisture. Let it sit out, and move it around to allow water to evaporate.
Prepare for drying
I usually pick the leaves off the stems, but you could also snip them off.
Spread basil in a single layer on a baking sheet. I put a layer of parchment paper which I reuse for the day but that isn't a necessity.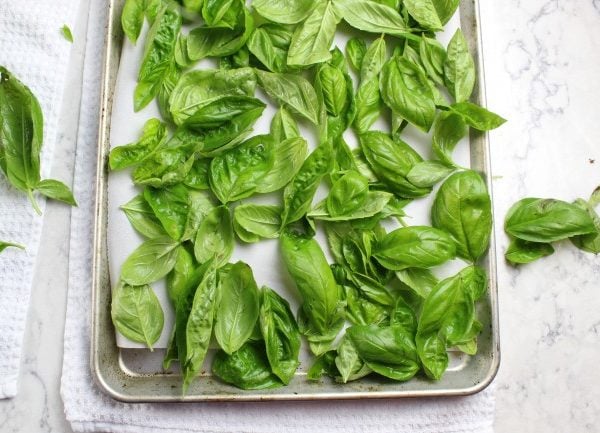 Oven Instructions
Turn on the oven to the lowest setting (usually around 150 - 200 degrees Fahrenheit).
Leave the basil in the oven for about 1 ½ to 2 hours until the leaves are noticeably crunchy. I turn the oven off and leave the basil in the oven until the oven and the basil leaves are cool.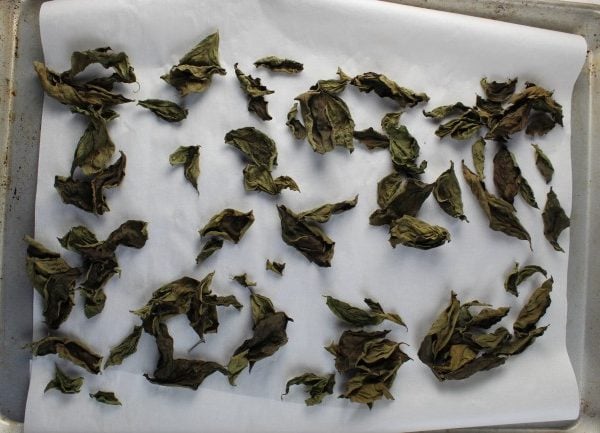 Be warned, the basil leaves really shrink when you have dried them. The pan with the fresh basil and the above pan with the dried basil are the same and contain the same basil. Truly a before and after to see how drying affects this herb.

Place the dried basil leaves into a plastic bag.
Storing your Dried Basil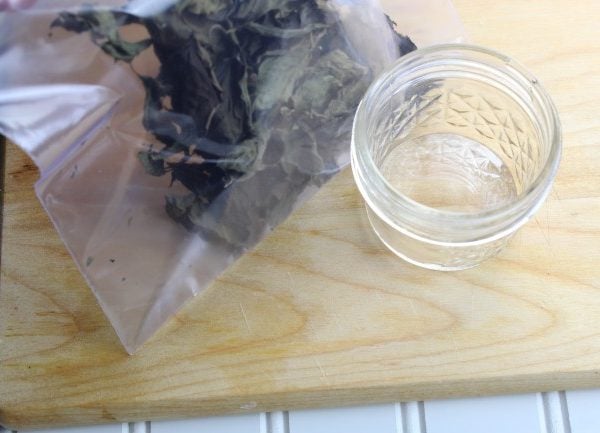 Squeeze out the air from the bag and close the bag. Use your fingers to crush the leaves, or, you can use a jar or glass and roll on top of the leaves to crush them.
If the leaves are thoroughly dried, they will crush easily. I like keeping mine a little larger once crushed but that is my preference.
Place crushed basil leaves in a glass storage container like a small mason jar. A few of the leaves were not crushed small enough so I just took a few seconds to make the sizes more uniform.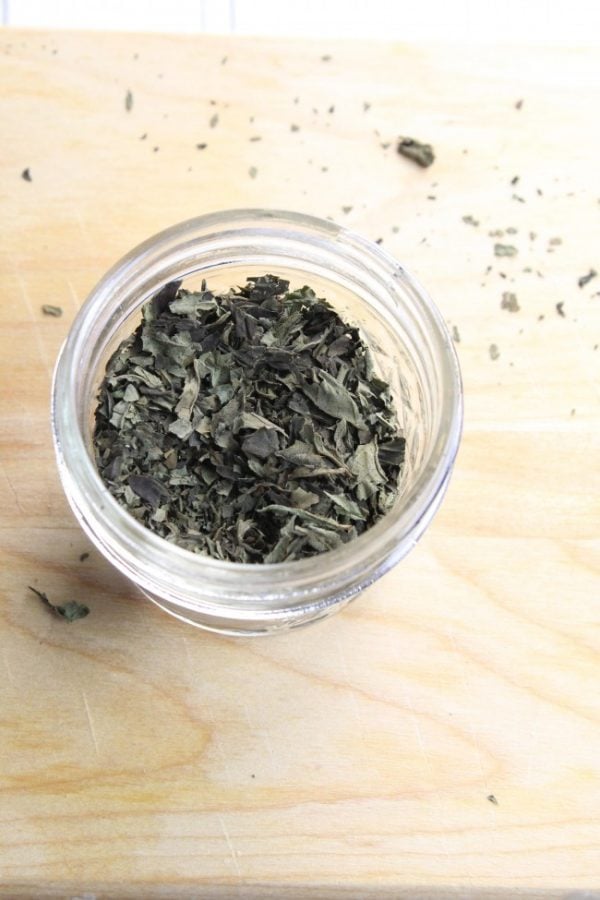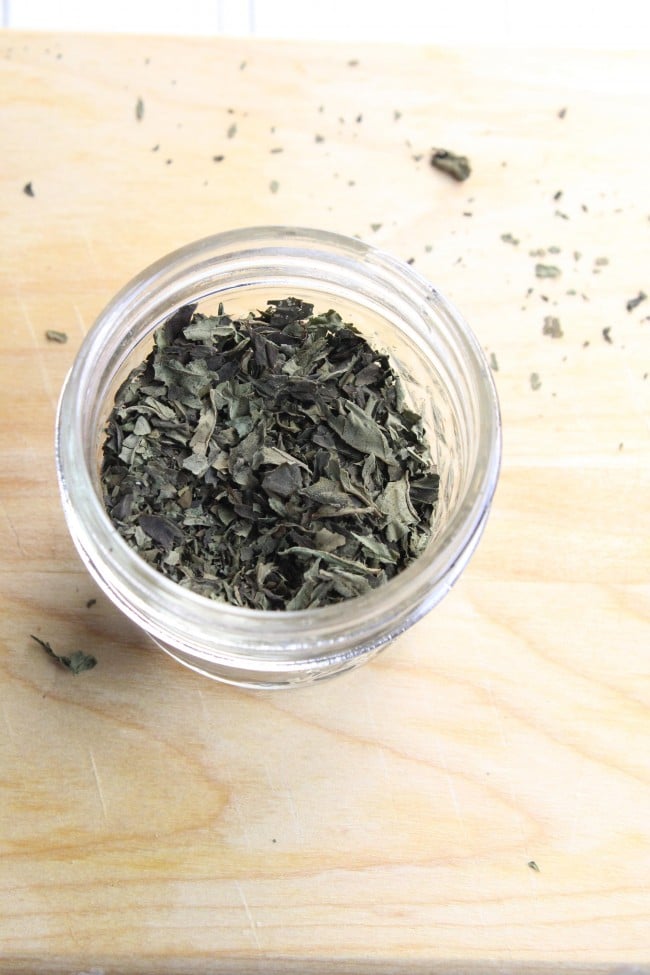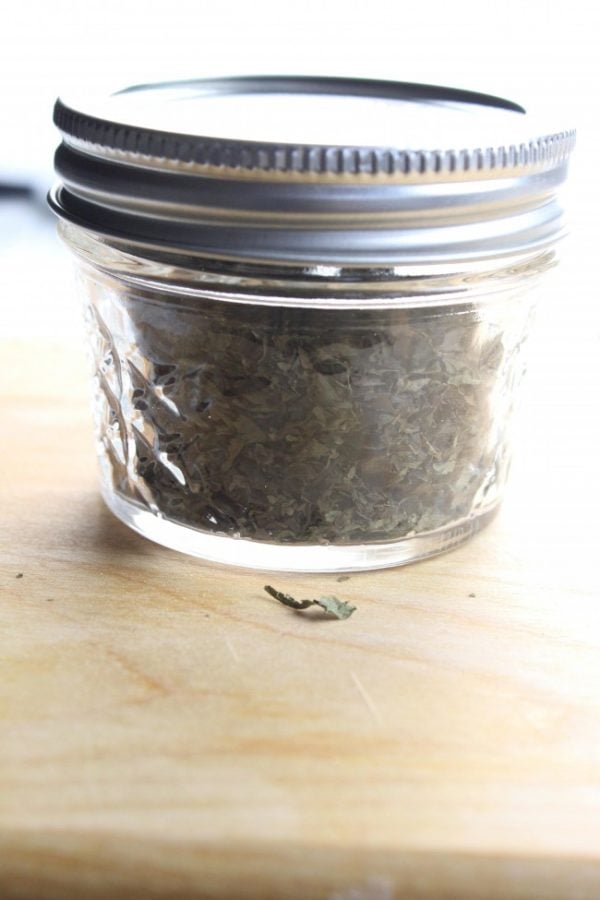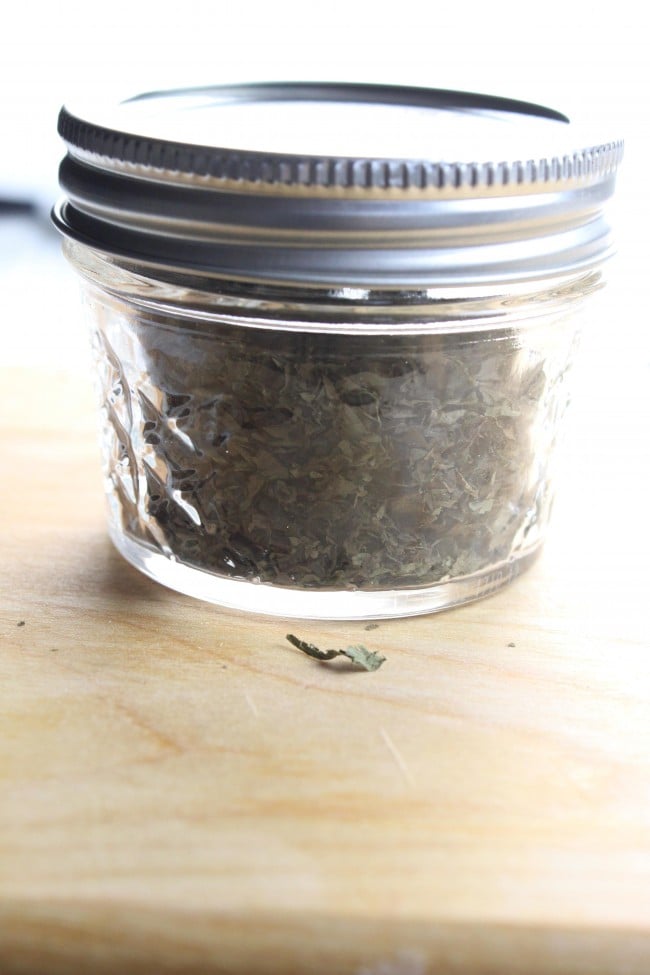 Alternative containers
If you have old herb/spice jars that are clean, they work great! The idea is to put new dried basil into your empty basil jar from the previous year! Then it's labeled and everything!! Just know that they may be a little small for storage of a larger amount. Small jars like salsa jars or relish jars can also be used. Just make sure they are clean, dry, and no longer smell of the original item.
I love using Ball jelly jars. They come in 4 and 8-oz sizes. The jar in the above image is a 4 oz jar.
FAQs
Should I freeze my dried basil?
No need to put in a freezer. You have preserved the basil by drying it. Keep it in a cool and dry spot (like a cupboard not near your stove).
How long is my dried basil good for?
As dried herbs age, they lose some of their flavor. Spice stores and grocery stores often underestimate how long herbs are good and I've seen a suggested shelf life of 6 months (because they want you to buy more). Know that your seasonings (of all kinds) lose their potency as they get older. If you notice this happening, just add a little more. I personally replace my dried herbs yearly with a fresh harvest.
Growing and using basil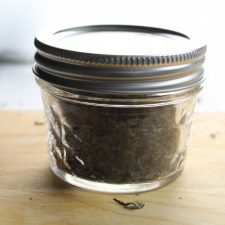 Basil - How to dry and store dried basil.
How to dry basil to preserve it and use it year-round. Perfect for use in recipes like pasta sauces calling for dried basil.
Print
Pin
Rate
Ingredients
20

stems

basil

fresh

Glass jars for storage

spice jars or small mason/canning jars.
Instructions
Turn your oven to it's lowest setting. Something like 150 - 200 Fahrenheit

Place washed and dried individual leaves in a single layer on your baking sheet. I normally wash the whole stems, let them dry for a few hours, then take the leaves off the stems. Do not try to dry wet leaves. You will steam them not dry them.

When the leaves start getting crunchy, about 1 ½ to 2 hours, turn the oven off but keep the basil leaves in the oven. Once the leaves are really crunchy and cool, place in a plastic bag and remove air from bag before closing. Either use your fingers to crumble the dried basil leaves or use a rolling pin (or a water glass). Once the dried basil is crumbled, place in a glass jar.

Store in a cool and dry place.
Nutrition
Serving:
1
tablespoon
|
Calories:
0.5
cal
|
Carbohydrates:
0.1
g
|
Protein:
0.1
g
|
Fat:
0.01
g
|
Saturated Fat:
0.001
g
|
Polyunsaturated Fat:
0.01
g
|
Monounsaturated Fat:
0.002
g
|
Sodium:
0.1
mg
|
Potassium:
6
mg
|
Fiber:
0.03
g
|
Sugar:
0.01
g
|
Vitamin A:
106
IU
|
Vitamin C:
0.4
mg
|
Calcium:
4
mg
|
Iron:
0.1
mg