Basil is an annual herb and it is very sensitive to frost. When the summer ends, it's time to preserve your basil before it freezes (and the plant dies).
Can you freeze basil to preserve it?
Yes! Freezing basil is an easy way to preserve fresh basil. Not only the basil from your garden, but if you buy a bunch of fresh basil from the grocery store, this is a great way to preserve the basil you don't need right away. Using olive oil to freeze basil will keep it looking delicious and handy when making your favorite Italian dishes!
Growing basil
I love growing basil from seed. It's one of the easiest herbs to start and plant. When basil is happy, it produces a ton of delicious basil leaves. If this is something you are interested in, take a look at the post about Growing and Preserving Basil. This post also tells you how to oven dry basil.
Freezing Basil in olive oil in an ice cube tray.
I like this method the best because it keeps the basil's bright green color. You don't need much oil and it is usually part of the recipe. The flavor of frozen basil is much more like fresh basil compared to dried basil.
I use an ice cube tray that has a lid on it. That way it's always covered and I can always just grab a couple of cubes when I need them.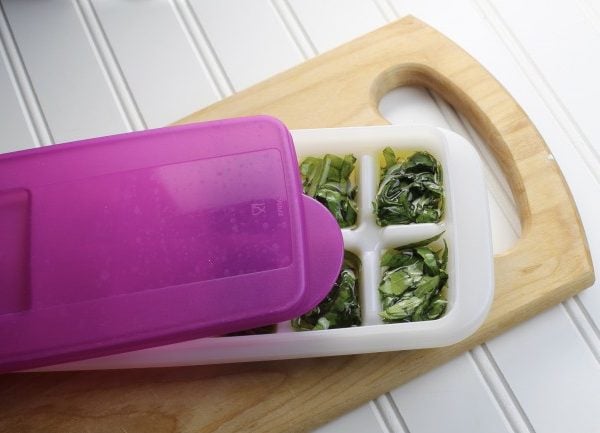 I love these ice cube trays and these are similar and not expensive at all. Ice cube trays with a lid.
Ingredients
Fresh basil
olive oil
And, you need an ice cube tray. Personally, I always use an ice cube tray with a lid.
Directions
Take the leaves off the stems. I find the easiest way is to just pinch them off.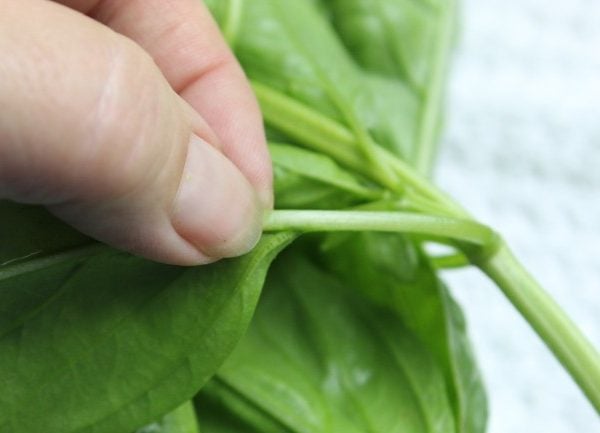 Take about 3 or 4 leaves and roll them into a tight roll. Then using a sharp knife, cut into thin strips. The official cooking term for this style of chopping is chiffonade.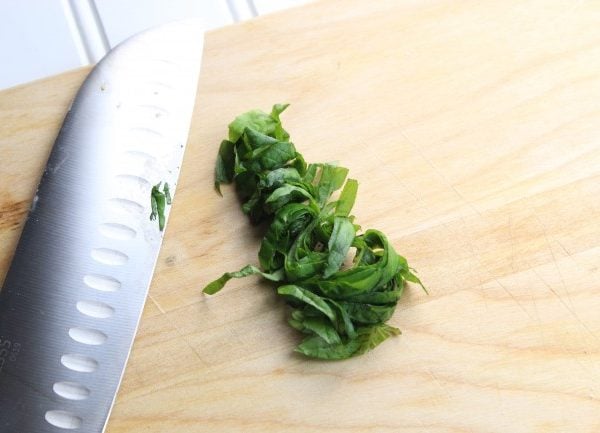 I stuff as much of the cut up basil into the ice cube space but make sure to leave a little room for the oil. You are going to want to have the oil covering the basil so it doesn't turn black when it's frozen.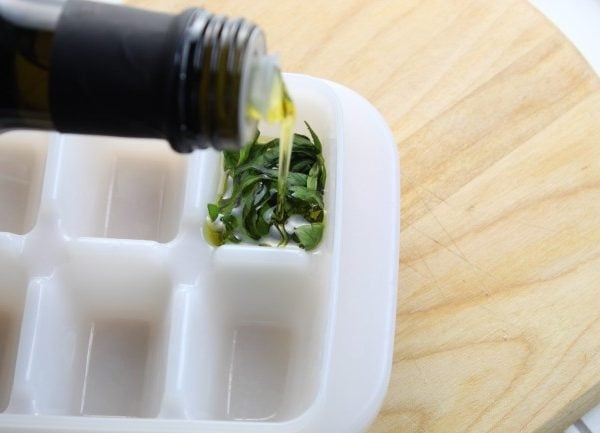 This is what each 'cube' look like prior to freezing.  I put as much basil in as I can and I do make sure there is enough room to cover with a drizzle of olive oil.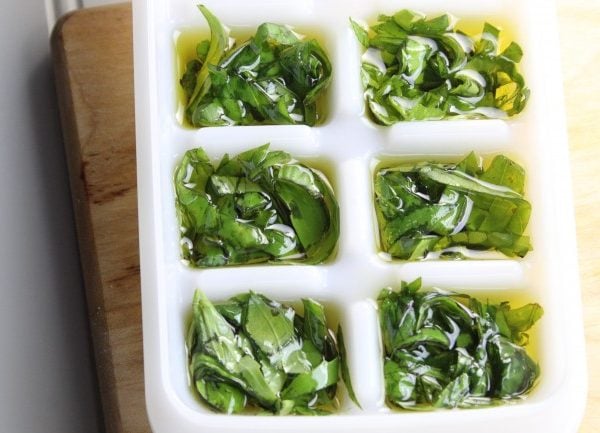 Below is the same tray as above but the basil and olive oil are frozen.  This way you can just pop a couple of cubes into a recipe (think pasta dishes) that calls for basil.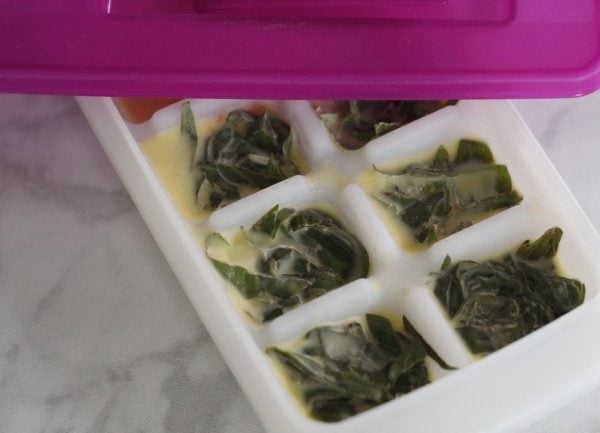 Just popped out a few basil cubes so you can get a good overall look at them.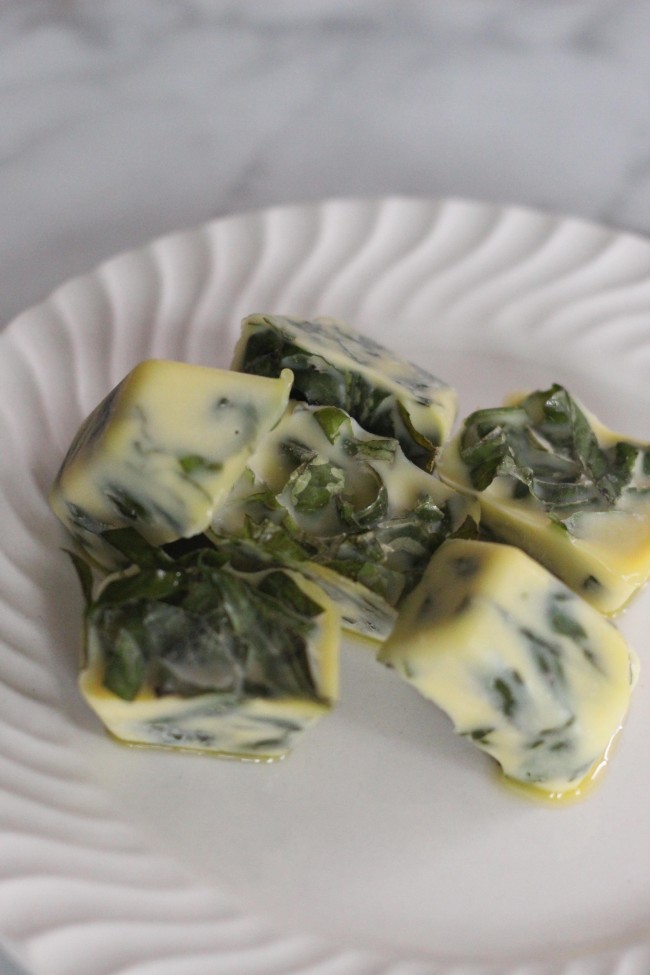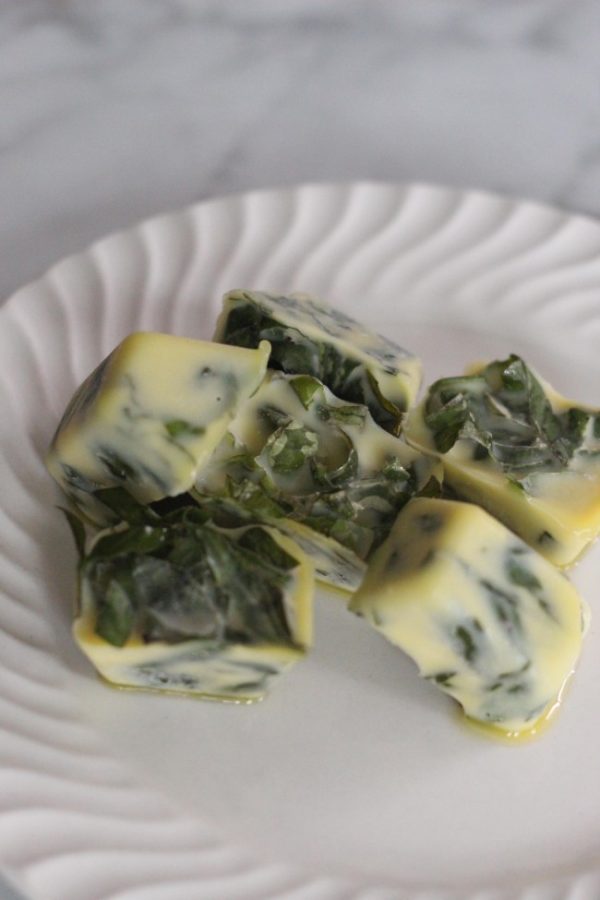 Some years I have a huge crop and I freeze more basil than I have ice cube trays for.  Just store the basil ice cubes in freezer bags and try to keep the cubes in a single layer and keep it flat in the freezer.  This makes it easier to use when you are trying to break off a cube to add to your sauces and soups.  This is my favorite way of preserving my basil plant leaves so I have the taste of fresh herbs in the winter.
If you are looking for directions to grow and oven dry basil leaves, look at this post -
Growing, using and preserving Basil.
Print
How to Freeze Basil (with oil and in an ice cube tray)
Freezing basil in olive oil is one of my favorite ways to preserve basil.
Fresh basil leaves
Olive oil
Ice cube trays.
Instructions
Roll and chiffonade 3-4 leaves and place in each cube
Pour enough olive oil over the basil to cover.
Notes
I love using ice cube trays that have lids on them!
If you are looking for information on growning basil and drying it, take a look at this article -
Growing, using and preserving basil