I've been on the lookout for cheap planters this year. I've moved twice in a year and finally feel settled. With people downsizing and simplifying there are so many planter deals out there! Some in places you expect, others from more creative places.
My favorite planters have been purchased for less than $5.00 each from local Facebook Marketplace sites. If you haven't discovered this goldmine for deals, look now!
It was my favorite local buy/sell Facebook group where I found this beautiful terra cotta planter. The person I bought it from was downsizing and told me he always planted marigolds in it.
Guess what I planted in it this year?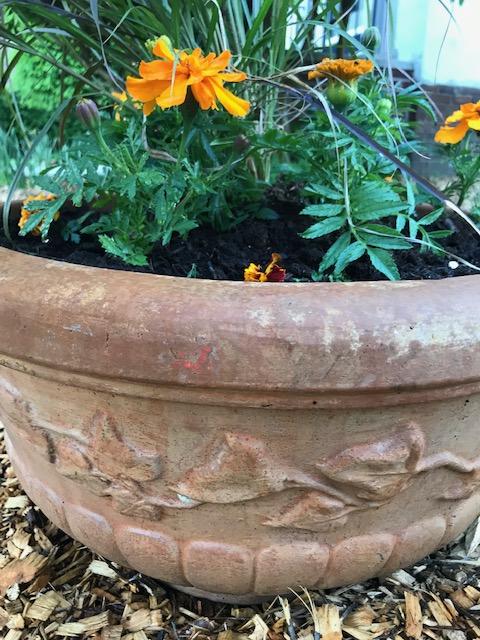 It'll be gorgeous once it fills in. And, marigolds also can handle the cooler fall weather so it will be a very long lasting container garden.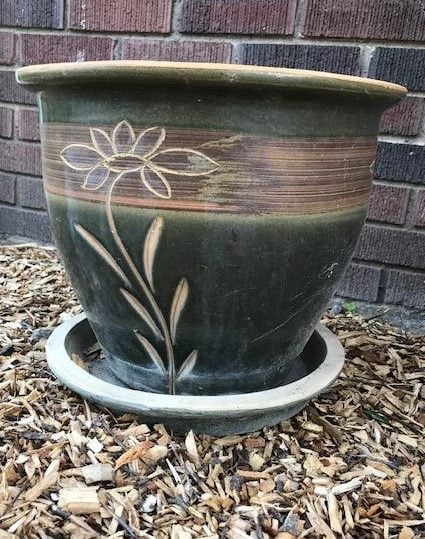 To find Facebook Marketplace, go to your Facebook page. On the left side, you will see Marketplace as an option. You can narrow down what you see by categories, your geographic location and also price. Facebook Marketplace is made up of various Facebook buy/sell groups. The ones I belong to are local to me. If you don't know of any local buy/sell groups, talk to your friends. You'd be surprised how many people use this to sell their items.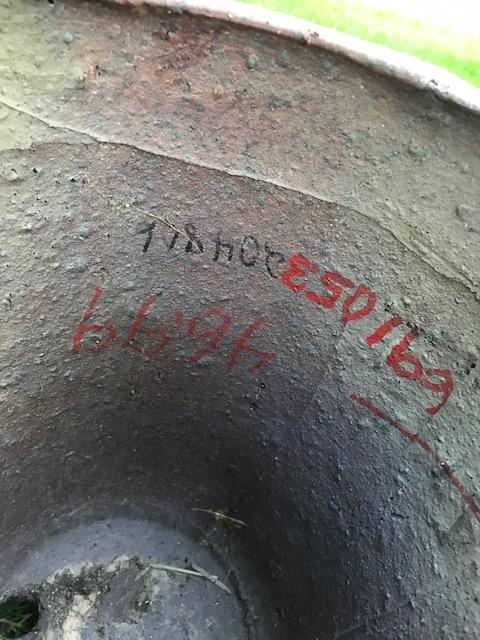 See the price of $46.99 on this planter? I paid less than $4.00. I also purchased this one on a Facebook Marketplace site. The gentleman selling it said his wife had way too many planters and they needed to downsize the collection. Can we say chippy perfection! It's such a heavy and solid planter. I have plans for this one : ) !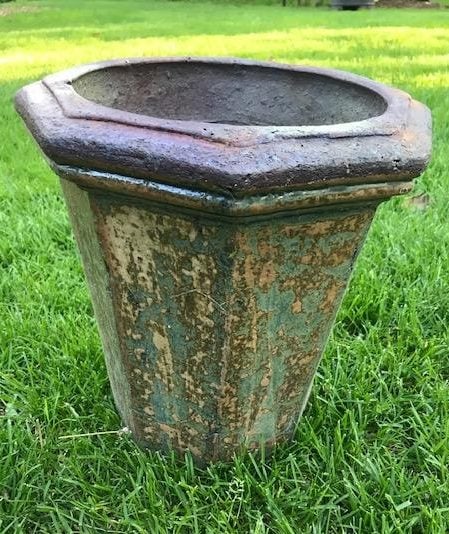 I love this one. It's tall and really heavy.
When I moved into my home, there was a planter box frame by the backdoor. I went to the hardware store and found the perfect fitting planter. It wasn't pretty, but when the flowers are growing, you don't notice.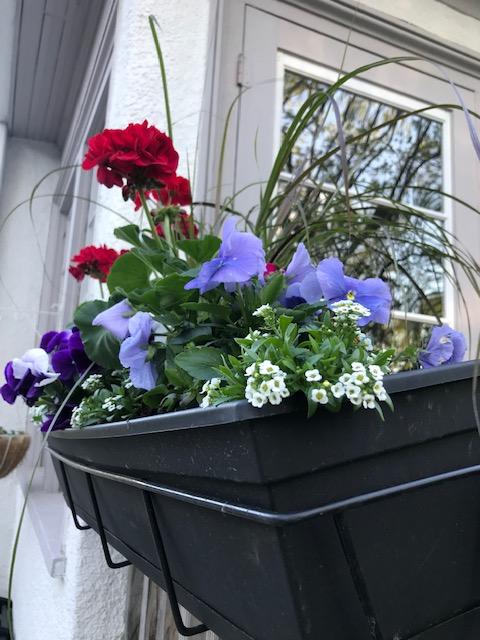 My pansies are just super pretty right now! I wasn't able to tear them out so I just squeezed in my geraniums and my tall grass. In the warmer weather, the pansies stop growing but sometimes they get a second wind in the fall when the cold weather kills other plants off. I'm going to leave them in there and I'll let you know how they do in the fall!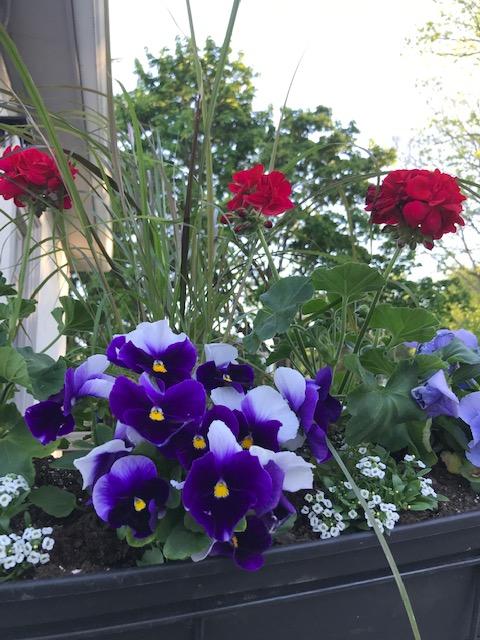 This was a $6.99 planter at my local hardware store. And, that wasn't on sale. It was the last window box that would fit the frame so I had to buy it!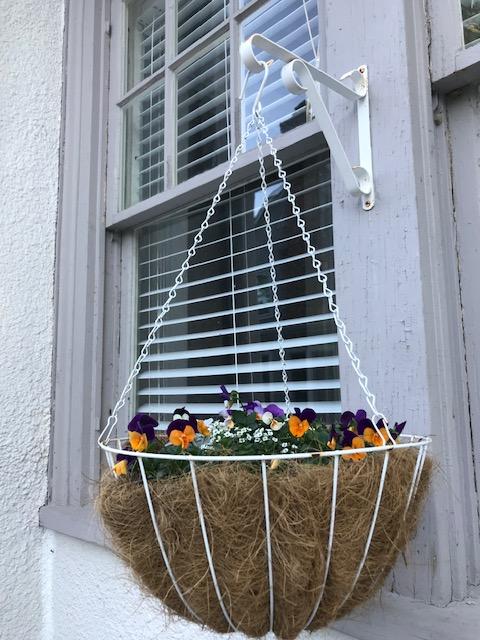 *This post may contain affiliate links. Please see my full disclosure policy for details.*
The above planter hook was on my house and the hanging planter was in the garage. At first, I wasn't going to keep it, but hey, my whole house is antique / vintage, so why not! Free works for me.
If you love this but don't have time to hunt for a bargain, this hanging planter is not expensive.
Yard sales are another great place to score deals! Once people take inventory and decide they don't want as many container gardens as in the past, they sell their planters. Usually for a real bargain.
Yes, I'm behind in my planting. But I wanted to show you these twin planters from a garage sale. My garage will look much better with these sitting in front! Obviously, I'll be adding a few more plants : ). These were a real bargain at only $8 for the two of them. These same sized planters cost a lot more new!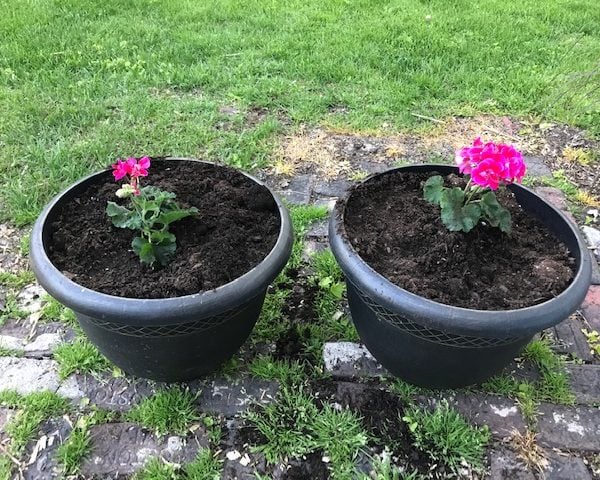 Repurpose things you already have! My cement birdbath is one of my favorite outdoor decor items.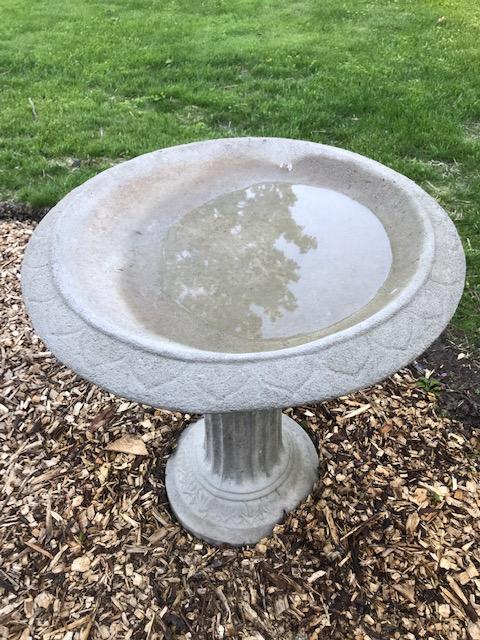 I loved it as a succulent planter. But, I think I was just talked into keeping it as a bird bath this year! Here it is a few years ago! I shared how I put it together in my succulent birdbath post.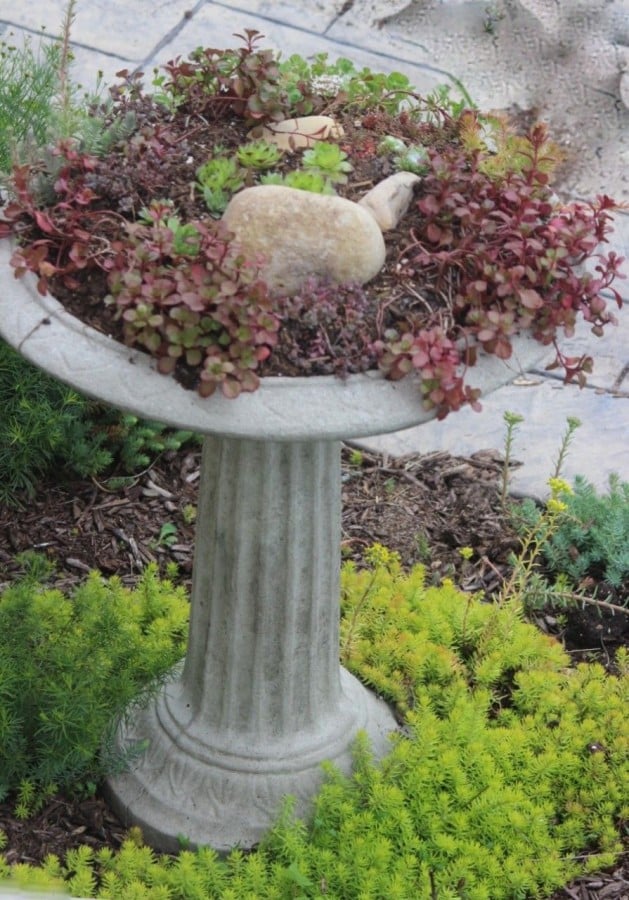 I've had this for over 10 years now. Sometimes you splurge, like on a great pair of jeans. Or the perfect cement bird bath!
A few years ago I needed a really big planter for my deck. I couldn't find one the size I needed under $150. I just couldn't pay that much for something I was putting dirt into. But, I found a galvanized tub in the hardware store and made this repurposed planter for my container garden. Visit my unique spring planter post for a quick and easy tutorial.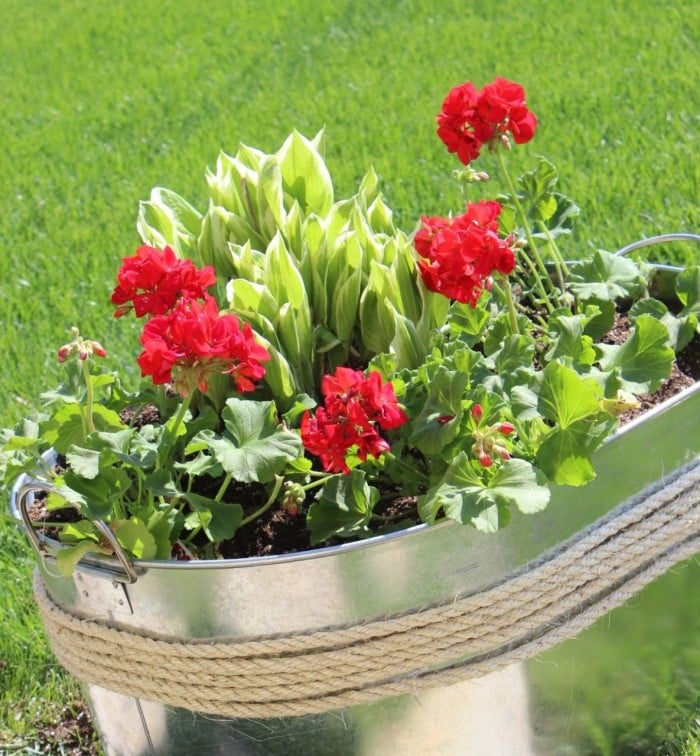 Although not super cheap, Costco is a great place for fair priced large planters.
I'll have these for a long time so it was worth the splurge to buy new.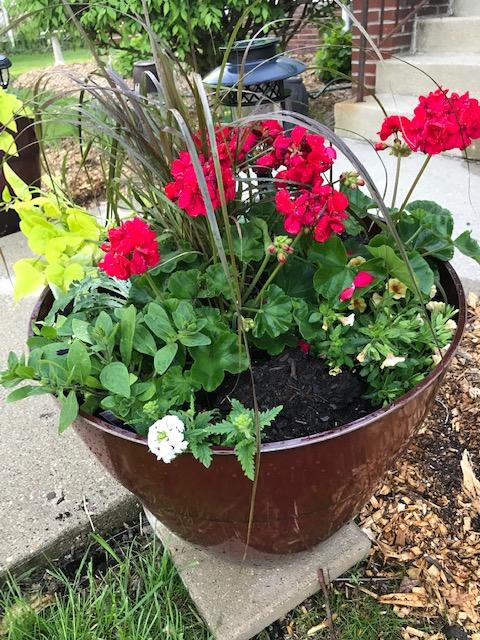 There are three geranium plants in there - just to give you an idea of the size! I can't wait for it to fill in. I paid $17.99 for them (worth it for the size). A few weeks later they were selling the last few (not this color) at $12.99.
Walmart is another retailer who has relatively inexpensive planters. If you just want to buy from a store, that would be the store to look.
Can I make a quick safety PSA for any of you who may try buying from a Facebook buy/sell site? Please use common sense! Don't go into a stranger's house. I usually met people at a neutral meeting area. Places I've met include outside McDonald's, Target, a town hall and my local hospital parking lot.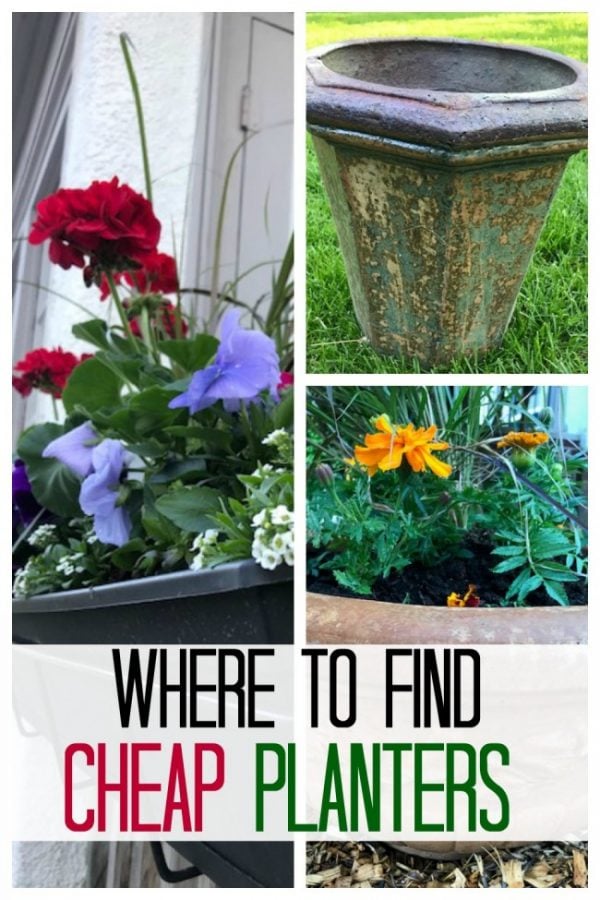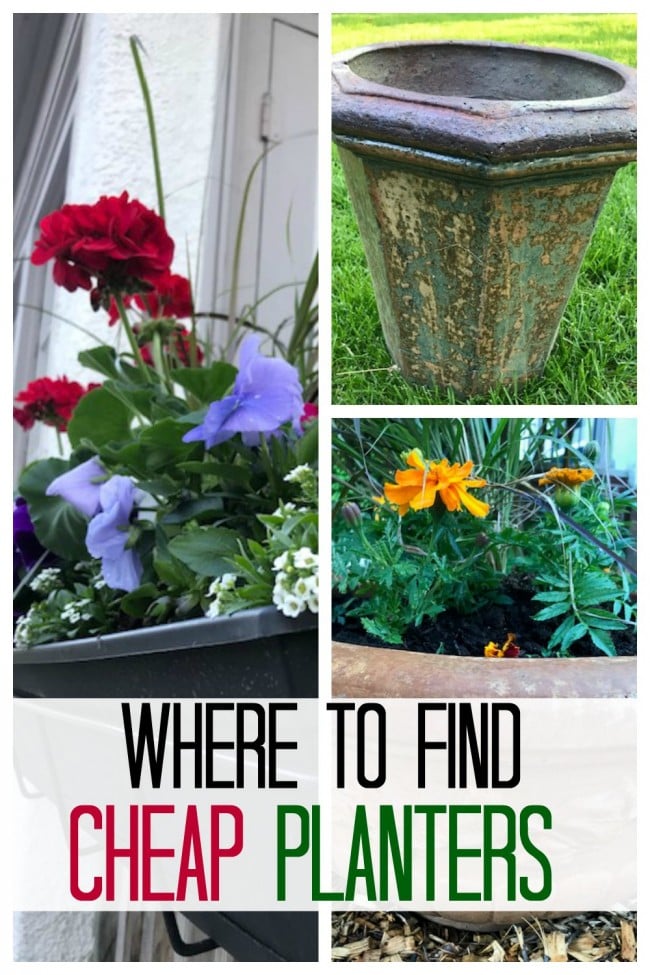 I've picked up a few items from homes from the yard. If I was ever nervous or concerned for my safety, a deal isn't worth the risk. Be safe. Take the advice you would give your kids.
I can't wait to share these planters with you once they are fully grown!
Have you found any great places with deal prices for planters? Please do share in the comments.