I've been on the lookout for cheap planters this year. With people downsizing and simplifying, there are so many affordable planter deals out there! Some in places you expect, others from more creative places.
My favorite planters have been purchased for less than $5.00 each, and I think they are beautiful! This planter is small but so solid and heavy. And I LOVE the variations of color on it. It's chippy perfection! Last year, I planted a perennial shade planter with ferns in it.
Table of contents
Cheap Garden Pots
My favorite local buy/sell Facebook group is where I found this beautiful terra cotta planter. The person I bought it from was downsizing and told me he always planted marigolds in it for her.
Guess what I planted in it this year? And the previous three years before that? Sometimes a planter calls you to plant a specific plant in it.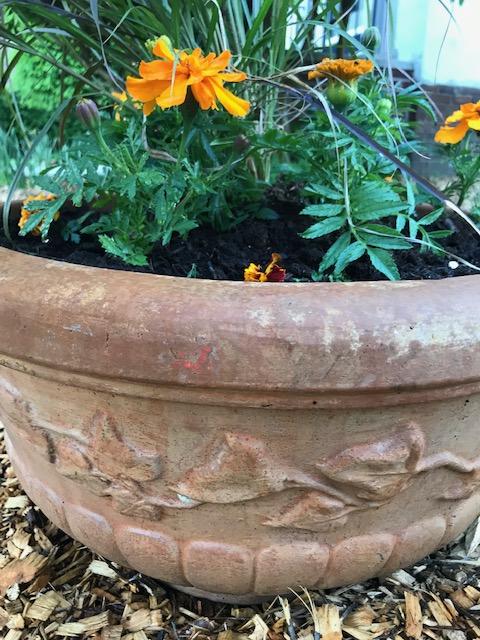 It'll be gorgeous once it fills in. Marigolds also can handle the cooler fall weather, so it will be a very long-lasting container garden.
I've found some inexpensive garden containers on Facebook Marketplace. The one below I love because it has the matching saucer. You don't see that often. The two planters above also came from Facebook Marketplace. There are great deals to be had, but be smart and be safe when buying from people you don't know.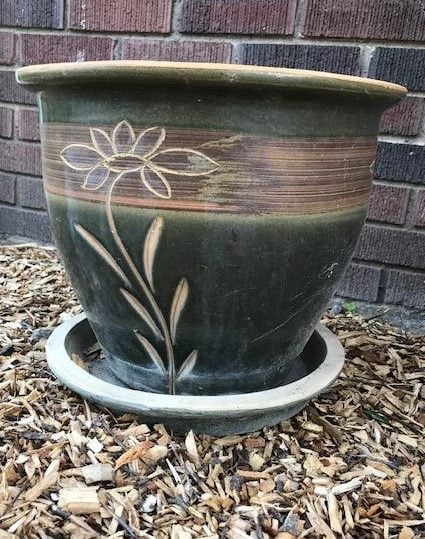 Cheapest Containers for Gardening
Those are the free ones! When I moved into my home, there was a planter box frame with a cheap-looking plastic black window box container in it. It's not pretty, but it was free. When this window box planter fills in, you don't even see it's just a cheap plastic one. Here are some tips for planting in flower boxes.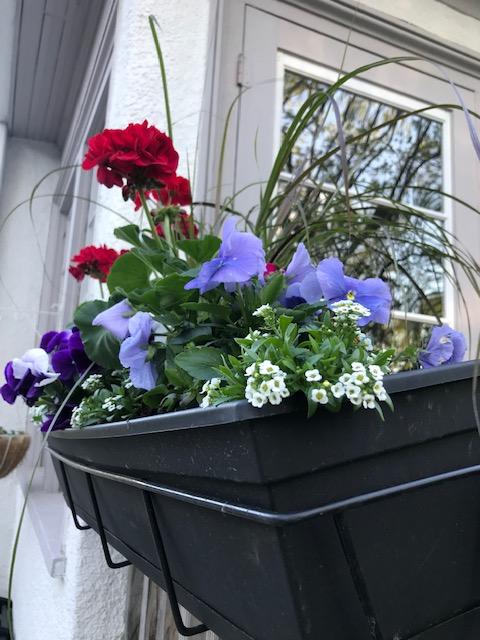 The pansies were too pretty to pull out when it was time to start planting more summer-appropriate plants. I just kept adding, making sure to plant things that will "spill" and will cover/hide the planter box.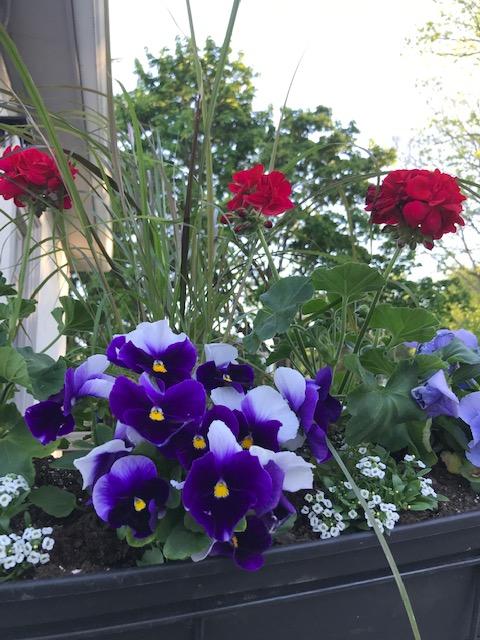 If you don't have one, I saw the price is $6.99 at my local hardware store. And that wasn't even on sale.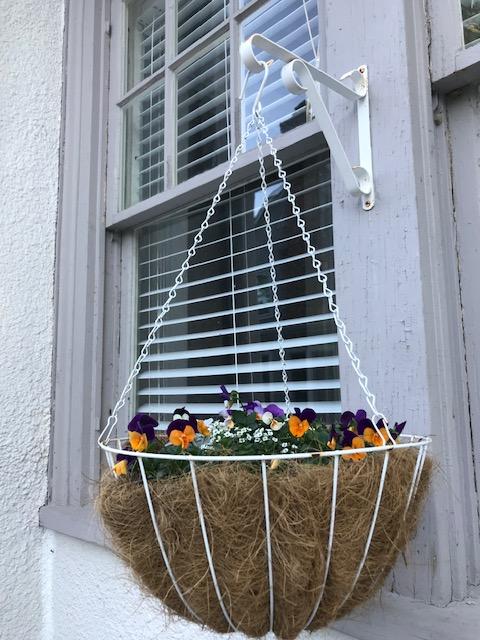 Another free planter when I moved in. The above planter hook was on my house, and the hanging planter was in the garage. At first, I wasn't going to keep it, but my whole house is antique/vintage, so why not! Free works for me.
If you love this but don't have time to hunt for a bargain, these hanging planters are not expensive. If you DIY your hanging planters, this post about preventing water from running through your hanging planter is helpful.
Cheap Garden Containers from yard sales
Yard sales or garage sales are another great place to score deals! Once people take inventory and decide they don't want as many container gardens as in the past, they sell their planters, usually for a real bargain. Think spring and fall for this. Fall timing may not be convenient for you, but people trying to declutter will offer great pricing.
I wanted to show you these twin planters from a garage sale. My garage will look much better with these sitting in front! I'll be adding a few more plants : ). These were a great price for affordable planters at only $8 for the two of them. I think they look cute, too, with the pattern around the top.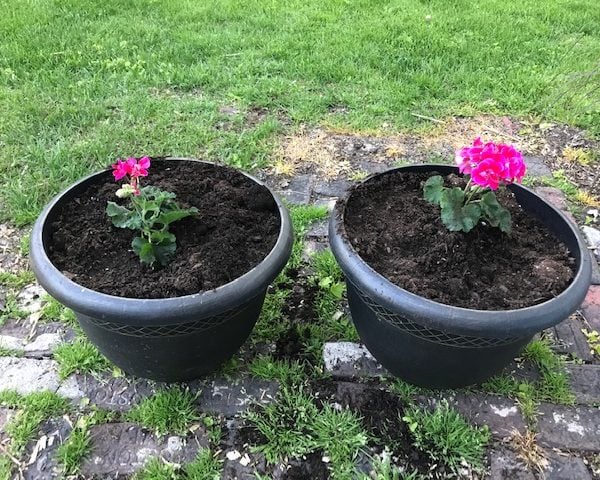 Planters for cheap - using what you have!
Repurpose things you already have! My cement birdbath is one of my favorite outdoor decor items. But honestly, I got tired of cleaning out the robin poop on a daily basis. So I upcycled it to showcase some succulents in my birdbath garden.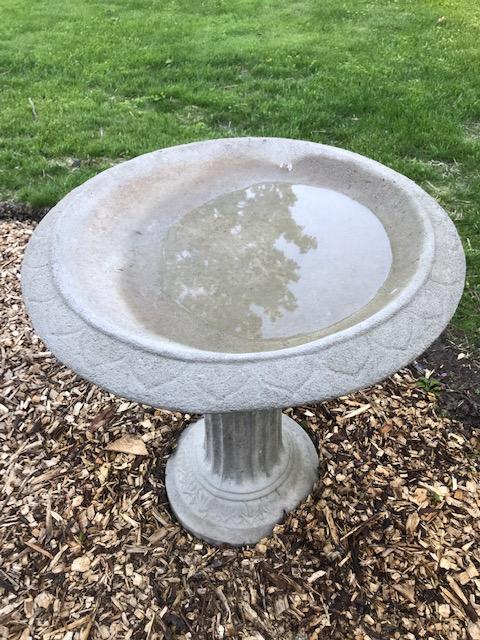 I loved it as a succulent planter. I used it as a bird bath but think it will be an amazing succulent garden again! I shared how I put it together in my succulent birdbath post.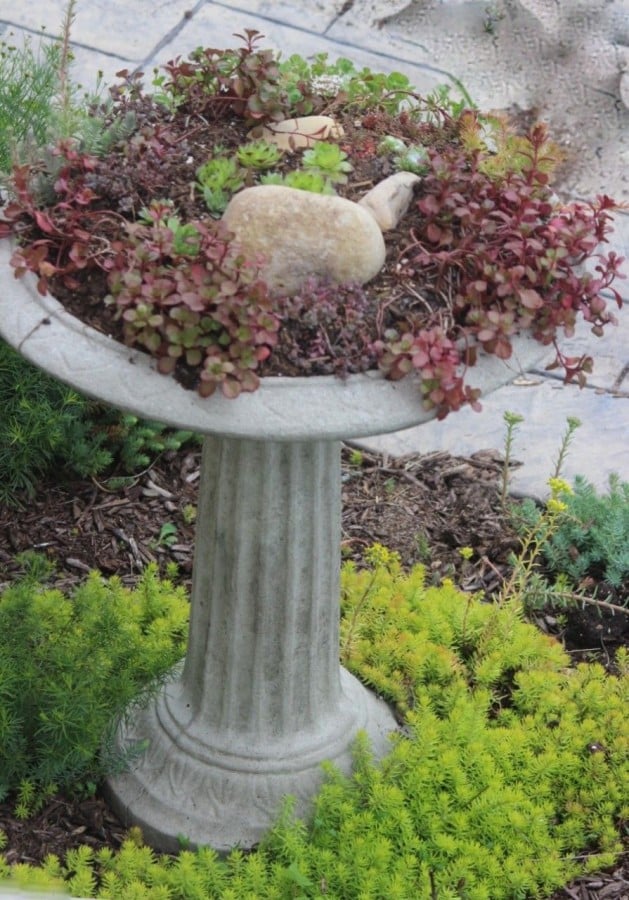 I've had this bird bath for over 10 years now. Sometimes you need to splurge, like on a great pair of jeans. Or the perfect cement bird bath!
Large Planters for Cheap - From the Hardware Store!
I needed a big planter for my deck a few years ago. I couldn't find one the size I needed under $150. I didn't have that much for something I was simply putting dirt into. But, I found a galvanized tub in the hardware store and made this repurposed planter for my container garden. Visit my unique spring planter post for a quick and easy tutorial.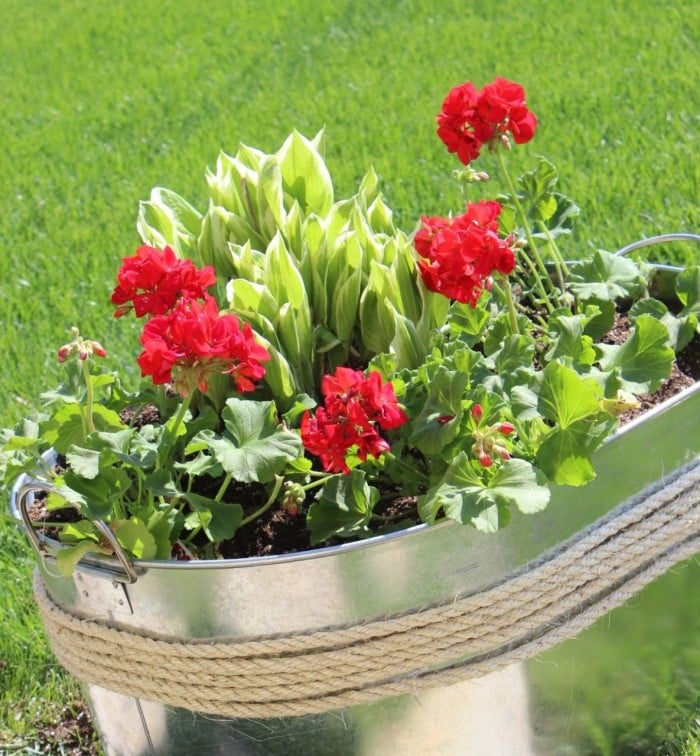 Inexpensive outdoor planters
Although not super cheap, Costco is a great place for fair-priced large planters. And sometimes, you can catch something like this on clearance.
I wanted this size for a long time, so it was worth the splurge to buy new (but on clearance).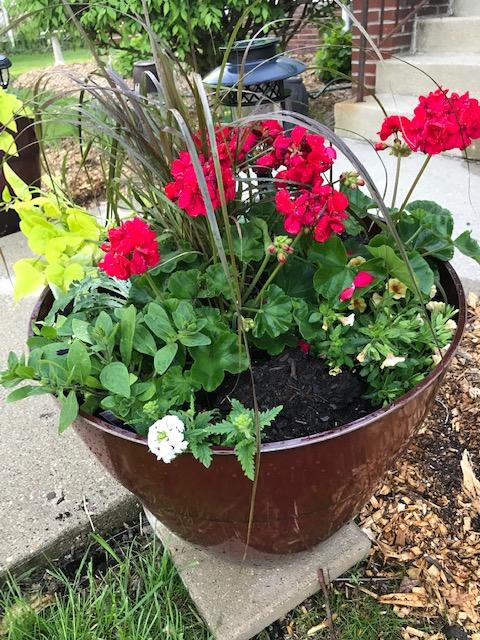 There are three geranium plants in there - to give you an idea of the size! I can't wait for it to fill in. I paid $17.99 for them (worth it for the size). A few weeks later, they were selling the last few (not this color) at $12.99.
The following year I decided I wasn't fond of the color. I have a tutorial if you ever find yourself in that position. I used this exact pot for my post on how to paint your own flower pots. This is what it looked like when I was done!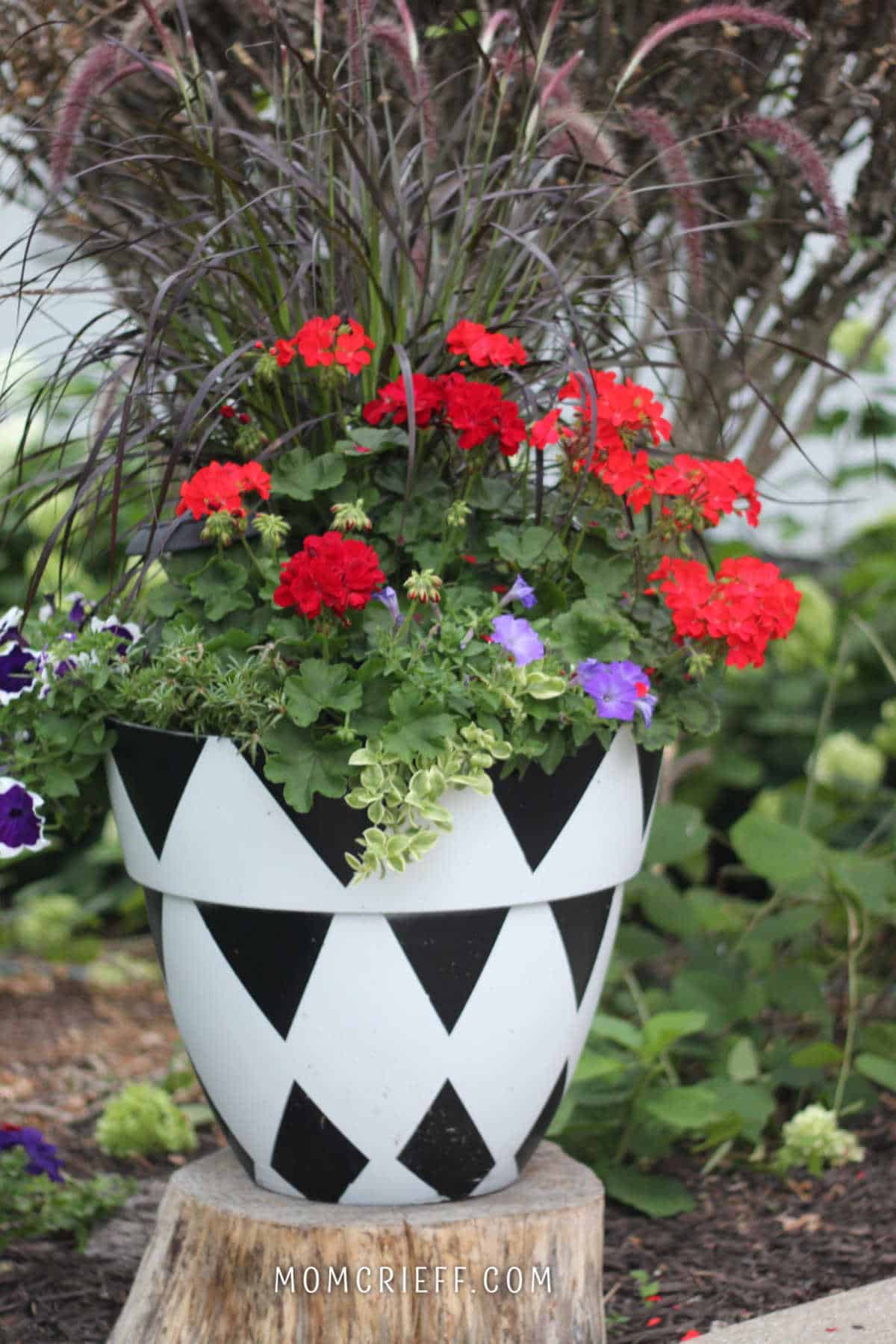 Walmart is another retailer that has relatively inexpensive planters. If you want to buy from a store, that would be the store to look.
Safety Tip
Can I make a quick safety PSA for any of you who may try buying from a Facebook buy/sell site? Please use common sense! Don't go into a stranger's house. I usually met people at a neutral meeting area. Places I've met include outside McDonald's, Target, a town hall, and my local hospital parking lot.
I've picked up a few items from homes from the yard. A deal isn't worth the risk if I was ever nervous or concerned for my safety. Be safe. Take the advice you would give your kids.
FAQ's
What is a good price for a used planter?
There are so many variables to this. If it's a small planter container, I'll pay $5. For a large one, I'd pay $20. But, if it's made of solid material and you LOVE it, it's worth what you are willing to pay or can afford.
Have you ever bought plastic planters from the Dollar Store?
Yes! Especially if I'm nesting small planters in a large one. They hold dirt, and I have no problems buying stuff from the dollar store.
I was looking for free planters!
Those can be had but require patience and a little more work. Those can be found during the last few hours on the last day of a yard sale. Or, even on FB Marketplace when someone just wants something gone! Check for a local FB page for free stuff. Most areas have those.
Have you found any great places with deal prices for planters? Please do share in the comments.