Why plant perennial planters?
I love having planters and flower container gardens. Many times I've thought about only having two at my front door but then, somehow, I have 10! I'm suspecting that this year I'll have a dozen!
The reasons why I'm planting perennial container gardens? It saves time and I'm on that thing called a BUDGET! Annual container gardens can be expensive and add up to hundreds of dollars.
Let me show you my cute little planter that I love. I bought it with a bunch of others through Facebook Marketplace from someone who was downsizing and getting rid of his wife's planters.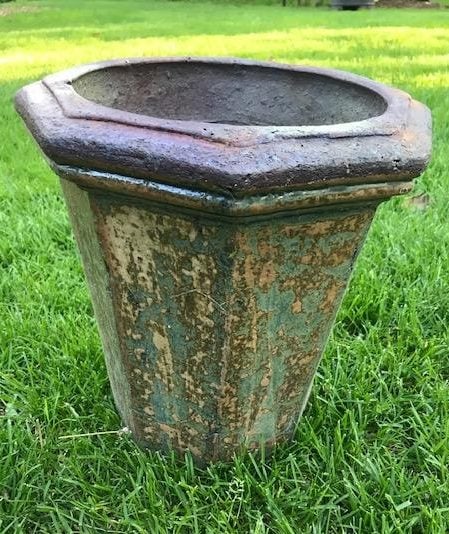 This one is not huge and doesn't hold a ton of plants.  It's tall and elegant though.
Here is what it looked like last year after I planted it!  I love the fern leaves, which are called fronds.  They are elegant and wave gracefully in the wind.  Plus, they grow well in the shade and I have a lot of shady areas in my yard!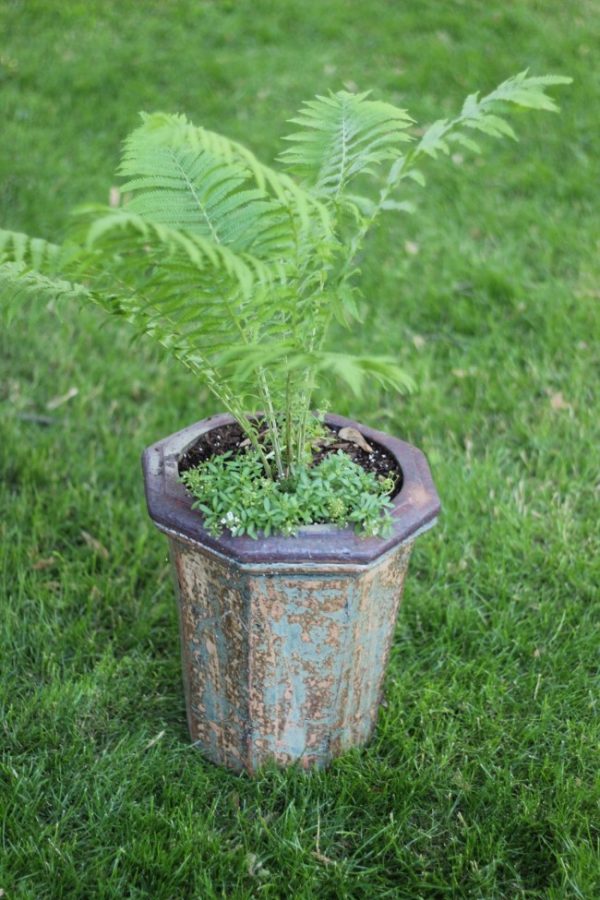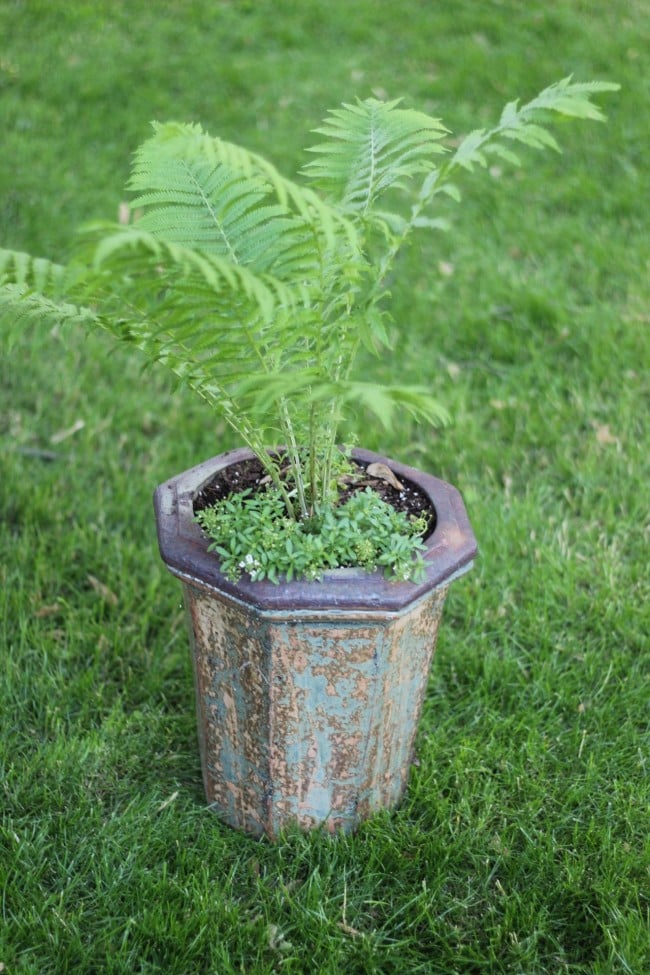 The little plants filling in the pot are an annual called alyssum.   They get 'moundy' and also drapey.   Somehow, I don't think I took a picture of what the planter looked like late last summer.   But it is such a simple container garden and I loved it!
This is such a simple but lovely shade planter!  If you are looking for more shade garden plants/ideas, take a look at this 31 shade garden plants/ideas post
I left the fern in the container overwinter in a sheltered spot in my yard.  That can be risky because plants in containers can often get too cold and dye.  But, I was trying something new so it was worth the risk.
Here is the fern rhizome.   It is growing and soon the fronds (leaves) will pop out!  Look at the thing right in the center of the dirt.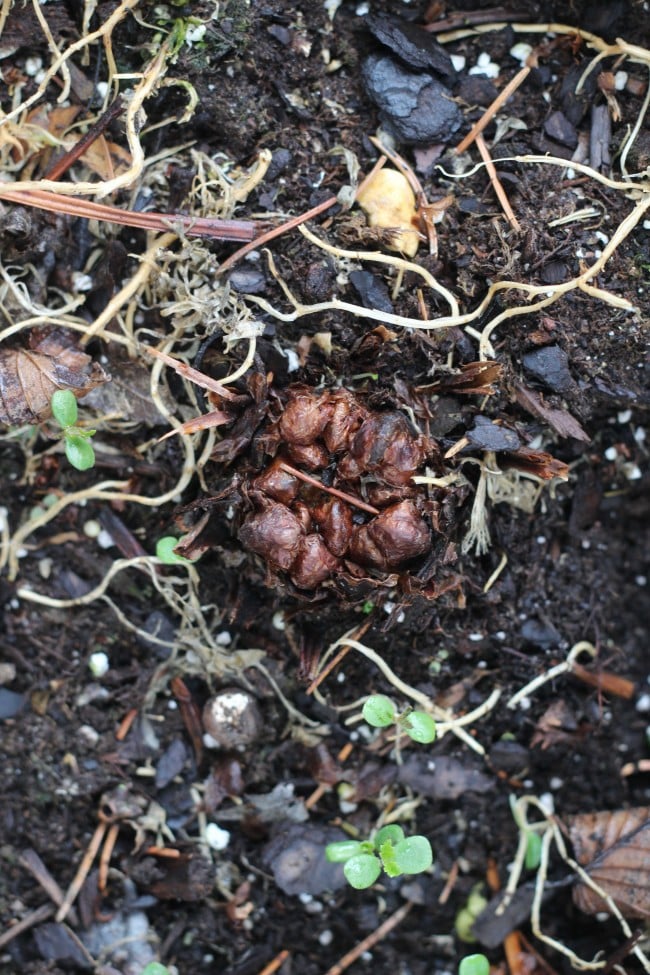 I mentioned that I had alyssum growing in the planter with the fern.  That plant is an annual.  However, it can self-seed.  And I think that's what it's done!  The little green plants are - I hope - baby alyssum.  If not, I have some seedlings growing in my basement!
Why do gardeners walk their yards every day?
Especially in the spring, there are so many changes with your yard. It's personally uplifting to see plants begin to grow. And after a long Wisconsin winter, I love seeing my plants return!
For example, that fern rhizome I showed you earlier. Let me zoom in on that a bit.  It's the brown lumpy thing in the middle of the picture below that I want you to look at.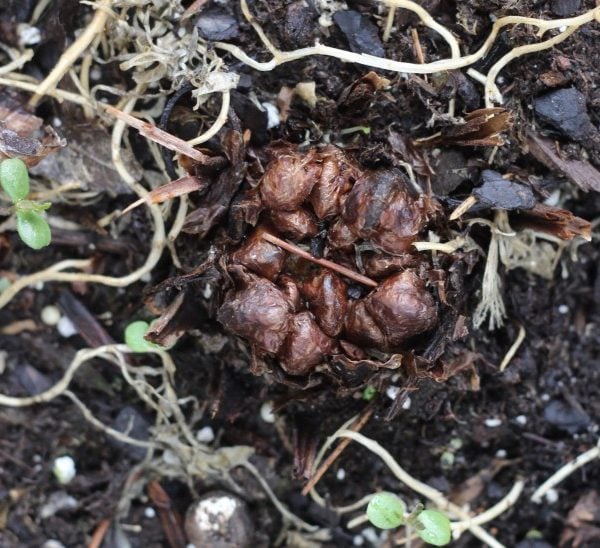 The next day, you can see something like this (below).  The leaves are starting to grow.  They are called fiddleheads at this stage.  The lumpy things in the picture above are fern leaves!
As a teen, I used to visit friends who collected fiddleheads, sauteed them, and ate them.  They tasted really good.  If I remember correctly, they tasted similar to spinach.  But, I'm truly not sure what type of fern we ate so please make sure the fern is safely edible if you want to taste them!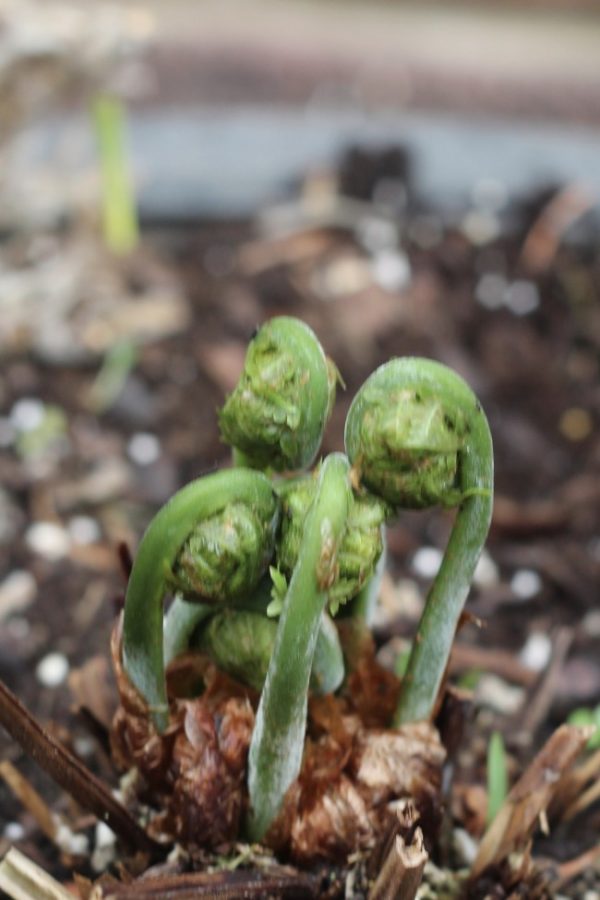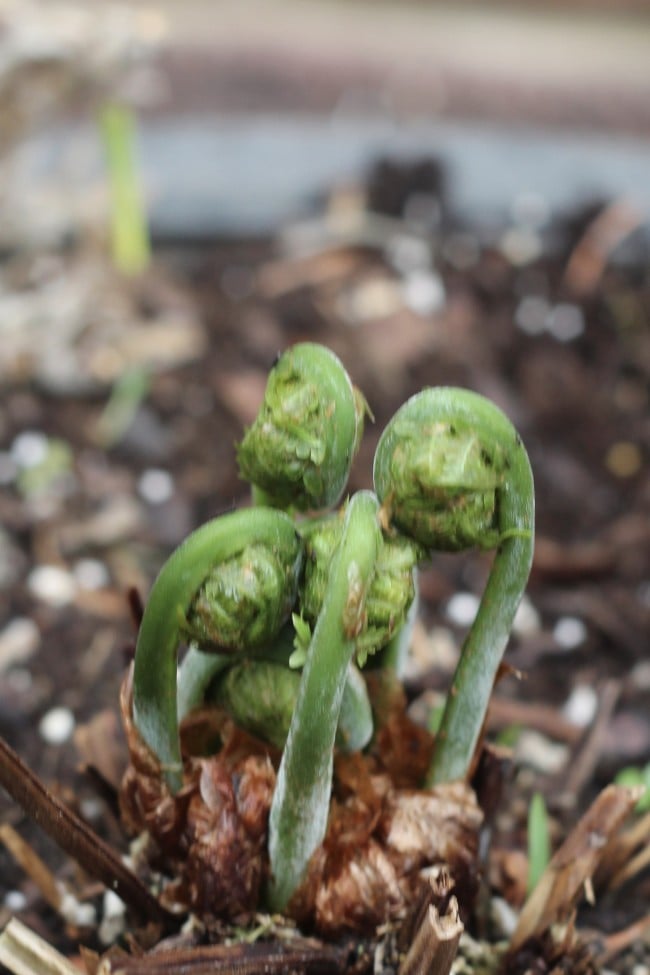 The planter beside this one is a little further ahead and the leaves are taller.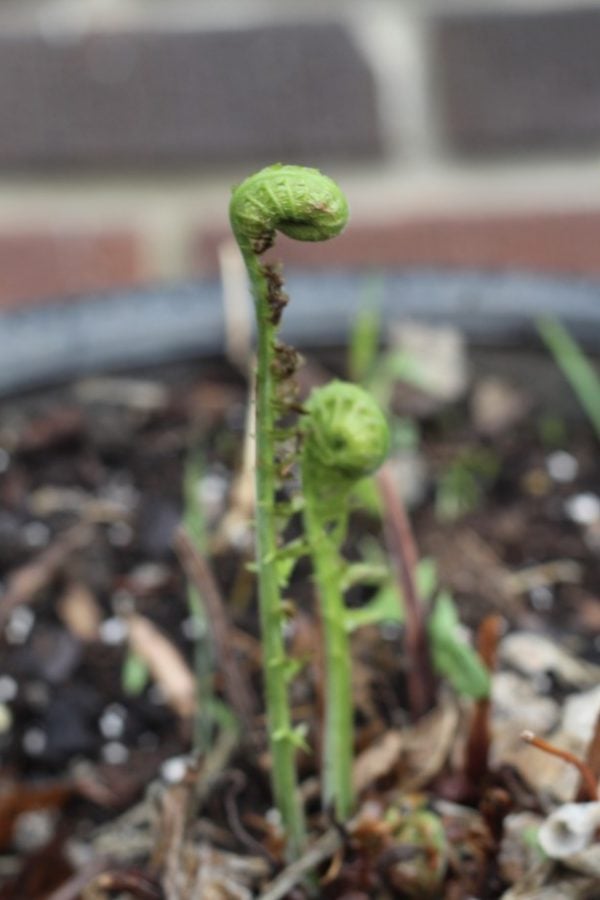 Watching these changes occur is why I love wandering around my gardens on a daily basis!
Ferns are fascinating! If you want to learn more about them, I found this website had a ton of great information. The US Forest Service has great info. on ferns!
Obtaining planters is part of the initial expense of having container gardens. However, you don't need to spend a ton buying them. If you need planters, read my How to get Planters Cheap for your Container Garden post. Remember, your flowers and plants will be the star of the show. If your planter isn't beautiful, no one will notice!
If you are looking for a more traditional container garden, look at my
How I plant my container garden post.