Creating inexpensive white vases!
White vases are such a pretty and clean home decor accent. If you are looking for a group, they can be expensive to buy. I made some by repurposing a dollar store purchase and some spray paint! Quick, easy, and cheap DIY white vases.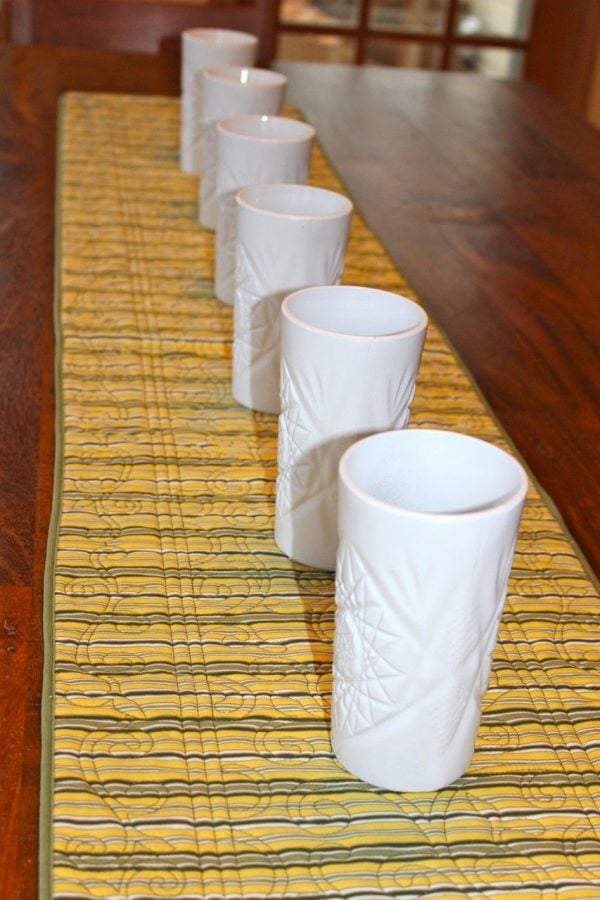 White vase DIYs, I see them everywhere. They are all over Pinterest and so many bloggers use them for pretty, clean displays on mantles, tables, etc.. I've also seen so many transformations with spray paint. Honestly, it's been years since I've spray-painted anything but the results I've seen, amazing! Could it be true, could it really be so easy? Well, I figured I would try!
I headed to the dollar store to find some inexpensive glass vases. Actually, I ended up buying 6 really heavy glass drinking glasses. At least that's the section they were in. They just seemed so heavy to me to have a glass of water with. So, I bought those with plans of making some pretty white vases. Have you seen the Pinterest 'before' and 'afters' of the really ugly glass containers? They take something ugly, spray it white and voila, it's beautiful.
Wellllllll, I don't think I bought ugly stuff, but I certainly wouldn't have used them as is.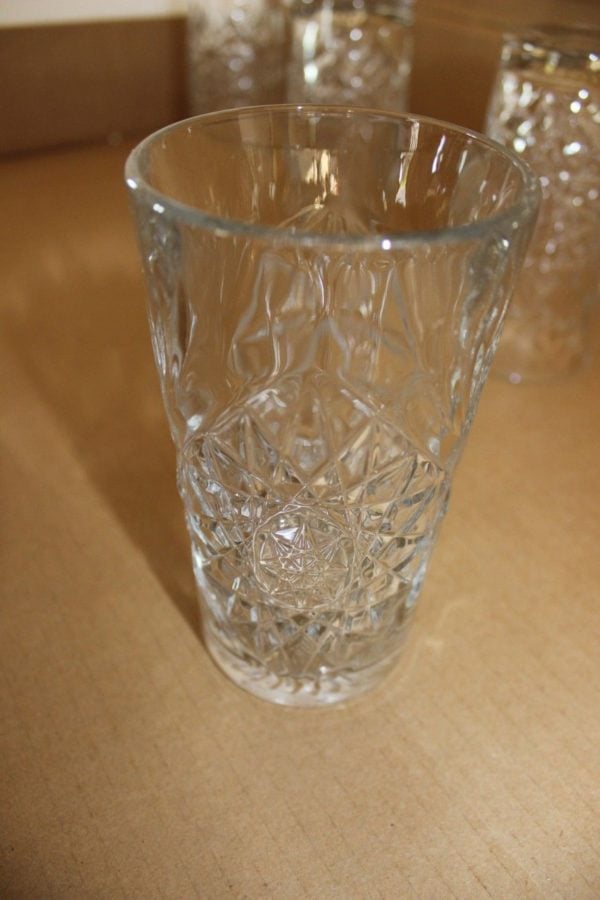 Do you see how heavy and solid it looks? A white vase diy prospect!
I figured the reason the spray painters I've seen were so successful is they bought good quality spray paint. Why bother with the work if you don't use quality paint! I am assuming it's a waste of time. I figured with glass, a spray paint with primer would be appropriate. Here is what I used: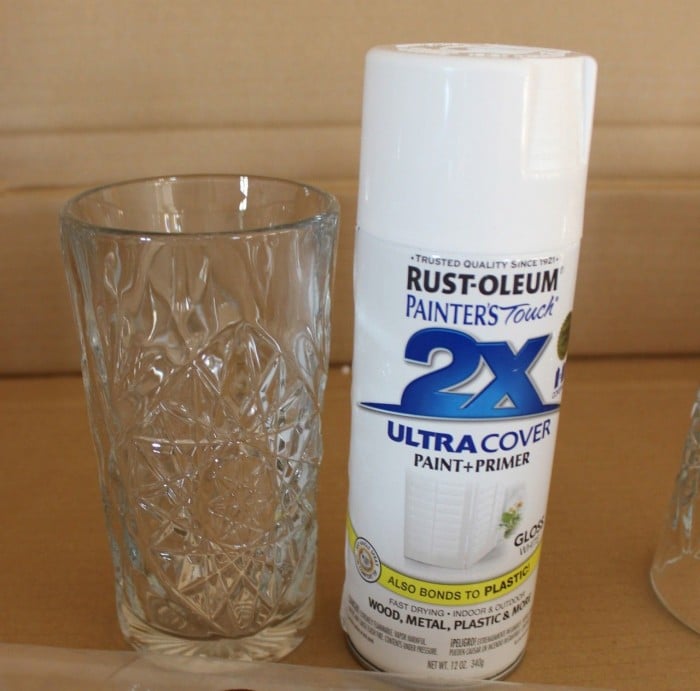 Here we go.  I create a spray booth using cardboard.  Make sure you protect your surfaces with cardboard when you are working on a spray pain project!  It makes cleanup sooooo much easier.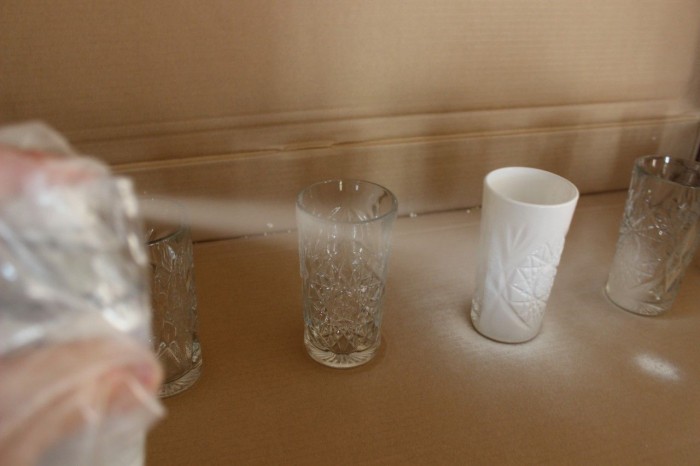 I was actually pleasantly surprised at how well just one coat covered. I was spraying lightly from the recommended distance. I wanted smooth, even coverage and no running so I was careful and patient.  You are always better off spraying lighter and having to do an extra coat than spraying too much and having the paint run.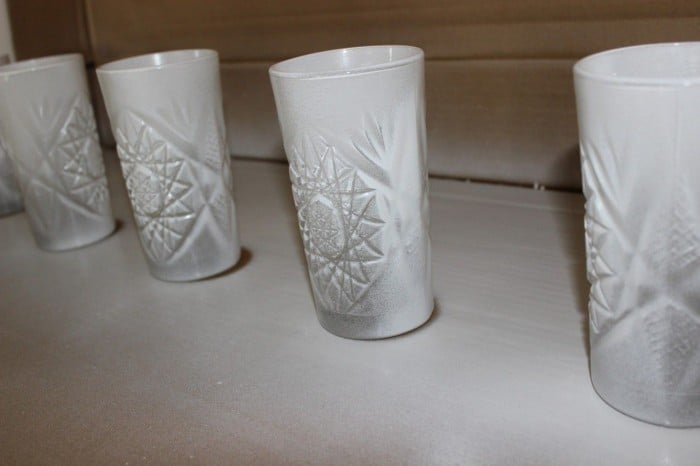 I turned the water glasses around after letting it dry for about ½ hour. Then I waited about 45 minutes and turned them upside down to spray the bottom. I'm glad I did because some of the grooves in the glass weren't covered with paint.  Always read the directions on your spraypaint for drying time recommendations.  Then I adjust for temperature, and humidity.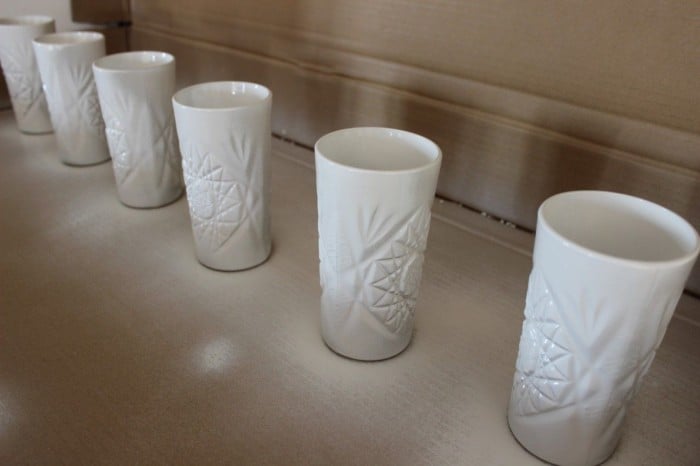 Yes, I am happy with my white vase diy!
I actually have displayed these empty! They are so pretty displayed on a long farmhouse table.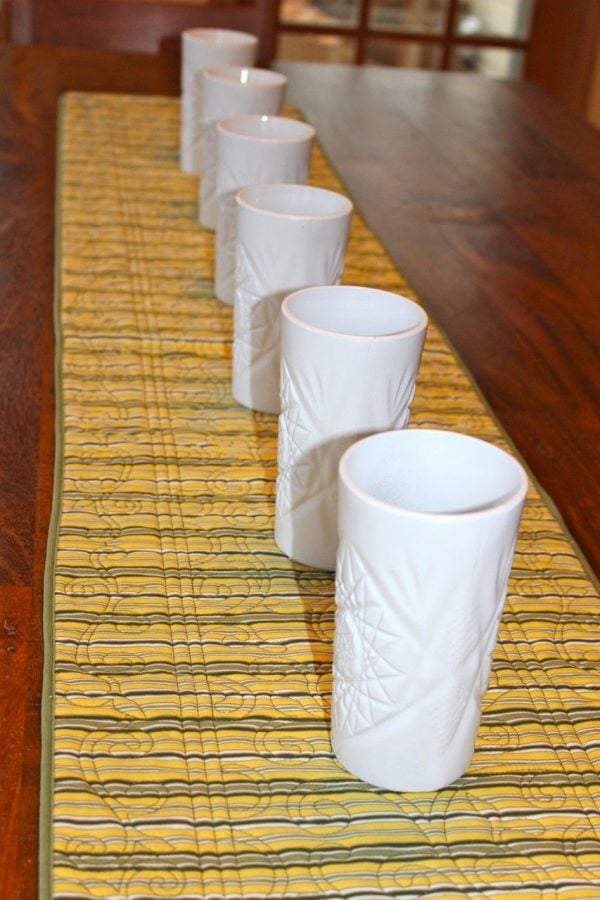 It's amazing how the spray-paint still allowed the detain to show from the glass. I also loved how evenly the paint took and that there were no big paint runs. Again, apply the spray paint lightly and it's better to have to do another coat than have the paint run.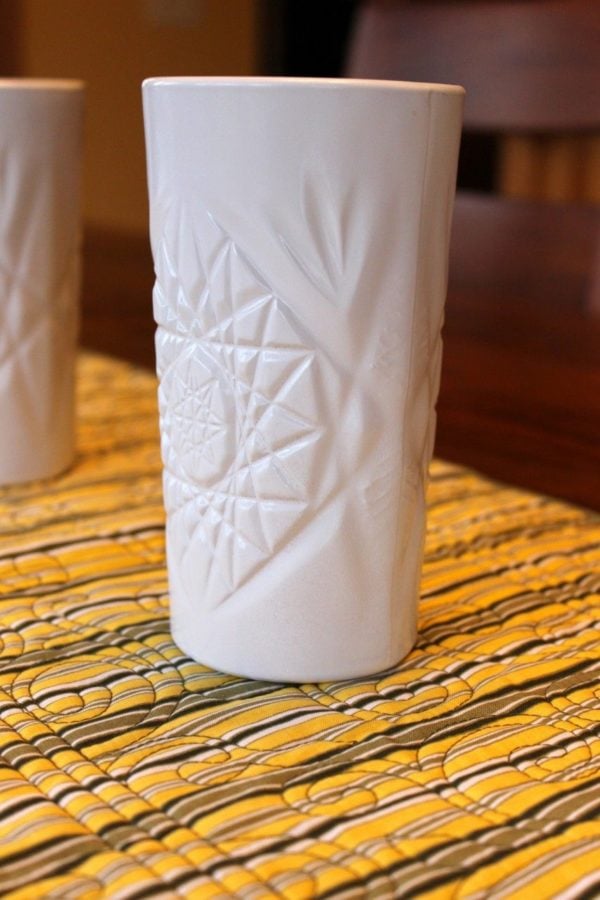 So many decorative options!   If you see water glasses that are the perfect size, go ahead and buy them and paint them.  It's a quick and easy DIY to create some pretty and heavy vases!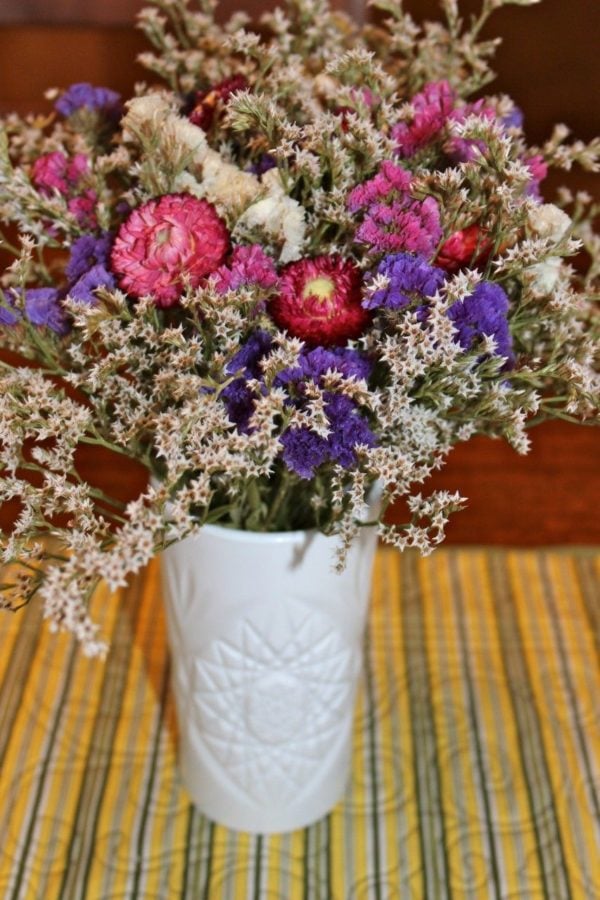 They look so different from when I started. I have plans for them. You will see them again soon!
Love spray painting ideas?  Come take a look at my pretty white pitchers that I updated from my thrift store find!