I love hydrangeas! I enjoy preserving them so I can enjoy them in inside during the winter. Also, dried hydrangeas are great to use for various crafts. This is an older post and shows you how I spray painted my hydrangeas a few years ago!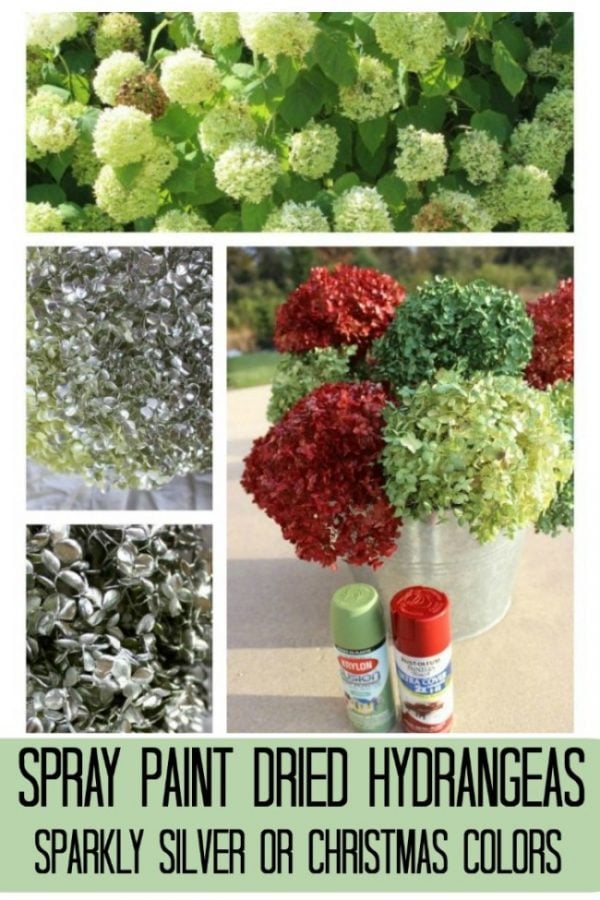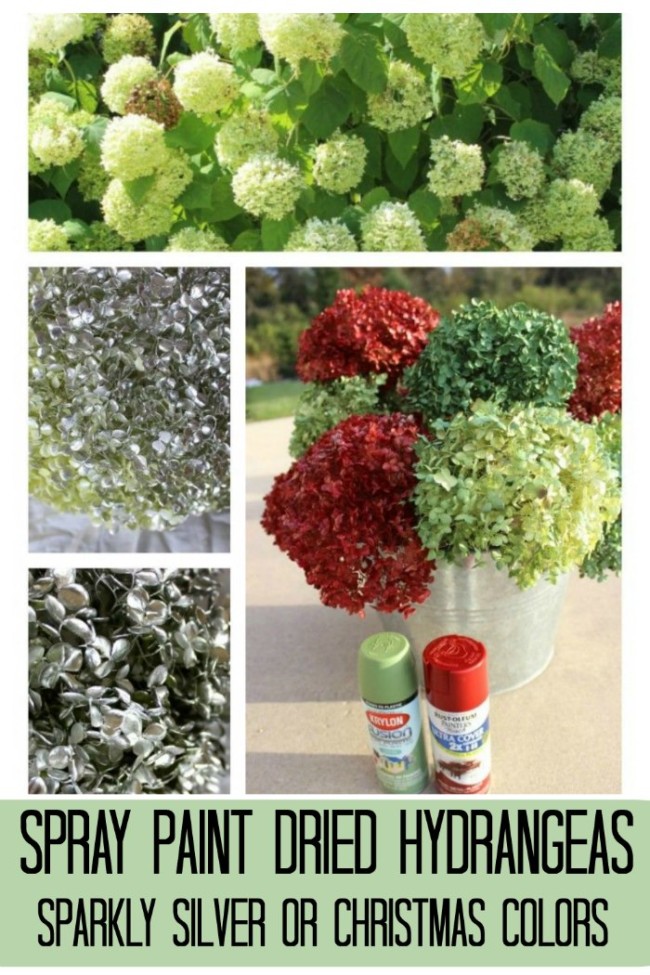 Spray paint your hydrangeas now! Before you cut them down and get rid of them with your other yard/garden waste. They will be beautiful and you can use them at Christmas and throughout the winter in your home decor. If you don't have any growing in your yard, and you get whiplash as you drive by beautiful hydrangea shrubs, don't be shy, ask if you can have some! Many of these shrubs get cut down for the winter. And people are happy you are cutting them and taking them with you. Really!!
This is what the hydrangea shrubs look like now (I know some of you aren't gardeners!).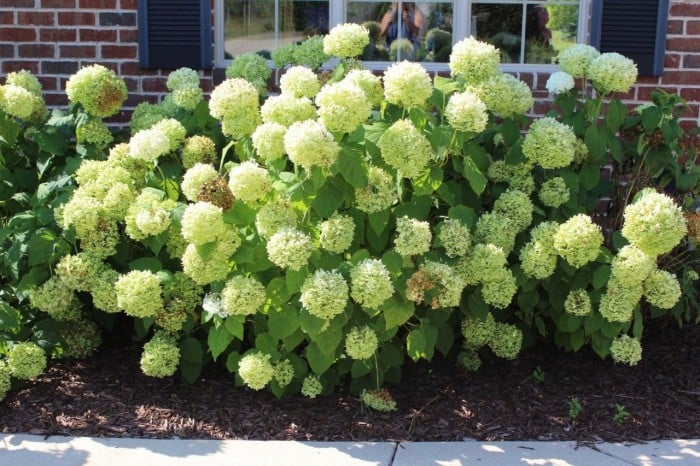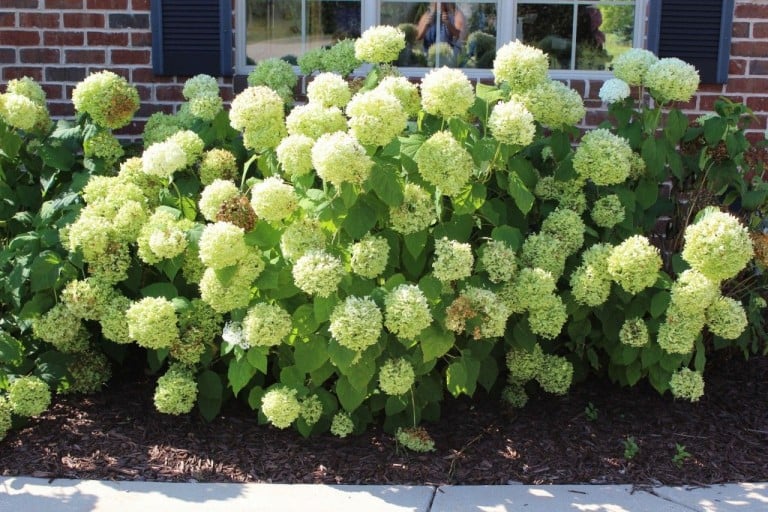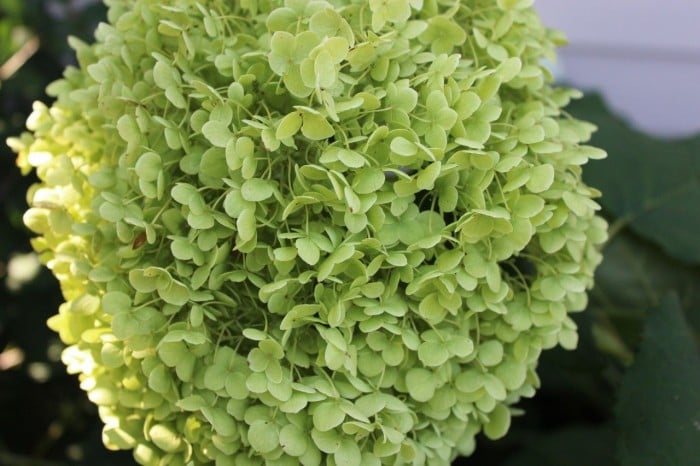 I love dried hydrangea and have some naturally dried ones too. But, here is how I sprayed mine (really, it's super simple!). First I cut down a whole bunch. Take more than you need! Soon they will be in the yard waste pile and it will be too late.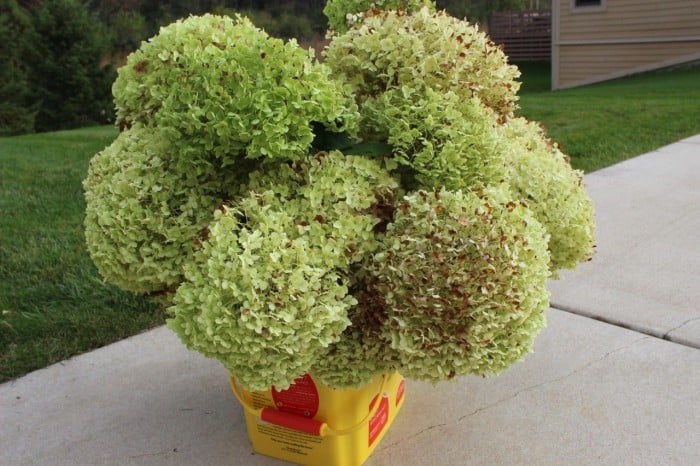 I strip the leaves off, and bring them in the house for a day to dry out. I just think they paint better if the flowers are dryer. They honestly start getting dried out in a day or two.
I spray painted in my garage with the door open. I have an old sheet that I use to cover the floor and away I go. I didn't want the wind to be a factor but wanted lots of ventilation. A little FYI, don't wear your favorite black shoes. You may get some unplanned silver overspray on them :(. And it doesn't come off easily. Also, wear a glove or if you don't have one, stick your hand in a plastic bag before spraying. For some reason, my hands got covered in spray paint. Goo Gone can work wonders getting the paint off your hand!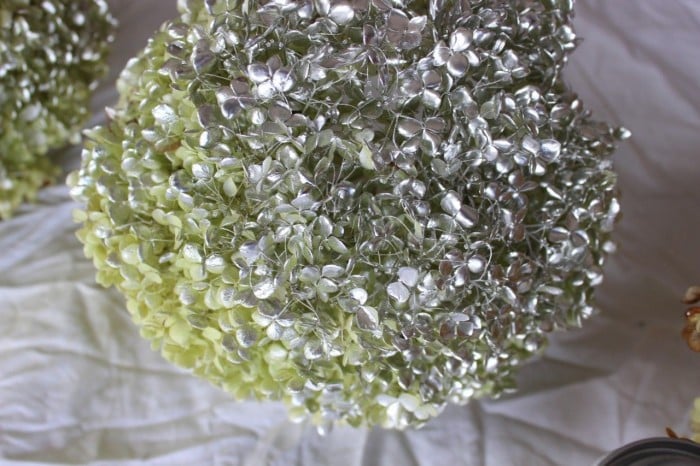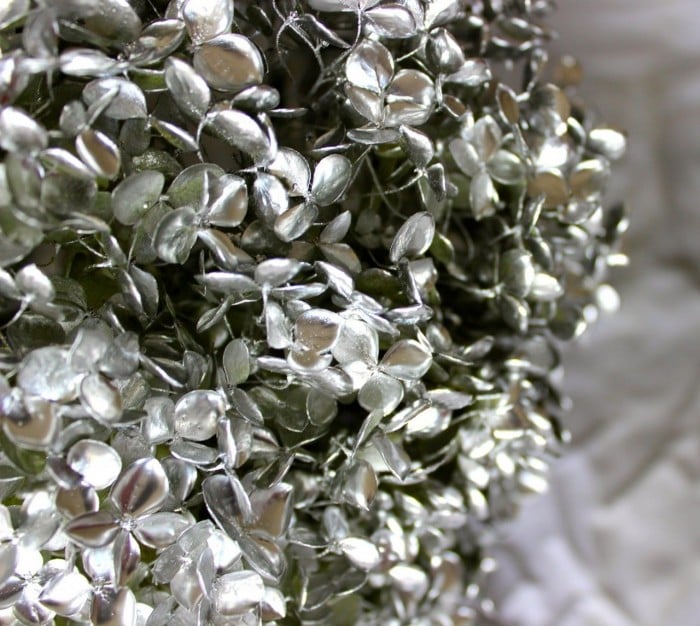 They actually spray paint very well. And look all silvery and sparkly. Make sure to pick up the flower by the stem and spray the underside of the flower. It helps make sure you get paint coverage on both sides of the flower petals.
I couldn't help myself and I tried Christmas colors. Some pretty red (more burgundy) and a lime green. A little more vivid than the natural hydrangea colors but that was what I was going for.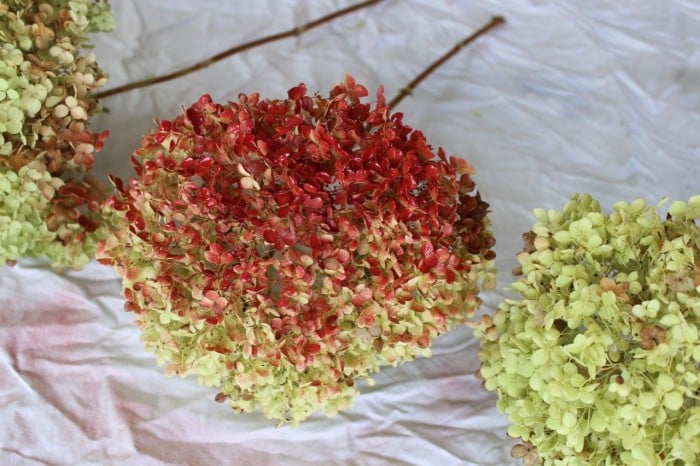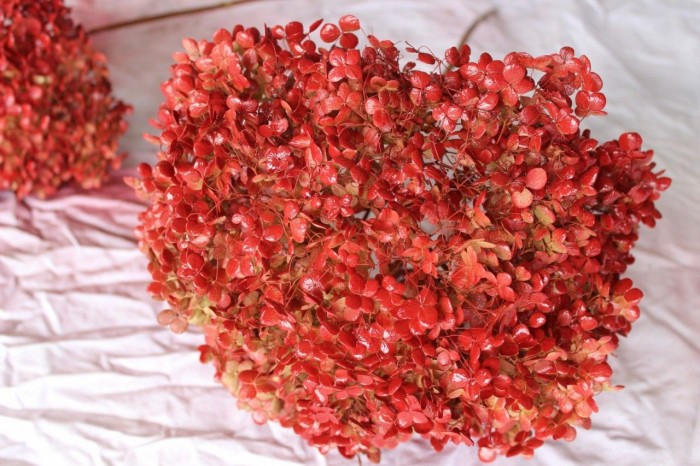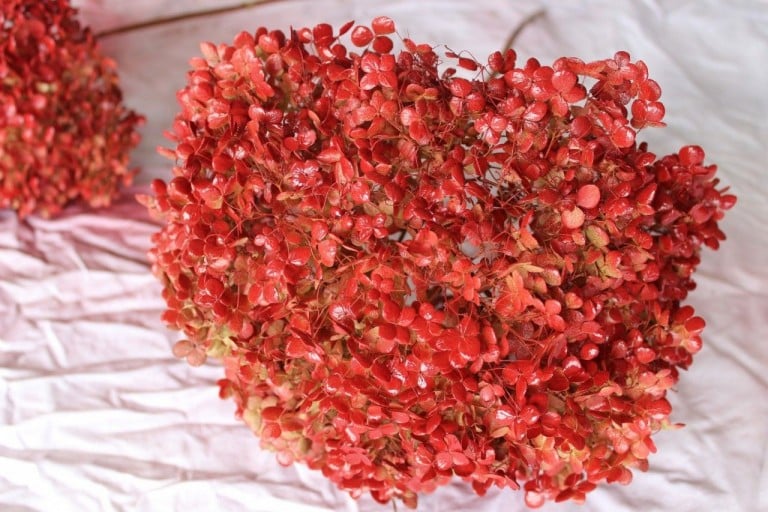 I didn't spray the red and green ones as thoroughly. I think some of the natural color looking through keeps them looking a little more real.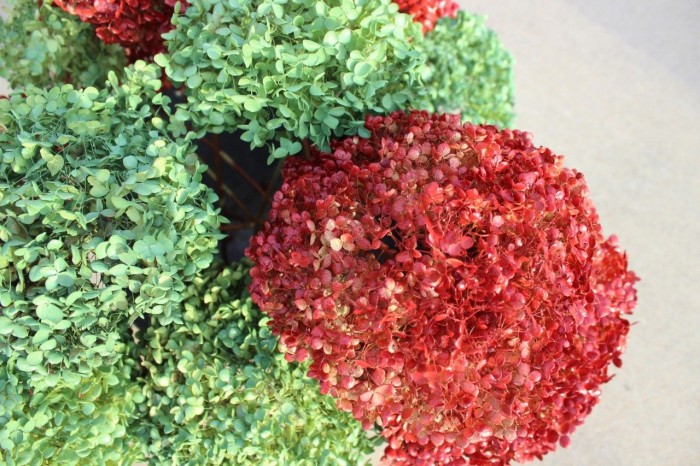 Here is the spray paint I used for the red and the green.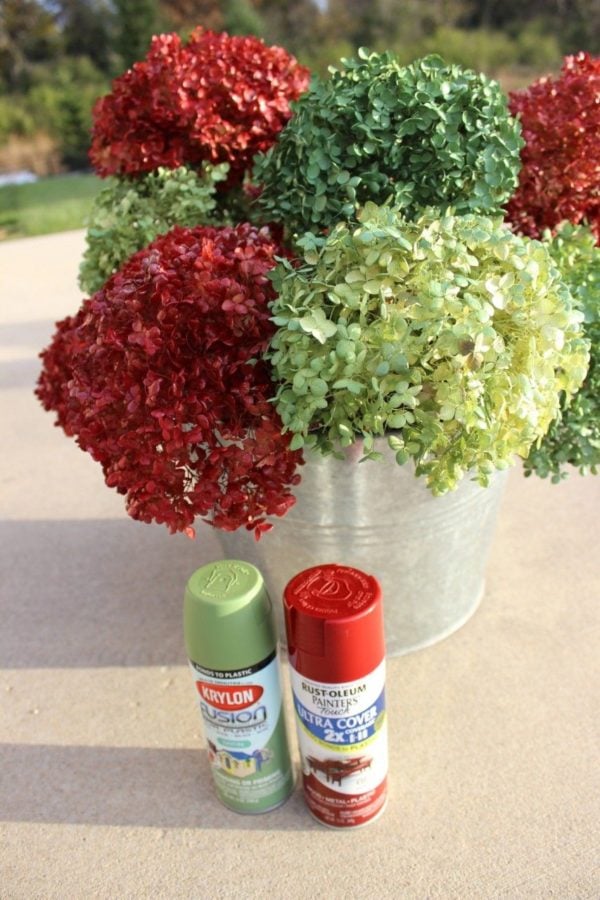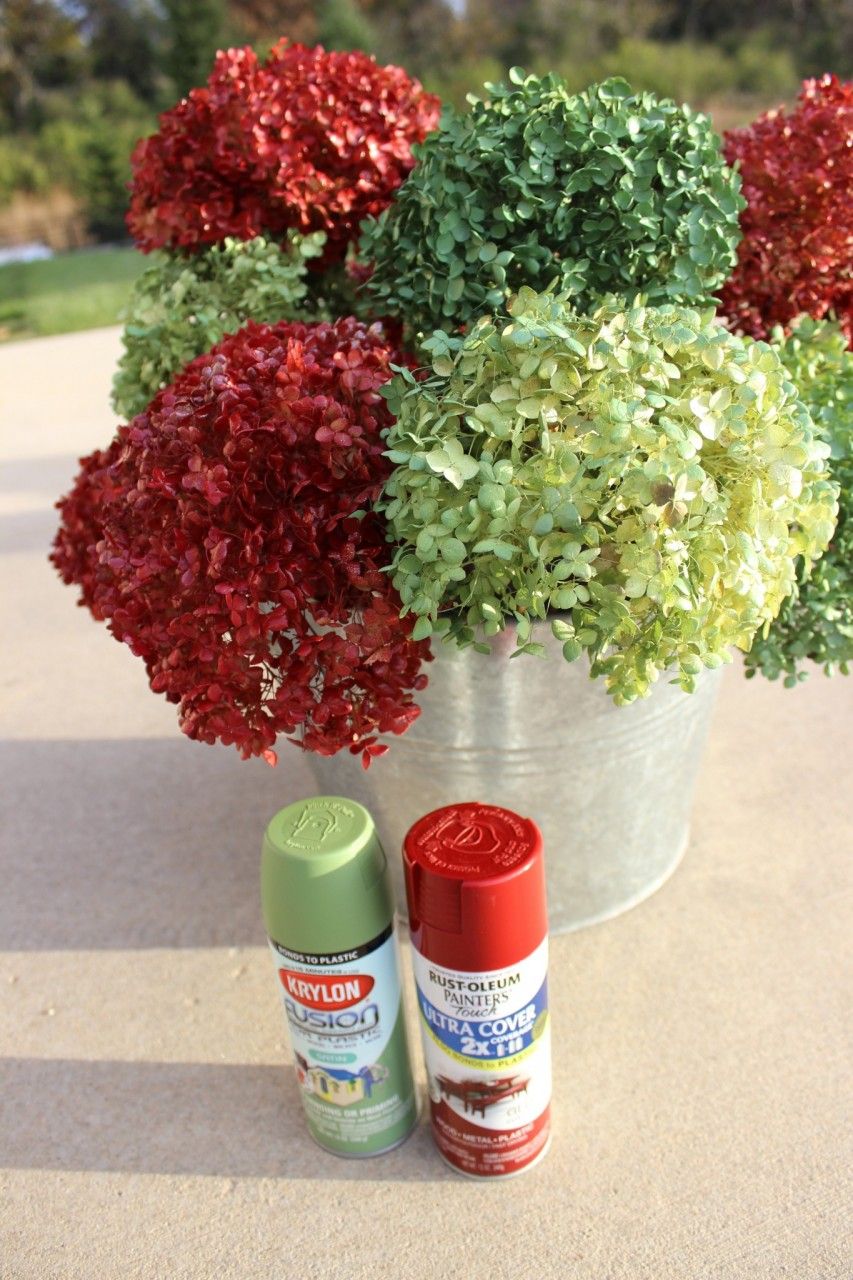 Honestly, these turned out way better than I expected. I totally LOVE them!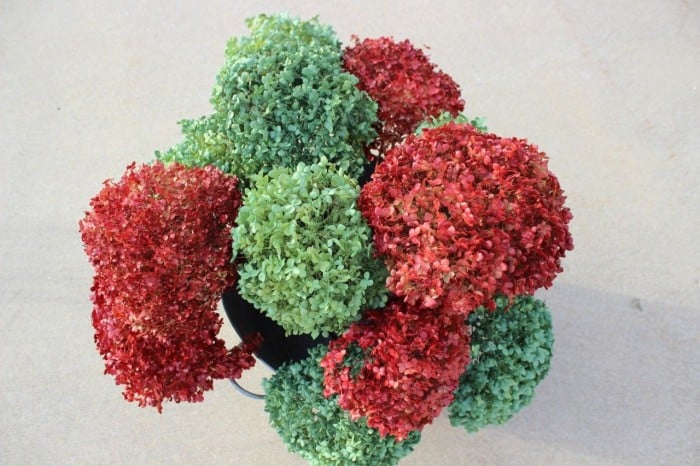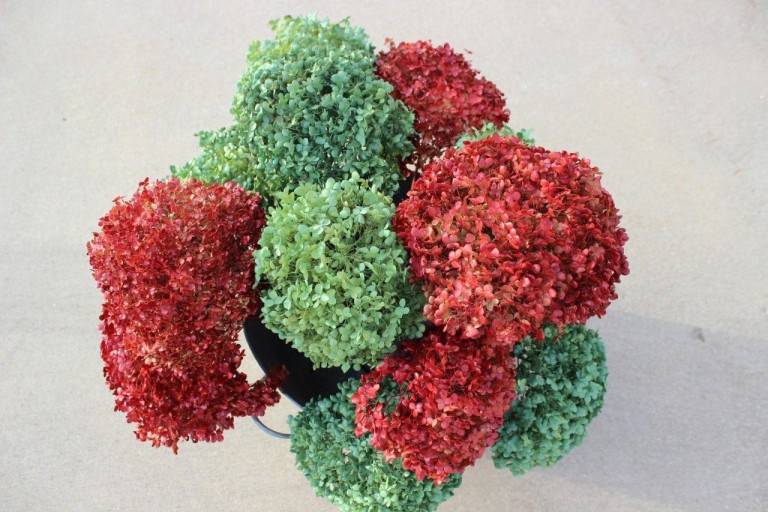 Here is the bunch of silver ones. They look better in real life.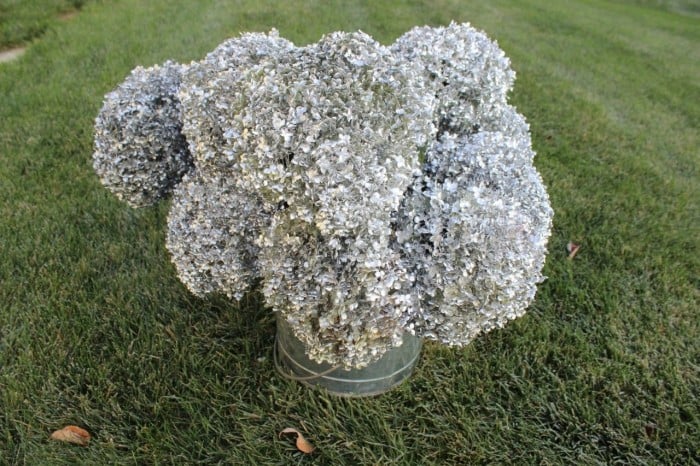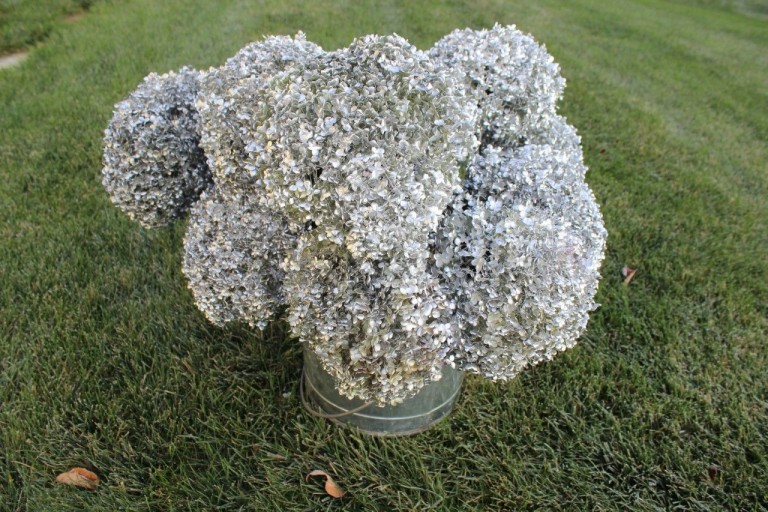 For now, I have them plopped into some galvanized pails and put on a shelf in my garage.
They are the prettiest things in my garage!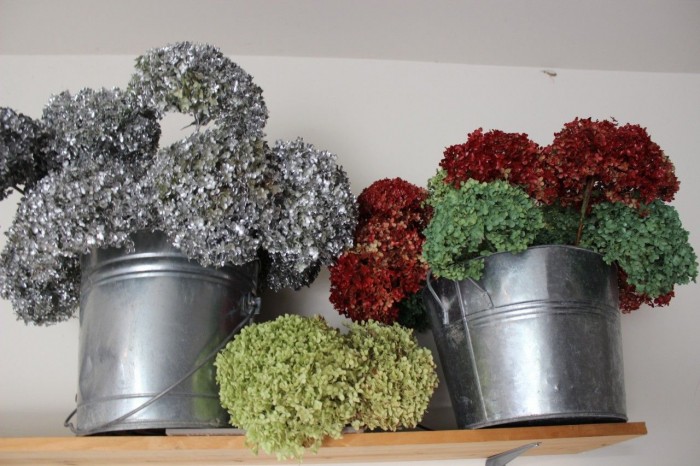 I'm not 100% sure what I'm going to do with them but I do have some ideas in the back of my mind. I just wanted to share this with you now so you can still grab some hydrangeas and spray paint them. Have fun! Spray painting can be addictive.
This year, I painted some of my hydrangeas blue! They look gorgeous as an accent in my living room.
Take a peek at My Blue 1920's Living Room to see these pretty blue hydrangeas! I also wrote a post showing how I painted the hydrangeas blue but kept them looking natural.