Dried hydrangeas - how I ended up with so many.
I love hydrangeas. Of any color. My new home actually had a hydrangea jungle when I first bought it. There were way too many hydrangeas.  This is one part of the front of my house.  I had more hydrangeas going down the side of the driveway.  And the left front side of my house had just as many.  It was a jungle.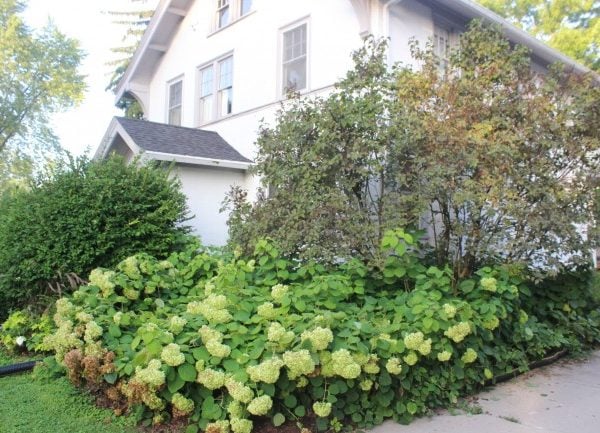 How my hydrangeas were removed
The big problem was my basement was getting wet.  And, everyone who looked at my basement and house said the same thing.  Too many plants and the land around the house needed to be graded to slope away from the house.  The slope of the yard was too the house and the water was going down and then into my basement.
Before I knew I had a basement water issue, I just tried to get the hydrangeas under control.  I had tried cutting down the hydrangeas and they just multiplied.  At one point, I just tied a rope and pulled them back.  They were making it hard to get in and out of the driveway!
The landscaper had come and used this piece of equipment to dig out the plant and then scraped up the remaining roots.  I did keep 10 nice sized bushes to replant later.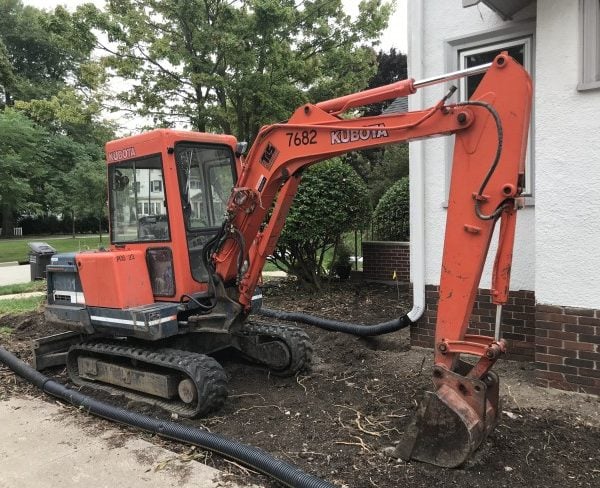 This project started because I was getting water in my basement.  You can see the black pipes were diverting the water from my house to the middle of my front yard.  Part of this project was to divert my downspouts with buried pipes that let the water come up away from my house.
And here is the hydrangea plant and root pile.  I gave away a ton!  But there were just so many!!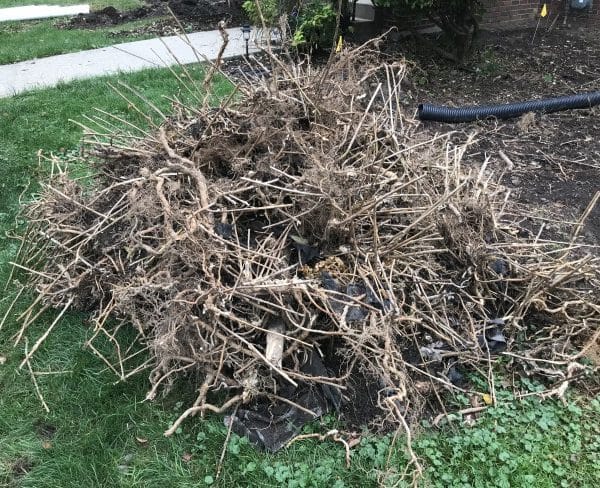 Actually, this pile was originally twice as high.
If you look at the original first picture, there was also a HUGE lilac tree that was removed.  I had originally tried to save it but the landscaper told me it was past saving.  The roots were rotting and it was so overgrown it couldn't be saved.
And the huge crazy burning bush shrubs were trimmed to half their size.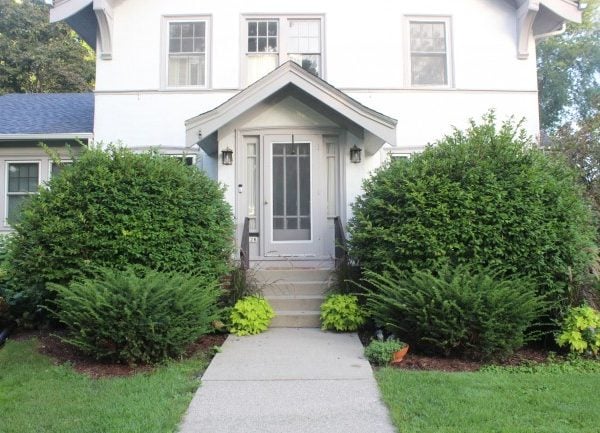 OK, my planters with the bright green sweet potato vines look so dwarfed.  I guess in hindsight, I should have invested my time in trimming the shrubs rather than planting containers that would be dwarfed by the shrubbery!  Oops!
There was a lot of greenery that was removed!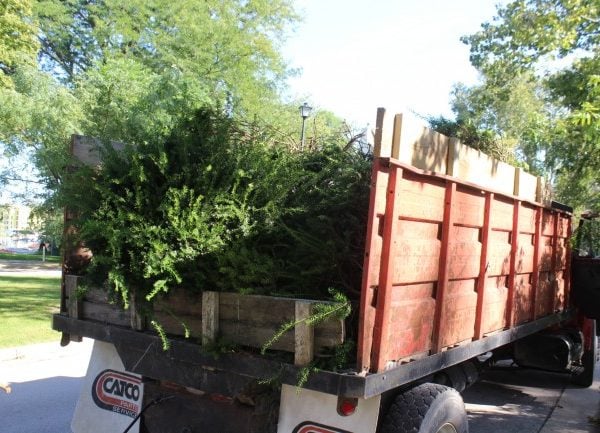 This is the background to how I ended up with so many dried hydrangeas.  I just couldn't throw out the beautiful hydrangea flowers.  I dried lots of them!
Making a hydrangea wreath
I have a grapevine that I've used for many wreath projects.   I often just take out the previous season's flowers and change them out seasonally.  This was my spring wreath.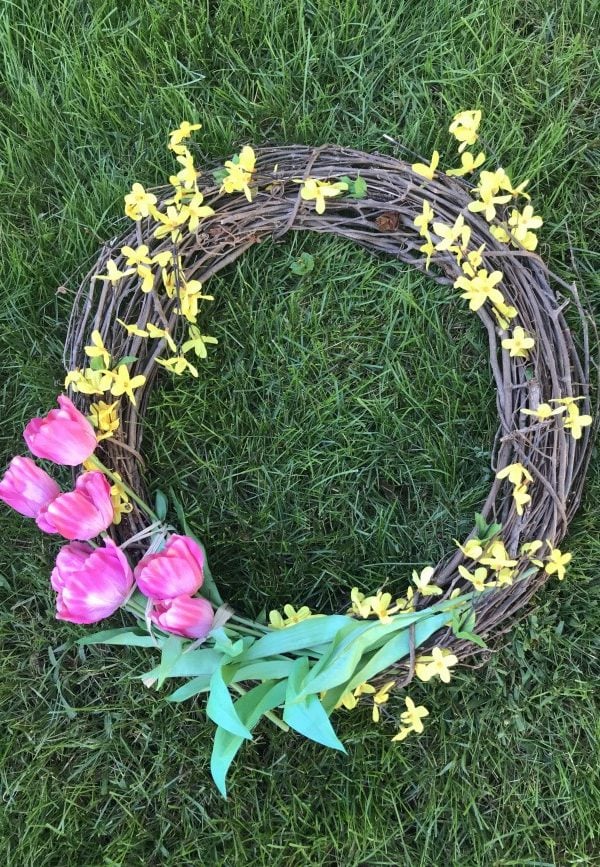 *This post may contain affiliate links. Please see my full disclosure policy for details.*
All I did was pull those flowers out and poked the stems of my hydrangeas into the wreath.  Plain grapevine wreaths are very inexpensive and they are so easy to use to make seasonal wreaths with!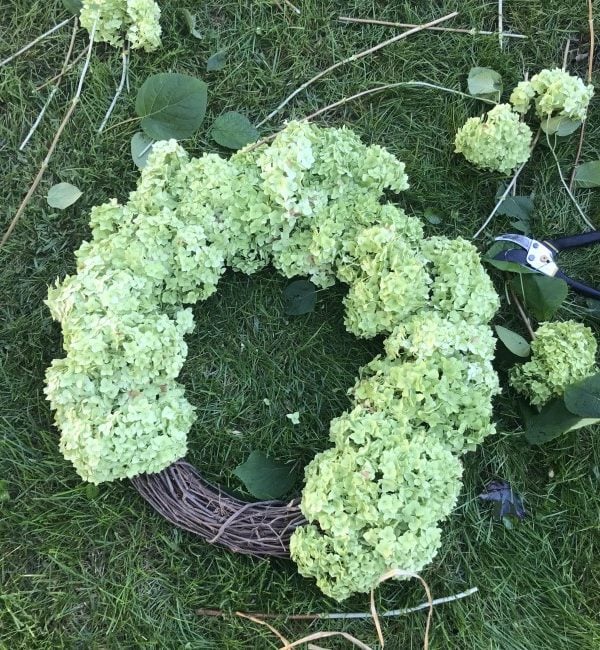 It took only a few minutes and was basically free since I used materials I already had.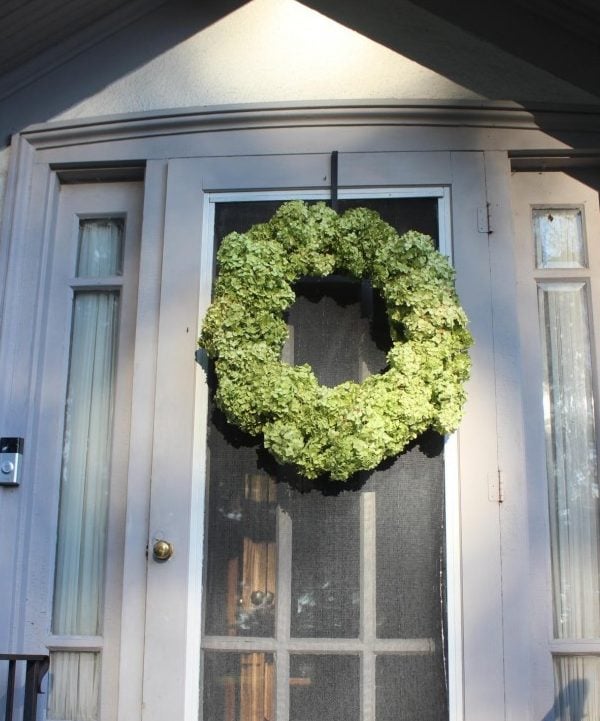 Making blue hydrangeas
Another project I used my dried hydrangeas for was when I decided to decorate my living room in blue.  I needed some blue decor and decided to just repurpose what I had.
Some dried hydrangeas and some spray paint!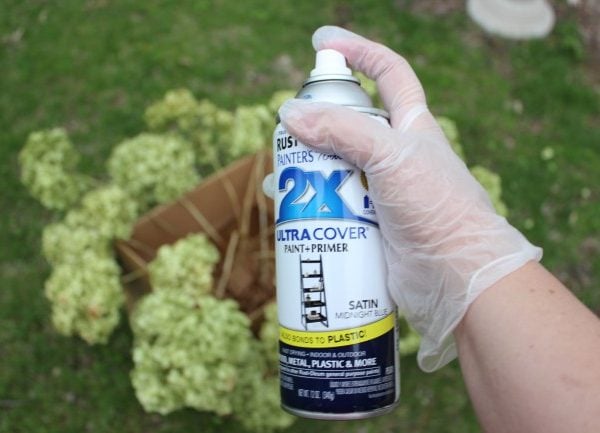 I propped the dried hydrangeas in a box and sprayed them with short quick bursts from the paint can. I didn't want solid coverage because it looked more natural to have more random, variable coverage.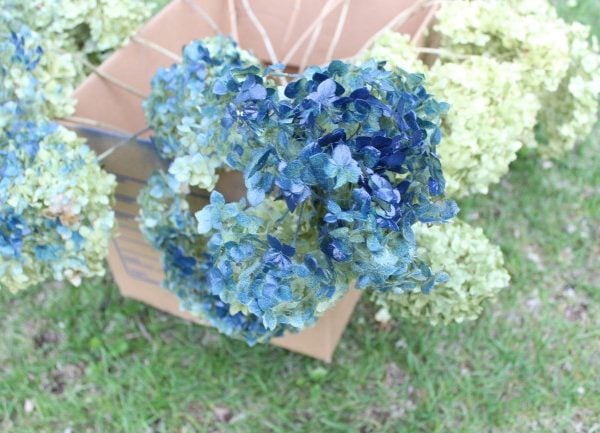 I did pick each one up and spray a bit underneath.
This is how the finished blue hydrangeas were used in my living room!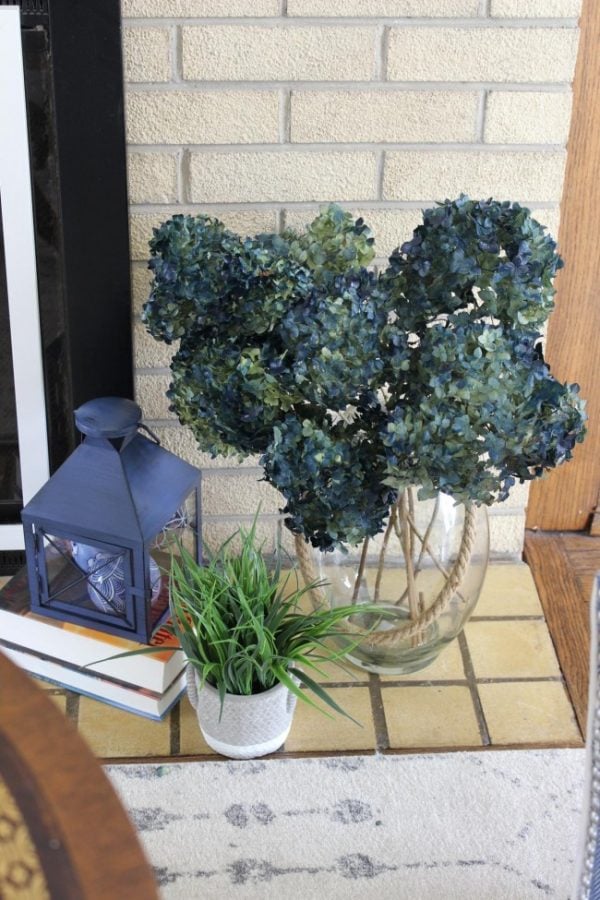 And I also put some blue spray-painted hydrangeas in my favorite milk glass vases on my mantle.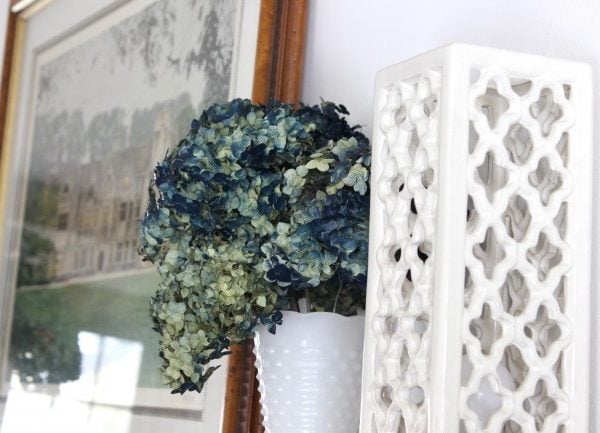 If you want to take a peek at my blue themed living room, please take a look at my Blue Living Room post.  I share how I solved my space dilemma by using chairs rather than a couch.  It was a challenge for me to figure out how to furnish my living room in my vintage 1920's house.
As for spray painting hydrangeas, I'd done that a few years ago.  I spray painted them to use them for a Christmas theme.  It's in the Spray Painted Hydrangeas post.
And, the best spray paint to paint the hydrangeas with, in my personal opinion, is the Rust-Oleum spray paint.  I was surprised I could buy the same spray paint from Amazon!
As for my hydrangeas, I now have 5 neat bushes to the left and to the right of my front door. I kept the plants that were part of the history of my home but made it much neater. And it does look much, much better!