For a while, I was worried I would never have any furniture in my living room.  My house is a custom designed home built in the 1920's.  I bought it last year and it's certainly a work in progress.
This has turned into my blue living room.  And it's a favorite spot in my house now.   Somehow, it all came together.
It's long and narrow.  It's basically the middle third of the first floor.  It has windows facing the front yard and windows facing the back.  And, the woodwork!  I still remember walking into the front door and seeing this room.  And the breathtaking woodwork everywhere.  This was the realtor's photo of this room.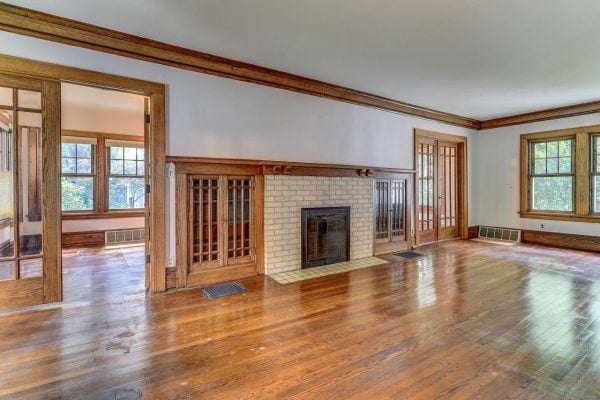 She's a grand old home.  But needed a lot of love and TLC.  If you look close enough, you'll see the floors have a lot of water damage spots.  And, some scrapes and chips.  Apparently, before this home was listed, it had shag green carpet covering these floors.  I don't know if I could have seen past that!
I remember after deciding I would buy this house, speaking to the wife of the original owner's grandson (did you follow that)?   She had spent almost a whole year cleaning out three generations of the family's stuff.
I told her, I just wanted her to know, I wasn't going to paint the woodwork white.  She thanked me.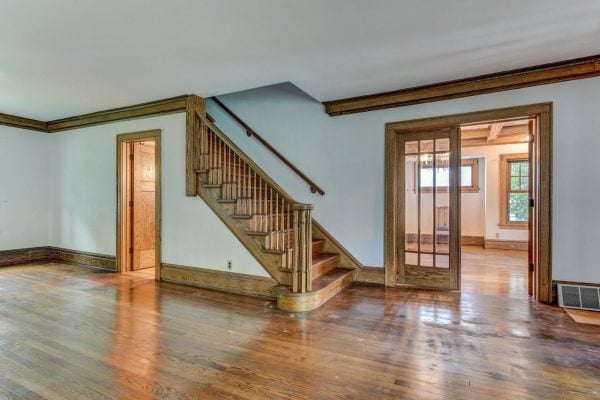 To this day, I still think that's why I own this house now.  I heard the realtor had 75 showings.   And, I wasn't the first person to put in an offer.  In fact, there apparently was a cash offer after mine, and it was refused.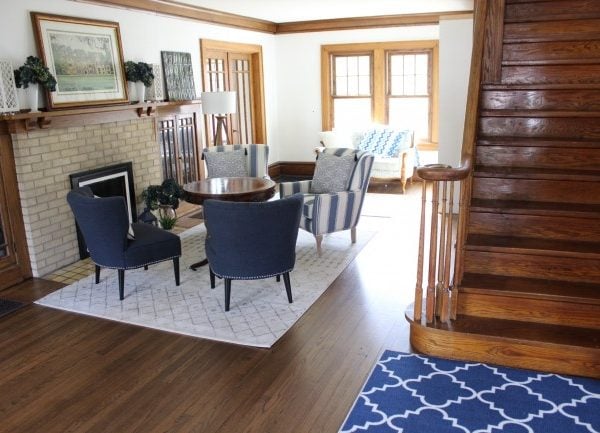 *This post may contain affiliate links. Please see my full disclosure policy for details.*
Welcome to my living room!  For some reason, it chose the color blue as the main color.  Ironically, when my friend helped me stage my last home, she commented that I had no blue.  None.  Not any blue furniture, decor or paint.
The challenge furnishing this room is how long and narrow it is.   I tried marking out all kinds of furnishings.  Trust me, there was no way a sectional would ever work!  Then one day, I saw those blue and white striped chairs advertised online.
I loved the chairs!  They weren't vintage but they were perfect in my living room!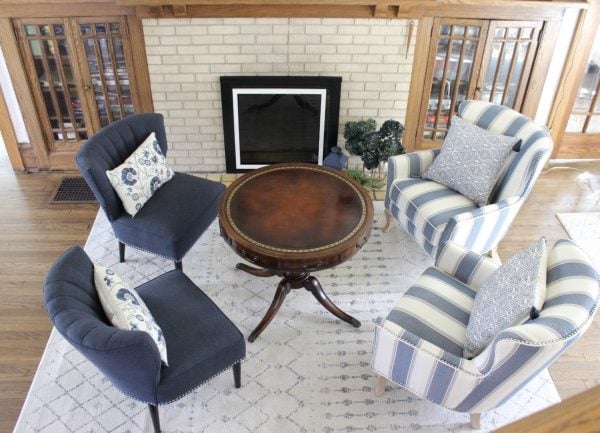 And the two chairs on the left - those were purchased from a lady the next town over and she'd used them once for a trade show.   Meant to be mine!  The two chairs on the right, my FIRST ever online purchase of furniture!  If you like these blue and white chairs, take a peek at them!  Oh, and the off white with a grey pattern area rug, it was online too.  I'll share with you, I love the rug!  It goes with everything and because of the way the pattern varies, dirt doesn't show.
And my table in the middle?  That is a beautiful antique table that a friend of mine found.  Most of the top is leather.  Considering how old it is, it's in amazing shape!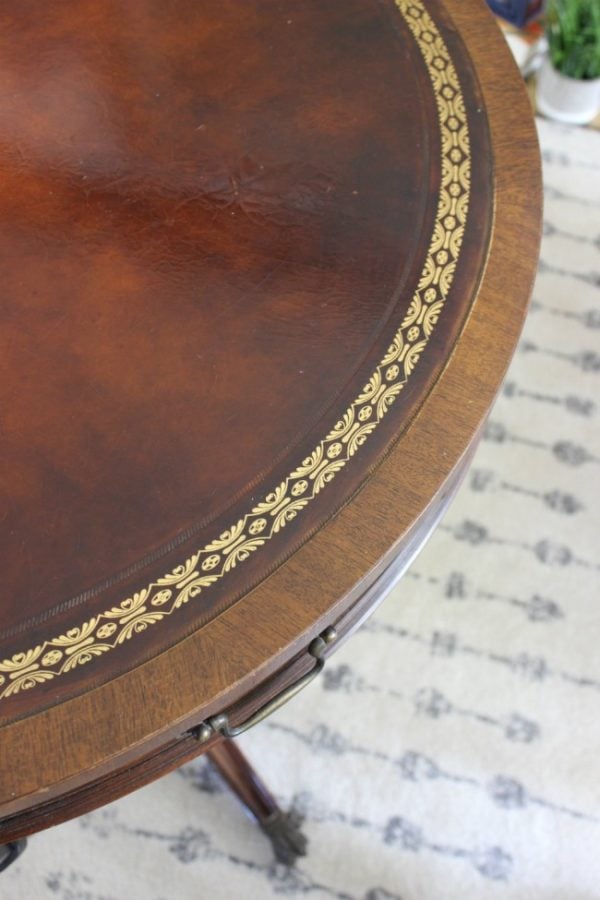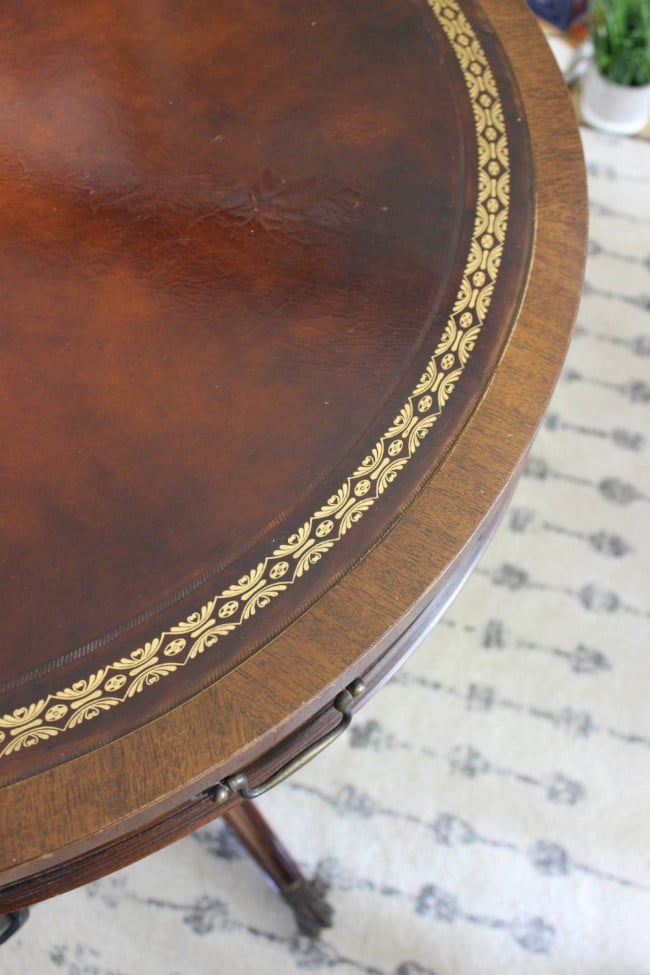 I've tried many vignette displays on this table, but this table wants to shine on its own.  So, when I want a change of scenery to set down my laptop, or to play a board game with my family, this is a favorite spot.
I do love my little blue themed display beside my fireplace.  My way of making up for not having a table display, I guess.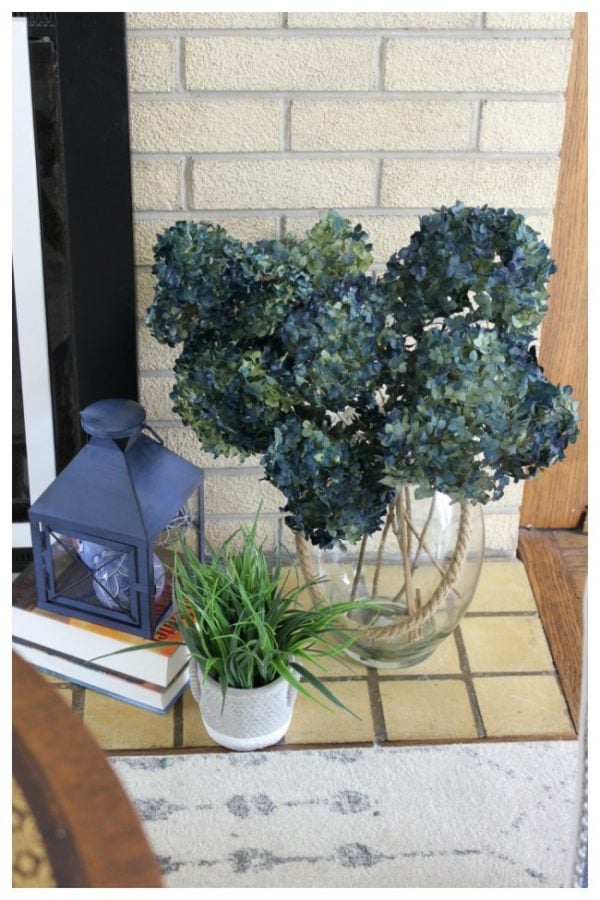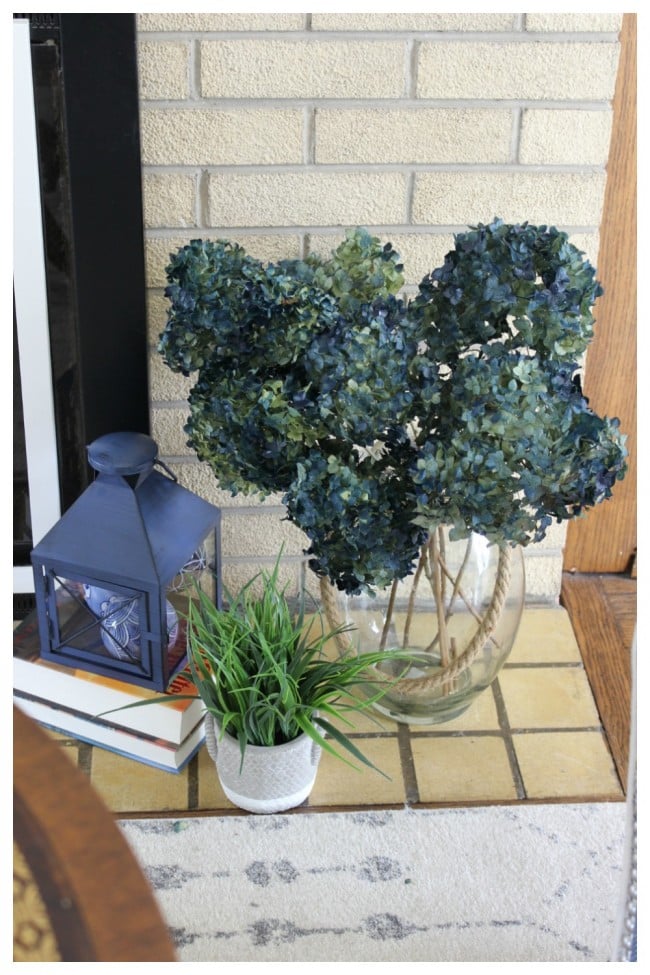 I'll share the secret of my blue hydrangeas in another post. Do you like them?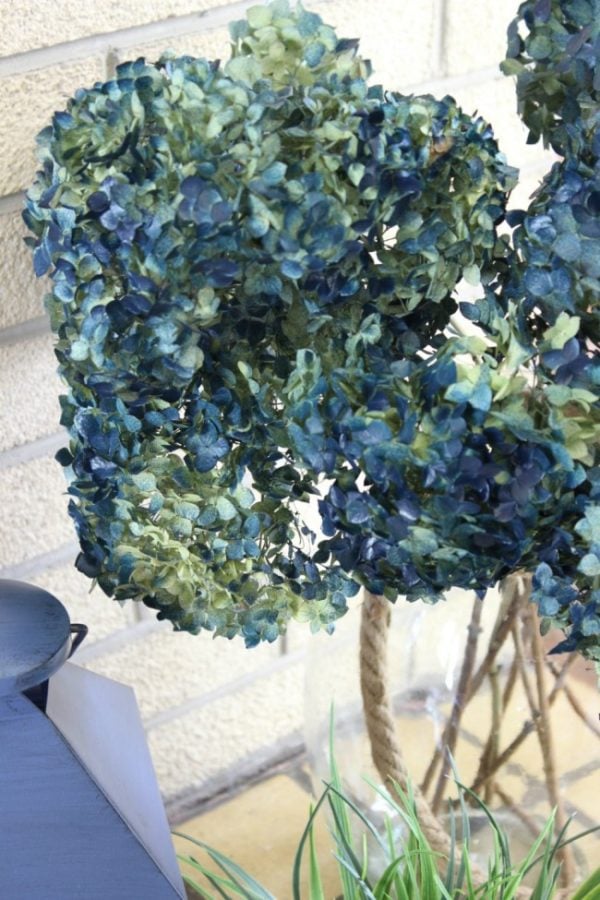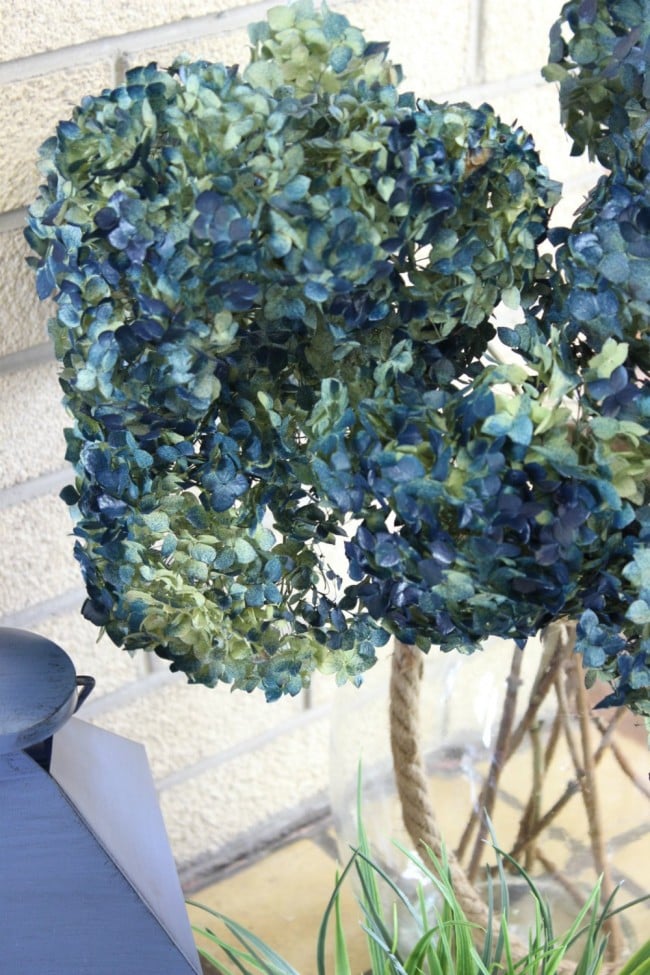 I'll confess, I hated the yellow brick on the fireplace when I first bought the house.  But, I'm still surprised how much the blue decor in this room tones it down.  I don't understand the design reasons behind that, but if you do, please explain.
It no longer is screaming to be painted white!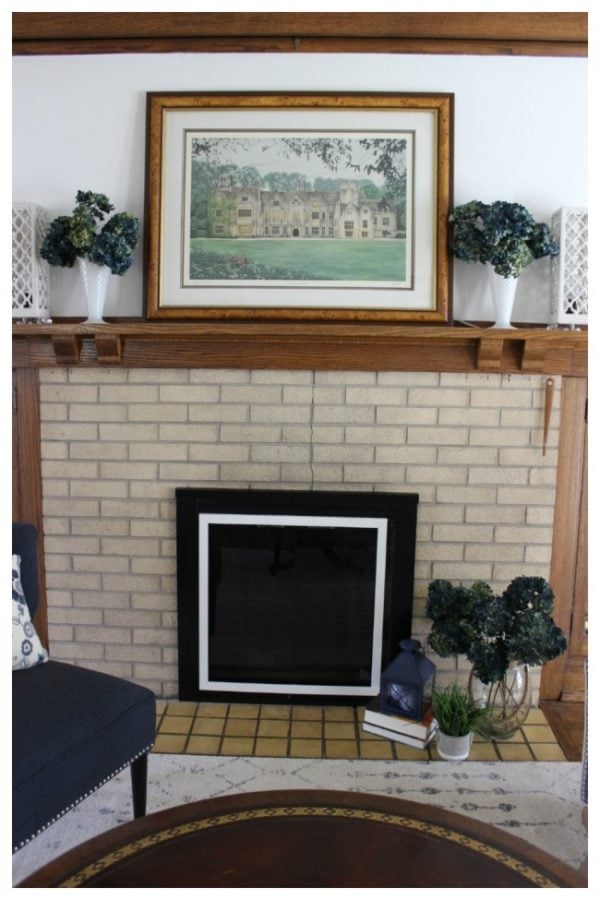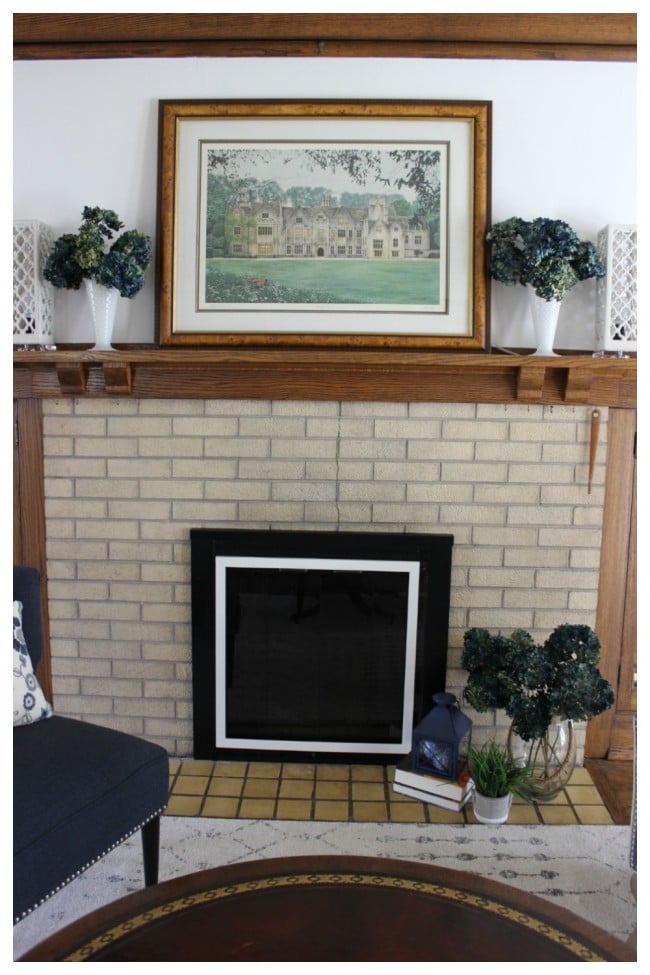 I'm still trying to figure out what to do with the crack right down the center.  Another project for another day!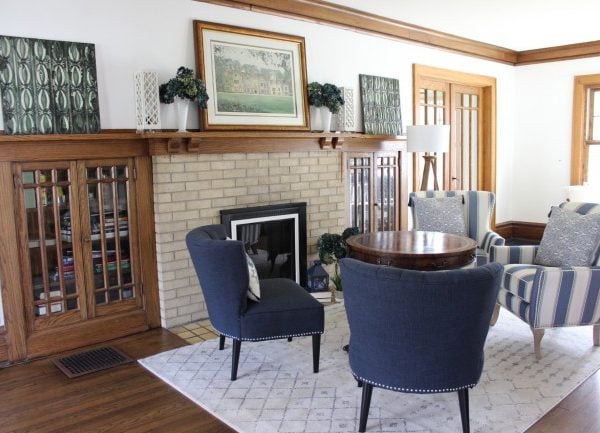 I came very close to not publishing this post when I was editing it.  Because, well, you can see the contents of the built-ins!  Now you're looking!  I actually use them for practical storage.  One contains boardgames and the other contains books.  And you can see the contents in this picture.  It's not a perfect display behind the glass!  Do you think the world of Pinterest and Instagram have set up for unreal expectations??  I'm trying to get over it and be real for you!  And that's the story I'm sticking with.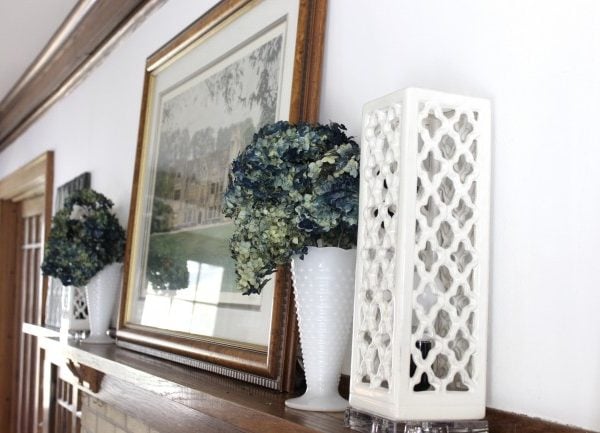 I
I really kept the decor very simple in this room.  An uncluttered look just seems so much more peaceful.  The big print on my mantle was another bargain.  My first local auction and I purchased a signed print of an English countryside manor.  It reminds me of my trip to England and I just love the print! Plus, my winning bid was only $40 - shhhhhhhhh.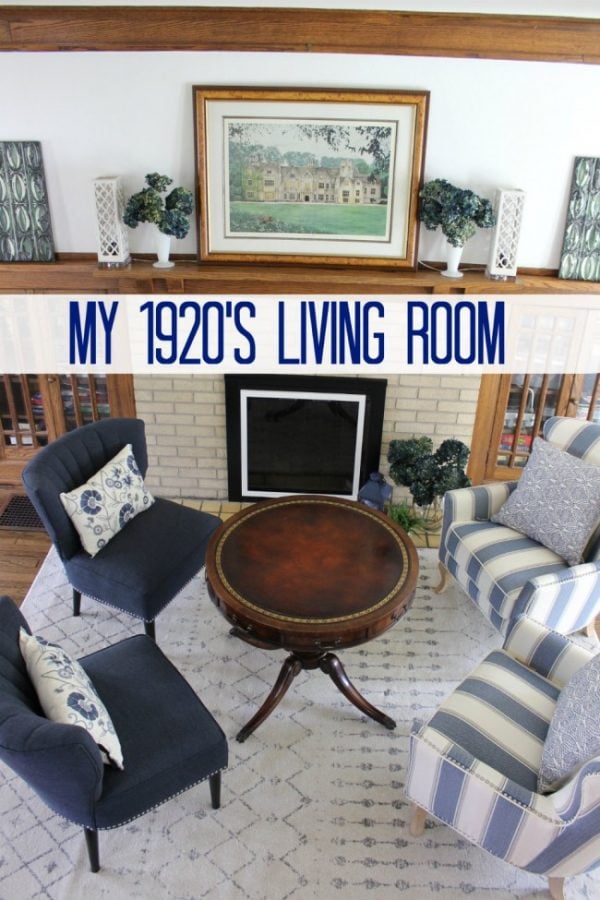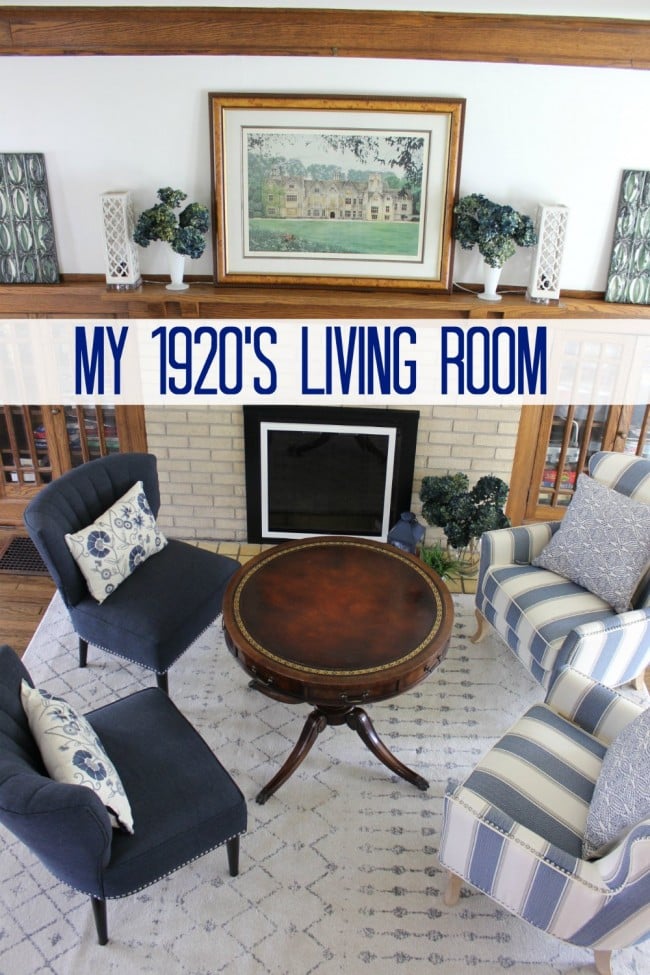 Thanks for visiting my vintage blue living room.  It was fun to decorate and I enjoy having new pieces and old pieces that are truly vintage together in one room.   Have you noticed that the word vintage seems to mean it's a nice older piece but when you call something antique it just means it's old?  So, my house is very vintage!
If you'd like to see more of my vintage 1920's home, here are a few more posts I'd love to share with you:
A total kitchen renovation - I bought a house without a kitchen!
Me and my fixer-upper
Refinishing 100-year-old oak and maple floors in my whole house!