My life is a bit of a fixer upper right now.  It seems only fitting that I buy a house that is a fixer upper!
Yes, I'm working on getting my life back together.  Getting my feet planted firmly on the ground, working towards the goals I'm setting and moving forward.  I've been through over two years of the most difficult time of my life.  And that, my wonderful blog readers is why I have not been writing posts regularly for the last while.
I'm going to do better.  Writing is an important part of my life.  And I miss it!  I've been blogging for over 4 years now.  It doesn't feel frightening to hit 'publish' anymore when I send out a post.  But, it still seems so strange (and so flattering) when someone I actually know comes up to me and talks about something of mine they've read.  People read what I write and they come back for more!  I'm appreciative that they/you do that!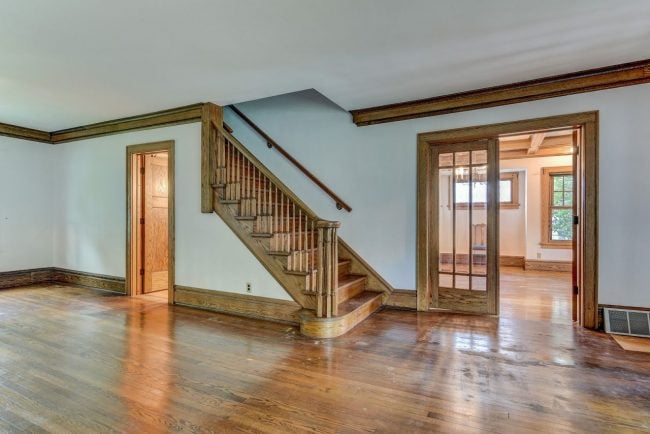 I promise I will still publish easy recipes and some helpful gardening tips.  But, you may have to bear with some renovation posts.  You see, the house I bought, is nowhere near move-in ready.  It's truly a fixer upper in every sense!  But, I've fallen in love with this house of mine (yes, it's mine!)
And me, I'm a work in progress.  I've found my footing over the last few months.  I've found a passion and I've found joy in what this house is and excitement for what it will become.  Once some of the work is completed, I can move in with my boys.  I can't wait!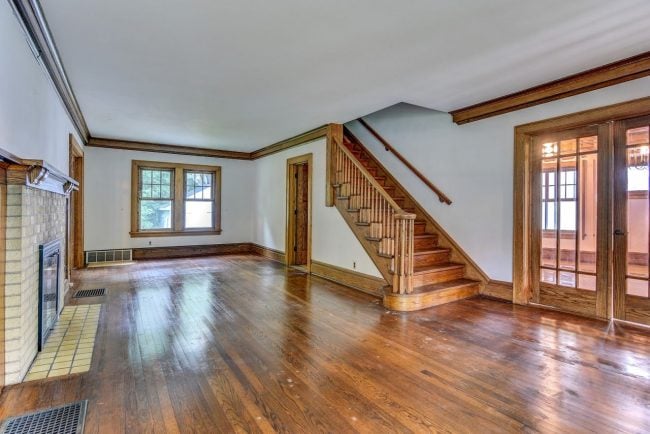 This is the view that made me fall in love with this house.  That made me think I could do this!  I could buy this house, give the historic character some TLC and bring it back to life.  I. can. do. this.!
I couldn't believe the wooden floors!  All original.  But for years, they were covered in green shag carpet.  Can you imagine??  I'm not sure if I could have seen past that.  And, I had to look past a lot.  But really, green shag carpet!
There are double doors on each side of the fireplace.  This is the room they go to.  I was in awe when I saw this room.  It's known as the sunroom.  I've tried renaming it, but, I suspect it will forever be the sunroom.  The windows!  This room feels so very welcoming and warm (even in the middle of a cold Wisconsin winter)!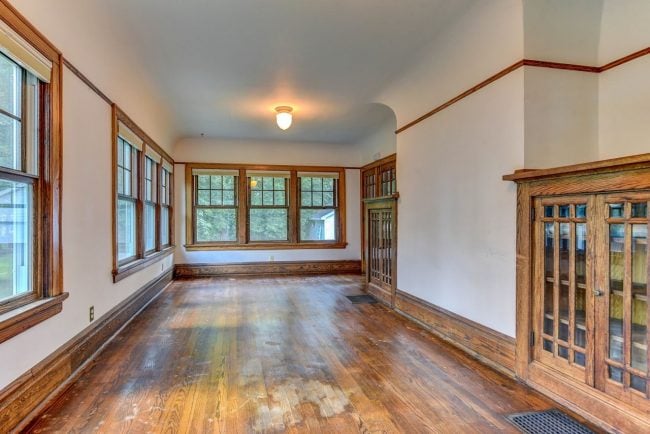 It's almost a twin to the living room.  Except for more windows, no fireplace, and the original light fixtures.  At first glance, you are probably thinking what's there to fix up.  Well, let me tell you that big old water stain on the floor is one of the minor issues that I need to address.  That's truly cosmetic.  And, can I tell you, cosmetic fixes in this house do not mean inexpensive.  Yikes, I'm learning to get over sticker shock at the cost of renovations.
I plan on sharing sections of the house and some of the in-process pictures.  There are some amazing transformations happening.  I actually am in the process of taking out a wall!  It feels very HGTV!!  I get to fix this old house and in the process, I'm fixing myself.
Yes, I've alluded to something going on in my life and I too hate when people do that.  A full 2 ½ years later, I can openly say, I'm divorced.   I was never going to be 'that' person.  It was never going to happen to me.  But, after over 20 years of marriage, mine was over.  And it was tough.  Really tough to get through.  But I have.  And, I'm determined to be a better person for it.  Beleive me, there has been much reflection and many curled up on the couch days where I just couldn't.  I just couldn't.  But, it's over now and life continues.  In a new direction, with new goals and objectives. And, a new house!  With a solid foundation (well mostly, the engineer said) both my house and I will reinvent ourselves and shine.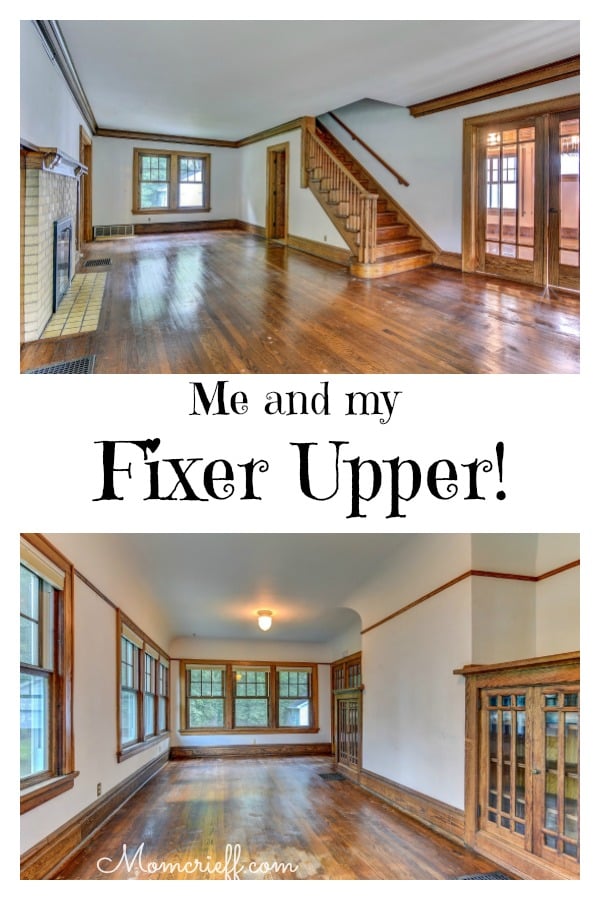 Follow our journey in restoring this house!
My Kitchen Remodel - I bought a house without a kitchen!
My Door Lock Adventures - Mortise Locks and Skeleton Keys.
Bathroom Remodels - I'm in the middle of remodeling three of them!
Susan.