I'm in the midst of a bathroom remodel.  Actually, three bathroom remodels.  OMG!!  What have I done??  I bought a bit of a fixer-upper.  It was a house originally built in 1923 and was in the same family until I came along.   And, I came along after a pipe burst during a cold spell in Wisconsin, freezing and bursting a pipe.  The end result was the powder room, the laundry room and the kitchen were torn apart to prevent as much water damage as possible.
This was the powder room and laundry room.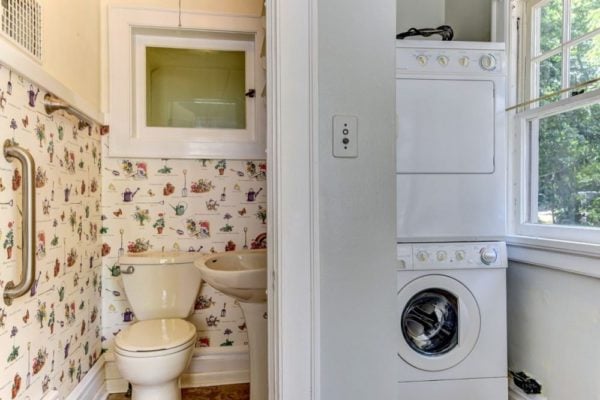 Have you ever seen a tinier powder room?  I think you'd have to be careful sitting down because the sink is in the way!  And right beside is the laundry room, with the stackable washer and dryer.   BUT, when I toured the house prior to putting an offer in, this is what this area looked like.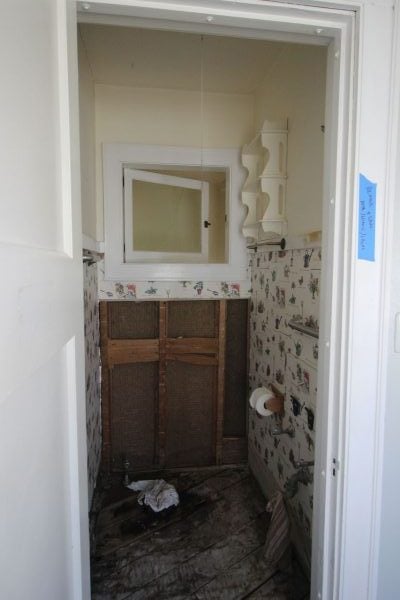 I have to point out the window.  Did you know it was used for ventilation in the powder room?  But it doesn't go outside.
Yup, in spite of the whole kitchen and bathroom being in the dining room, I made an offer on this house.  "I'm ok with a house that needs some cosmetic upgrading," is what I told my real estate agent.  Does this look cosmetic to you??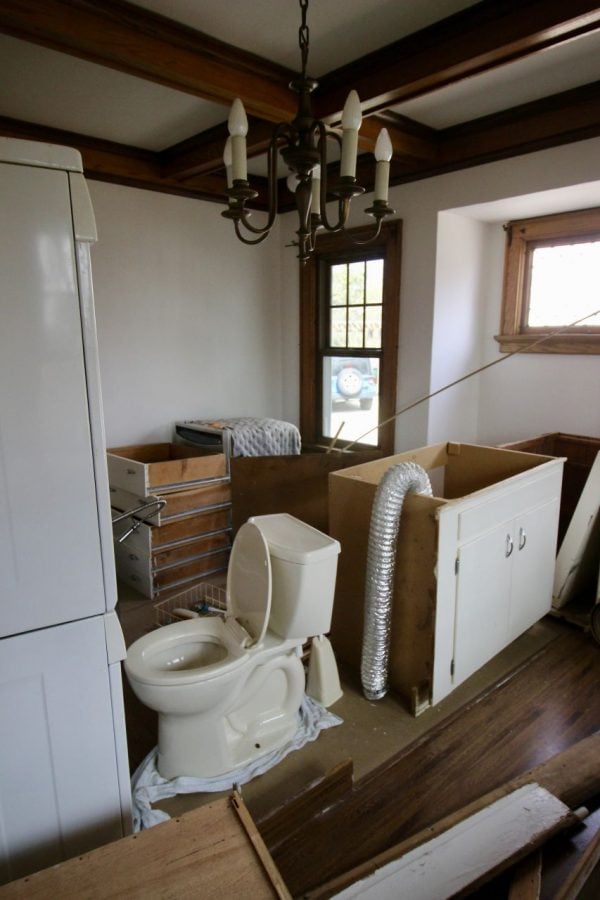 Don't you love how the chandelier is right over the "throne"?
I wasn't a fan of the powder room sink hanging over the toilet so I decided the laundry room and teeny tiny powder room would be a nice spacious room.
Here is what it looks like now.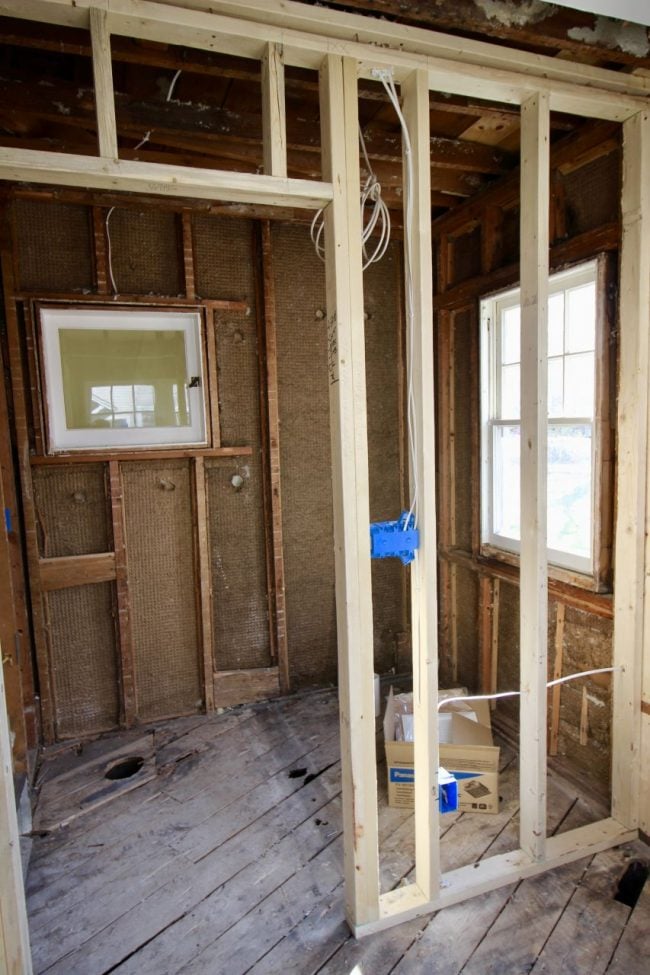 But wait! If that's not enough, my main upstairs hall bathroom is also going through a major remodel (a.k.a. gut job).
Here's what the main bathroom of my house looked like.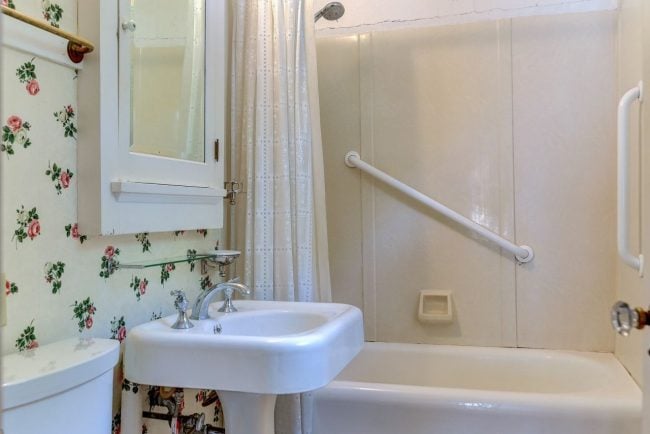 Kind of looks like it would be usable.  Ummmm, did you notice the big crack above the bathtub surround?  And this is what the bathtub looks like.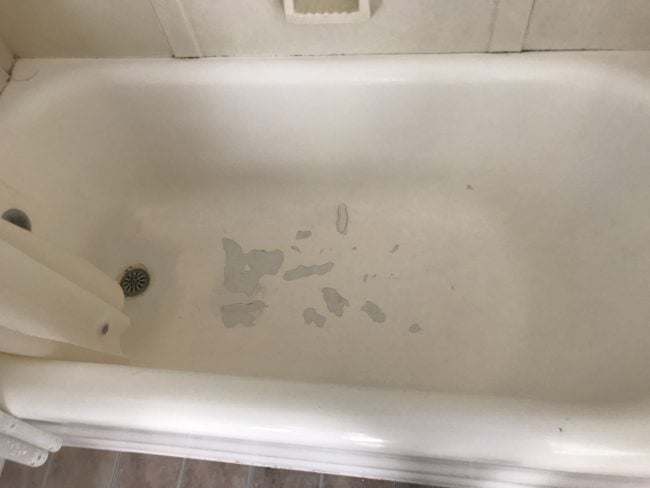 I was living in a bathroom nightmare!
I have to share, my contractors are totally amazing.  Professional and communicate well plus their pricing is fair and transparent.  And, when they walk in for demo day they see things like this: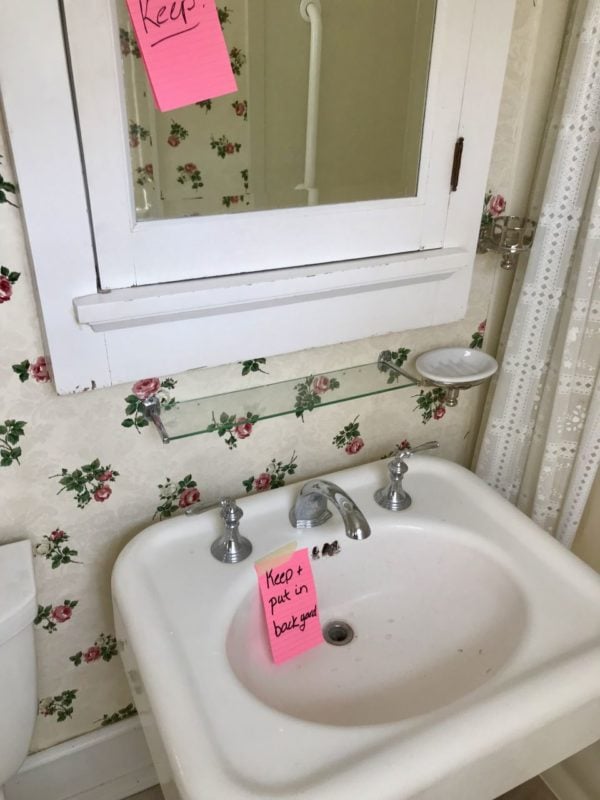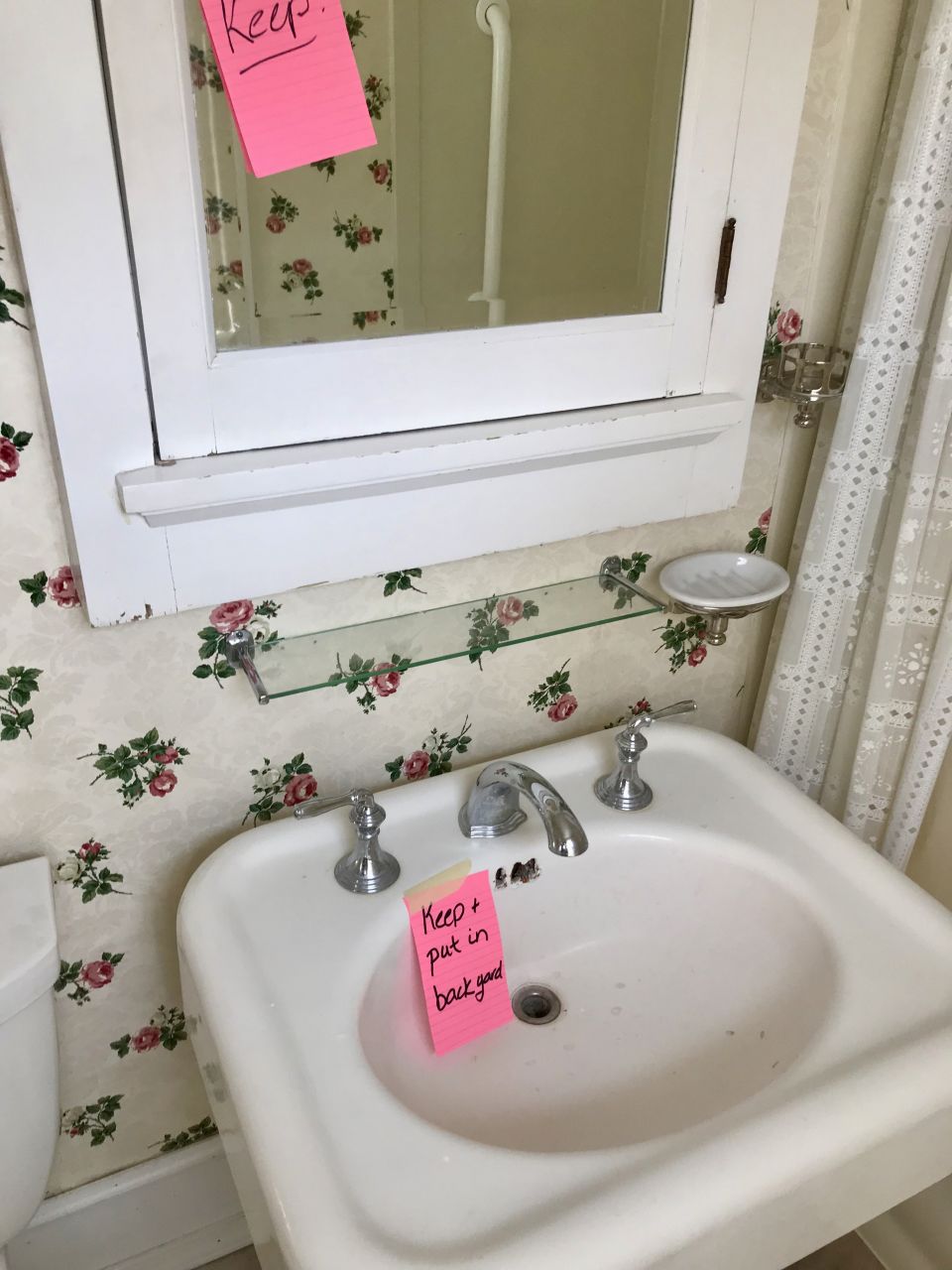 And when they asked me where in the backyard I wanted the sink to go? Here of course!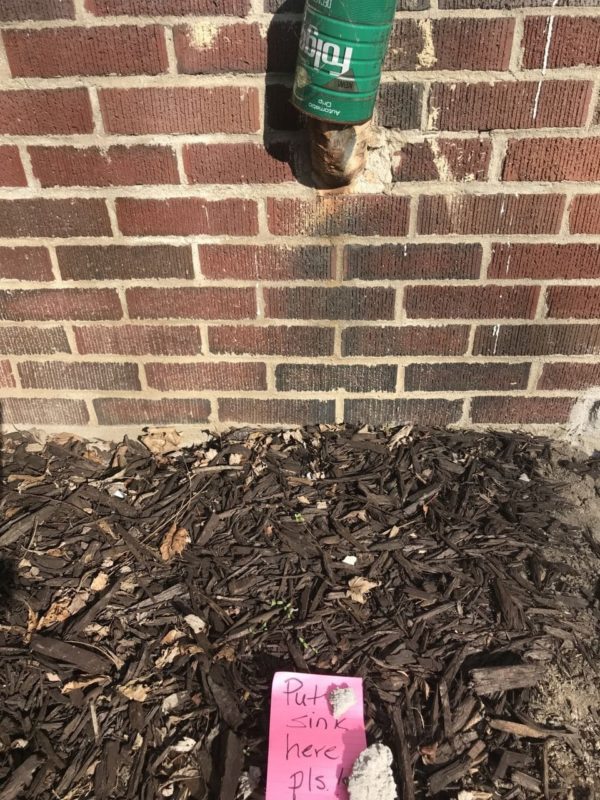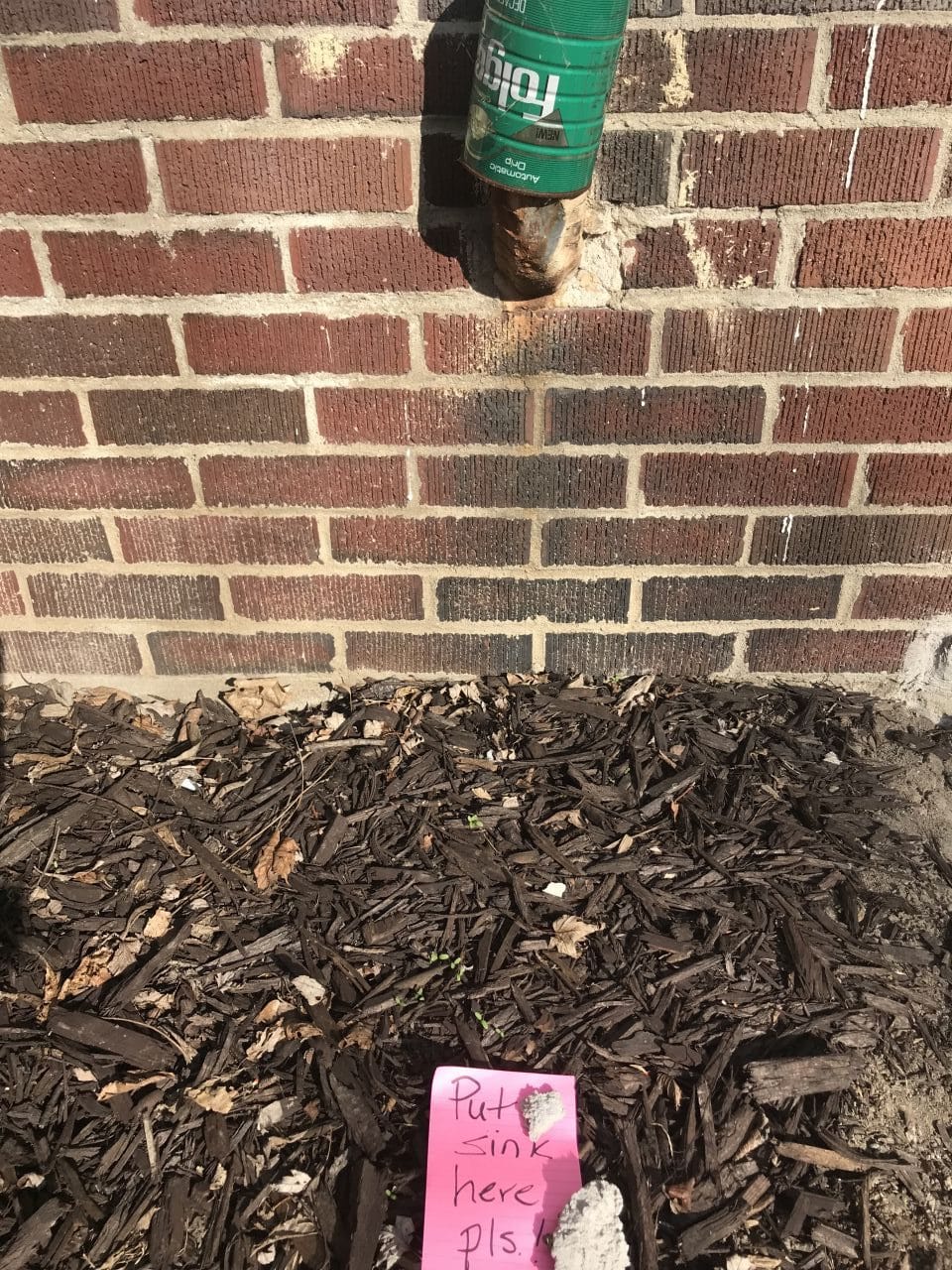 I see geraniums and other pretty flowers in this sink.  How could I throw it out?  It's original to my 1923 house!
Honestly, there were a few minutes when I doubted what I was doing.  That happened three days ago.  Remember when I mentioned I was ok with a house that needed cosmetic changes?  Scroll back up and look at the picture of the bathroom (with the rose wallpaper - which is really growing on me!).  That's the before.  Here is the now.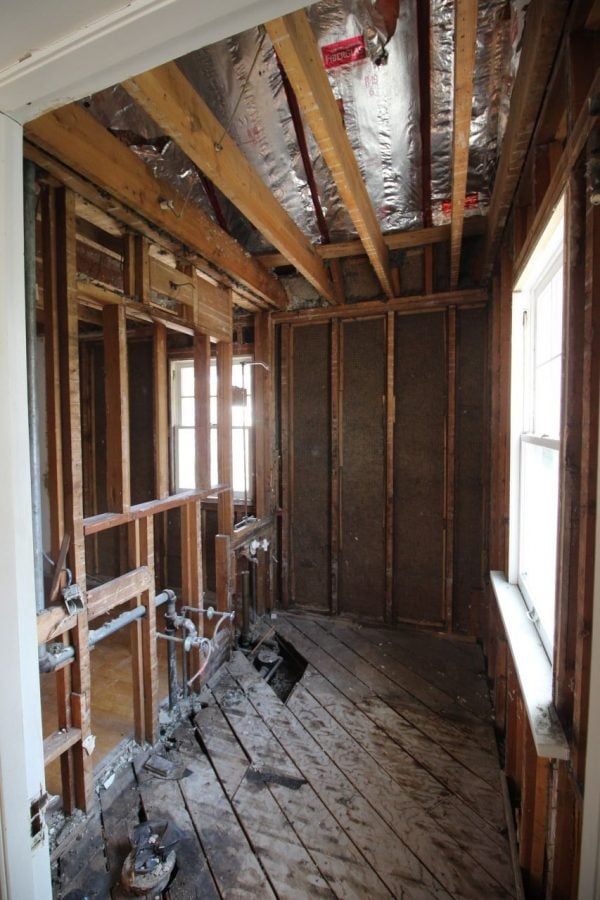 GASP!  This is when I wondered if I was doing the right thing.  But guess what?  It was too late to change my mind.  And truly, after I took a few deep breaths, I felt my decision was the right one and all would be well.
Because I showed you where my other toilet was, here is the toilet from my upstairs bathroom.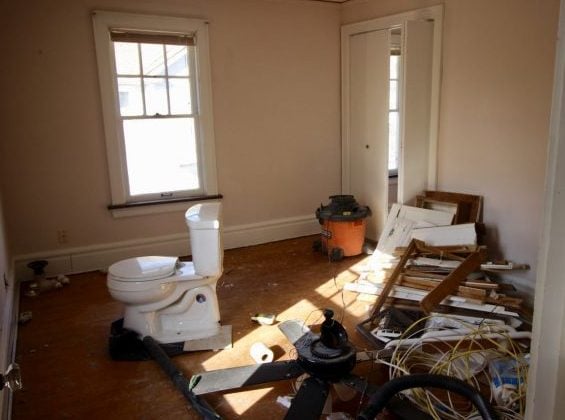 Yup, in the bedroom.
Soooooo, are you still with me?   I know my blog is supposed to be mainly easy recipes, gardening and some DIY and this is kind of a tangent.  But, this is my life right now.  I promise I will get back to sharing easy recipes with you soon.  But you see, this is what my kitchen looks like right now.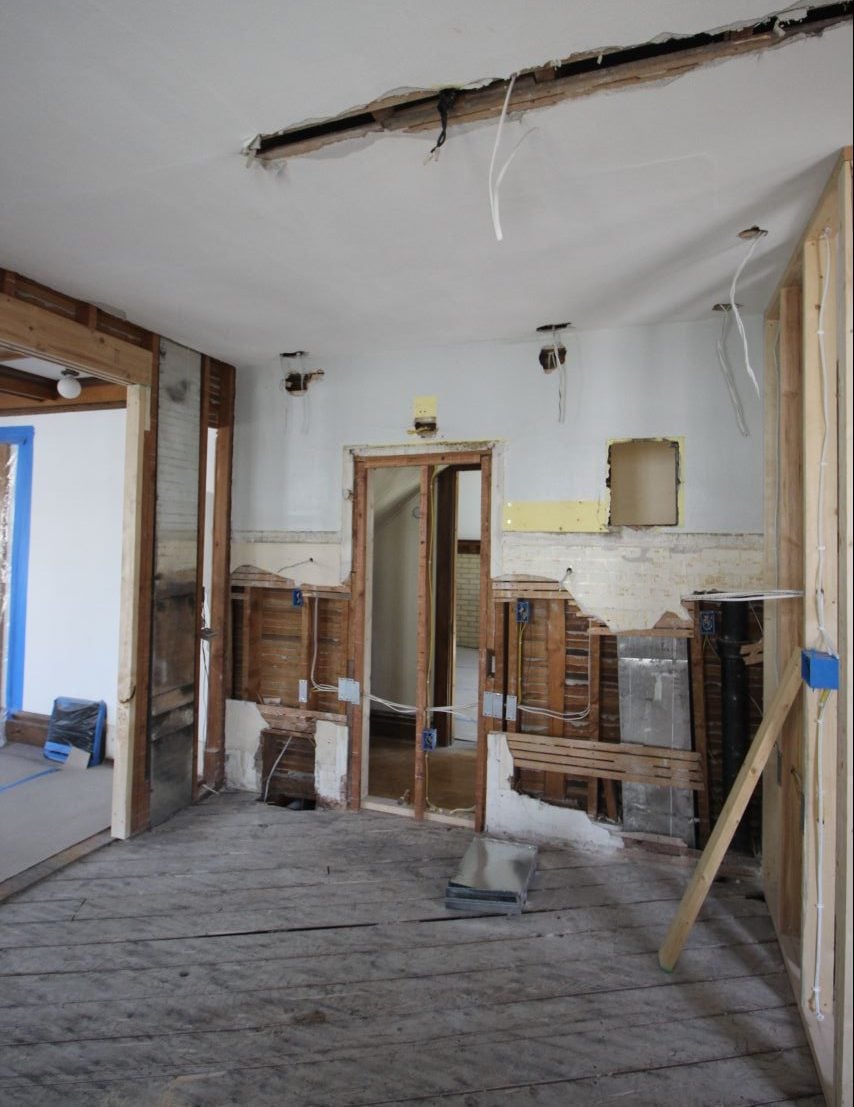 But, that space that used to be a doorway, right in the center of that wall, that's where my stove will go!
I will share some of my kitchen renovations.  But, I really, really want to see the cabinets in first.  They are coming really soon!!
And it's amazing to live this type of remodel/renovation/demo.   I can tell you that this stuff costs more than what you see on HGTV shows like Fixer Upper.  Oi!  I calculate nightly to make sure I can pay for this.  I wonder if those shows don't include labor?  Or, if labor is much, much cheaper in Texas than in Wisconsin??  I can tell you the costs of the renovations in these reality shows is not reality!
Back to my point of my blog being about easy recipes.   I promise, there will be some coming.  Plus some gardening posts.   Because it's finally warm here in Wisconsin and I have a garden again.  A garden planted almost a century ago.  I'm loving watching the plants (not so much the weeds) popping up!
So why did I do this?  At one point I was looking for the move-in ready ranch.  Why buy this place?  Read the post called Me and My Fixer Upper.  Thanks for dropping by.  Hope you come back to see my updates!
Had to share just one more thing!  The day after I wrote the above, this beauty showed up.  Tucked in nicely beside my dumpster in front of my garage.  LOL!!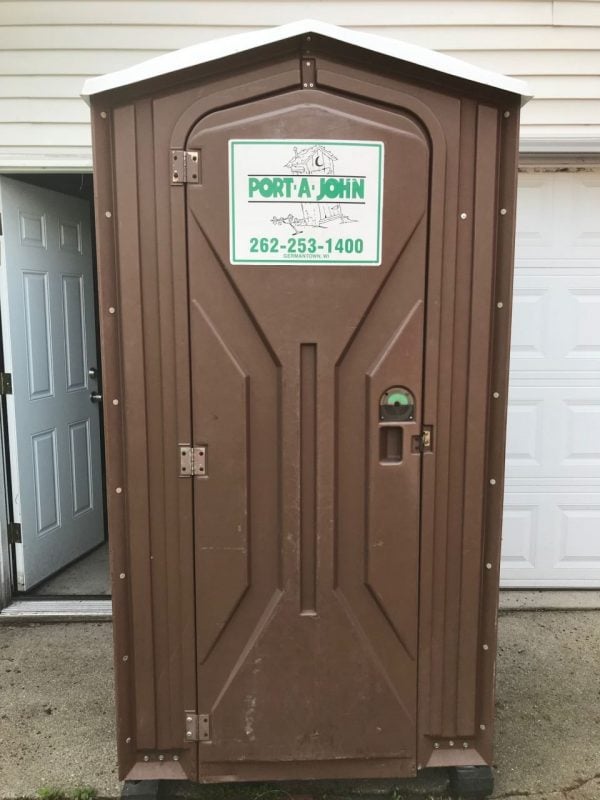 Guess when you don't have a toilet in the house, you need one of these!  My poor neighbors!
If you want to see what the finished kitchen looks like, take a look at my Kitchen Remodel post!  It was an amazing process, where we even removed a wall!