Christmas Dining Room Tour 
My dining room is my favorite room in my house. When I first bought my hundred-year-old house in 2017, it was the hidden room. The room no one could see. I did a total remodel of the kitchen and removed the wall between the kitchen and dining room.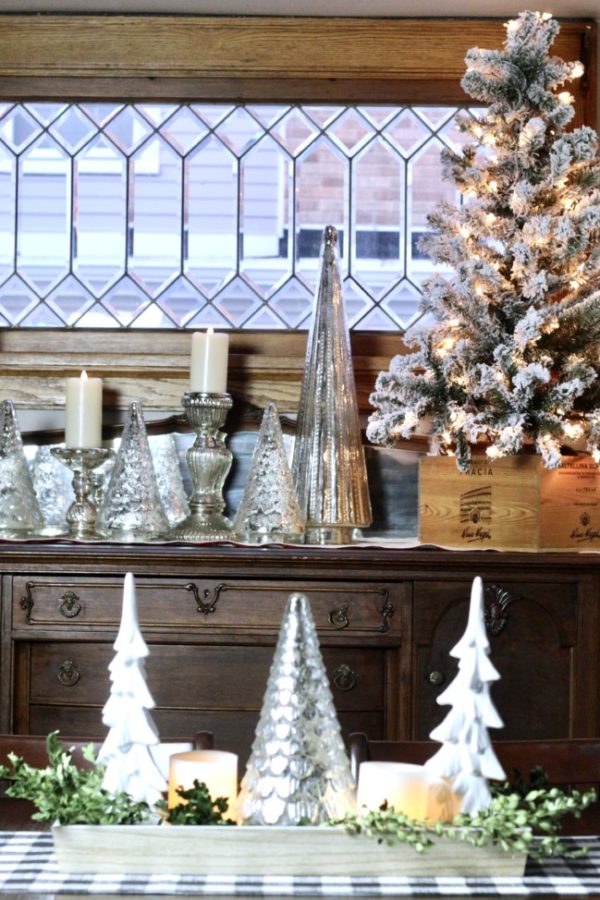 This year, I wasn't sure what I was going to do for my Christmas decor theme. I accidentally decorated my dining room buffet and I loved it. What happened was I was trying to sort my mercury glass Christmas trees and candle holders. I put them all on my buffet. And when I came back from a quick errand, I saw it with fresh eyes and I loved it!
I'm trying not to buy any more new Christmas decor items. I just have too much! I also noticed my favorite red and green Christmas runner had a beautifully textured cream lining on the back. So I just used it upside down this year!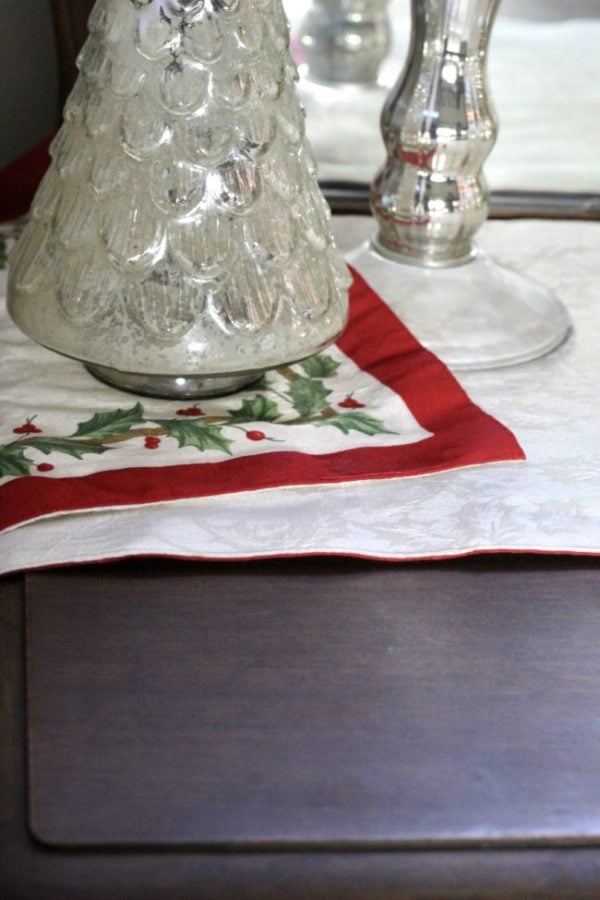 I LOVE white lights! I think it's because winter is so gloomy and these lights brighten up and cheer up my home. I had a little flocked tree that I purchased at a bargain price last year. It's amazing what a little fluffing and will do to a cheap tree out of the box.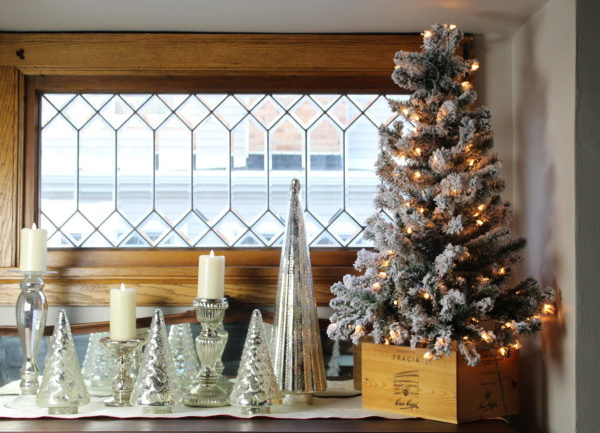 I have wooden boxes in my basement and I grabbed one for the base of the tree. It did take a bit of balancing but I love the look! I just didn't feel like doing some kind of skirt this year.  I do think the box adds a little more texture and interest to the Christmas display.  I love how everything reflects in the buffet mirror.
My dining room table centerpiece was a quick switch from my fall centerpiece.   Here is what I have for Christmas.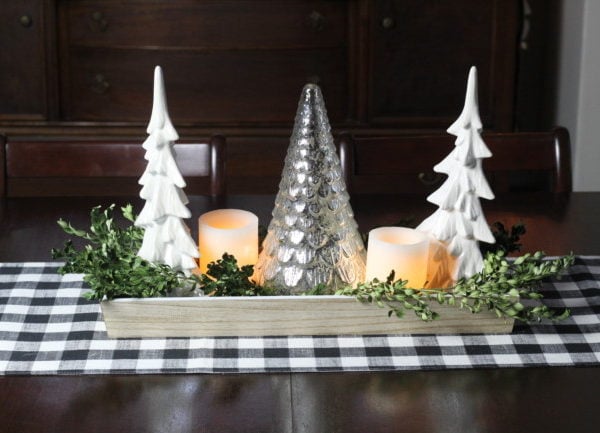 My fall dining room centerpiece was just as simple.  Here it is!  If you click on the link, I show you how I put it together.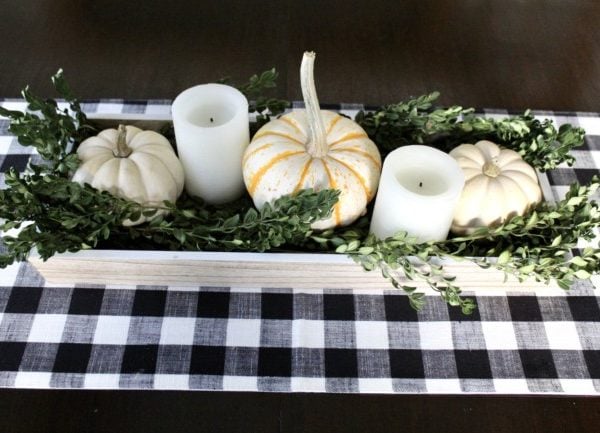 The boxwood is from my backyard.   It's been in my house since early October and has totally kept its color.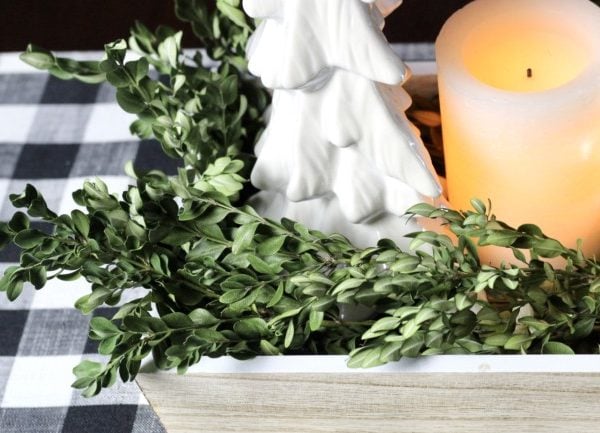 I even kept the buffalo plaid runner from fall to Christmas on my dining room table.  I knew I was going to be busy, so that was the plan!  All I did was switch out the fall decor elements for Christmas ones!  It was a huge time-saver and I will be doing that in future years.
I'm also totally loving the 'fake' timed candles with the little flickering flame.  I have all the timers in my house turn on at 4:30 so that my house has pretty lights on and it's not dark and depressing in the winter!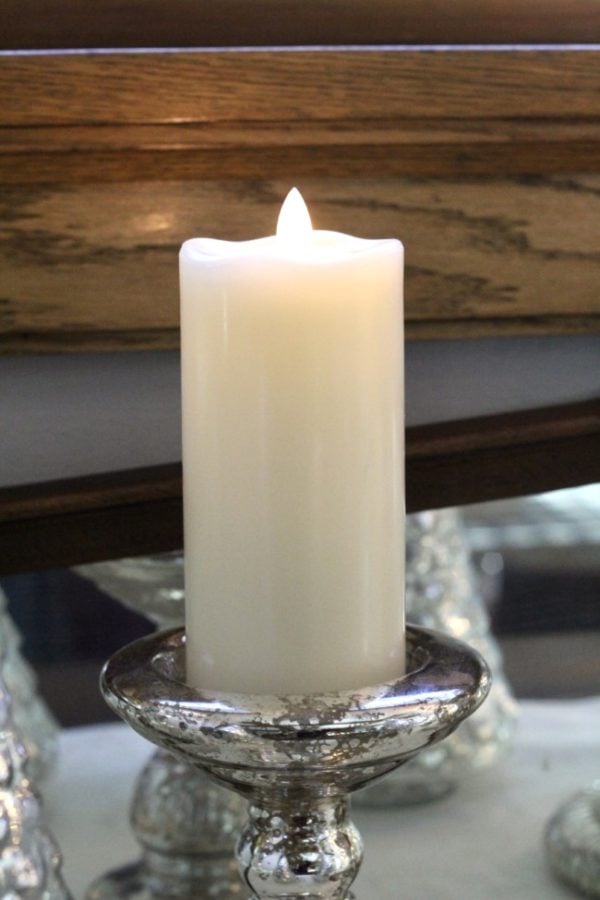 I just totally love my dining room buffet.  It was a gift from the owners of my house when I bought it!  One family had been in the house for 3 generations.  This buffet belonged here and I can't help but think of all the special celebrations this buffet has been a part of!
I think the reason why I love the mercury glass on it is that it keeps that vintage look. I just love that nook with the vintage buffet and the original leaded glass window.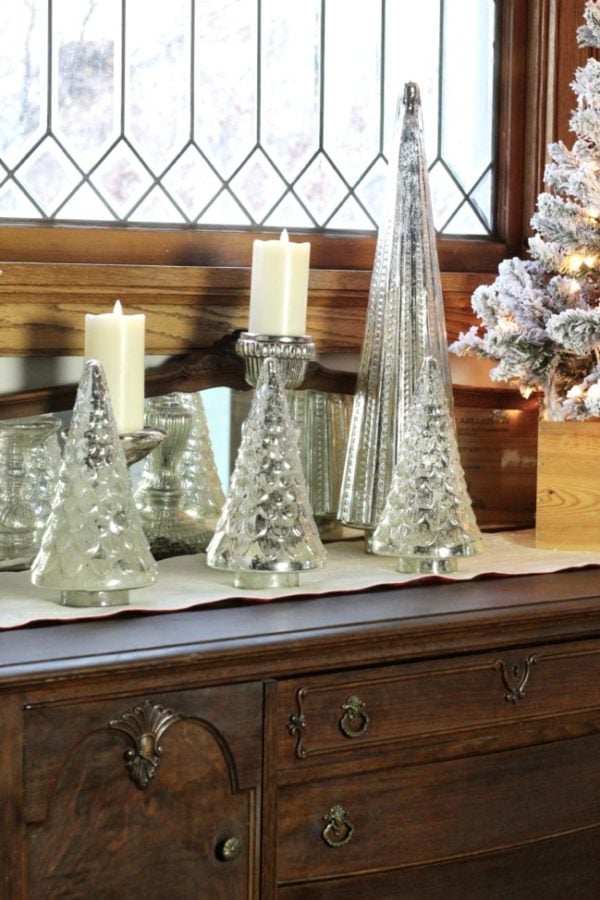 Let me show you a picture of the dining room and the kitchen after I removed the wall between them.   You'll be able to see why I love this dining room so much!  It's a fall picture from 2018 but, you get the idea!  Yes, this room is one of the reasons I bought this total fixer-upper!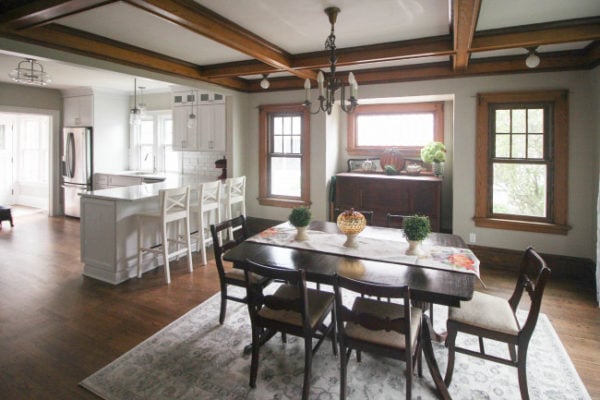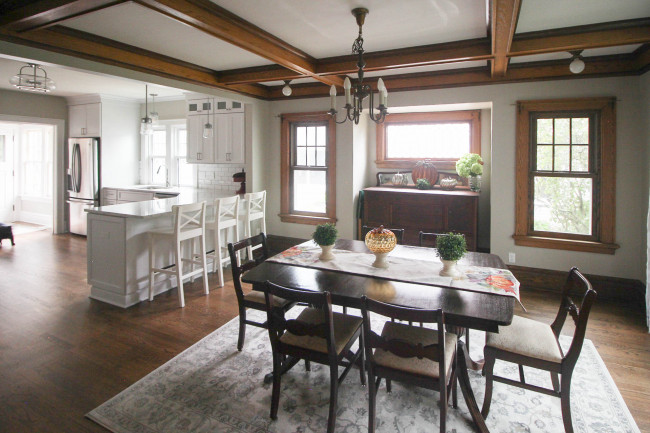 Oh, this picture reminded me.  I also added a little festive cheer to the original chandelier.  This was just an inexpensive piece from a garland that I purchased last year from Target.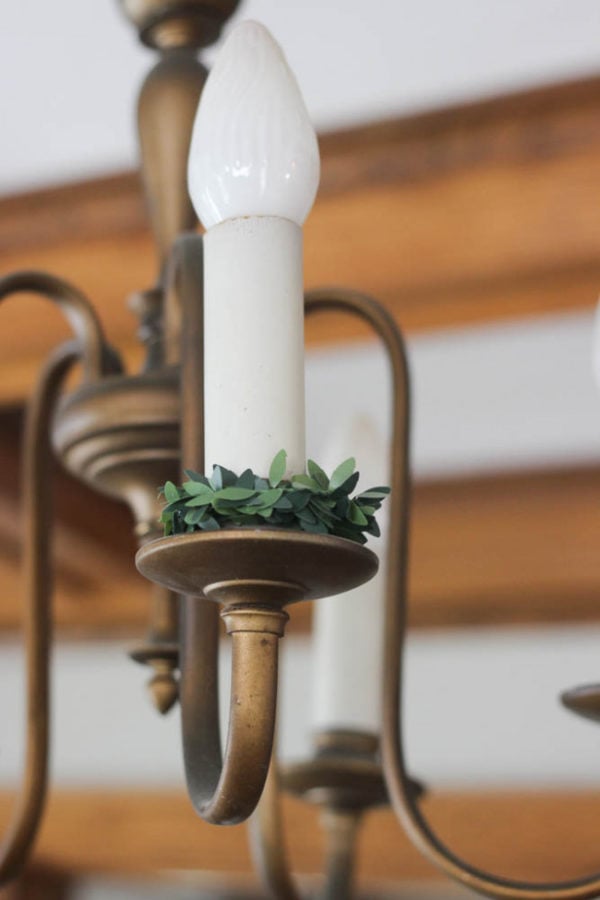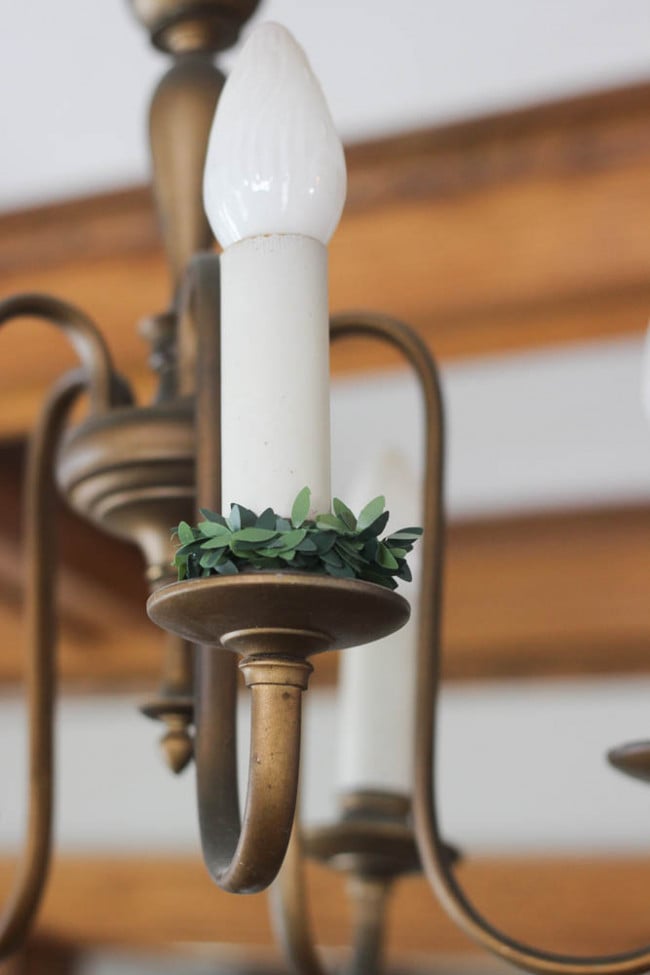 I love my new-to-me-home with my lead glass window and my original vintage buffet.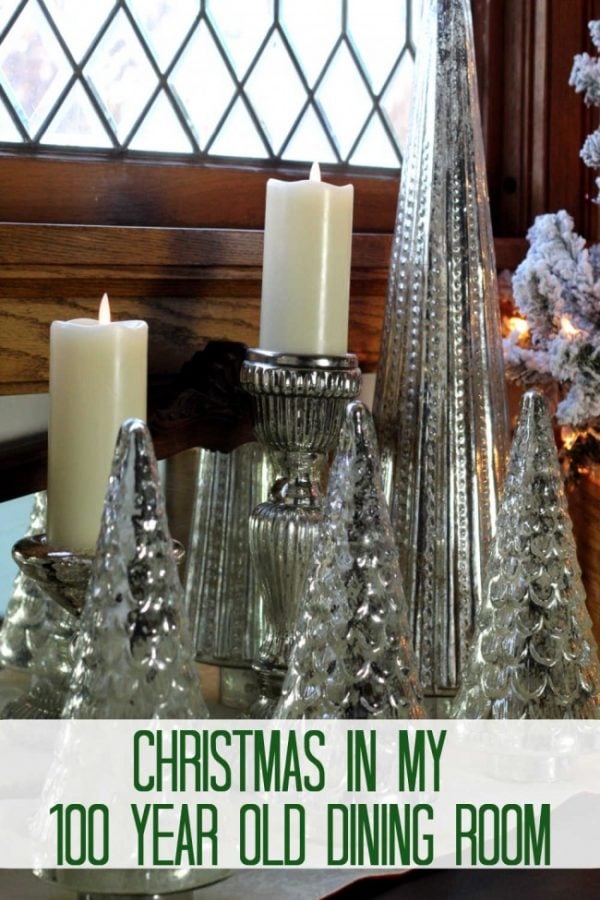 Thanks so much for visiting the tour of my Christmas dining room!
Here is another Christmas post you will like
My DIY White Christmas Village
Let me share some other posts about my home.  It has been a ton of work with a lot of renovations!
My huge HGTV style kitchen renovation - I removed a wall!