My friend Amy asked me to join her fleece shopping the other day.  Her daughter was getting a dental procedure and Amy wanted to make her a new no sew fleece blanket for the anticipated couch weekend her daughter would have after the procedure.  This whole blanket took a few hours in one afternoon!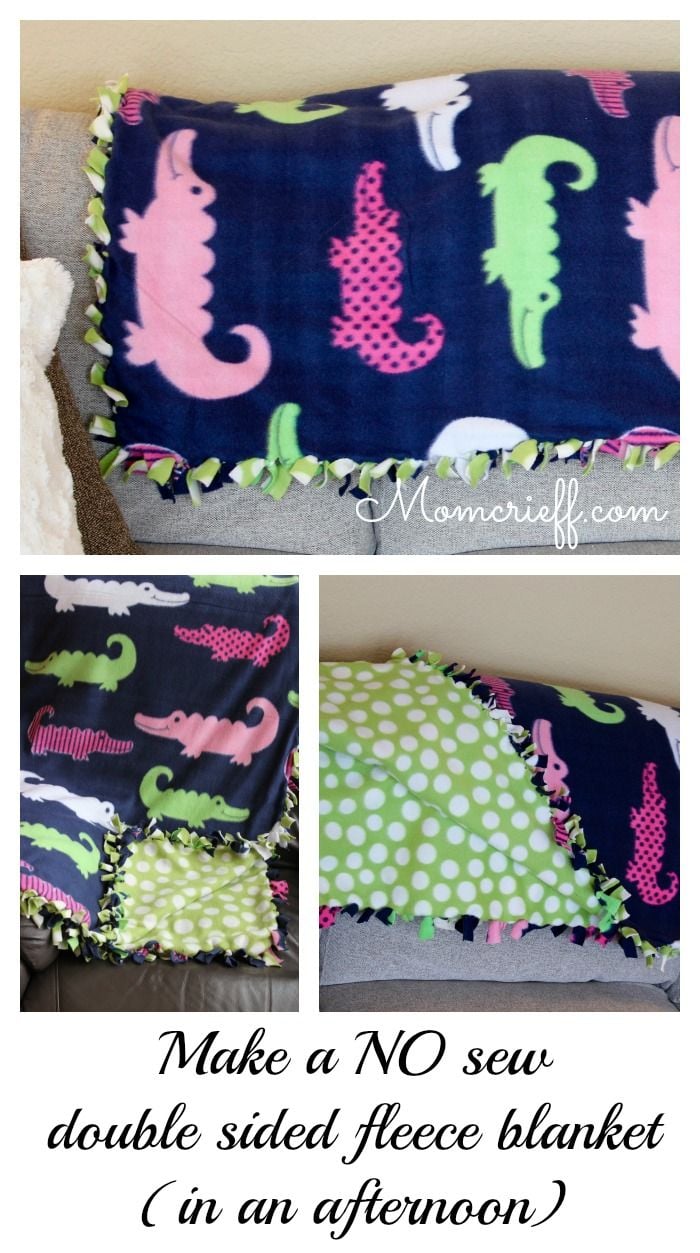 Isn't this the cutest pattern?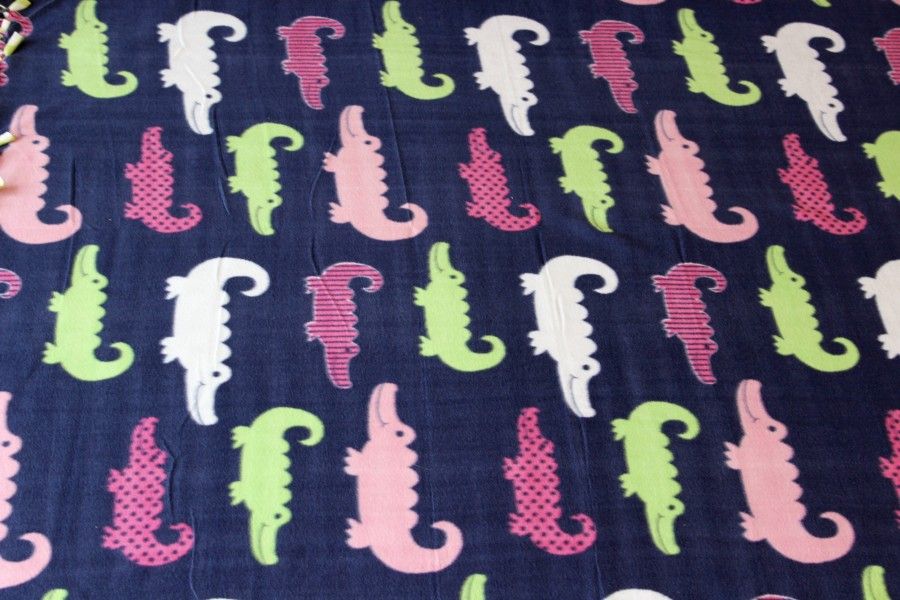 This is a case of what's old is new again!  I've been seeing these around again and know they were popular years ago.  One of my boys is 6'3" and still growing.  The throws you buy are all way to small for him.  So, I thought I would ask Amy to give me detailed instructions and to show me how she makes her blankets.  Sometimes I find the simplest things to make often have little quirks.  I'm a visual person so poor Amy pretty much showed me every step.  And, let me take pictures.  So, I will share all the little hints she gave me.
First of all, decide how long you want your fleece blanket to be.  Add about four inches to each side for your final measurement.  For my son, I ended up buying 7 feet.   That way I knew it would be plenty long.  I'm going to show you pictures of the alligator blanket.  This was the blanket made for Amy's daughter.  Because the alligators are so much cuter in the pictures.
Instructions:
Buy material in your desired length.  The blankets are double sided so you need two cuts of material.  Either match, co-ordinate or do something totally different.  It's your blanket so buy what you will love!  And, don't forget to use your discount coupon!
Place one piece of material on top of the other.  You want to have the nicest side facing out on both sides.  Honestly, we weren't able to figure out which side is nicer.  So we didn't worry about that too much.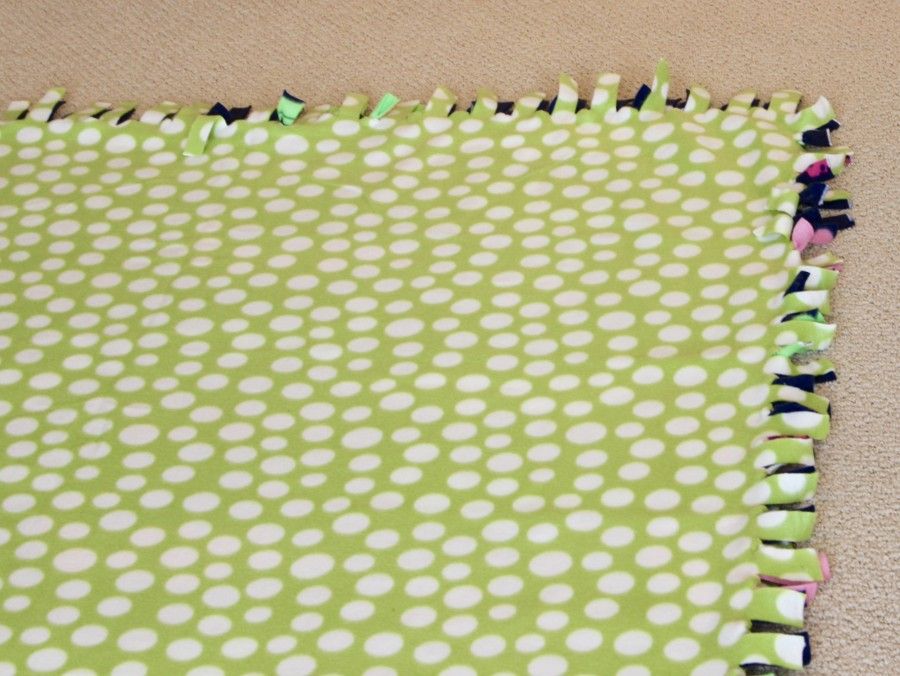 Cut both layers of fleece so they are exactly the same size.  It's easiest to do them at the same time.  You also want to trim the salvage edges off the sides.  A sharp pair of scissors is a must.  If you are having problems cutting at this point, stop and get yourself a good pair of sharp scissors.  This is an experience in frustration if your scissors are dull!
Start cutting your strips.  Cut a predetermined length into the blanket to make small strips.  I cut the length of the scissor blade.  About three inches.  And, each strip was about one inch wide.  These were good, easy measurements that were really simple to eye ball.  You don't want to have to measure these!  By using the length of the scissors, it was very easy to be relatively consistent.
IMPORTANT!  Make sure you cut out all four corners.  If you are cutting in about 3 inches, cut out a three inch square .  This prevents your corners from being too crowded with the knots..
Knot every SECOND strip.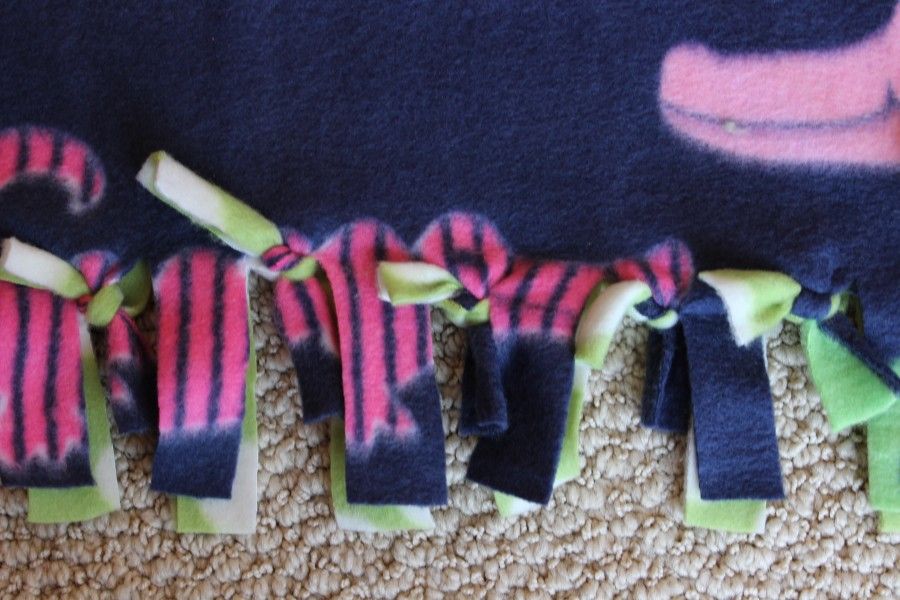 Flip the blanket over.
Then tie the strips that have not yet been tied.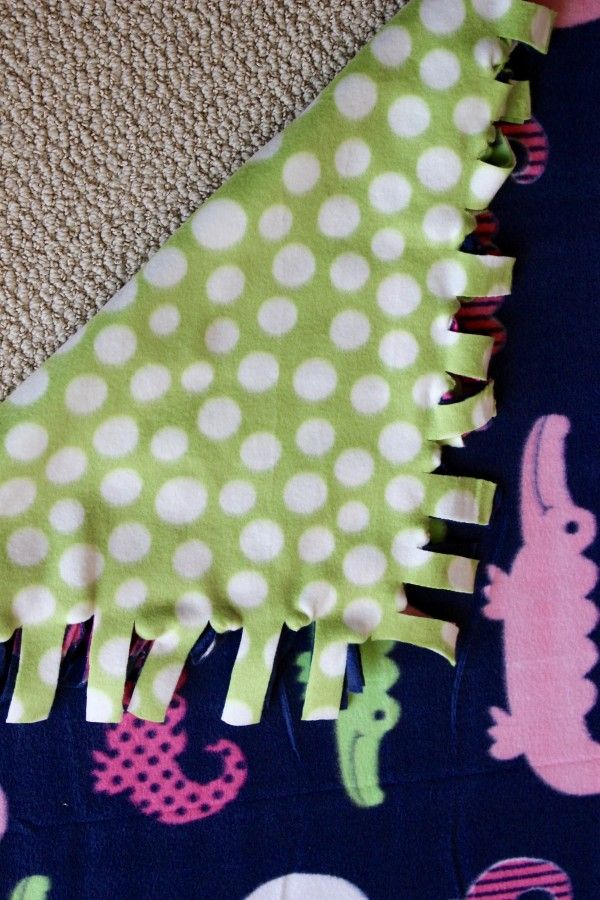 By doing this, the knots are more evenly random.  Does that make sense?
Isn't this the cutest, most comfy looking blanket?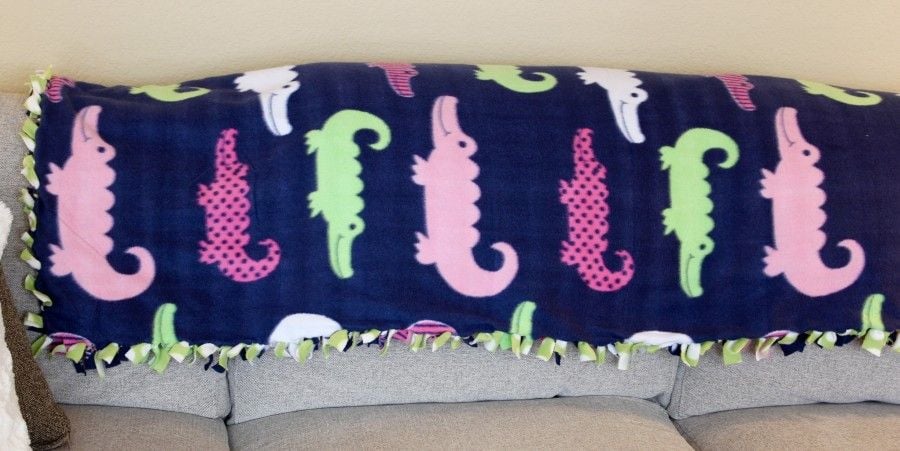 Now, let me ask you this.  Have you looked in the fleece section of a fabric store lately?  We were in Joann's and there were aisles and aisles of fleece to choose from.  AND, there are tons of fleece that are guy appropriate too.  Sports, music or even college colors.  I'm going to be making a set of pillows and a blanket for my son.  I'll be sure to show you that when I'm done.
Thanks Amy for showing us all how to do this!
Oh, if you are looking for a cute baby gift, this would make an awesome stroller blanket!  Nice and warm but not too heavy.   And, very washable!  If you are planning on making a blanket that will be washed frequently, like for a baby, make sure you buy the no pill fleece.
These are so versatile!  Hope you are as excited to make one of these as I am!
If you aren't, you haven't looked at the fun fleece pattens available now.  Trust me.  Go take a look!
Looking for a no sew way to fix your jean button?  You can replace that button with one that looks like it's supposed to be there!
No Sew - How to replace your jean button.