Don't sew but want stylish window valance curtains? No sew kitchen valance ideas!
I repurposed items to make a pretty no sew kitchen valance over my sink. And one for my back door! Last year I really wanted to use the black and white buffalo plaid decor for my Christmas theme. But, by the time I decided to do this, it was all gone!
My year was pretty crazy and I was dealing with a serious house remodel. As in, I bought a house that didn't even have a kitchen or functioning bathroom at the time. After my kitchen and bathrooms were functioning, we moved in and I slept on an air mattress for 6 weeks as they finished working on the electrical and drywall upstairs. So, I was a little tardy with my Christmas decor planning!
No sew Buffalo Plaid valance curtains
This year I'm doing black and white check buffalo plaid! Not just for Christmas. It's just such a versatile and clean decor theme that can be essentially used all year round. I don't have time to totally change my decor for each season. But, I'll be using the buffalo plaid theme as the backdrop for my late summer, fall (Thanksgiving) and Christmas decor. It'll be easy to update and modify! The black buffalo plaid will be my backdrop to the seasonal decor.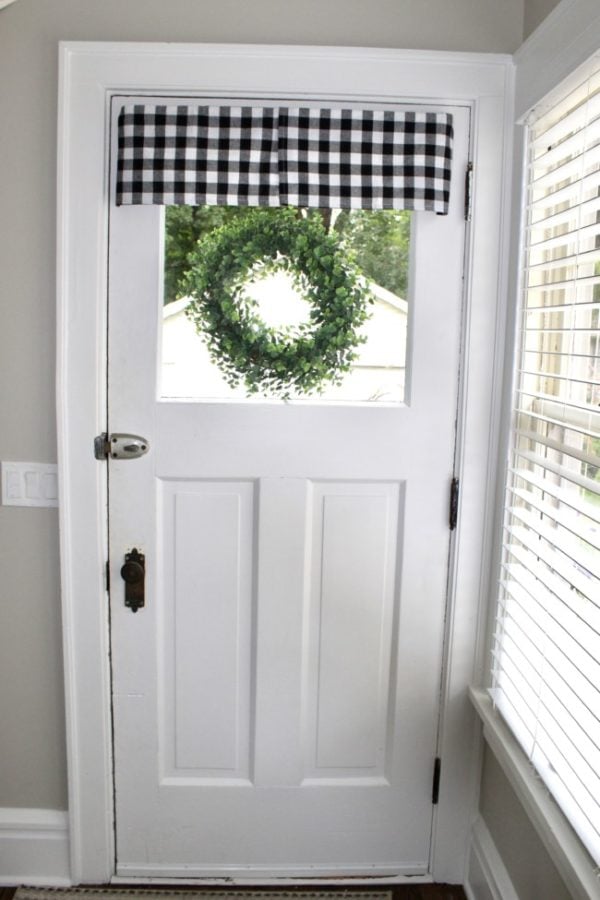 How to make cheap buffalo plaid valance kitchen curtains!
So, when you don't have a lot of extra money to spend on decor and you don't like sewing, how do you do this?
I was walking through some decor stores and realized I wanted a pretty black and white check valance in my kitchen. I saw a beautifully made table runner, that was also lined and well sewn. It was perfect as a no sew kitchen valance! It looked very similar to this buffalo check table runner (this one is not lined). Can you picture how I would put this up?
Here is my kitchen window where I want to put the valance.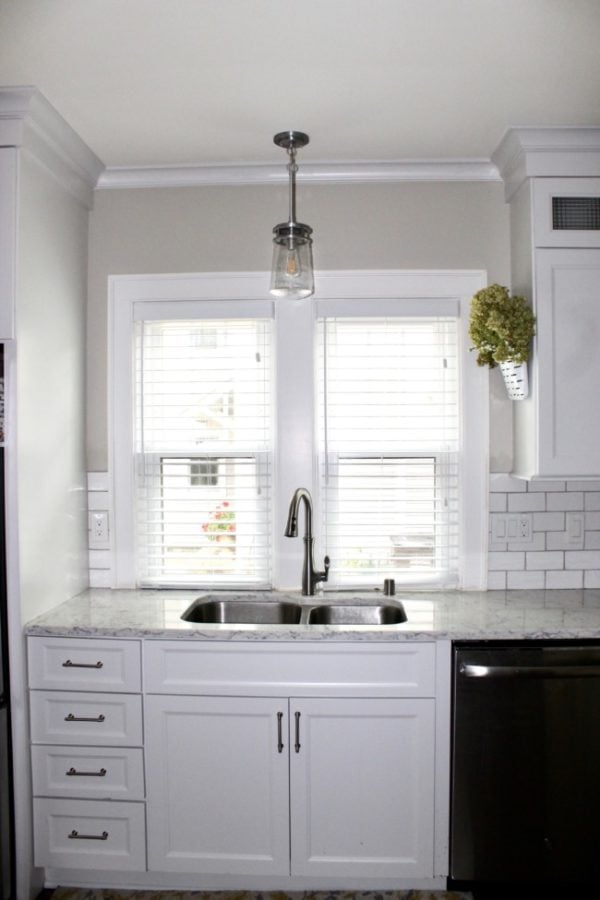 I loved the clean look for the summer. But now with the cooler weather, I wanted to add a valance to make it a little cozier.
So, I hung the table runner on a shower curtain tension rod with clips. Yes, I used a shower curtain tension rod in my kitchen! I didn't want to drill holes in my kitchen cabinets. And, the shower curtain tension rods looked just as nice as the other tension rods but were less than ½ the price!
The end was easy to unscrew and then I had no problem sliding the circle clips on. When you buy a shower curtain rod and the curtain clip rings, make sure you buy the correct sizes of each!
Don't forget to get the curtain clip rings!
See, I seriously used a bathroom shower curtain rod! But, they are much nicer now than they used to be. It was about ½ the price of the tension curtain rods in the other section of the store.
How did I get an inexpensive valance?
Using a table runner as a no sew kitchen valance
I bought a table runner a few weeks ago for my dining room table. It was the exact width of the valance I was planning to sew. It was a bit too long, but all I did was measure the full length, and then iron in both sides an even amount so that it fit my space perfectly. You may want to pin the folded/ironed part so that it stays together better.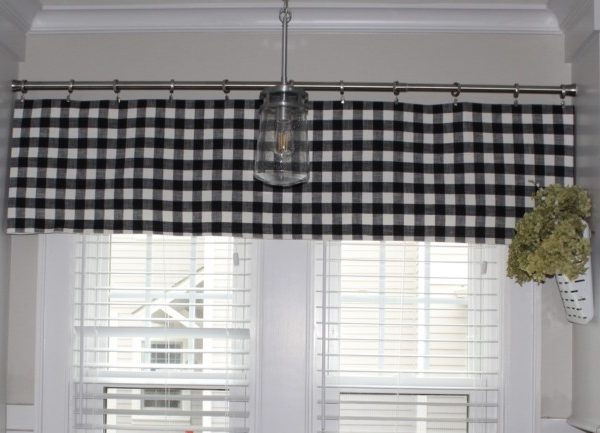 What do you think? Wasn't that an easy project. I just had to put the clips on and I was done. A quick tip, fold the valance in half and then put the middle clip in that spot. Then space the clips evenly on both sides.
This took me just a few minutes to do. The table runner is sewn better than I could ever do and I didn't have to do any sewing (woohoo - I'm not a big sewer).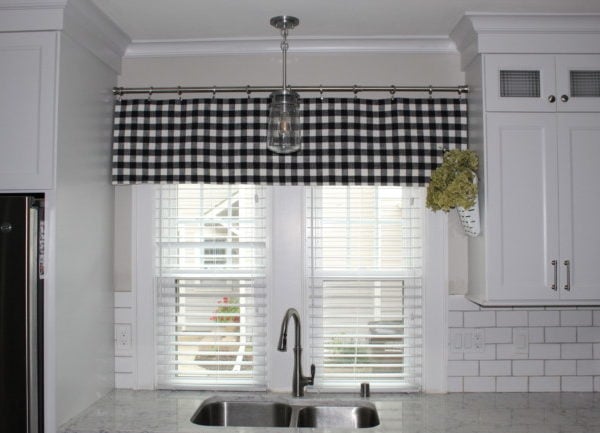 Once this was complete, I wanted to dress up my mudroom just a bit with the same theme!
Cheapest & easiest valance ever for mudroom door!
You can see my vintage, original door from my kitchen. I wanted to tie it in with my kitchen with a little valance over the window. The hanging thingy's for the curtain rod was already on the door.
I bought the cheap adjustable curtain rod for my door window.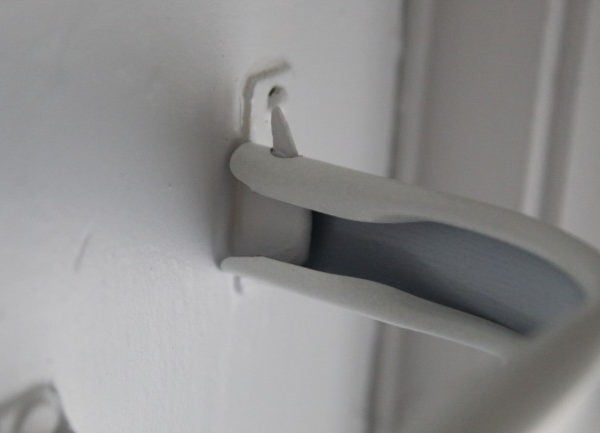 I used NAPKINS! I found a set of four for $4.99 on a clearance table. I saw on Amazon that they sell larger sets of buffalo plaid napkins. They aren't expensive either. You'd have lots of napkins left over for your table too! No one would notice that you used a couple to make an easy no sew valance : ). Shhhh, you don't need to tell them!
Seriously, all I did was put the inexpensive curtain rod on the door. I ironed the napkins and ironed them in half. All I did was place two of these napkins over the curtain rod. I didn't even need to pin them in place (I did do the slam test and they stayed in place).
I do love having a green wreath in this window. I ended up having to move the wreath down, but that was easy. I just use these mini clear command hooks to hang wreaths in my window.
When you don't like sewing but you are open-minded, it's amazing what you can do. There certainly are many more choices of table runners than there are of valances! Plus, they are cheaper!
If you have a no-sew trick of your own, please share in the comments!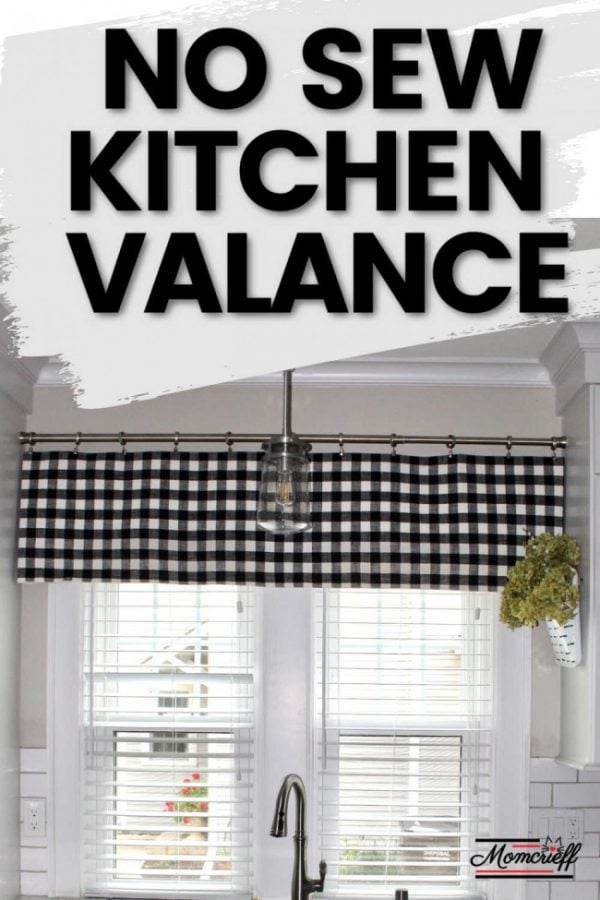 Looking for a detailed simple sew table runner?
Another no-sew post!