How to fix a button on jeans.
I had to replace a jean button this week. How it came off and how the original button was lost, I'll never know. But, I do know that the jeans that fit my teen son cost about $29.00 on sale. I was looking for a permanent quick fix. Not a crazy quick fix like using a paper clip, staple, tape or twist tie.
The lack of a button wasn't going to be the end of these jeans. I took those jeans to a sewing store and asked them what to do. I'm not a sewer and was hoping for an easy solution. Success!! Inexpensive and easy. Couldn't ask for a better solution for a jean button replacement.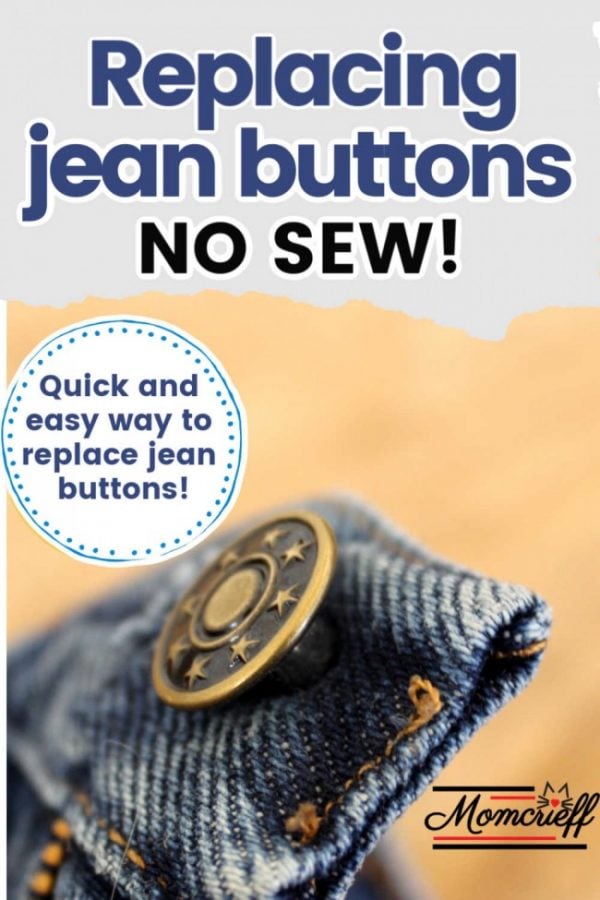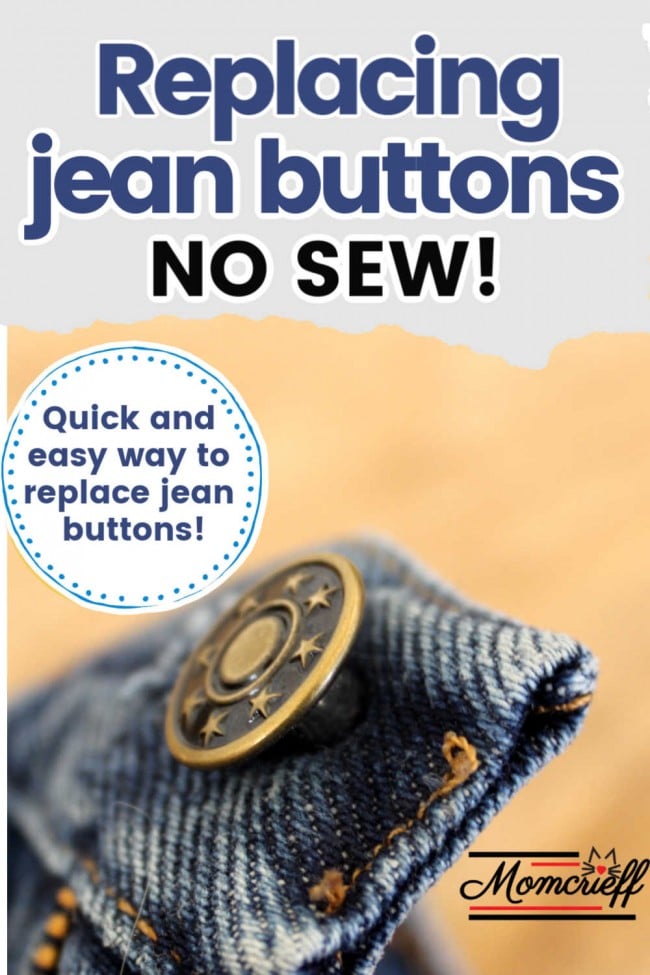 This post may contain affiliate links. Please see my full disclosure policy for details.

How to replace a button on your jeans or pants
This is one of those fixes that does not require a needle and thread to fix a popped button on your favorite jeans. No sewing machine is required either.
I've heard these buttons called a rivit button, tack button, stud button or just plain old jean buttons.
A regular sewn on button does not work well with jeans.
Supplies needed for jeans button replacement
Here is what I purchased. It was just over $5.00 and has a few jean buttons in it. It is a Dritz no sew jean button kit. Or, you can buy the Dungaree button kit.
These look more like the fashion designer buttons you find on your denim.

I used a hammer, a screw, and a screwdriver.
Instructions and tips to using Dritz jean buttons
Of course, things never work easily for me. You should just be able to poke the little 'nail' they give you through the fabric. No matter how hard I tried I couldn't. It was difficult to get through because of the layers of fabric. But, I was working on my workbench and just grabbed a small screw and a screwdriver. I screwed the screw until it just poked out the other side and I had a small hole to poke the nail through.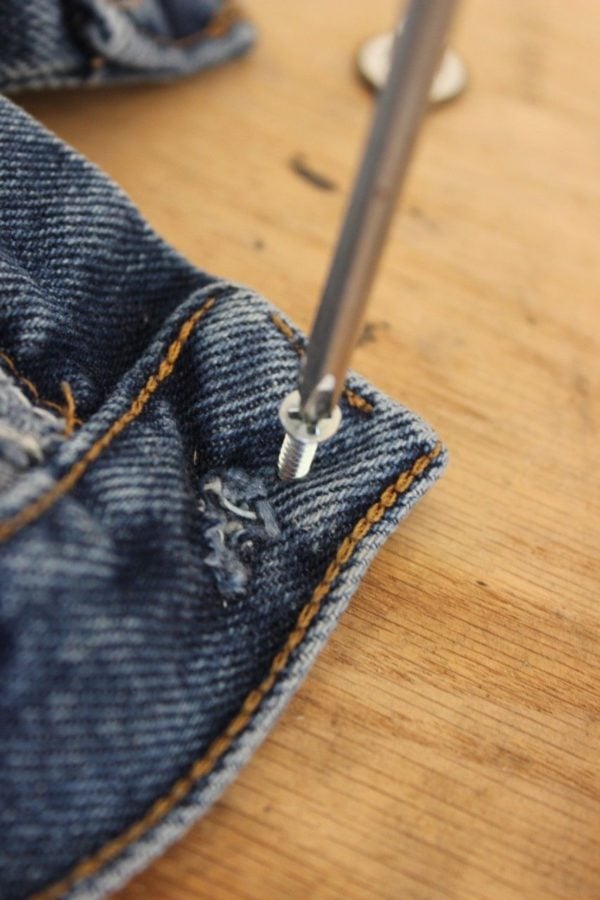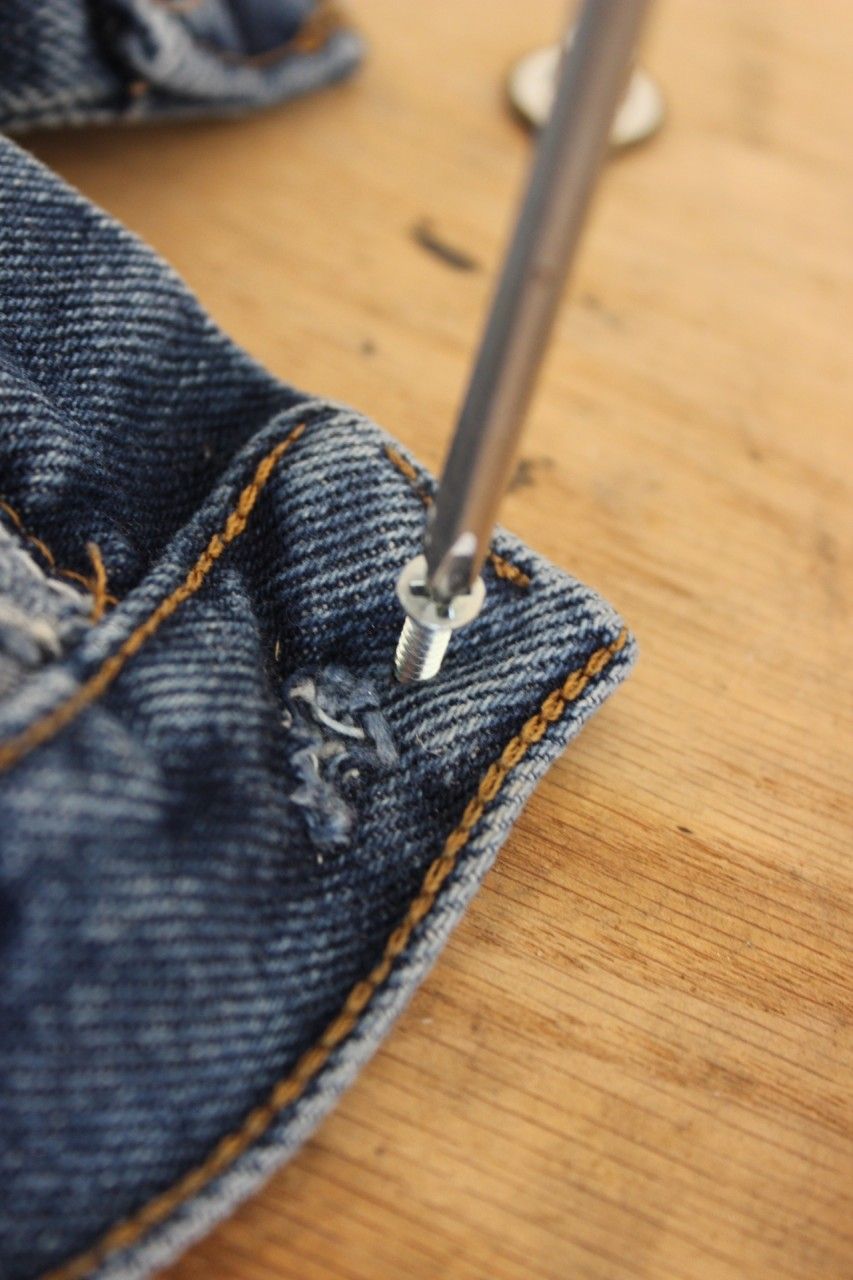 I used a screw to poke a new hole into the jeans. It helped make just the right size and it was easy to do. Here is a quick tip. You can replace the location of the old button and either attach the new button so the jeans are just a little tighter or loser.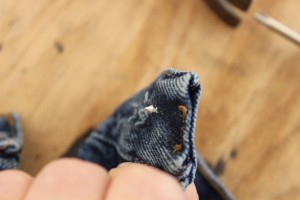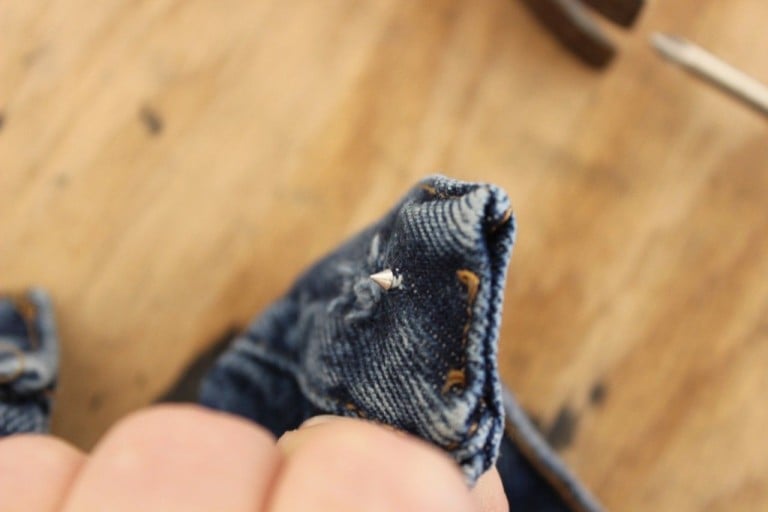 Once you have the hole made, poke through the little nail, and have the button part on the bottom. Make sure you are putting the buttons even with the buttonholes.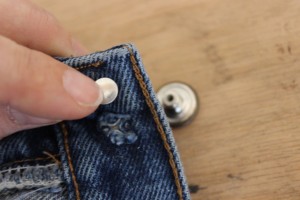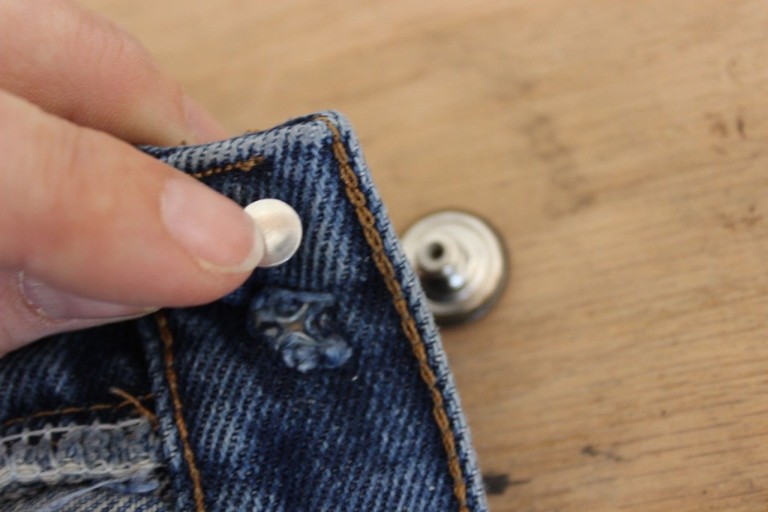 Make sure you are working on a hard flat surface. Give it a few taps with your hammer. That's how you join the two pieces together. It's not hard and it just takes a few taps.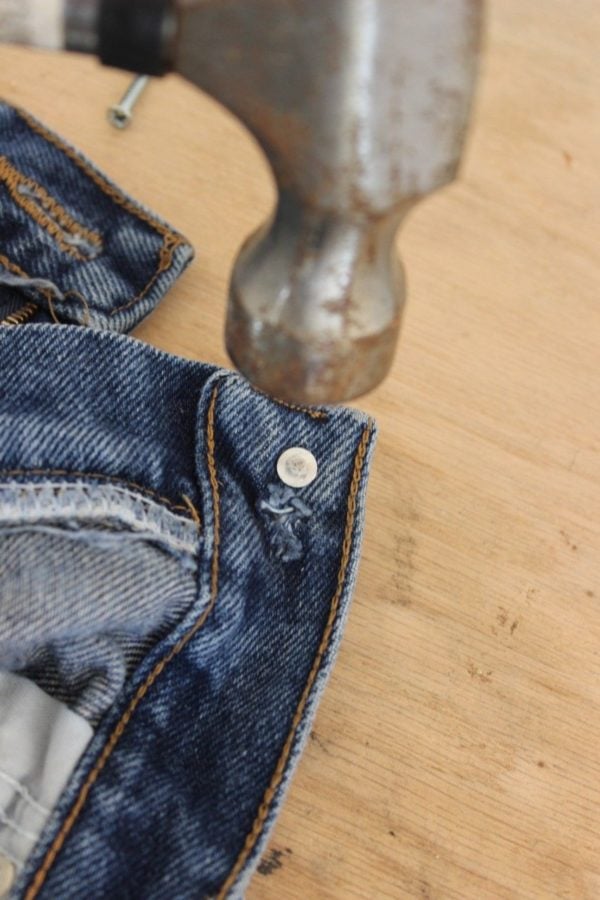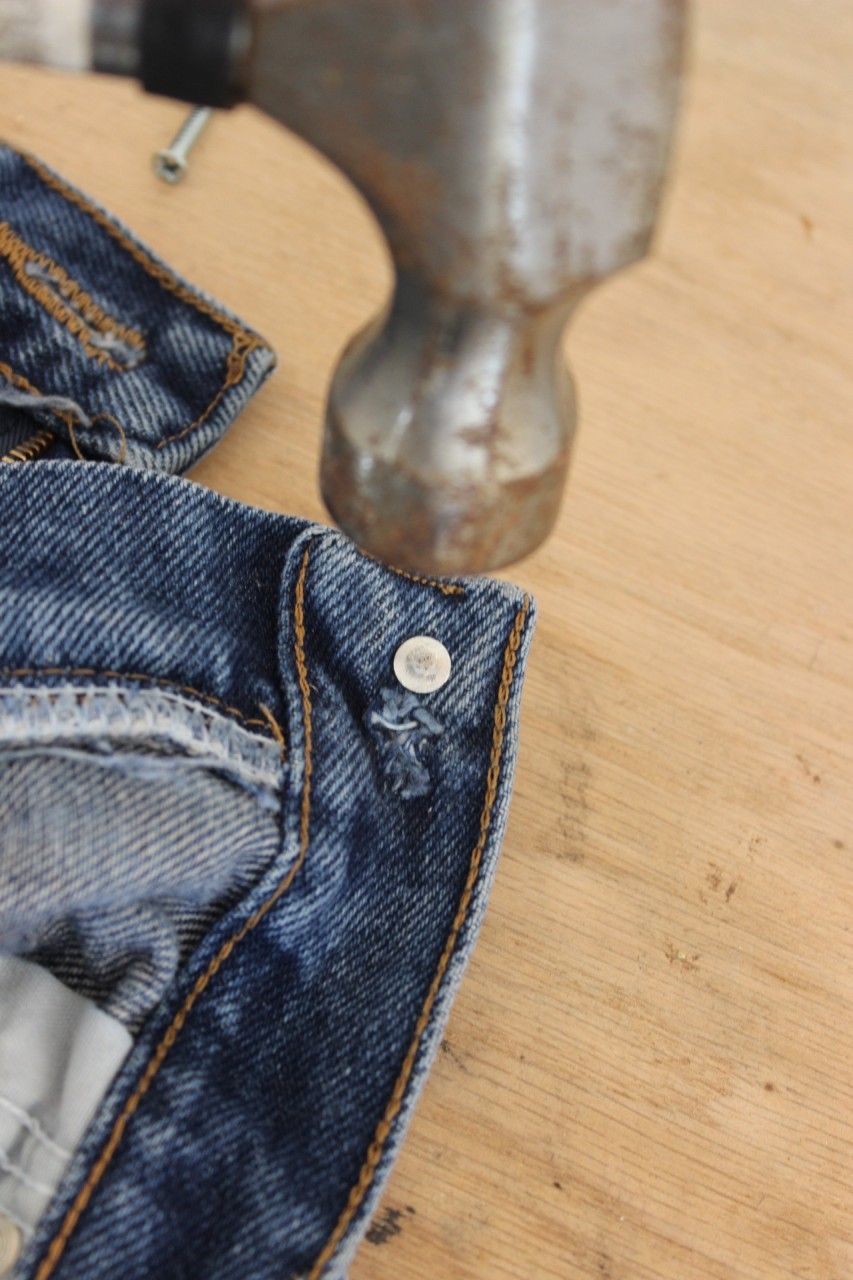 Once you have tapped the little nail into the button, it is done! You know it's going to stay in place because you've used a hammer to do that! And, it's an actual jean button so it doesn't look 'funny'. Cause teen boys won't wear anything that 'looks funny'!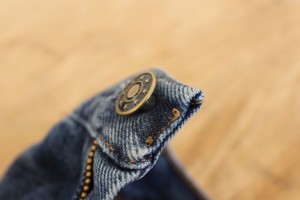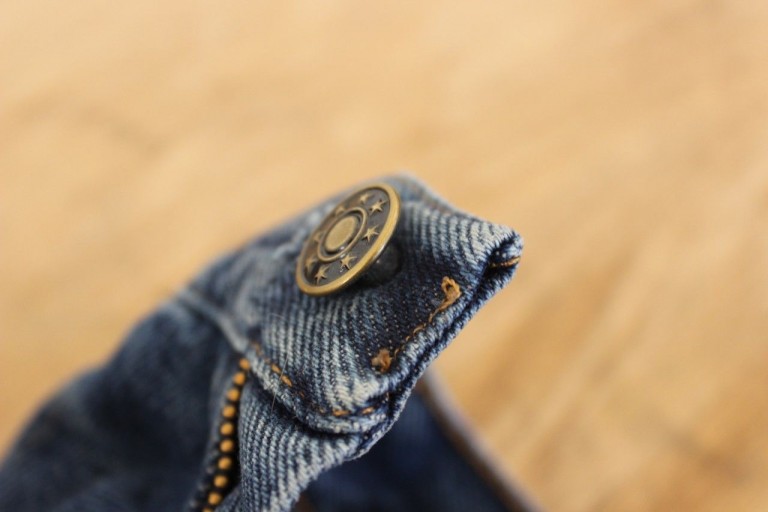 Love that I was able to rescue a pair of jeans and give them new life! This isn't a quick temporary fix, but a permanent repair. These jean buttons ended up being super simple replacements for the missing button!! Plus it was much cheaper than bringing these to a tailor or the dry cleaners to repair.
If you have discovered another easy no-sew way to save an item of clothing, please do let me know!!
What else can you fix with these no-sew buttons?
Do you have a favorite pair of Khakis, chinos, or other hardworking pair of pants? This works for them too. But, speaking of denim, these buttons can be used on denim jackets/shirts (as long as the buttons match).
UPDATE - new types of jean buttons you can buy
When I was updating the Amazon purchase link, I saw that there are a new type of jean button that can be screwed into place. I have not tried these and honestly, the back tack seems to stick out and looks to be uncomfortable. However, I'll leave it up to you to compare. Here is the link for the screw together type.

Want another easy no sewing project?