I love Christmas village houses. I collected them for years. Not the expensive ones, but the ones that matched my set.
Have you seen lately that people like white villages now, not so much the colorful ones we used to have years ago? That's probably because it matches the modern farmhouse style of decorating more.
I had colorful old villager houses, and I wanted white ones but did not want to spend a ton of money. It was DIY time!! I wanted simple white village houses but didn't want to spend all that money buying a new set.
How to DIY white Christmas village houses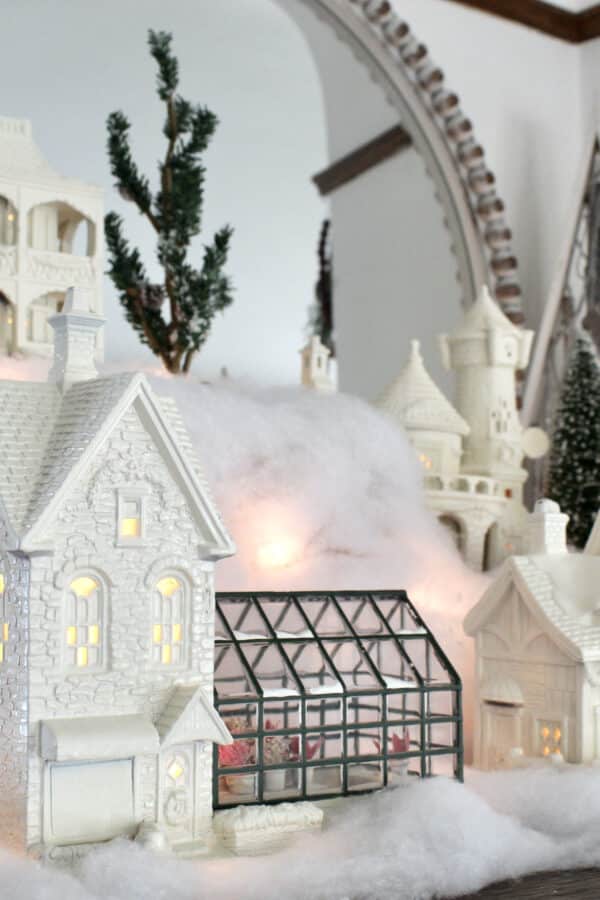 I love the neutral white look of the homes and have learned a few tricks to stage them. A white-painted modern Christmas village helps match your Christmas decorations with your house decor (if you have white and neutral).
Below are the first three homes that I painted. I've done more since!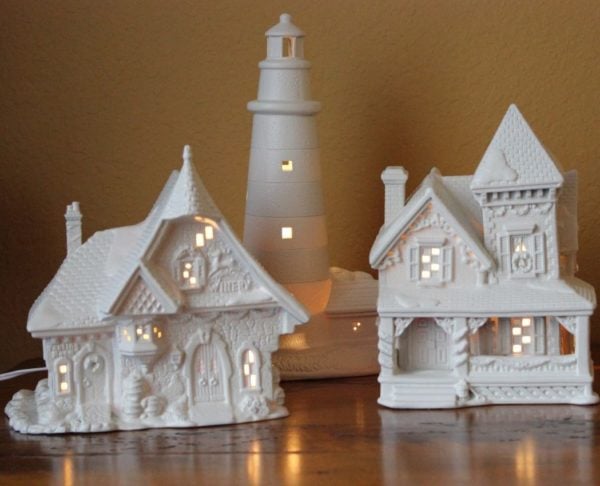 Supplies
Older Christmas village houses you are willing to spray paint. You don't want to spray paint a rare or really expensive village.
Spray Paint - Rust-oleum satin finish heirloom white spray paint. And yes, it is a cream color on the lid. It does go on a little creamy, but I like that vs. a stark white.
I LOVE this paint because the primer is included. No need for priming! It covered well in 2 coats (the first time, it took three because I didn't get the 'underneath' areas.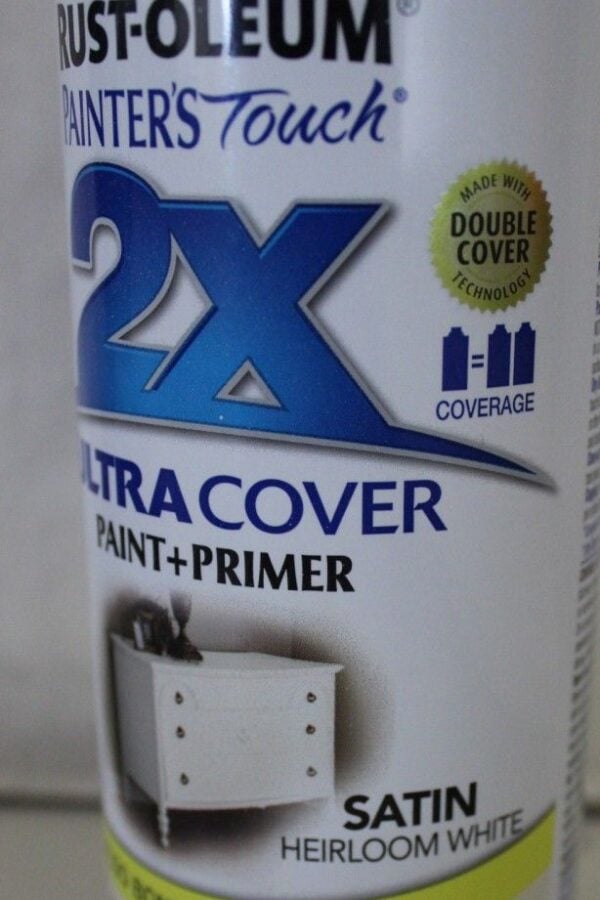 Instructions to prepare & paint
Step 1
Make sure to clean the houses you will be painting. There should be no dust or any dirt of any kind on them.
Step 2
Take out the lights. Just pinch the two side clamps and pull them out.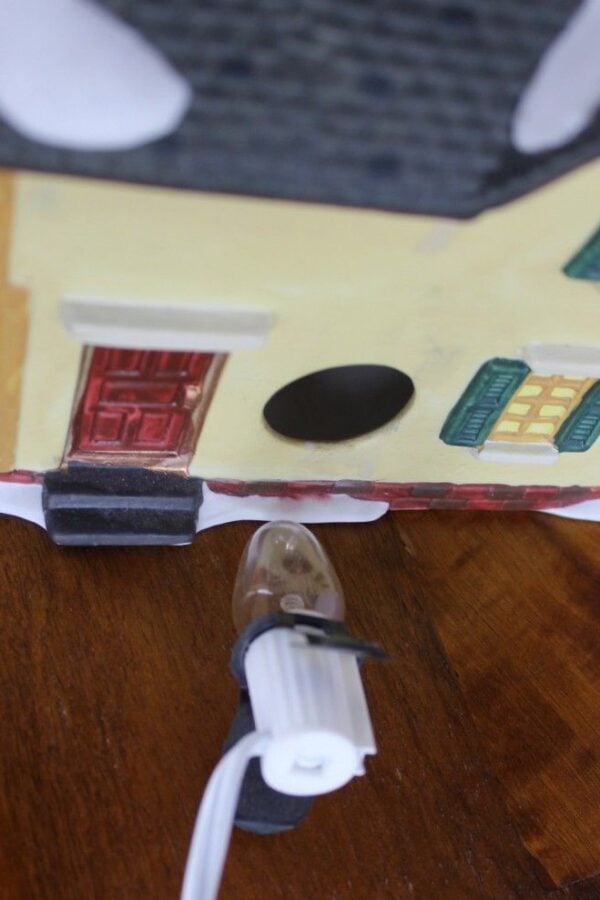 Here is the first house I ever painted. I chose the brightest colored one.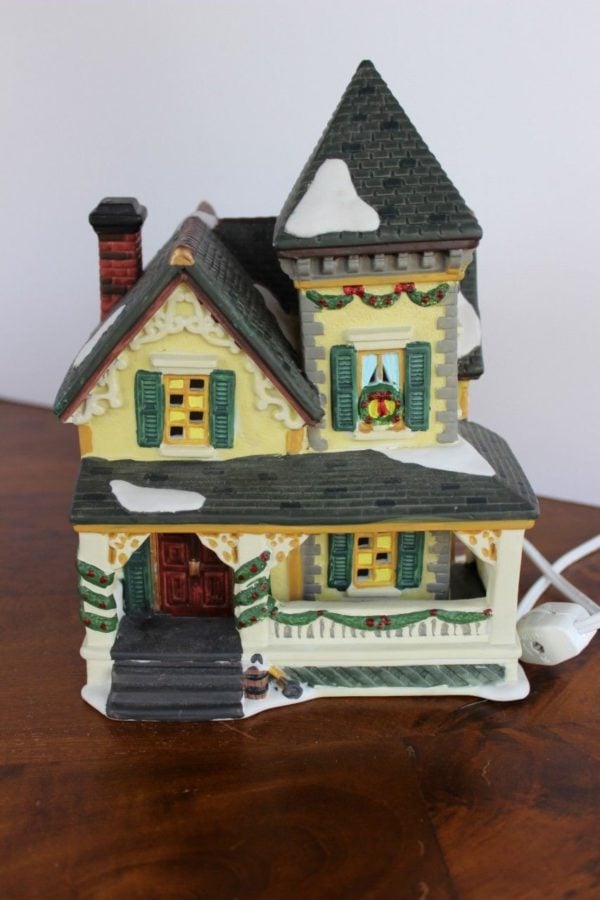 Step 3
Painting the Christmas village. I have learned (the hard way) that you want to do thin coats—better 2 or 3 thin coats than trying to do a thick coat.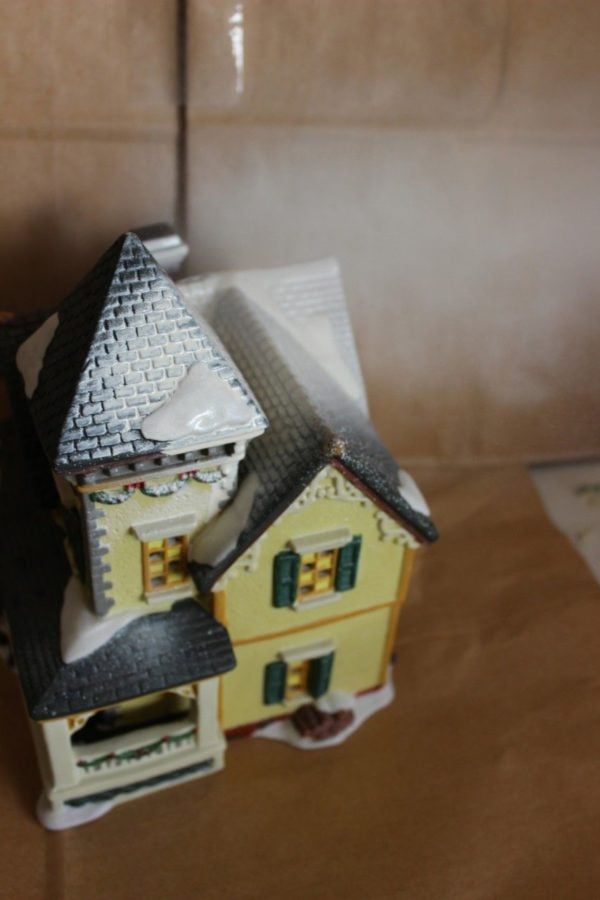 Spray Painting Hints
Thin coats of spray paint don't run and have a nice, smooth finish. Also, start spraying before you hit your project. That way, you have an excellent, smooth, consistent spray when spraying your project. Sometimes, when you start spraying, you may get a 'glob' so you can stop before it hits your project.
It normally takes me two coats to paint these. Initially, I had to do a third mainly because I didn't get the 'underneath parts", for example, under the roof overhang, etc. If you get those areas initially, it will save you a coat of paint.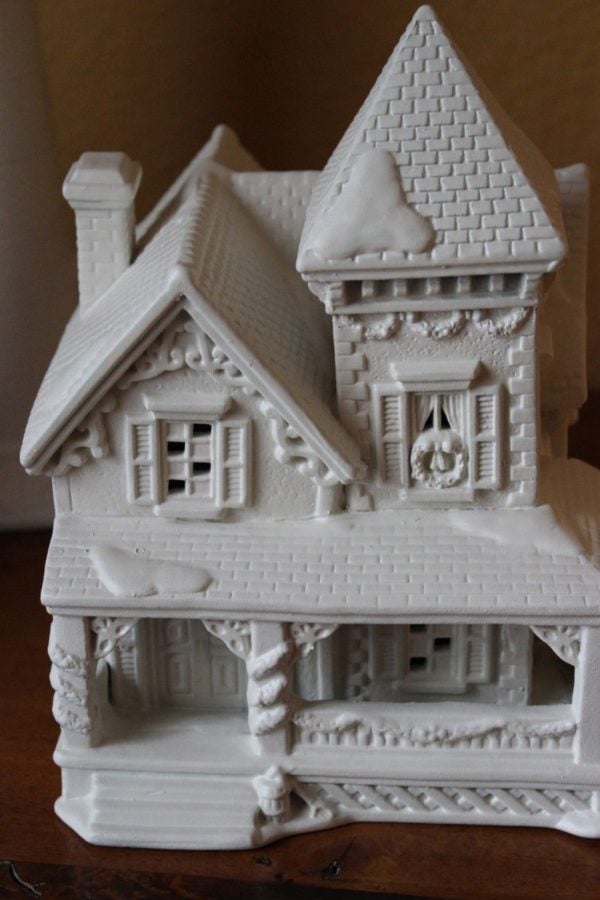 Oh, I love them, even after a few years! It's a fun and easy craft! They look so fresh, so bright and clean now. They look new! Especially in the daylight.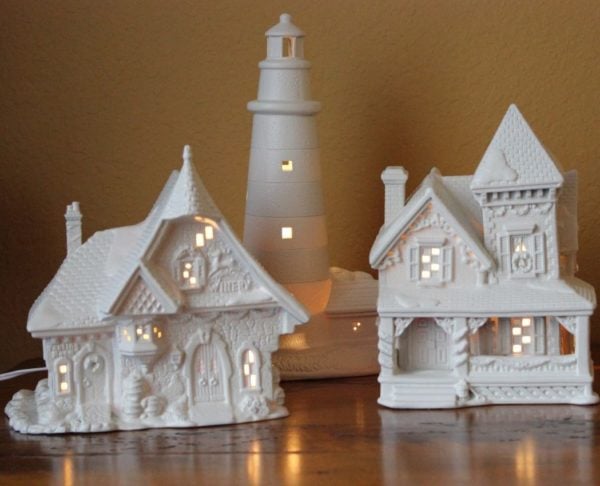 Just a note about the houses I painted. They are the Santa's Workshop ones from Joann's. At the time, they were only $10.00. I don't think they sell them anymore in the stores. I scour thrift shops to find these. It's hard to find them close to Christmas, but I'm usually lucky in the fall.
I love my new white Christmas village houses and have had them for a few years now. It was a super easy transformation for less than $5.00!
I've used them in so many areas!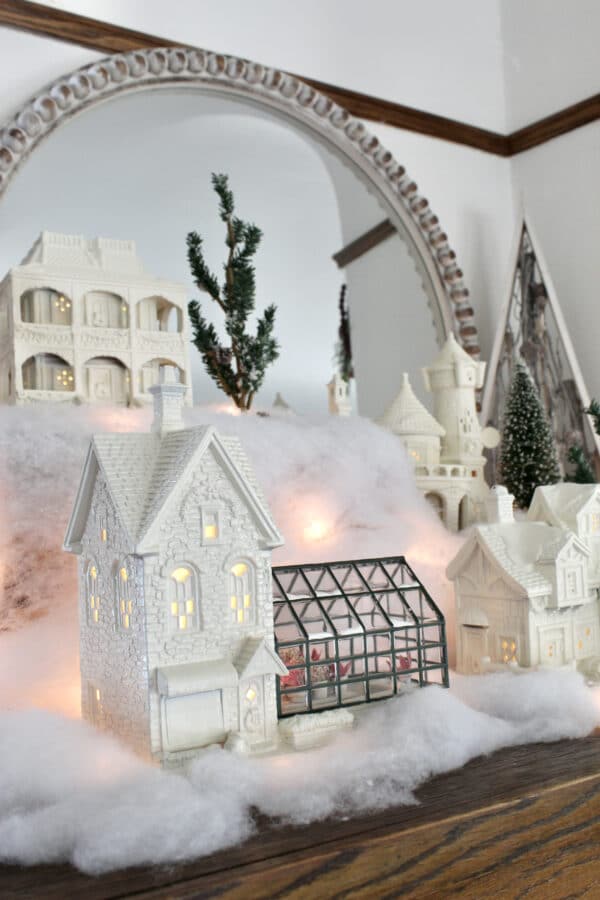 The above is a dark corner in my family room. It is on top of a beautiful built-in. But it's a dark area because of its position and all the dark wood.
I LOVE how the village brings just enough light. And it's the perfect location to have the lights on during the day!
How to set up a Christmas Village
Find your ideal location to set them up. I've put them on a mantel, in deep window frames, on top of dressers, and even on tables pushed against a wall. If you have a family room in the basement, these are a perfect holiday season display with gentle glowing lights. I've even chosen a room and displayed groupings on various tables in that room.
Place your homes at different heights. Use small boxes or stack some books.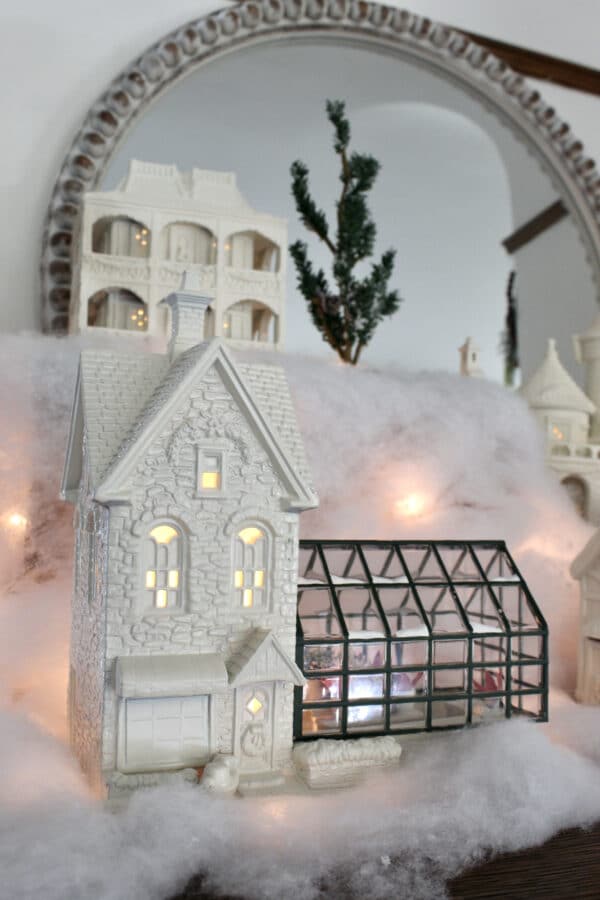 Scatter a string of white lights (with a white cord). It just adds extra sparkle.
Layer some Christmas snow on top of the lights. A craft store or a store like Walmart, Target, or even Dollar Tree will usually have this. There are different types of 'snow'. Use what you like or can find.
Pull and fluff that 'snow' to hide the cords.
Plug all the homes into one power bar. It makes it so easy to turn the whole village on and off. Just be mindful of how many you are plugging in. You don't want to have too many.

Add appropriately placed Christmas trees. I've used bottle brush trees and also trees I've found at the dollar store or garage sales.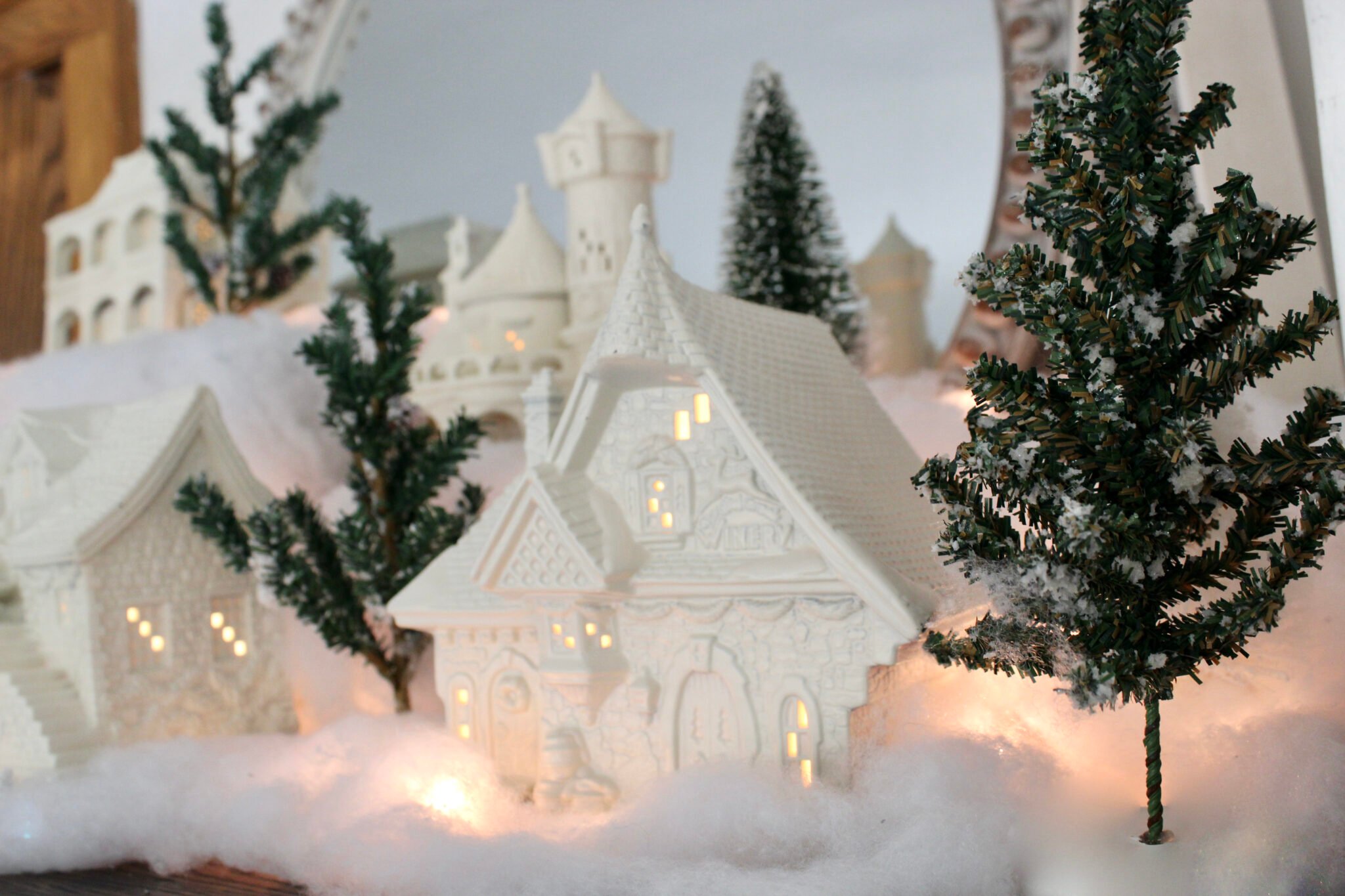 If you only want these to turn on in the evening, put a powerstrip onto a timer. Because the powerstrip is three-pronged, you probably need to get an outdoor timer.
I hope I've shown you a new way to update some items so they can be used and cherished again!
Other spray-painted projects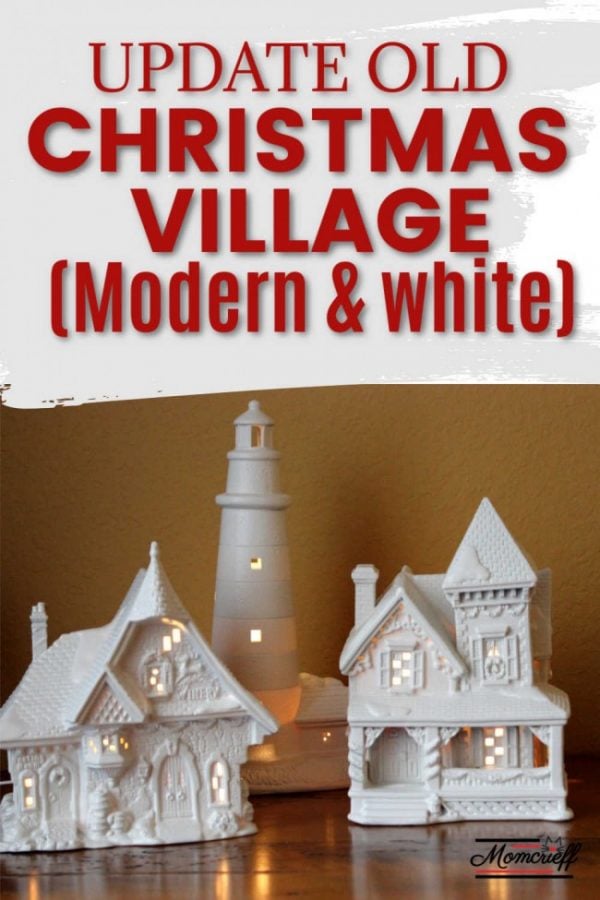 I love these pretty neutral little Christmas village houses is that they don't scream Christmas. You can put them up early and leave them up late.
Enjoy!