Looking for vintage ironstone pitchers?
I LOVE the clean look of an ironstone collection. I always pause to look at collections of ironstone platters and ironstone pitchers. Or, even a flower arrangement in a simple ironstone pitcher will catch my gaze.
That is what I love about ironstone. Collections are often of mismatched pieces but are tied together by what are basic white dishes with a special patina.
Where to find ironstone pieces now?
The rare pieces are still found in your local thrift store, a yard sale or a resale shop/consignment store. However, so many people now collect ironstone now, unexpected finds like ironstone soup tureens are rare. Now, you can often buy pieces in an Etsy shop or FB Marketplace and you are buying sight unseen. Sometimes you can find some at antique stores but they are priced accordingly.
Create your own Ironstone decore
Because the supply is getting so limited, I have started making my own faux ironstone decor pieces.
Supplies
Take a look at the simple classic shapes of ironstone. I wanted pitchers so I went to the home decor section of a few of my favorite thrift stores. You can buy glass, porcelain or ceramic type pitcher's. It's the shape that is important. You also want the piece to be in great condition with no cracks or chips.
I use Rustoleum paint and primer spray paint.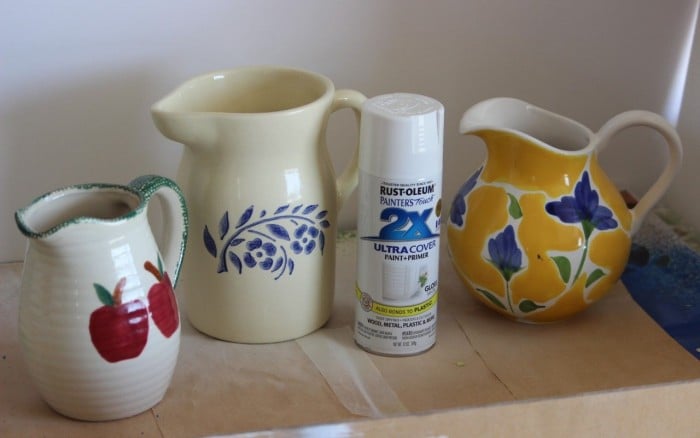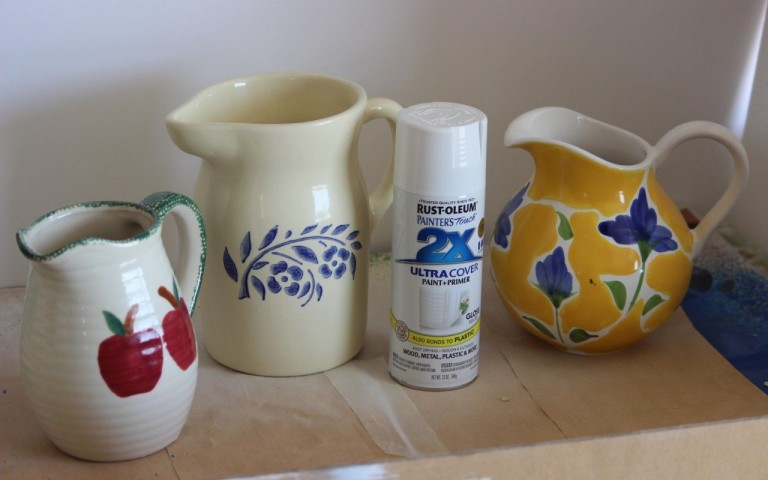 These were my finds. They were just a couple of dollars each and I felt they were dated. I honestly was excited about their pending transformation.
Instructions
Read the instructions on the spray can. There are safety instructions, temperature instructions and dry time information. It's all important.
I generally spray paint outdoors on big pieces of cardboard.
You want to do thin thin light coats of the spray paint. Also, always start spraying before you hit the piece with paint. That way if the paint sputters or has a globy piece from the nozel, it won't ruin the finish of your soon to be prized decor piece. Nothing is worse than drips of paint running down a piece.
Of course, these faux ironstone pieces are decor pieces. I would never use them to serve food on.
Pictures of the process and before and after shots
Below are some process images and some before and after shots.
Wow, I have probably changed my decor 3 or 4 times since I took those pictures. Actually, those are in a house I no longer live in!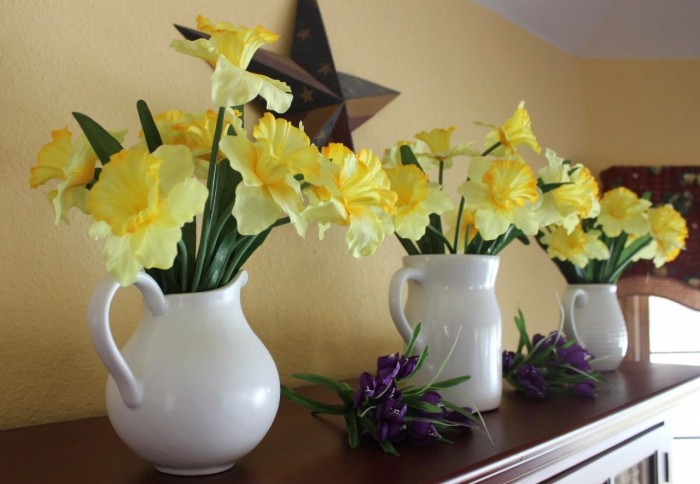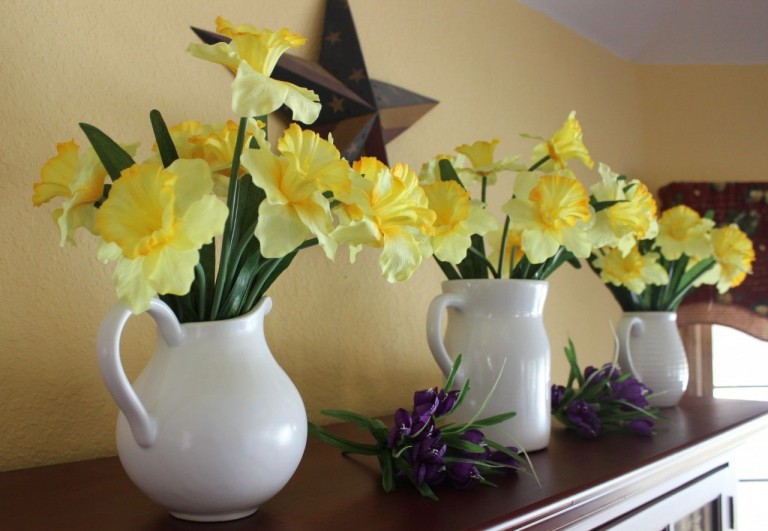 I still have these pitchers and they are almost 10 years old now!
Let me show you more of what they looked like and what they ended up as.
I bought these at a second-hand store. I was looking for the shape of the body (rounded), the shape of the top opening (wide) and different textures.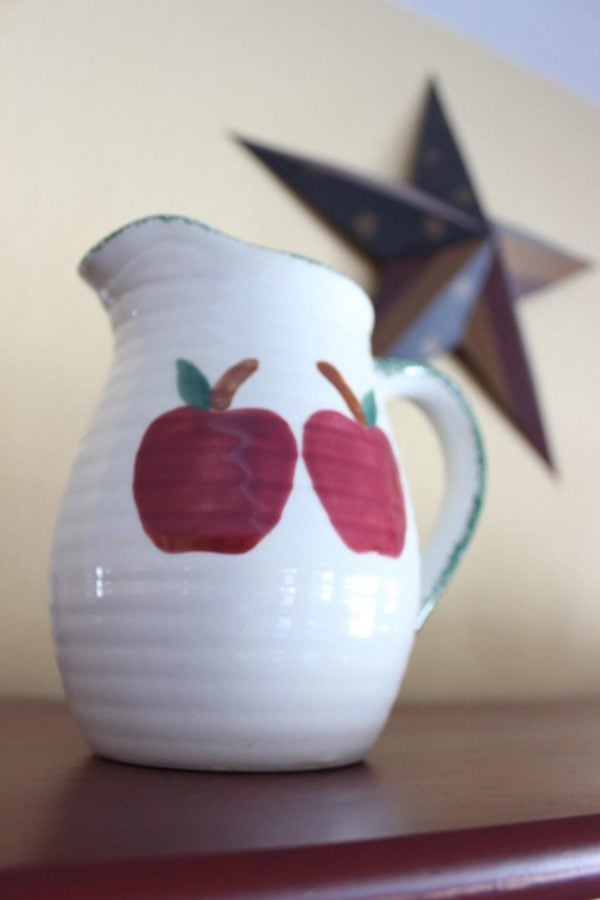 Look at this one! Isn't is awesome in how dated it is!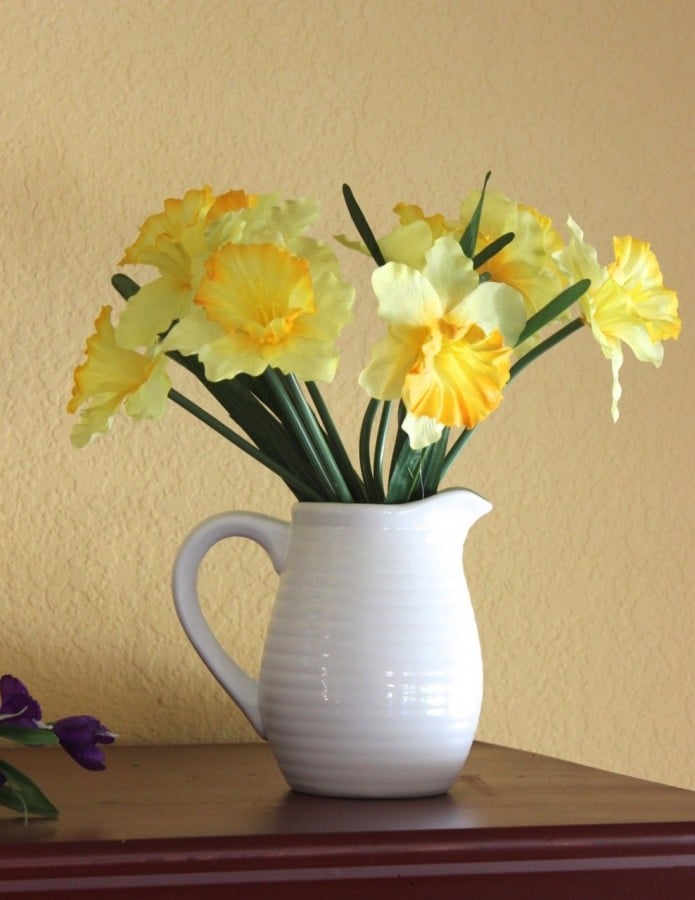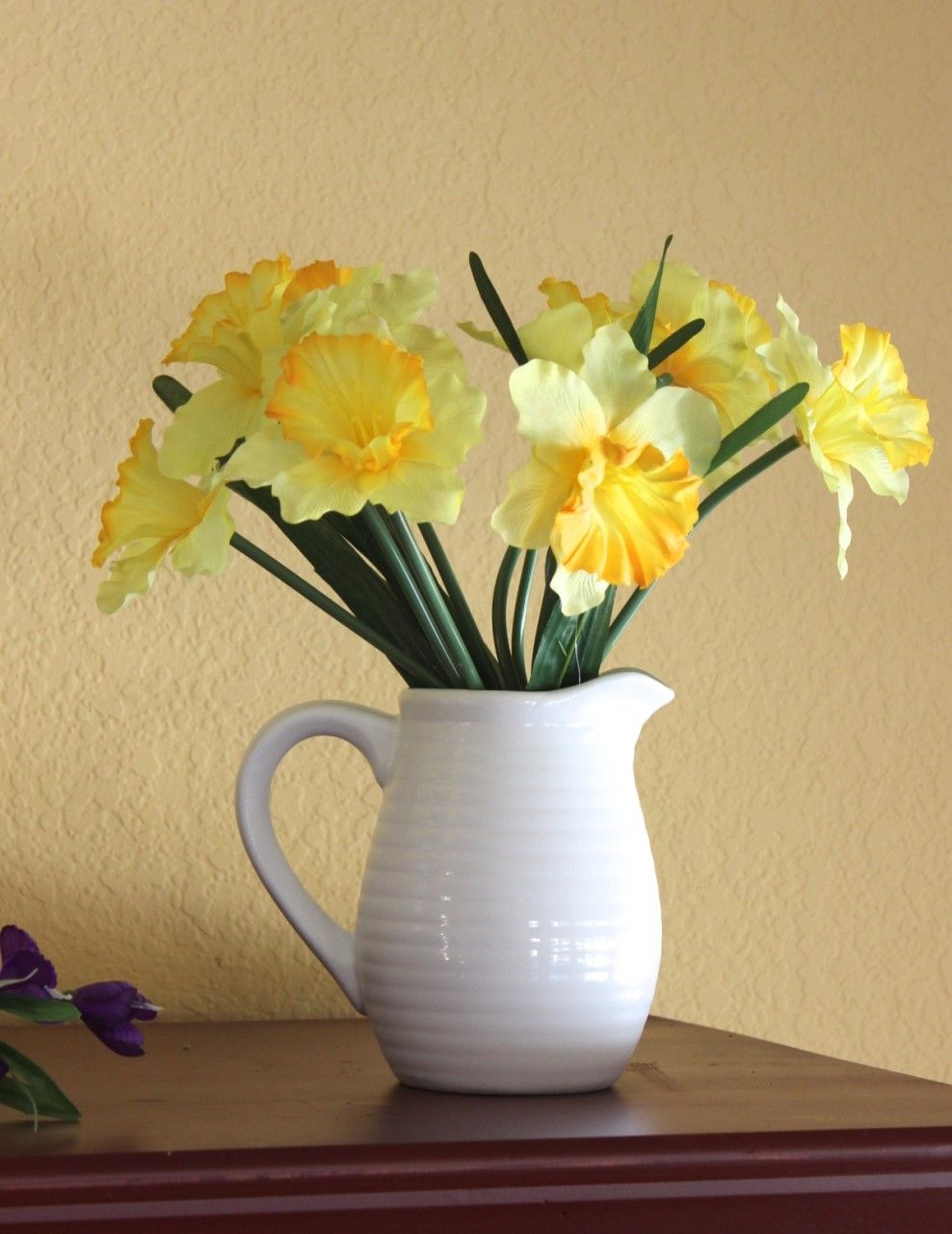 Yes, really, the above two pictures are the same pitcher. Sorry, I didn't take them at the same angle and same light but trust me, they are!!
Spray painting pitchers
It was fun spray painting! It felt good to take something old and make it look new again! And, to do it outside.
Use good quality spray paint. I prefer Rustoleum. And, use thin, even coats. Do not spray thick coats because it won't dry well. You're better off having to spend a little extra time doing an extra coat or two.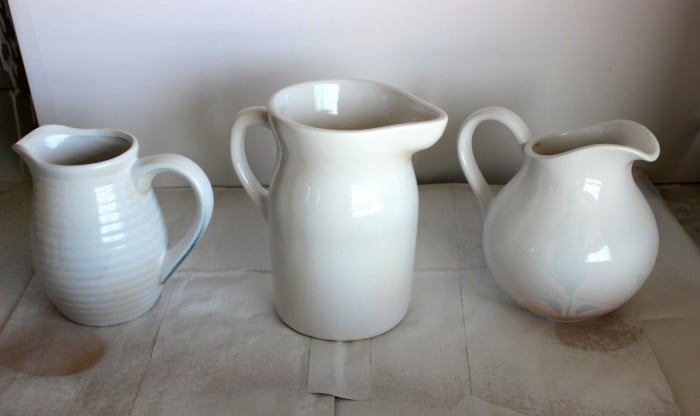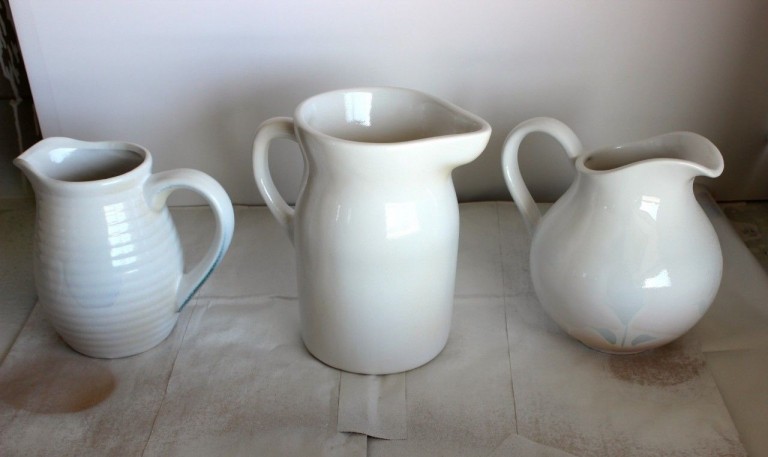 Look closely at the pitchers above. You can still see the pattern peek out. It took a total of 3 coats and they were perfectly covered!
I'm not really a huge fan of fake flowers but couldn't help myself. I needed some daffodils and some crocuses. They are still a long way from blooming in my part of the world. Actually, I haven't even seen my crocuses peeking out of the ground yet. I'm totally cheating by buying some fake ones but I love the cheeriness and brightness they bring into my kitchen (and my life)!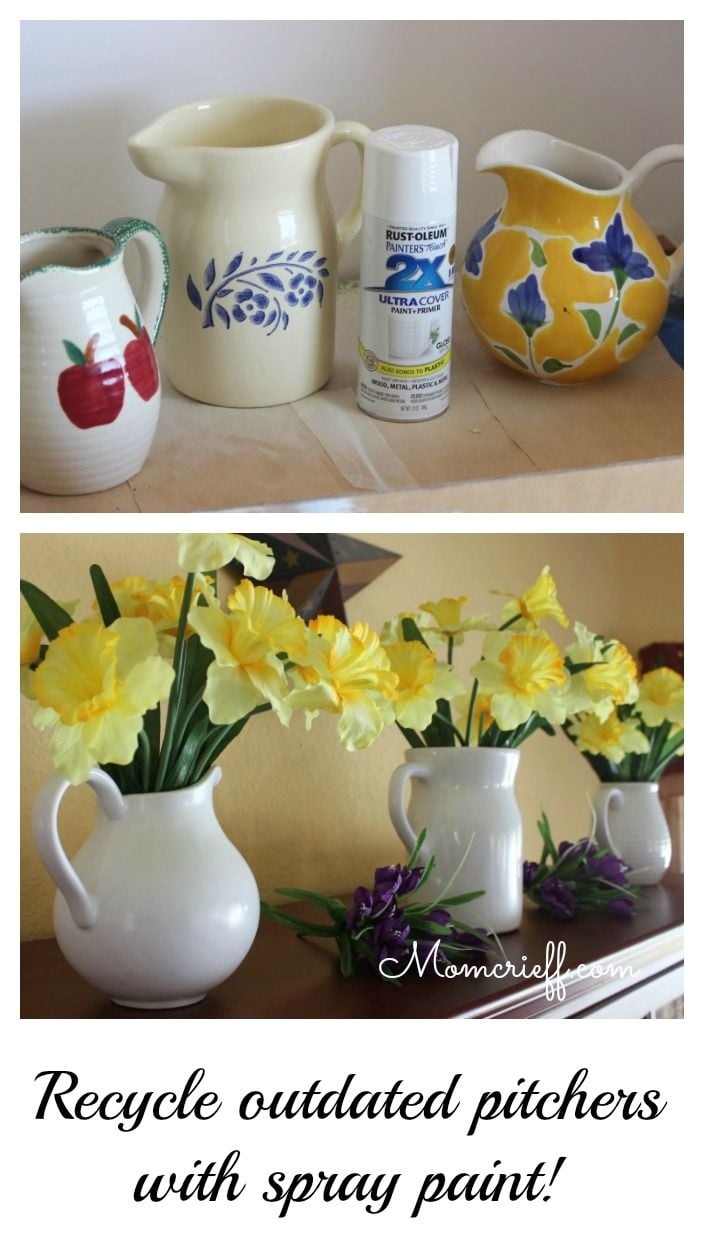 If you would like a more detailed post on how to spray paint something, check out my post on my DIY white vases. I bought six heavy water glasses at the dollar store and turned them into six beautiful matching vases.
Or, my other spray-painted treasure:
This was one of the homes 'before'.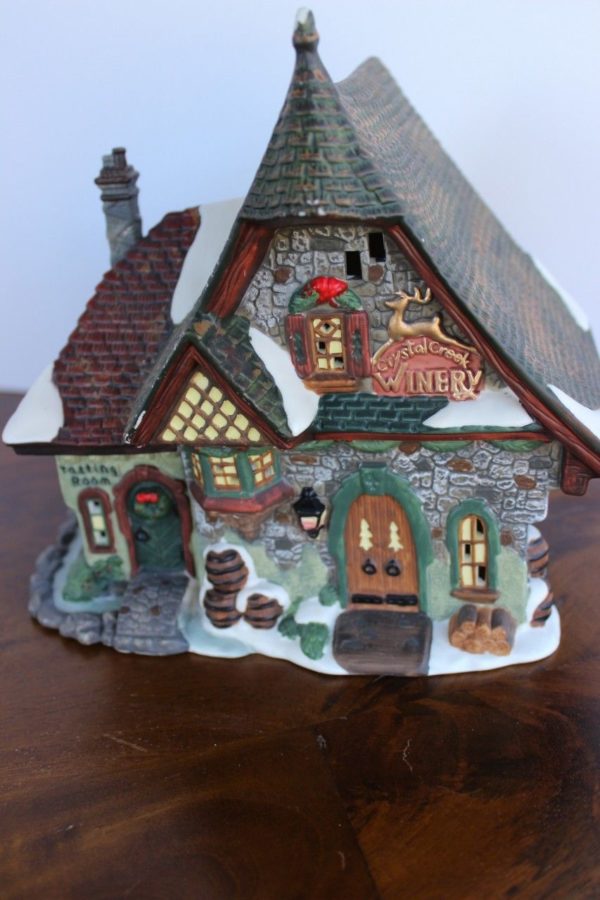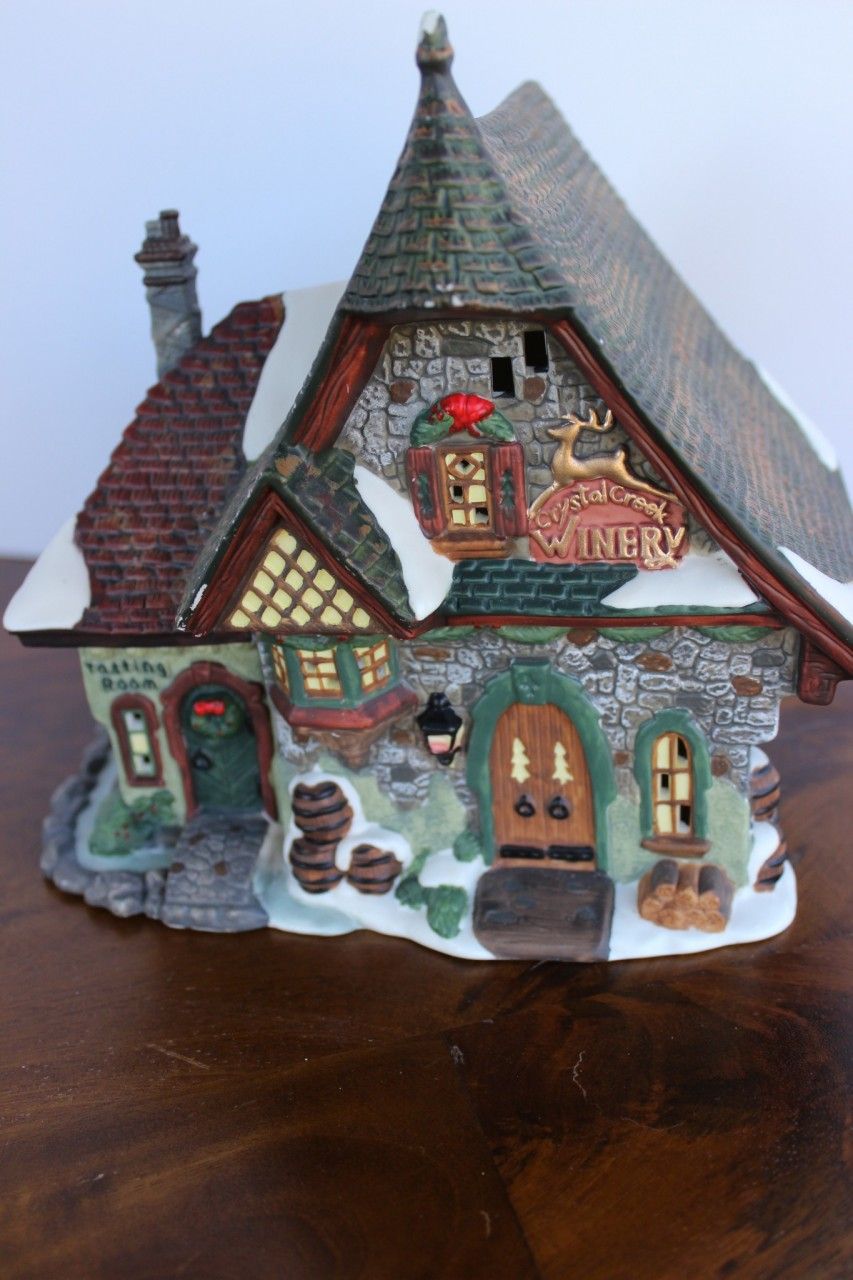 If you haven't tried spray painting lately, give it a try! It's fun and gives your dated treasures new life.
If you enjoyed this post, and love simple recipes, please make sure to sign up and follow my blog. I'm on Pinterest too! Look for Momcrieff or follow the Pinterest icon from my blog.
Think spring!