Picture rail is what you often find in older homes. It's used to hang pictures, mirrors and various kinds of artwork. Sounds so simple, doesn't it? When people come to my home, they don't recognize what this moulded picture rail is. It looks like fancy crown molding. My crown molding looks really hefty and part of that is the picture rail is attached right under the crown molding (it's almost a part of the crown molding).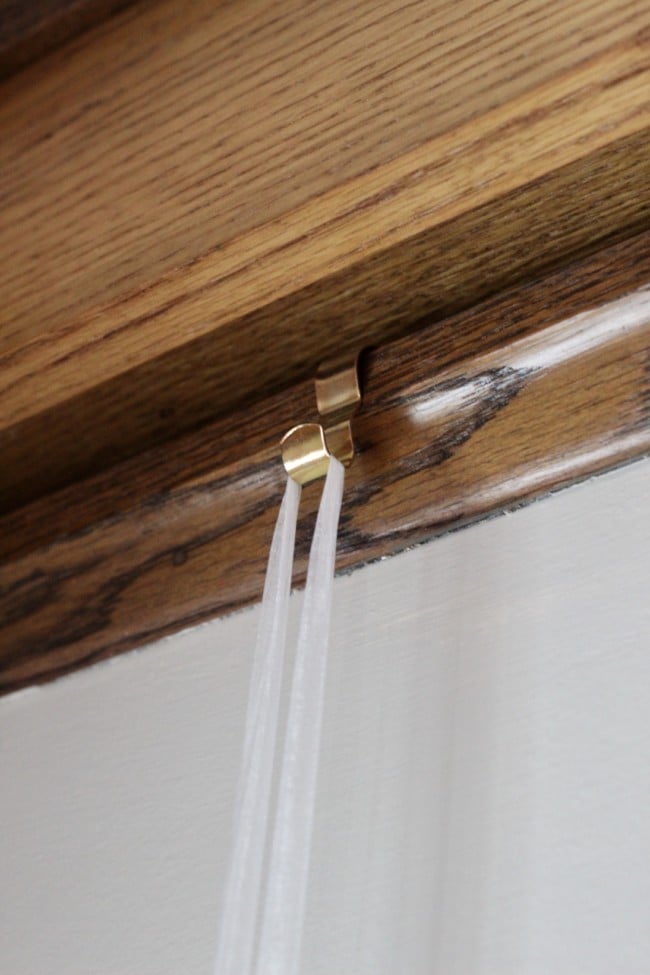 So you can get a better idea of how the picture rail works, my mirror is hung from it. See the two picture rail hooks on the picture rail? I used picture hanging wire to hang the mirror from the picture rail molding. I used two hooks to distribute the weight and attached the wire to both hanging eyes on the back of the frame.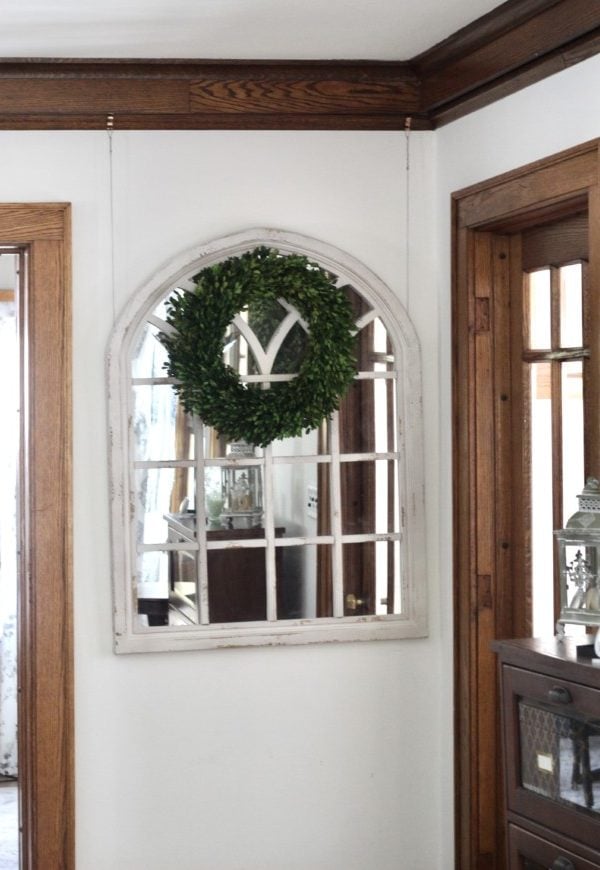 How do picture rails moldings work?
Basically, you slide on a picture hook and then you use whatever hanging medium you would like. My mirror is hung with picture hanging wire. The wire has a weight rating so I knew it would be strong enough to hold the weight of the mirror.
I've hung lighter decor items using ribbon on picture hooks or as some people call them, picture hangers.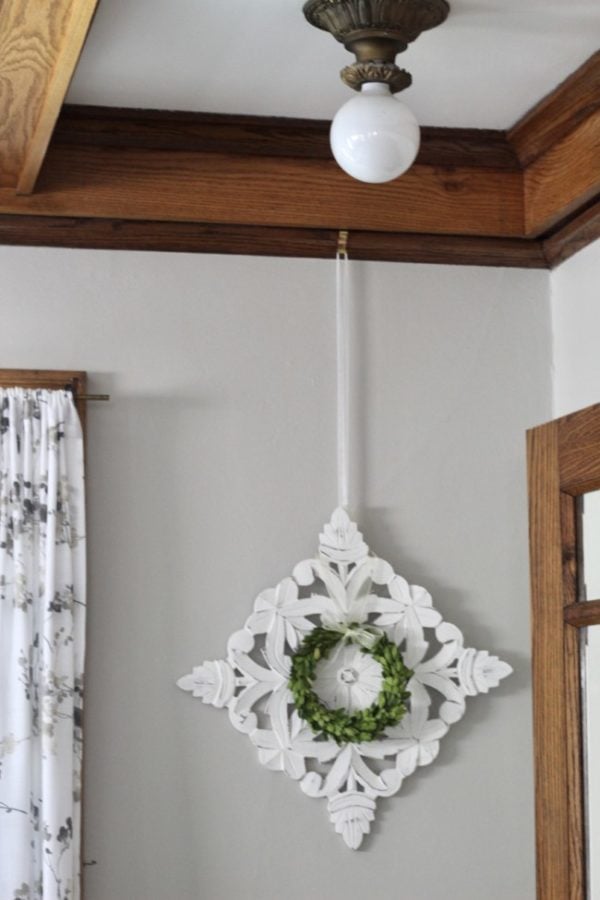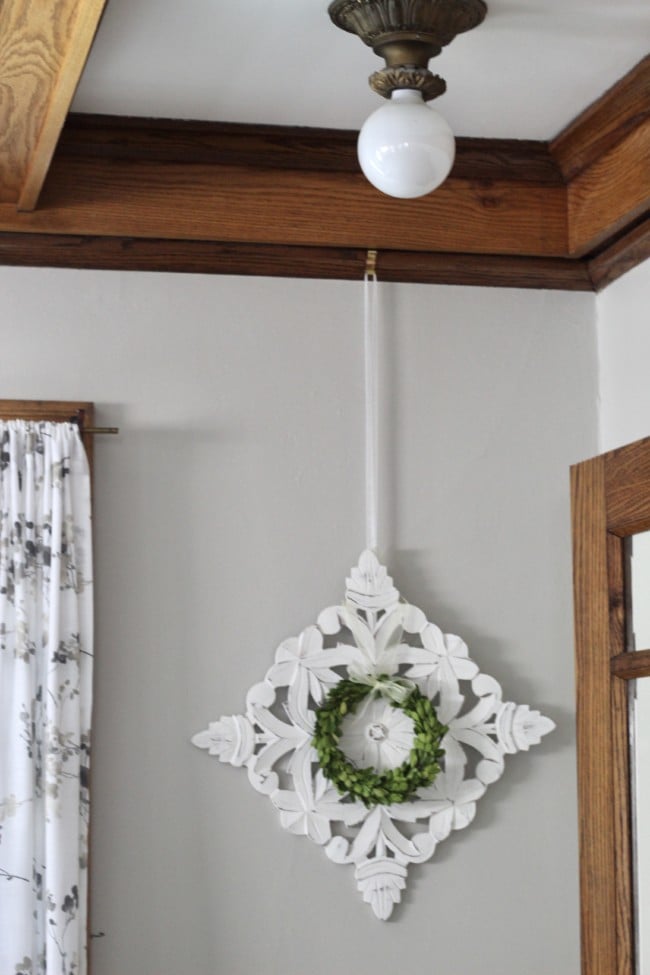 Hanging pictures on chains
You can also use a fine chain. Like I have with this decor piece. As an FYI, you can buy chain like this at the hardware store. It's the cheapest place to get it.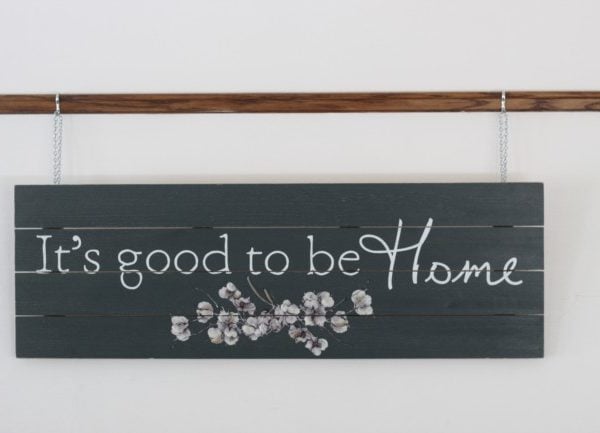 Here is a close-up look. Below is a simple picture of picture rail moulding in my sunroom. And the things that hook into the railing are just called picture rail hangers. My sunroom has a very simple rail approximately 2 feet from the ceiling to show off the curved walls near the ceiling. The other pictures show a more custom picture rail that is part of the crown molding.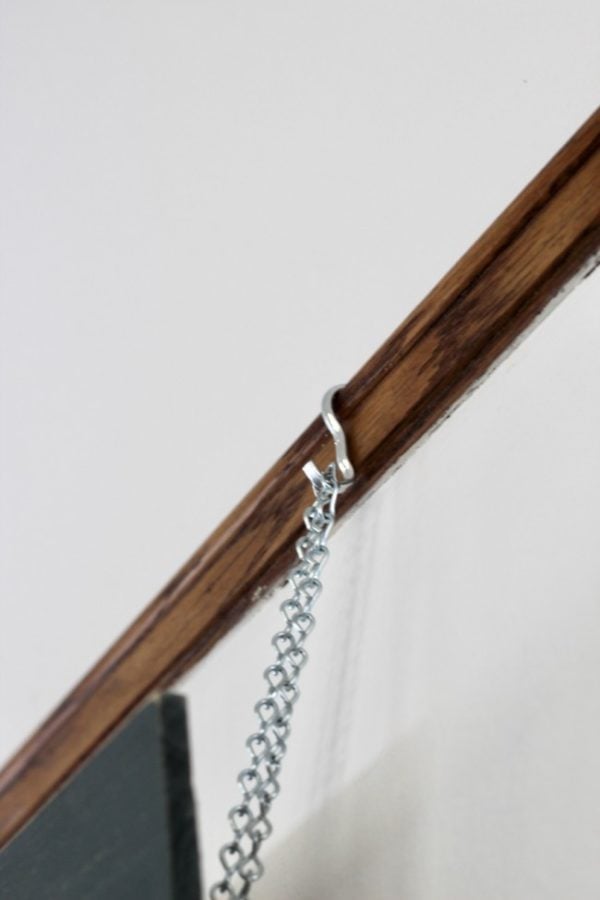 How to hang pictures from a picture rail
A few weeks ago, one of my friends brought her brother over to see my 100-year-old house. He is an engineer and was trying to figure out the details of how these work. Because he did that, I know how to show you where the hooks go!
So here is what the trim with the picture rail looks like.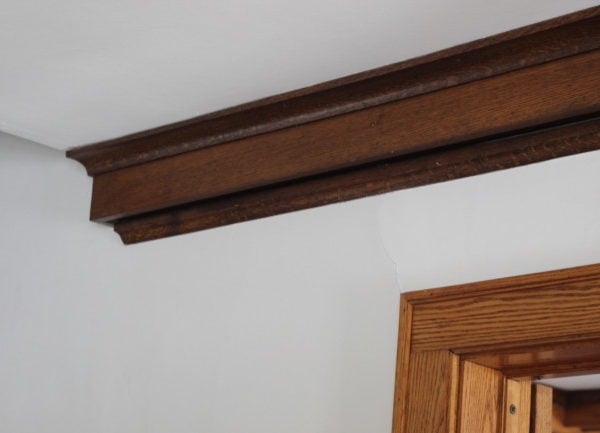 And a close-up. The picture rail molding has space to slide the picture rail hangers into/onto them.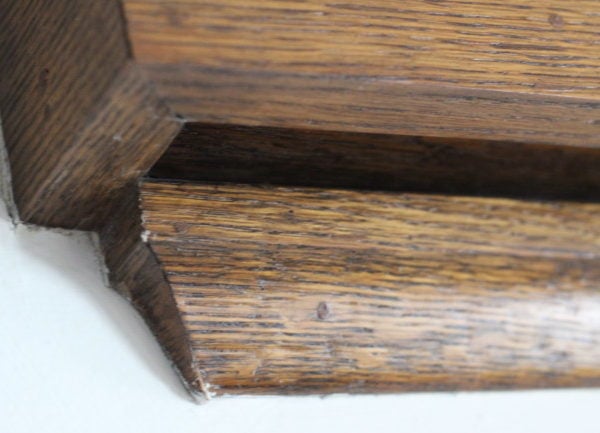 See the gap? That's what the picture hooks get slid into. The picture hooks in the picture below came with the house. The previous owners dropped off a bag of assorted metal parts, including some of these. I treasure the contents of that bag!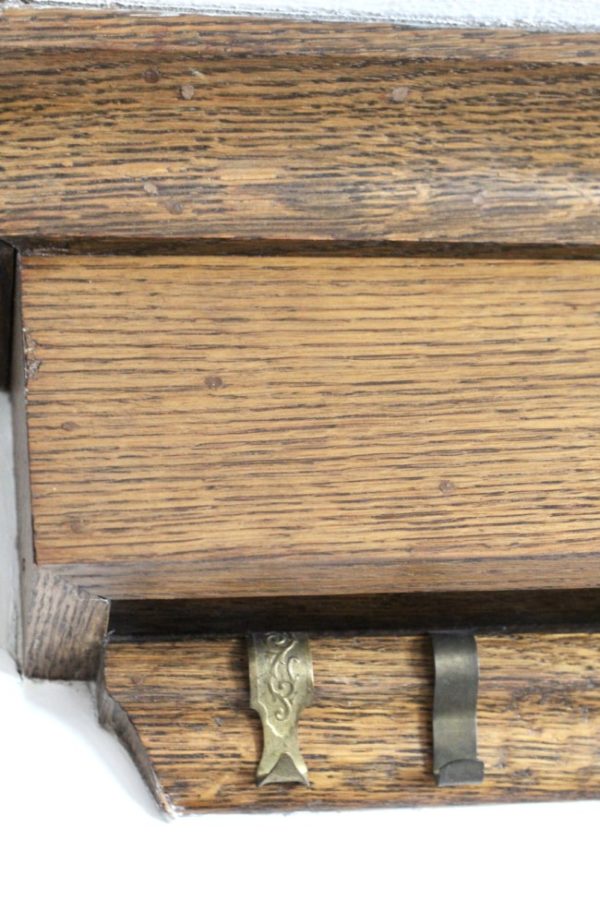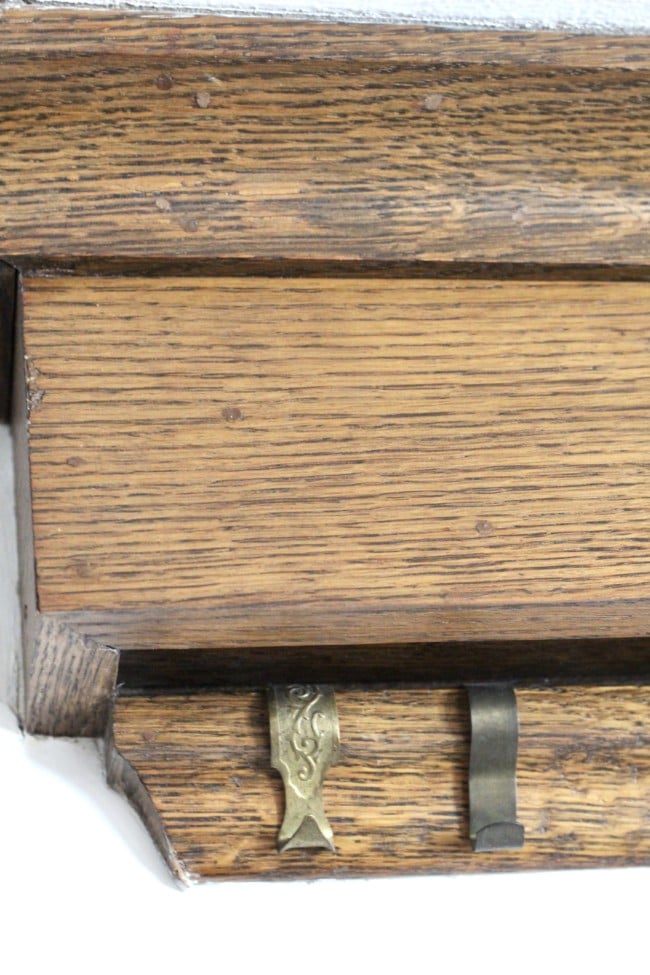 Where to buy picture rail hooks
I was scouring every antique and vintage shop I could find to try to get more of these. Unfortunately, these just disappear and probably get thrown out when old homes are updated or demolished. If anyone has any they don't want, reach out to me! I'll happily take them off your hands.
I finally found where to purchase reasonably priced new ones. Here is where I purchased a variety of picture rail hooks. I was truly surprised I could buy them so easily. My advice is to buy one of a type you are interested in prior to buying a bunch.
Reasons to use picture rail moulding?
I love the character it adds to my 100 year old home
It's different from most homes and as someone who loves antiques, I've enjoyed figuring out why they were used and how to use them.
Hanging up pictures is easy!
I just install a hook, and use whatever hanging medium I'd like. I have used ribbon, picture hanging wire, and even smaller chains from the hardware store. Traditionally perlon cord was used (sometimes with a matching medallion with tassels) but I have not used that yet.
I also don't need to use a stud finder! As long as I don't hang something that is crazy heavy, it's fine to hang from my picture moulding.
My walls don't get damaged.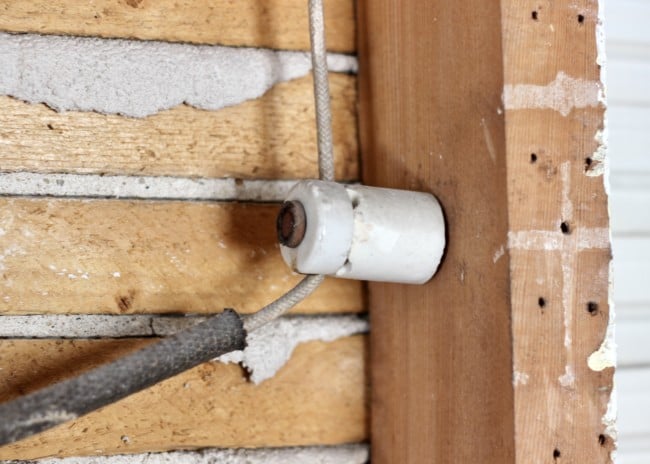 I have lath and plaster walls. It's hard to put a nail into it. Behind the plaster, it's not always all wood. I have a cement-like layer between the wood. If I hit that when hammering or drilling, it breaks off and falls between my wall. Here's what my walls look like when the plaster is taken off. This picture also shows the knob and tube wiring that I had removed from my house.

If I am eyeballing the placement of the piece I'm trying to hang, I haven't put a hole in the wall that needs to be repaired. I just shorten or lengthen my chain/rope/ribbon with no damage done! I don't have to worry about primer and matching the paint either!!
No tools required!
I don't need a drill, hammer, nails, screws, wall anchors, or any other tool to try to hang my artwork. I put on a hanger, and hang my piece!
No need to find a stud
The location of the wall stud won't determine where you hang your art! And, you don't have to try to find that dang studfinder!
Changing my artwork is so easy!
I have some that I change seasonally Because it's so easy, I can!!
It's a landlord's dream!
I'm not a landlord, but I know a few with older homes that still have the old rail systems as part of their interior design. The tenants and the landlords don't need to worry about damage caused by tenants personalizing their living environment by hanging art! No nail holes in the plaster or drywall.
The wooden picture rail is a visual divider on the wall
I have some architectural features that are emphasized by the placement of the rail. It also gives you more options for dividing the wall/ceiling paint colors. I'm debating painting a different color under the rail in my sunroom.
A gallery wall would be so easy and fun!
You can now buy a modern picture rail so you can easily have a gallery rail for a gallery wall (did you keep up on that one?). It's the modern alternative!
Don't you just love the look of this?

(click on the image above to see purchase details)
Add character by adding a traditional picture rail
Part of my home was damaged when I purchased it. I'm looking at adding a rail in that section because I miss the convenience of it when hanging a wall decoration. Everything looks so new in that room - I feel I need to add the character back! Just so you know, you can buy picture rail molding (priced by the linear foot) at Amazon, if you can't find it at your local hardware/lumber store.
I can creatively hang things!
Look how I hung my curtain rods! I will admit I was warned not to hang heavy curtains. I love how I can easily raise or lower the rod (my curtains shrunk when I washed them). All I had to do was lengthen the chain!
Hope I have given you some interesting information! I love my picture rails and think they add to a classic and elegant look for displaying artwork!
What not to do with a picture rail
Do not use this for plates. It's not a place to put plates on. And, it's not a way to hang plates. I tried to hang plates and it was not a successful experience! I was unable to get the plates to sit closer to the wall. Not everything I try works out.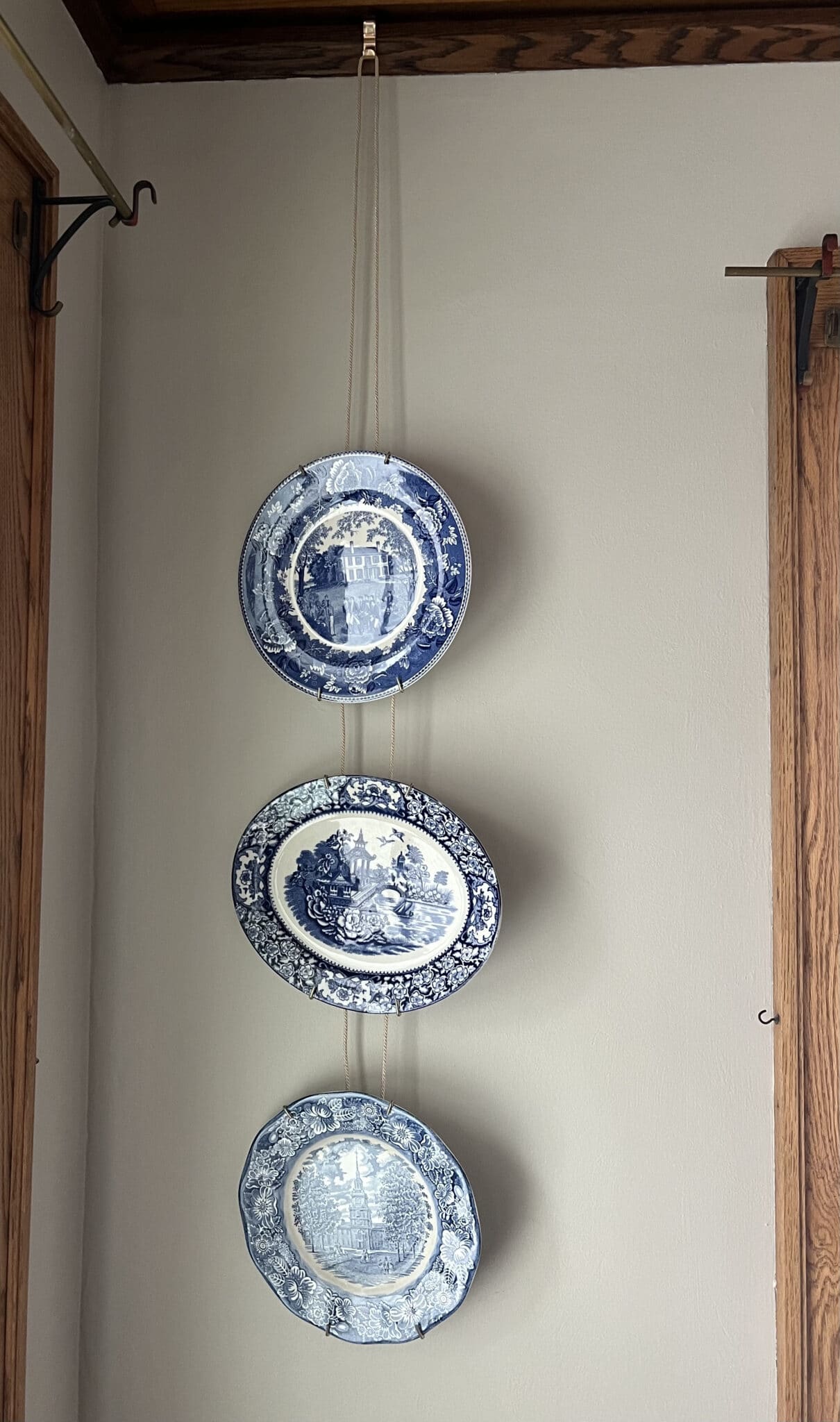 Don't try the above at home!
FAQs
Is it spelled picture rail molding or picture rail moulding?
I have been using the terms interchangeable. It's molding in the U.S. and moulding in places like Canada and England.
What if I want to buy the actual wooden picture rails?
I have heard some stores that sell lumber have them. I have not seen them and perhaps you need to go to a more specialty lumber storem. However you can purchase wooden picture rail molding online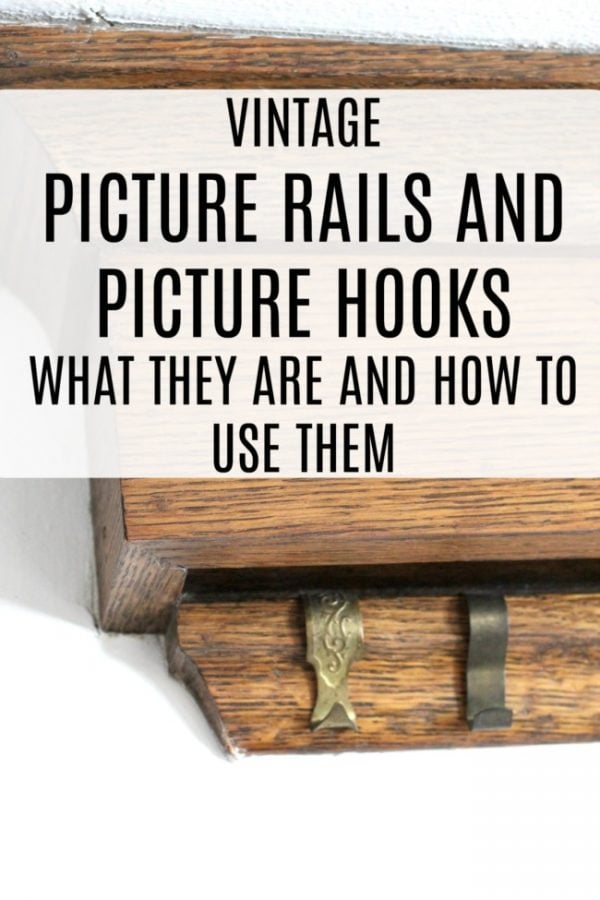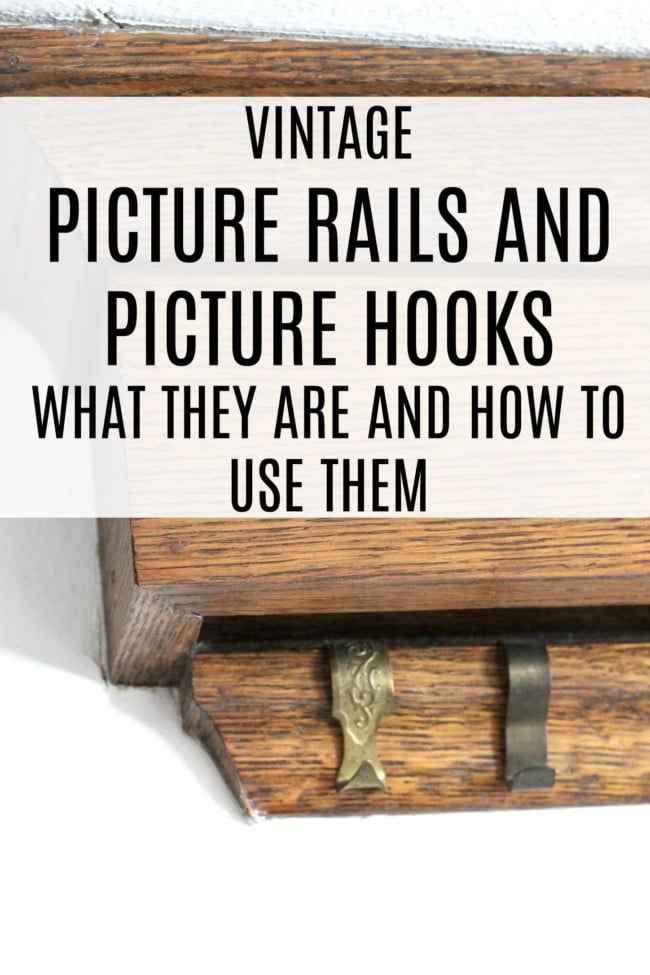 Other posts about my 1920's house.
If you'd like to see more about my home, take a look at some of these posts.
My kitchen renovation - I bought a house without a kitchen!
My whole electrical system had to be updated!
My house had Knob and Tube Wiring.
Crystal Doorknobs, & Skeleton keys - Mortise locks
***Originally published Feb. 16, 2020.