Skeleton keys, mortise locks and doorknobs
No one told me how good I'd get at fixing and figuring things out after I bought my home built in 1923. Believe it or not, but one of my entrance doors still uses a skeleton key to lock it. I am thankful the sellers didn't hand me a skeleton key at closing! That would have been a bit unsettling! (Update - I added a separate deadbolt once I found out how few variations of skeleton keys exist!)
This post is about how old door mechanisms used to work. They are called mortise locks. Those old pretty crystal doorknobs (if original) in old homes are a type of lockset called a mortise lockset. Although I doubt most of you will need to know how to swap out a mortise lock, I thought you might find it interesting because they are very different from the regular cylinder locks today.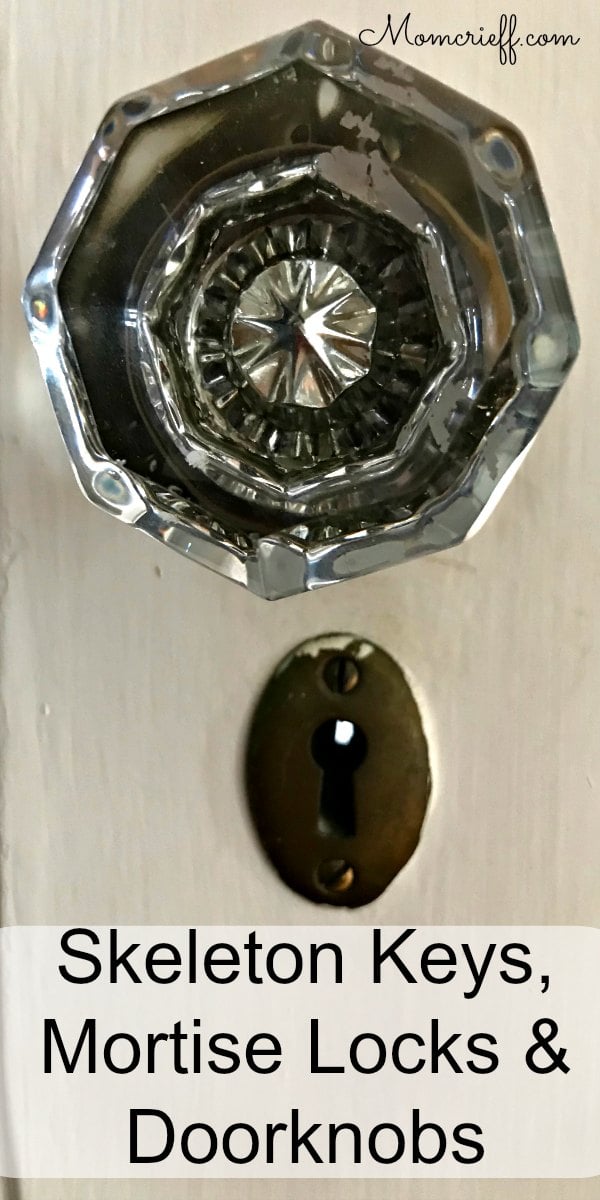 This is my back door lock. I actually have two back doors. Not sure why, but I do!
This one goes straight to the basement. It's not pretty, and I guess the fact that it is the basement access door explains why. I believe the material is brass but it's unlacquered brass so it didn't stay shiny It might not be pretty but this door knob has more durability than the new ones. It's 100 years old!
And the door is on my list to paint!
I do still need to paint it but my bigger issue was that the skeleton key was bent so badly it didn't fit well into the lock. And also, I discovered the locking mechanism was broken. I'm finding how amazingly well old things were built! Including these locks.
Finding my skeleton keys,
My 1923 house seems to want things to work out for me and I feel is helping me out. I only had the one bent skeleton key. When I went to visit my son in college in North Dakota, we went on a little shopping excursion in some local antique stores. Can you believe that I found keys that worked in my locks?? Three of them!
I've also found the skeleton key I need on Amazon! Take a look at the skeleton keys here! Some are decor, but other skeleton keys from Amazon are actually for functioning mortise locks.
Finding my mortise lock body.
A few days after my trip, I discovered that the locking mechanism on this door was broken, and the craziest thing happened. I saw a picture on Facebook Marketplace for a barn sale. It had old doorknobs and mortise locksets! Never in my wildest dreams would I have thought I'd ever get excited about old doorknobs and mortise lock bodies!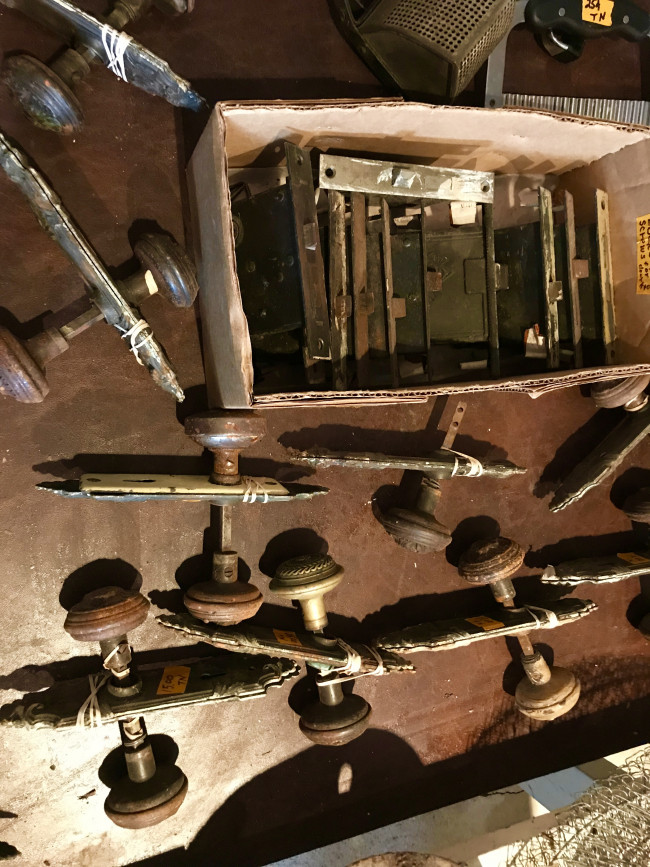 I had decided to take a chance that the locks would work with my skeleton key.
I talked to the folks hosting the sale and apparently, these doorknobs and locks came from a house that was torn down over 20 years ago. And, that particular weekend they grabbed those doorknobs and locks from the attic and decided to sell them. And then I showed up.
With my skeleton key.
The mortise locks were all lined up in the box in the picture above.
I asked if they had any of the original keys. They didn't. Then I pulled out my skeleton key and explained I had a broken lock and I knew it was a total long shot, but, I was hoping my skeleton key would work in one of these locks.
My key opened almost all the locks. Of all the locks in that box, only 2 or 3 didn't work. And they may have been just had too much rust in the lockbody. It was kind of weird. Weird in a good, I can't believe this could happen, what a coincidence kind of way.
I only needed one so I bought three! And drove home. And grabbed my screwdriver. That would be my flat edge screwdriver, with the straight slotted edge : ). I'm learning!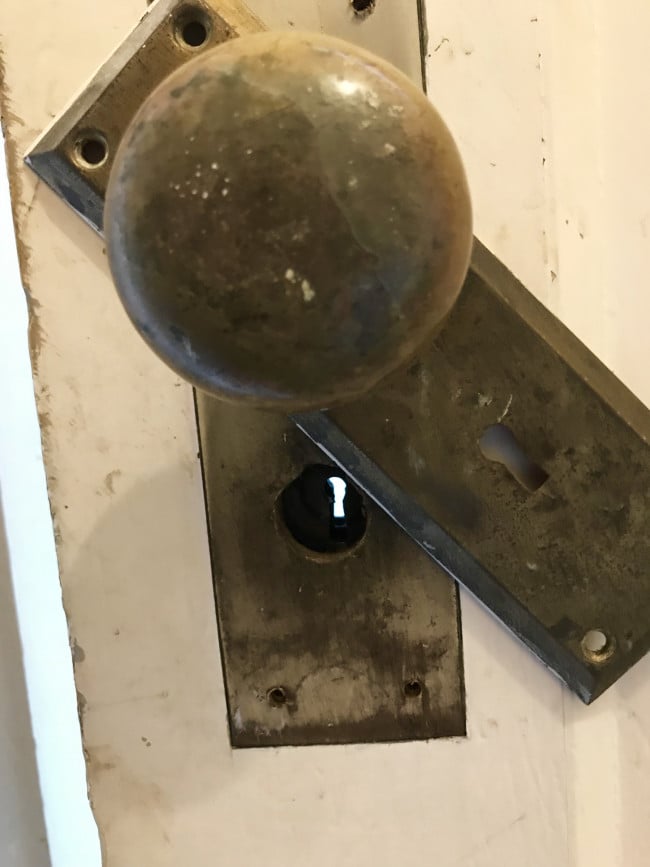 You can't just put a regular new doorknob on one of these doors. It just doesn't work! You'll see why in a minute.
As an aside, I learned a new word writing this post. Those plates (above, that are attached to the door) are called an escutcheons
How to replace a mortise lock
After you unscrew the plate, you need to unscrew the doorknob. Hmmmm, maybe I should have unscrewed the doorknob first!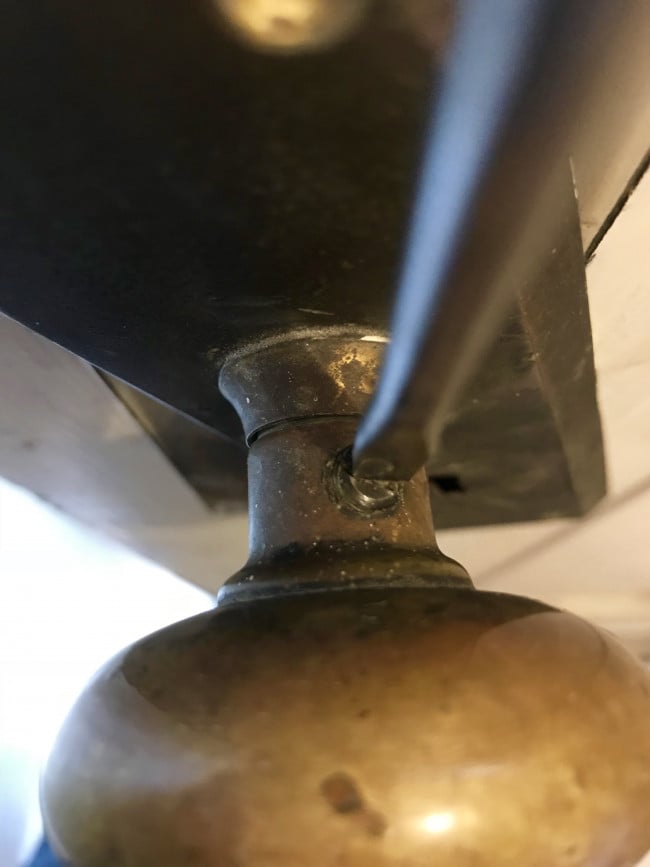 That's when I realized this poor doorknob was indeed broken too. Look how bent it is.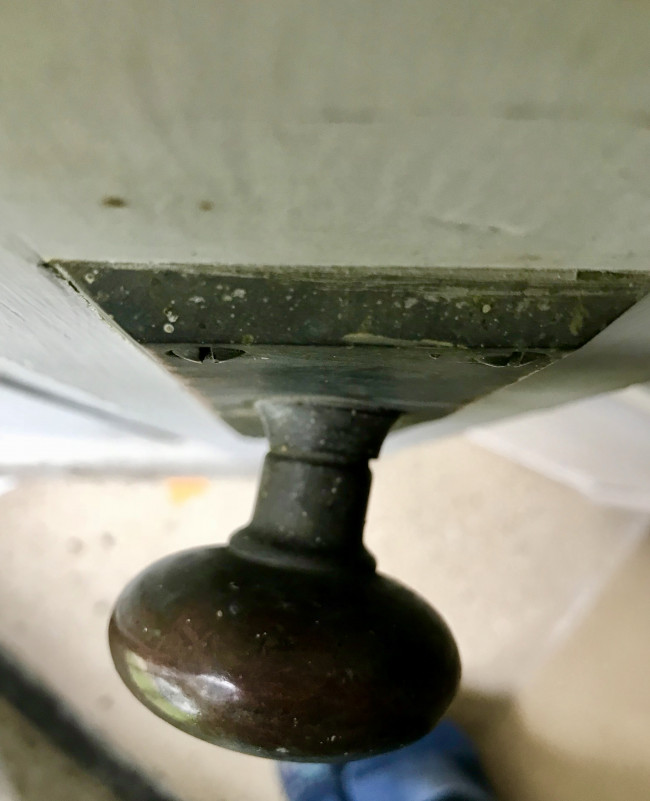 As a home repair DIY'er, I'm learning to be less squeamish. Good thing. This is what I saw when I removed the outdoor plate.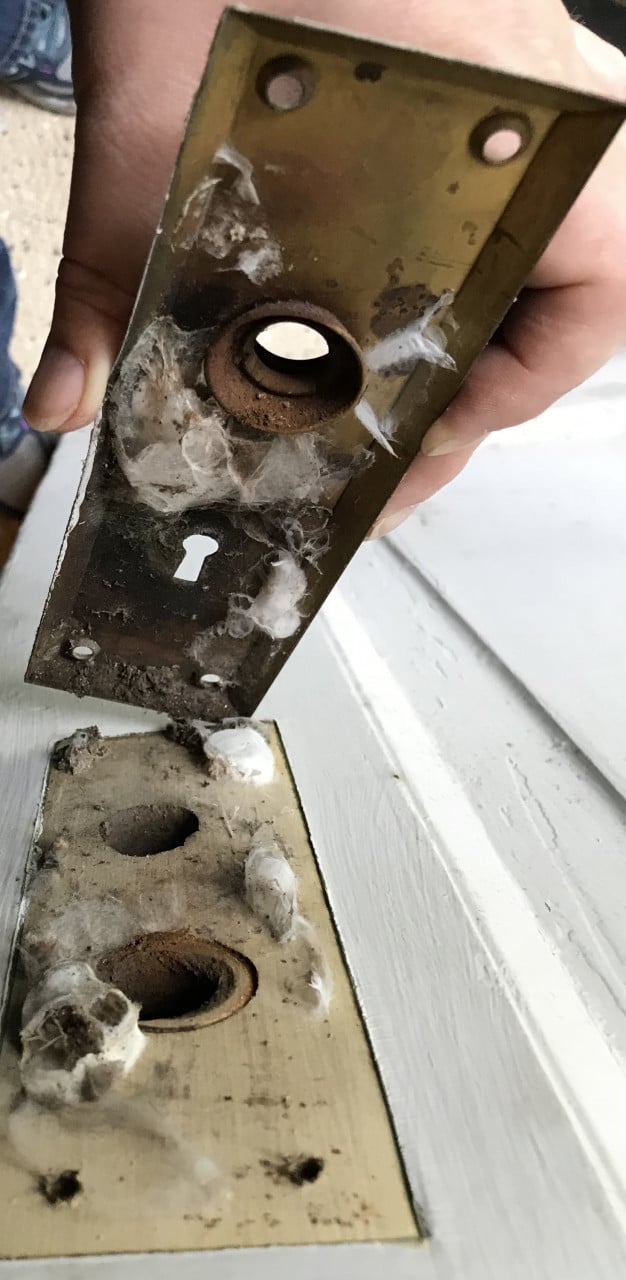 What the heck is that? I used my flat-edged screwdriver to scrape all those disgusting things off.
At this point, in spite of not being too impressed with what I saw, I had to continue.
I had to unscrew a couple of screws from the face plate.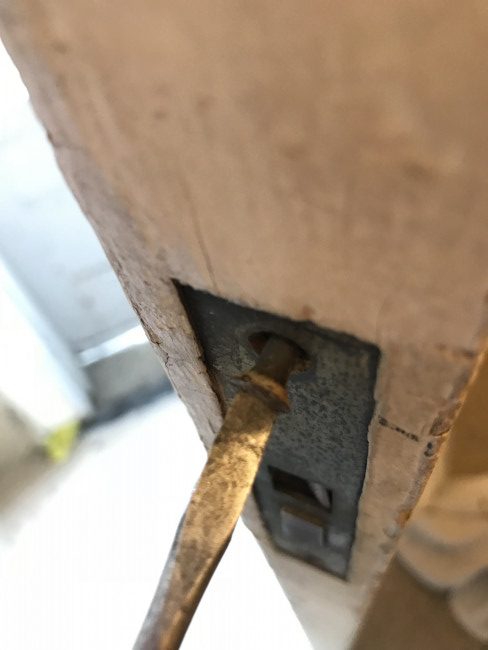 To get the mortise lock out, I had to put my screwdriver into where the doorknob was and give it a good pull. It kind of looks like a cartridge. And the lock fits into a pocket inside the door.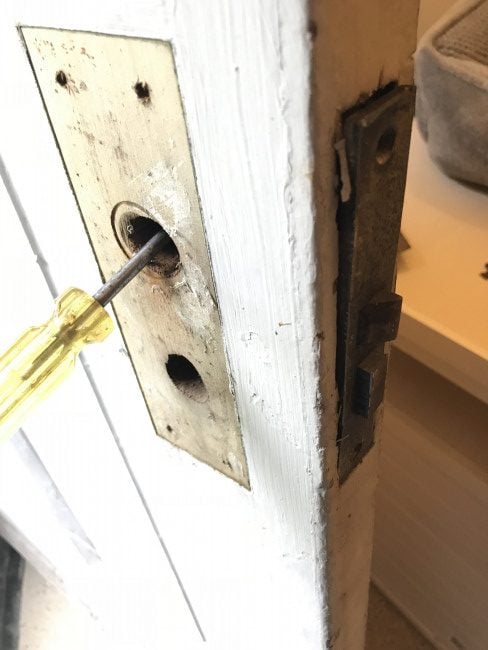 Here it is coming out of my door.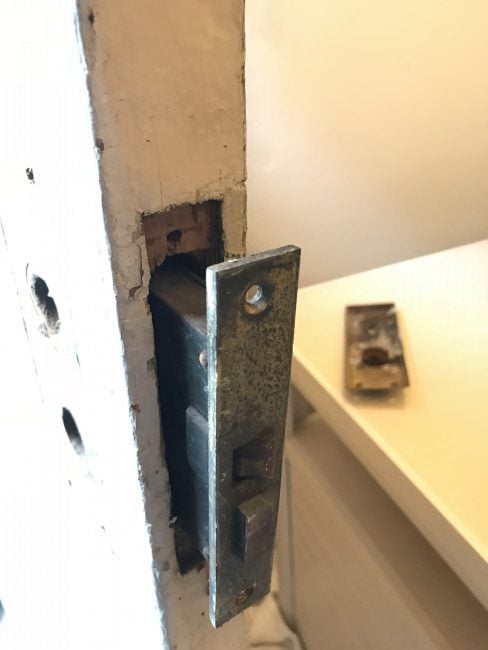 So you get a better idea of what a mortise lock looks like, here is a picture of the old and the new-to-me-but-still-100-years-old-lock. The top square hole is where the doorknob spindle gets threaded through. Closer to the bottom you can see where the key fits. I've been told these things are called mortise lock bodies.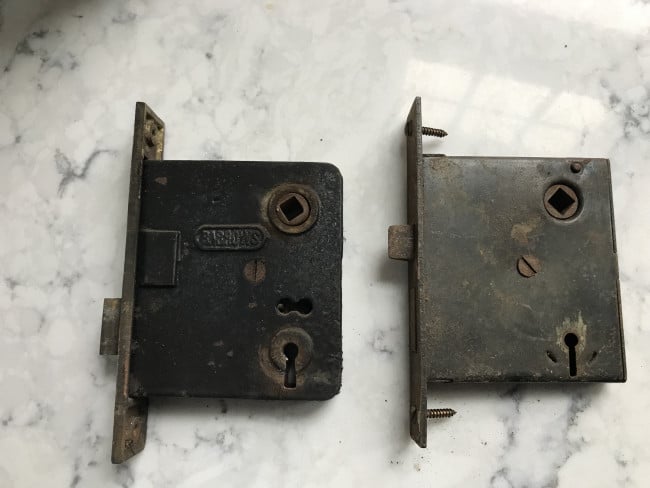 This is a closer look at the doorknob spindle. The holes are for the screw that goes into the neck of the doorknob. It keeps the doorknob solidly in place.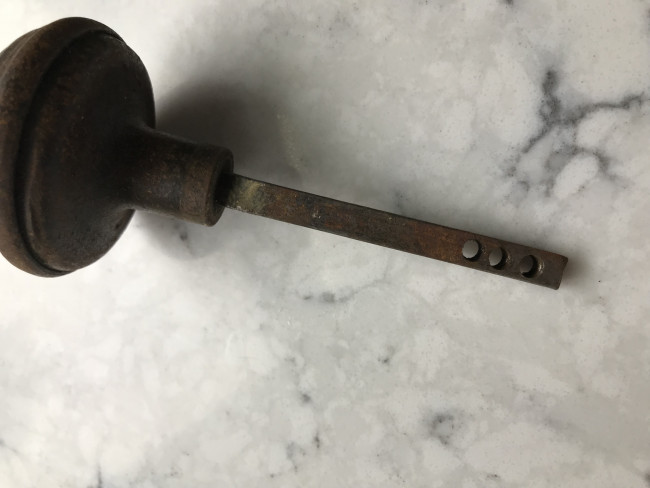 So, I reassembled everything. I popped the mortise back into the door pocket.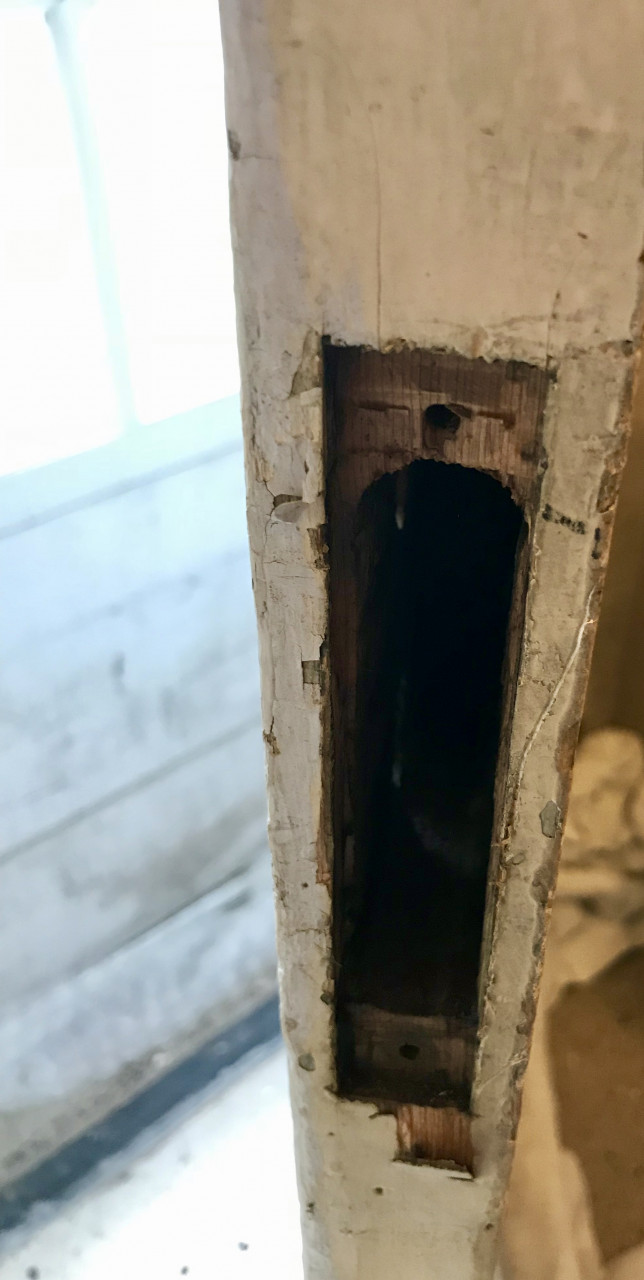 This is what the mortise lock slips into. And this is why you can't just change the doorknob to a modern one. I'd almost think you need to get a new door if you want a modern door.
I put everything together. I obviously need to fix the holes and paint. The plates to the new mortise lock were a different size. And, much more ornate!
The people who sold me the old locks promised to try to find a picture of the house that was torn down. If they do find it and send it to me, I'll add it to this post.
Oh, just so you don't think all the doorknobs in my house are ugly, I do have those pretty crystal doorknobs in my upstairs!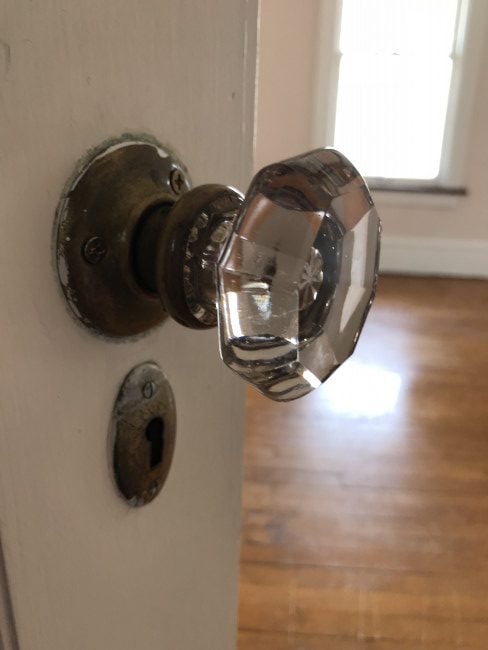 From a different angle. I just love, love these crystal doorknobs!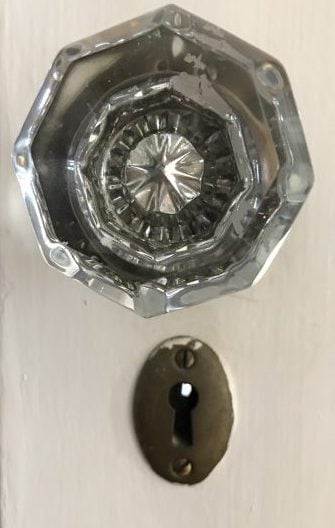 Yup, that's a 95-year-old crystal doorknob. These also use the mortise locks like the one I showed you that I replaced.
I've done my best to keep as much of the original hardware as possible. This is my doorknob from the kitchen to the basement. This door has been painted a nice clean white since this picture was taken. And, the doorknob is also a nice white. Whatever the marks that were on them months ago, they have come off with time and use.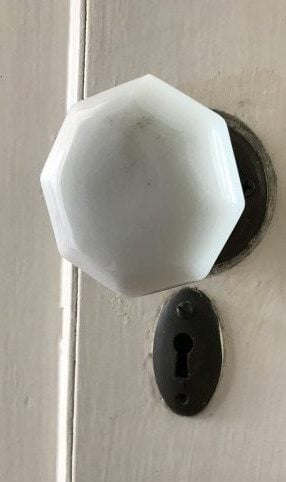 Wow, if you are still here with me, you must love old homes! Thanks for reading as I share about the types of locks my home has! I have plans to share more about my renovations and the quirky things in an old home. If you want to see more about my 1923 house, please take a peek at some of my other blog posts.
I bought a house without a kitchen - my full kitchen remodel.
My house had Knob & Tube wiring (and I replaced it).
If there is anything you are interested in or would like to see, let me know by writing a comment, below. Thanks for hanging in there with me and reading about doorknobs! Bet you didn't think you'd be doing that today, did you?