I've lived in my 100-year-old house for a few years now. It's just long enough that when I look at my styling and decor, good enough is no longer OK. When I first moved in, it was all about being able to put things away. Of trying to get rid of clutter and finding a space to put items.
White painted baskets to style the inside of my built-ins.
Last Christmas, I shared how I decorated my living room. How I used blue chairs and a cream rug to lighten a long narrow and dark livingroom.
I remember looking at my published post and saw how my built-ins were not well-styled. It seemed fine but when I looked at a picture, it bothered me. Not only because the inside of the built-in wasn't neat, but it was dark. My whole goal in my living room was to lighten and brighten that room!
Here's the picture that bothered me.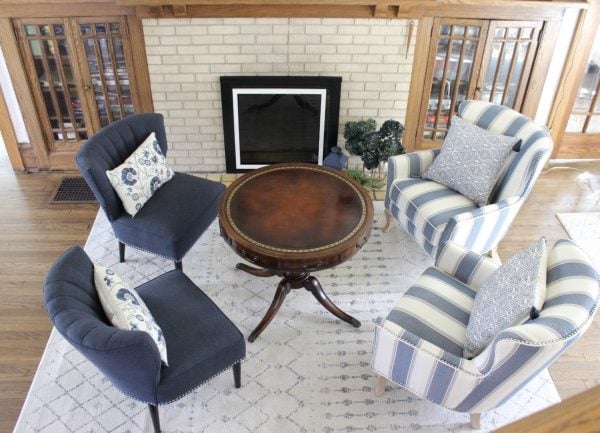 Do you see the built-in on the left. It bugged the crap out of me (even though I tried to convince myself it was OK). It was messy and dark. Yes, it was good enough at the time when I shared it. But now, I want it to look neater and brighter and lighter!
Where to buy cheap baskets to paint
I'm not someone who gets wonderful buys at the thrift store. But this one day, I was so excited. I found matching baskets at Goodwill. They still had the new tags on them. They came from one of my favorite stores - Target. I'm not sure how or why but they were waiting for me.
I brought them home, emptied most of my built-in and put the baskets on the shelves.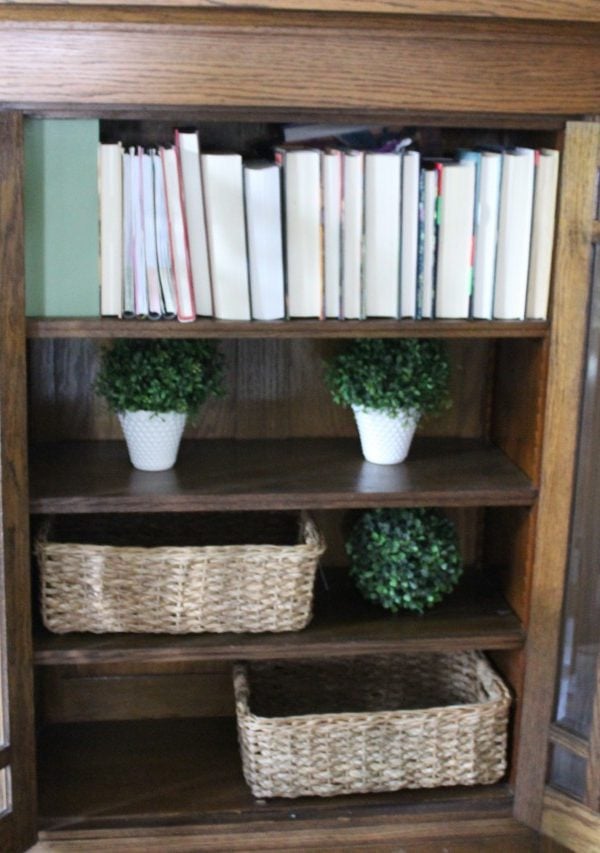 I still thought the interior was too dark. So, I grabbed one of my samples of white paint, the wicker baskets, and was determined to lighten them.
How to paint wicker baskets
I put about 2 cups of white paint in my paint container and added a cup of water. I didn't want the paint to be opaque. I wanted the paint to be watery so that it would be more of a whitewash.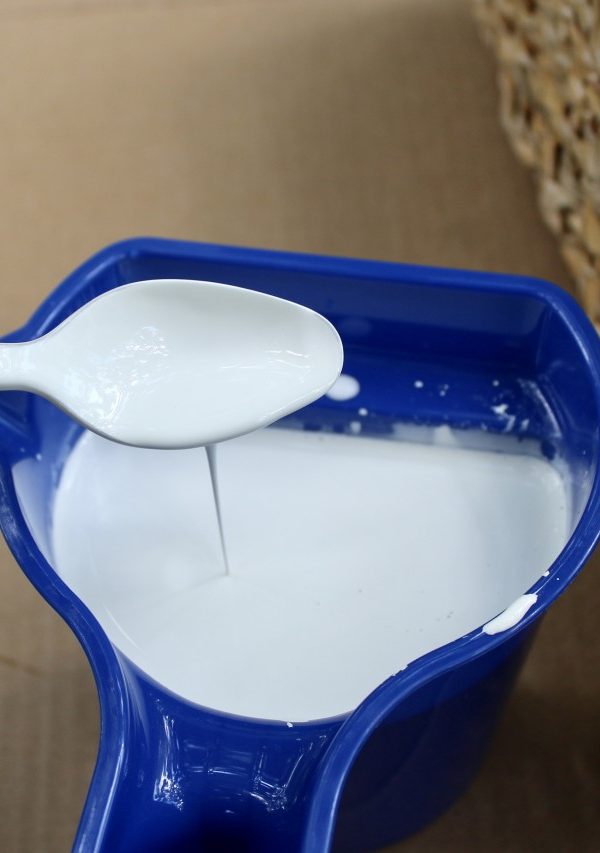 I used a really cheap brush so that I could just slap the paint on and work it into the wicker.
Because the paint was watery, it did take two coats. But they were quick and easy to do. By the time I finished the first coat, I could do a second coat.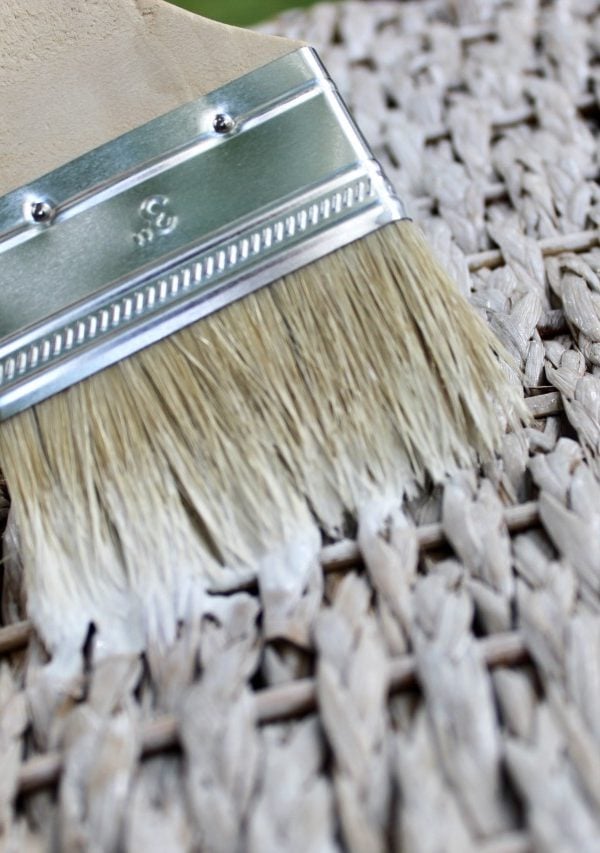 Below is one of the baskets painted white. It's beside one of the baskets I have not started to paint yet. They were beautiful baskets but they needed to be much lighter to accomplish what I needed.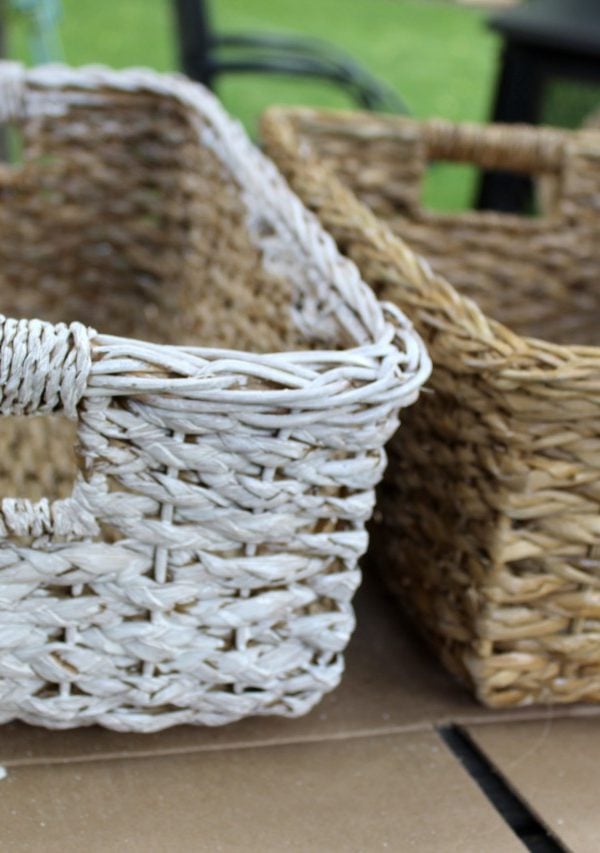 I LOVE these painted baskets in my original dark-stained 100-year-old built-ins! They add brightness, lighten the interior and I can store a TON of stuff in them without the interior of the built-in looking messy.
Benefits of using wicker baskets for storage
Not only does everything look neater, but I can also store way more stuff in these built-ins. I even went and grabbed books I had stored in other areas.
This was a great book organizing adventure.
I'm storing a bunch of my old cookbooks in one spot. And maybe a few of my favorite books in the first row (I'm talking about you, my original hardcover Harry Potter books!).
I have way too many cookbooks but they often inspire some of my recipes. People cooked a little differently years ago, but we still love some of those traditional foods. If you look close enough, you can see I've bookmarked a bunch of recipes.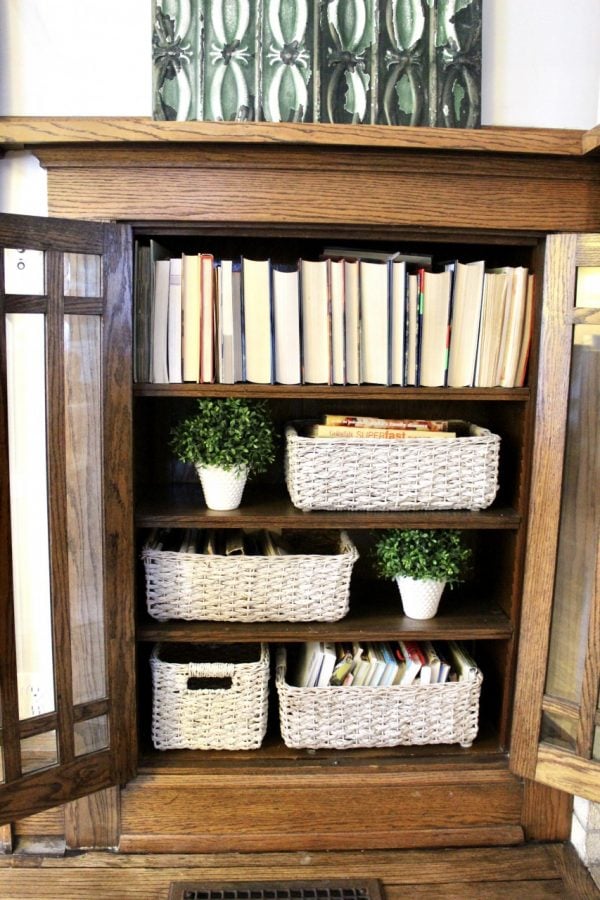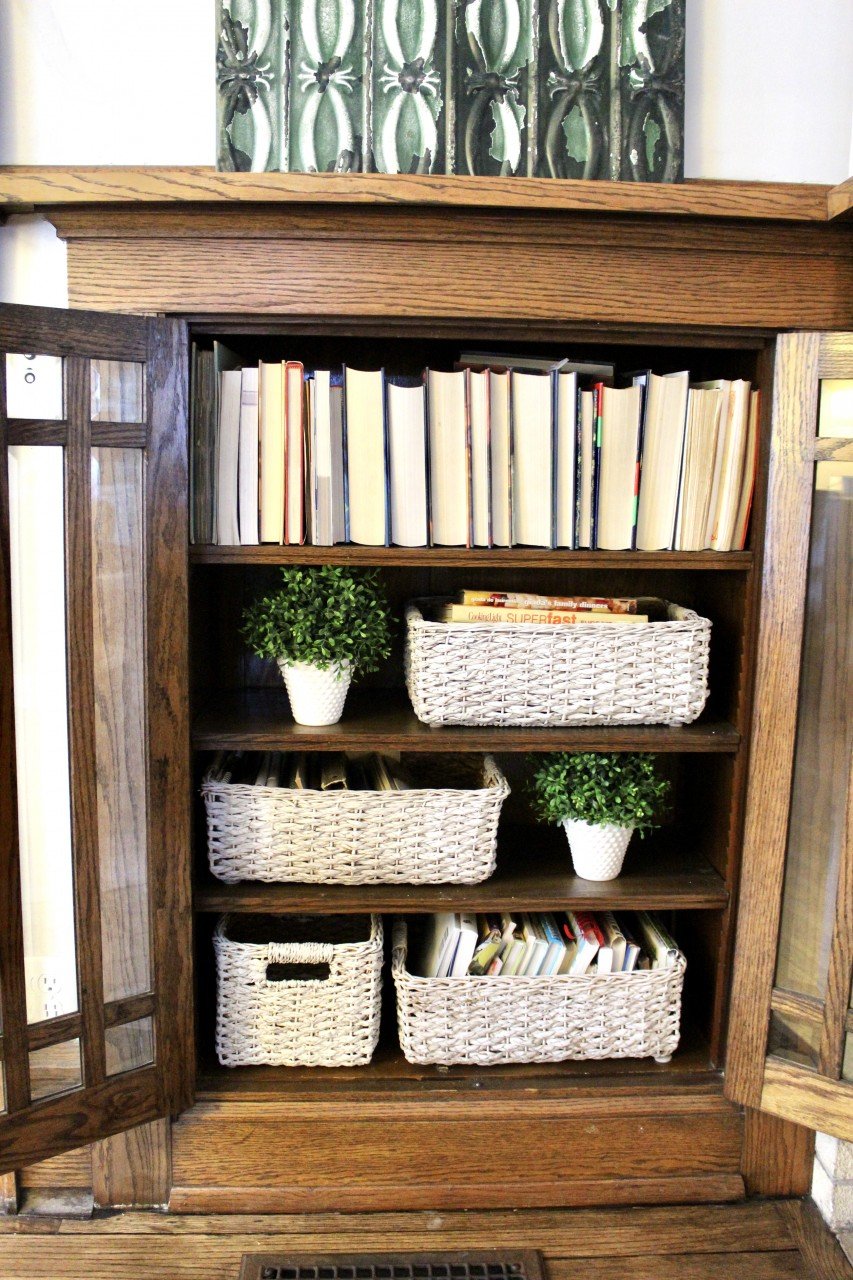 Look at how much those baskets lighten the interior of my built-ins. Even with the doors closed! I'm sure you also noticed the top row of books. All the covers were so dark. I turned the books around so the page side faced forward. It really did help lighten that first row!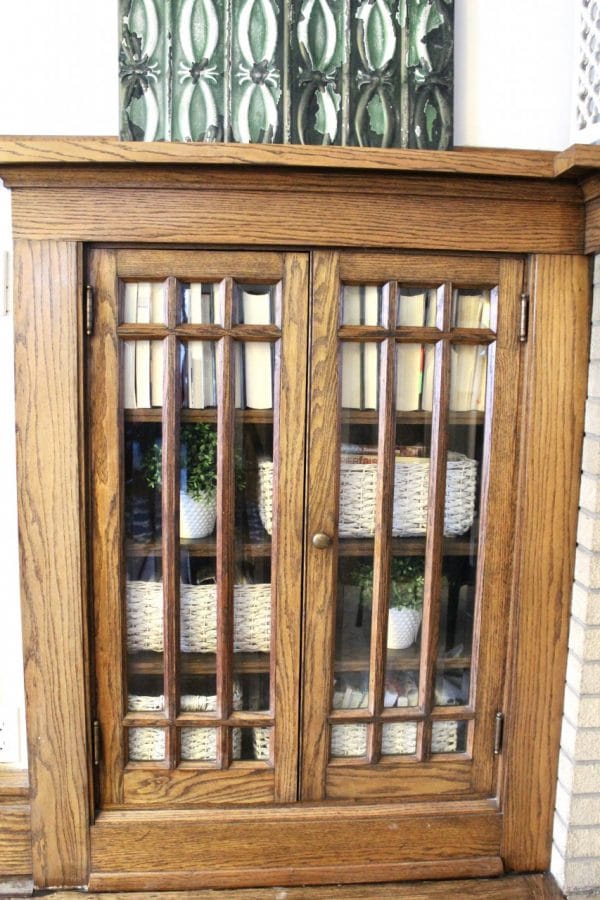 Wow, those painted white baskets sure made a big difference lightening the interior of that dark stained built-in. I'm still hunting for a bunch more baskets. I have more built-ins to style and I love this look!
Thanks for stopping by!
Here are a few more posts about my hundred-year-old house!
Replacing all the knob and tube wiring.
Refinishing all my original hardwood floors
How I decorated my 100-year-old living room.