My fall planter on a budget
This year, I hardly spent any money on my fall planters or on my fall front door decor. Part of that is because I did some price comparisons for the pumpkins I bought. I also used a lot of what I had. That helped make my planter big, full, and pretty (but cheap to make!).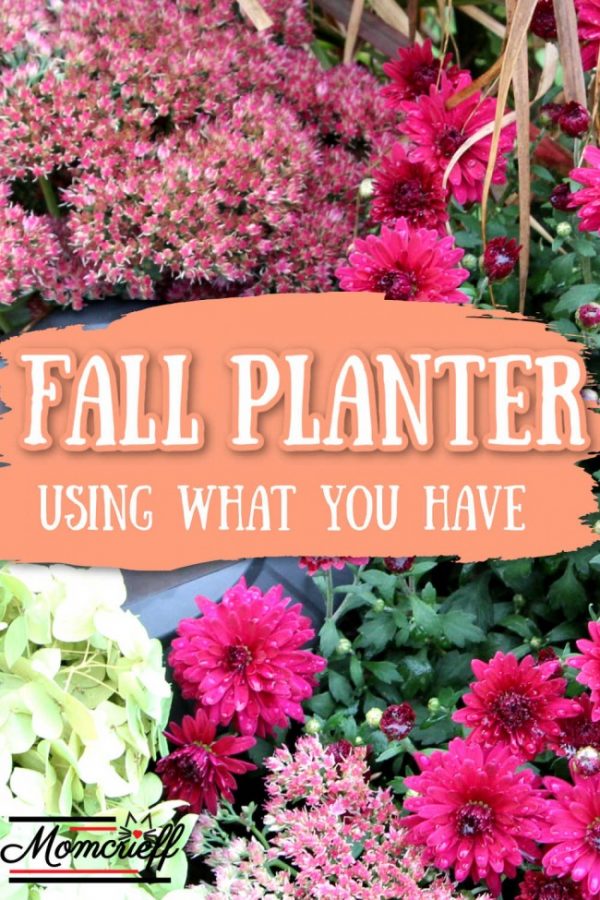 Reusing purple fountain grass from my summer planters.
Years ago, one of my closest friends told me about purple fountain grass. I buy it in the spring for my summer planters when it's small and very inexpensive. It's usually around $2.49ish. In the fall you can buy it for your fall planters but it's over $20! And, it's an annual here in Wisconsin so it's a little over my budget. I plant it in my planters in the spring and it just grows and looks fabulous by the fall.
This is what it looked like at the end of the summer. My poor planter was looking a little tired at the end of the summer but the purple fountain grass perfect for my fall planter.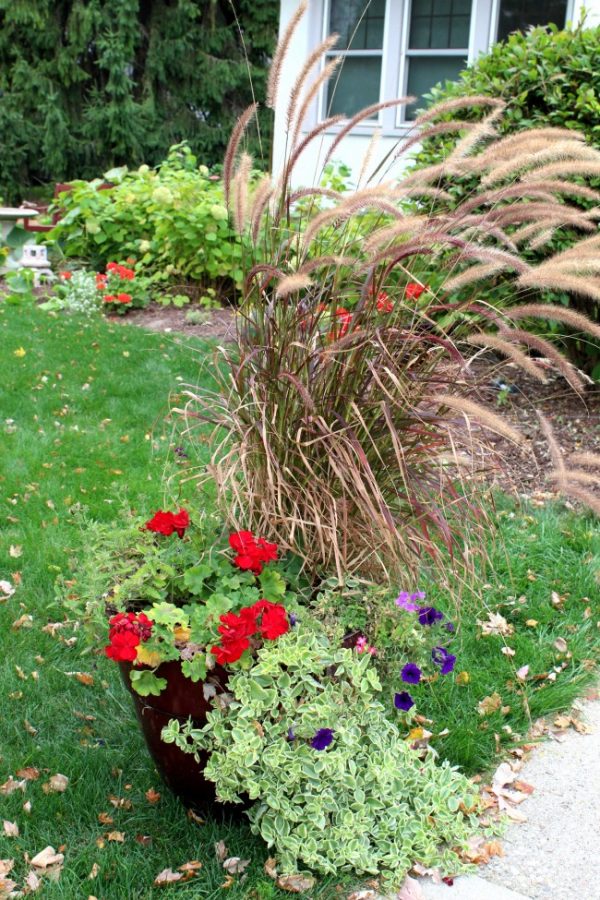 I took out the geraniums, the petunias, and my favorite new 'spilly' plant.
Here's what I added.
An inexpensive medium-sized pumpkin.
Then, I took a bunch of my hydrangeas and I spray painted them a light green.  It was an almost perfect match to the original color.  The reason I do this is that the dried hydrangeas tend to get brown if it's a wet fall.  The key though is to use a light hand.  And to not totally cover the flowers with spray paint.  You do want some variation of color so it looks natural.  And it's OK that some of the flowers will eventually turn brown.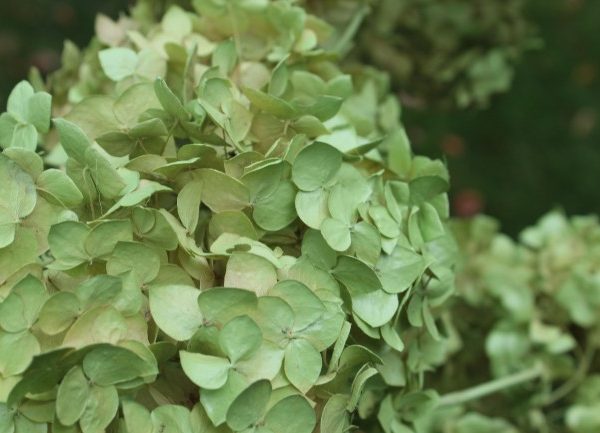 This is the exact spray paint I used.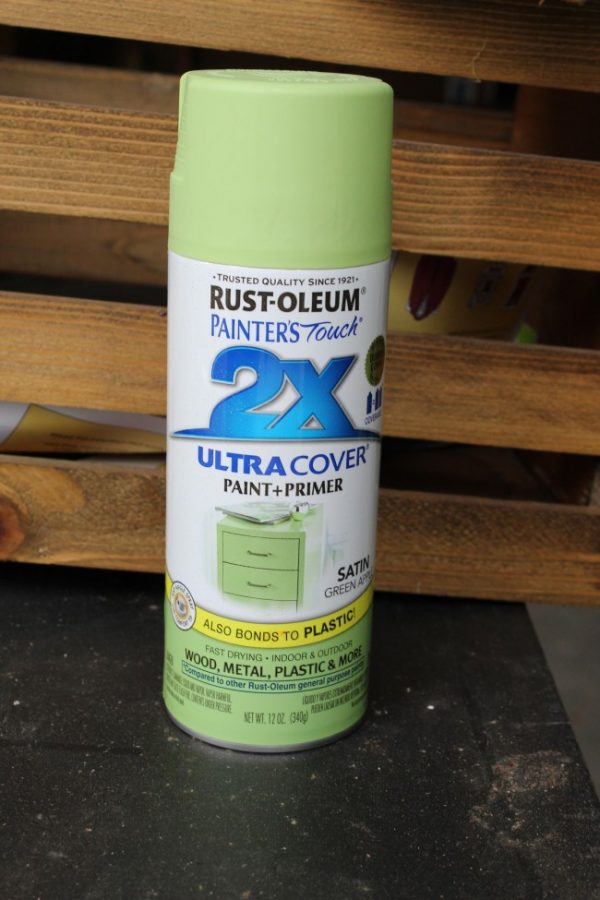 Do you see how I just stuck the painted hydrangeas in the planter to fill up the spaces?  Leave the stems long enough to hold the hydrangeas in the pot.  And I didn't worry about the pumpkin I buy being perfect.  I just wanted it to be a nice size to nestle nicely in the pot.  This pumpkin was just a little bigger than the pie pumpkins.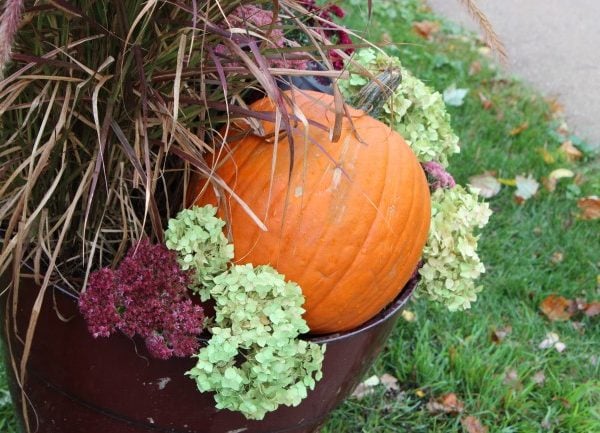 And what are the dark purple reddish flowers?  Those are my autumn sedum flowers.  I cut those and stick the stem in the dirt.  There is a really good chance they'll root!  Autumn sedum plants tend to root easily.  I recently did a post on propagating autumn sedum.
Here's what the plant looks like at the end of the summer.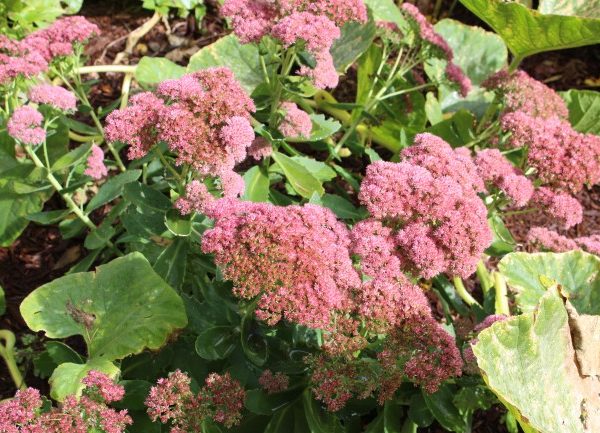 There are a lot of pumpkin leaves in the picture too!  They kind of took over!
Cut the sedum long enough that you have a good-sized stem to poke into the planter.  That way the wind won't blow it out of the planter.  And, make sure to pull off the bottom leaves.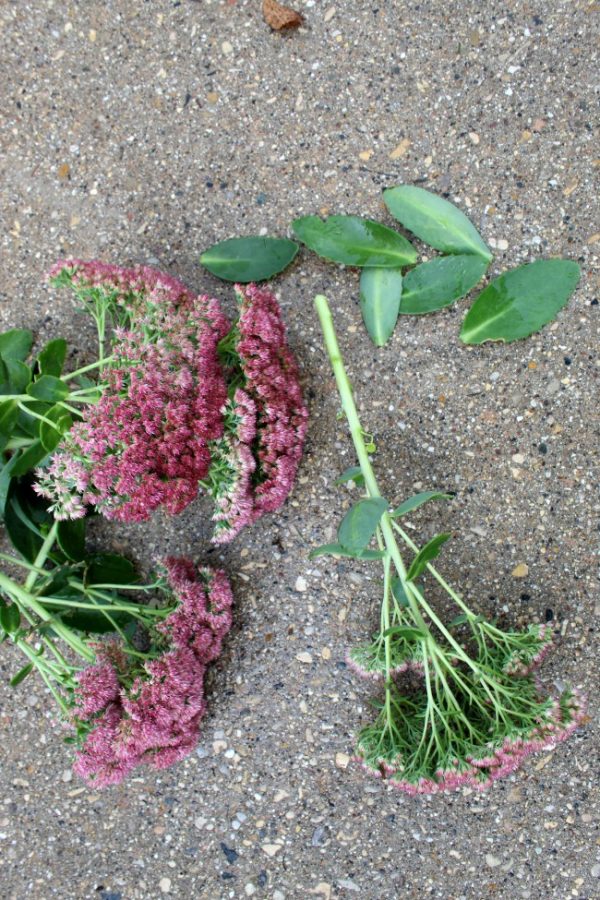 Can I share this picture of my little bee friend taking a nap?  I had cut the flower before I noticed he was snoozing.  I very carefully prepped the sedum and poked it into the planter.  He didn't wake up until much later.  I wonder if he was confused because the flower he fell asleep on wasn't in the same spot?  Yes, those are the things I think about!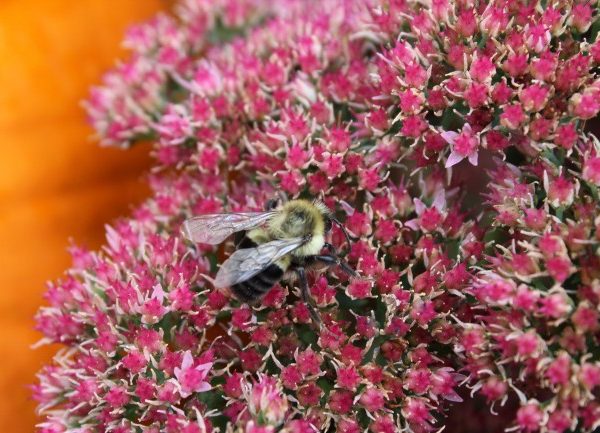 No pollinators were harmed during the creation of my fall planter!
I did also buy a small potted mum for my planter.
Here is my finished fall container garden for this year (actually there are two twin planters).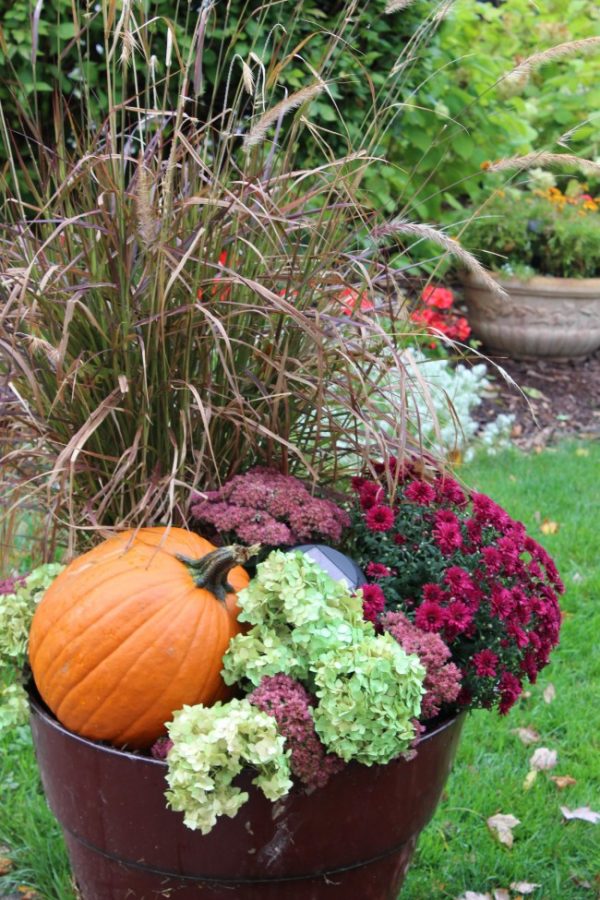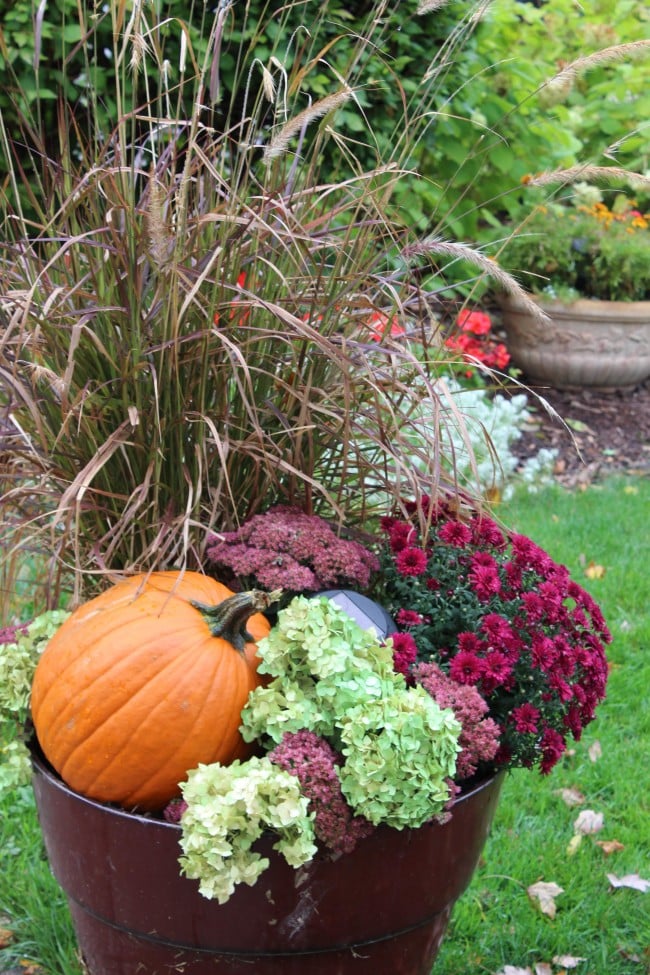 These were inexpensive planters to make!  I already had the grass, the hydrangeas, and the autumn sedum.
Did you see the solar light tucked into the planter?  I love how it glows at night.  Plus I have the planters near the sidewalk so it gives people a little light to see where they are walking.  I really liked my simple but inexpensive planters this year.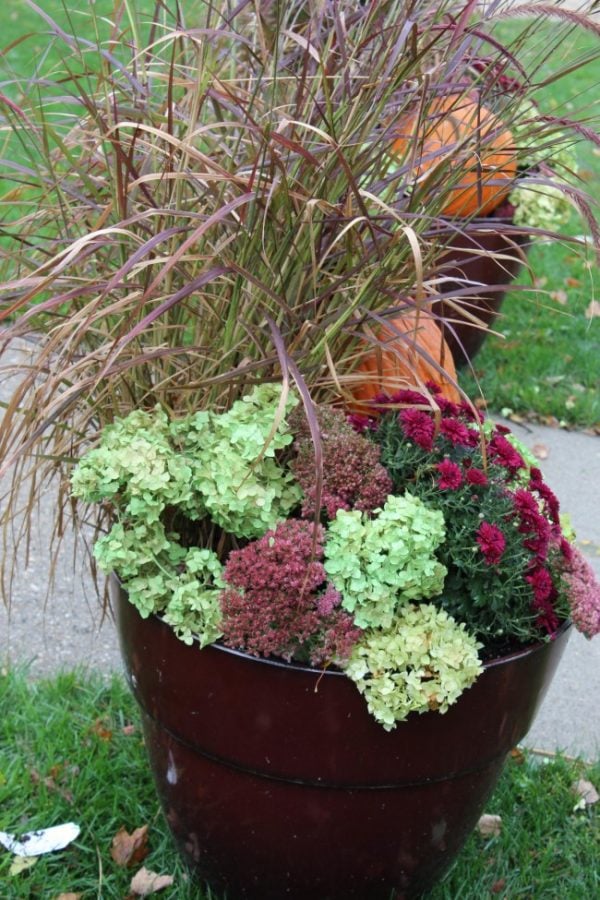 And, I stayed in my low budget.  Well, until I saw a great deal on small pumpkins!  I couldn't help myself.  I just had to buy them.  The light string I already had.  And the pumpkins really, really were a good deal!  I don't enjoy being on a budget but I'm really trying!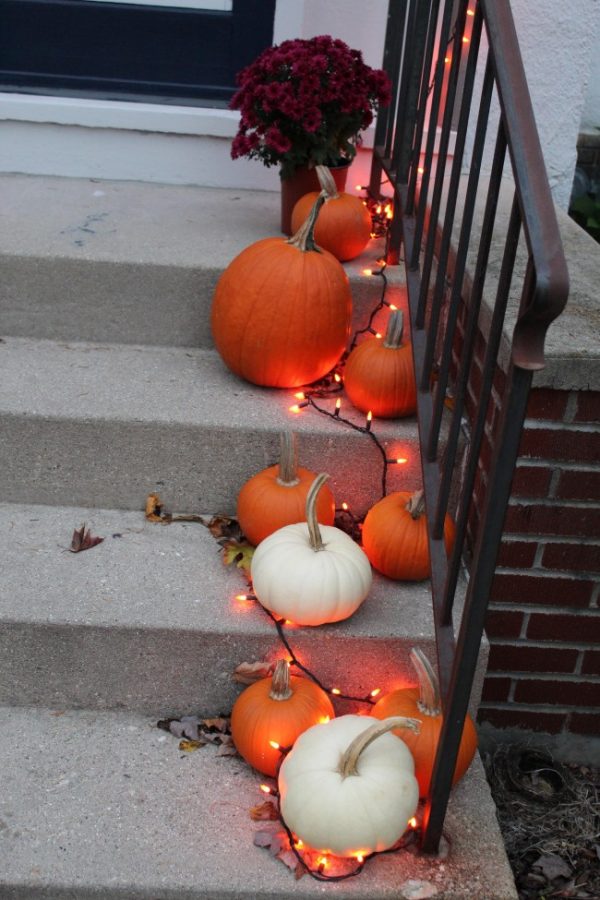 Here is my front walkway to my front door.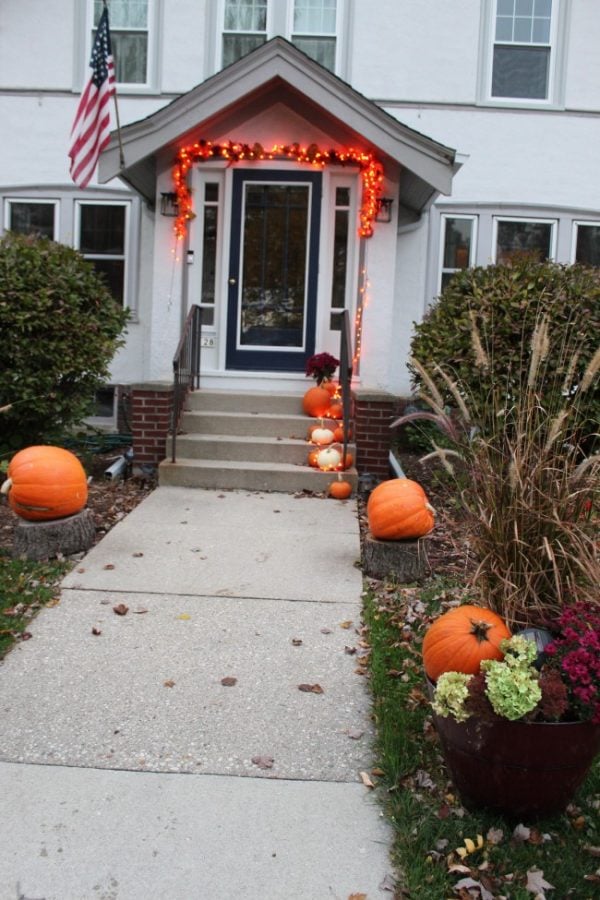 The leaves that kept blowing onto my sidewalk and stairs were also free.  And available in unlimited quantities!
Hope you are enjoying your fall!  I love putting together fall planters because they still can be so pretty even though many of the summer flowers are fading.
Here is another favorite from a few years ago!
Fall planter in a galvanized tub.
Enjoy your fall everyone!
Susan.