It's the fresh strawberries that make this so delicious! This dump cake is really easy to make. It uses a cake mix so that really helps with reducing the work to get this done.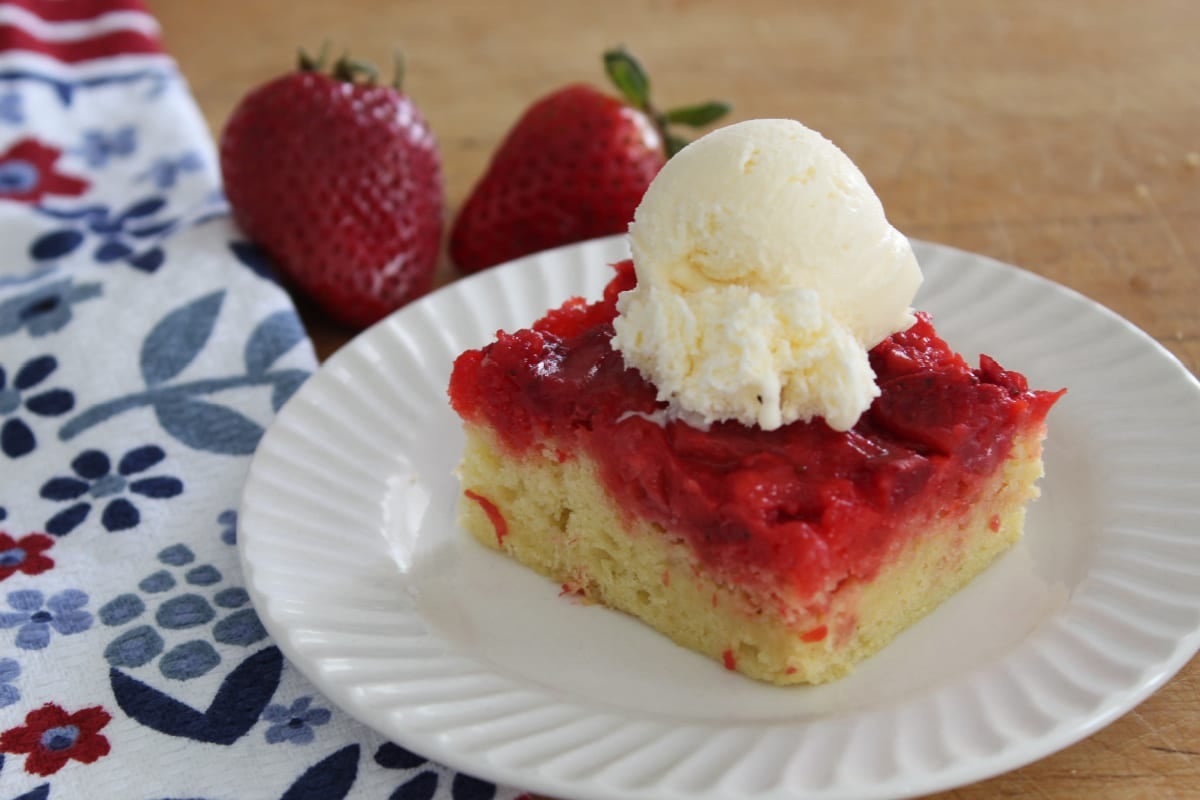 Easy-to-make fruit desserts are my favorite! This has a handful of ingredients, use cake mix to keep it easy, and then bake in about 30 minutes. Does it get any better? My three ingredient blueberry cobbler is also just as delicious. People on Pinterest love this three ingredient peach cobbler.
Table of contents
Why this is a favorite dessert
It is really delicious and the fresh strawberries make this recipe!
Easy to make. I use a cake mix to make this recipe.
Quick to make. It takes just minutes to put together and then about 25 minutes to bake.
Fresh Strawberries! Did I mention those? Don't forget the ice cream.
Ingredients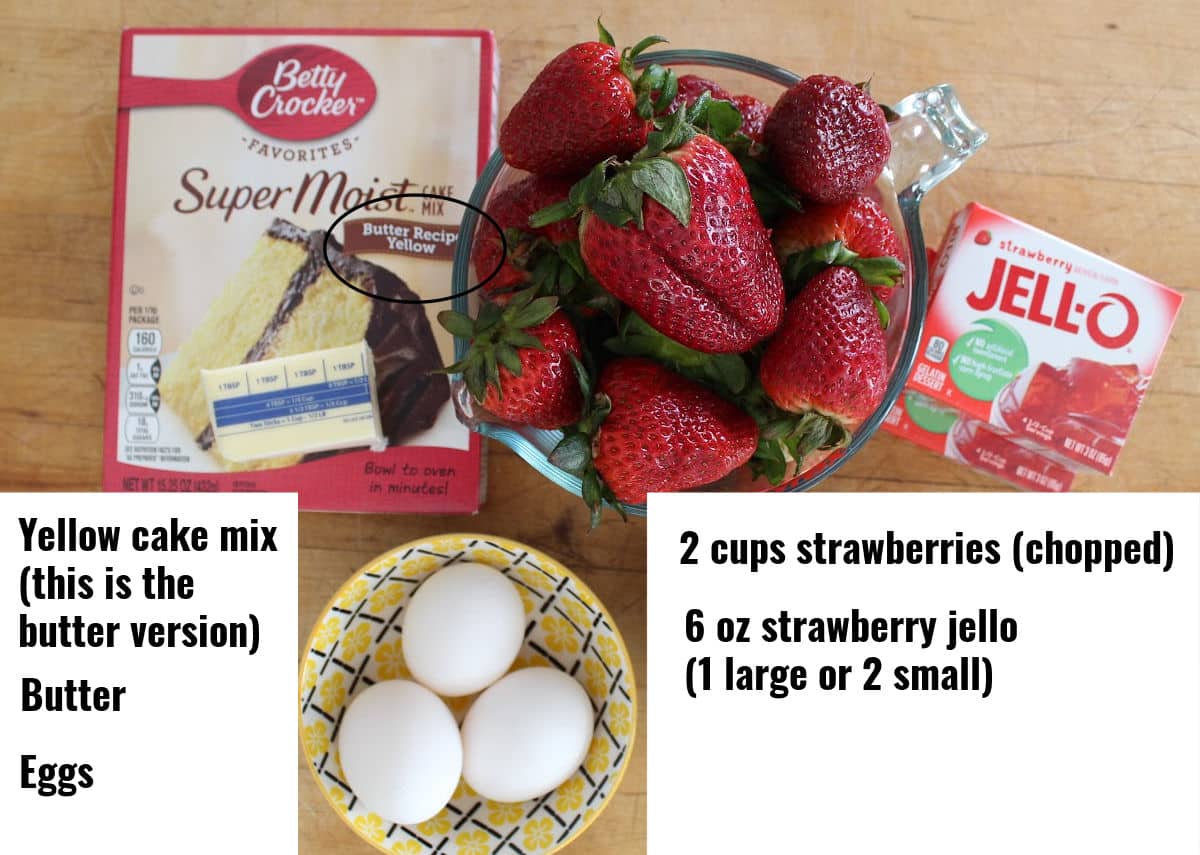 1 pound of strawberries chopped.
1 yellow cake mix plus ingredients to prepare the batter (butter or oil, eggs)
1 large box of strawberry jello (6 oz size)
Substitutions
There are different types of yellow cake mixes now (some recommend using oil for the batter, others butter). They all work. Just follow the directions on the box to make the batter. Strawberry cake with fresh strawberries is divine.
If you don't have fresh strawberries, frozen works too. Allow to thaw before using. I don't recommend using the canned pie strawberries.
I've used raspberry jello when the store is out of the strawberry flavor. Use what is available or what you have.
Instructions
Preheat oven to 350 F.
Step 1
Follow the cake box directions to prepare the batter. Set aside.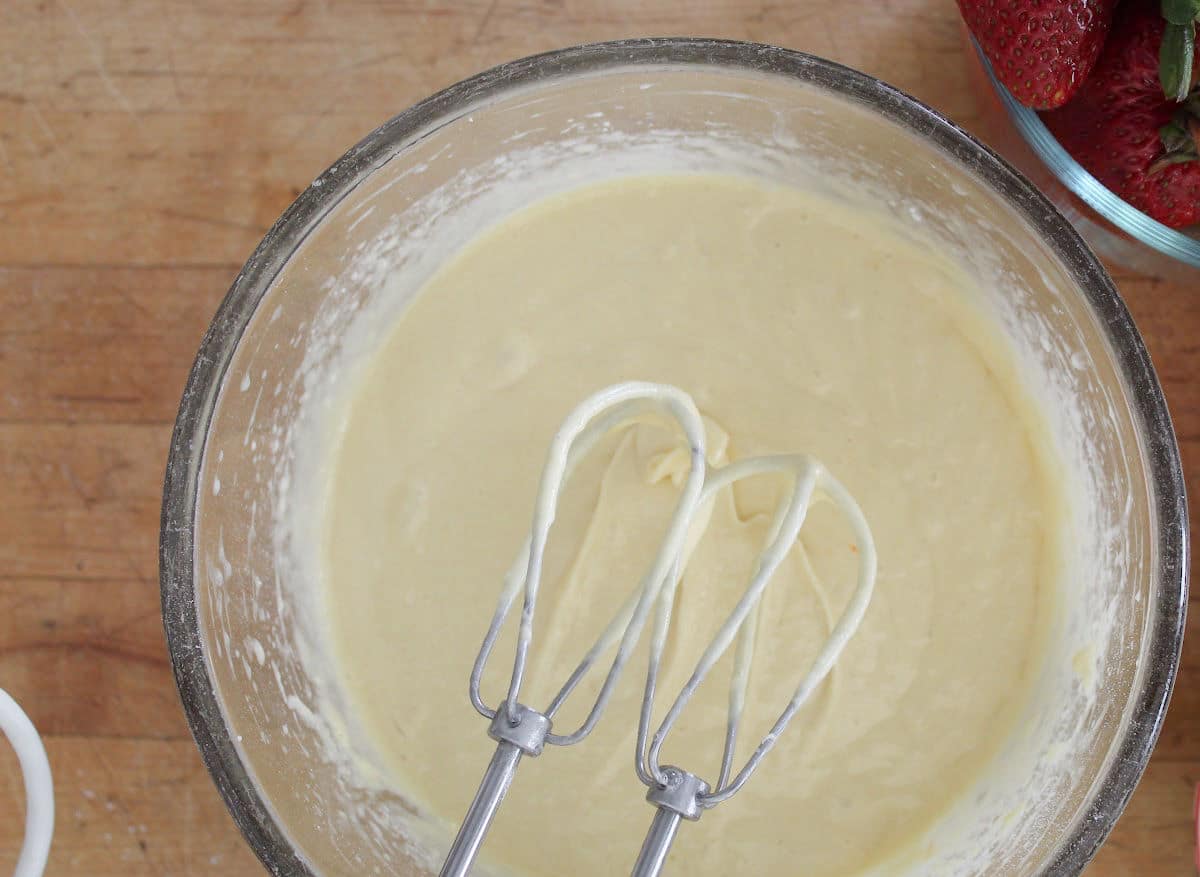 Step 2
Chop strawberries. You should have approximately 2 cups. They don't need to be tiny, but do need to be cut up so the juice escapes and can mix with the jello.
Spread on the bottom of a 9 x 13 sprayed baking dish.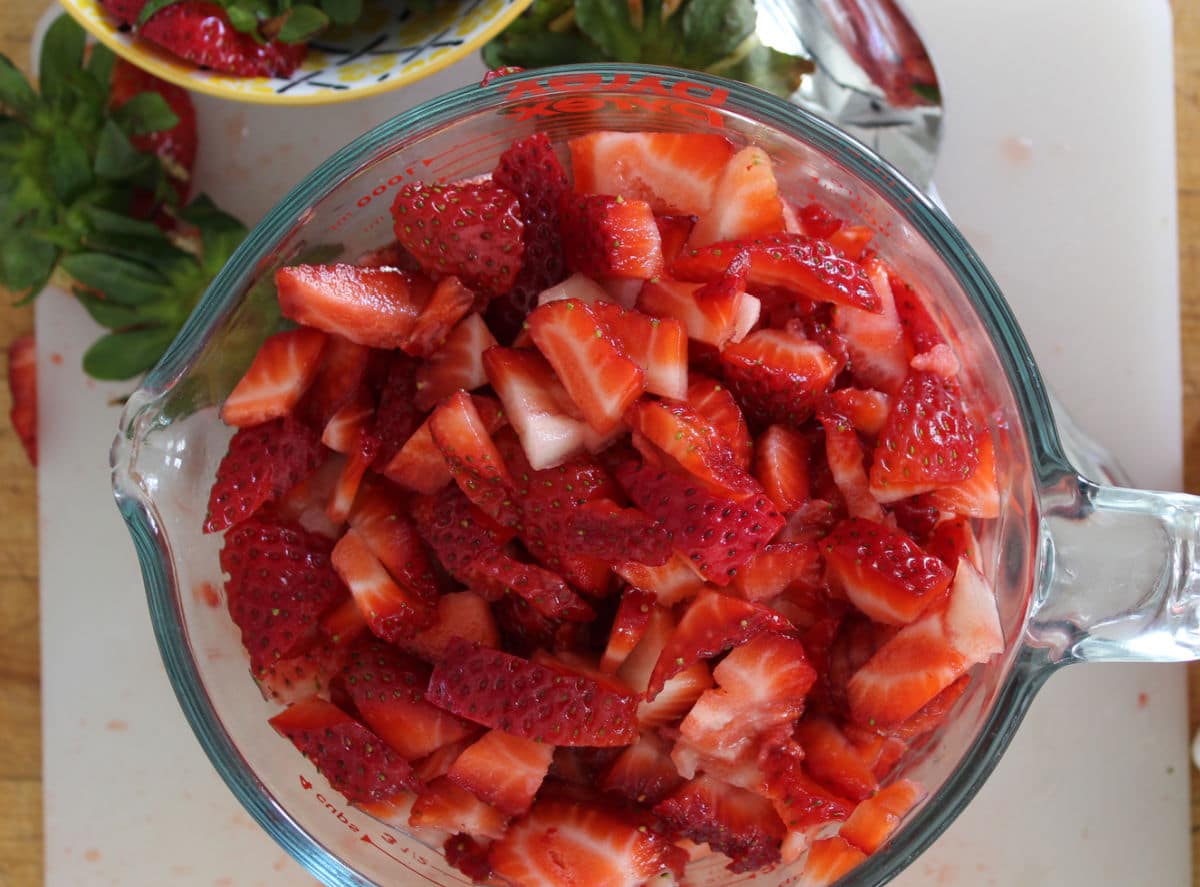 Helpful Hint
I've used an egg slicer to cut up strawberries. They do need to be soft and juicy. Slice once, rotate 90 degrees, cut again. If it's a big strawberry, you may have to cut them once more. I'll leave that to you to decide!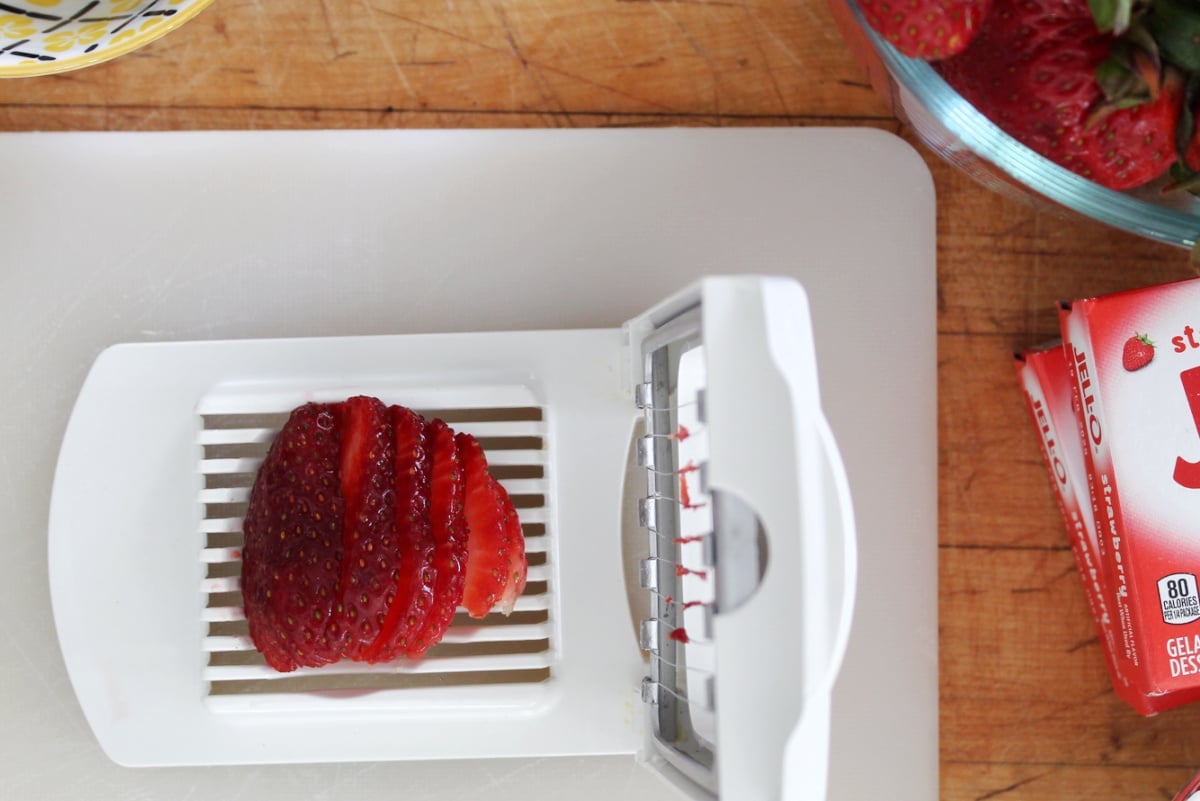 Step 3
Sprinkle dry strawberry jello onto the strawberry layer.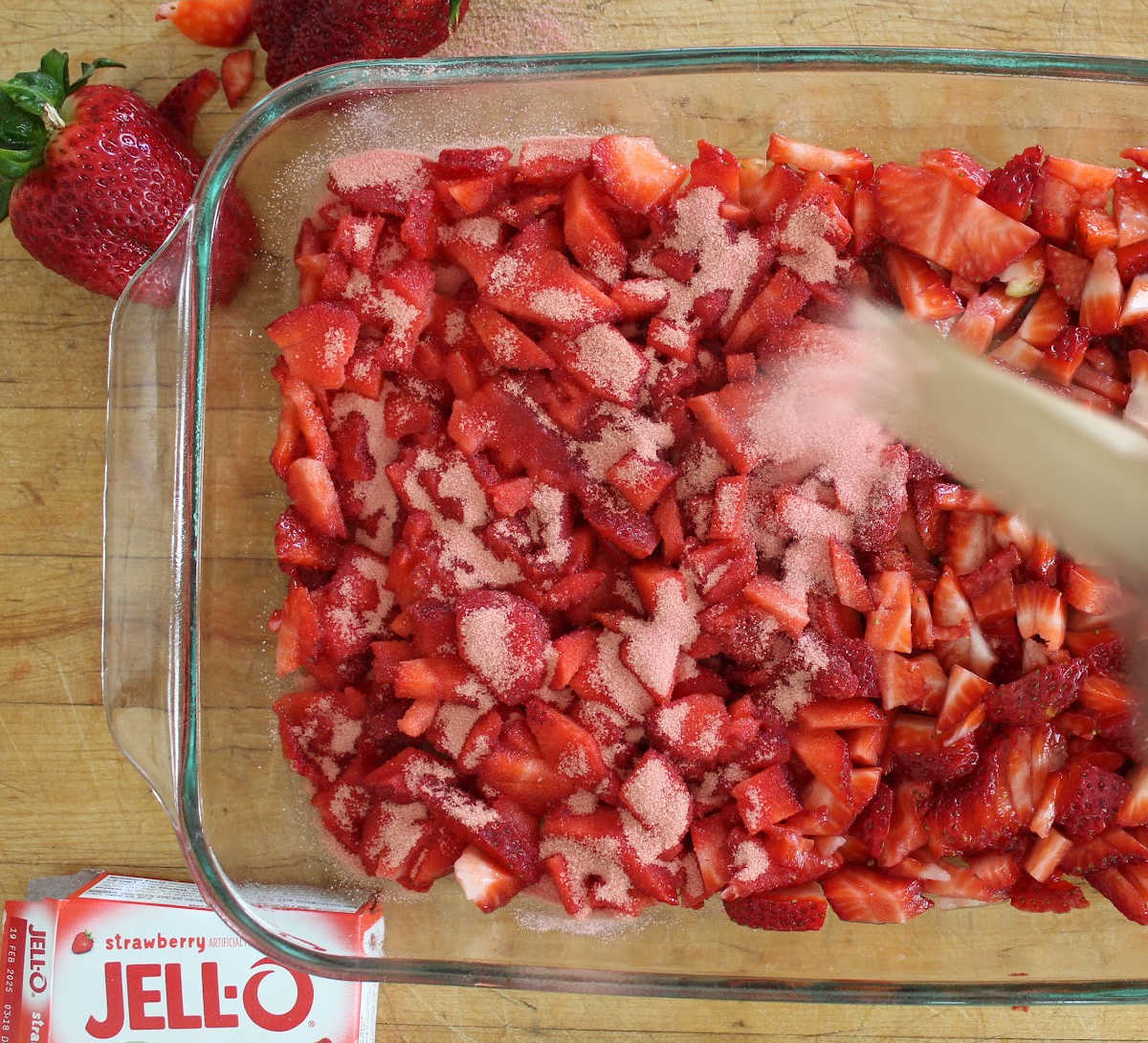 At this point, it smells really good!
Step 3
Evenly pour then spread cake batter on strawberries and jello powder.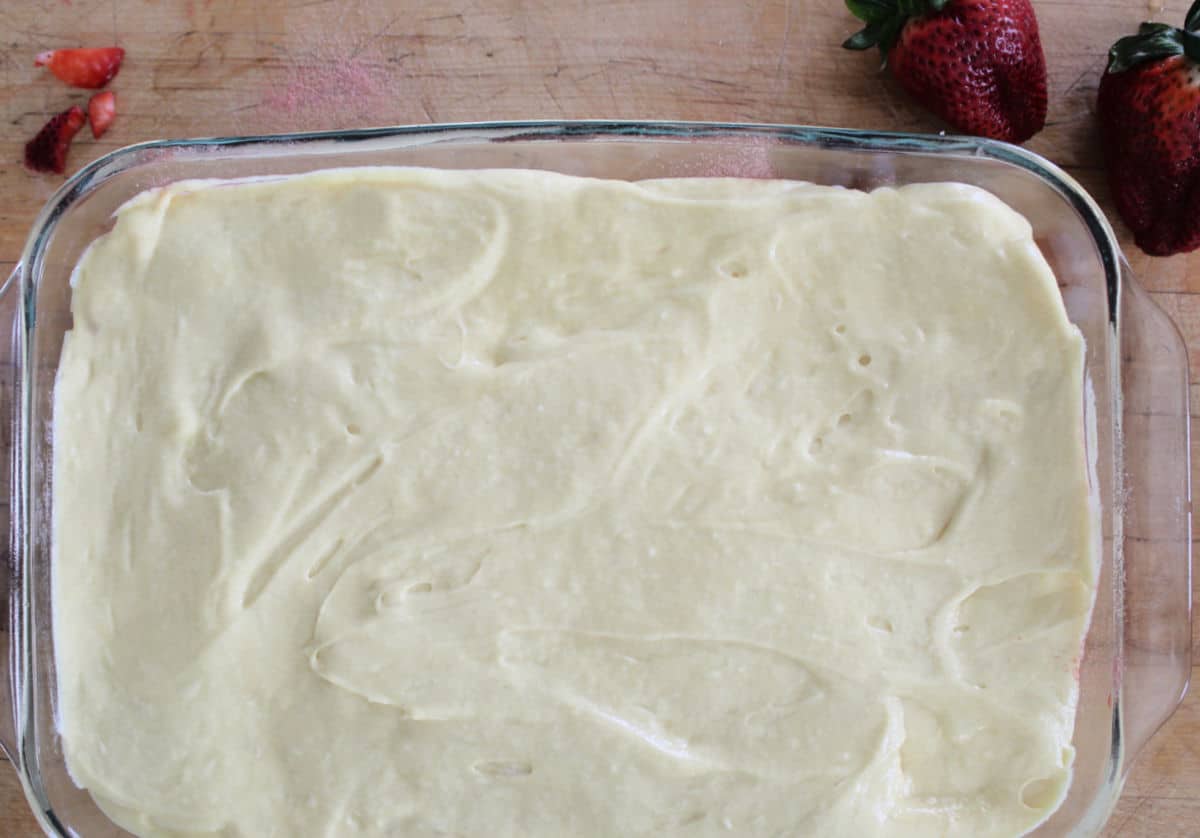 Step 4
Bake according to box instructions for a 9 x 13 baking dish. Check a few minutes before the estimated completion time. I find this bakes quickly. Mine was done, with the toothpick coming out clean in 25 minutes. If the toothpick doesn't come out clean and the top is browning too much, loosely place tinfoil on top so the cake can cook through without the top getting too brown.
Step 5
Let the cake cool for 15 minutes. Run a sharp knife around the edges to make sure the cake will release. Place a large tray on top of the baking dish and then flip. The cake will come out, and the strawberry topping will be on top.
Serve with ice cream.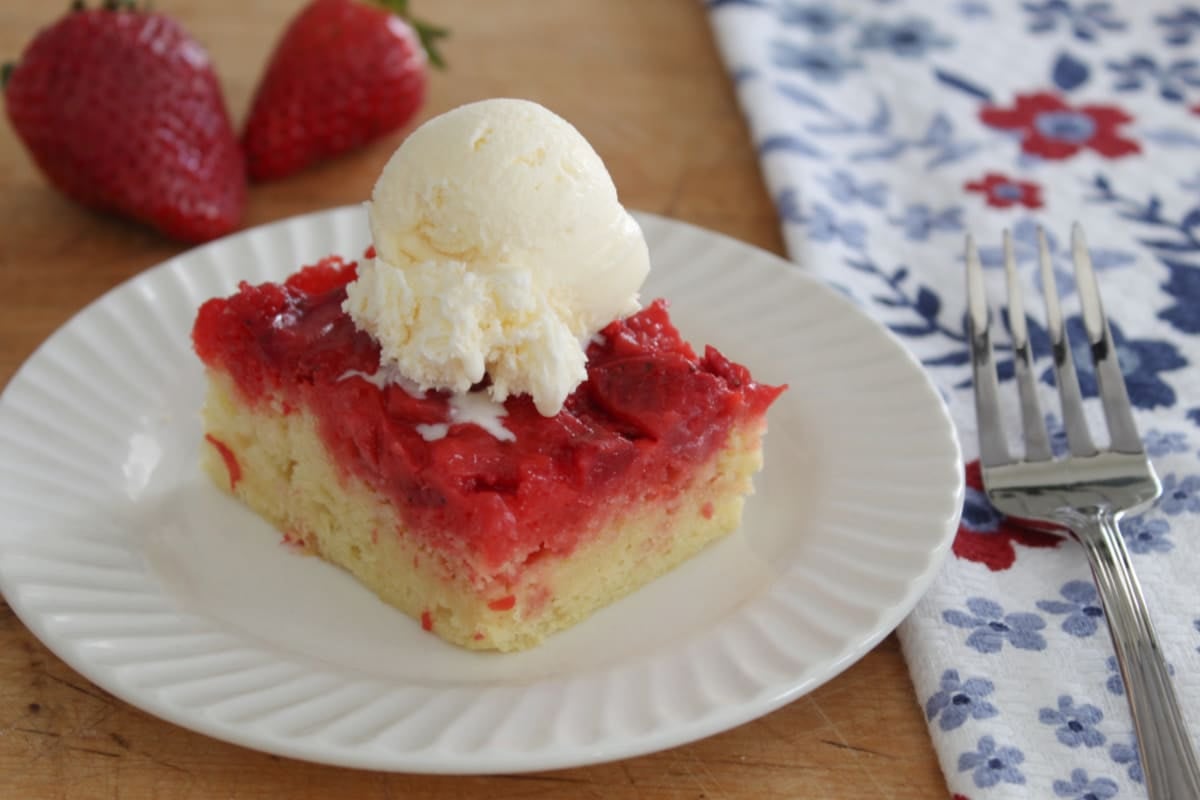 What to do if the cake didn't come out cleanly
It sometimes happens with these types of cakes. Here are some suggestions on what to do if the cake doesn't come out cleanly.
Scrape up the strawberries and jello and spread as evenly as you can on the cake. Ice cream on top helps it look perfect.
If the cake is underbaked, the cake itself may split. Make sure to do the toothpick test to see if it's done! If your cake doesn't look attractive after flipping, it's an excellent topping for ice cream! Make sure you sound convincing that this was the plan!
Storage
This stores well in the refrigerator for 3-4 days in a covered container. It can also be wrapped, but plastic wrap may stick to the strawberry/jello top layer.
If freezing, allow the upside-down cake to cool completely. Place in the freezer for about 1 hour so the outside is slightly frozen. Wrap well (I double wrap). If well wrapped, it can be kept in the freezer for up to 2 months.
Allow refrigerated or frozen cake to warm to room temperature prior to serving.
Other dessert recipes with fruit (and ice cream)
FAQs
I love strawberries. Can I add more than the recipe states?
From personal experience, it doesn't end well. When you bake the strawberries, they become 'liquidy'. You have messed up the strawberry-to-jello ratio so it won't set. Y will have strawberries pooling over the top of the cake. They do taste delicious, but the dessert doesn't turn out as it should.
You can use this as an ice cream topping!
Can I substitute a different cake mix?
Yes, go ahead and use what you have. A pretty pink cake would be a strawberry cake with strawberries on top.
What if I only have one 3oz jello package?
The strawberries probably won't be set in the jello. It should still look and taste good! Just not as nice looking as if you used the stated 6 oz.
Printable Recipe Card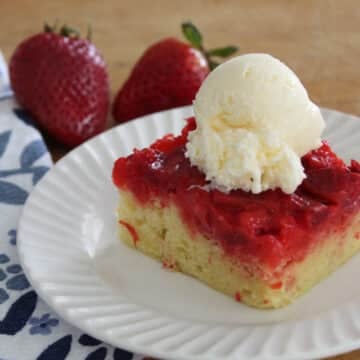 Easy strawberry upside down cake
A simple and delicious strawberry dump cake made with fresh strawberries. It's easy to make and the taste of fresh strawberries makes this extra delicious.
Print
Pin
Rate
Equipment
1 9 x 13 baking dish

It's the size I use for casseroles

1 large serving tray bigger than 9 x 13

You will place the tray on the baking dish and flip the upside down cake onto it.
Ingredients
1

box

yellow cake

I had a yellow cake (butter recipe) mix

⅓

cup

butter

for cake mix

3

large

eggs

for cake mix

2

cups

strawberries

chopped, about 1 pound

1

box

strawberry jello

6 oz size
Instructions
Mix cake mix batter according to directions on the box. My cake mix needed ⅓ cup butter, 3 eggs and a cup of water.

Set aside.

Place layer of chopped strawberries onto sprayed (nonstick spray) 9 x 13 baking dish.

Sprinkle jello onto strawberries. It is the powder, straight out of the box that you are sprinkling. Do not stir.

Evenly pour and spread cake mix batter over strawberry and jello powder.

Bake for 25 - 35 minutes until toothpick comes out of batter clean. If cake is browning too quickly, place some tin foil loosly over the top.

Allow to cool for 15 minutes. Using a sharp knife, cut around the edges to release.

Place large serving tray over baking dish. Hold on tight and flip. Cake, strawberry and jello should release onto the tray.

Cut into 15 pieces and serve with ice cream.
Nutrition
Serving:
1
g
|
Calories:
205
cal
|
Carbohydrates:
35
g
|
Protein:
3
g
|
Fat:
6
g
|
Saturated Fat:
3
g
|
Polyunsaturated Fat:
0.5
g
|
Monounsaturated Fat:
2
g
|
Trans Fat:
0.2
g
|
Cholesterol:
48
mg
|
Sodium:
324
mg
|
Potassium:
61
mg
|
Fiber:
1
g
|
Sugar:
21
g
|
Vitamin A:
182
IU
|
Vitamin C:
11
mg
|
Calcium:
83
mg
|
Iron:
1
mg
Please pin this to your Pinterest account!