Looking for planting ideas for window boxes? You have come to the right place! Window boxes are a personal favorite of mine. They are the easiest planters to do seasonally. Window boxes don't always follow the thrill, spill, fill guidelines for container gardens. It is sometimes more fun to plan a window box with the same height vs. having the traditional tall thriller-type plant.
Window flower box ideas
I love walking around my neighborhood and the local community. Neighbors provide the best inspiration for local gardening ideas! Look for planters that are rectangular in shape and use those for inspiration as a window box! You are looking for colors and combinations and what plants thrive. Be aware of which direction the window boxes face, so you know how much sun the plants are getting.
Geranium Window box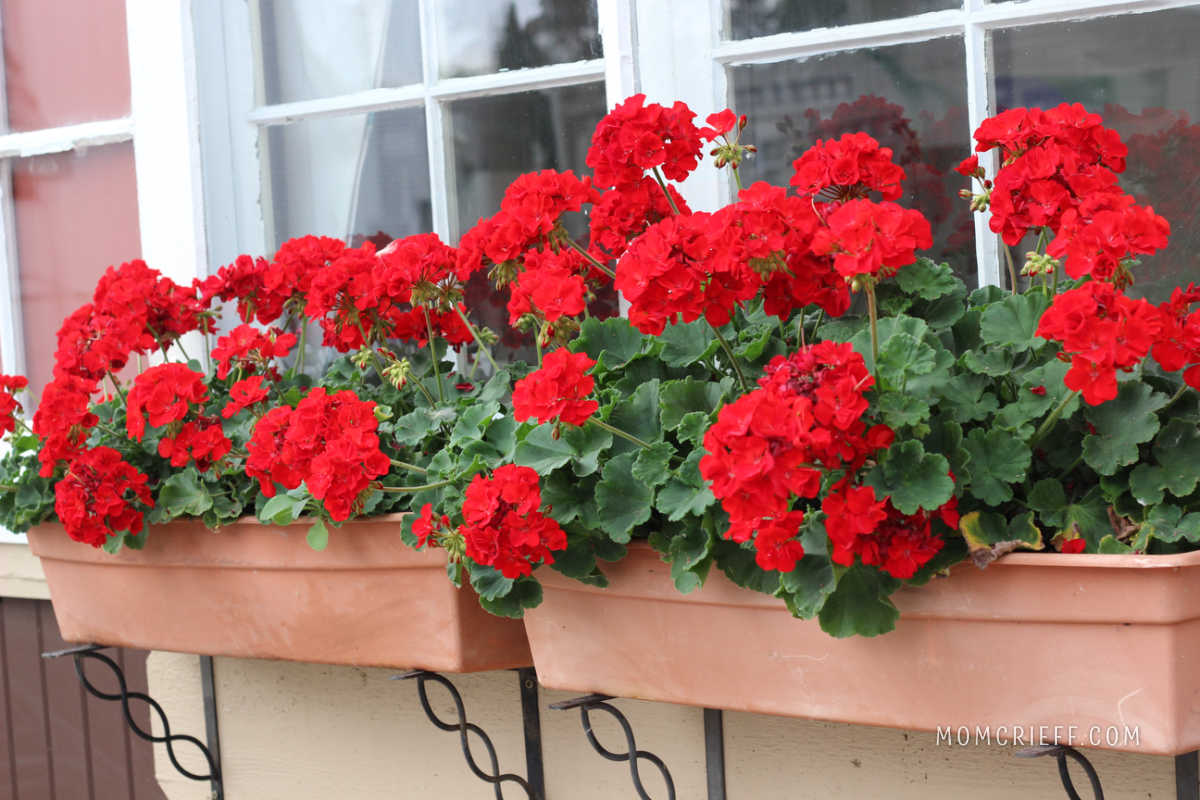 For example, the beautiful red geraniums above and below were always planted yearly at a local German restaurant. It's a simple but visually stunning display. If you love geraniums as much as I do, peek at this planter geraniums post.
Table of contents
Here is another peek at red geraniums but showing more of a whole-wall look. These are on the opposite side and are most likely ivy geranium which would require less sun.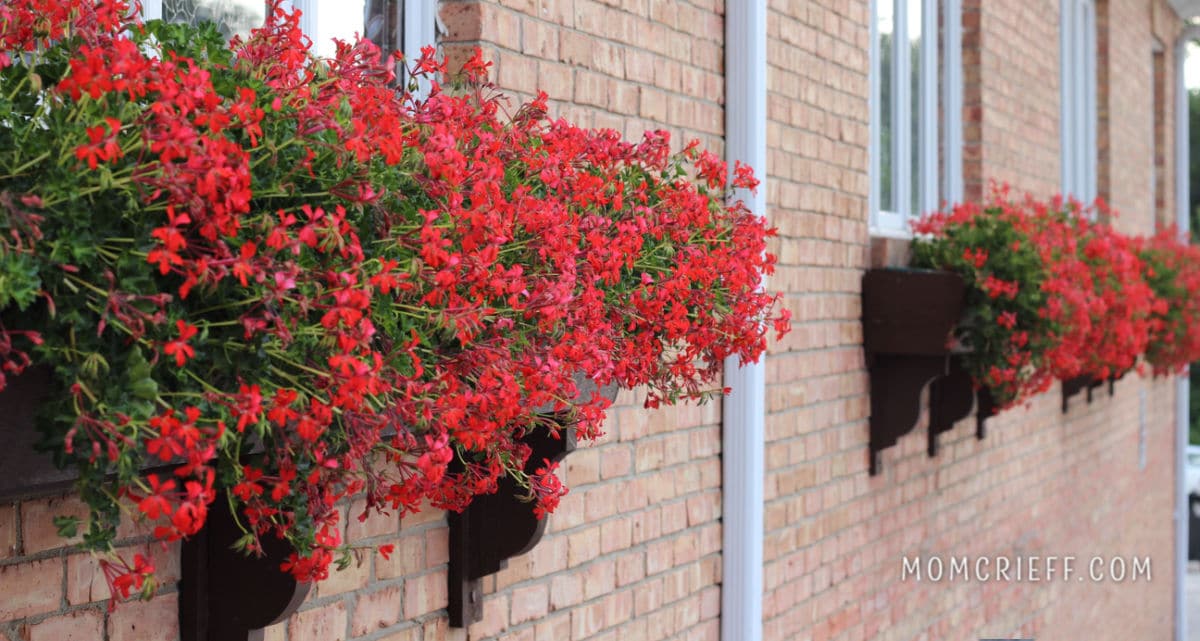 Going to greenhouses and nurseries early in the season helps give you an idea of what planter combinations are popular for the coming summer. I personally like to create my own plant groupings and can recognize where someone's premade planters come from. Often places will use the same plant/color formula year after year.
Do a search for planters online, and you will see an endless variety. If you see a planter or window box you are inspired by, check with a local nursery or gardening shop to see what they have so you can recreate your planting. Look at the color, if the plant is trailing, and check if the plant needs sun or shade.
Planting window boxes for full sun
Reading the tag is the easiest way to see if a plant loves the sun. It's that simple. If your plants will be in the sun for most of the day, ensure the tag says full sun!
The geraniums in the first image above are full sun geraniums. The ones in the second picture are more of a partial sun with shade variety. I can tell just because I know what side of the building they are planted on.
Petunias and sweet potato vines do well in the sun! Just make sure you know how to water your plants. The blue link will take you to some tips I share.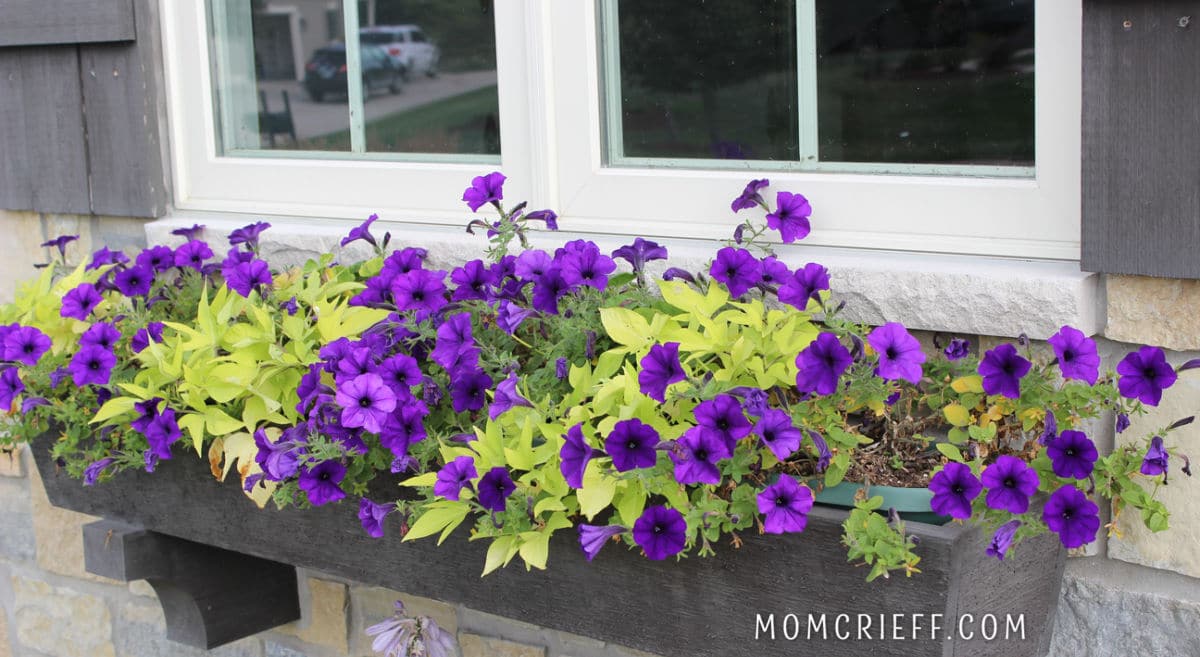 Here is another example of a very similar planting. The window box below has two colors of geraniums, and it's a much bigger splash of color!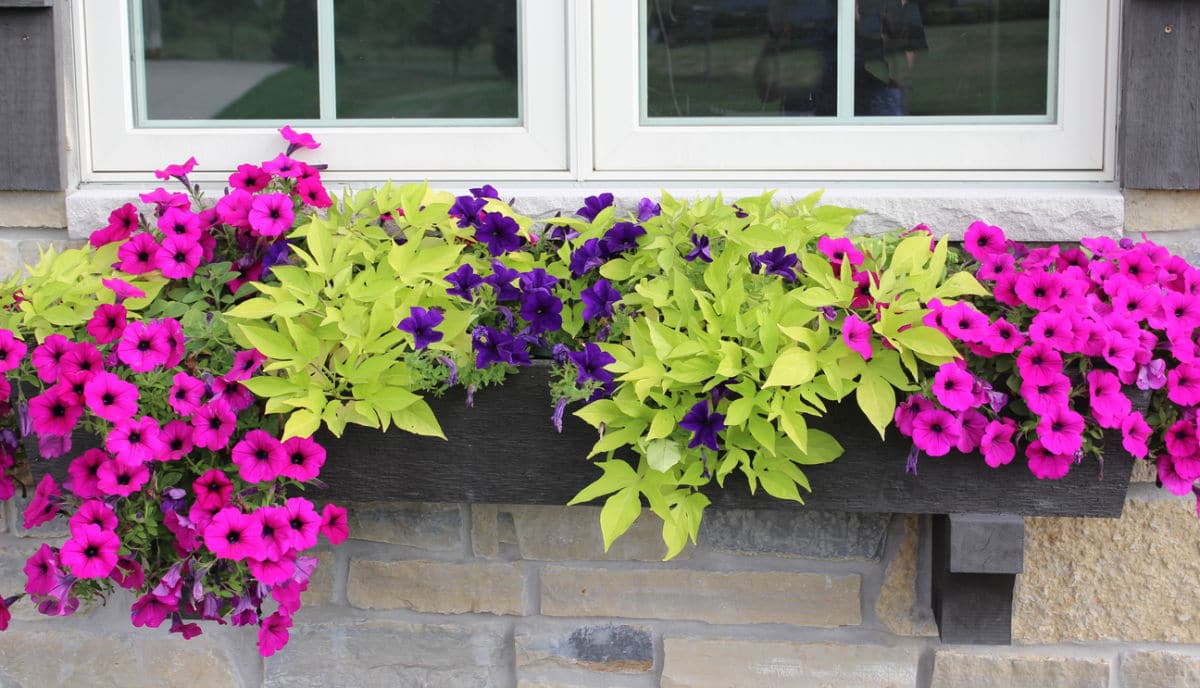 Below is another take on a red geranium window box. This one, however, uses the traditional thriller (spiky tall plant), and spiller (trailing plants) and uses the geraniums as the filler. Geraniums are a great plant because they can take the sun and tolerate being dry (to some degree). I'm in love with the window box below. It's such a simple planting but so high impact!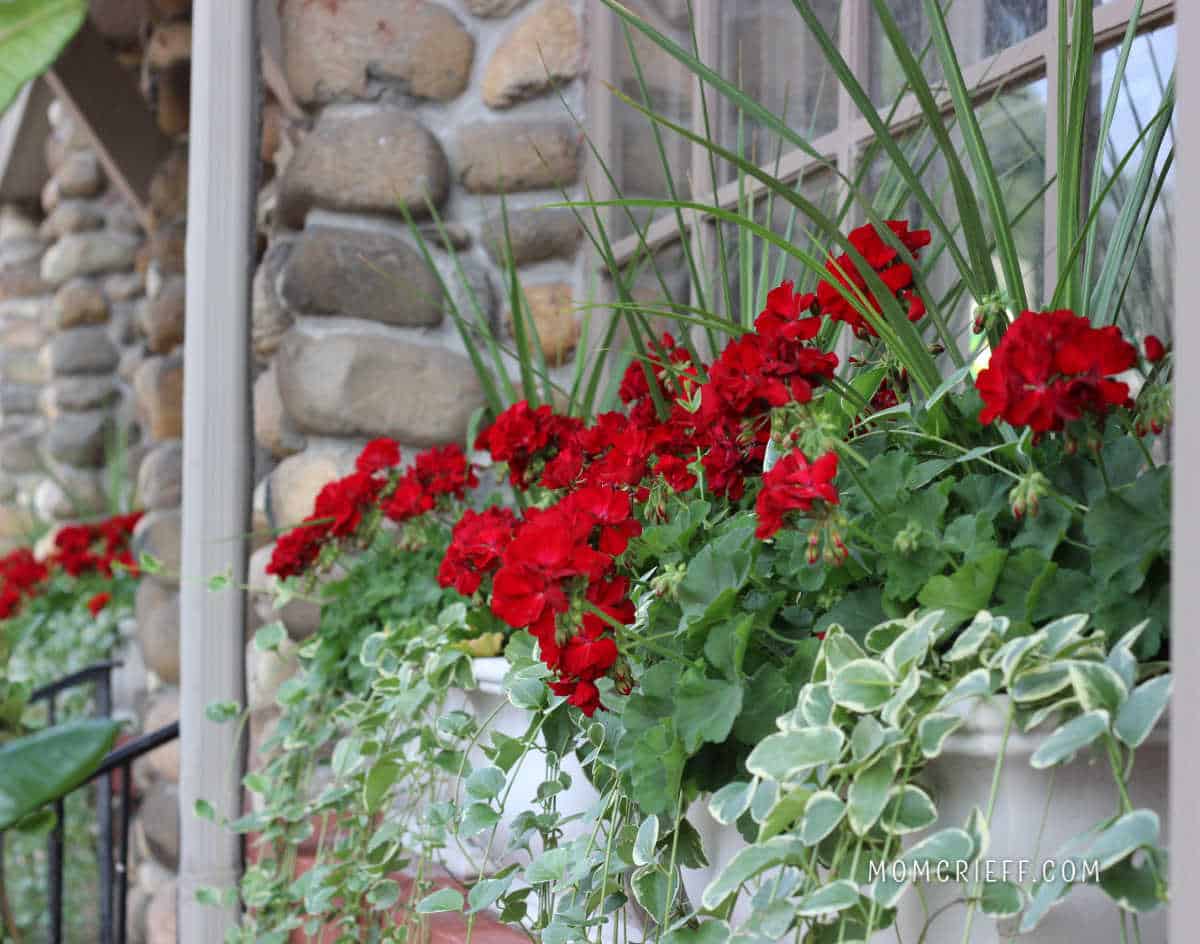 Shade window boxes
Some sun-loving plants do OK in the shade. Just like some shade-loving plants can tolerate some intense sun. It is OK to experiment but recognize the risks that your plants may not do well.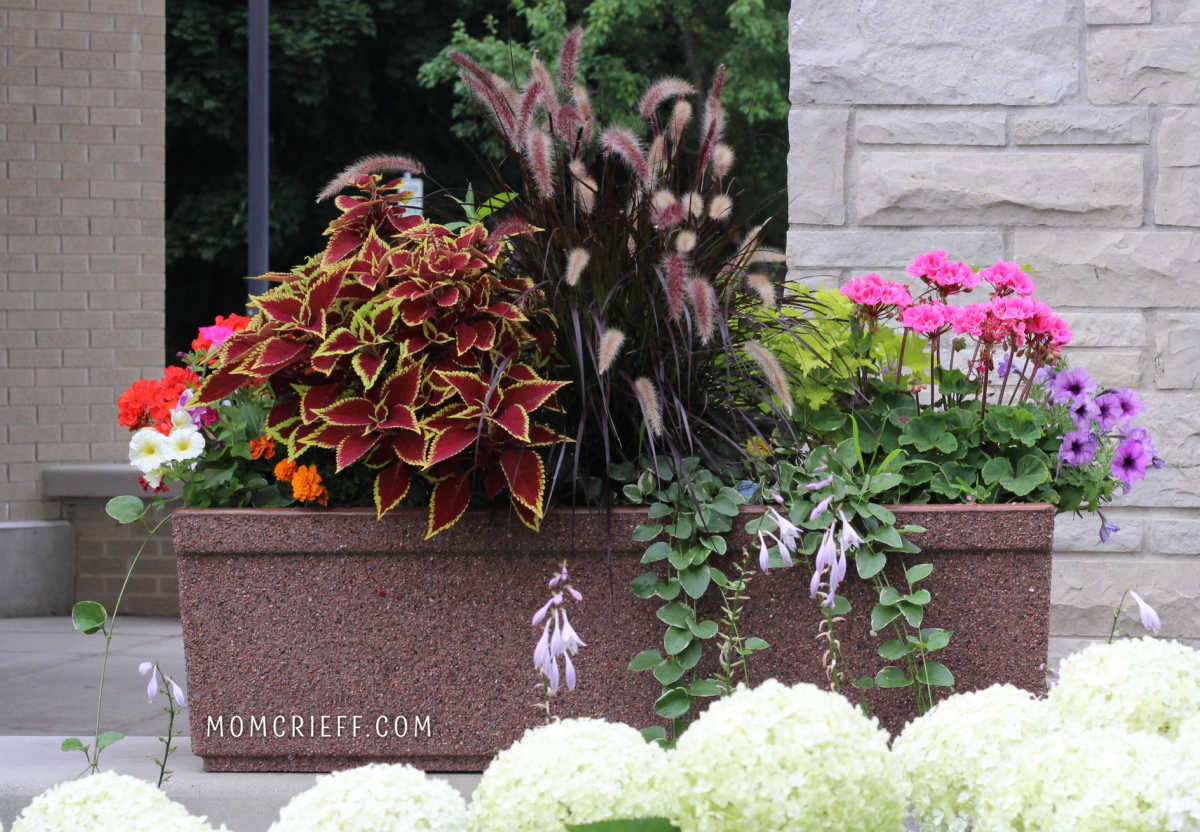 Below is a planter that has a mix. The geraniums and petunias love the sun but will do well in partial shade. The coleus plants (bright reddish and green leafy plants) are the shade plants here.
Here is another mixture with a focus on more shade plants. These planters (window box shape) are planted in an area with more morning sun, not a hot afternoon sun.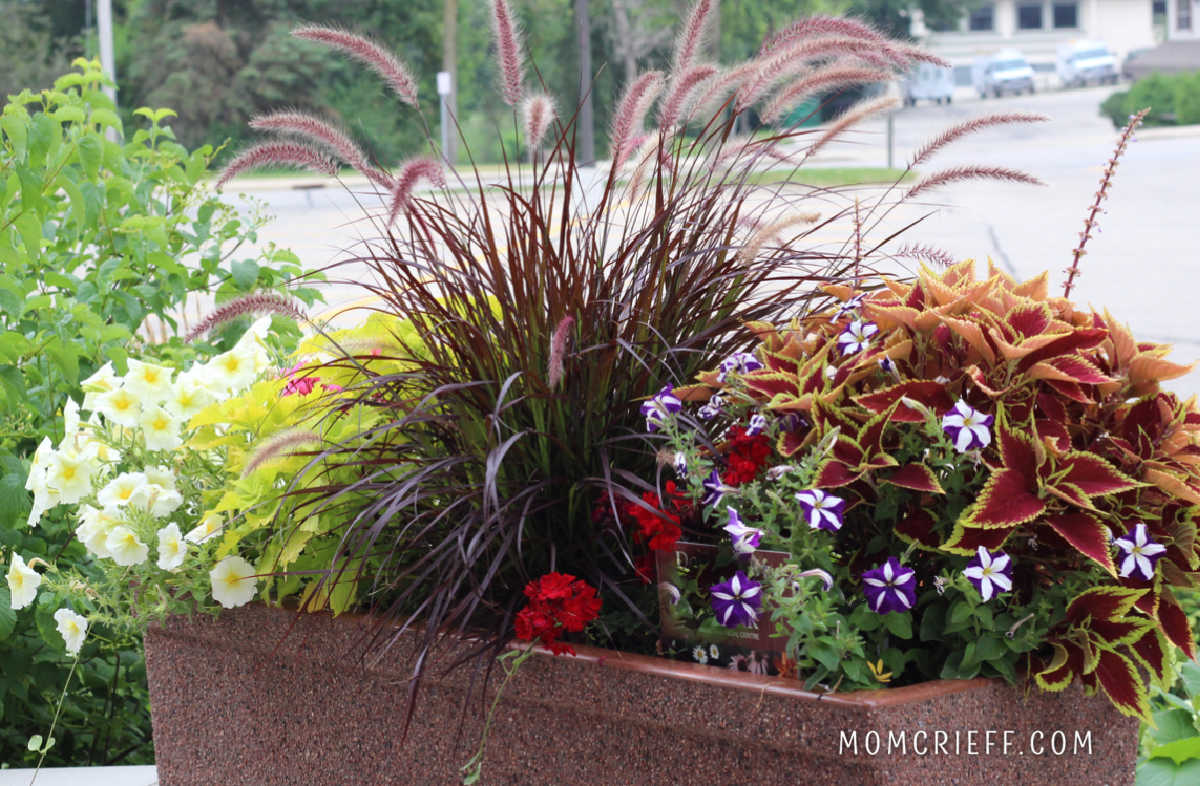 Below are a few more all-shade combinations.
The one below focuses on various different multicolored coleus plants.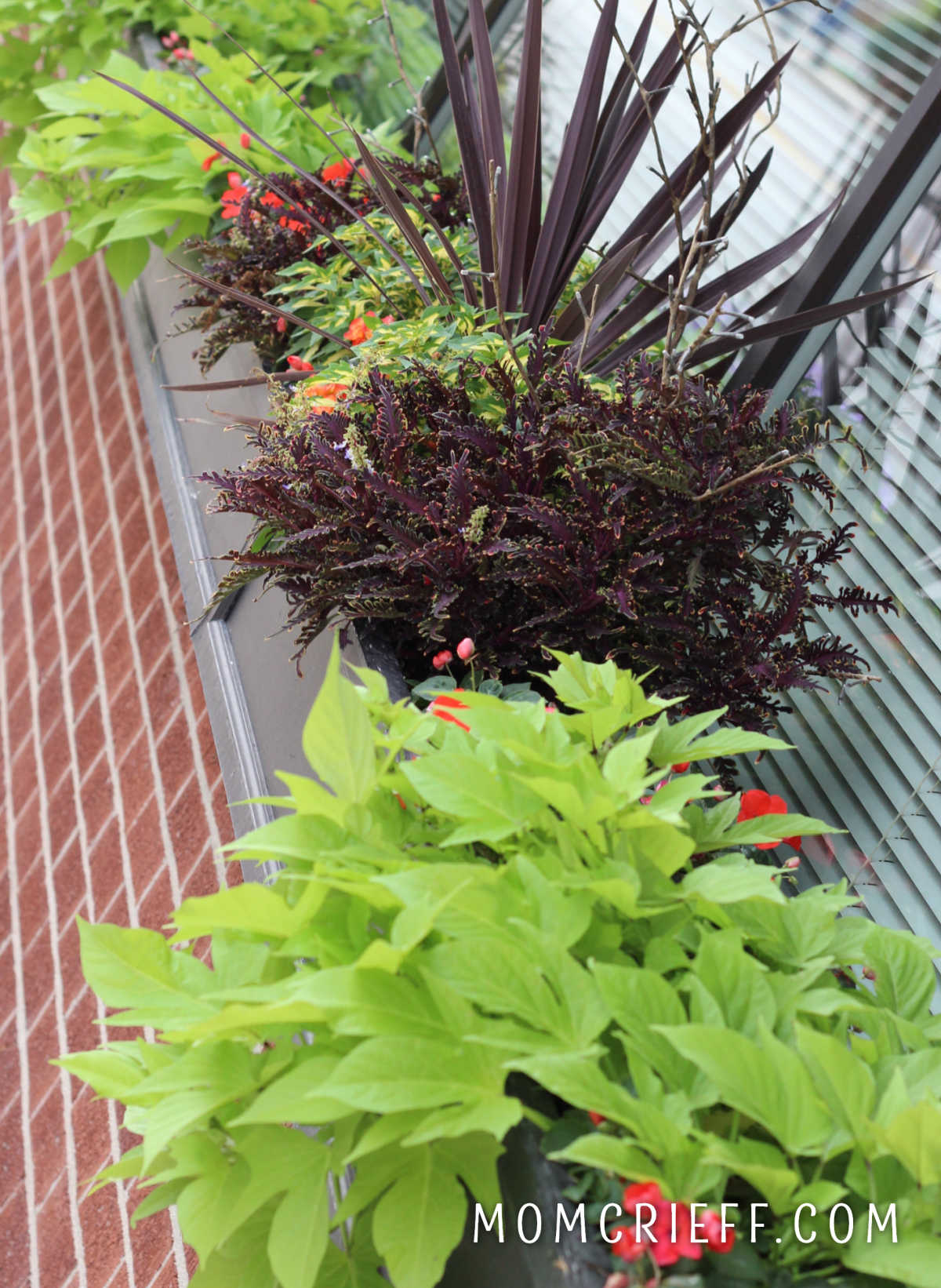 The big splash of color is the orange begonias! They are a pretty flowering shade plants.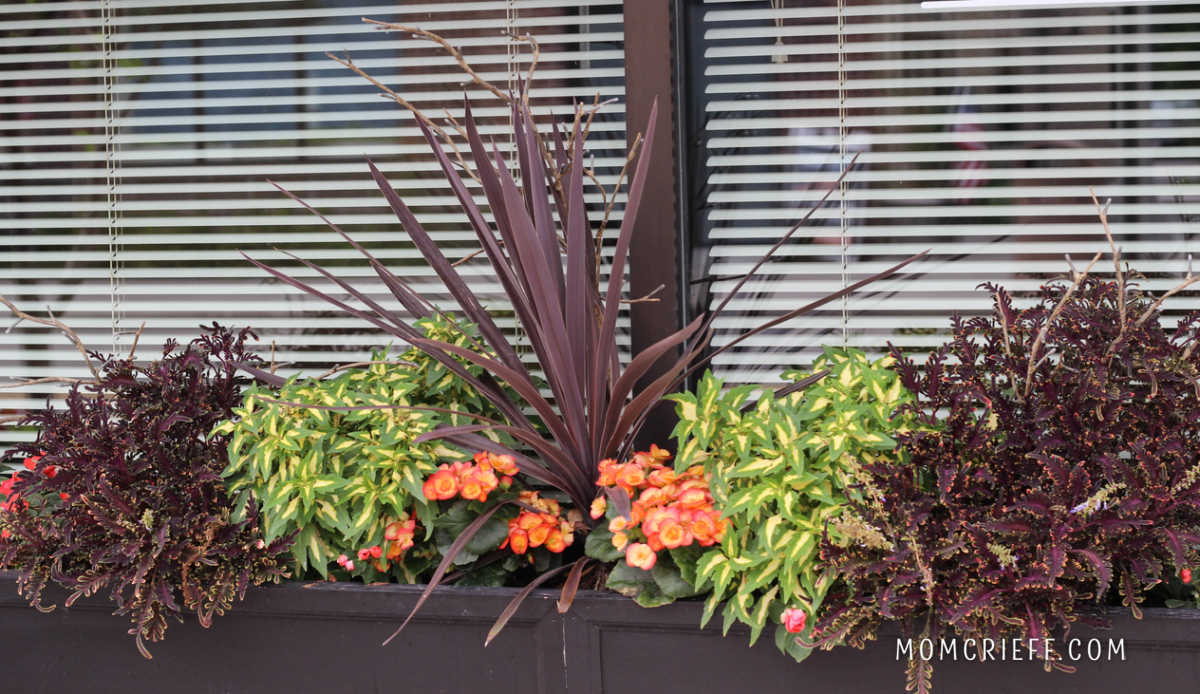 I have had begonias growing beautifully in parts of my yard with hardly any sun!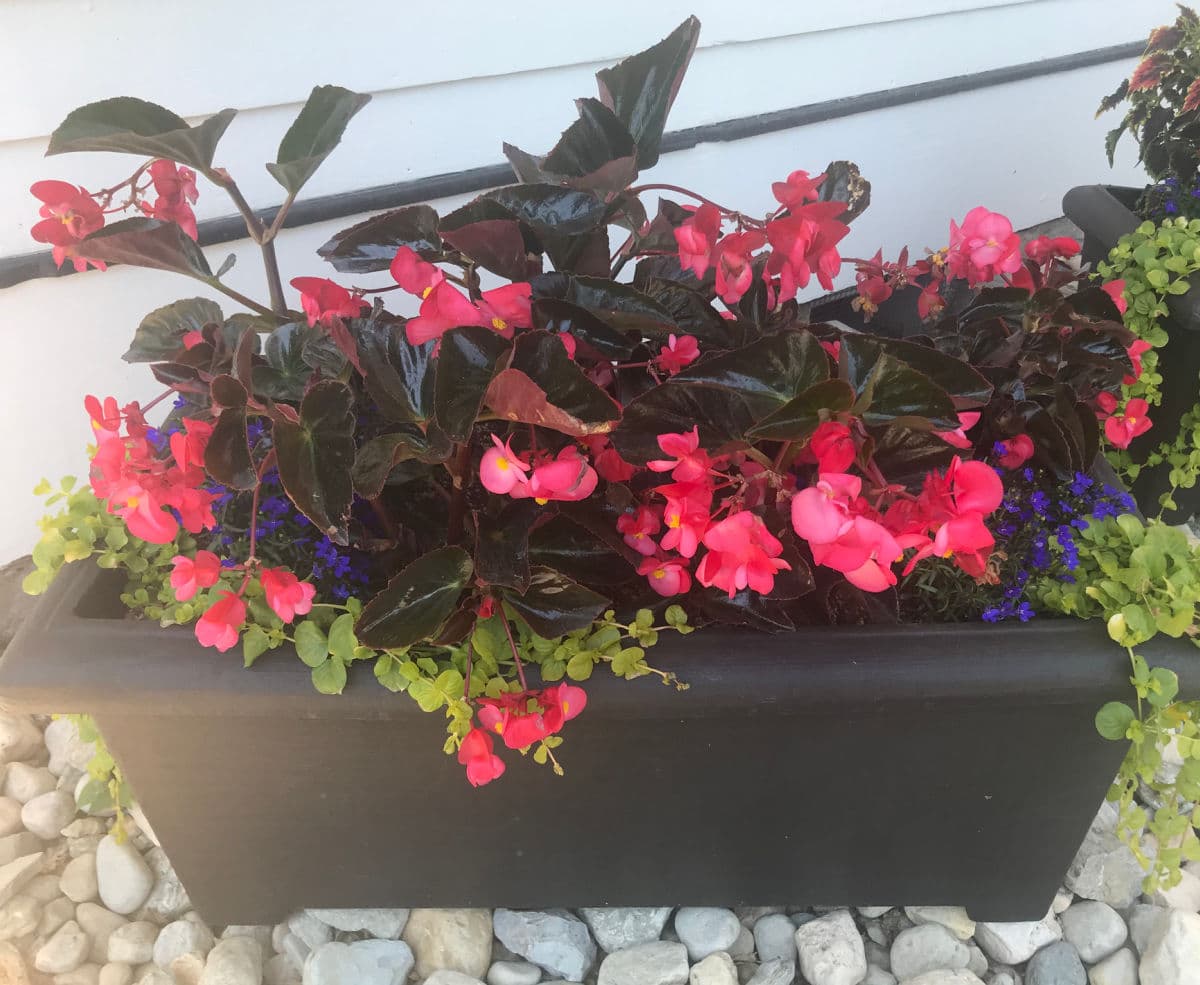 Above are begonias and creeping Jenny as contrasting spilling plants.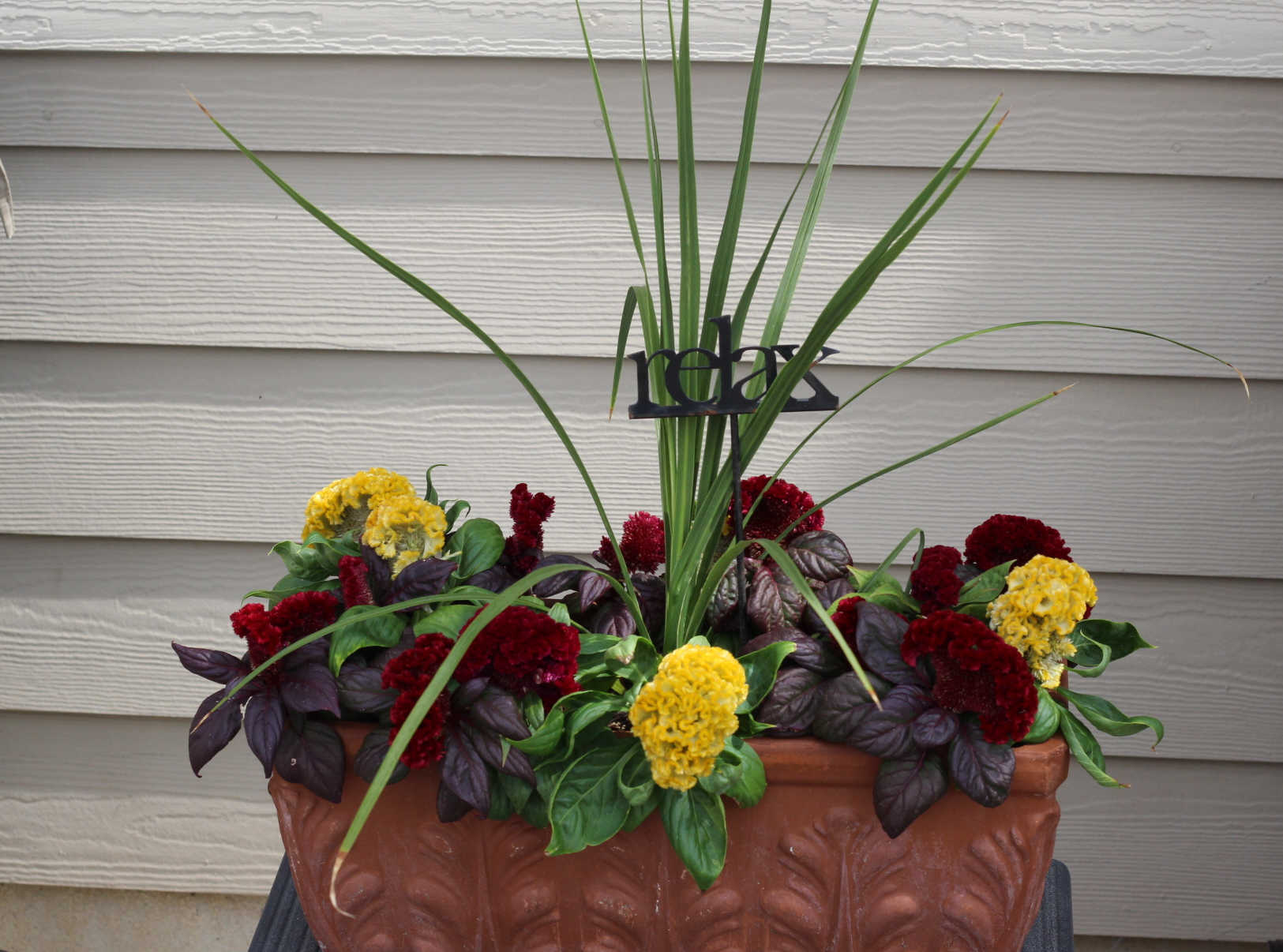 I love the little "relax" spike!
Spring window box ideas
I LOVE seeing green growth, the colorful spring flowers after our snowy winters, and just plain ugly early spring. Pansies (or violas, as they may also be called) are the perfect spring selection.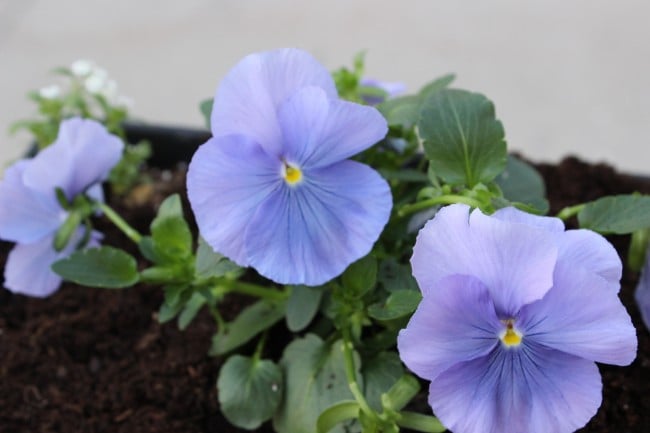 They will survive a late-season frost or even snowfall! They will be fine as long as it isn't a heavy freeze.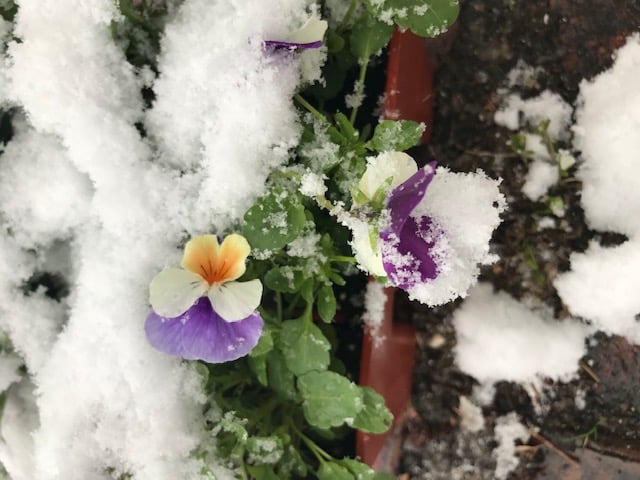 I can't toss these guys out as the weather gets warmer and summer plants are appropriate. I tend to gradually transition my planters into summer, keeping some of my spring plants.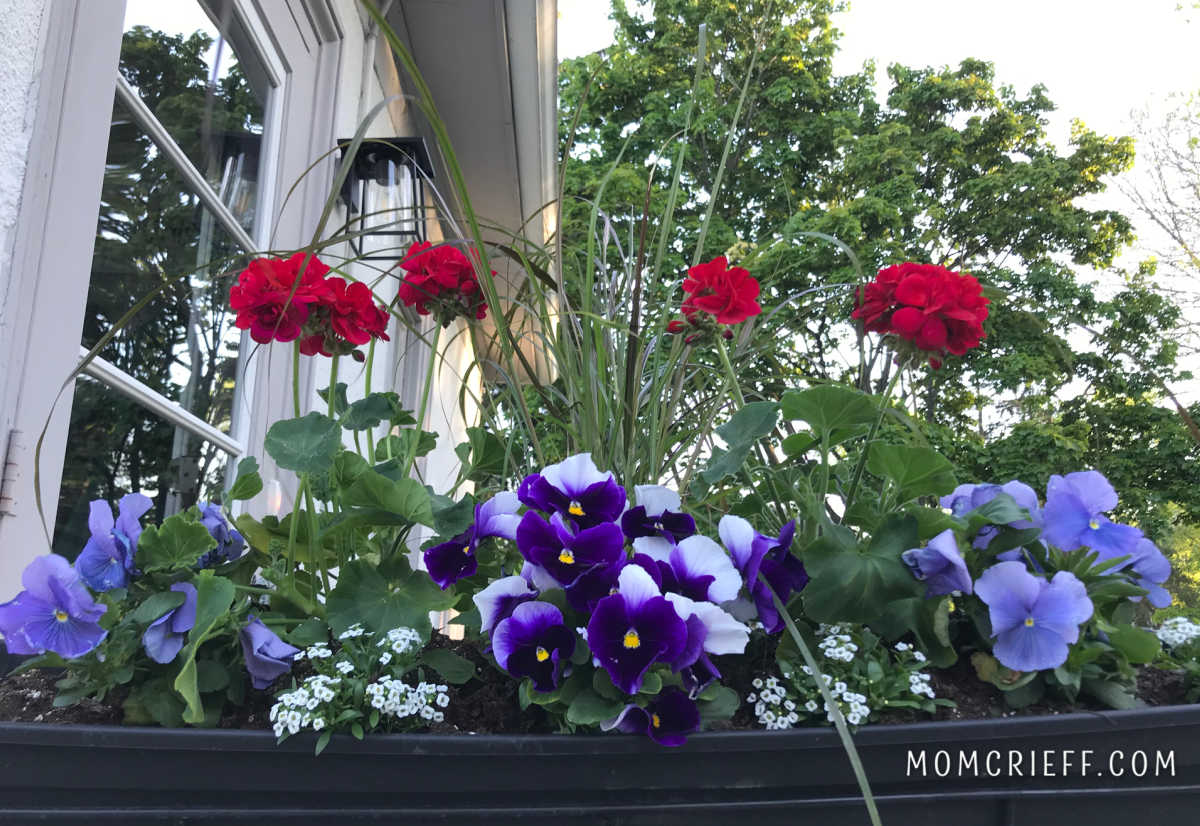 How can you not love these purple pansies with red geraniums? As a little tip, I always plant alyssum as early as possible. It becomes a beautiful filling and trailing plant that blooms constantly. It tolerates the frost in the spring and in the fall!
Summer
Except for the window boxes above that I've noted is spring, the rest above this section are for the summer. The main thing you are looking for with the plants is that they tolerate summer heat! Make sure you also remember how much sun they can tolerate.
Below is the same planter with some different plants just a few months later!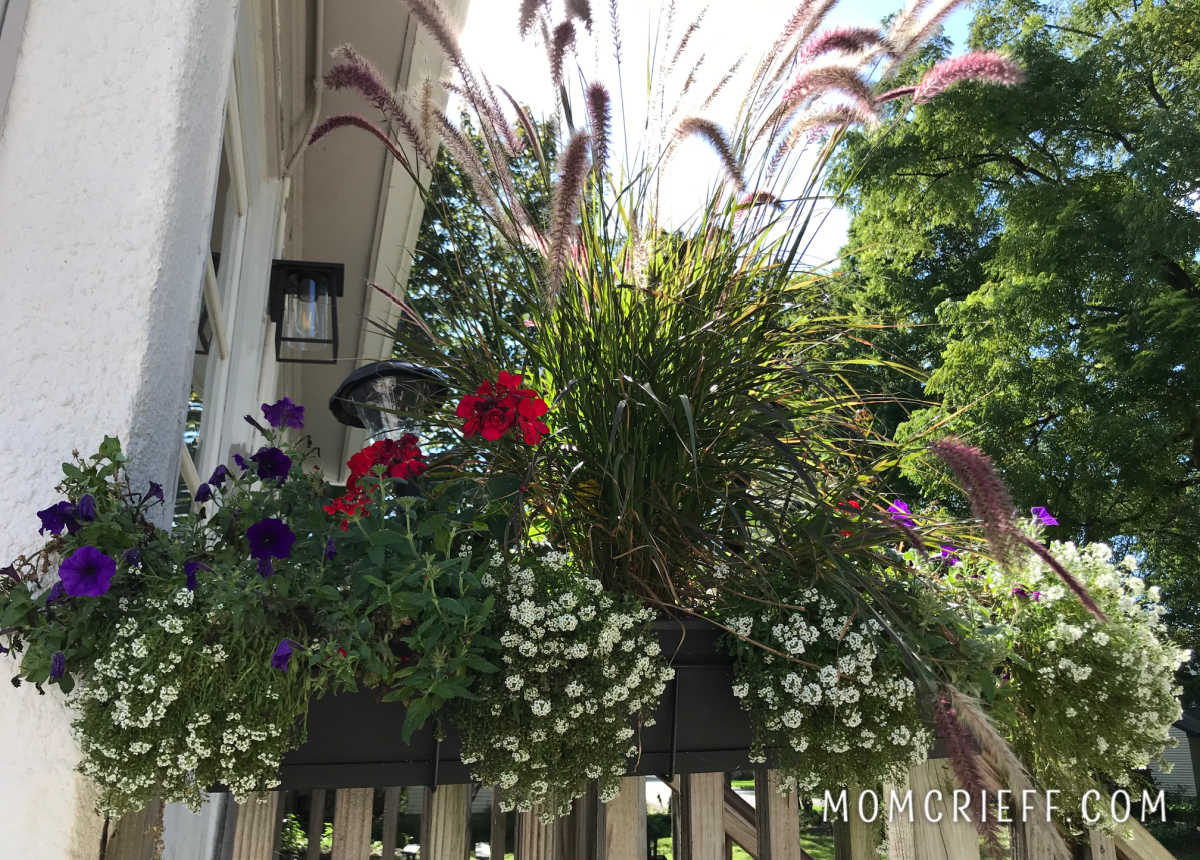 The grass is a purple fountain grass which I love (LOVE, LOVE for the fall). As mentioned above, the alyssum will mound and trail nicely. I loved the purple pansies so much that I replaced them with purple petunias. It is so much easier when you have the basis of your plantings and can gradually switch out specific plants to the season. It saves you money too!!
Fall flower box ideas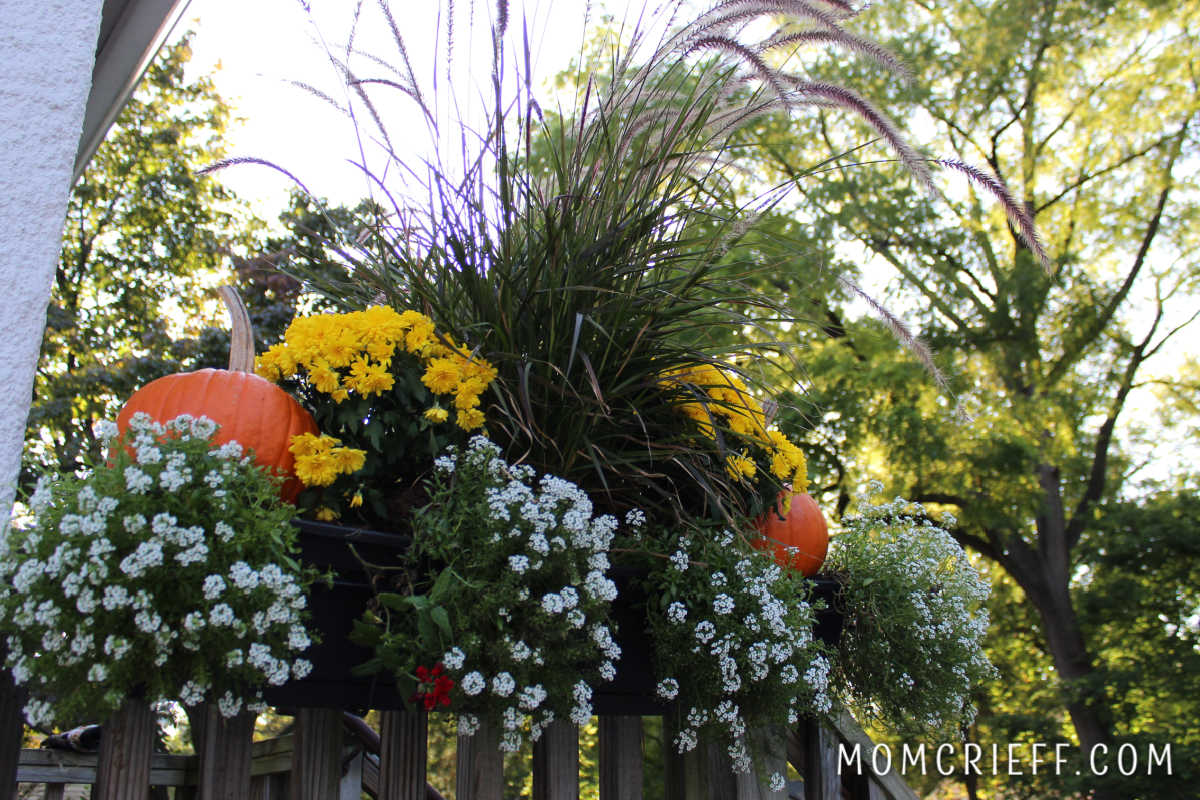 This is also the same window box as the two above. As the weather gets cooler and some plants start getting tired looking, they get replaced with more fall-appropriate plantings and decor. I removed the geraniums and petunias and replaced them with mums and small pumpkins. Everything above tolerates a light frost.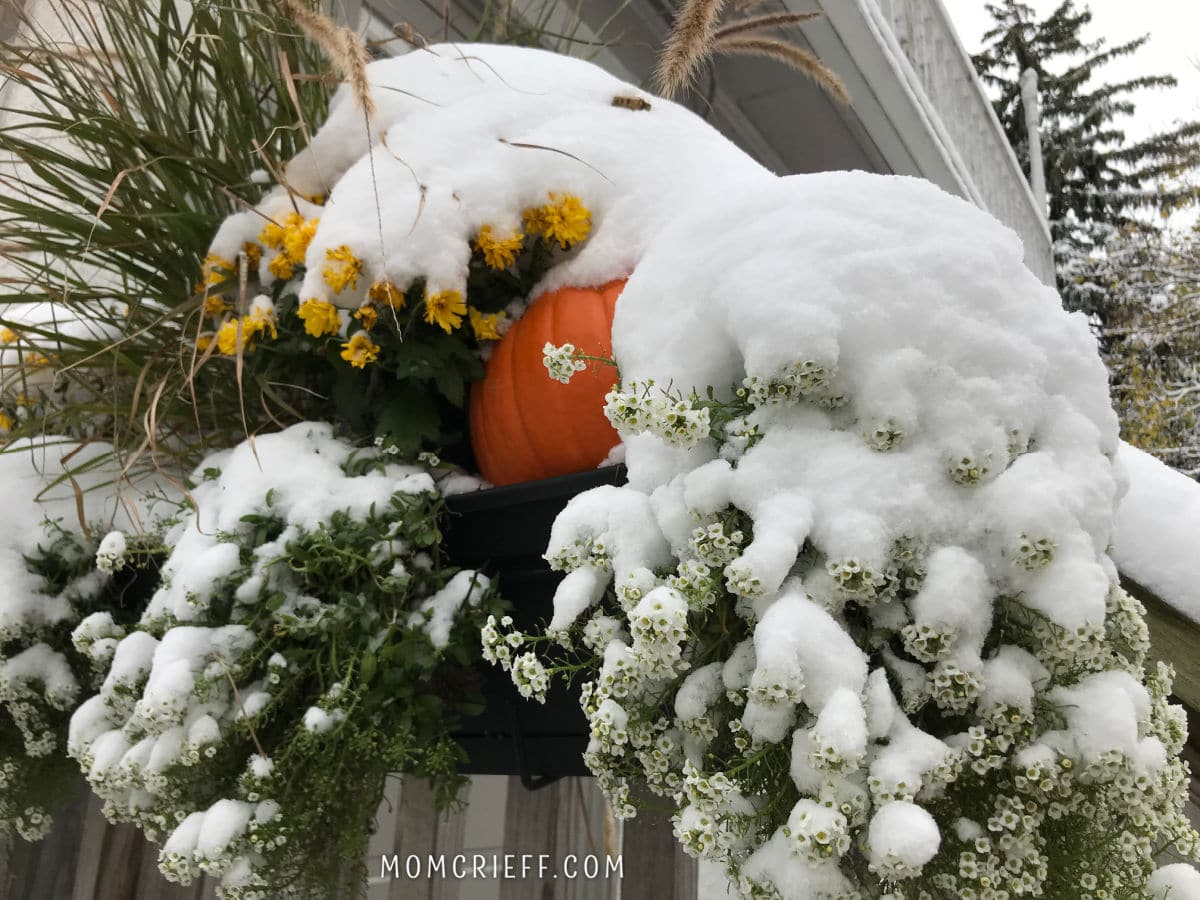 It'll even tolerate early snow! But the mums look a little tired and at the end of their flowering life.
Winter and Christmas ideas
So many people don't realize they can do such beautiful decorating outdoors in the winter! Let me show you.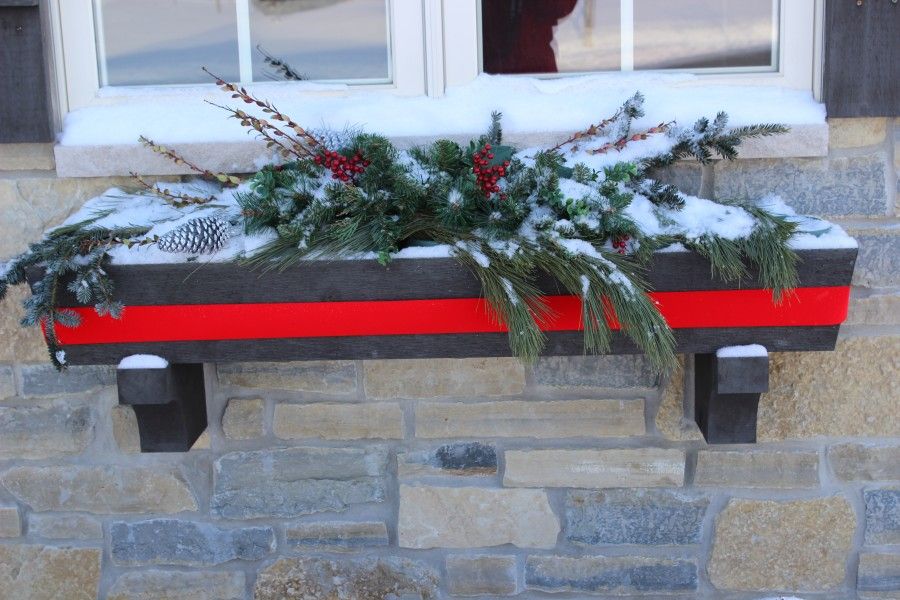 The red ribbon visually attracts your eye. A simple arrangement, but the ribbon pulls it together.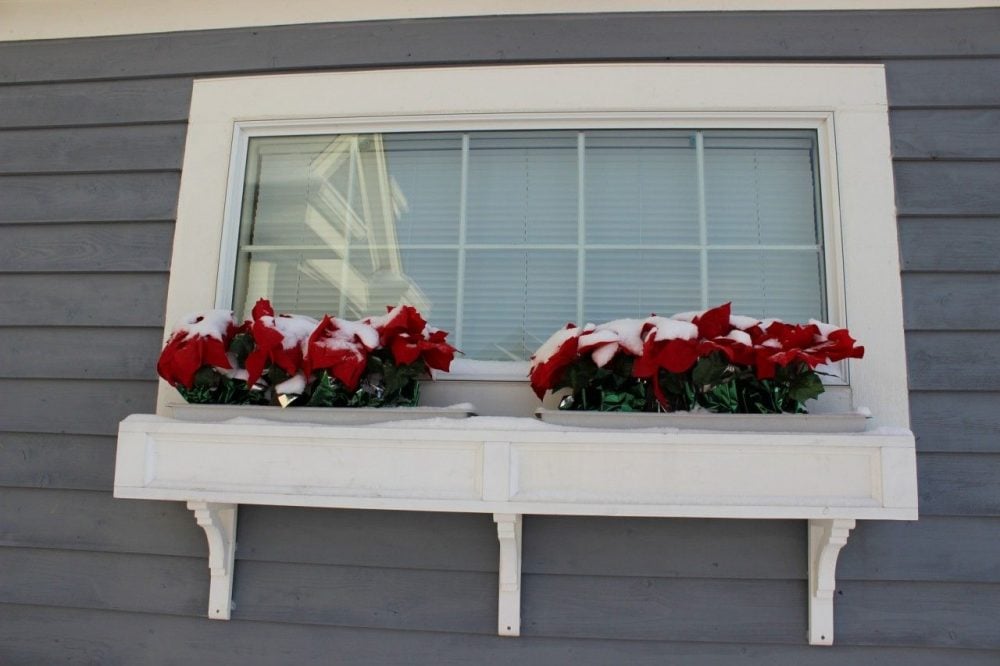 There is nothing wrong with some faux plants for some winter holiday color!
I've been trying to make some winter/holiday window box-type planters. I'm not 100% happy with them, but gardening is all about experimenting and learning. So let me share my 'almost' winter ideas.
Since it's dark most of the winter, I love lights. But I think those solar lights need to go!
The three planters below are all the same. One in the daytime, then daytime with snow, then in the dark.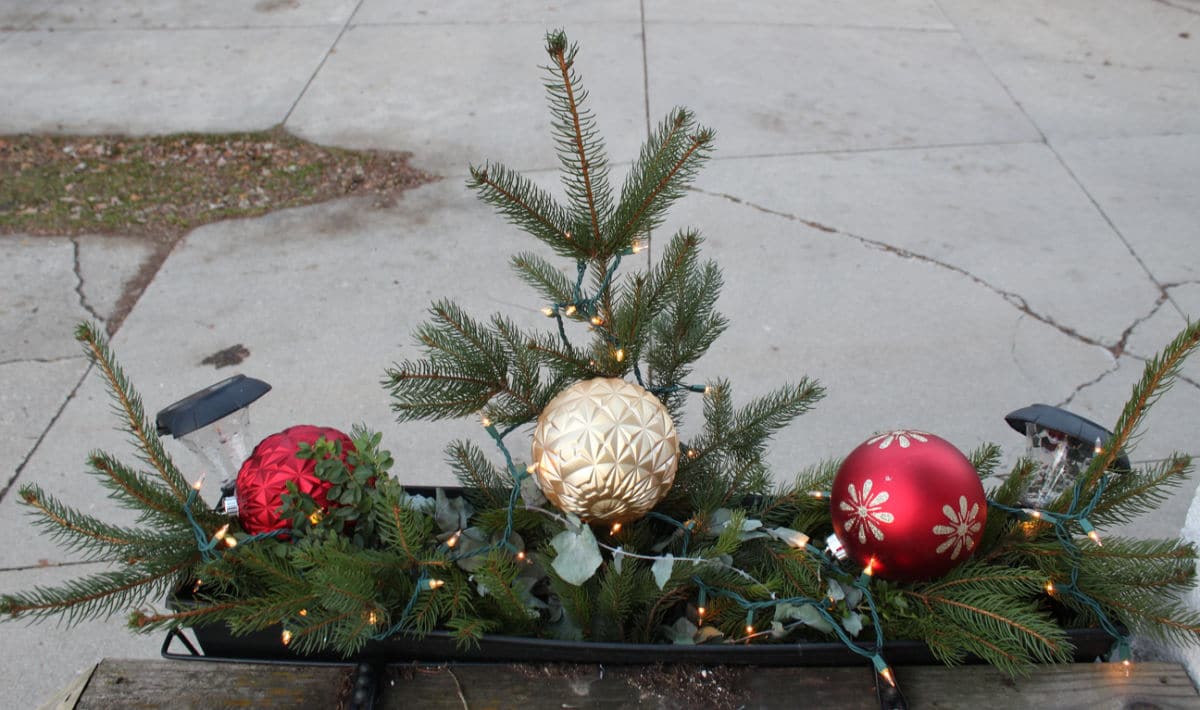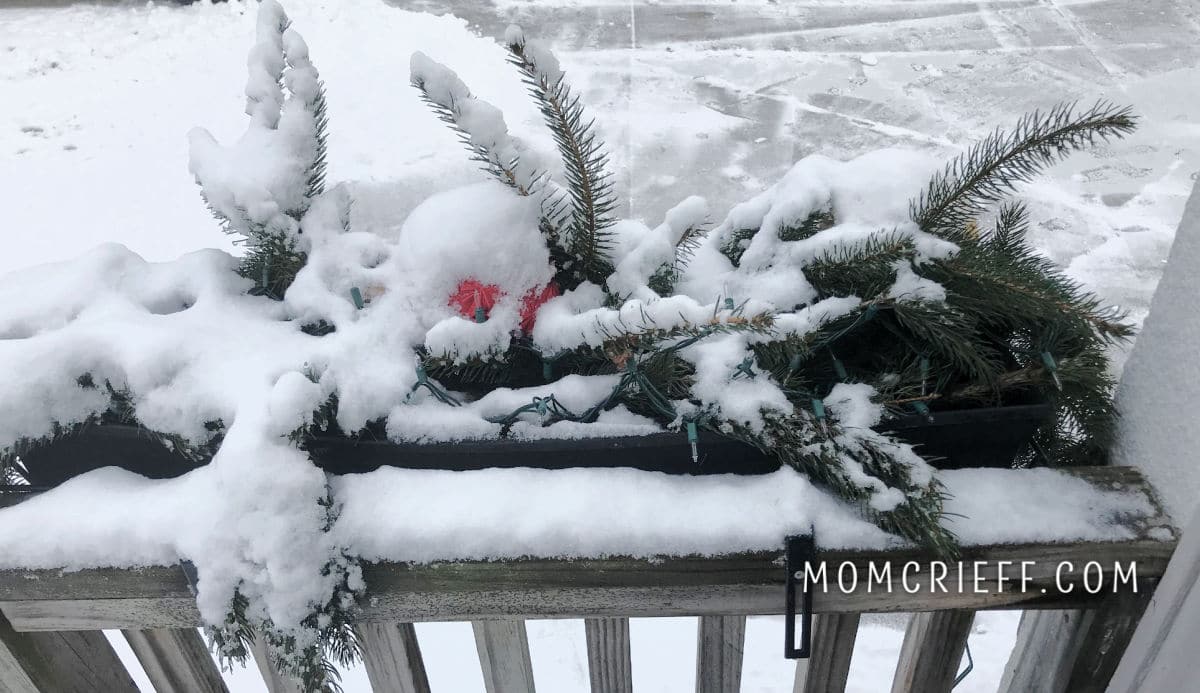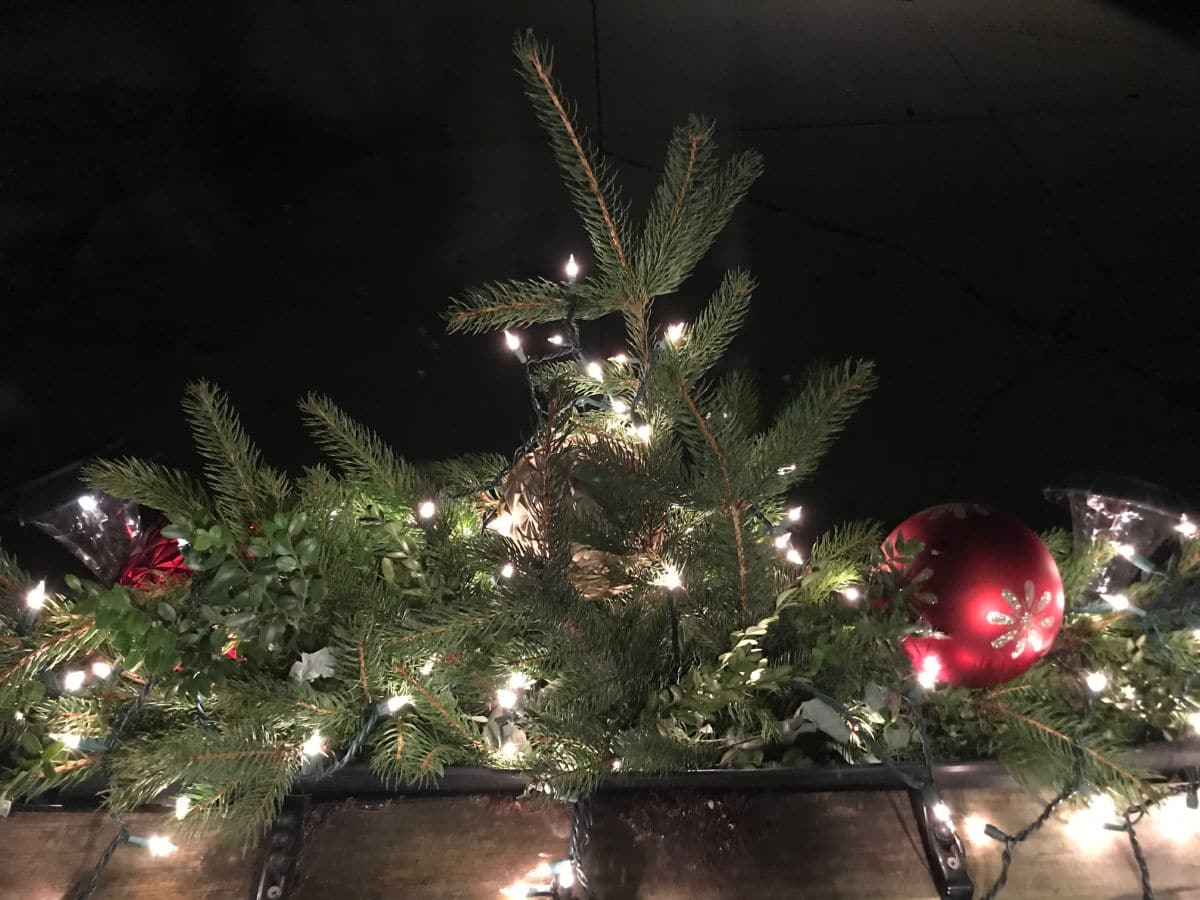 Here is my attempt at reusing birch branches. Good idea, not so good final product : (. I'll be trying again this year! It looks a little like I was trying to build a shelter or a campfire.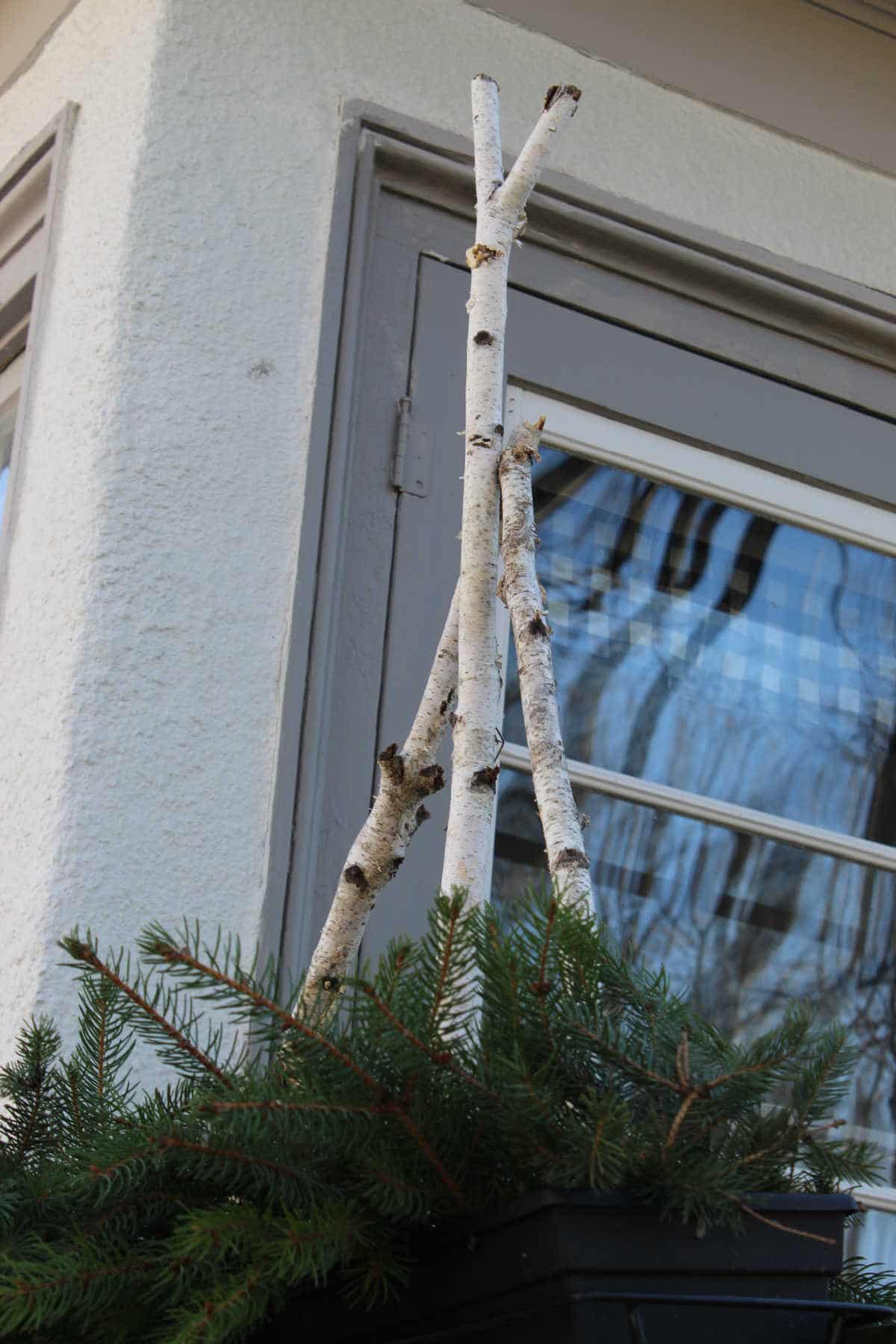 Keep experimenting and trying new things!
I shared the above because I wanted to let you know not everything always turns out. Even if you think you have a great idea!
Gardening in general (and window boxes and container gardens) all need some degree of trial and error to find success. Keep trying!
FAQ's
I want to plant a shade window box. What are some plant ideas?
Here is a whole post about shade plants. Most are perennials, and you should plant them in the ground so they survive the winter. 31 shade plants
My window boxes get so dry. How do I know how much to water?
Here is some excellent info for you: How to water your plants. There is a perfect inexpensive tool that helps you get it right every time!
How do I know if I am buying a sun or shade plant?
Those little plastic tags in the posts have lots of great info on them!
Other related posts
Looking for more ideas and inspiration? Take a look at these posts!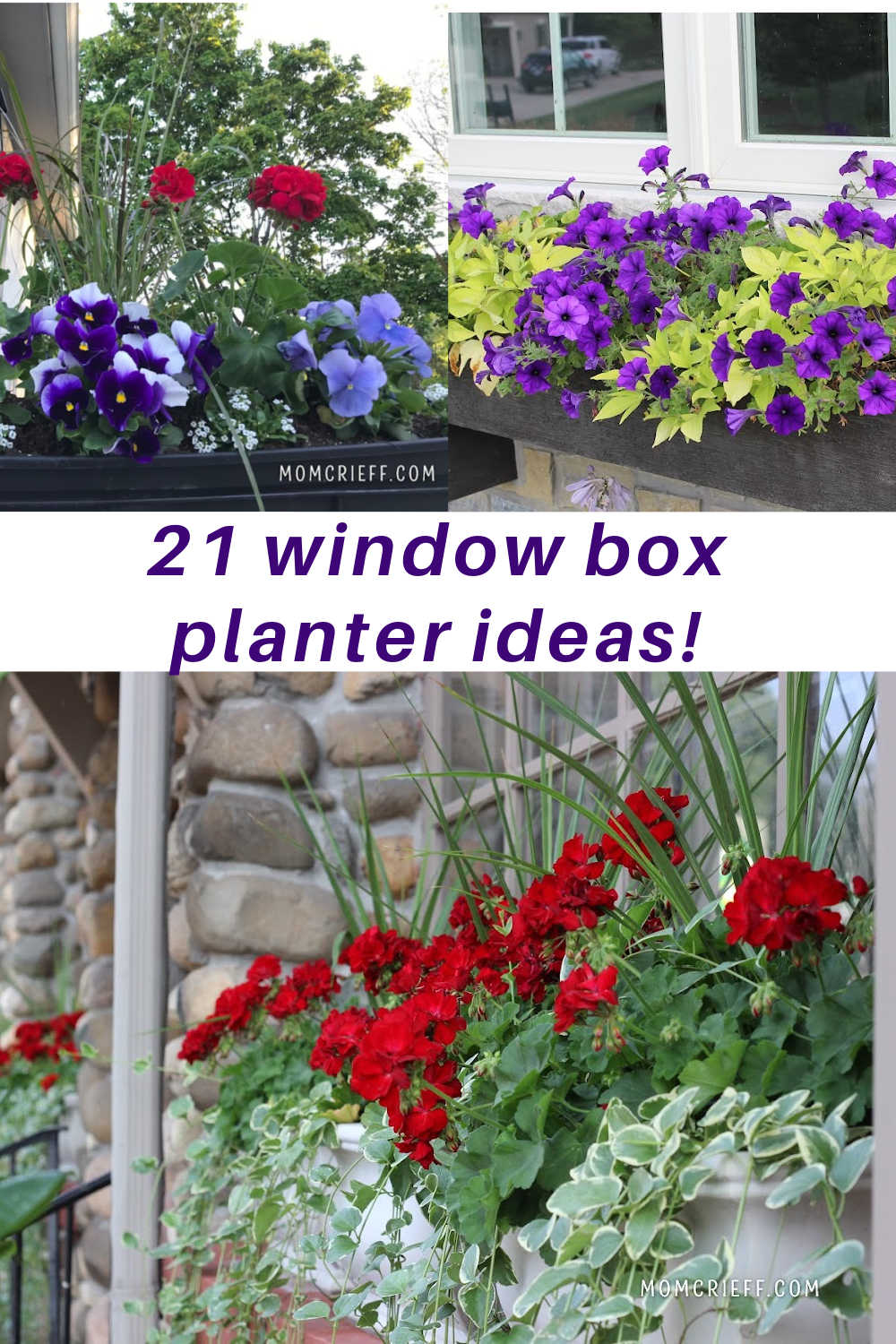 Keeping your hanging baskets watered!