Bits and Bites (aka Chex Mix or Nuts and Bolts)
Whatever you call it, the Bits & Bites, Nuts & Bolts mix is so good.  I was trying to describe this to a friend and they responded, "Oh, you mean Chex Mix." The name doesn't matter. The delicious, addictive taste is what matters!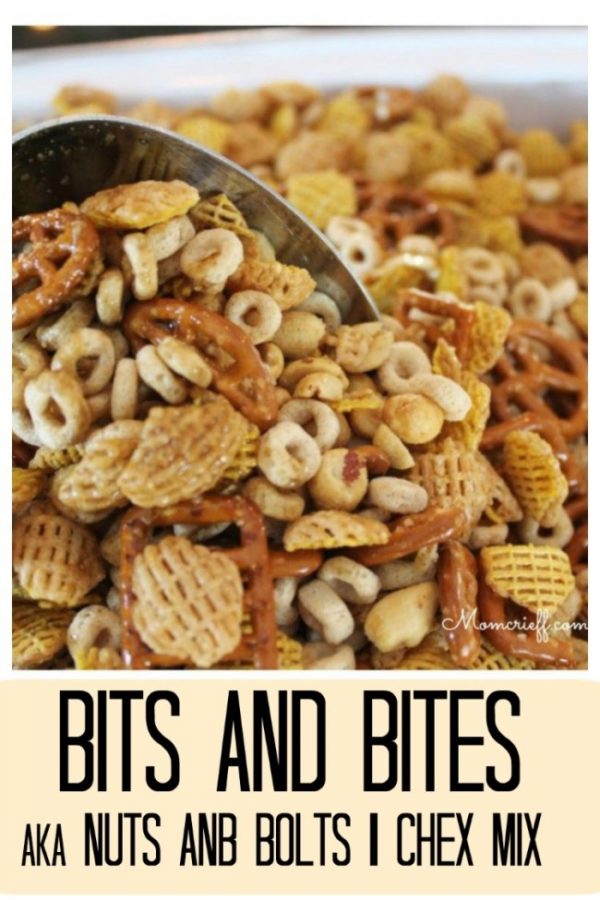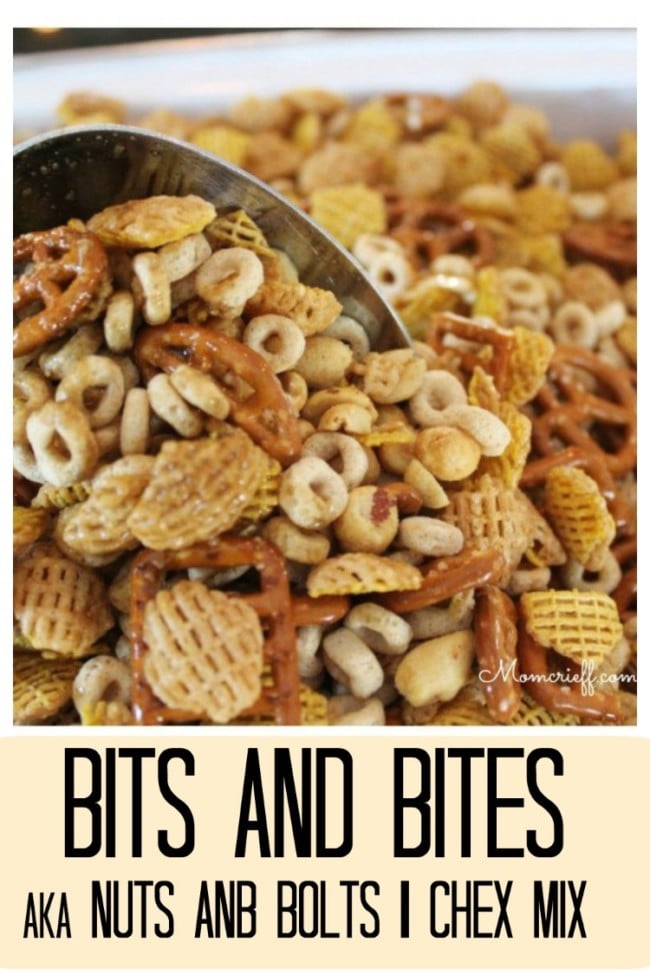 I do often use Chex Mix. Just not always. Not today. This is the beautiful thing about this recipe. It is versatile. You can adapt it. You season it for your family. I'll give you the ingredients I used and how I made it. Because you are awesome, I'll give you a couple of variations in the ingredients that I have tried or have considered but not yet tried. This makes LOTS because it gets better as it ages for a couple of days. Because I always give some away. And the bits & bites are always appreciated!
Prep time: 15 minutes
Active time: 1 hour (stirring every 15 minutes)
Total time: About 5 hours or overnight (passively sitting in the oven)
Makes: LOTS!
Ingredients
I large BAG of Crispex (If the Costco box, use only one bag - wheat on one side, corn on the other)
(or 2 boxes of Chex mix - one wheat, one corn)
1 large box of Cheerios
1 pound cocktail peanuts
1 pound pretzels (either small traditional ones or small sticks)
1 bag cheese puffs (In Canada, we called them Cheesees. Oh, how I miss them!)
(Ingredients can be customized to your family. Use a little less of other ingredients if you are substituting. Try Cheesits, goldfish crackers, and whole wheat Chex cereal. For the seasonings, you can also substitute onion salt for the celery salt).
1 cup butter (2 sticks)
½ cup light-tasting veggie oil (not olive oil)
1 Tablespoon celery salt
1 Tablespoon garlic salt (garlic salt, NOT powder)
1 Tablespoon seasoned salt (I like Lawry's)
5 Tablespoons Worcester sauce
Instructions:
Preheat oven to 250 Fahrenheit.
Get the biggest roasting pan you own. Or two of them. Or buy a couple of aluminum pans. As I mentioned earlier, this makes LOTS!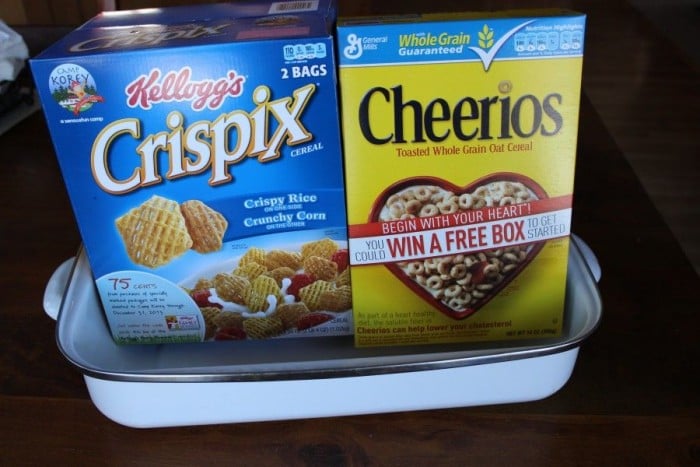 Mix all the cereal, peanuts, and pretzels together. These bits & bites are meant to be shared! It makes lots but stores well.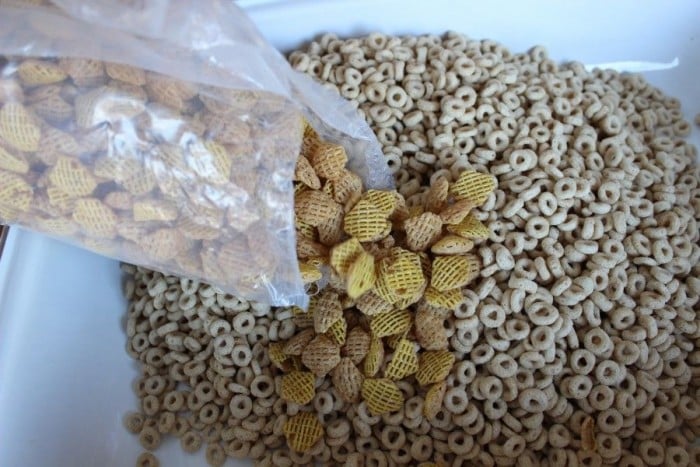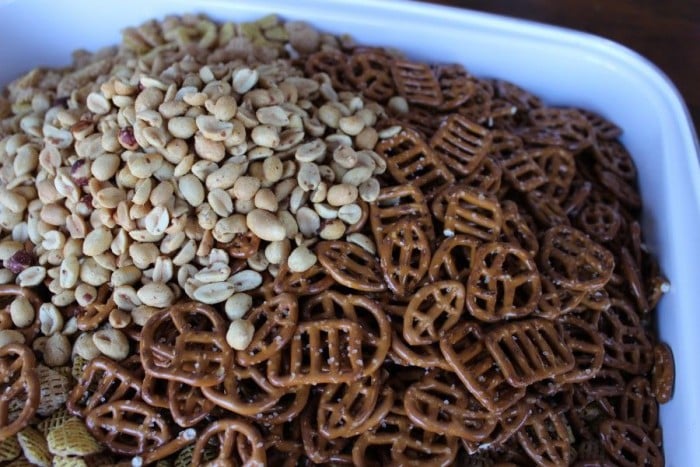 Wait with the cheese puffs. They don't do too well with all the seasonings poured onto them and with the heat. We'll add them later.
In a saucepan, melt the butter. Easy on the heat; you don't want to scorch it. Add the oil. The original recipe I received used all butter. I've reduced the total amount of oil already and switched some oil for the butter. I'm so confused! Is butter bad for you now? Was it, is it? I don't know! But you need it for this recipe. For some reason, it just tastes better than if you use all oil.
Add all your seasonings and Worcester sauce. Keep the heat low and keep stirring. About 5 minutes. The seasonings won't all dissolve. You are doing this so that the butter/oil mixture will become flavored with the seasonings. Mmmmmmm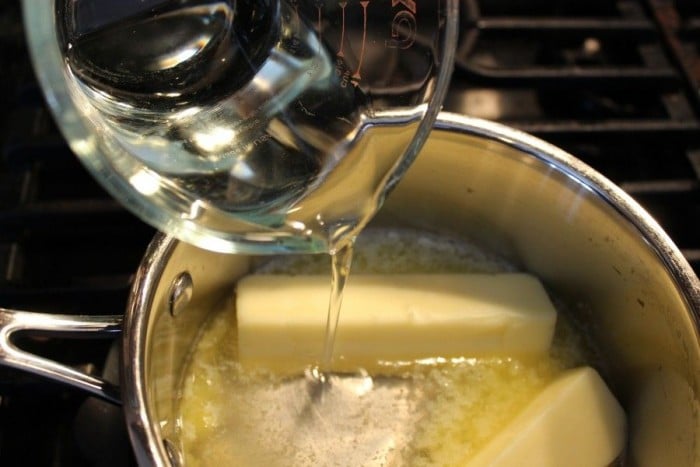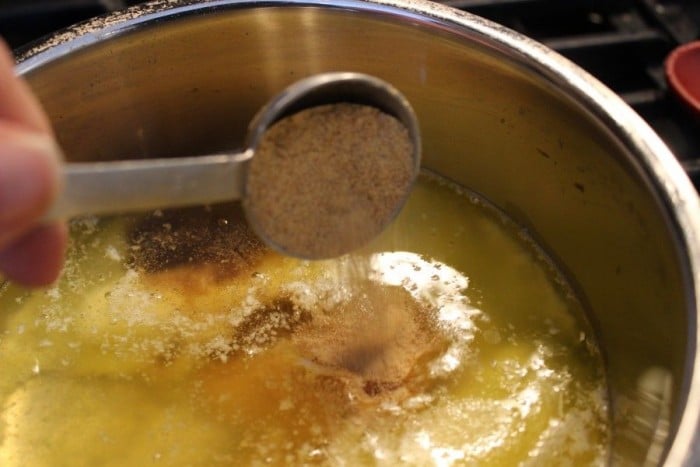 Take off the heat and let cool for a couple of minutes. Then, take a large serving spoon, stir your mixture of goodness, and make sure you grab a spoonful of the oil & seasoning mixture.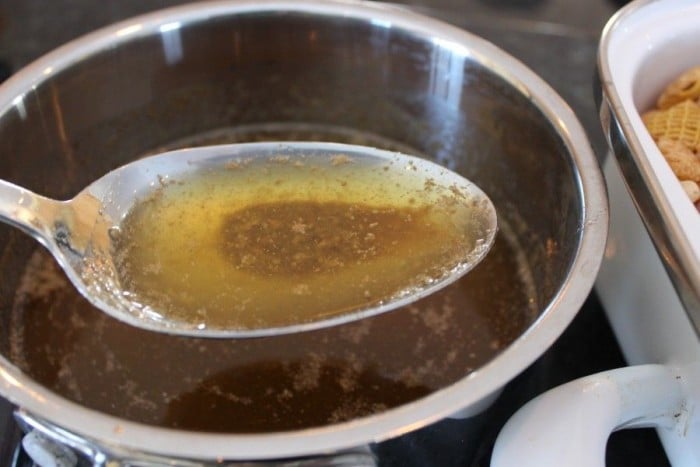 Drizzle over the top of the cereal mixture. Continue until you have used about ⅓ of your oil mixture.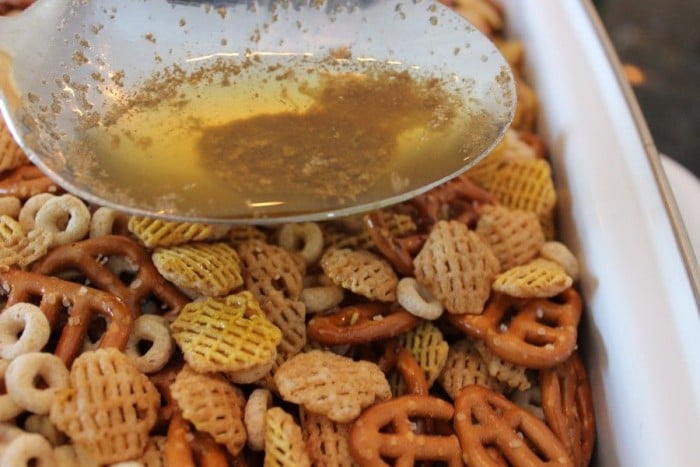 Then mix well. Put it into your preheated oven. After 15 minutes, stir the mixture well. Add some more of the oil and seasoning mixture. Repeat. After an hour in the oven at 250, turn the oven off and leave the mixture in there. Leave it for at least 4-5 hours or overnight. Give it a good stir every few hours unless you are leaving it overnight. You don't need to wake up in the middle of the night to stir it :).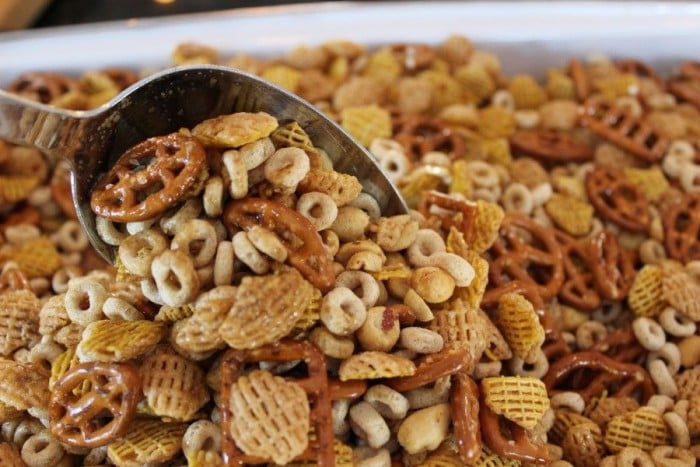 Now is the time to add your cheese puffs. Make sure you have the puffed ones. Not the hard, crunchy ones! Stir them into the mix. You may need to use an additional container or a big bowl. The cheese puffs will absorb some of the flavors when they are being stored.
Storage ideas:
1. That popcorn container you kept from last year.
2. Any large food container.
3. Gallon sized closable plastic bags (i.e. Ziplock)
I put mine in batches into gallon-sized closable plastic bags. Even if you put your bits and bites in a large container, I recommend using plastic closable bags. It just helps keep the flavors in and prevents staleness. If you keep them sealed, they will last up to about 2 weeks. If there are any left.