Black bean salad is a true summer dish.  I've also had the same thing but it was called Texas Caviar.  I've had it at other people's places for years and never really loved it.   I don't like raw onions or peppers (including red!).   Weird, I know!  So, I was looking for a recipe I'd like and I couldn't find one.  Some made their marinade with up to a cup of sugar!  I wanted a healthy bean based salad.  For some reason I now have a need for more fiber!  But, I didn't want this bean salad to be high calorie or high fat.  I just wanted it to taste good!  Well, I knew what I liked so I made my own marinade.  And I decreed that many ingredients are optional!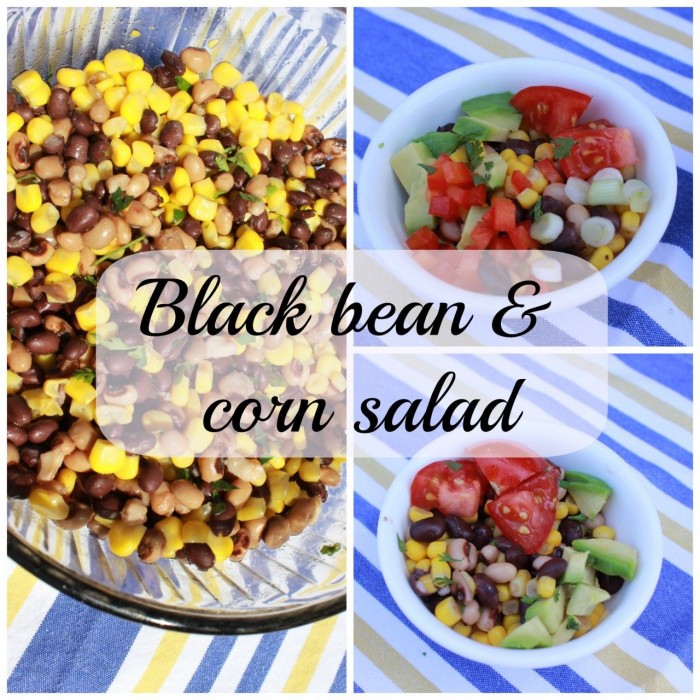 I figured out if I made a 'black bean base salad' and then added fresh ingredients to my daily serving, I could enjoy this for a week.   It is wonderful to have options when people in your household have different tastes.   Everyone can get the 'extras' that they like.  But, you don't have to eat what you don't like.   I don't want to tell you how many years it took me to figure out that this can be done to a few of my family's favorite dishes.
Print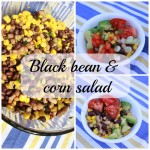 Black Bean Salad / Texas Caviar
---
Scale
Ingredients
The best part of this recipe is you can add only what you like!

1

can corn

1

can black beans

1

can black eyed peas
Marinade
1/3 cup

balsamic vinegar (or whatever vinegar you have/like)
Juice of

1/2

lemon

1/4 cup

olive oil

1 tsp

garlic salt

1/4 cup

fresh cilantro (or

1/2

cilantro &

1/2

parsley) – finely chopped
Optional ingredients
Avocado
Onions
Tomatoes
Green onions
Peppers
---
Instructions
Mix marinade in a jar so you can shake it (or small bowl so you can stir it).
I like the taste of onion but not biting into a raw onion. I add thinly sliced onions to the marinade but discard the onions prior to pouring over the bean/corn mixture.
Let the mixture sit for about 1/2 hour (stir or shake every few minutes)
Dump corn, black beans and black eyed peas in a bowl.
Don't those black eyed peas look like beans??
Mix these three together.
After marinade sits for a bit, pour over black bean mixture. Stir regularly so that marinade coats everything. Let the beans and marinade become friends for at least a couple of hours before serving. Personally, I'd make this the day before.
The bean/marinade mixture can be kept in the refrigerator for about a week. I bet longer but I just don't want to try 🙂
Extras can be added! Add fresh just prior to serving.
I love mine with avocados and tomatoes.
My husband loves much more flavor and variety. Avocado, onions, tomatoes and red peppers.
---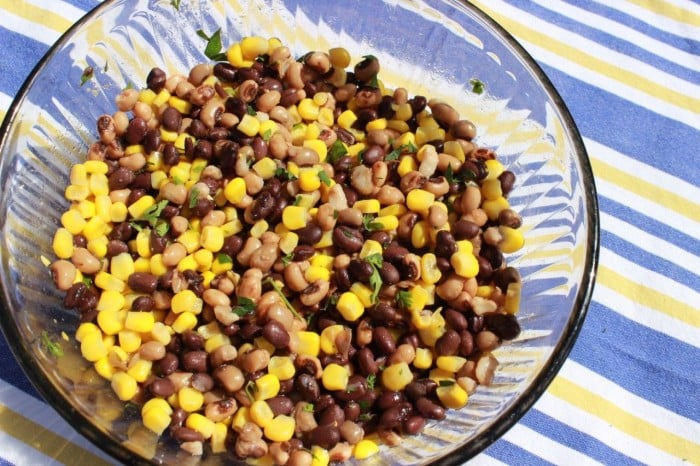 I hope you enjoy this black bean salad recipe.  It's great to keep in the fridge and enjoy a few times during the week.  Just make sure you add your fresh ingredients the day you serve it.
Let me know what other optional ingredients you love!