Special K bars are a delicious chocolate & peanut butter cereal bar treat. They have a chewy texture and are a delicious no-bake dessert bar. Easy to make and take less than 30 minutes to put together!
These have been a family favorite for years! The chocolate and butterscotch frosting is divine! If your family loves fun cereal treats, try these Apple Jacks apples. They are great year-round but especially fun in the fall! If it's a peanut butter craving you are having, make these three ingredient peanut butter cookies.
Table of contents
The difference between Special K bars vs Scotcheroos
It's easy! Special K bars use Special K cereal as the base.
Scotcheroos use Rice Krispies cereal. Technically Scotcheroos are a Rice Krispie treat. To many people, the terms are interchangeable.
Ingredients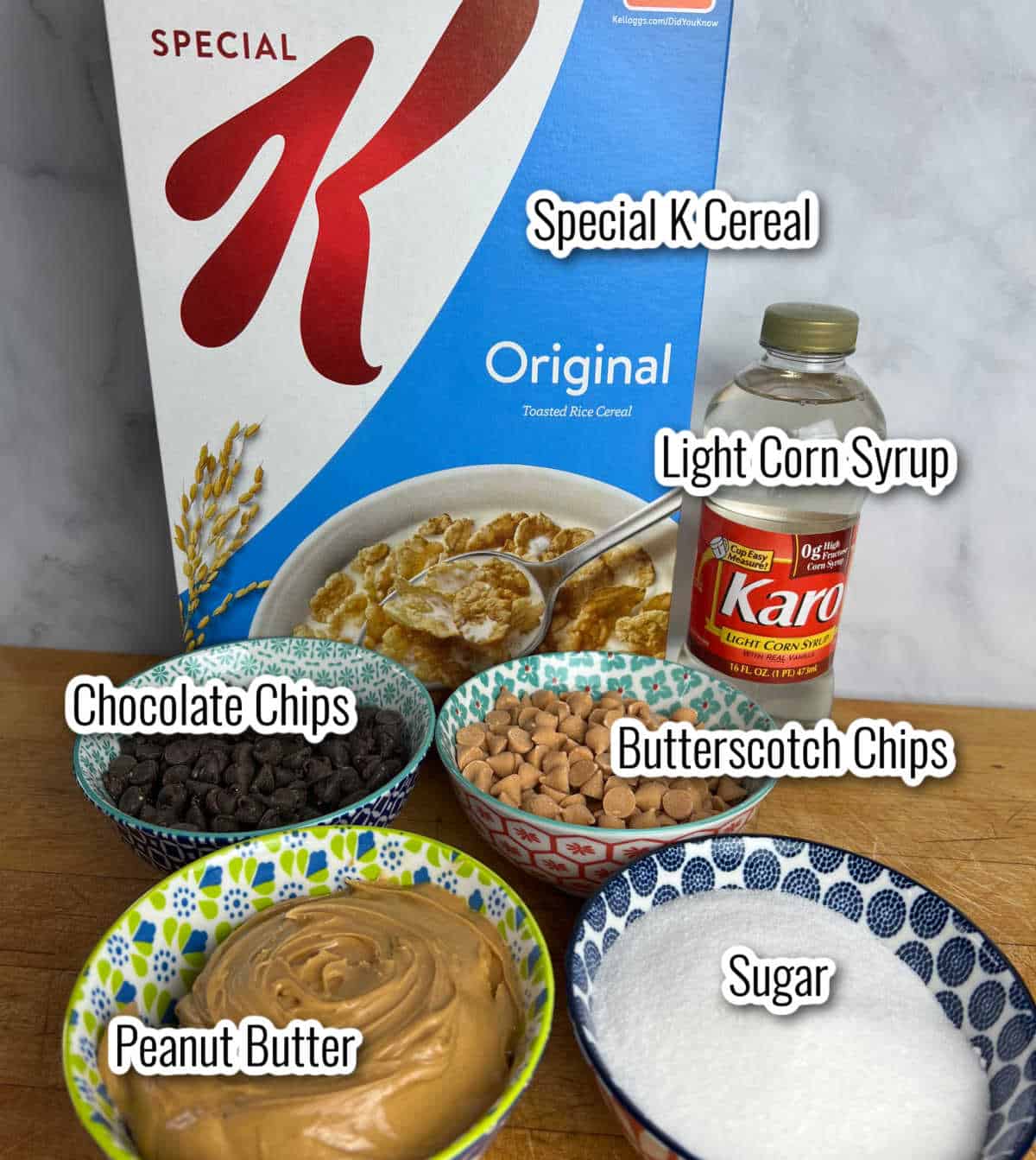 Special K Cereal
Light Corn Syrup
Smooth Peanut Butter
Butterscotch Chips
Chocolate Chips
Sugar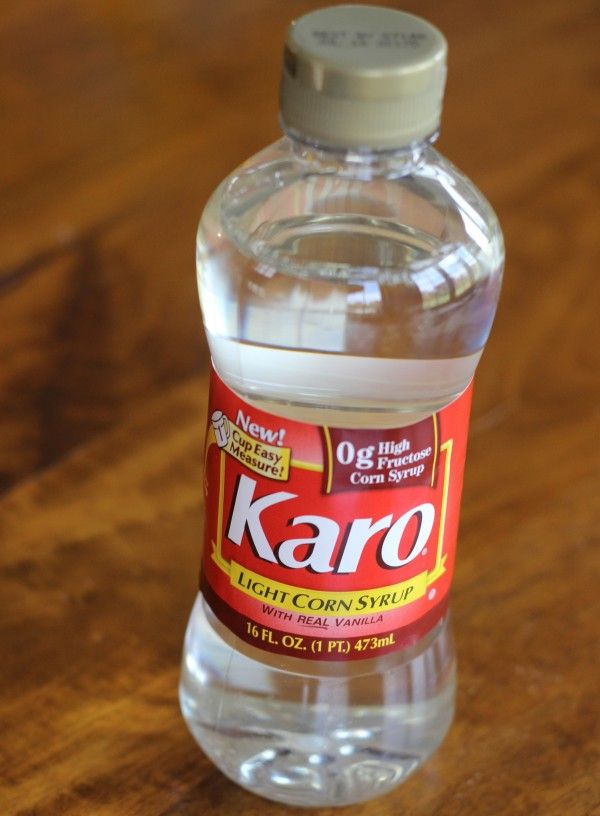 Hint
Use a commercial type smooth peanut butter (Use a brand like Jiff or Skippy). Don't use all-natural peanut butter because the recipe may not turn out as well.
Instructions
Work fast with the following steps. If you let the ingredients boil too long or too hard, the final bars can be hard.
Step 1
In a large saucepan, add light corn syrup and sugar. Heat on medium heat until just melted and starting to boil. I usually watch for the bubbles on the side of the pot. Add peanut butter and stir until just smooth.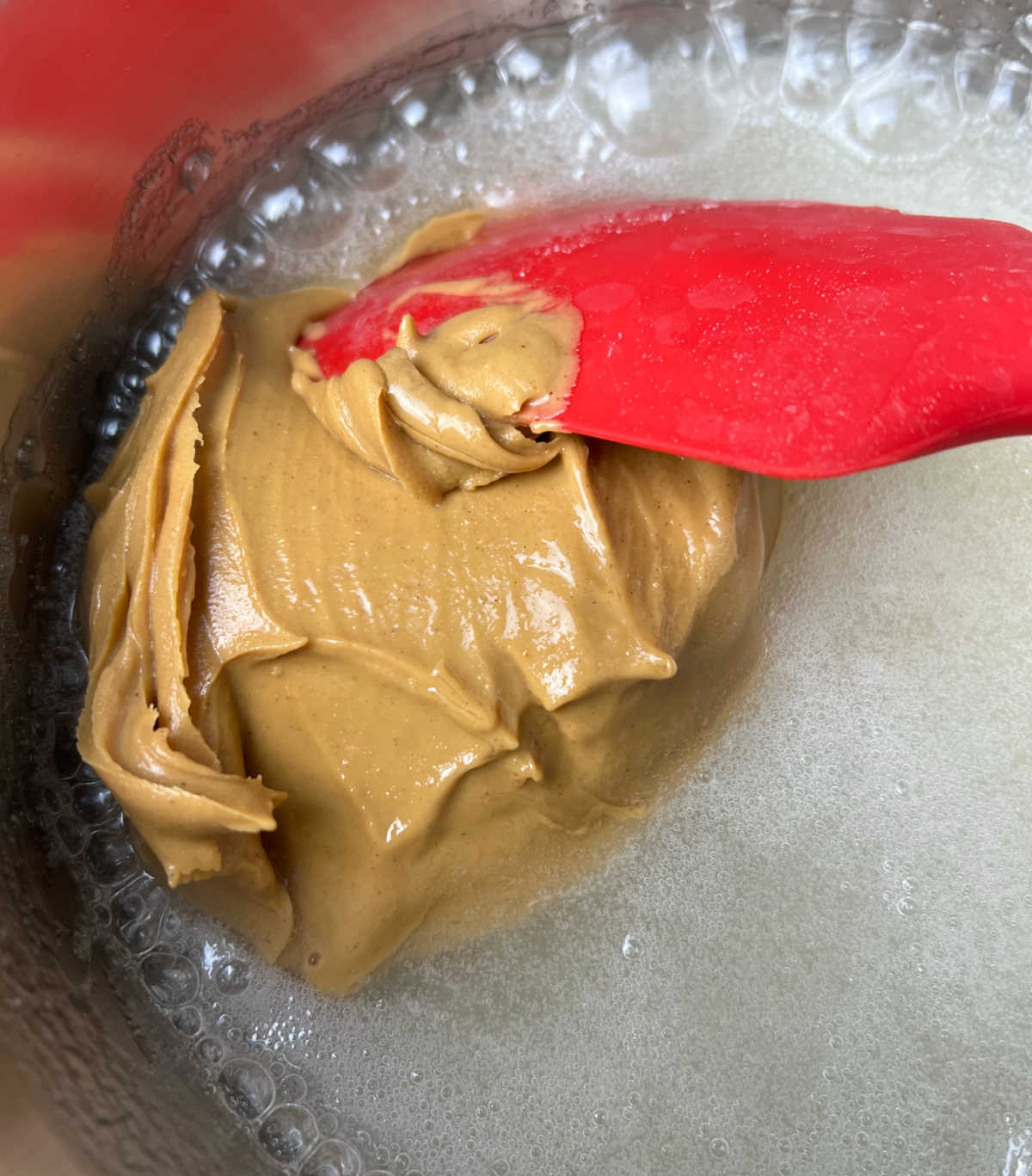 Step 2
As soon as you have added the peanut butter, turn the heat off. Stir until smooth and remove from heat. Do not overheat this mixture, that is what can make these bars hard.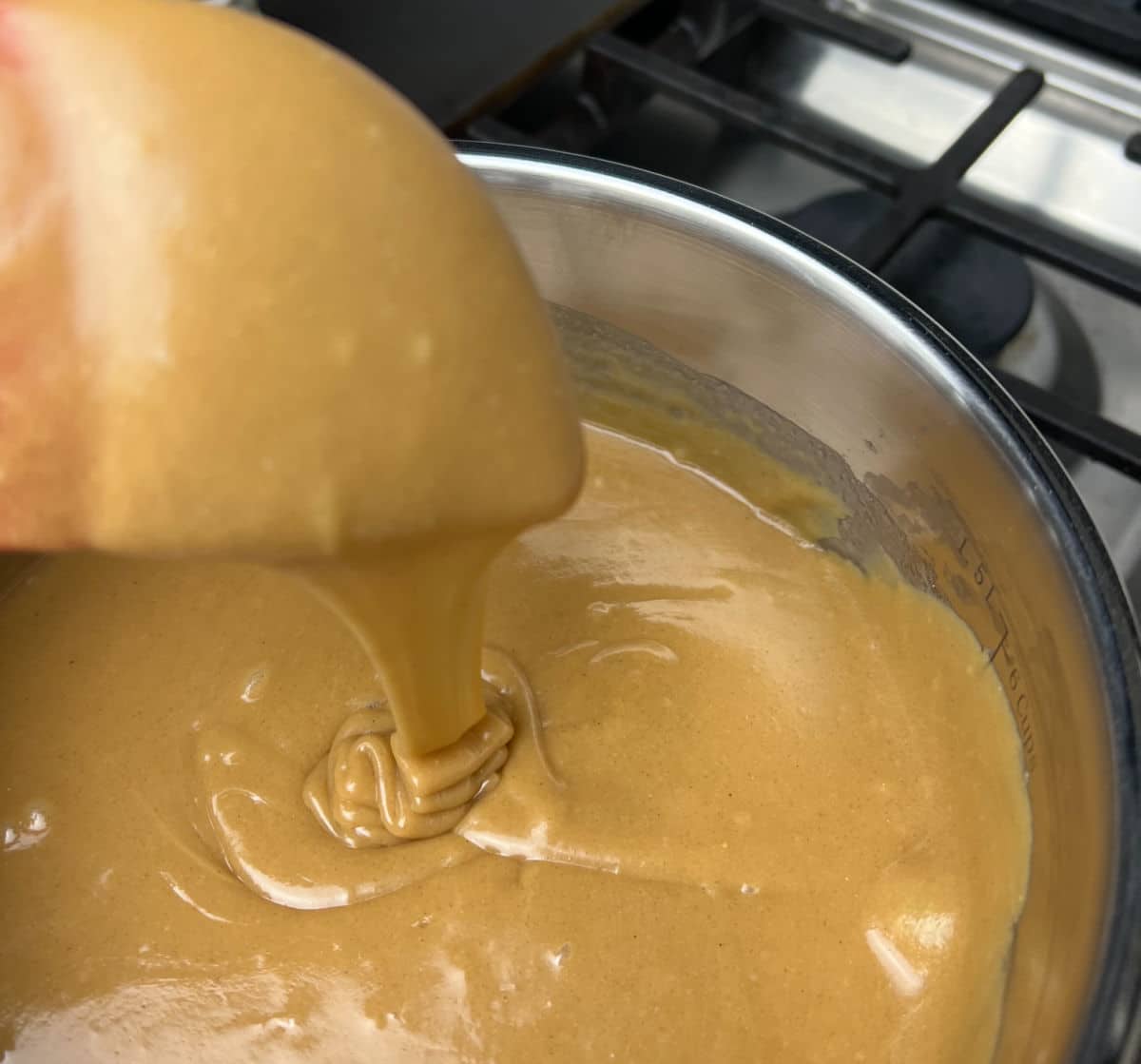 Step 3
In a large bowl, add the sugar and peanut butter mixture onto six cups of Special K cereal.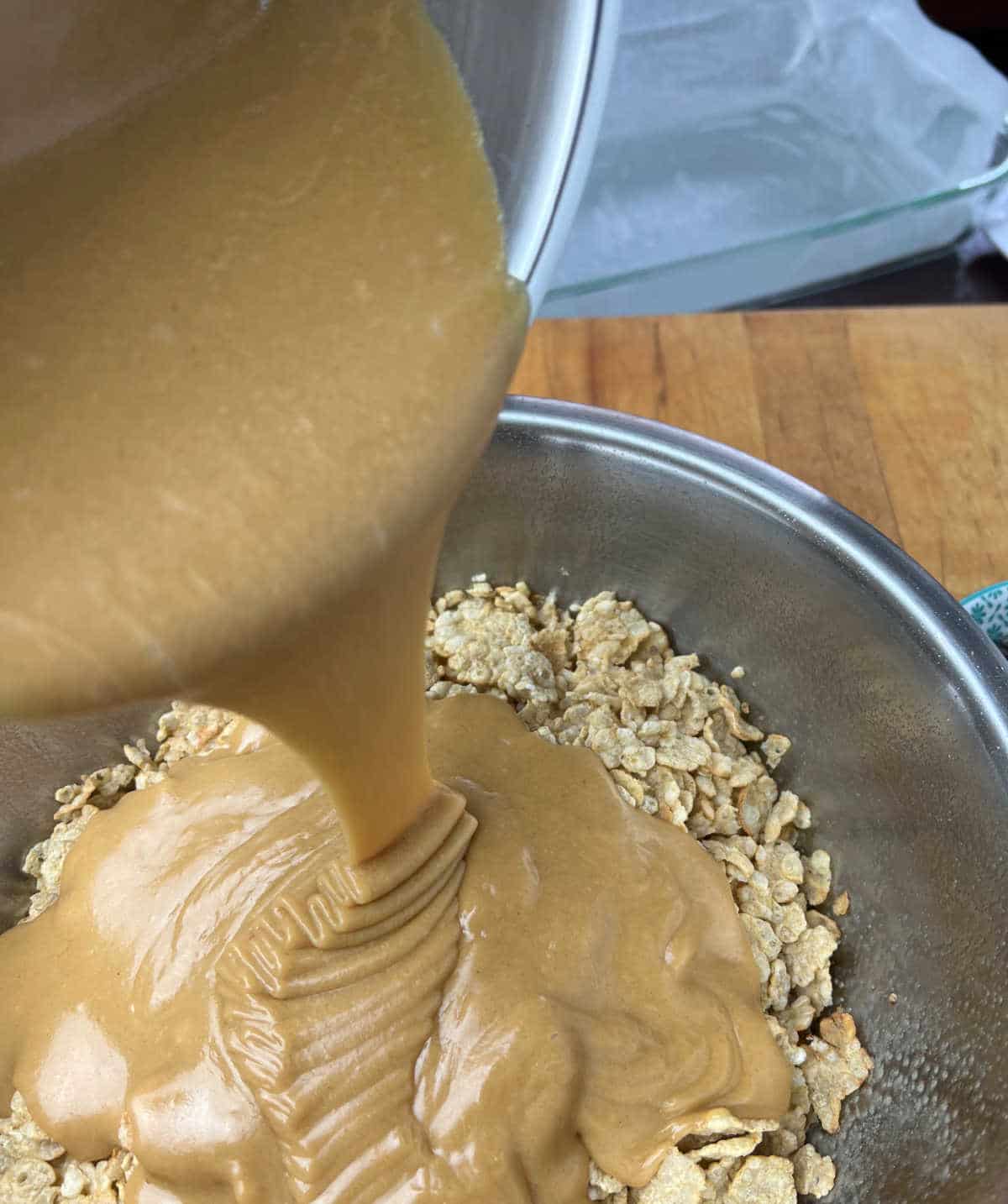 Step 4
Dump the cereal, peanut butter, and sugar mixture into a well-sprayed or lined 9 x 13 casserole dish. I line the casserole dish with parchment paper. Use a the back of a greased spoon to flatten the cereal mixture in the dish.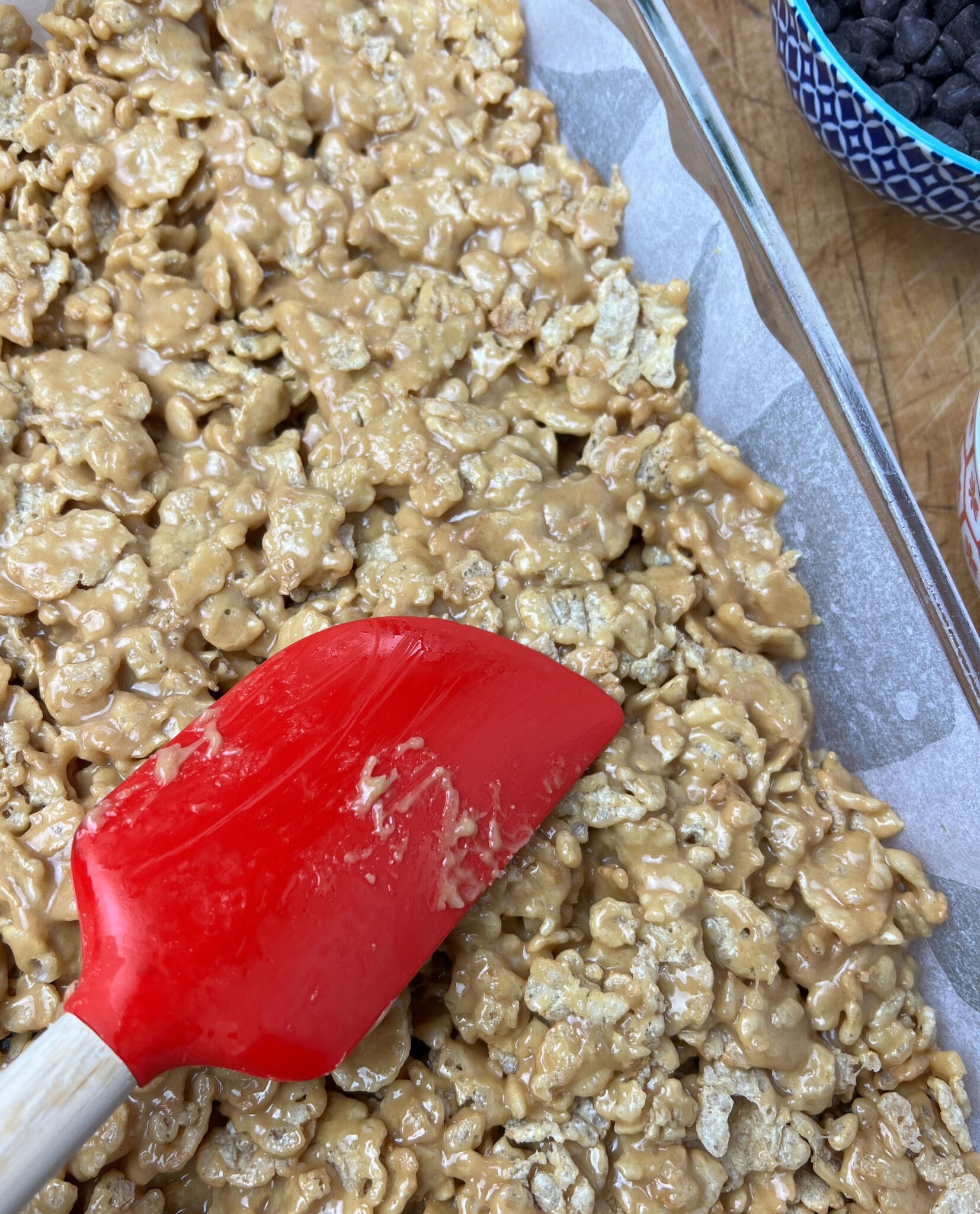 Step 5
Melt the chocolate chips and butterscotch chips together. You can melt on a stovetop with a double boiler or by using a microwave. Use just enough heat to melt or the chocolate will seize.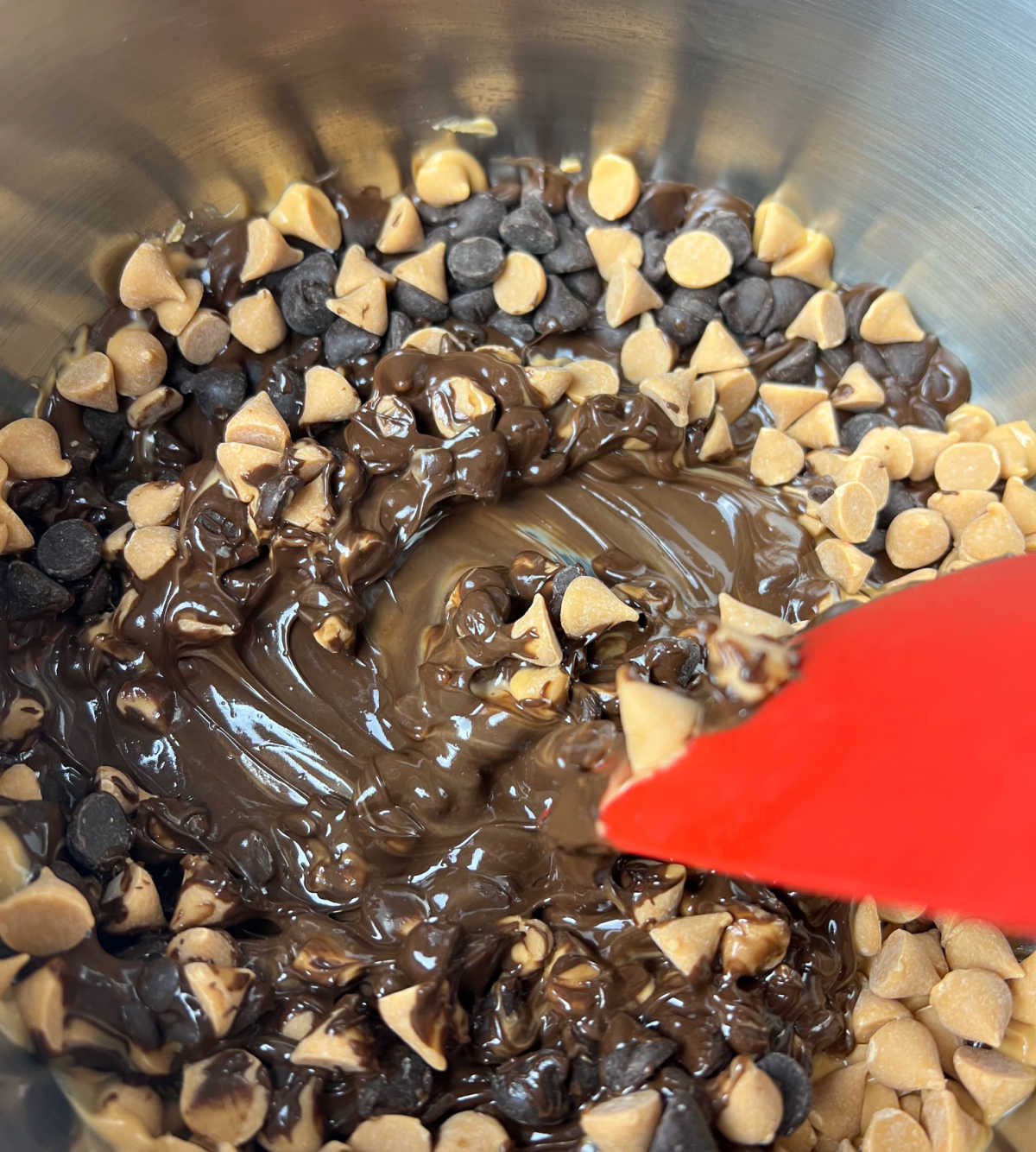 Step 6
Pour melted chocolate and butterscotch chips on top of the cereal mixture, spreading quickly so you have a nice thin even layer. Work quickly so the chocolate doesn't harden before it's all spread. It is a thin layer and just covers the cereal mixture..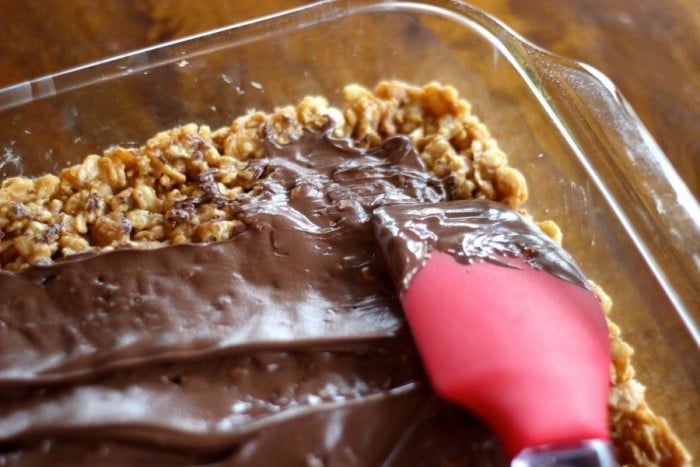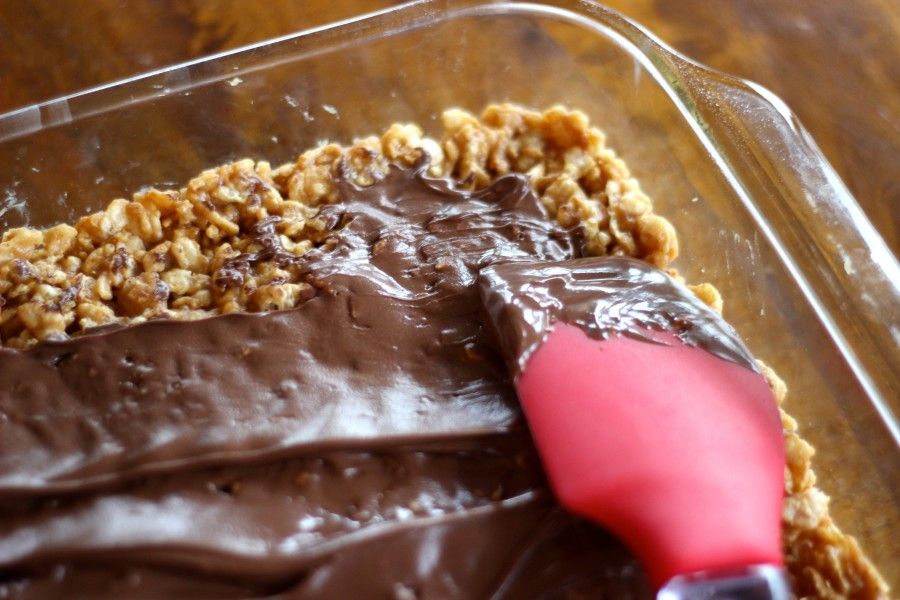 Step 7
Cool slightly and then cut into squares. It normally takes at least an hour in the fridge to fully cool. The reason I like having parchment is you can take out everything in one piece. Then it's easier to cut into squares.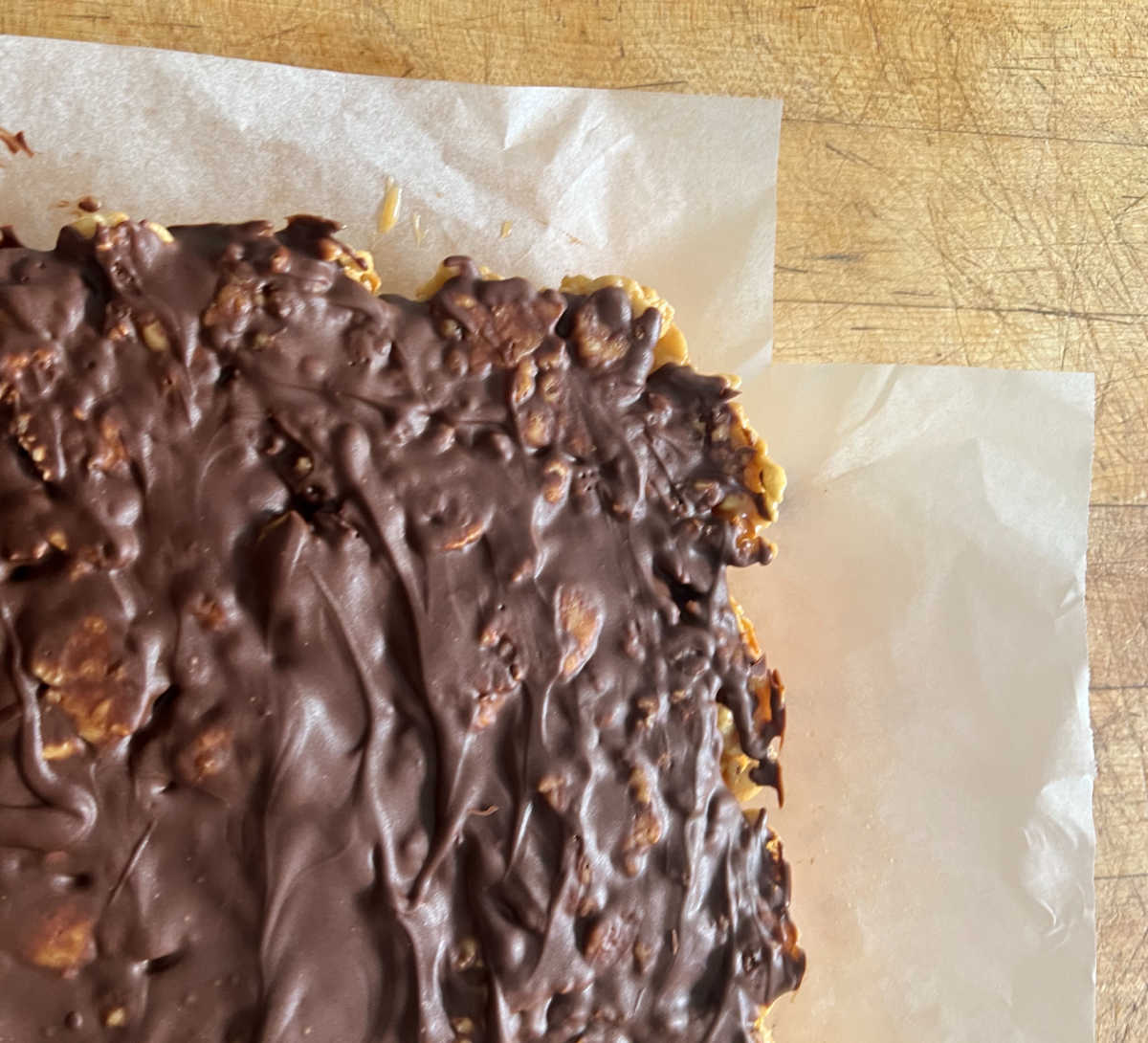 I like cutting it into smaller pieces, roughly 2 square inches.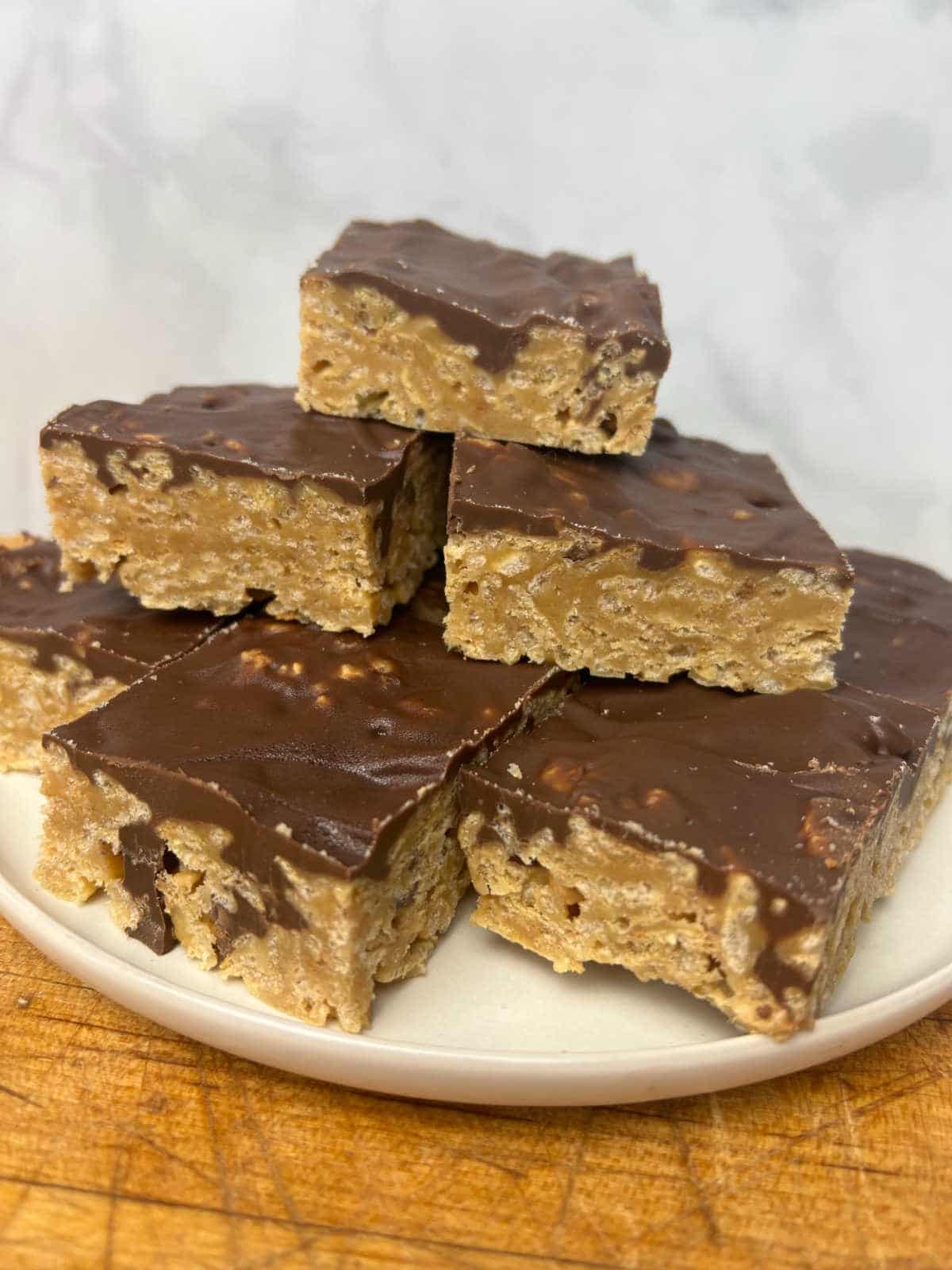 If your family loves peanut butter desserts, they will love these three ingredient peanut butter cookies!
Storage Tips
Store in an airtight container at room temperature for up to 4 days. They can be refrigerated but should be allowed to come to room temperature prior to eating or they will be hard.
Wrap well if freezing. Make sure to give enough time to warm to room temperature prior to eating.
FAQ's
Why do these turn out hard sometimes?
Make sure you don't boil the sugar, corn syrup and peanut butter mixture. It needs to be heated enough smoothly cover the cereal but you are not cooking it.
Can I use rice crispies or corn flakes?
Yes! Some folks insist the cereal needs to be Special K cereal. I believe you can use what you have!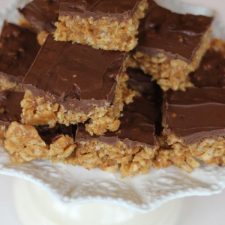 Special K Bars (Scotcheroos)
A delicious peanut butter & chocolate dessert with a Special K cereal base. Easy to make and a no-bake recipe. If you like peanut butter with chocolate, you'll love these!
Print
Pin
Rate
Ingredients
1

cup

light corn syrup

1

cup

sugar

1

cup

Peanut butter

6

cups

Special K cereal

1

cup

butterscotch chips

1

cup

chocolate chips
Instructions
In a large saucepan, add corn syrup and sugar. Bring to a gentle boil and stir for about a minute.

Add the peanut butter. Stir until well combined and take off heat

Add peanut butter mixture onto 6 cups cereal in a large bowl.

Stir gently until cereal is evenly coated.

Press into a greased 9 x 13 baking dish.

Gently heat both the butterscotch and chocolate chips until melted. You should use a double boiler. I just use a heavy saucepan and low heat but I watch it very carefully and constantly stir. Don't overheat or the chocolate changes texture and isn't smooth.

Once the chips are melted, pour over the cereal mixture and spread evenly. It's a fairly thin layer and that's all you need!

Place in refrigerator to cool - about an hour.

Cut into small squares (or large ones if you are feeding teens 🙂 ).
Notes
Make sure to work fast putting this recipe together.
Three Ingredient Peanut Butter Cookies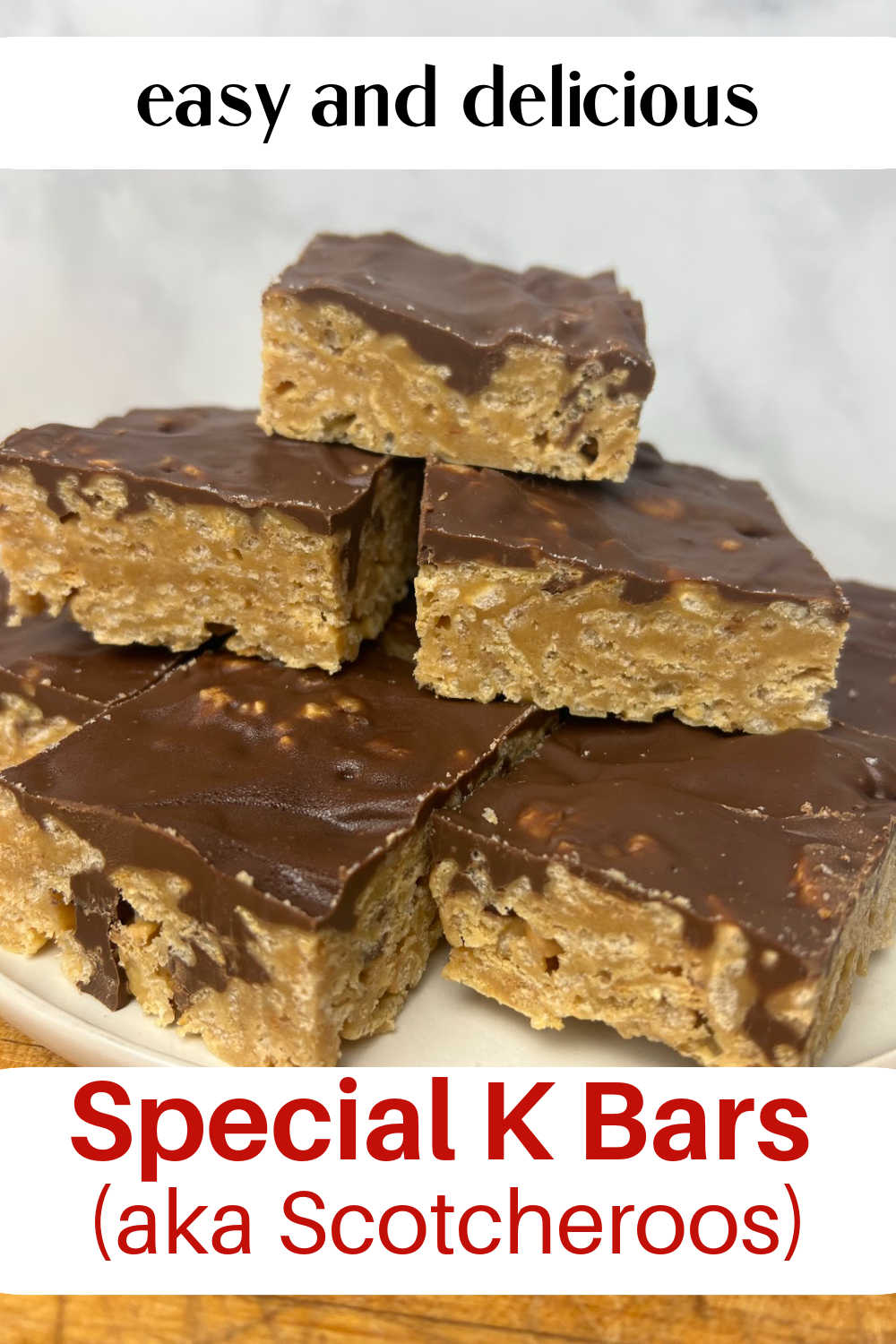 **Initially published Oct. 29, 2014.