This post contains an affiliate link.

Apple spice muffins would taste sooooo good, I thought.  I was surveying the kitchen trying to figure out how to use up some of our produce before our spring break.  I had apples that were past their prime.  I also noticed I had apple sauce and spice cake mix in the pantry.   Hmmm, I tried out what I thought would work and it worked perfectly!  It made 12 good sized flavorful muffins.  With little chunks of slightly crunchy apples.  I love the slight crunch of the apple pieces in the muffins.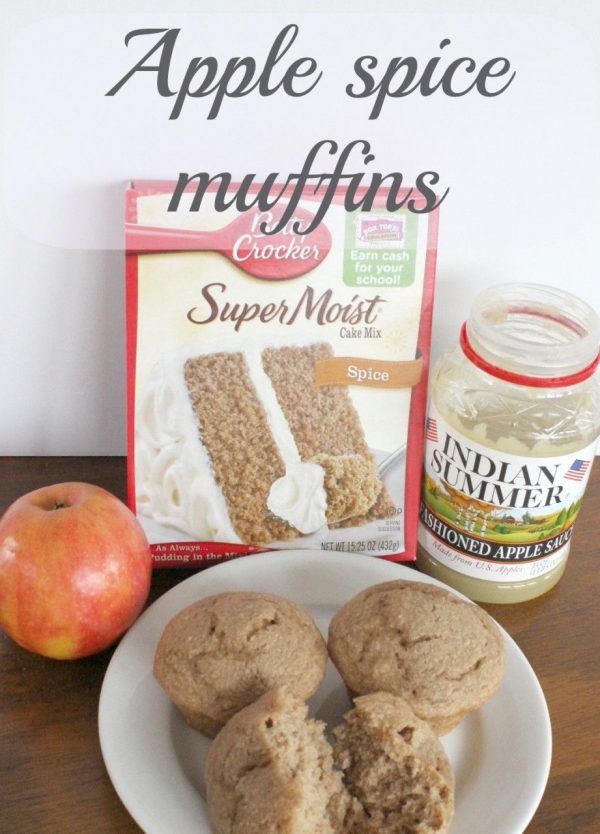 | | |
| --- | --- |
| | |
Preheat oven to 350 Fahrenheit.

Peel and chop apples so they are about 1/4 inch pieces. You don't need to be exact!

Add chopped apples and a big teaspoon of cake mix into a bowl. Stir to cover apple bits. Set aside

Add 2 cups of apple sauce to cake mix. I needed a mixer to combine well. About 2 minutes on medium.

Add the cake mix coated apple bits to the dough.

Spray your muffin tin with Pam.

Scoop a large scoop of dough into each muffin well. To about 3/4 full.

Makes 12 nice sized muffins.

Bake for about 18-20 minutes, until toothpick comes out clean.

Here they are, fresh oven!
These are really filling muffins.  You'll notice they are heavy.  That would be from the real apple pieces.  The apple sauce and the apple pieces guarantee that this recipe creates a moist muffin.
Can I tell you about a tool that I absolutely LOVE when making muffins?   About 2 weeks go I purchased a big scoop.  It makes portioning the dough so much easier and less messier.  I always hated the drops of dough between the muffins wells.  That doesn't happen with this tool.
If you make muffins or cupcakes, treat yourself to one of these!  I LOVE mine!!
Google+