Wow, my friend Amy is so talented!   And lucky for us, she's willing to let us see what she does with that talent!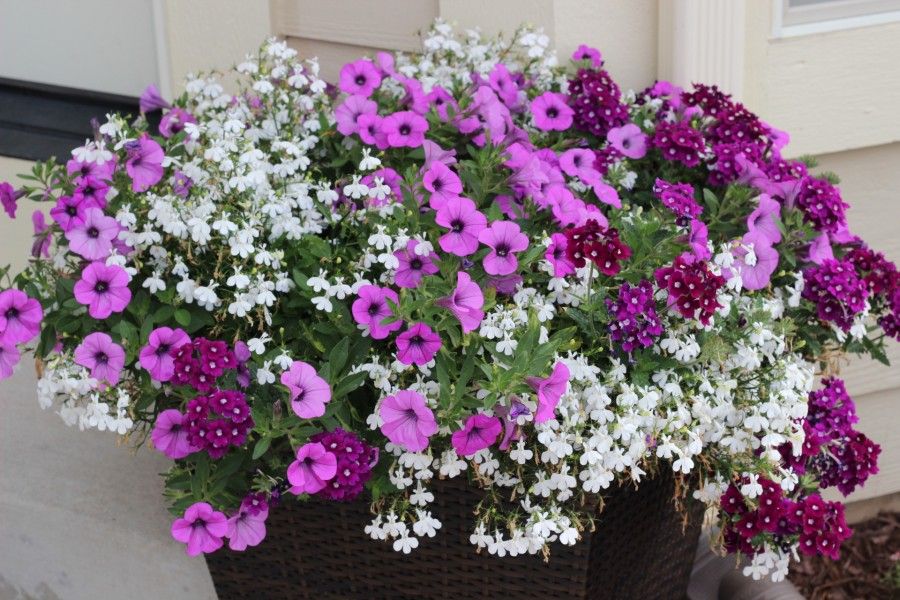 And her front door.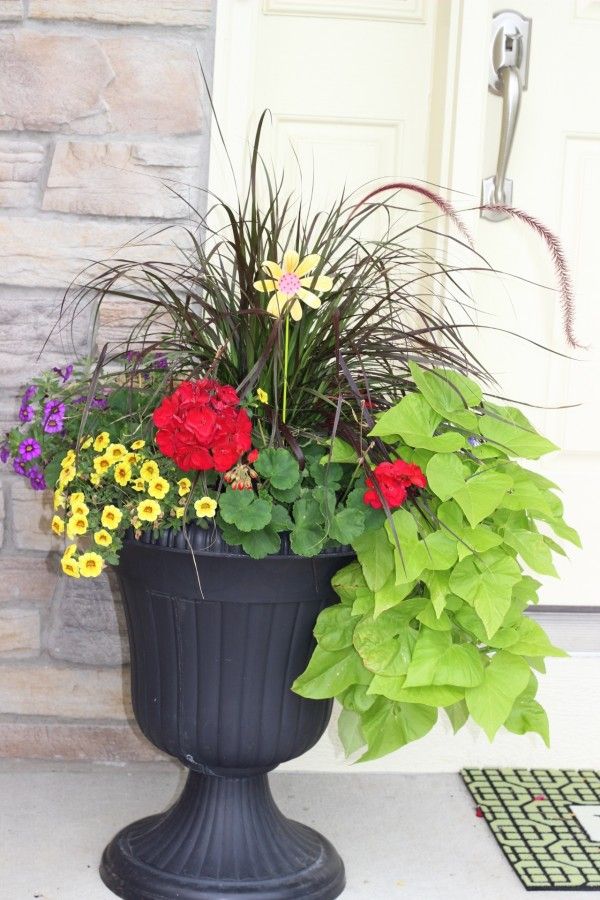 One of my favorite "Welcome" planters.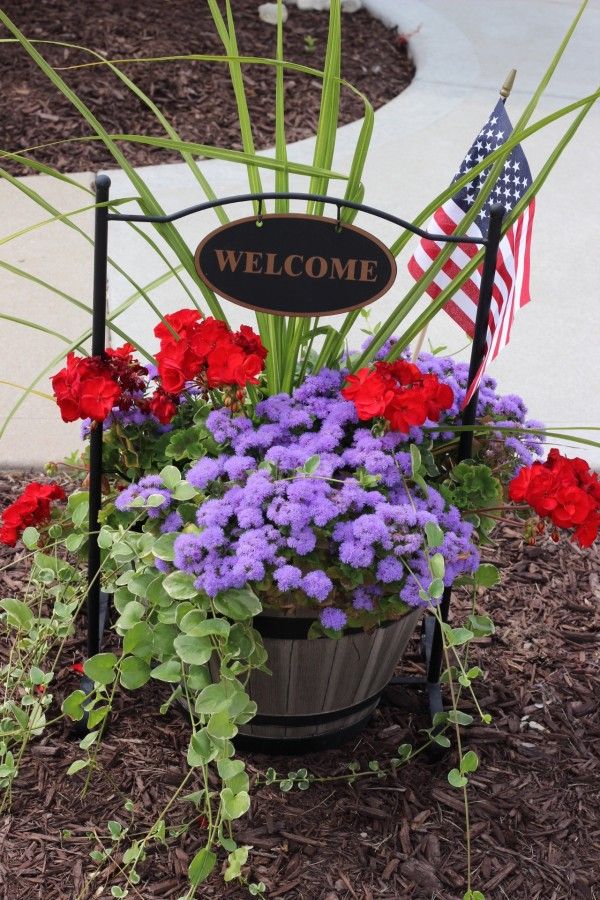 I know it was purchased like this but the planter just really works in it's location.  Plus it's pretty.  And, right in the scorching sun.  So, I'm impressed it keeps looking this good!
Here is the window box I showed being planted in in previous post. Isn't it pretty and full now?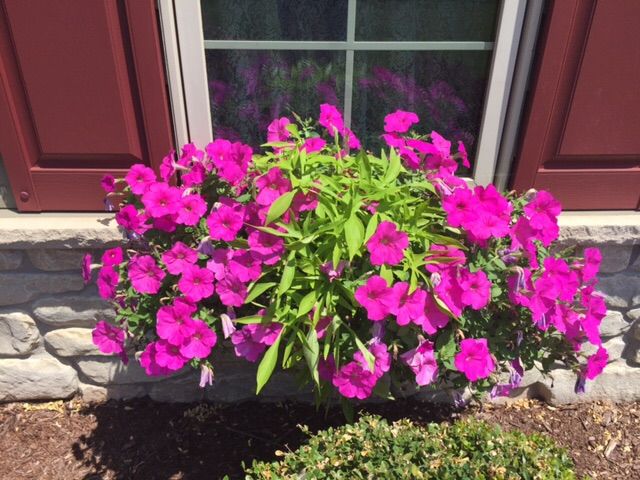 Look at the pretty color it adds to the house!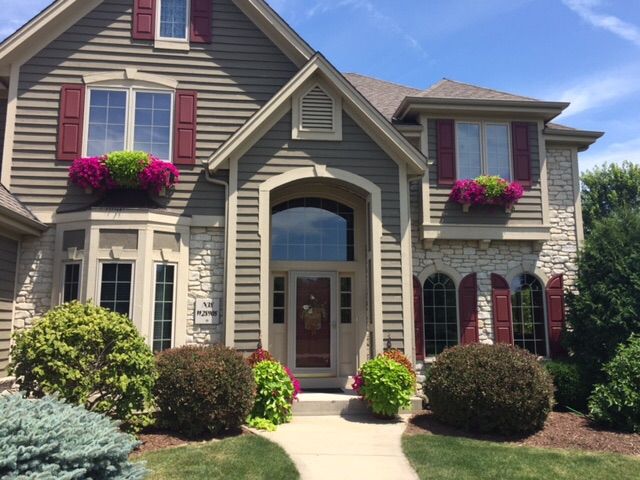 How smart to have the builder add window boxes when the house was being built!
A few more to show you! I just love looking through my flower pictures in the winter. It helps cheer me up then.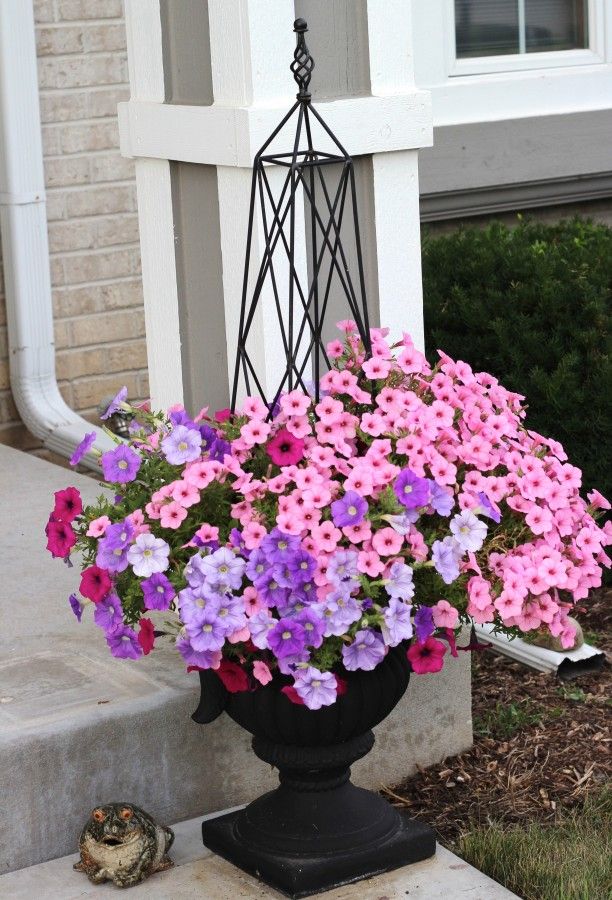 This is so pretty because of its simplicity.  Plus, I like the little ceramic frog :)!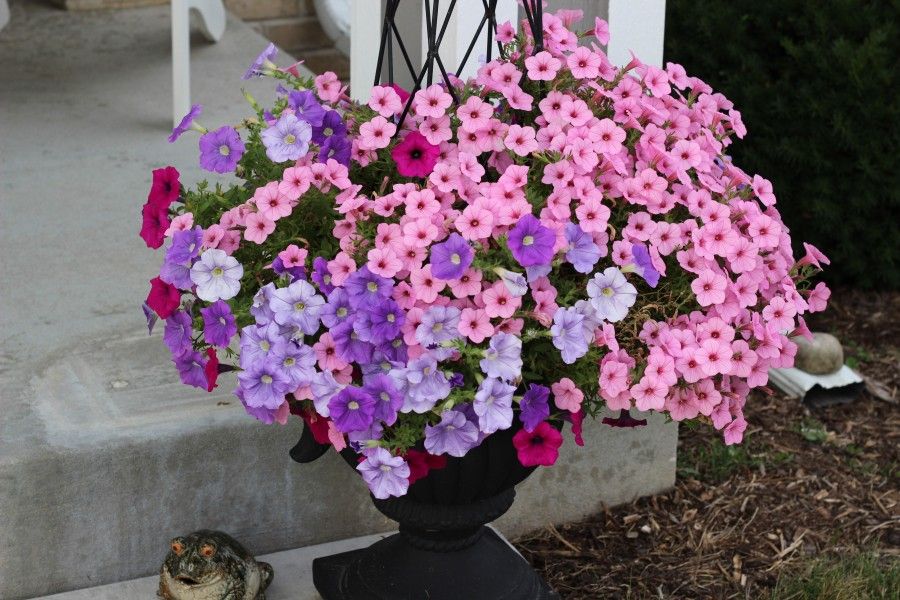 Looking for some tips and hints on how to put together beautiful flower planters?   As I was taking pictures, I was chatting with these green thumbed people.  Are you surprised I was chatting?  Well, you shouldn't be : ).    Click through on the button to get to the section with the hints and tips for putting together your own planters.   Many people had the same advice so I'm defiantly going to follow the seven tips listed.
Keep reading to get advice I am sharing on how to successfully plant a flower planter!  Simple tips that will help your planters look great!
One more pretty planter to look at and then I have provided you with the list of advice given to me by my friends.  I summarized the advice for you.  If you follow it, you will have amazing flower planters too!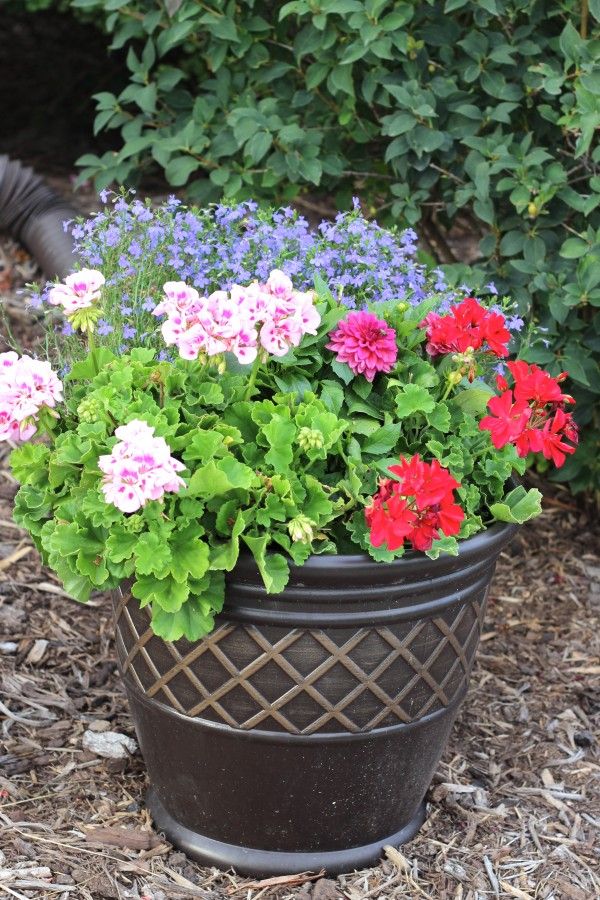 Now, I did promise you tips and hints.
1. Everyone seems to be a fan of Miracle Grow. And, they use it more frequently than the directions state. It's commonly mixed at the strength recommended on the bag, but fed every one to two weeks. Because our season is so short and the planters can only hold so much.
2. Water frequently. Especially during the hot and sunny days. It was not uncommon for some of these plant lovers to water a couple of times a day during a heat spell.
3. Trim those plants.  The last couple of petunia pictures were taken on Sept. 7th.  They were still going strong when most other's were scraggly and droopy.   They were cut back about two weeks prior.   And, I was also told to make sure to regularly trim the sweet potato vines.  They looks so much better when it isn't dragging on the ground.
4.  Beware the sun.  Sometimes, the planters need to be pulled into shadier areas to give them a little break.
5.  Deadhead.  A must for geraniums.  Even petunias benefit from deadheading.   It doesn't take long if you do it regularly.
6.  Lastly, but one of the most important tips.  Buy great plants from a good source.  A weak looking plant never seems to do really well.  Make sure you buy healthy looking plants from a reliable source.   Not sure where a good spot is to buy?  Ask your neighbors, who have plants you admire, where they buy their plants.
7.  People that have beautiful planters aren't "lucky".  They do something for them almost every day.
Momcrieff - Home page