Make an easy Christmas plant lighter with lights - by using what you have!
This year, I decided I wasn't going to buy any outdoor Christmas decorations. That was a bit of a challenge because I think I threw most of what I had away. So, I have been trying to make do with what I have. And, I'm actually pleased with the results.
Easy Christmas Planter using a trellis and white lights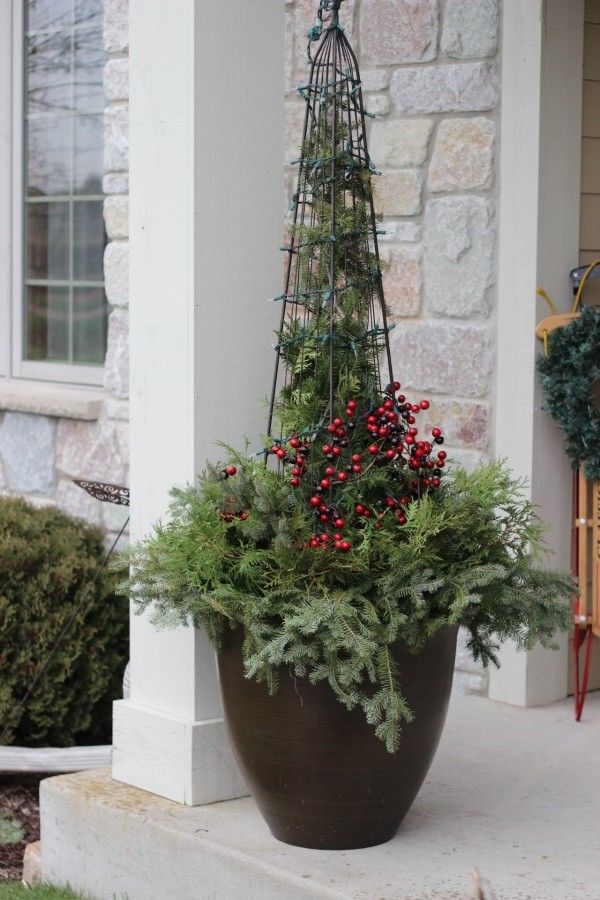 Materials needed for this Christmas planter with lights
My big planter pot.
A decorate trellis (that my morning glories climbed this past summer)
Cut branches from my spruce tree (ones on the ground that I was going to trim anyway)
Cut branches from my arborvitae (again, ones on the ground that needed to be trimmed)
1 string of 100 lights (green cord)
2 large picks of red berries (I did buy - $10 in total)
Directions for this Christmas planter with lights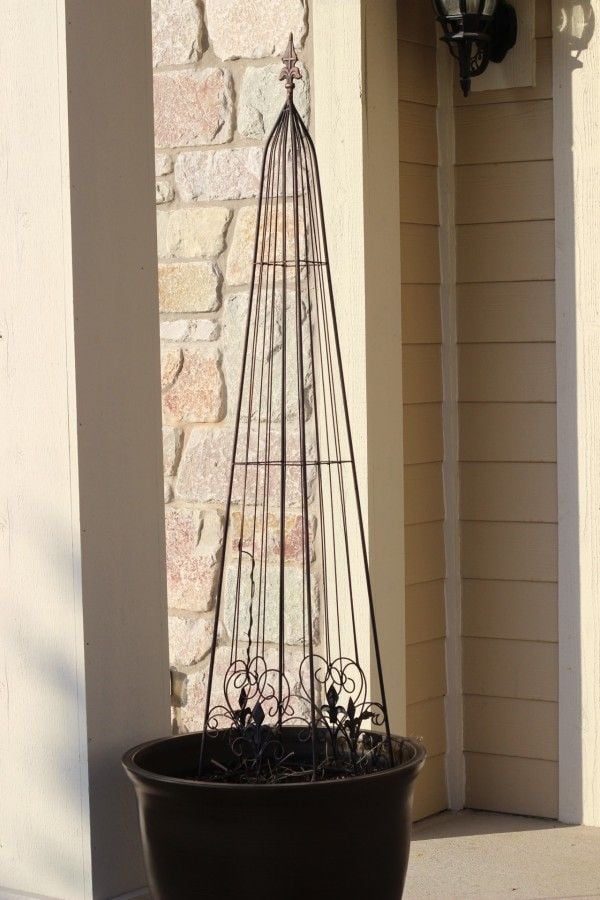 Not very exciting at this point!
Then I took some of the smaller of the arborvitae and spruce branches and put them inside the trellis. Then I took a string of white lights and wrapped it.
And, started poking some of the branches into the dirt.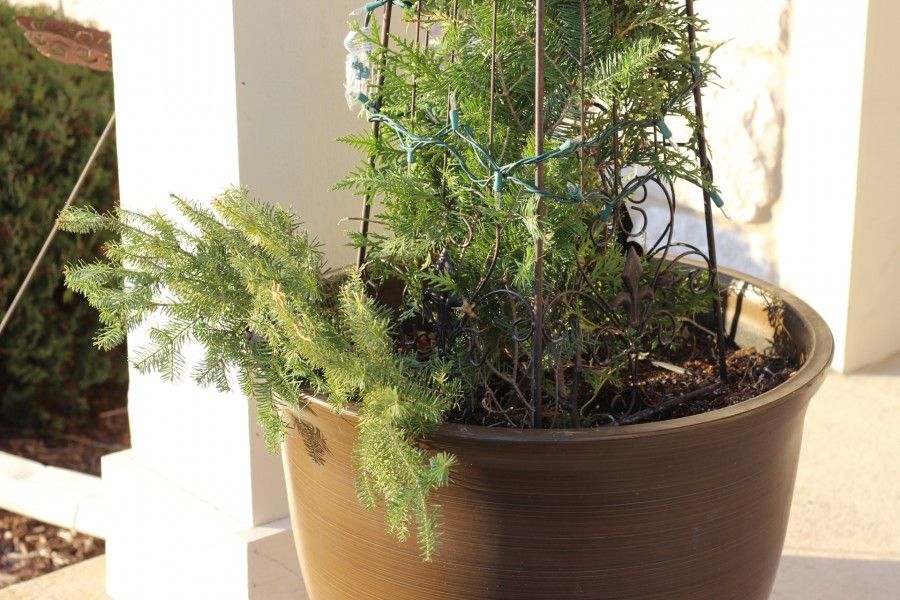 Keep sticking branches in until it looked nice and full. Pretty much the only trick to making your Christmas planter look good is to use lots of branches. And, if you can, use different types so there are different textures in your finished display.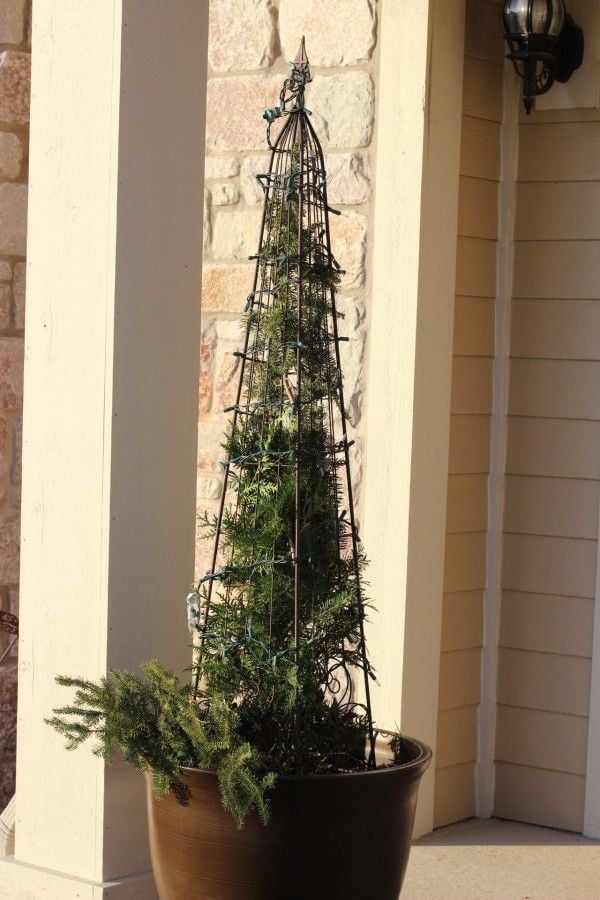 So that's what I did. I kept adding branches. My Christmas planter looked like it needed a splash of color. Since I was accenting my Christmas decor in the house with red, it was obvious to me what I needed to do. Fortunately, I had some big red berry picks so I just bent those to spread them out and added them to the planter.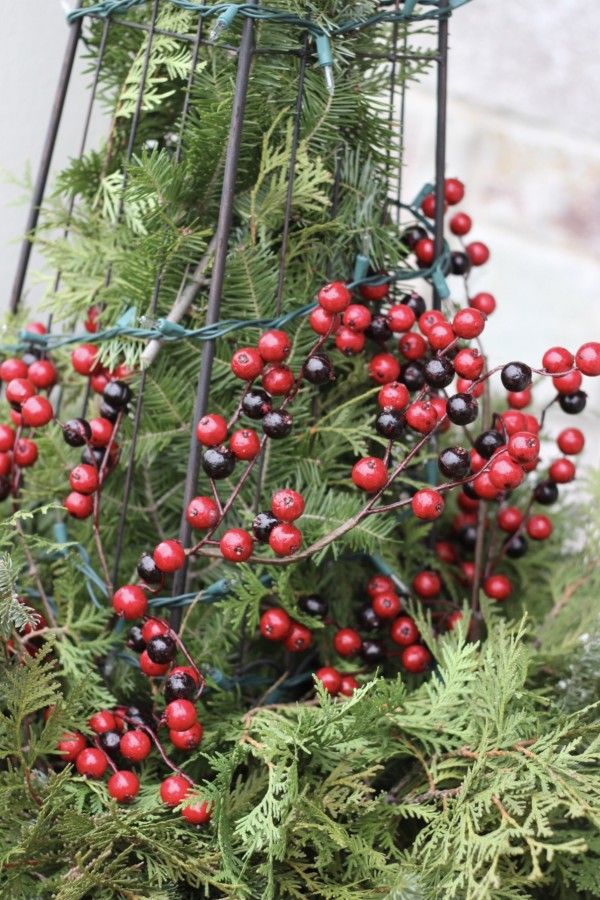 They are actually my favorite part of my Christmas planter. It's what makes it look pretty during the daytime. That's something that I try to consider. Everything looks great in the dark with sparkly lights on it. But, does it look good in the daytime?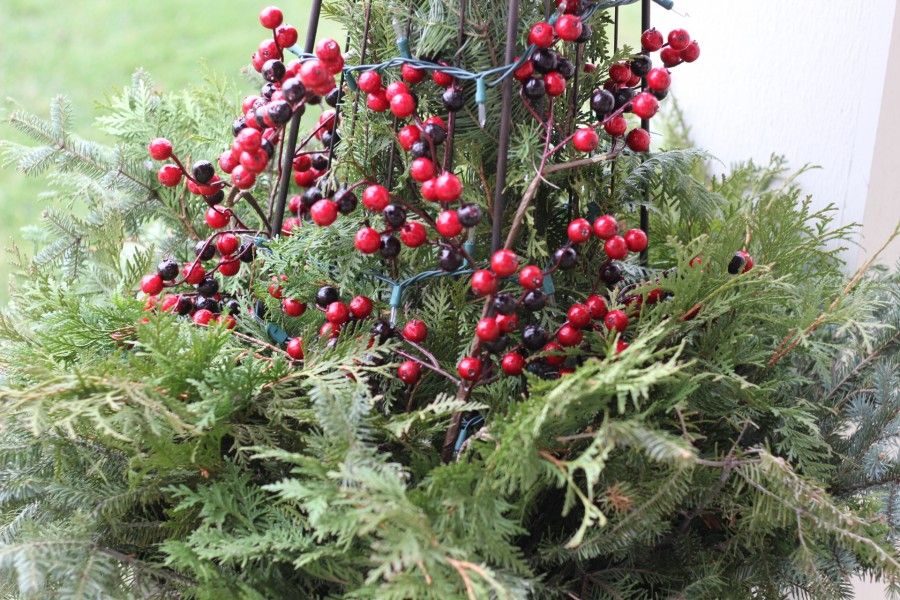 So, here is the finished product. What I like about it is that I used my summer planter and trellis so that didn't cost me anything. Plus, the trellis gave it height. I also used some tree branch clippings from trees in my yard. So that was also free! As an fyi, you can often get branches free from places that sell live Christmas trees. Just ask them!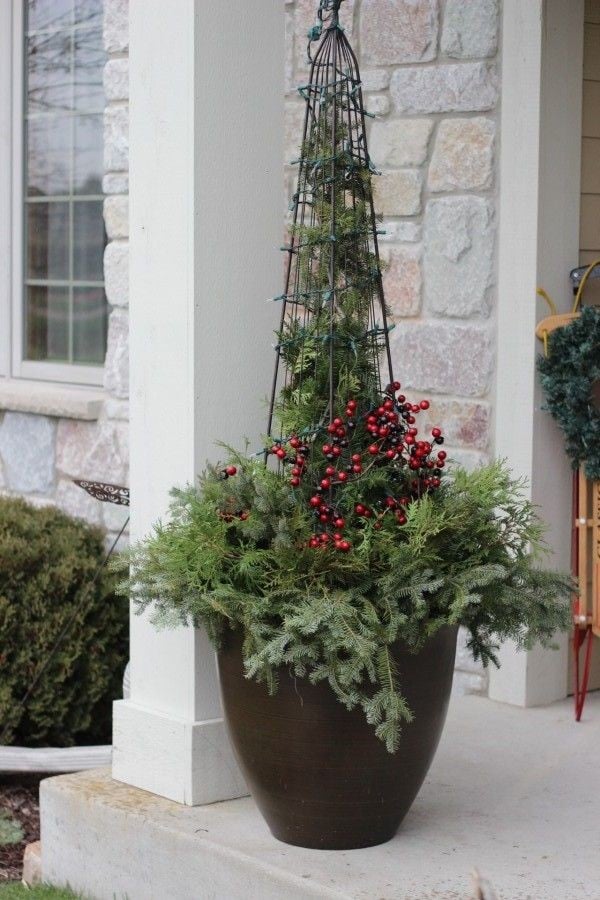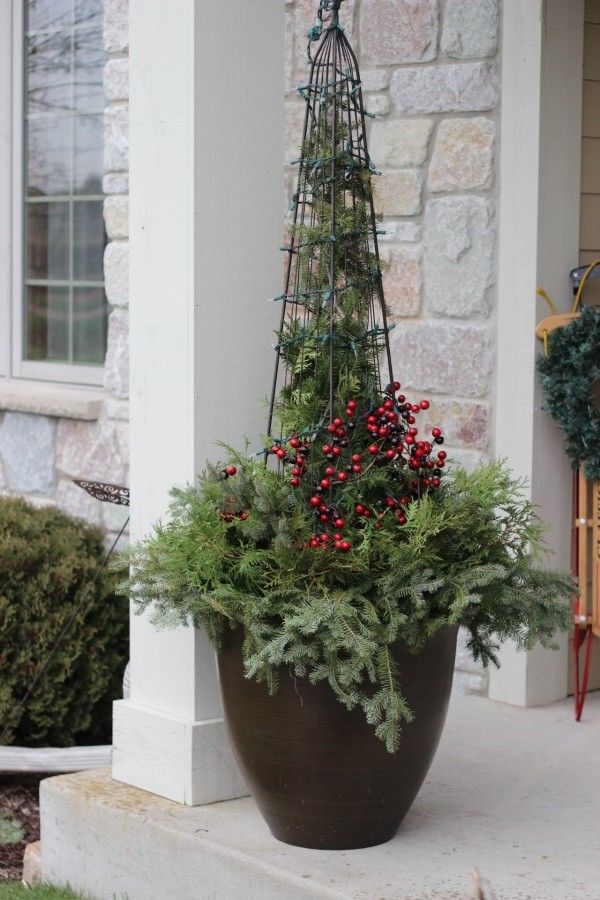 This is my Christmas planter at night. Just waiting for a dusting of snow to make it perfect! I love how tall the trellis is and it adds so much height to this Christmas planter display. It's nice to not always just use little Christmas trees in the planter!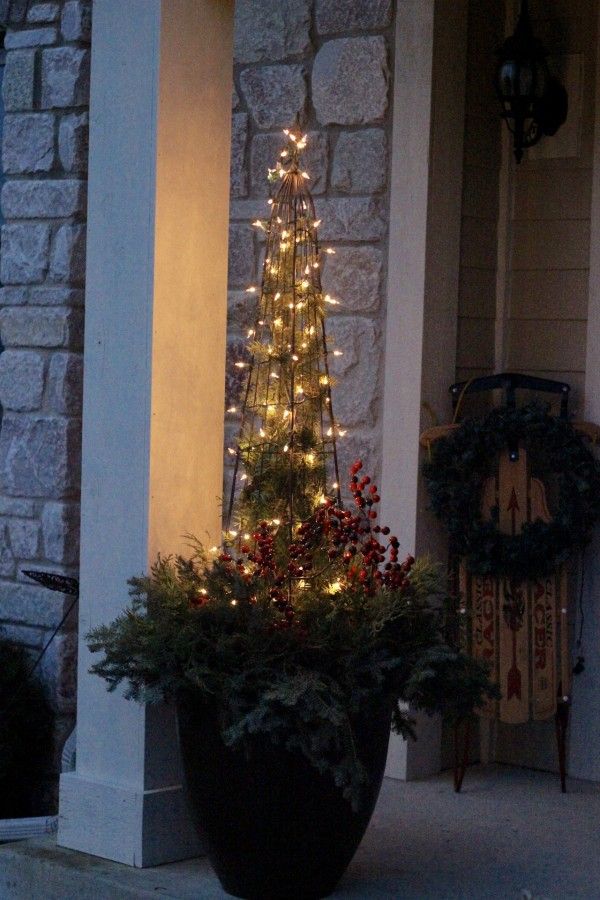 If you want to save this idea, why don't you pin the image below to your Pinterest board!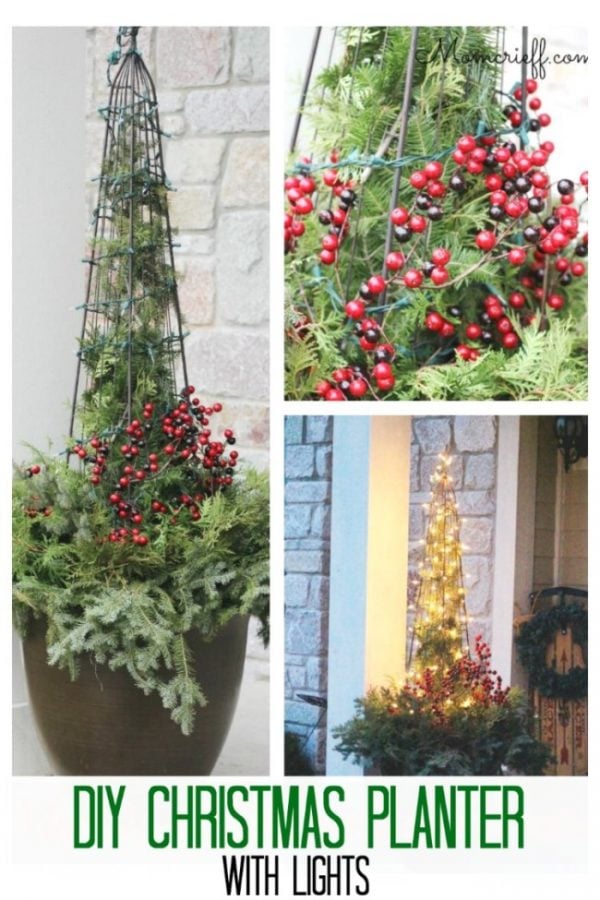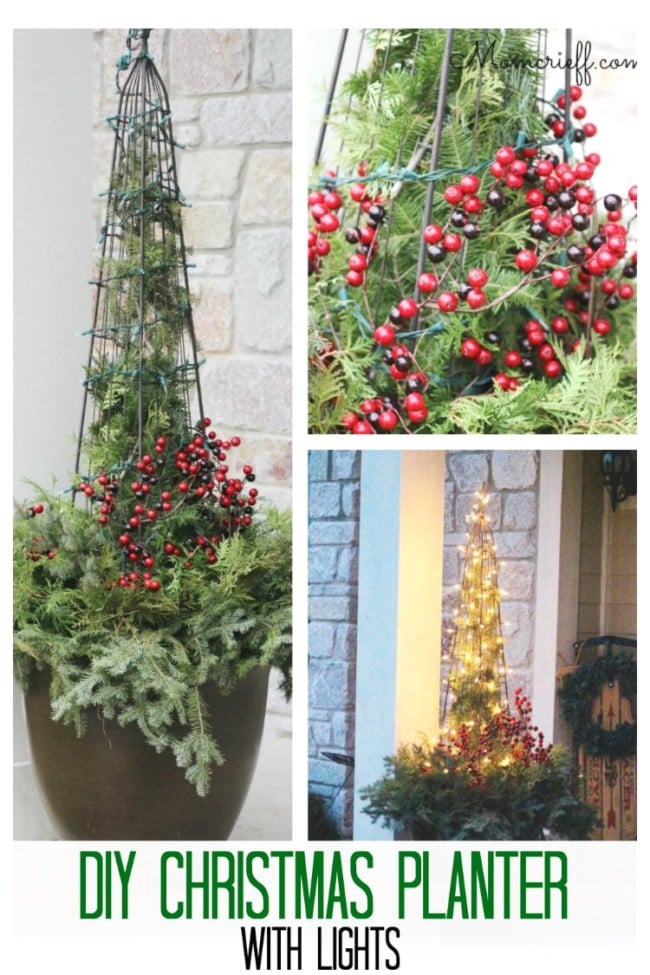 Overall, I was quite pleased! And, my investment was nominal. That was the best part. How have you reused items to make Christmas displays in your yard? Do you get as much pleasure out of being thrifty for this kind of stuff as I do?
If you want to see some more Christmas planters and other outdoor decorations, please take a look at the following posts from the last couple of years.
Christmas planters and window boxes
Christmas Outdoors - night-time.