Easy & customizable Caesar Salad wraps
These Caesar salad wraps are easy to make and inexpensive. I was never a fan of making different meals for my kids but if customizing (by leaving out one ingredient etc.) is easy I'd do it. This Caesar Salad Wrap post gives you some great ideas when you have people over with different tastes.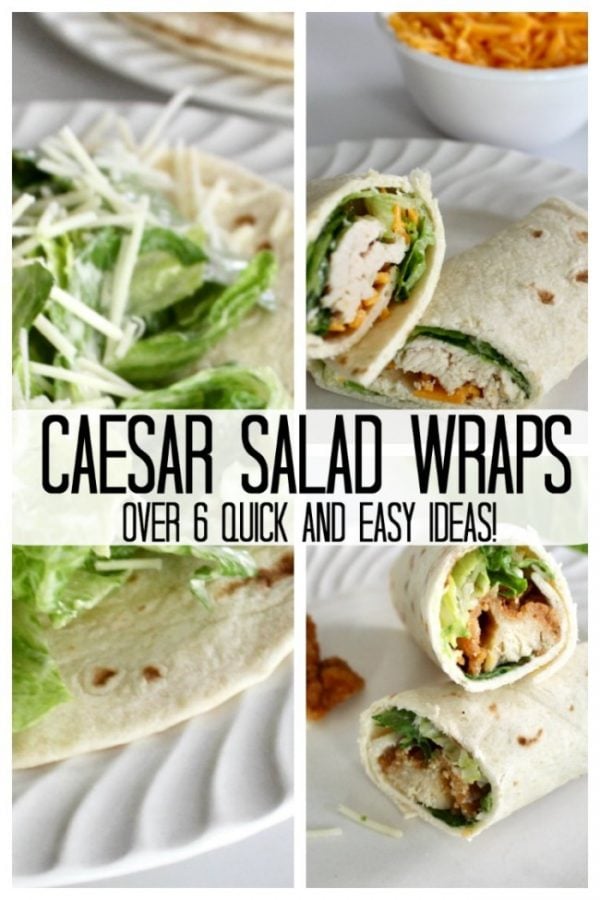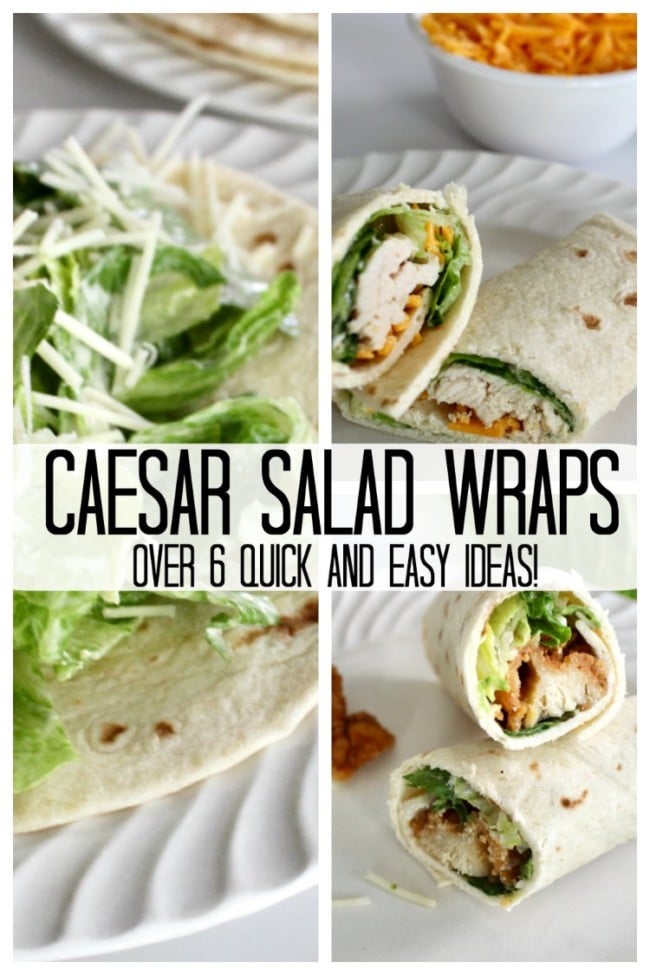 Think of a group of people with one person requesting a vegetarian option. These Caesar Salad wraps give you options for everyone - picky eaters and special diet restrictions included!
Vegetarian Chicken Caesar Salad wraps
This can be so simple but it still has flavor and convenience. Mix your Caesar Salad dressing with romaine lettuce. Place onto your tortilla (or soft taco) wrap. Add a little cheese. If you want traditional caesar, use shredded parmesan cheese. Or, if you like (or just have) cheddar cheese, use that!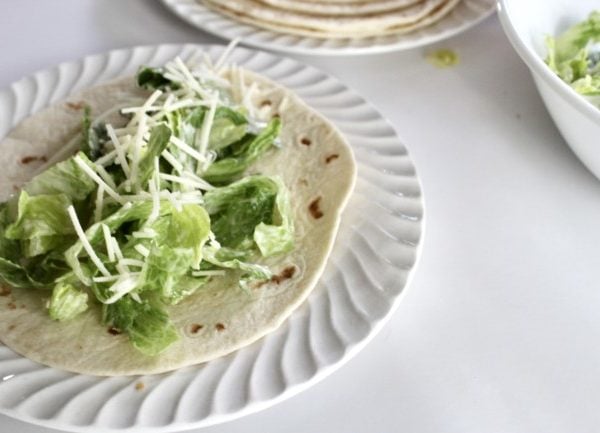 Vegetarian Chicken Caesar Salad Wrap with sliced hardboiled Egg
Worry about protein with vegetarian wraps? Bump it up by slicing a soft boiled egg! I always have hard-boiled eggs in my fridge (if it's in a bowl, in my fridge, it's hard-boiled). My kids have learned that the hard way : ).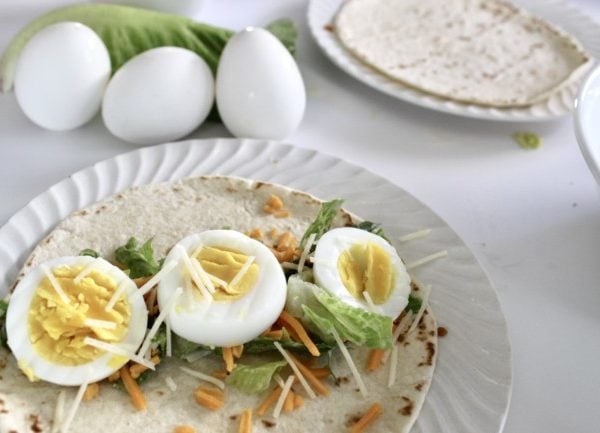 Wrap and you are ready to go.  Yes, it's a to-go wrap if you need it!  I purposely don't put too much dressing on the romaine so the wrap isn't 'drippy'.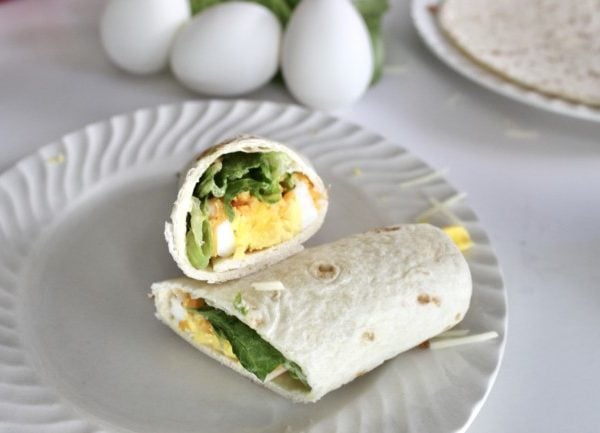 Chicken Finger Caesar Salad wraps
These chicken caesar salad wraps are easy, customizable and popular with everyone in the family - including the kids!  If you have chicken strips (fingers) in your freezer, cook them!  Or, If you are in a hurry, pick some up from the store!  Most grocery stores sell these hot and ready to go! This option is popular with kids and teens! Who doesn't love chicken fingers!! But, for you, this is super easy and quick to assemble.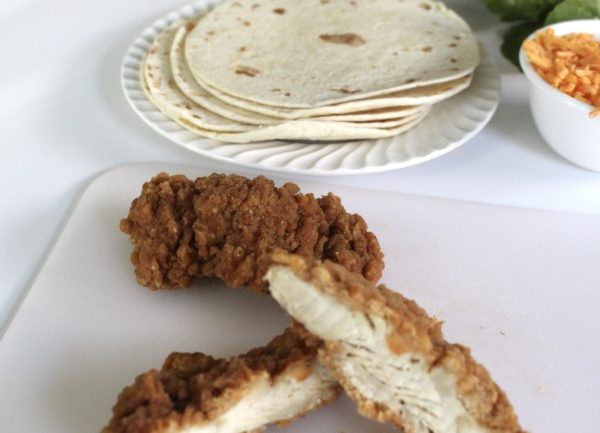 You've got a salad on the go with your favorite chicken fingers.  Does it get easier??  Or, more delicious?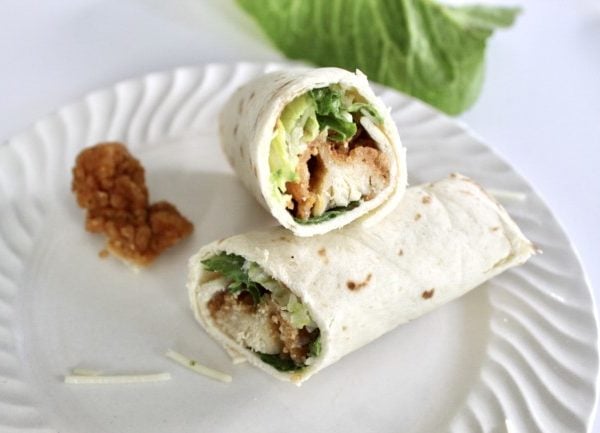 The start for every Caesar Salad Wrap is a wrap with some romaine lettuce tossed in caesar salad dressing.   Use your favorite kind.  I like the refrigerated ones from the grocery store.  They just tend to taste better to me!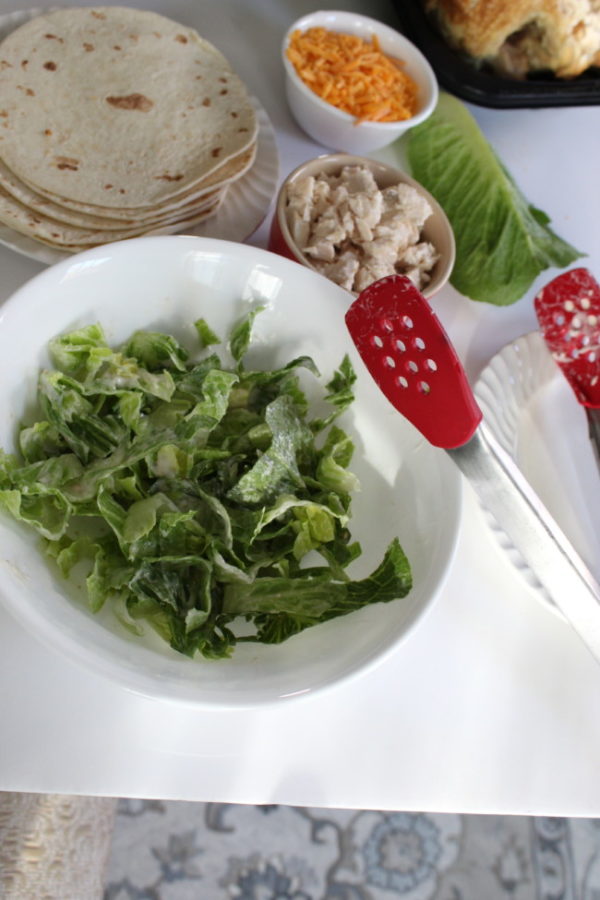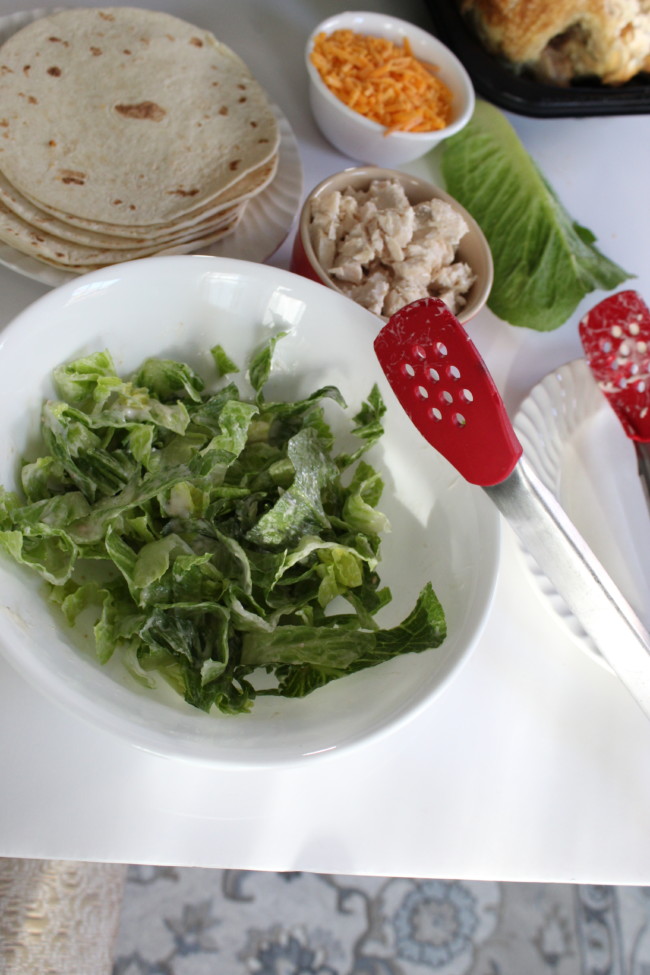 Rotisserie Chicken Caesar Salad wraps
If you can't leave Costco without their $4.99 rotisserie chicken, here is a way to use up that chicken. I can't seem to leave that store without one! Anyone else have that problem??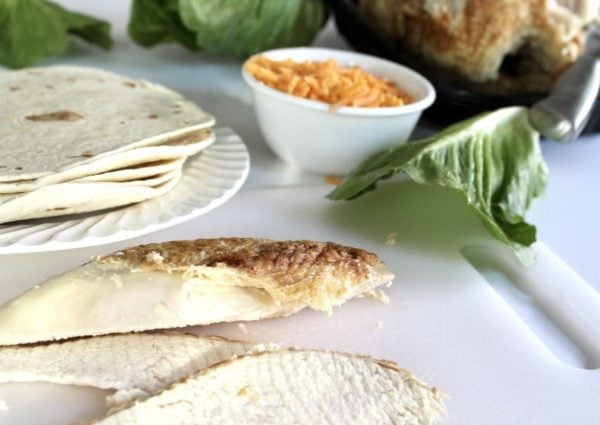 If the fried chicken finger wrap isn't your thing and you want your chicken to be a little healthier, use leftovers from your roasted chicken or from your last trip to Costco.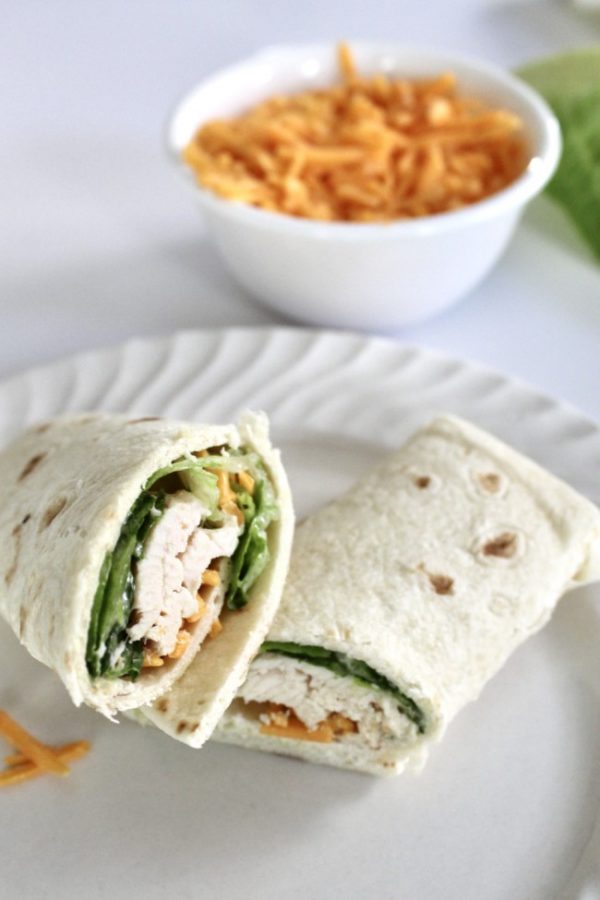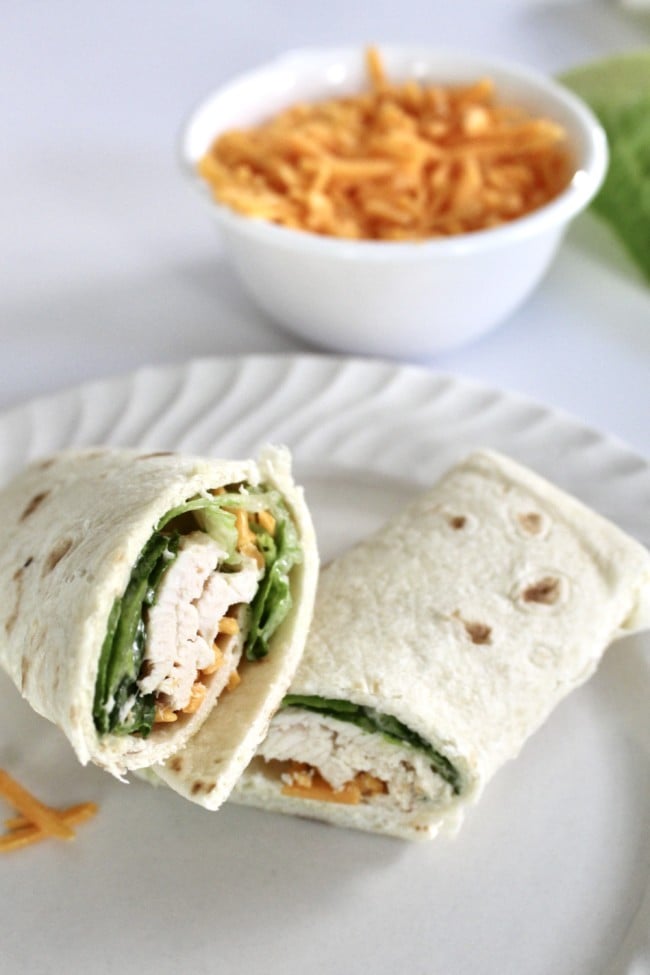 Chicken Salad Caesar Salad wraps
Hey, two salads in one wrap! You've got your chicken salad and your Caesar salad all in one wrap! I actually really like this but if you have someone who isn't a mayo fan, this may be a little too mayo-y. Most of the time my chicken salad is made with leftover roasted chicken, some cut up grapes and celery (if I have it handy). Then just enough mayonnaise to lightly coat. The grapes and celery give the chicken salad just the extra flavor and texture it needs. I think I may need to have one of these for lunch now....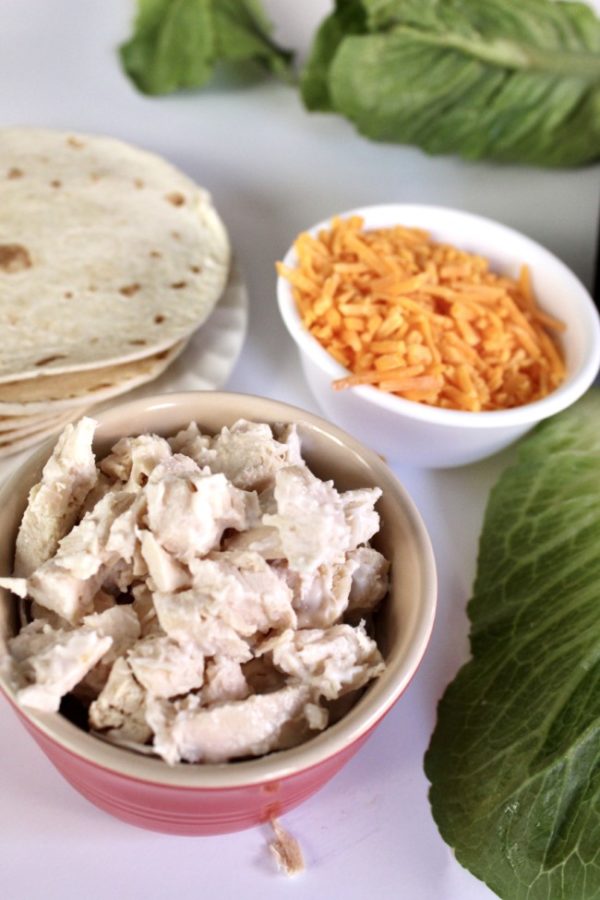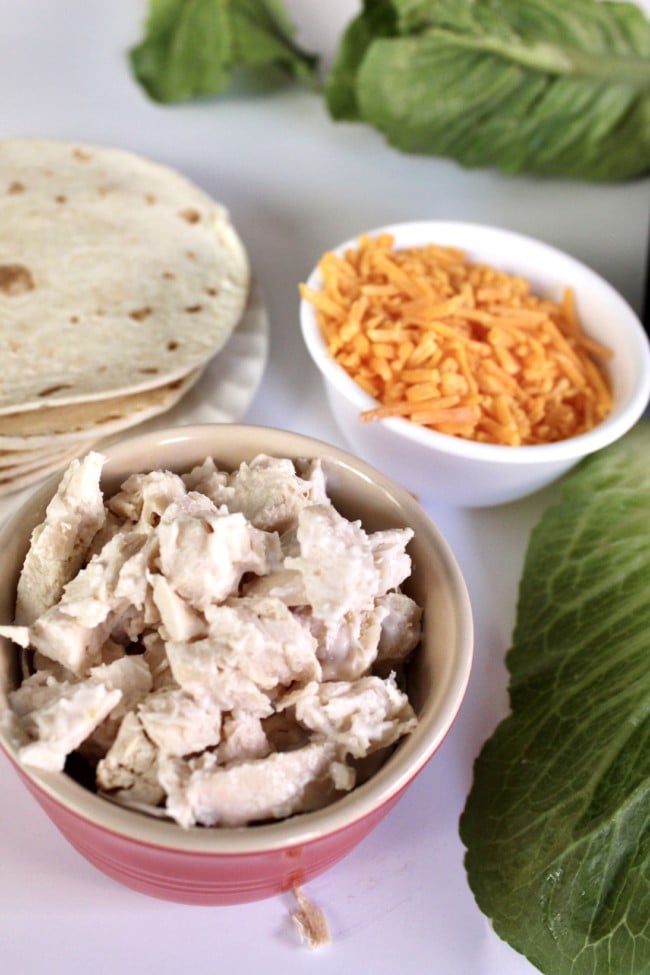 Then wrap it!  Wrap it good.  And you have your delicious two salad in one wrap!  Yup, my favorite wrap.  How can you not love a wrap with two salads in it??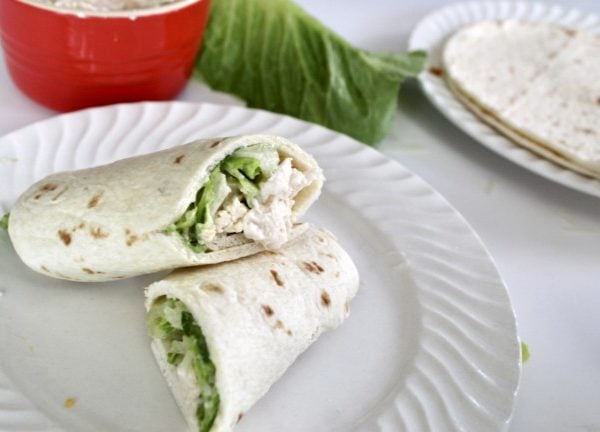 Bonus Ceasar Salad Wrap Ideas!
I can't stop having ideas pop in my head.
Egg Salad Caesar Salad Wrap.
Another two salad on a wrap idea! Instead of hard-boiled eggs, why not make a quick egg salad and make your Caesar Salad Wrap with that?  Yum!  Maybe use some Caesar salad dressing to make your egg salad?  Just a thought!
Cheese Curd Caesar Salad Wrap.
Are you in the land of cheese curds?  You can easily offer cheese curds as an option to shredded cheese for your vegetarian wrap.
Ranch Caesar Salad Wrap
Is it still a Caesar Salad Wrap if you use ranch dressing? There were times where the Caesar Salad dressing did not appeal to my kids. I just used Ranch. Easy solution!
Make sure you PIN THIS image onto your Pinterest account!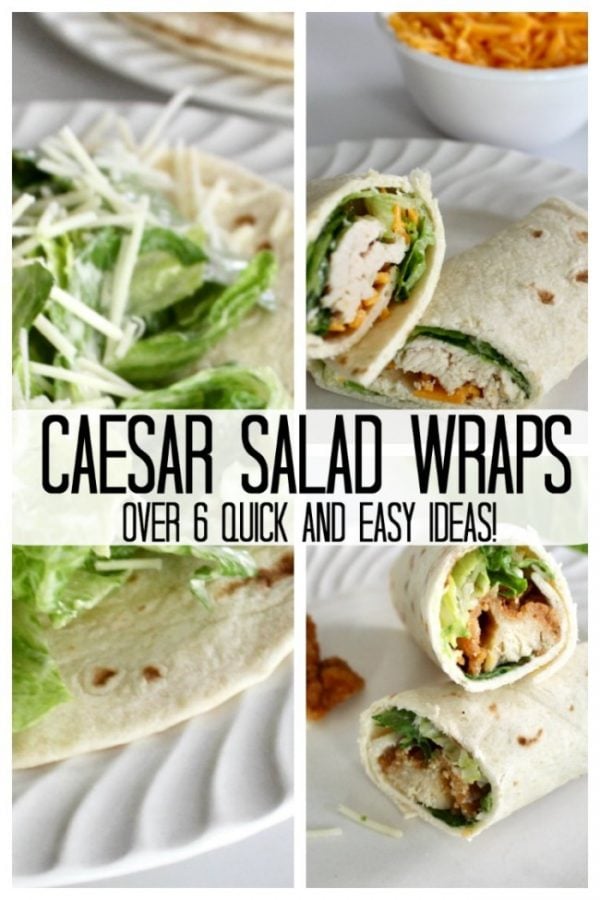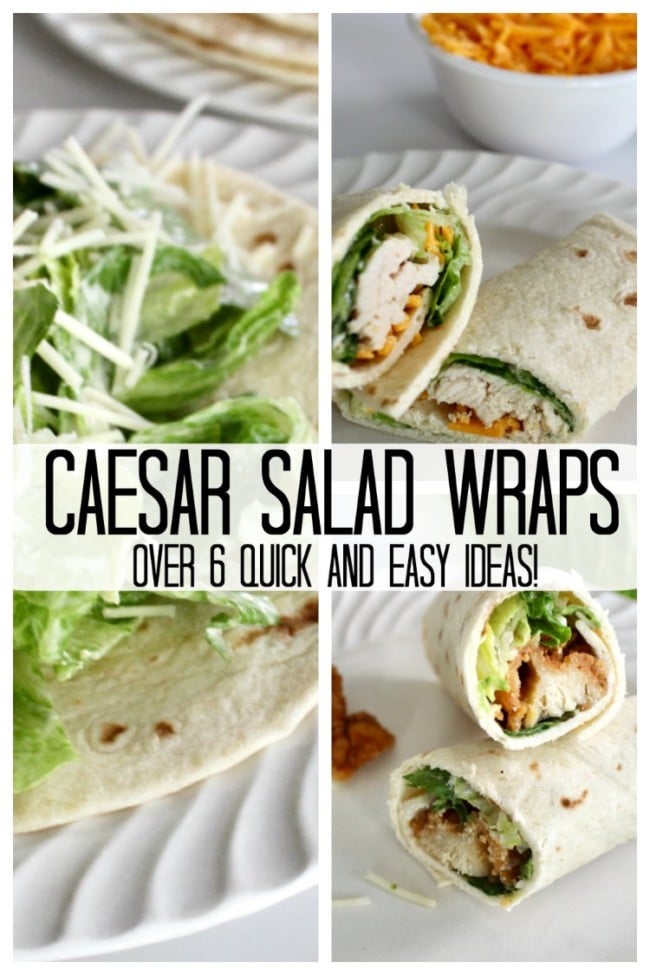 Looking for more sandwich meal ideas?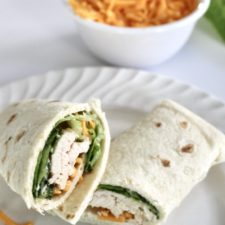 Caesar Salad Wraps (includes chicken and vegetarian options)
Easy Caesar Salad Wraps.  Over 6 Caesar Walad wrap ideas.  Includes two vegetarian options.
Print
Pin
Rate
Ingredients
1

small

tortilla

or tortillas

2

leaves

Romaine Lettuce

2

teaspoon

Caesar Salad Dressing

1

tablespoon

cheddar cheese

1

medium

Chicken Finger
Instructions
Cut romaine lettuce into bite-sized pieces.

Toss with Caesar Salad dressing until lightly coated.

Place salad on soft taco/tortilla

Add cheese and chicken, then wrap tightly.
Notes
Host a Caesar Salad Wrap create your own wrap bar!  Easy to do and so many options for picky eaters.
Wrap filling variations (all have lettuce and caesar dressing):
Sliced egg & cheese.
Rotisserie chicken and cheese.
Egg and cheese curds.
Nutrition
Serving:
1
g
|
Calories:
273
cal
|
Carbohydrates:
17
g
|
Protein:
17
g
|
Fat:
15
g
|
Saturated Fat:
5
g
|
Polyunsaturated Fat:
4
g
|
Monounsaturated Fat:
3
g
|
Trans Fat:
0.01
g
|
Cholesterol:
51
mg
|
Sodium:
501
mg
|
Potassium:
375
mg
|
Fiber:
2
g
|
Sugar:
2
g
|
Vitamin A:
5046
IU
|
Vitamin C:
3
mg
|
Calcium:
176
mg
|
Iron:
2
mg