I love fresh ripe tomatoes! It's one of the joys of the summer for me. The rare year when I didn't grow my own in my garden, I would go to the farmer's market and get fresh locally grown tomatoes. One of my favorite summer sandwiches is a fresh tomato sandwich. I use simple and fresh ingredients and it probably takes all of a minute to put together (honest!).
Easy & delicious tomato sandwich
My favorite tomatoes are heirloom tomatoes. They smell so good! And heirlooms often have fun colors like yellow or orange. But, if you have a traditional tomato (beefsteak, early girl etc.) just make sure they are ripe. Whether they were almost ripe on the vine then finished on the counter or if you are fortunate to be able to ripen the tomatoes fully on the vine, this is the type of tomato you want. Of course in the winter we have to often buy from the grocery store - buy the kind on the vine and ripen on the counter.

Bread tips
With bread being one of the main ingredients, make sure it's good bread! Traditional southern tomato sandwiches use fresh white bread. I grew up with parents from Europe so my favorite is a soft rye. If you love white bread or rye bread, the choice is yours on what you would like to use. Or, just use what you have at home!
Ingredients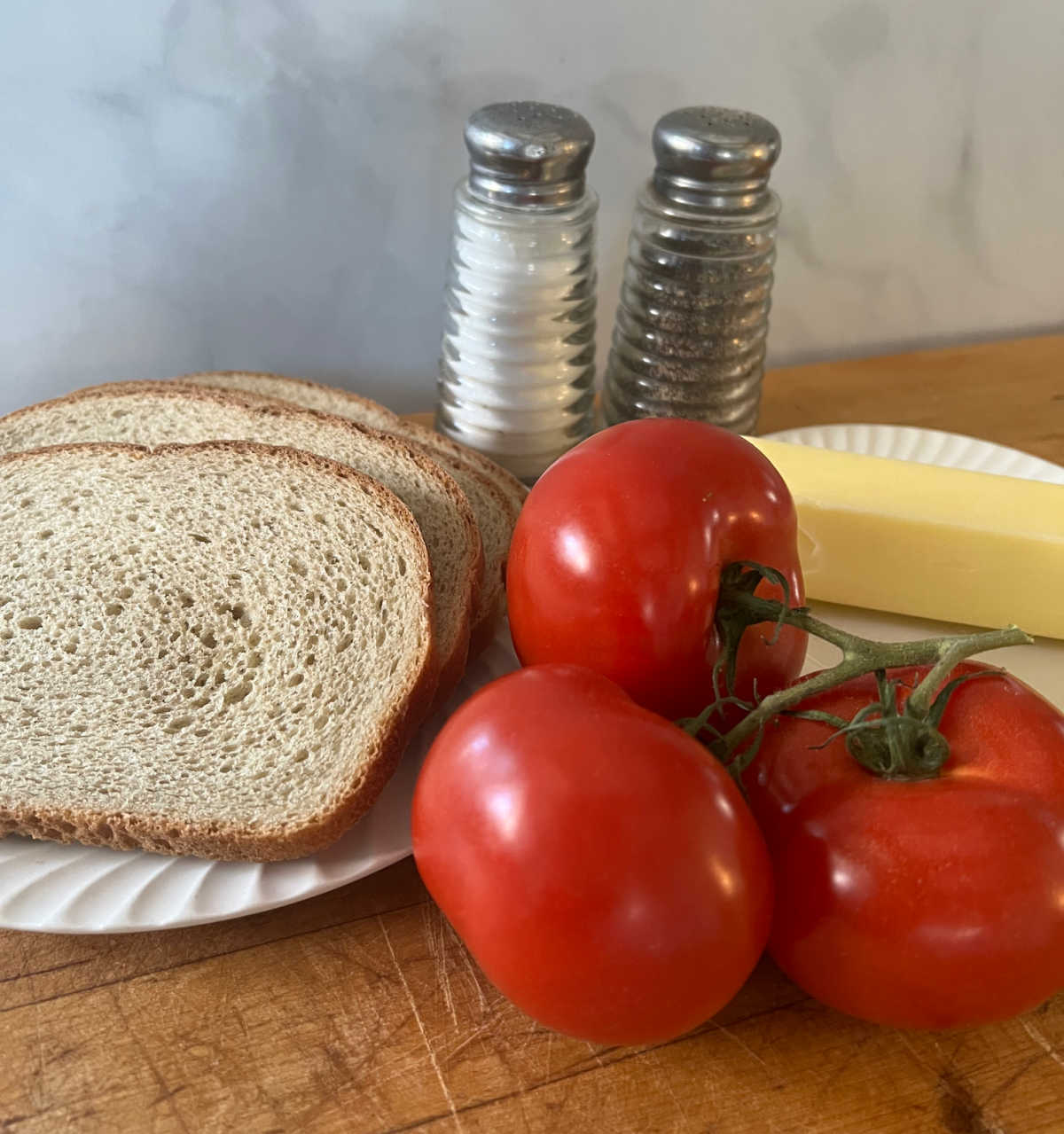 Ripe tomatoes (beefsteak or an heirloom tomato)
two slices soft bread (I love rye bread)
softened butter (salted)
salt (table salt or Kosher salt if you have it)
black pepper (fresh cracked pepper if you prefer)
That's it for the ingredients!!
Instructions
Spread softened butter on both pieces of bread. It helps keep the bread from getting soggy from the tomato juices.
Slice fully ripened tomatoes into thin tomato slices and cover bread.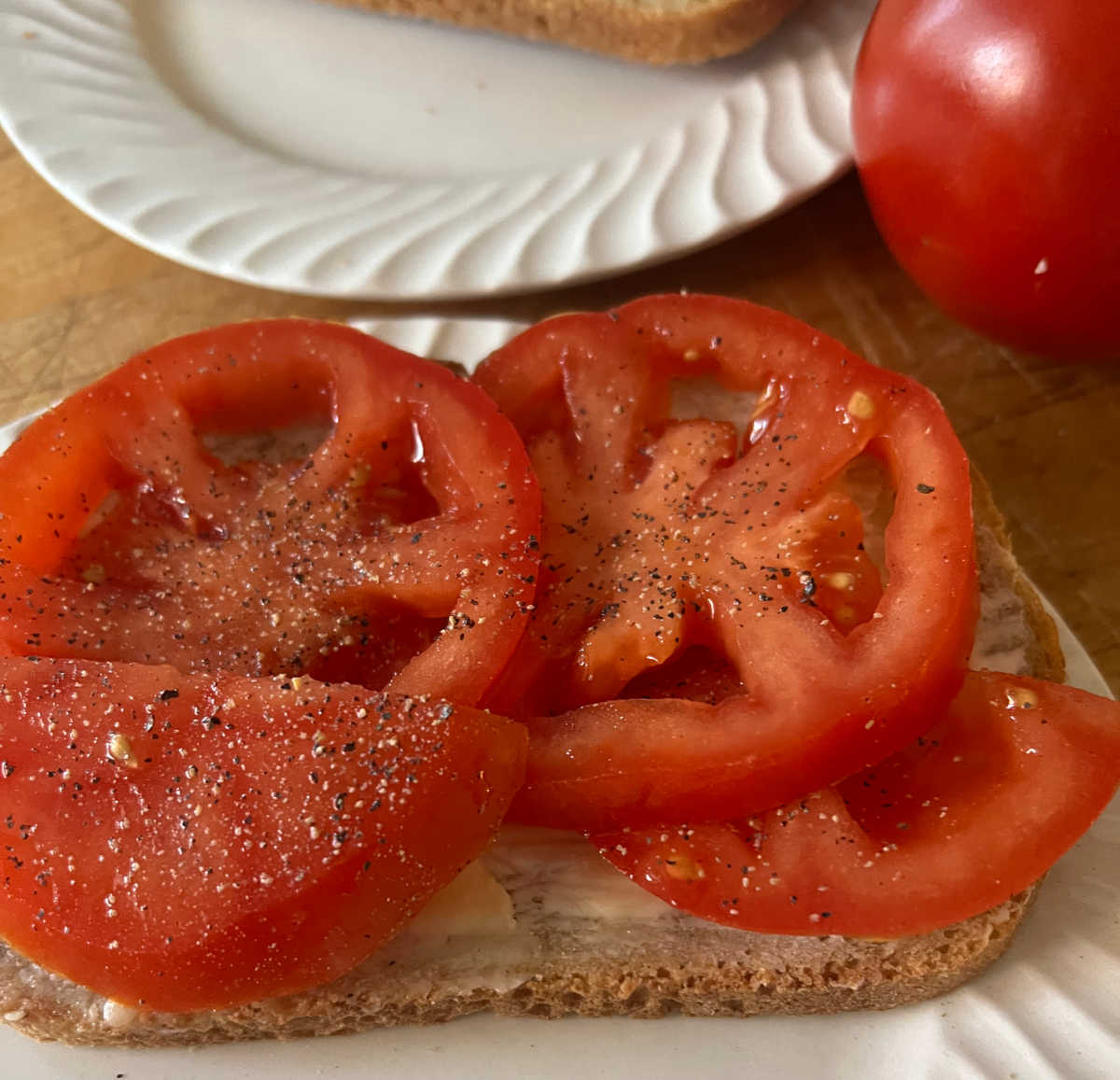 Sprinkle some salt and pepper to your taste.
Put the top piece of bread on and cut it in half.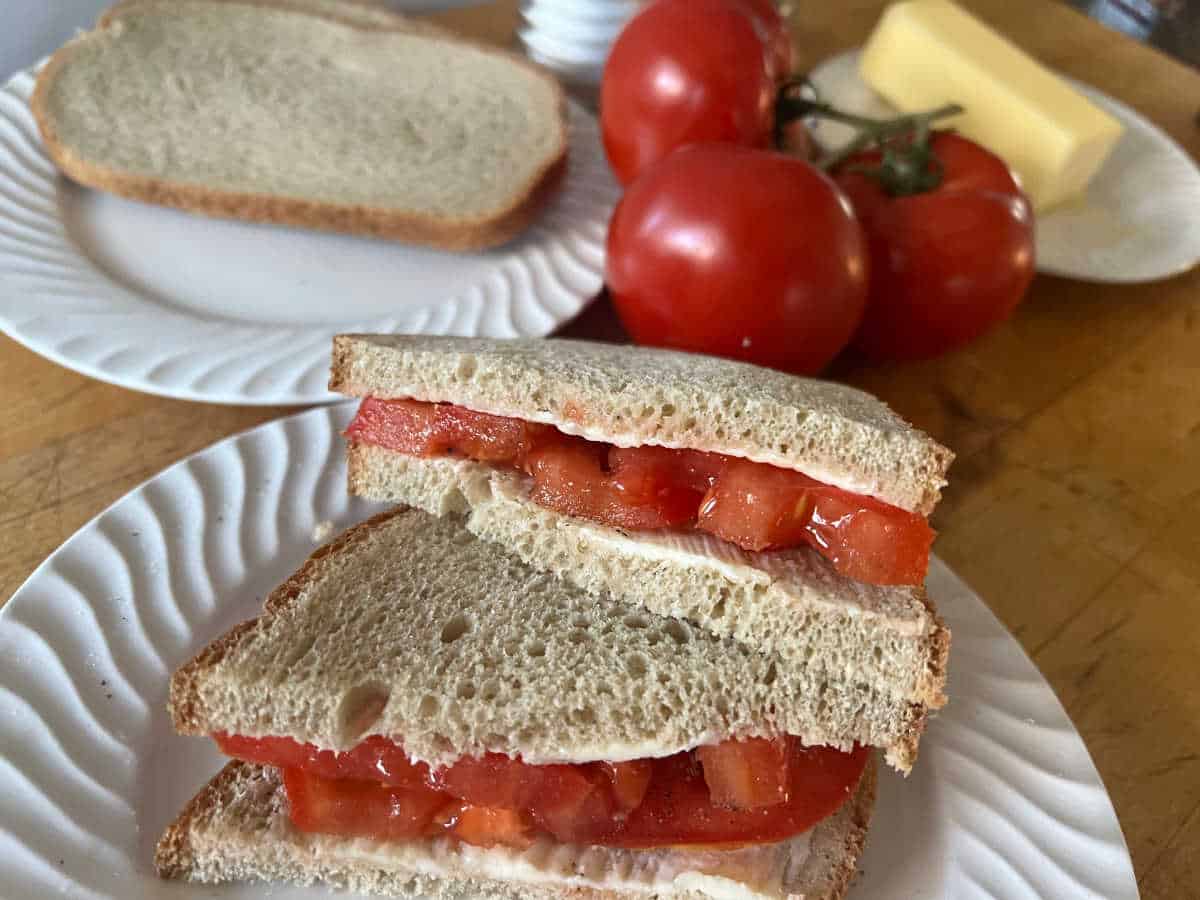 Traditional Southern Tomato Sandwich
I'm sharing the tomato sandwiches I grew up with and love to this day! However, when trying to figure out if tomato sandwiches were something others might even like, I discovered that in the Southern United States, folks like their sandwiches made with fresh squishy white bread. They do not put butter on it but use their favorite mayonnaise. If you are a mayo lover, by all means, make the sandwich to your liking!
Alternative ingredients
When I've made these simple sandwiches for others, sometimes we change up the ingredients. Here are some ideas/suggestions!
Sourdough bread is delicious
Toast the bread! A toasted tomato sandwich is closer to a BLT.
Add fresh basil leaves. Basil is the perfect flavor addition to tomatoes!
Drizzle with a high-quality olive oil

Below is the printable but I wanted to share a couple more really easy sandwich recipes. You may want to print the recipe - not because it's hard but just to remember to make it!

BELT - Bacon, Egg, Lettuce and Tomato Sandwich

Tomato Sandwich

My favorite summer sandwich is a simple tomato sandwich.  A little fresh butter spread on my favorite rye bread then nothing beats a fresh ripe tomato sliced onto fresh bread.  Season to your taste with simple salt and pepper. The bonus is this sandwich takes just a minute to make!

Print Pin Rate

Ingredients

1

medium

tomato

ripe

2

slices

rye bread

or your favorite bread

1

teaspoon

butter

salted

salt

black pepper

fresh cracked

Instructions

Spread softened butter on both pieces of bread. (keeps the bread from getting soggy)

Slice fully ripened tomatoes into thin slices and cover bread.  Add some salt and pepper to your taste.

Put the top piece of bread on and cut sandwich in half.

Notes

This is my favorite sandwich.  But, in the South the preferred bread is sliced fresh white bread.  Also mayo is used instead of butter.  Use your preferred bread and mayo as long as you have fresh ripe tomatoes.

I also used to love onion salt on my sandwich!  But that one is just me.

Nutrition

Serving:

1

g

|

Calories:

224

cal

|

Carbohydrates:

36

g

|

Protein:

7

g

|

Fat:

6

g

|

Saturated Fat:

3

g

|

Polyunsaturated Fat:

1

g

|

Monounsaturated Fat:

2

g

|

Trans Fat:

0.2

g

|

Cholesterol:

11

mg

|

Sodium:

424

mg

|

Potassium:

399

mg

|

Fiber:

5

g

|

Sugar:

6

g

|

Vitamin A:

1154

IU

|

Vitamin C:

17

mg

|

Calcium:

60

mg

|

Iron:

2

mg

Pin to your Pinterest account so you can find this recipe!