This simple radish salad recipe is just that.  It's a very simple and easy salad recipe that works perfectly as a side to almost anything.  And, because radishes have a peppery flavor, it doesn't need much to be flavorful.  And you have to admit that sliced radishes are pretty with red on the outside and a very white inside.
If you want to go straight to the recipe, make sure you click on the Go To Recipe link above.  All of my recipes should have that link enabled if you don't want any of the hints and tips.
Why I love this radish salad
This is a quick and easy recipe and if you are gardening, radishes are the first edible crop to mature. Depending on the kind you plant, they are often ready to eat within 3 to 4 weeks.  After reading many seed packages, it appears the short rounder radishes are more of a spring variety and the longer kind are more for when the summer ends and the weather cools.  The longer radish varieties take 2-3 weeks longer to mature - I'll be planting my next batch of radishes in late summer, probably September.
After a long winter, it's just wonderful to harvest spring vegetables fresh from the garden to eat!  In my mind, there is nothing like early spring radishes grown in your own garden!  This radish salad is even fat-free since I use a very basic vinegar dressing. This is what I grew up with.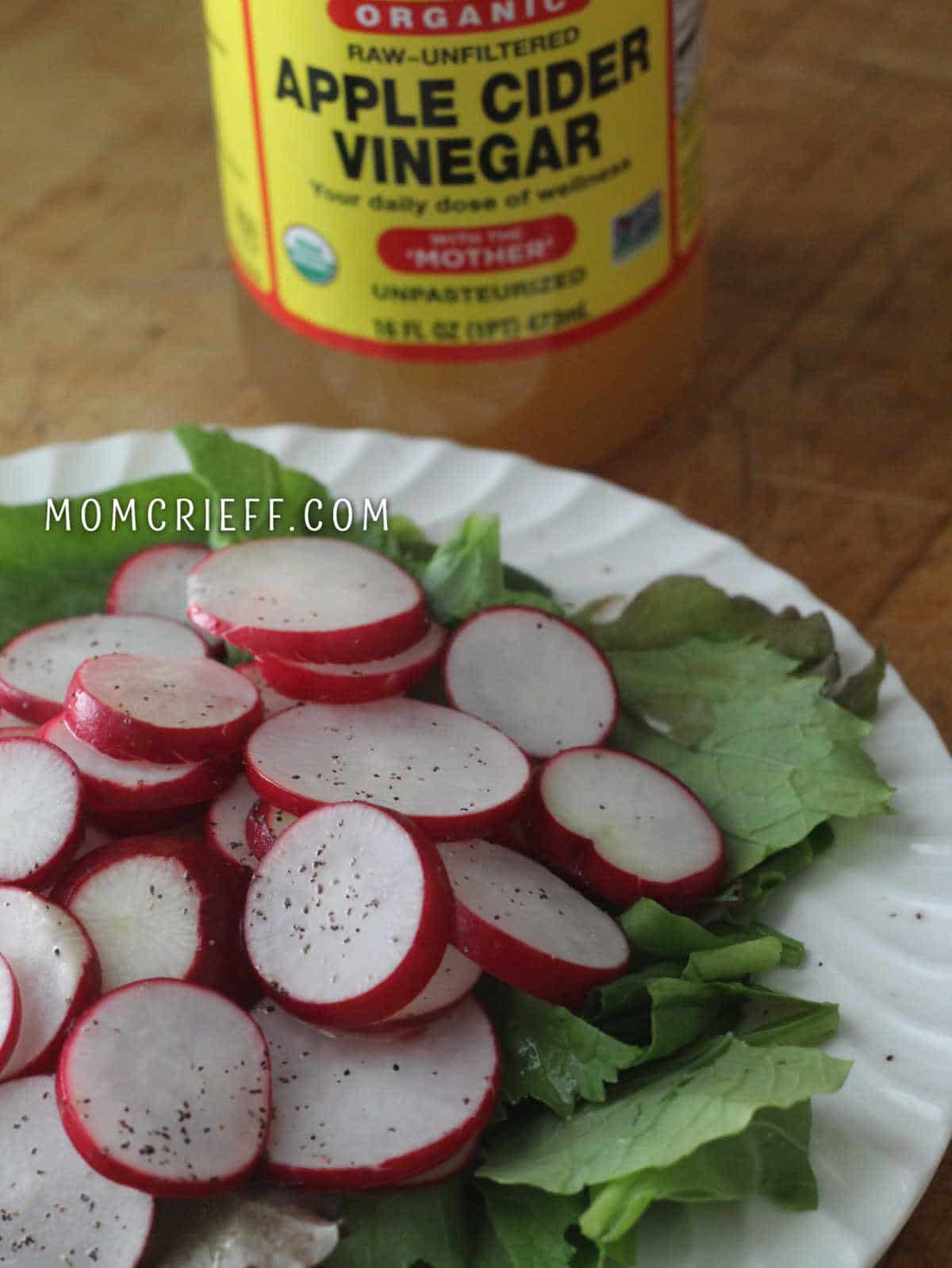 Growing radishes
The recipe card is below but I wanted to share about growing radishes. They are usually the first edible crop that can be grown in areas with colder weather (I'm in USDA zone 5). Once the ground isn't frozen and can be worked, radishes can be planted.  For me this is usually in April.  They can mature in 3 to 4 weeks! Below are what they look like when they are a few days old.  Two pieces of advice for growing successful radishes.  Just lightly brush a little dirt over the seeds and then make sure there is enough moisture to keep the soil moist (either rain or watered).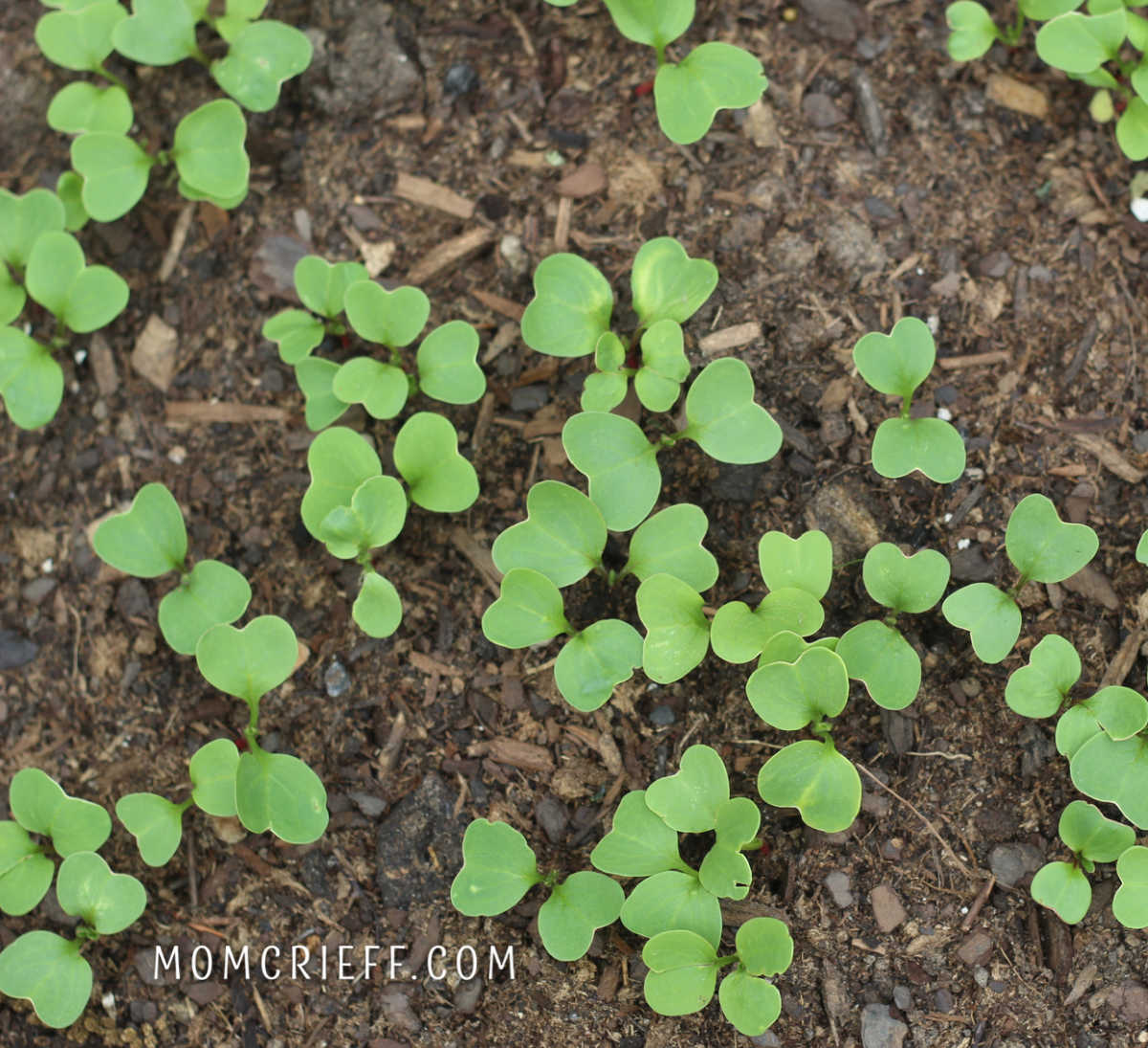 Then before the radish bulbs are formed.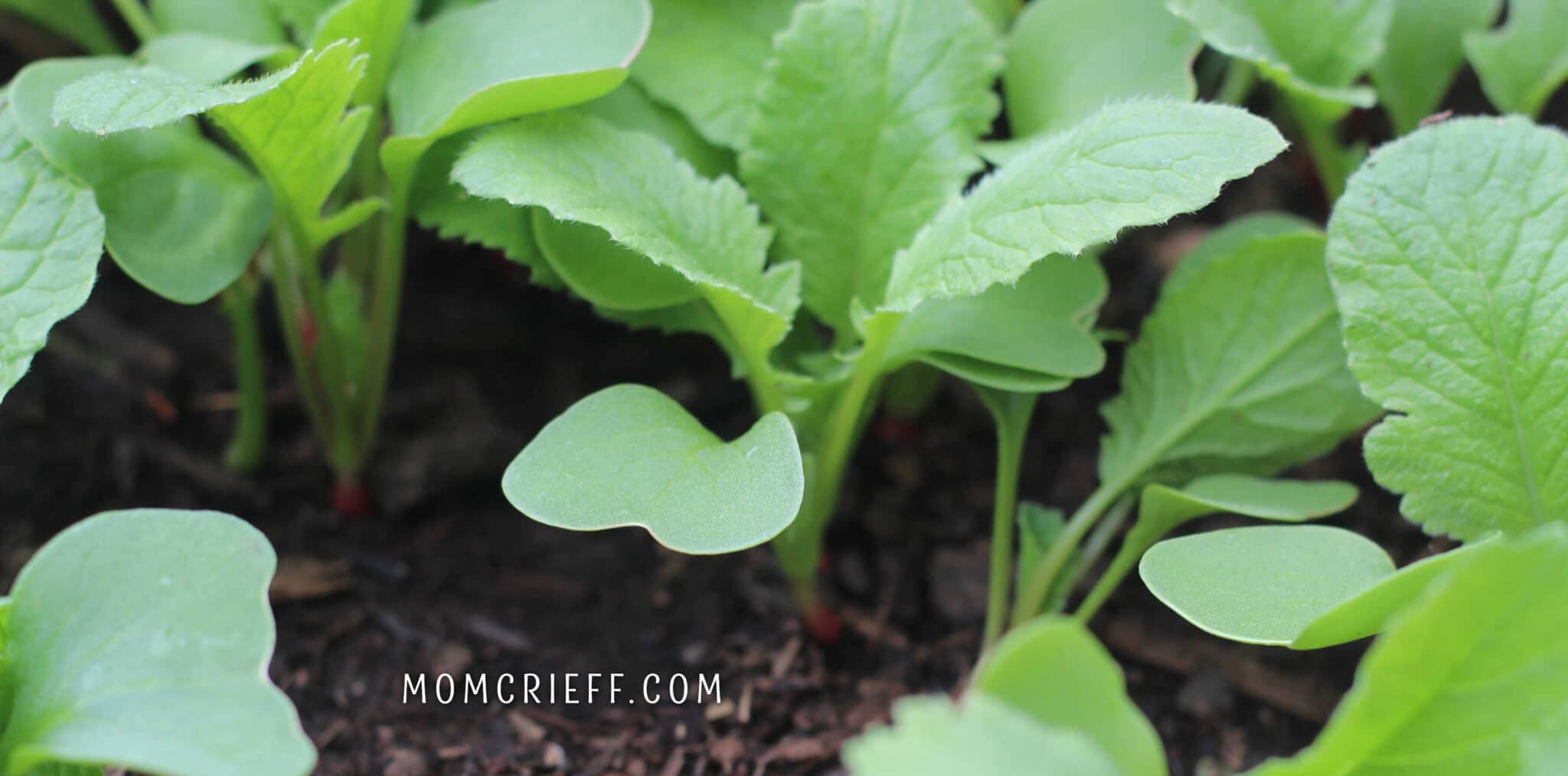 And the best part, when radishes are ready to be harvested! Not all of them grow above ground like these, but I love seeing them and knowing that they are large enough to be eaten.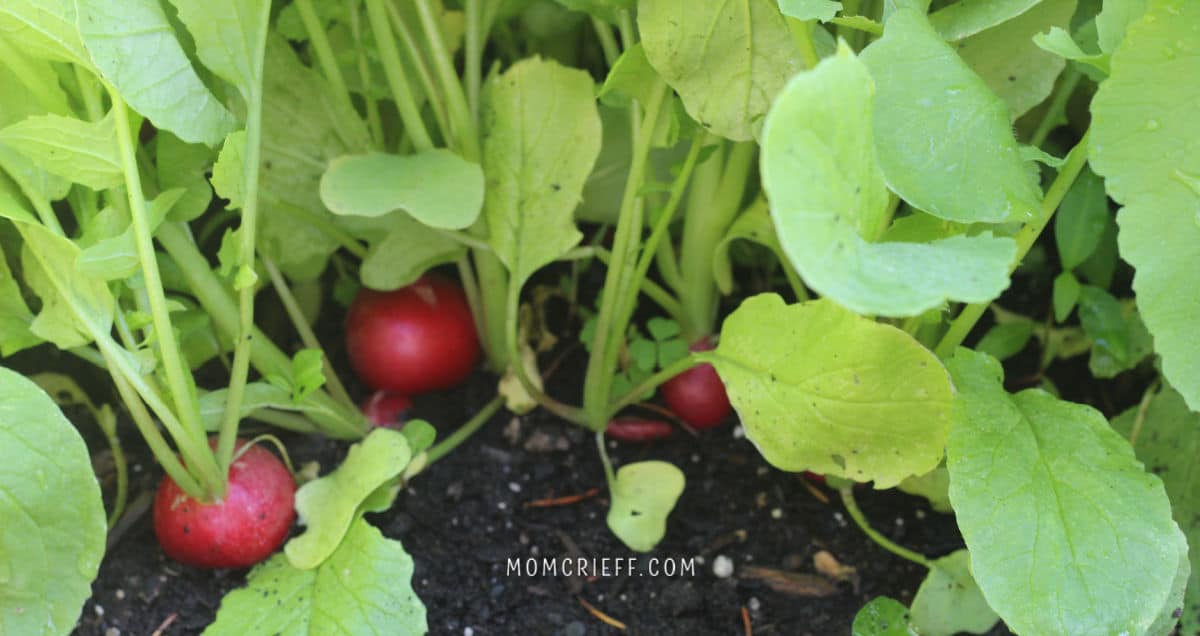 And, a little cleaning up needed.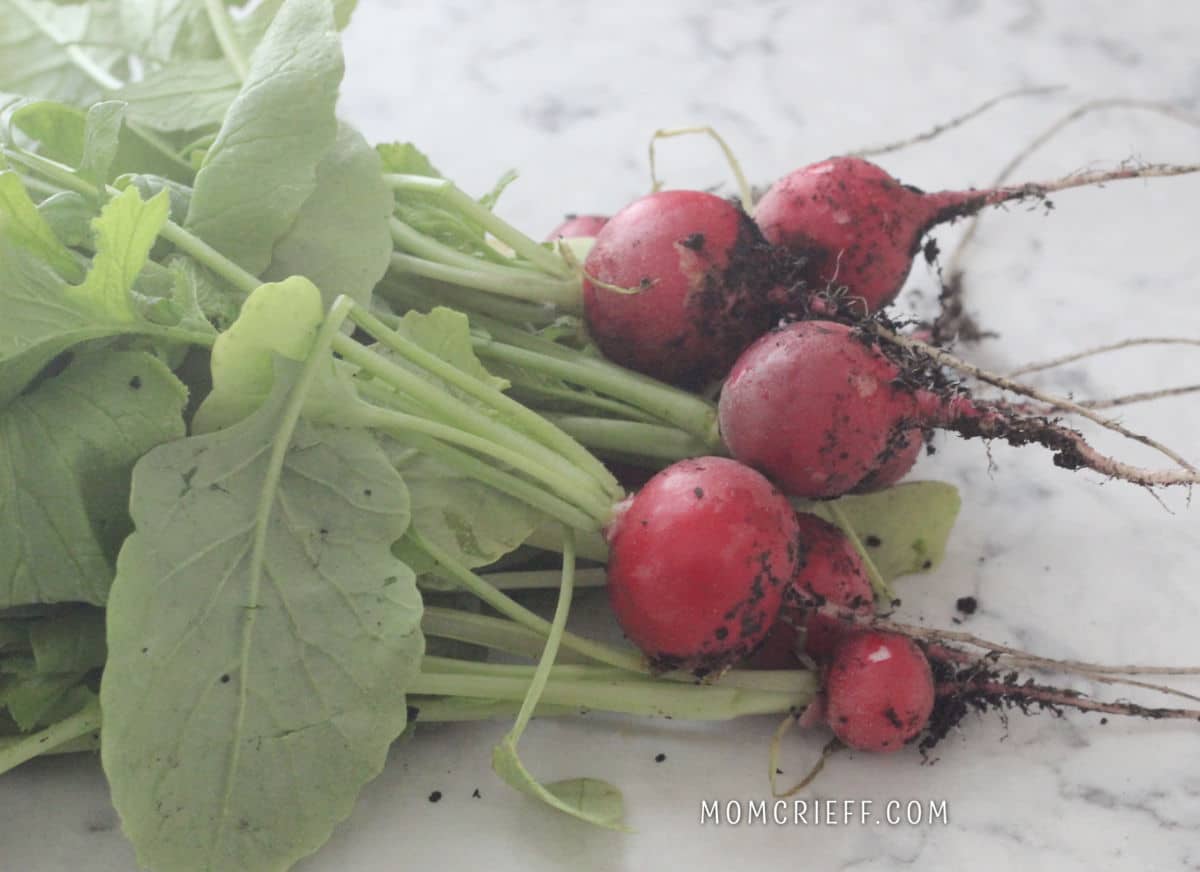 The roots and the greens are sliced off, then the radishes are sliced into thin slices.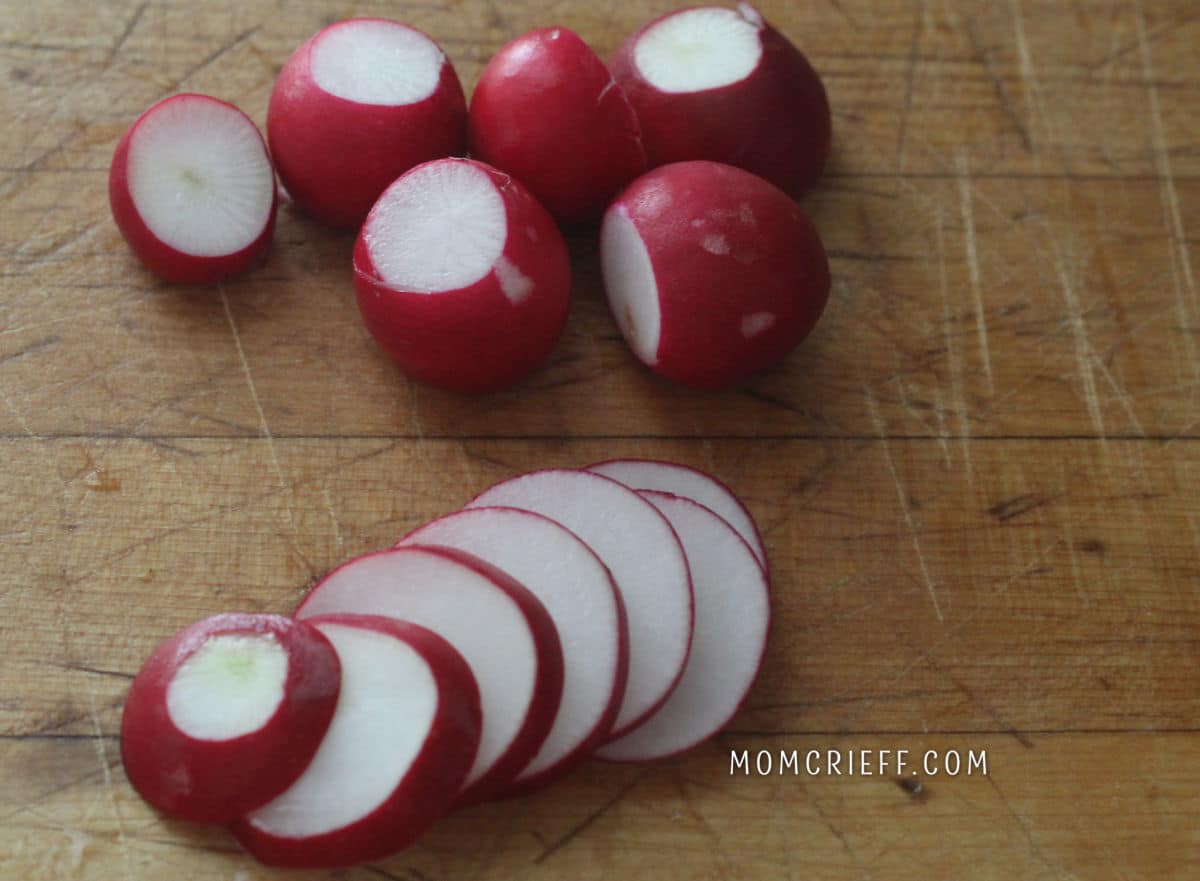 Ingredients and Instructions
After the radishes are sliced, I add salt and pepper, then about 1 tablespoon of vinegar for every 6 radishes.  I'm liking apple cider vinegar right now and that's what I had handy so I used it.  Toss the radishes to evenly cover all the slices with the salt, pepper and vinegar. Use enough vinegar to lightly cover all the slices and you should have just a bit extra in the bowl.
To state the obvious, this recipe has no carbs, no fats and is vegan.  And, it tastes really good!  I grew up on very simple foods and when I went to college discovered wonderful things like creamy salad dressings and bagels!  Can you believe I never had a bagel before I went to college? (hello freshman 15!).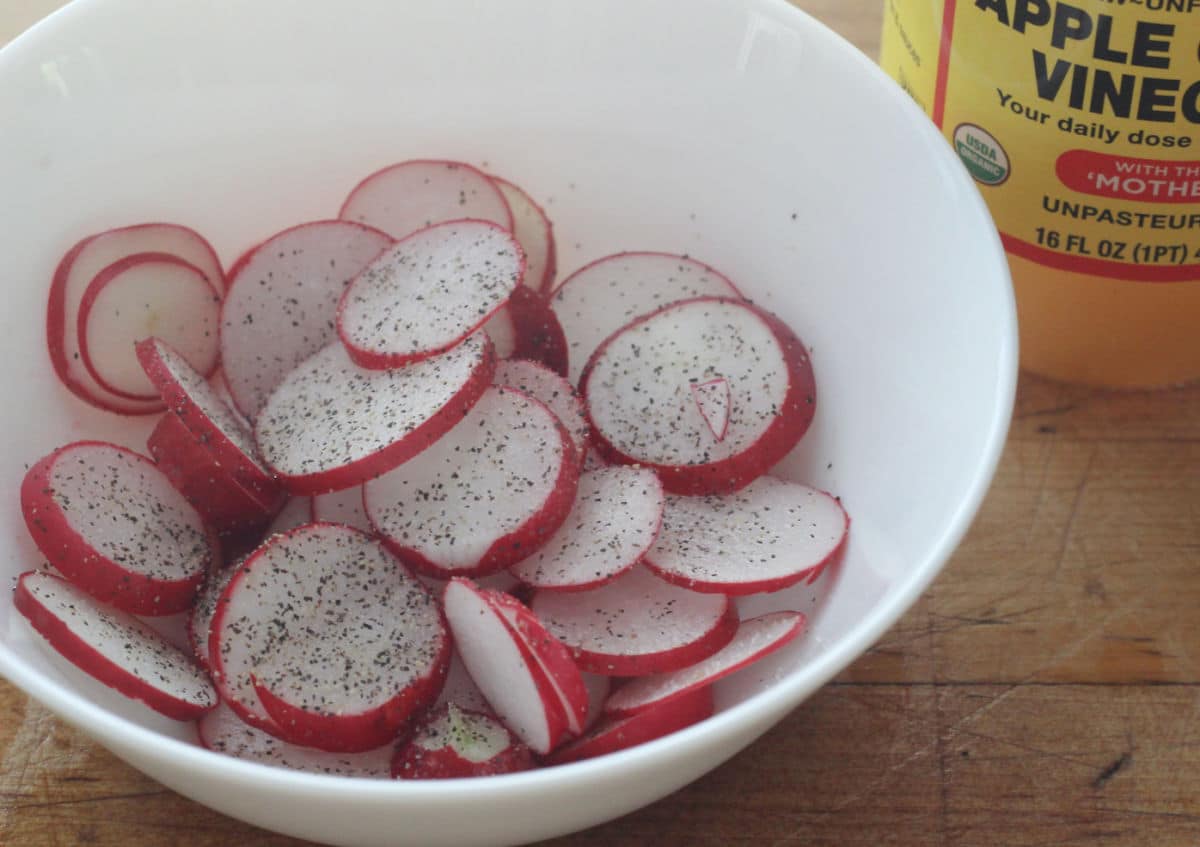 I also had some lettuce growing at the same time.  To make this a more substantial salad, I tore up a handful of lettuce leaves and slid the radishes out of the bowl onto the bed of lettuce.  The vinegar, salt and pepper was spread over the lettuce as the dressing.
I'm sharing something personal with you, my readers today.  I'm jump-starting a healthier eating lifestyle with a 21 day program (and I am an affiliate which means I may earn a small commission on any sales from this post).  Please be assured I'm only sharing this because I have done it before and am doing it now!
Just as an FYI, the reason I'm eating more foods that are prepared simply is because I'm doing a 21 day food cleanse called the 21 Day Fat Loss Challenge.    Click through on the blue link to read more.  And, if you want to know does it work?  Day 10 and I've lost 7 pounds!!   Is it easy?  Not for me.  But, it's working and that's keeping me motivated.
Below is the recipe card if you would like to print the recipe or pin to Pinterest. I think it's really good and one of the simplest radish recipes I know of.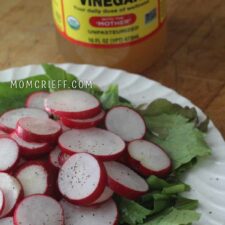 Simple Radish Salad (and how to grow radishes)
A simple and quick radish salad with a three-ingredient dressing.
Print
Pin
Rate
Ingredients
6

medium

Radishes

cleaned and sliced

Salt to taste

Pepper to taste

Pepper

1

tablespoon

Apple cider vinegar
Instructions
Clean and slice the radishes.  I prefer thinly sliced.

Add salt and pepper to taste.  You can use more than you think because some of the salt and pepper comes off in the vinegar.

Add enough vinegar to coat the slices and to have just a little extra at the bottom of the bowl.
Notes
Substitutions:
You can use any clear type of vinegar.  If I don't have apple cider vinegar, I use either plain vinegar or red wine vinegar.  You do not want to use a sweet balsamic type vinegar.
Nutrition
Serving:
1
g
|
Calories:
7
cal
|
Carbohydrates:
1
g
|
Protein:
0.2
g
|
Fat:
0.02
g
|
Saturated Fat:
0.01
g
|
Polyunsaturated Fat:
0.01
g
|
Sodium:
10
mg
|
Potassium:
67
mg
|
Fiber:
0.4
g
|
Sugar:
1
g
|
Vitamin A:
2
IU
|
Vitamin C:
4
mg
|
Calcium:
7
mg
|
Iron:
0.1
mg
Lookingfor other simple and healthy foods?
Refrigerator Pickles/Cucumbers