Refrigerator pickles are pickles (or cucumbers) that are put into brine and are NOT canned or processed. They are refrigerated. The brine is a seasoned mixture of vinegar and salt (in specific proportions). The cucumber slices or spears take on the brine's flavor in a couple of days.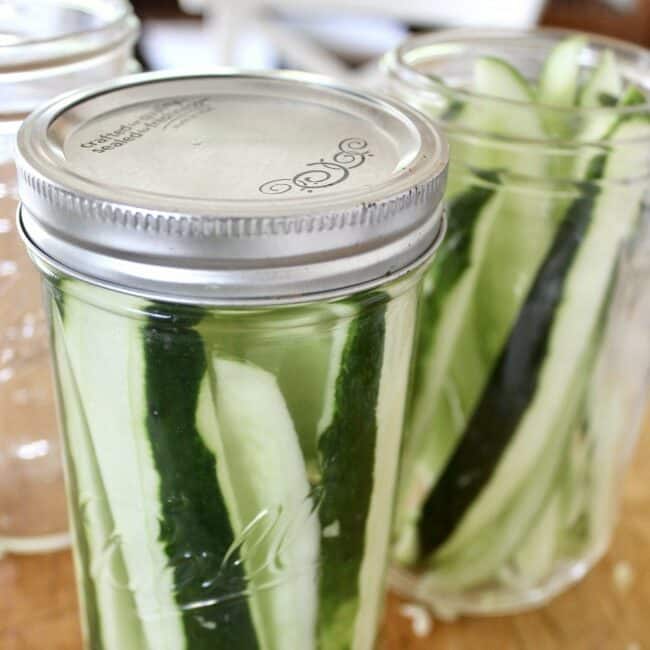 I think of these as making a mix of marinated and pickled pickles or cucumbers. These are super easy to make; use up excess cucumbers you have (yes, you can use full-sized ones, plus you get to reuse a jar full of delicious pickle brine)! We also enjoy marinated cauliflower.
Why I love making these.
My family loves pickles! When we reuse the brine, the pickles are not quite as strong as the original pickles. That's perfect when we want to use cucumbers as a side to a meal. My kids love eating pickles (cucumbers) brined in pickle juice!
When cucumber plants are doing well, they produce much! This is a great way to use up excess produce. Sometimes, it might just be the extra cucumbers that I bought at Costco that I don't want to go to waste!
Have you seen how much the good pickles cost? This is a nice way to save some money, too.
Can you reuse pickle brine?
Yes, you can. But NOT to can a new batch of pickles. Think of the pickle brine as something you would use for refrigerator pickles. Or as a type of marinade for your pickles. It isn't safe to can with used pickle brine because you don't know that the correct ratios of salt and vinegar are still in your solution.
Ingredients and Supplies
Cucumbers from your garden, farmer's market, grocery store, or even Costco.
Jars - You can reuse the original pickle jar or canning jars you already have
Brine from store-bought pickles or from homemade pickles.
Helpful Hint
We LOVE the taste of Clausen pickles! They are purchased in the refrigerated section of the grocery store. So, I guess they are already refrigerator pickles? It's the flavor we like, so I tend to have this on hand and then reuse the brine to make refrigerator pickles or marinade vegetables. These are not processed (canned) pickles but more like marinated pickles for a side dish.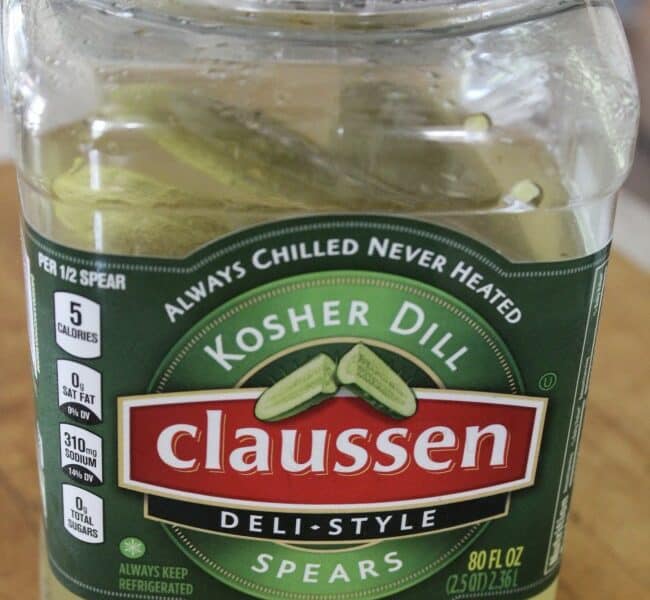 Instructions
Step 1
I usually partially peel my cucumbers because I like the striped effect. It also makes the cucumbers more tender. If using English cucumbers (burpless cucumbers), it is not as necessary to take the skin off nor to take the seeds out.
If you prefer to remove the seeds, cut them in half lengthwise and scoop them out.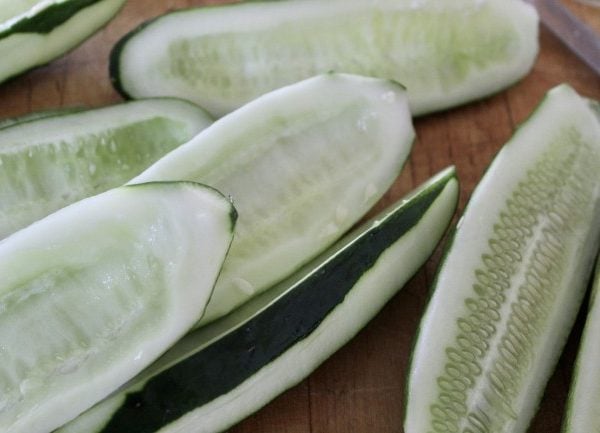 Step 2
Fill the jar with the store-bought pickle brine (or, as we call it, pickle juice). Make sure you add some of the good stuff, like the garlic, onions, peppercorns, or dill you find in the original jar.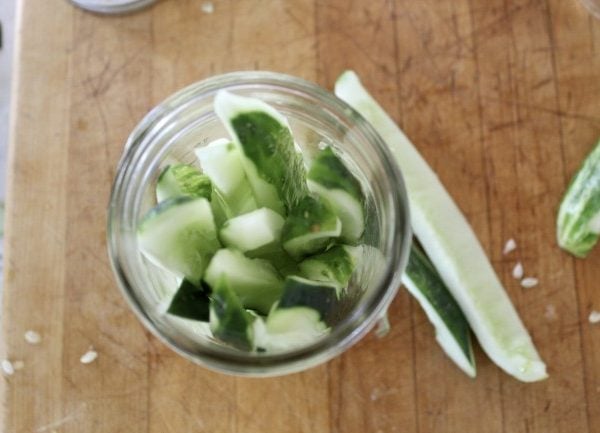 Sometimes, I add a splash of fresh white vinegar, a clove or two of fresh garlic, and some sliced onions.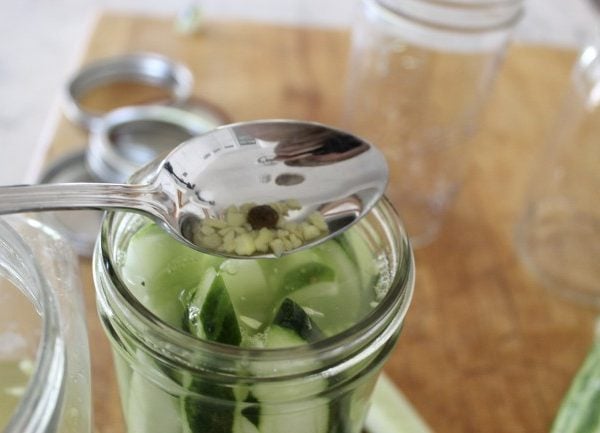 Once you have the jars filled, put a lid on, and you are almost done!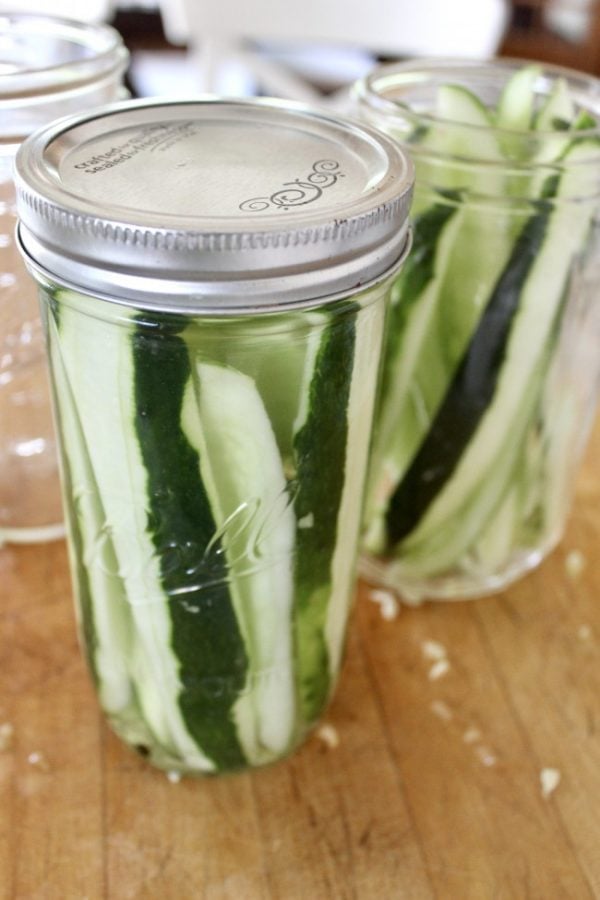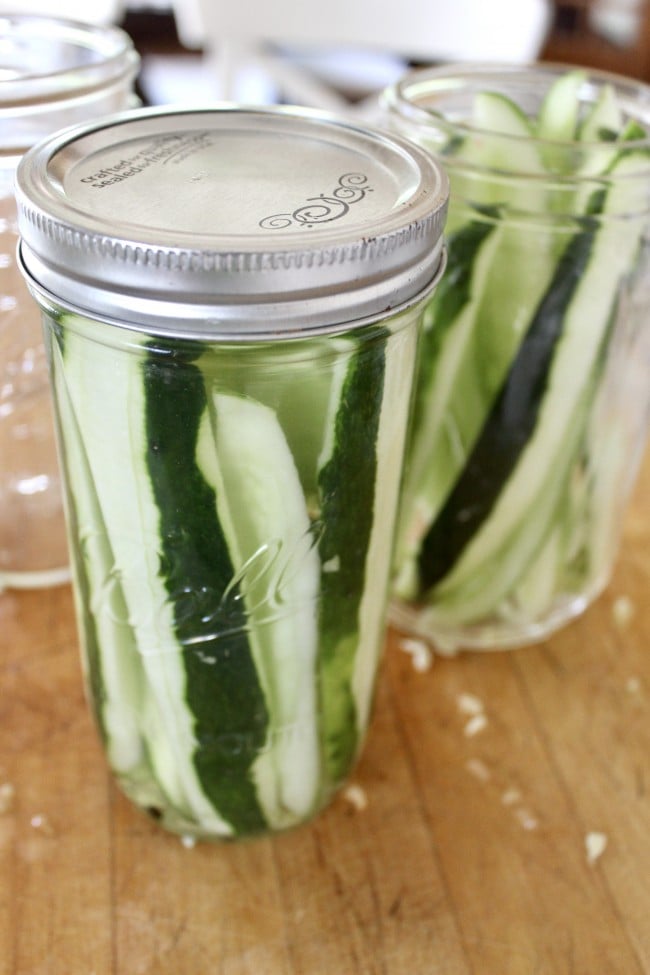 Helpful Hint
I always put the filled jars into the fridge upside down for the first day and then turn them right side up after that. If we have these in the fridge longer than a few days, I will occasionally turn the jar upside down so that the bottom gets immersed in the brine.
How long do these last?
I've never really had any left for longer than a couple of weeks. We eat them as snacks or in place of pickles. We even like them as a veggie side if having burgers or brats. They are kind of like marinated cucumbers (they absolutely count as a veggie!)
Since these refrigerator pickles | cucumbers are NOT processed, they are not intended to be stored long-term. Use common sense. Keep them for a few weeks. If they get mushy, look, or smell odd, it's time to toss them! This is a great way to reuse leftover pickle juice and extra produce.
How often can you reuse brine?
I only use it twice. Each time it is used, the acid level of the vinegar and the salt level decreases in the brine.
Can I can these?
NO! Canning is a scientific process where specific proportions of vinegar and salt are used. You need to use and measure fresh ingredients to do that. Reusing the brine in the way I describe is more like marinating the pickles or cucumbers.
What if the cucumbers look or smell funny?
Don't take chances. Throw them out!
Other recipes to use pickle brine with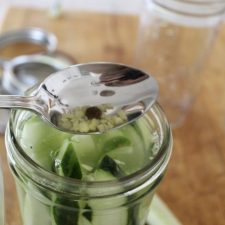 Reusing pickle brine (to make refrigerator pickles)
Easiest refrigerator cucumbers | pickles, using brine from store purchased pickles.
Print
Pin
Rate
Ingredients
1

jar

pickle brine

Jar and brine from store-bought pickles

1

large

Cucumber

I peel and will remove seeds from regular cucumbers. Not necessary for English cucumbers - aka burpless cucumbers
Instructions
Cut cucumbers into spears or coins.

Fill jar with either cucumber spears or cut into coins.

Add as much brine from the storebought pickles as you can.

Put a lid on the jar.

Refrigerate for two days then enjoy!
Notes
I would keep these for only 3-4 weeks in the refrigerator. They are not processed (canned) so must be refrigerated until eaten. Do not reuse the pickle brine more than twice since the vinegar becomes too diluted.
Do NOT reuse brine to process (can) pickles or any other vegetables.
Nutrition
Serving:
1
g
|
Calories:
6
cal
|
Carbohydrates:
1
g
|
Protein:
0.3
g
|
Fat:
0.1
g
|
Saturated Fat:
0.01
g
|
Polyunsaturated Fat:
0.002
g
|
Monounsaturated Fat:
0.002
g
|
Sodium:
1
mg
|
Potassium:
63
mg
|
Fiber:
0.3
g
|
Sugar:
1
g
|
Vitamin A:
34
IU
|
Vitamin C:
1
mg
|
Calcium:
7
mg
|
Iron:
0.1
mg
Like this idea? You can do something very similar with marinated/pickled cauliflower! I love that too!
Too much zucchini? Here is an easy way to grill zucchini! Doesn't get quicker, easier or more delicious to prepare zucchini this way.
Please pin this to Pinterest.