How to make cauliflower last longer.
Maybe I should have titled this post, "How to make cauliflower taste better." Cauliflower seems to be the darling of the no-carb world right now. But, I don't find cauliflower on its own tastes very good. It's a big old hunk of hard white boring vegetable. Yes, I said that. Do you agree?
When I buy cauliflower for a specific purpose, I usually have a bunch leftover and I used to dutifully keep it in the fridge for a few weeks until it looked pitiful and then threw it out. I was trying not to waste it but instead, I basically let it go bad in the fridge.
Tell me I'm not the only person who did that! A few years ago, I found the simplest way to keep my cauliflower so I could eat it without it going bad.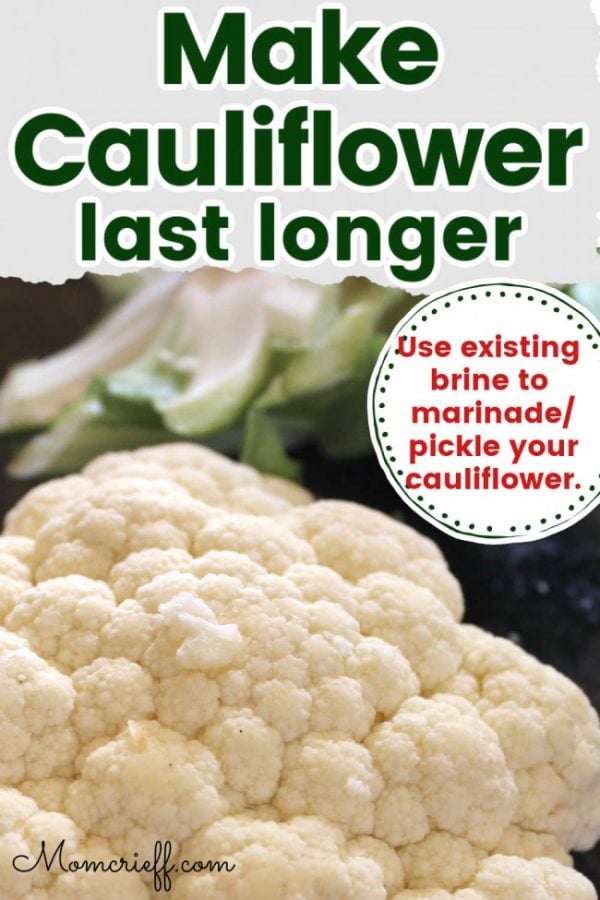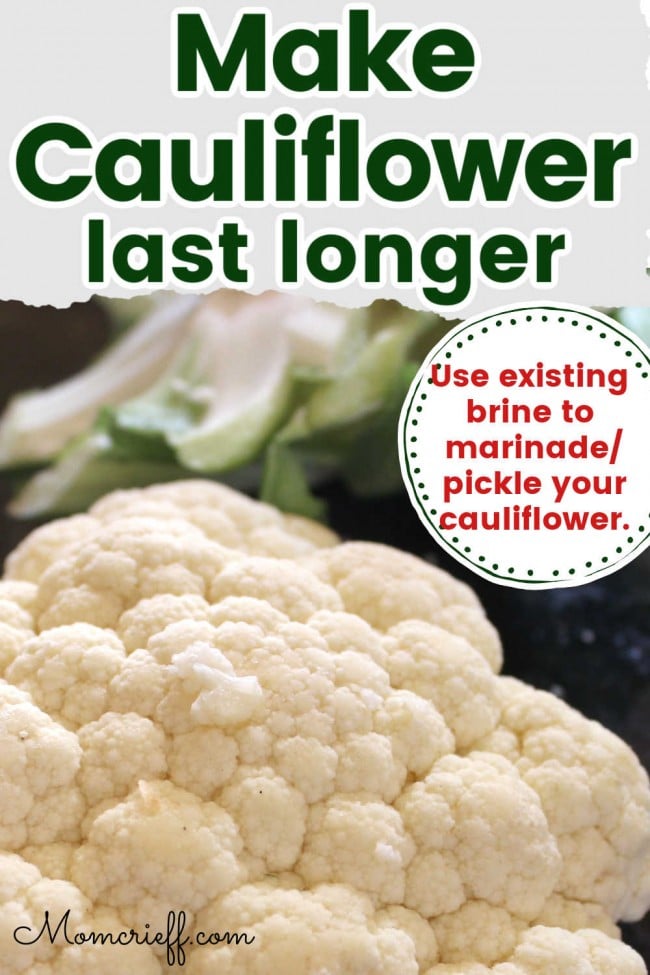 A few years ago, I saw a girlfriend marinated a bunch of hard vegetables and cauliflower was one of the main veggies in the jar. If you've been a follower of my blog for a while, I'm sure you have noticed I like to find the quick, easy and 'cheat' way to make preparing food easy. You have to eat but there is no need to make the process of preparing food hard!
I started to pickle/marinade my leftover cauliflower years ago. It sounds complicated but it's so easy )you will probably think less of me because I totally cheat). I use existing brine and a container that I've had (and you probably have) in your fridge.
How to marinate | pickle raw cauliflower
Essentially, I cut up cauliflower and put it into my just emptied pickle jar. Sometimes I have to eat the last pickle to empty the jar.
Ingredients/Supplies
1 recently emptied pickle jar WITH original pickle brine (aka pickle juice).
My family's favorite pickles are the refrigerated Clausen pickles. We love the flavor! I don't normally advertise brands, but these pickles are truly the best. They are in the refrigerated section of your grocery store.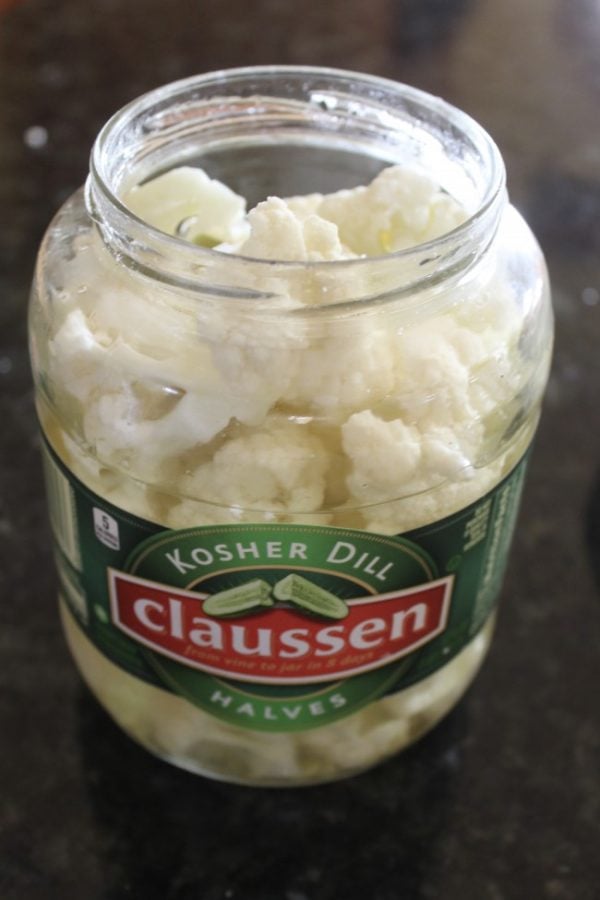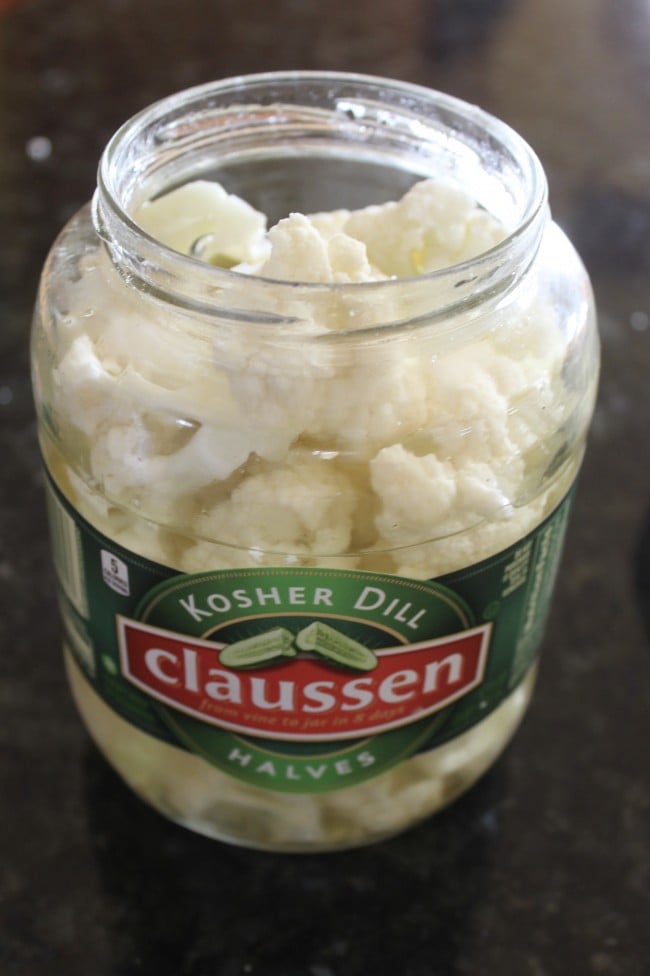 1 cleaned and cut up cauliflower.
Directions
You do want fresh cauliflower to do this. Don't buy old limp cauliflower that has spots on it. Don't use old cauliflower to make this!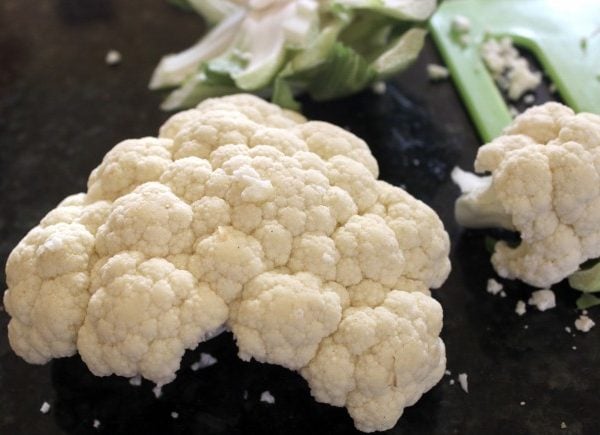 I cut the cauliflower into smaller pieces.
Don't use an old limp gross looking cauliflower that truly needs to go into your garbage or compost!
Put as many cauliflower pieces into the pickle jar as you can fit. This helps the brine cover all of the cauliflower and let it marinate in the pickle juice.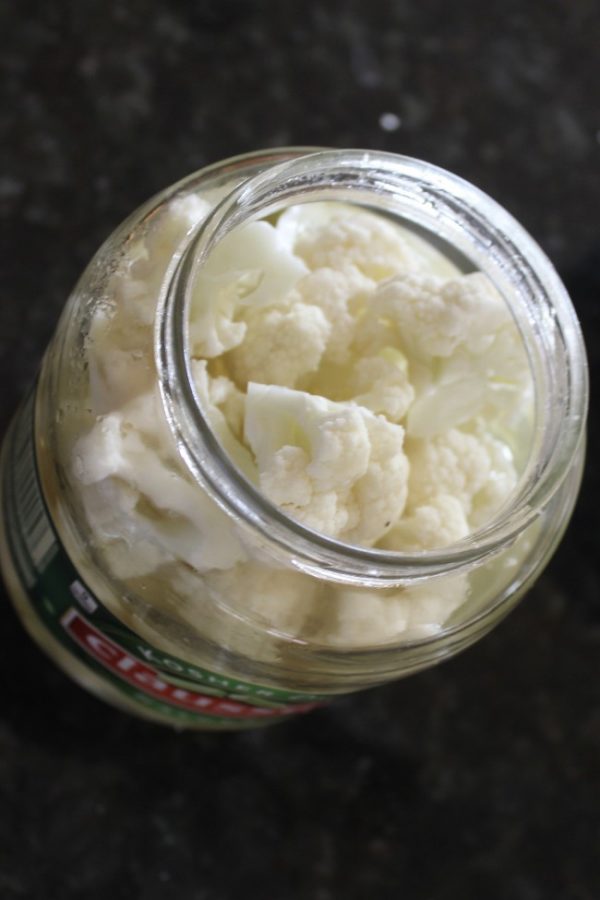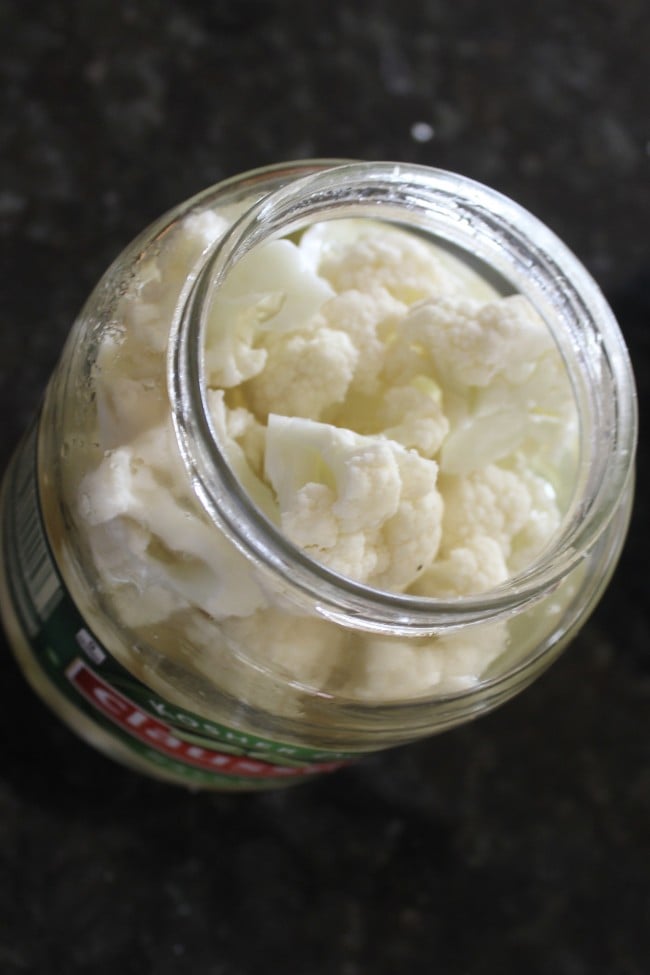 When I put the jars into the fridge, I turn them upside down for a day, then turn them right-side up. Normally, after 2 days, the cauliflower tastes delicious!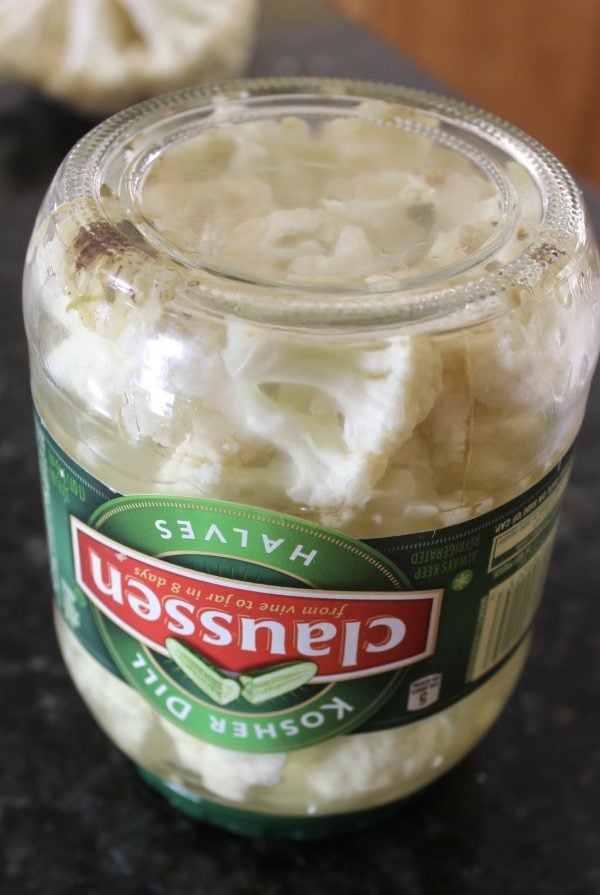 Use this cauliflower as a snack, a side or a garnish. It has a nice crisp texture and a pickle flavor. Try this, you'll be pleasantly surprised!
Do you have a simple way of preserving your extra veggies? What veggies have you found a way of storing for longer periods. Seriously, I want to know ... I have planted a veggie garden this year (first time in years) and there is going to be more produce than my family can eat. Please do leave a comment if you have some suggestions for me!
***This is for short term storage of cauliflower only. You are not canning/processing the cauliflower. Keep it refrigerated and use it up or throw it out within 2-3 weeks. I toss it when the cauliflower loses its crispness. If it ever looks weird or tastes weird, toss it!***
Printable recipe for marinated (pickled) cauliflower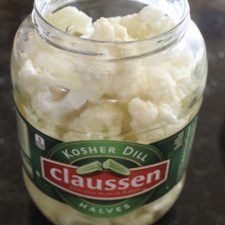 Marinated Cauliflower (refrigerated pickled Cauliflower)
An easy and cheap way to use and keep your extra cauliflower.  Makes cauliflower taste delicious!
Print
Pin
Rate
Ingredients
Instructions
Cut the cauliflower into small bite-sized pieces.

Put the cauliflower pieces into the pickle brine.  Put as many in as you can so that the brine covers the most cauliflower.

Screw the lid on tight.  I put the jar into the fridge, upside down the first day.

The second day I put it right-side up.  By the third day, it's delicious and ready to eat.  Perfect as a snack, a side, or a garnish.
Notes
This method does not process the jars, so this is not a long term storage process.  The cauliflower in the brine should be eaten or disposed of after 2-3 weeks. I've kept it longer, but once the cauliflower loses its crispy texture, I toss it.  If the cauliflower looks or tastes off, obviously you don't want to eat it - and throw it out!
Looking for some other long-lasting sides?
Try this cowboy caviar. A flavorful bean salad. Also known as Texas caviar or black bean salad.
Need a quick and easy dessert? Really easy?? Try this three-ingredient recipe using canned peaches and cake mix.
Peach cobbler.
Yummm!